If it's not snowing in your city yet, then you're lucky because that means you can still wear the most basic go-to pair (of shoes) of all time — your classic black pumps.
Practically every girl can't live without a pair, yes? They're essentials that are always in rotation throughout the year, and the only time they take a break is when you have to tread thick and slippery snow.
No doubt, classic black pumps are on top of the list of staples a woman should have in her shoe closet. They're versatile, timeless, and give you a lot of mileage. But because they're so, well, simple and un-decorated, it's inevitable to think that they are a bit boring. Do you agree?
Of course, that need not be the case. After all, it's really just a matter of how you wear them, or more precisely, what you wear them with. Allow us to show you a few easy tricks you can do to jazz up those classic black pumps. And no, you won't be wearing black in any of these style suggestions (save for the shoes, of course).
To start, we will only work with this pair from Charles by Charles David. The "Pact" pumps (available at Amazon) are as classic as they get. Below are the three easy ways you can rock these shoes with flair. Which will you try today?
1. Wear your black pumps with bold prints
Instead of matching your black pumps with the usual little black dress (or black jeans), be a little more adventurous by pairing them with boldly printed outfits instead.
Check out bloggers Genesis of Brunette Braid, Stella of Jadore Fashion, and Anne of Apple City getting a little playful with their classic black pumps.
Bloggers Genesis, Stella, and Anna wear their black pumps the right way by mixing them with bold prints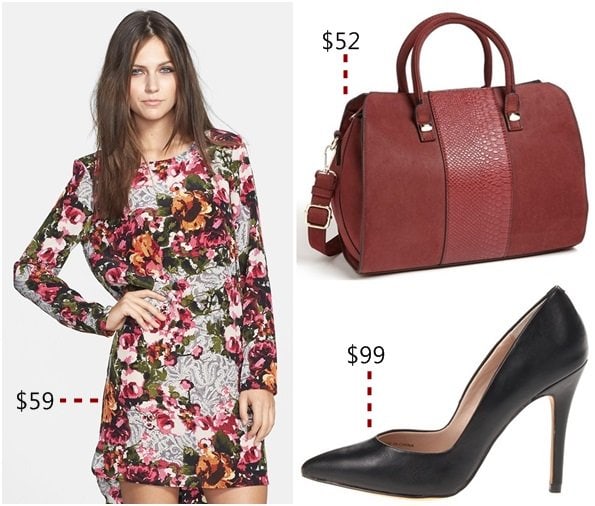 Dress: Wayf Long-Sleeve Crepe Shift Dress / Bag: Emperia Snake Embossed Faux Leather Satchel / Shoes: Charles by Charles David Pact Pumps
2. Wear your pumps with bold and bright colors
Much like catchy prints, poppy hues also bring out the beauty of your classic black pumps.
Take a cue from Patie of Just Patience and Maggie of Clothes to Midnight (blog no longer available online) by wearing your black pointy stilettos with boldly-painted ensembles. Don't just stick with one color, feel free to mix it up!
Blogger Patie of Just Patience stylishly pairs her black pumps with a persimmon-hued dress and gold accessories
Maggie makes her black pumps stand out by pairing them with red separates (and posing against a white background)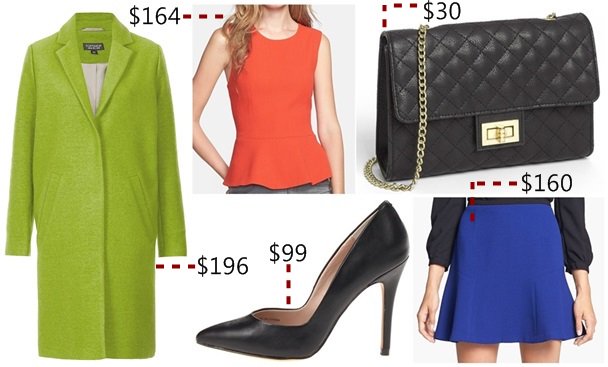 Outerwear: Topshop Oversized Wool Boyfriend Coat / Top: Joie Jourdine Wool Blouse / Purse: Lulu Quilted Crossbody / Skirt: McGinn Erin Flared Skirt / Shoes: Charles by Charles David Pact Pumps
3. Do the stark contrast
This is probably the easiest trick in the book, but also the one most easily forgotten. Do the stark contrast by pairing your black pumps with white or very light pieces like cream, blush, or pale blue.
Check out how Leticia Oliveira of Blogdale Oliveira and Jilly of Sorelle in Style did it so effortlessly. In Leticia's case, using black accessories was a great way to break up the white palette. It actually kept her from looking too washed out.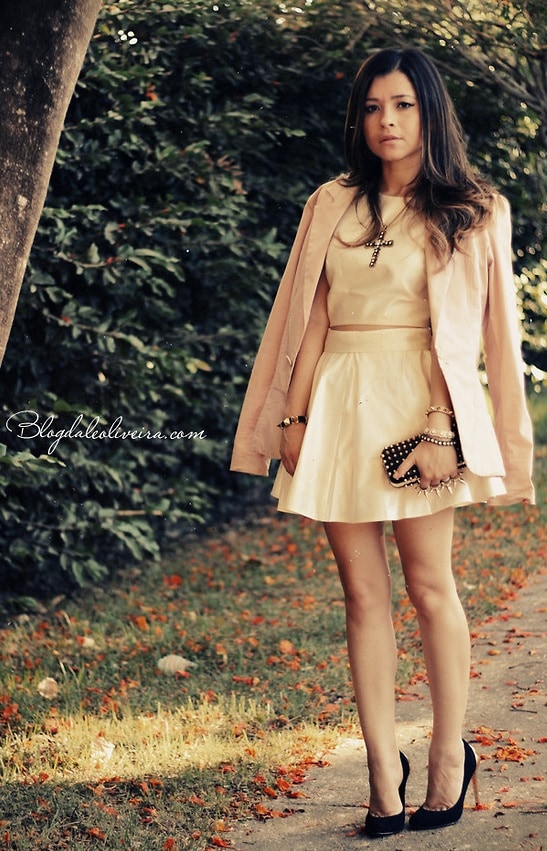 Leticia Oliveira keeps her outfit from looking washed out by pairing it with black pumps and studded black accessories
Jilly gets sharp in contrasting black and white — a failsafe trick to looking elegant and chic
Jewelry: Tildon Studded Collar Necklace / Purse: Steven by Steve Madden Satin Clutch / Dress: Topshop Quilted Body-Con Dress / Shoes: Charles by Charles David Pact Pumps