Vanessa Hudgens, the 34-year-old actress who announced her engagement to Cole Tucker earlier this year, will reprise her role as Kelly in the upcoming Bad Boys 4.
The sequel to the 2020 buddy cop action comedy film Bad Boys for Life will also feature Will Smith and Martin Lawrence.
Hudgens originally played weapons expert Kelly in 2020's Bad Boys For Life, which also starred Charles Melton and Alexander Ludwig. It is unknown whether Melton and Ludwig will return for the fourth installment.
In 2020, Vanessa Hudgens starred as Kelly in the action-packed film "Bad Boys for Life," the third installment in the popular "Bad Boys" franchise (Credit: Sony Pictures Releasing)
Sony Pictures has chosen Adil El Arbi and Bilall Fallah to direct the movie. The Bad Boys franchise, which began in 1995, revolves around two Miami detectives, Mike (played by Will Smith) and Marcus (played by Martin Lawrence), who often clash but work together to maintain a professional environment.
In a scene from the 2020 action-comedy film Bad Boys for Life, Will Smith's character refers to the new squad of young cops called AMMO as a "high school musical boy band." This is a nod to the popular Disney musical film franchise, High School Musical, in which Vanessa Hudgens played a lead role.
"At first, it was definitely challenging because that's all a lot of people had seen me do," the "Tick, Tick… Boom!" actress told THR about transforming from High School Musical's Gabriella to weapons specialist Kelly.
"So the roles that I really wanted were a fight, but it just made it all the more rewarding when I would get those parts because I knew I earned them."
Vanessa Hudgens, who starred in Disney's High School Musical trilogy, feels validated after the success of Bad Boys for Life (Credit: Sony Pictures Releasing)
Interestingly, while working on Bad Boys for Life, a prop gun reminded Hudgens of her role as Blondie in Zack Snyder's Sucker Punch (2011), a career pivot she still values today, given the challenges she faced as a Disney star.
"They gave me my gun right before we started filming…and as I inspected this gun to get to know it a little better, I realized I had worked with it 10 years ago on a movie called Sucker Punch," she recalled.
"It made me so grateful for the fact that I've continuously tried to be in all different types of films. If I hadn't done Sucker Punch, I would've been at a complete loss."
In July 2013, Vanessa Hudgens took some time off from her movie promotion to do a bit of retail therapy at the Saint Laurent store in London.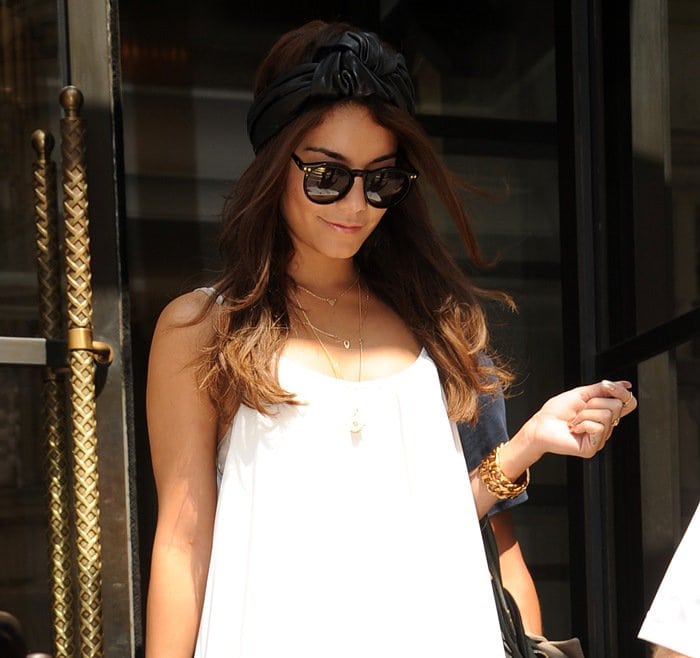 Vanessa Hudgens wears a leather hair wrap during a Saint Laurent shopping trip on July 17, 2013, in London (Credit: WENN)
The pescetarian ditched her red carpet suits for the day to rock a swingy white dress (from Lovers + Friends) paired with a leather head wrap.
Vanessa finished up her ensemble with a pair of pointy black Joe's Jeans "Ollie" d'Orsay pumps.
Vanessa Hudgens pairs a white Lovers + Friends dress with a pair of black Joe's Jeans pumps during a London shopping trip (Credit: WENN)
The boho-chic actress usually goes for boots or fringed sandals, so we were a little surprised by her footwear choice.
These d'Orsay shoes feature pointy toes and lowered vamps that show a fair amount of toe cleavage. The heels are 4.25 inches tall and moderately steep but still quite manageable.
While Vanessa's pumps look like they're made of satin or suede, the "Ollie" pumps are crafted from canvas.
These chic heels are available in black and coral on Zappos and Amazon.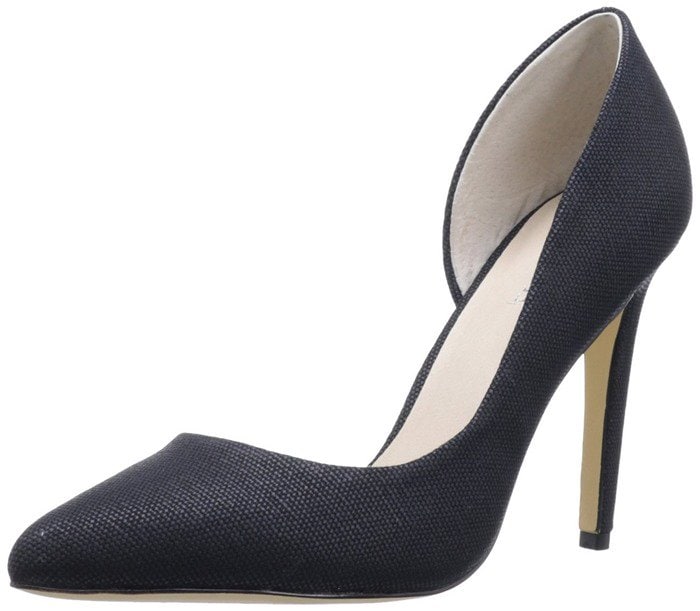 Joe's Jeans Ollie Pumps in Black, $125
Joe's Jeans Ollie Pumps in Coral, $125