She has always been open about her health journey and how she keeps herself in shape. In a recent interview, Vanessa Hudgens revealed what she eats in a day.
Vanessa Hudgens says she's a pescatarian and doesn't eat meat (Credit: Mega / WENN)
"My overall food philosophy is, if it's real, I'll eat it," the High School Musical star told Shape.
"Many things are processed and contain chemicals and ingredients I can't pronounce. I want real food. If I'm in Italy and I see them making pasta by hand, or if it grows from the earth, that's real. I stay away from the processed stuff. I also don't' eat meat. I'm a pescatarian. What animals go through is so inhumane. That's not a system that I support."
Instead of having three meals in a day, Vanessa eats "two bigger meals a day." Her breakfast "typically includes avocado, maybe vegan sausage, and a piece of a healthy bread."
Best friends GG Magree and Vanessa Hudgens head to Dogpound gym in Los Angeles on October 12, 2021 (Credit: Mega / WENN)
"Dinner depends on my mood. I let myself have what I want. If that's a big bowl of spaghetti with clams and a glass of wine, then that's what I'm eating. Sometimes I crave a salad, and I'll make a big one with nuts and goat cheese and salmon. Other times, it's tacos and a margarita." she added.
"I've learned that when I try to be super conscientious of everything I put into my mouth, all I can think about is food. But when I listen to my body and eat what I want, that's when I'm happiest."
Vanessa Hudgens reveals she and her best friend GG Magree dance hard in between sets during a workout session (Credit: Mega / WENN)
She also spoke about her gym obsession with her best friend, revealing that they dance hard in between sets.
"As the world started to reopen, I found myself obsessed with Dogpound. I go with my best friend; we're extremely competitive. We have the best time—the amount of dancing we do between sets is ridiculous. Everyone knows when we're at the gym. They say they hear us before they see us."
True enough, the 32-year-old actress appeared to be in high spirits while heading to the gym in Los Angeles with her gym buddy GG Magree on Tuesday.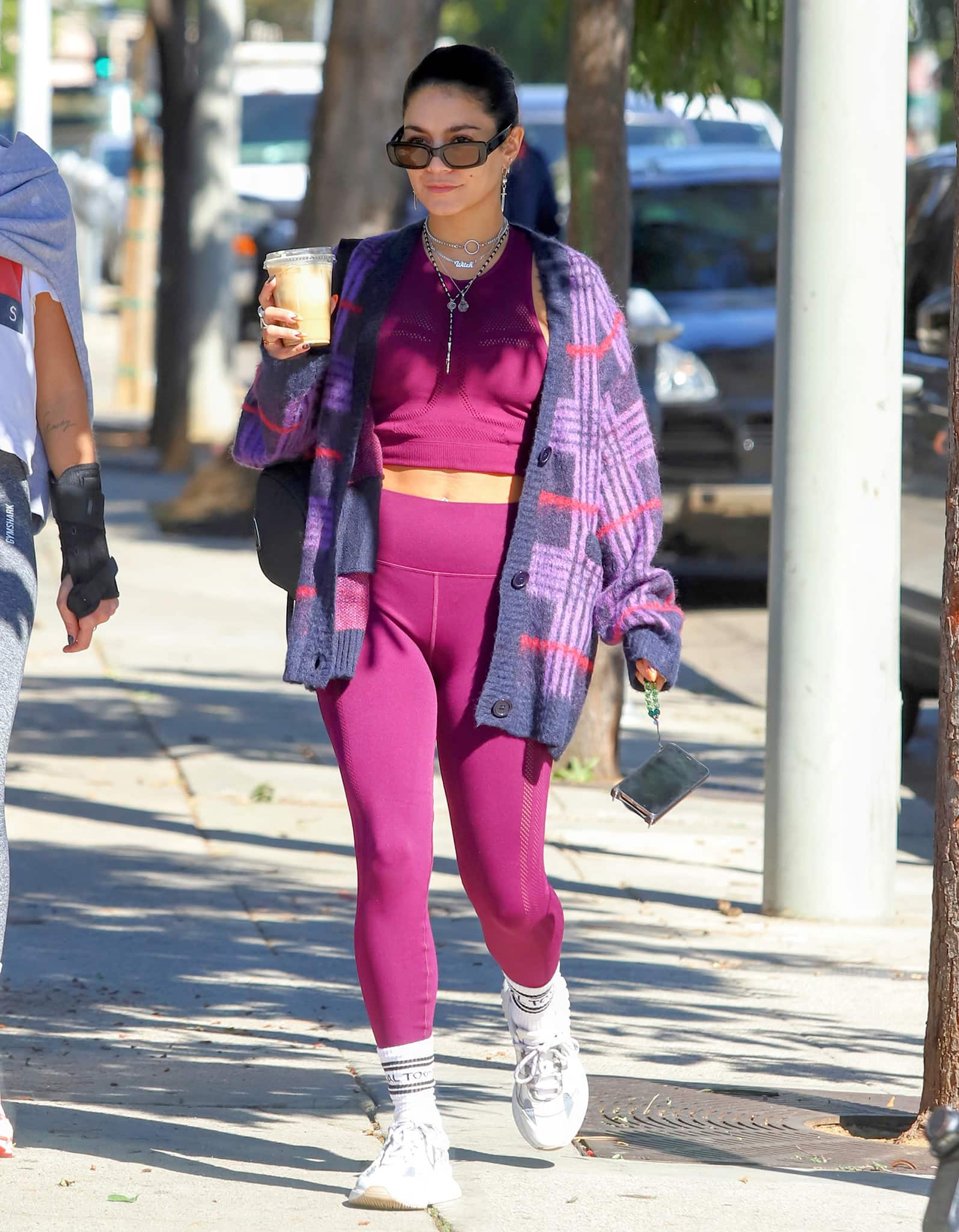 Vanessa Hudgens shows off her toned curves in a burgundy sports set with a fuzzy purple cardigan (Credit: Mega / WENN)
GG kept it simple in a white Tommy Jeans tee with gray leggings. She tied a gray sweater around her shoulders and paired the look with white socks and red and white shoes.
Vanessa, on the other hand, couldn't be missed in a burgundy sports set. She showcased her enviably toned body in a sports bra, which she paired with matching leggings.
Adding some style to her workout wear, the My Little Pony voice actress layered her look with a $147 Daydreamer Indigo Haze oversized cardigan in purple, black and red combination.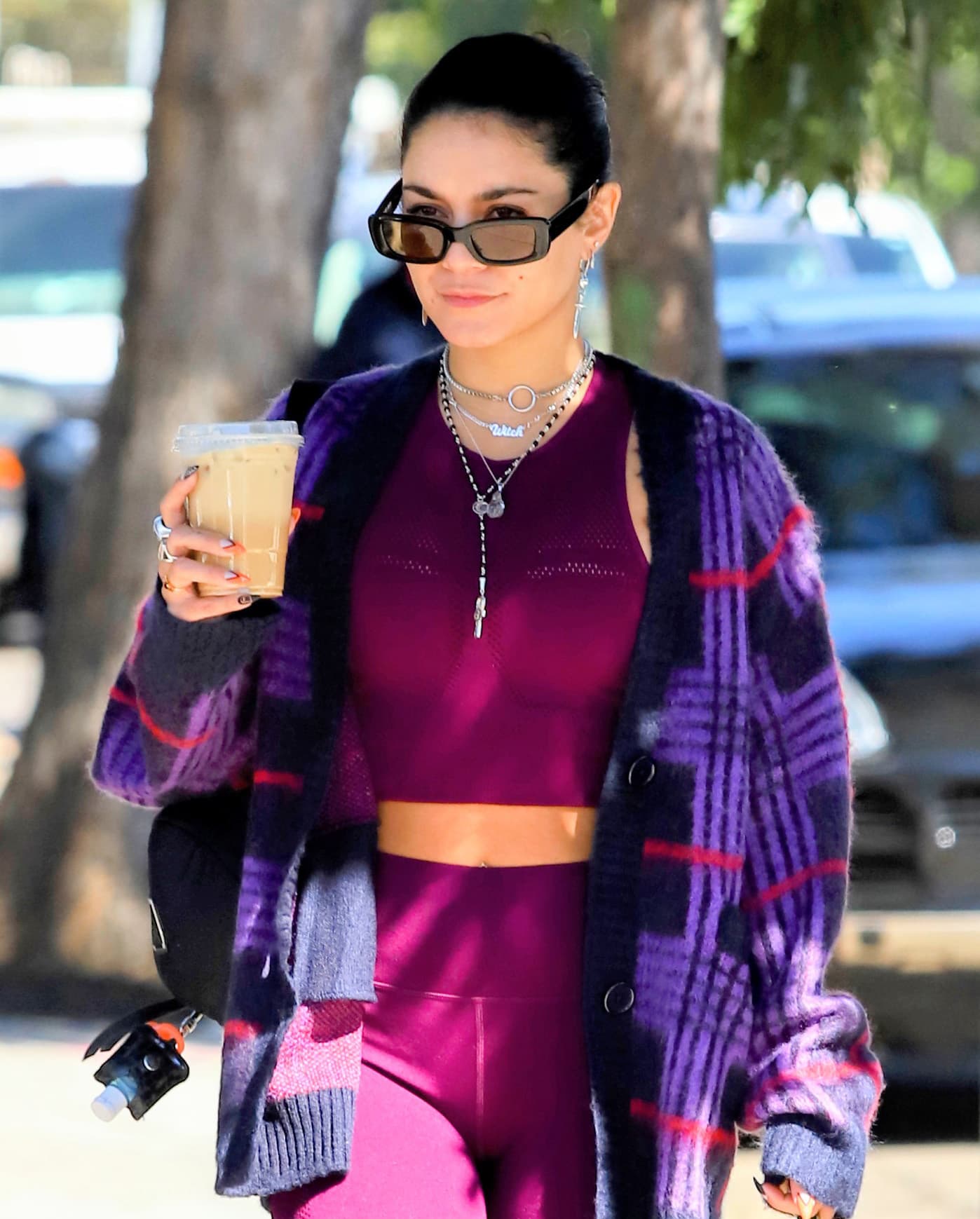 Vanessa Hudgens adds bling to her sportswear with several necklaces, earrings, and rings (Credit: Mega / WENN)
She completed her look with sterling silver Etah Love "Live by the Sword" earrings, a $145 The M Jewelers nameplate necklace, a $180 Etah Love Bewitched cushion-cut amethyst stone ring, and a Cartier Love bracelet with diamonds. She also layered several silver necklaces around her neck, including a $240 Etah Love Lifesaver necklace.
Cole Tucker's girlfriend then pulled her brunette tresses into a bun and wore barely-there makeup while hiding her eyes behind a pair of Vehla Olsen square-framed sunglasses.
To finish off her athleisure, Vanessa wore a pair of Social Tourist logo crew socks and her favorite Mercer Amsterdam "Jupiter" sneakers.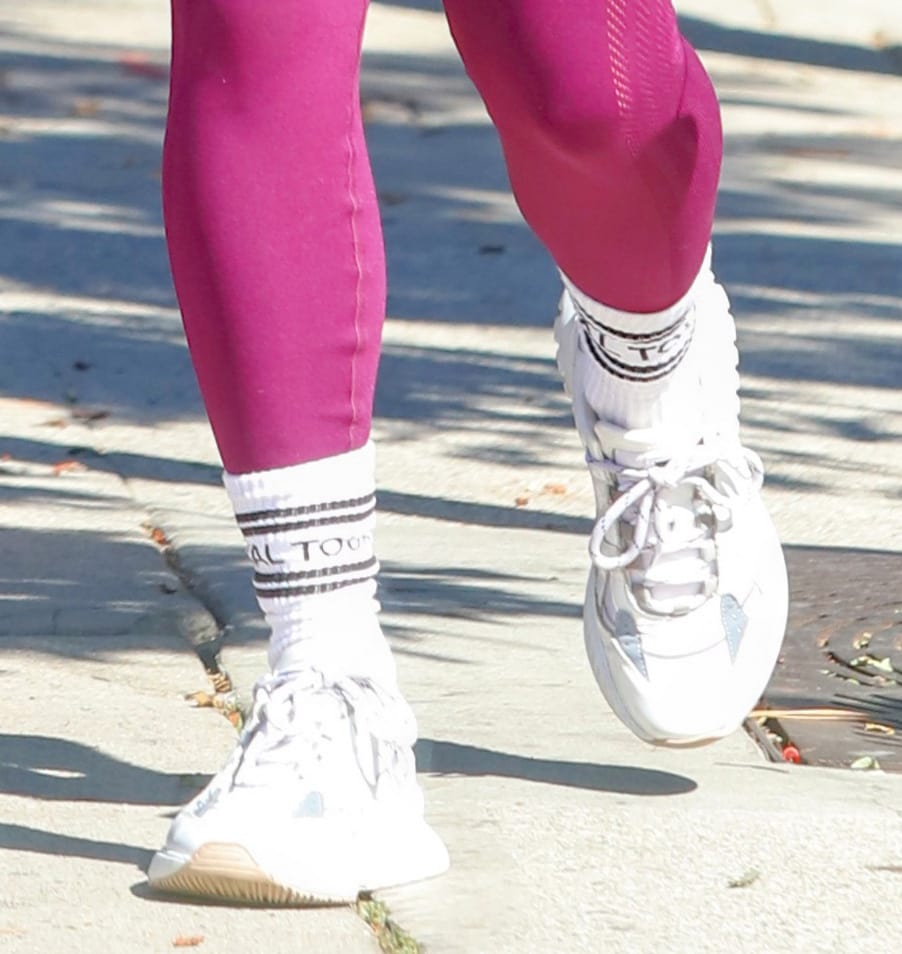 Vanessa Hudgens completes her activewear with Mercer Amsterdam Jupiter shoes (Credit: Mega / WENN)
The previous day, Vanessa and GG were at it again, leaving the Dogpound gym after a sweat session.
The Australian DJ and singer displayed her legs in a pair of snake-print biker shorts with a black skeleton-print hoodie.
GG Magree and Vanessa Hudgens leaving a workout session in Los Angeles on October 11, 2021 (Credit: Mega / WENN)
Vanessa, meanwhile, drew attention to her fit figure in brown activewear set from White Fox Boutique.
She flashed her abs in a chocolate brown short-sleeve crop top with matching $59.99 seamless leggings and a cropped sweater wrapped around her waist.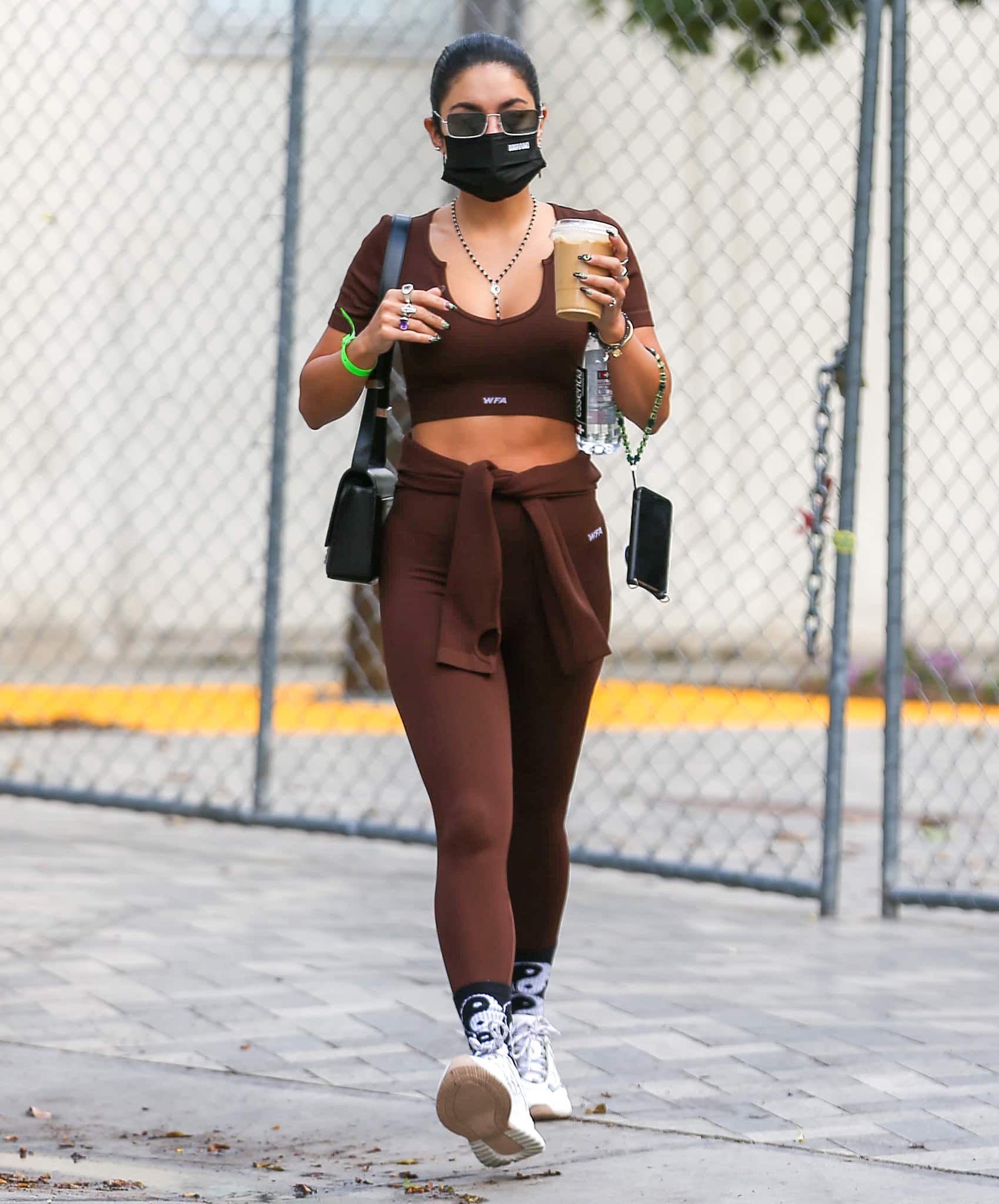 Vanessa Hudgens flaunts her abs in a brown White Fox Boutique crop top and leggings (Credit: Mega / WENN)
Highlighting her cleavage, the Thunderbirds star accessorized with Etah Love rosary-inspired long necklace.
She further added bling to the look with $110 Etah Love Amen cross earrings, bracelets, and several rings, including the Etah Love Bewitched ring and the coffin and eye rings from The Great Frog.
She then tied her dark locks into a bun and covered her face with a black face mask and a pair of Miu Miu square-framed crystal-embellished acetate sunnies.
Vanessa Hudgens wears a sleek bun and hides her eyes behind Miu Miu crystal-embellished sunglasses (Credit: Mega / WENN)
Carrying a Givenchy Medium 4G crossbody bag, which is available for $1,890 at Farfetch, Vanessa completed her look with $15 Petals and Peacocks Ying Yang socks and a pair of her go-to gym white sneakers, the Mercer Amsterdam Jupiter.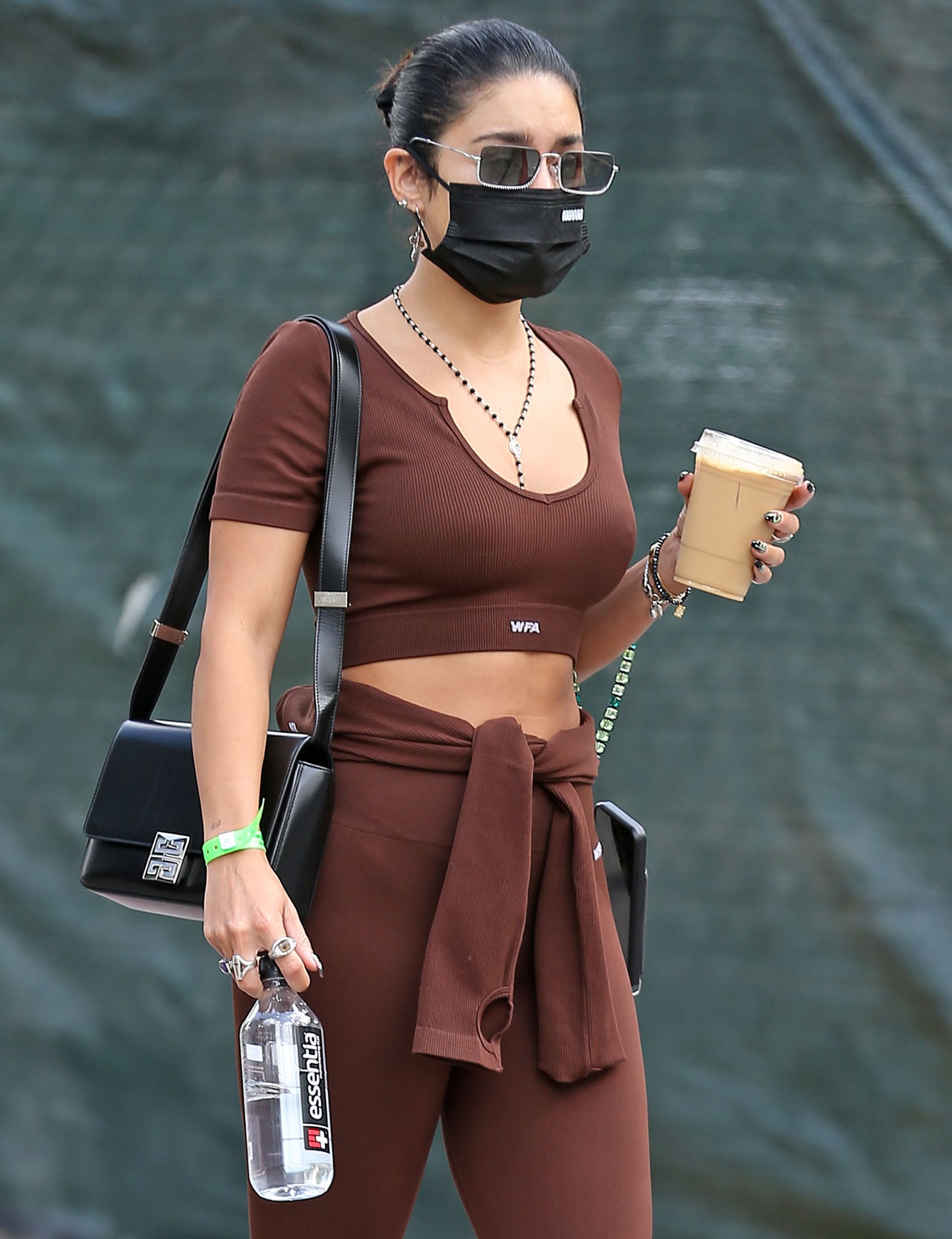 Vanessa Hudgens finishes off her look with Mercer Amsterdam shoes and Givenchy 4G crossbody bag (Credit: Mega / WENN)