Kat Dennings is known for her timeless Hollywood beauty. And while this young American actress gained her footing with several quirky indie roles, she also boasts a broad range that can be seen in her extensive filmography.
Ira David Wood IV and his girlfriend Kat Dennings attend "The 40-Year-Old Virgin" World Premiere at Arclight Cinemas on August 11, 2005, in Hollywood, California (Credit: Dimitri Halkidis / WENN)
Her supporting role in The 40-Year-Old Virgin truly kicked her career into the next stratosphere.
Why Kat Dennings Changed Her Name
The 36-year-old actress, born in Bryn Mawr, Pennsylvania, uses a stage name. Of Russian Jewish heritage, her birth name is Katherine Victoria Litwack, and she is the youngest of five children.
"I didn't want to use my family name because I thought, A, it was a little hideous, and B, I wanted to know when someone really knew me or they didn't. I was a precocious youngster," she told Philadelphia Magazine about changing her name.
"It's a sturdy Polish-Jewish name. I used to be really touchy about it, but I couldn't care less now. And Katherine has Katie, Kat, and if you want to die, Kathy, but no one can go there — no one."
Did you know Mary-Kate and Ashley Olsen were born on the same day, June 13, 1986?
Emmy Rossum's lookalike is 5' 4" tall, and when she graduated home-schooling at the age of 14, she and her family moved to Los Angeles, California, to support Kat's acting career.
View this post on Instagram
Today, Kat is known for her curvaceous figure, blue eyes, pale skin, pouty lips, husky voice, and her deadpan delivery. She is currently estimated to be worth $25 million.
Dennings' upbringing was not all that typical and a little eccentric. She shared, "I grew up in a house that was built in 1694, and it was haunted. It sounds so crazy, but I swear — you could ask my father, who is 89 who saw some s***."
Kat Dennings promotes her television sitcom Raising Dad during the WB winter press tour party in Pasadena, California, on January 15, 2002 (Credit: WENN)
She shared with Conan that she went through a goth phase as a child. "I was kind of obsessed with The Addams Family, and I went through a phase where I thought I was Wednesday Addams."
The actress continued that she would introduce herself as "Wednesday" and sleep with her arms crossed across her chest. She finished the story with "I was very dramatic." A perfect fit for an actress, that is for sure.
Her start in the entertainment world began in 2000 with a guest appearance on HBO's Sex and the City. Her next gig was on the WB's Raising Dad with Brie Larson and Bob Saget from 2001-2002.
Kat Dennings made her television debut as Jenny Brier, a super-rich and demanding 13-year-old girl planning her upcoming bat mitzvah, in the Sex and the City episode Hot Child in the City (season 3, episode 15) (Credit: HBO)
Before those roles, she worked in commercials starting around age 9. Her family didn't have money for formal training, but it didn't end up mattering. It was at age 13 that she was cast as a sassy teenager in Sex and the City.
She has since appeared in Nick and Norah's Infinite Playlist, Charlie Bartlett, 2 Broke Girls, Dollface, WandaVision, The House Bunny, Thor, Drunk History, Shorts, Big Momma's House 2, Friendsgiving, ER, Big Mouth, Dallas & Robo, and What If…?.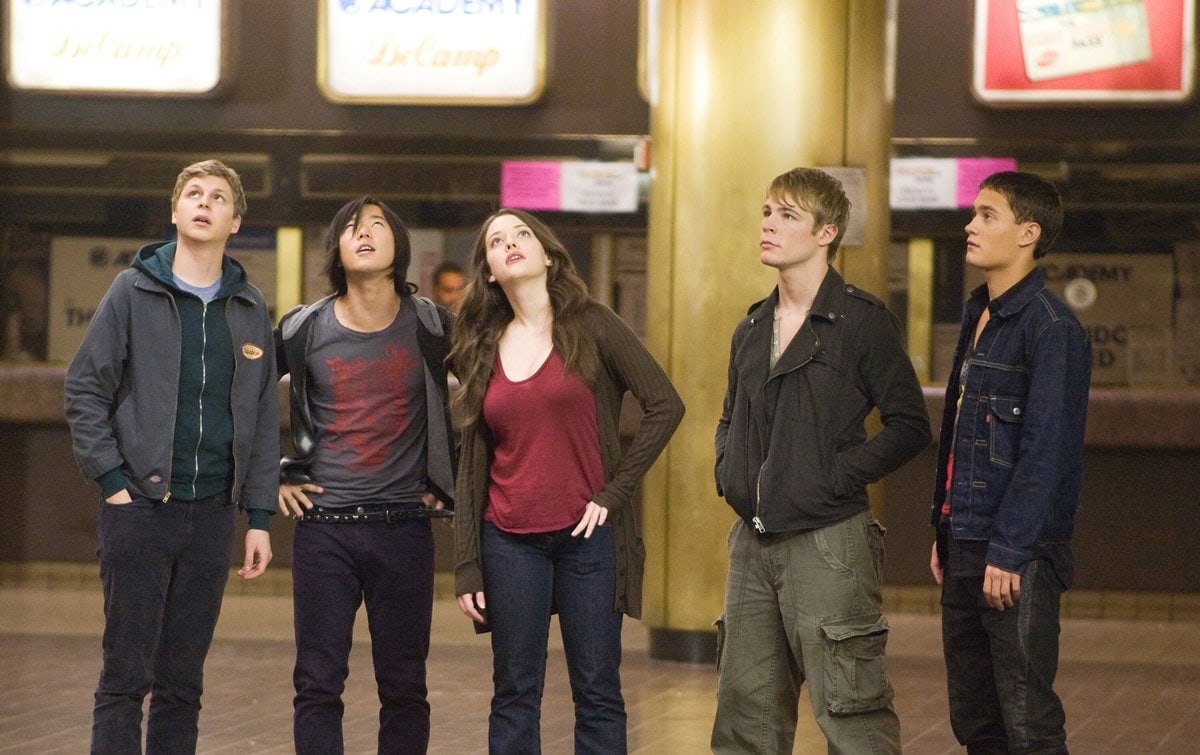 Michael Cera, Aaron Yoo, Kat Dennings, Jonathan B. Wright, and Rafi Gavron in the 2008 American romantic comedy-drama film Nick & Norah's Infinite Playlist (Credit: Columbia Pictures / WENN)
Dennings appeared as the love interest in Hanson's music video in 2013 for "Get the Girl Back" and also recently in her fiancé's music video for "Everybody Sins."
Dennings is a bonafide Hollywood actress these days. She got her big break at a young age with the cult comedy hit, The 40-Year-Old Virgin.
The 40-Year-Old Virgin
Dennings casting in the iconic Steve Carell comedy, The 40-Year-Old Virgin, was a turning point in the actress's career.
Allison Jones, a famous casting director, is the woman responsible for casting Dennings. Dennings remembers the movie having a big buzz, "It was everybody's first, like, big thing, and it was just amazing to be part of it." At the young age of 18, Dennings's career gained a long runway for the future.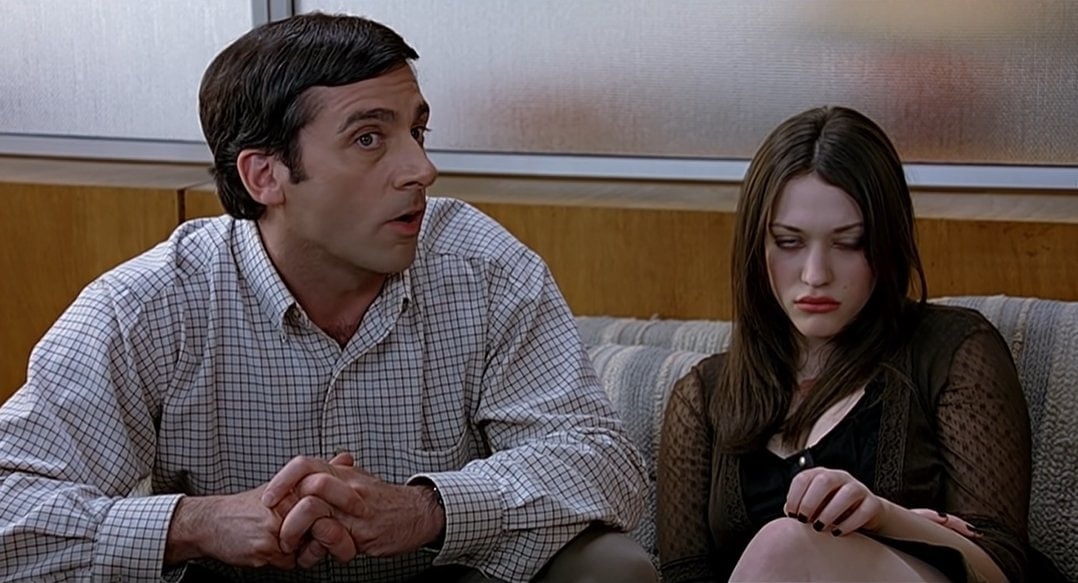 Steve Carell as Andy Stitzer and Kat Dennings as Marla Piedmont in the 2005 American romantic comedy film The 40-Year-Old Virgin (Credit: Universal Pictures)
The film starred other comedic heavyweights, Paul Rudd, Seth Rogen, Elizabeth Banks, Jane Lynch, Leslie Mann, Jonah Hill, and Steve Carell.
With Judd Apatow (known for Superbad, Knocked Up, This is 40, and many more) as the film's director and co-writer (alongside Carell), the movie grossed over $100 million domestically.
Internationally, the film grossed over $175 million. With success like that, it is no wonder Dennings's career launched from here.
Max Black in 2 Broke Girls
The CBS American TV sitcom 2 Broke Girls ran for six seasons between 2011 and 2017. It starred Dennings alongside Beth Behrs.
The show is set in Williamsburg, a neighborhood of Brooklyn, New York, and the plot follows Max Black (Dennings) and Caroline Channing (Behrs).
Caroline was raised as the child of a billionaire while Max grew up in poverty, and the story follows the two women working as waitresses in a local diner to raise money for their cupcake business. The show was nominated for 12 Emmy Awards and won one in 2012 for its art direction.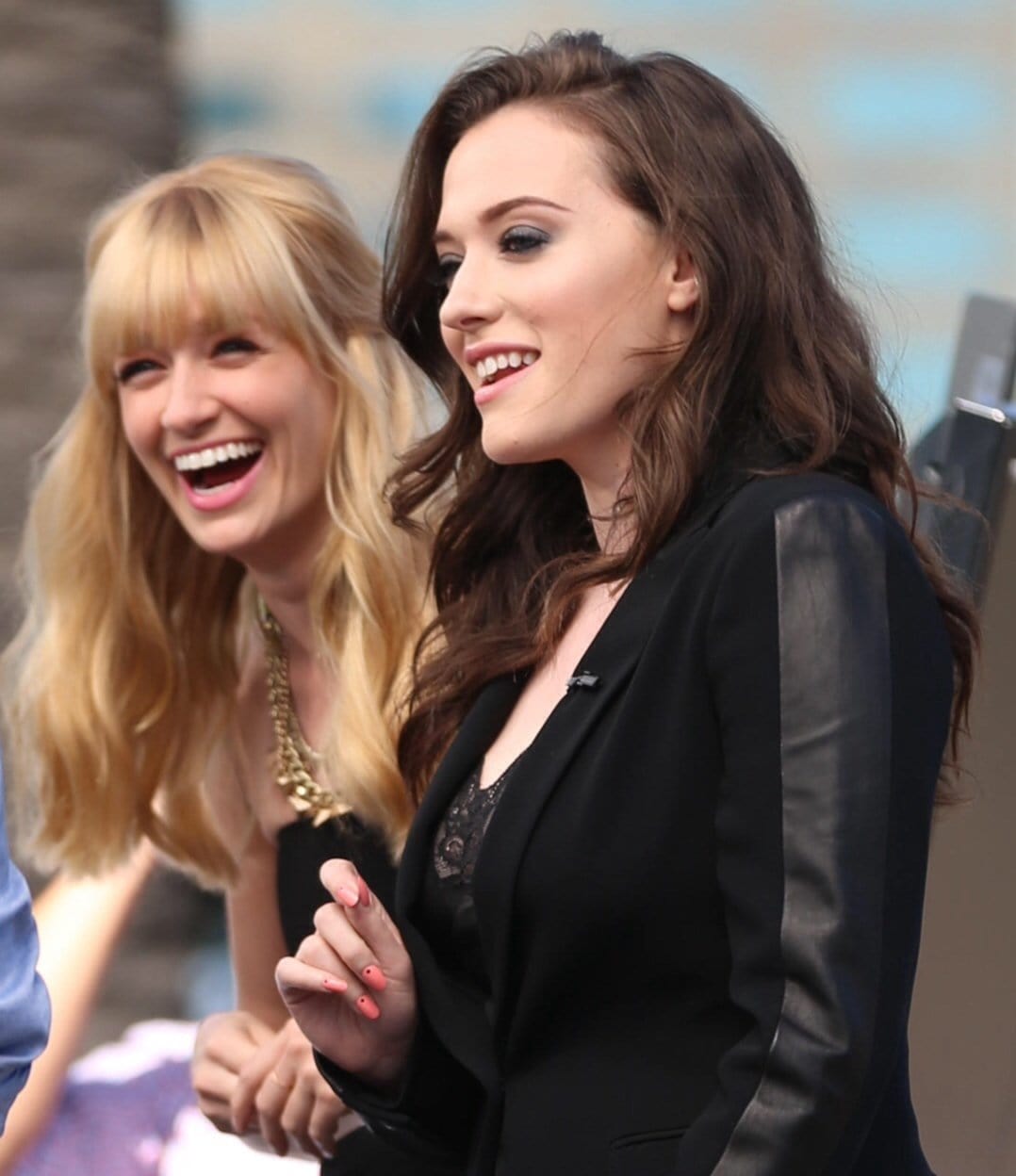 Kat Dennings and Beth Behrs from 2 Broke Girls appear on Extra on April 14, 2014, in Los Angeles (Credit: WENN)
Dennings was the first to be cast during the audition process. The show's co-creator, Michael Patrick King, said about Kat Dennings, "I don't think there's anybody else like her, so we basically hunted her down for this. She has a kind of amazing outsider edge. It made everything else fall into place."
Behrs and Dennings each earned $150,000 per episode during the show's run, making their earnings each about $20 million for the entire series.
Audiences fell in love with this dynamic duo throughout their six seasons and 138-episode run. In May 2017, CBS canceled the series after declining ratings and the need to make space for new sitcoms coming in the door the next season.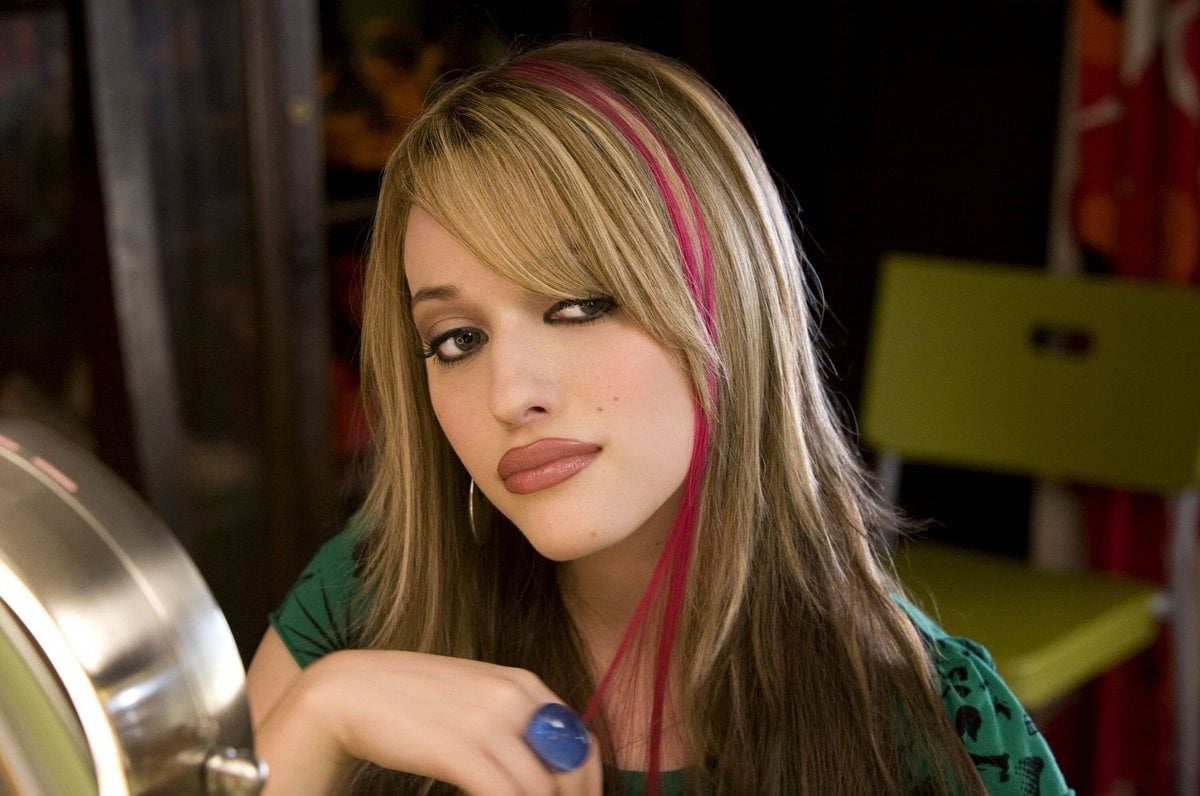 Kat Dennings as Mona Rita in the 2008 American comedy film The House Bunny (Credit: WENN / Columbia Pictures)
Luckily for Dennings, the continued syndication royalties from 2 Broke Girls remain a huge source of income for her career. Dennings and Behrs are each set to make around $50 million in syndication royalties. The co-creator, Whitney Cummings, will earn about that same amount.
While Dennings is very proud of the show, she did tell Los Angeles Times in 2019, "By the end, I just wanted to burn that waitress uniform." She was ready for something new.
Dennings' Relationship History
Dennings has been linked to many famous men. Rumors of her dating Ryan Gosling circulated back in 2009. Dennings was also briefly romantically linked to Tom Hiddleston, her co-star on Thor.
Kat Dennings and Nick Zano met on the set of 2 Broke Girls and dated from December 2011 to June 2014 (Credit: FayesVision / WENN)
From 2011 to 2014, Dennings dated her 2 Broke Girls co-star, Nick Zano. After that relationship, she dated singer Josh Groban until 2016.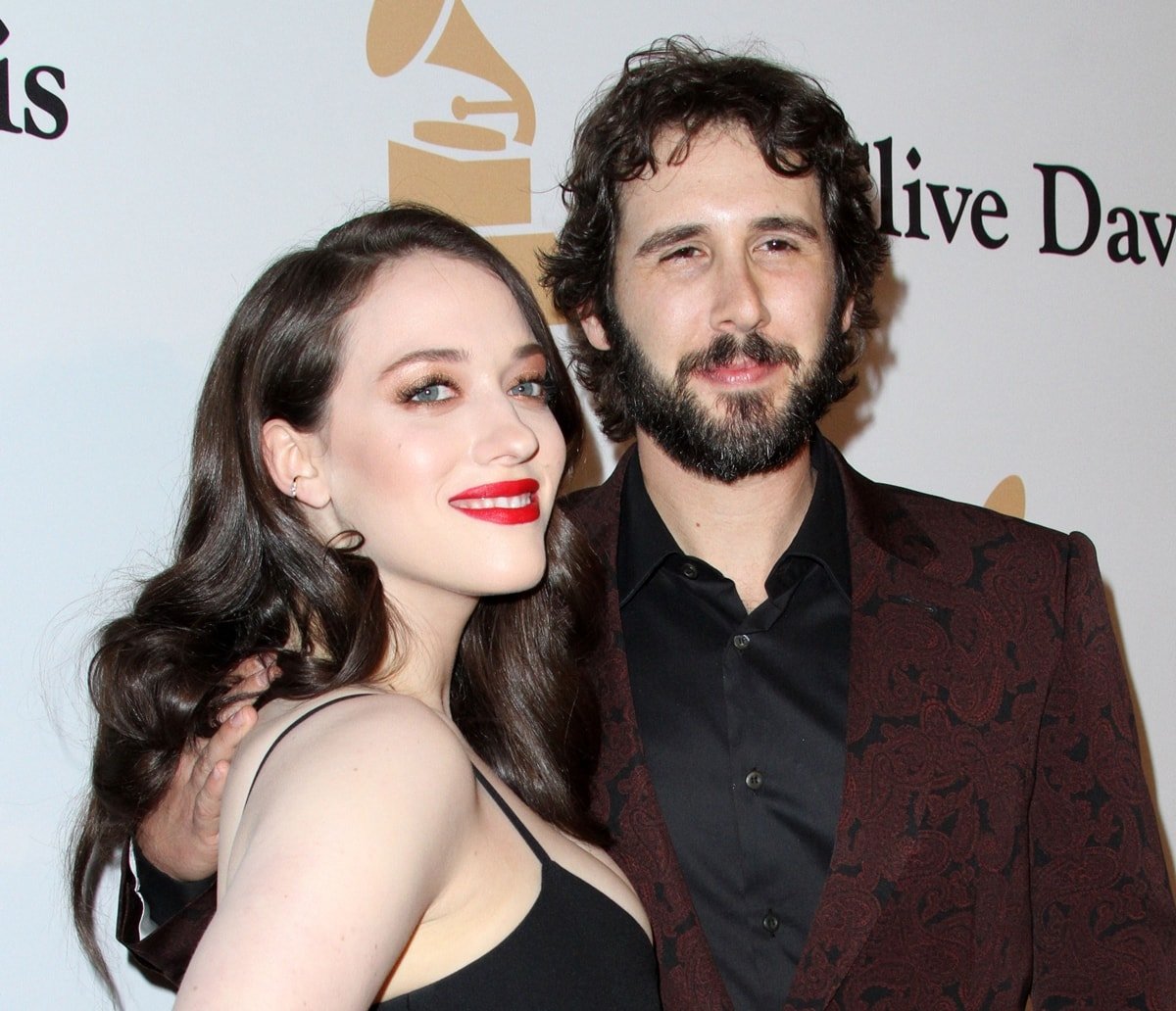 Kat Dennings and Josh Groban started dating in October 2014 and split in August 2016 (Credit: Adriana M. Barraza / WENN)
In 2021, Dennings met musician Andrew W.K., and the two announced their engagement in May of 2021.
"It's great. It's the best thing that's ever happened to me. He's a sweet, baby angel," Kat on The Drew Barrymore Show said about her engagement.
"Well I'm 35, so I waited a very, very good chunk of time to get married, and I am so glad I waited until I found the right person. It's really hard. Everybody goes through the nightmarish time of life looking for that person, or not whatever floats your boat, but I feel very lucky, and he's the best."
Kat Dennings and Andrew W.K. attend Marvel Studios' "Thor: Love and Thunder" Los Angeles Premiere at El Capitan Theatre on June 23, 2022, in Los Angeles, California (Credit: BauerGriffin / INSTARimages)
"He had a special moment that makes me believe in magic. We were doing kissing, and we had like a shared feeling. I felt this intense feeling, this is my person; this is it. I can't be without him this is the man I am supposed to be with. And we looked at each other and we both proposed at the same time. Not planned. No knee down. I don't even remember what happened after that. We just, we were like, 'Should we get married?' 'Yes.' And I just burst into tears. I never thought I had it in me because I kind of a toughie, but I did, I wept happy tears. I felt this sense of relief, like I've done it. I made it through the wilderness and found this incredible person. Yeah, no one believes me, but I assure you that's what happened."
Dennings' Iconic Beauty
Dennings told InStyle that she used to shop with her mother at thrift stores. She realized during this time that modern fashions were not suited for her body type.
Dennings said, "Like it wasn't for me. But whenever I went to a vintage store, and tried on dresses from the 1940s and 1950s, everything fit perfectly. Just because a curvier shape was more, like, of the time." She committed to this vintage fashion and remembers thinking, "Fine, I belong in this style. It feels like I am included in this."
Kat Dennings flaunts her boobs in a low-cut black top with Brenda Song at The Paley Honors: A Special Tribute to Television's Comedy Legends held on November 21, 2019, in Beverly Hills, California (Credit: Avalon / WENN)
The actress has also shared, "I don't drink and I don't smoke and I don't like being around people who do."
No wonder she looks like she hasn't aged. With minimal toxins in her body, she can maintain her natural beauty. She also practices Transcendental Meditation, another natural way to keep the mind, spirit, and body young.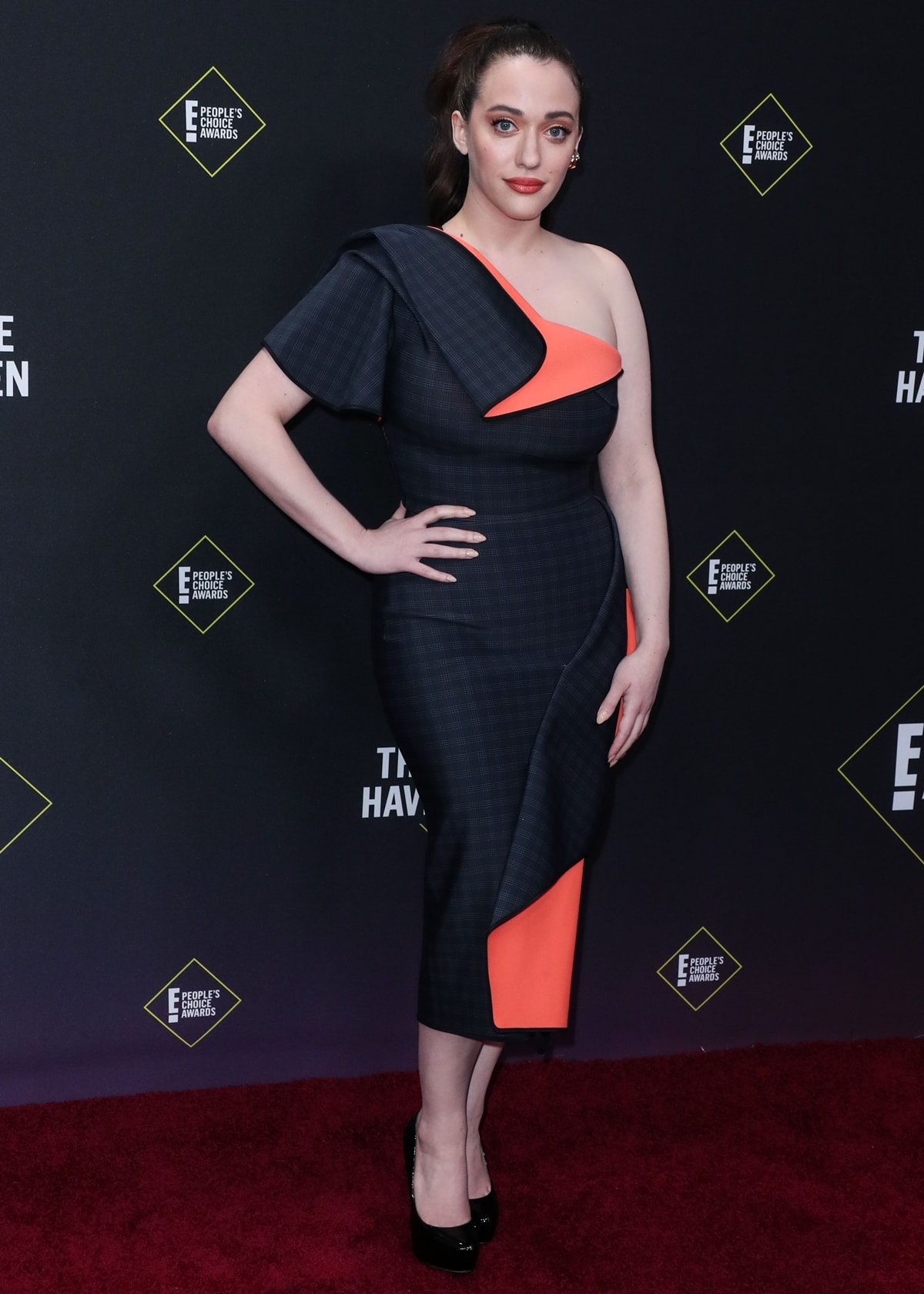 Kat Dennings in a two-color Maticevski Pre-Fall 2019 dress at the 2019 E! People's Choice Awards on November 10, 2019, at the Barker Hangar in Santa Monica, California (Credit: Avalon / WENN)
Her beauty, however, isn't something that Dennings is always comfortable putting on full display. She shared with the Philadelphia Inquirer, back in 2011, that it makes her really uncomfortable to be on the covers of magazines.
Kat Dennings shows off her size 7 (US) feet on the red carpet (Credit: Nikki Nelson/ WENN)
She continued, "if being successful means tolerating a certain amount of being uncomfortable, that's part of my job."
Dennings, not just an actress
Dennings moved behind the camera for her role as an executive producer on Hulu's 2019 show, Dollface.
She shared with Who What Wear that she was able to contribute from her own experiences, "But then I enjoyed sitting back and learning from other departments when I hadn't dealt with something before. I also wanted to be an ally for the actors, to make sure they knew they could come to me with anything and everything."
Jake Short, Trevor Gagnon, Jimmy Bennett, Kat Dennings, and William H. Macy in the 2009 American comic fantasy family film Shorts (Credit: WENN / Warner Bros. Pictures)
We have not seen the last of Kat Dennings, and we look forward to following the next 20+ years of her career.
Kat Dennings at the Los Angeles premiere of 'Thor: The Dark World' held at the El Capitan Theatre in Hollywood, California, on November 4, 2013 (Credit: RHS / FayesVision / WENN)
In November 2013, Kat Dennings was a lovely lady in red at the Los Angeles premiere of her film Thor: The Dark World, which stars some of Hollywood's finest, such as Tom Hiddleston, Anthony Hopkins, Natalie Portman, and Chris Hemsworth.
She looked gorgeous in an intricately embroidered number from Naeem Khan and a classic pair of nude Jimmy Choo pumps.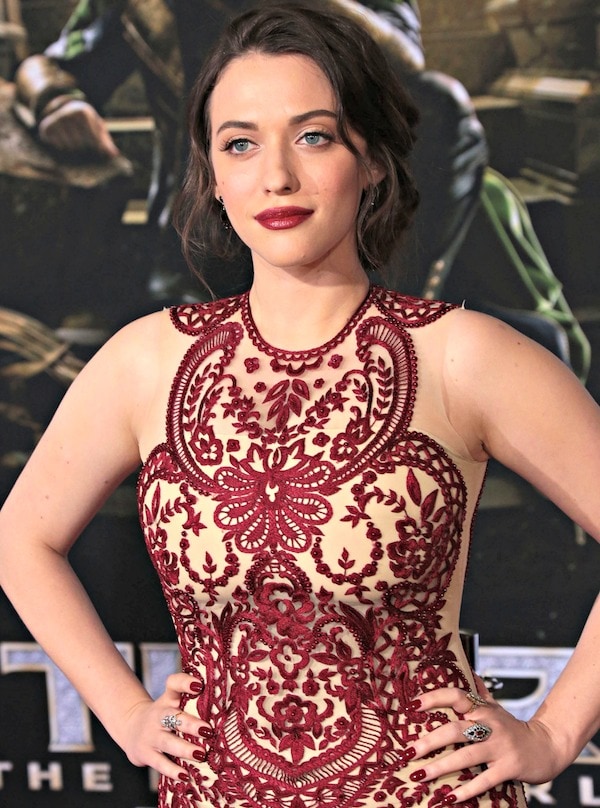 Kat Dennings displayed her curves in a Spring 2014 crimson-and-nude sheath dress (Credit: FayesVision / WENN)
The stunning actress proudly displayed her curves in a Spring 2014 crimson-and-nude sheath dress with damask-style embroidery and intricate floral details from Naeem Khan.
She carried a gold clutch by Edie Parker and showed off her feet innude Jimmy Choos. Her hair was styled in a loose chignon with soft tendrils that framed her gorgeous face.
Kat Dennings toting a gold clutch by Edie Parker (Credit: FayesVision / WENN)
Vampy red lips, crimson nails, and Neil Lane diamonds completed her sultry and classy look.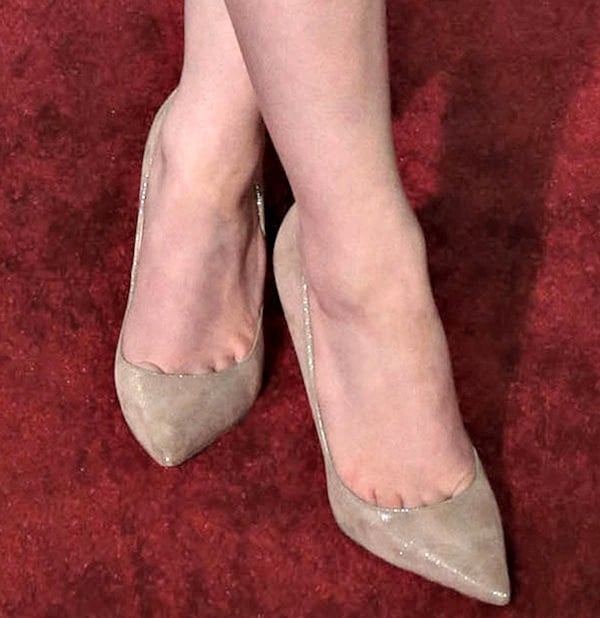 Kat Dennings showing toe cleavage in nude "Anouk" pumps from Jimmy Choo (Credit: FayesVision / WENN)
Kat stepped out on the red carpet in nude "Anouk" pumps from Jimmy Choo. Available at Mytheresa and Farfetch, these shoes from the popular footwear designer feature nude suede, pointed toes, and lacquered heels.
Jimmy Choo "Anouk" Pumps in Nude, $575
The Anouk pumps are also available in a multitude of styles for you to choose from:
Jimmy Choo "Anouk" Glitter and Calf Pumps, $595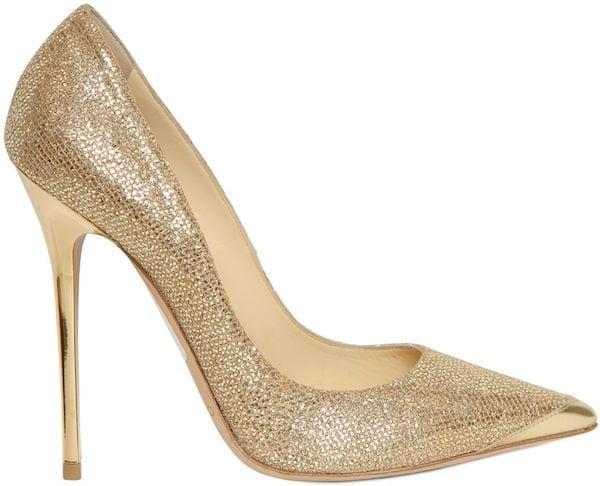 Jimmy Choo "Anouk" Pumps in Red Patent Leather, $595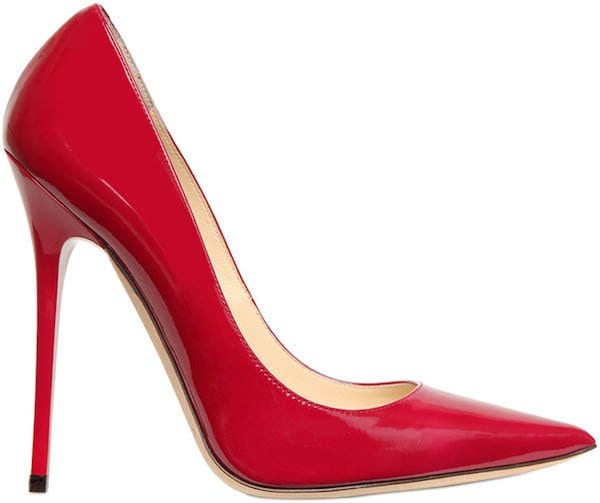 Jimmy Choo Black Studded "Anouk" Pumps, $776.49
Jimmy Choo "Anouk" Petrol Iridescent Pumps, $675