After securing the role of Loki in the extremely lucrative Avengers film franchise and even landing his own show, Loki on Disney+, Tom Hiddleston has managed to become a household name.
In addition to the 40-year-old English actor's on-screen exploits, Hiddleston has repeatedly been in the tabloids for his love life — most notably his short-lived relationship with pop icon Taylor Swift, who is 10 years younger than him and the youngest person he's been linked to.
Despite Hiddleston's many brushes with romance, the actor has never been married and it is unlikely you will see him walk down the aisle any time soon. Until then, all we can do is take a walk down memory lane and reminisce about all of Hiddleston's exes (and rumored exes).
1. Susannah Fielding (2008 – 2011)
Hiddleston met fellow Brit actress Susannah Fielding on the set of BBC's Wallander in 2008. Fielding has starred in titles such as Death In Paradise, Catastrophe, and This Time With Alan Partridge.
One of Hiddleston's longest relationships of note, the pair dated for nearly three years before calling it quits in 2011. Their reason for breaking up was all too common: they wanted to focus on their respective careers.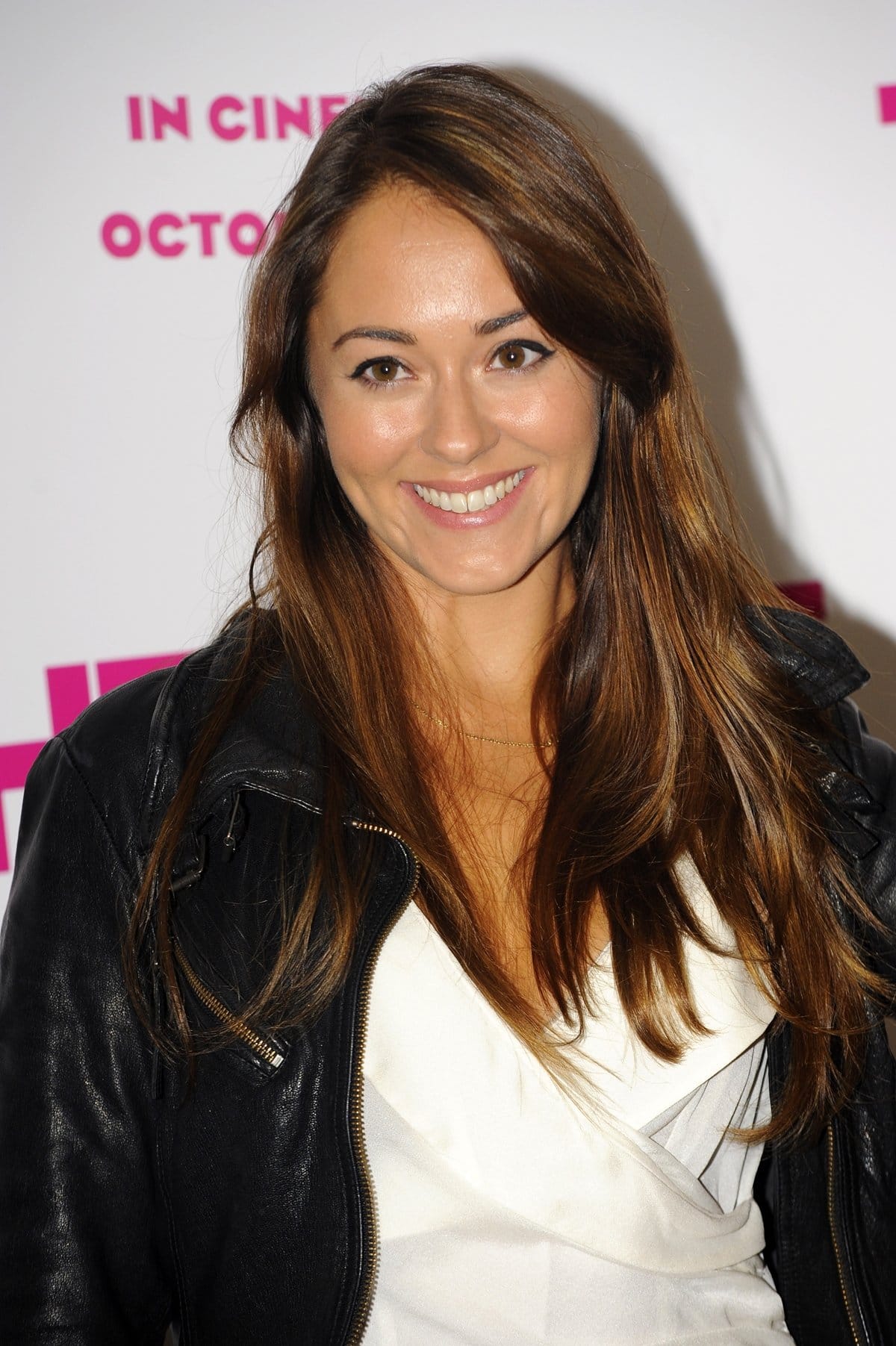 English actress Susannah Fielding dated Tom Hiddleston from 2008 to 2011 after meeting on the set of BBC's Wallander (Credit: WENN)
"Acting just demands everything," Hiddleston said to the Daily Mail in February 2012 about the sacrifice. "If you don't give it everything, there will be someone behind you who will."
"I was very young and very naive," Susannah Glanville-Hearson, known professionally as Susannah Fielding, told Radio Times about dating the Hollywood mega-star.
"It was weird and unexpected, but I definitely got a little snapshot of what fame could be like, and that it's maybe not all it's cracked up to be," she added about her relationship with Thomas William Hiddleston.
2. Jessica Chastain (2013)
Rumors began to swirl at the end of 2013 that Hiddleston was dating Jessica Chastain, known best for her roles in Interstellar and Molly's Game. They starred together in the 2015 gothic romance film Crimson Peak.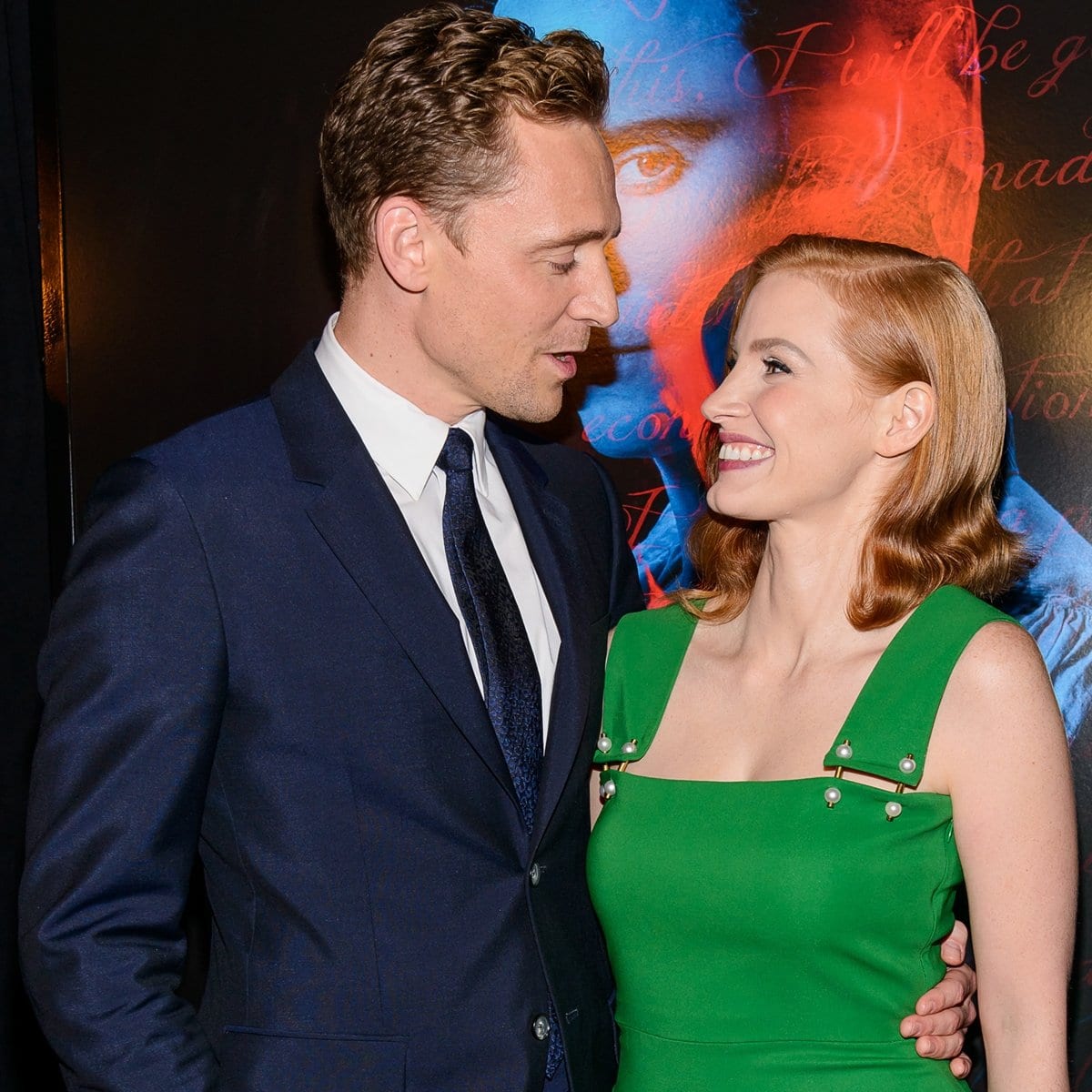 Jessica Chastin has denied dating Tom Hiddleston and insists she does not date other actors (Credit: C.Smith/ WENN)
However, this rumor turned out to be false, as Chastain apparently has a very strict "no actors" rule when it comes to dating, telling InStyle UK, "I have dated an actor before, at Juilliard, but since then, I've only been on a couple of dates with one and I was so freaked out someone was going to take a picture of us, because they were famous."
In 2013, Chastain was secretly dating her future husband, Gian Luca Passi de Preposulo, whom she met one year earlier.
3. Jane Arthy (2013)
Hiddleston was caught holding hands with music producer Jane Arthy in 2013 at the Wimbledon tennis finals. "I understand the curiosity," the actor said to GQ in 2013. "One day I hope when there's really something to write home about, then I'll be able to talk."
Unfortunately, there was not much to talk about — Hiddleston and Arthy were not seen much after that.
4. Elizabeth Olsen (2015)
Hiddleston met future MCU actress Elizabeth Olsen in 2015 while on set for I Saw the Light. The pair was photographed numerous times for about two months that summer, going on casual dates.
Elizabeth Olsen claims not to have dated Tom Hiddleston and that they're just friends (Credit: Brian To / WENN)
Critics speculated that this was all a publicity stunt for the movie. However, that fall, Olsen said that she and the Loki actor were just friends, telling Refinery29, "I mean, we definitely are friends and we've known each other for about four years. And we happened to be at a restaurant at a wrong time having dinner. We all go out to dinner."
Maybe it was for the best that Hiddleston and Olsen were not officially dating, as the two later worked together in Avengers: Infinity War. If there is one thing we know about the Avengers actors, it is that it is impossible for them to ignore each other.
5. Taylor Swift (2016)
The ill-fated relationship with pop star Taylor Swift in the summer of 2016 was by far the most iconic of Hiddleston's past flings.
Unlike his other romances, Hiddleston was not shy at all when talking to the press about his relationship with Swift and made no efforts to hide it, telling The Hollywood Reporter, "Well, um. How best to put this? That notion is — look, the truth is that Taylor Swift and I are together and we're very happy. Thanks for asking. That's the truth. It's not a publicity stunt."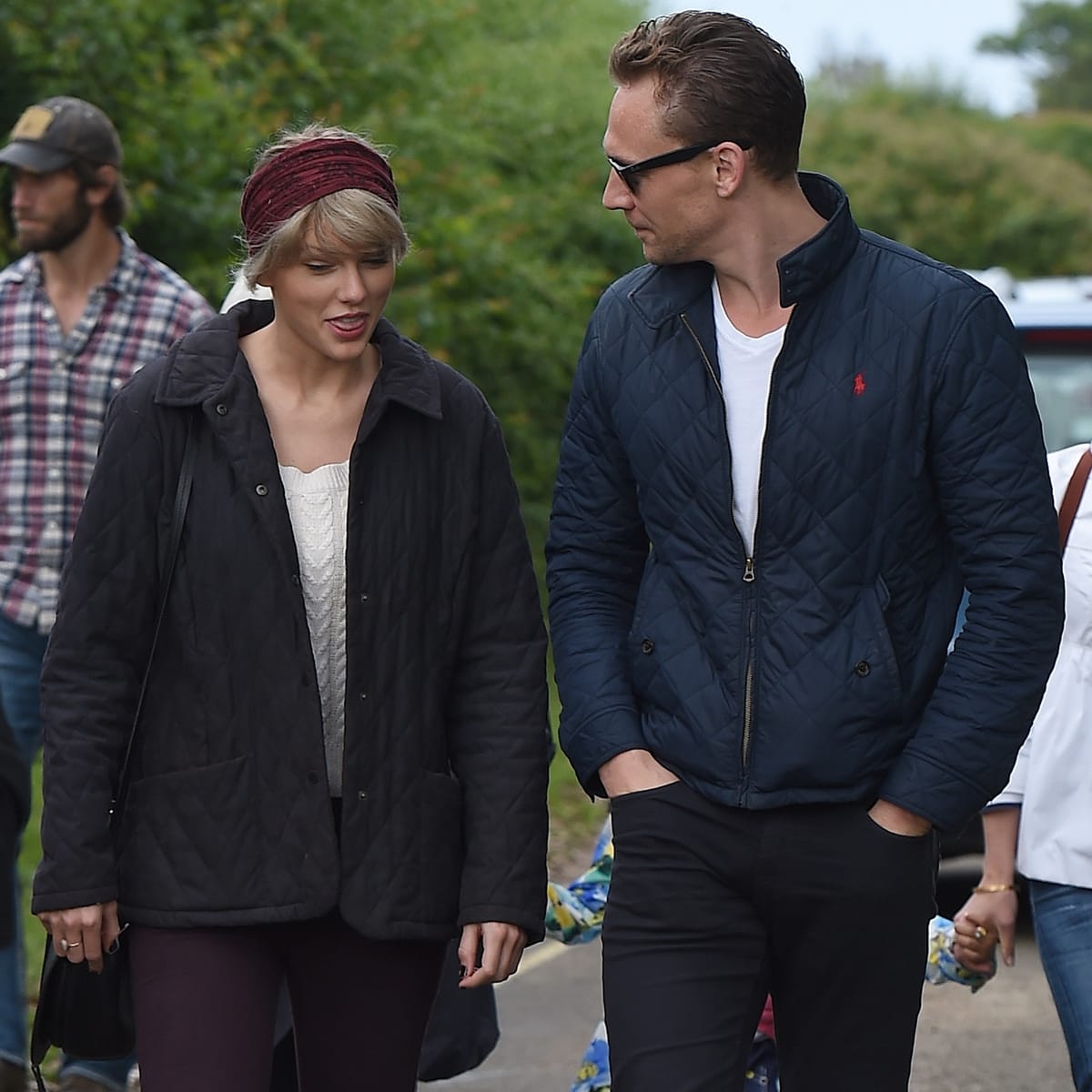 Tom Hiddleston and Taylor Swift surprised everyone when they confirmed they were dating (Credit: Will Alexander / WENN)
The summer of 2016 was inundated with stories about Hiddleston and Swift's relationship, as paparazzi caught them canoodling around the world. Who could forget Hiddleston's legendary (and ridiculous) 'I LOVE T.S.' shirt? The actor was beaming — he looked legitimately happy to be wrapped around the talented finger of a much younger pop star.
Why did Tom Hiddleston and Taylor Swift break up?
Unfortunately, as with many of Hiddleston's relationships (and Swift's, for that matter) it was simply not meant to last. The pair broke things off in September of 2016, after only a few months together.
The plot thickened the next year, in November of 2017, when Swift released her highly anticipated Reputation album. The smash-hit album included lyrics like: "the ties were black / the lies were white / I wanted to leave him, I needed a reason. But with three of us, honey, it's a sideshow and a circus ain't a love story and now we're both sorry"
Fans and critics alike were quick to point out that these questionable lyrics suggested that Swift had only been using Hiddleston to leave her former beau, music producer Calvin Harris. After seeing Hiddleston's joy throughout the summer that he and Swift were together, all we can say is "ouch".
6. Zawe Ashton (2019 – ?)
Most recently, Hiddleston was linked to English actress, director, and playwright Zawe Ashton in 2020. Ashton and Hiddleston met in 2019 while performing in a production of Betrayal on the West End.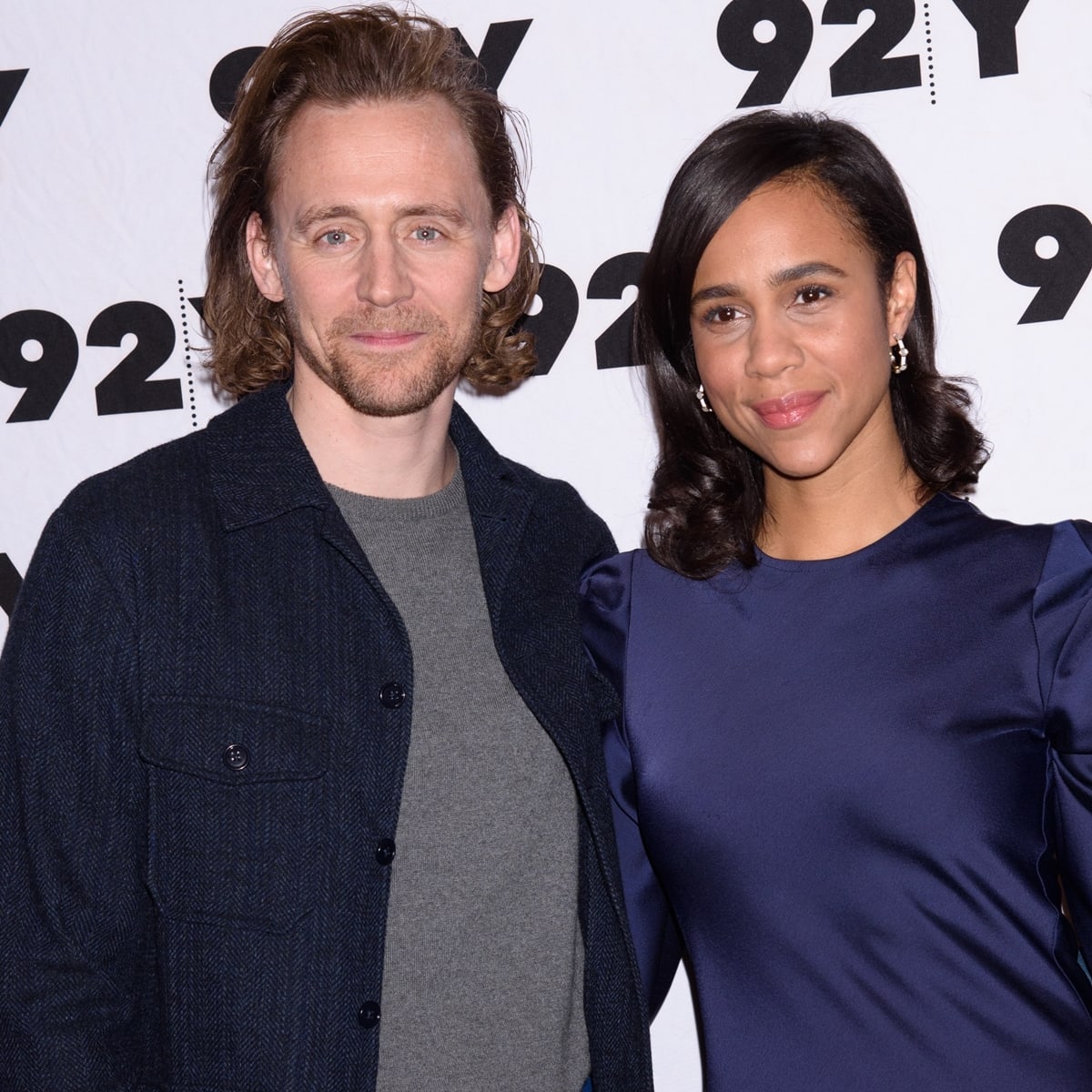 Tom Hiddleston and Zawe Ashton met in 2019 while starring together in the West End production of Betrayal in London (Credit: WENN / Avalon)
Hiddleston seems to have been burned from his very public relationship with Taylor Swift, as the Avengers actor has reverted back to his prior approach of being extremely tight-lipped about his relationships. Born in 1984, Zawe Ashton is just three years younger than him.
Unfortunately, we do not know much about Ashton and Hiddleston's burgeoning romance, but reports have said that the two have been living together at the actor's home in Atlanta, Georgia.
Tom Hiddleston and Zawe Ashton are reportedly still dating in 2021 and are living together in Atlanta (Credit: Joseph Marzullo / WENN)
After Hiddleston's publicized breakup with Taylor Swift, we can't help but to wish him the best in his future romantic endeavors.
Taylor Swift and new boyfriend Tom Hiddleston enjoy a romantic walk on the beach near Lowestoft in Suffolk, England on June 26, 2016 (Credit: Will Alexander / WENN)
You would think that one of the world's most high-profile celebrities would don the most lavish of designer duds for a first-time meeting of the parents. But, not Taylor Swift!
In June 2016, Taylor was spotted out in England to meet Tom Hiddleston's mom, Diana Patricia Hiddleston, looking like an ordinary person. Cue gasps here.
No sharply tailored coats here – Taylor opts for a mediocre look to meet Tom's mom (Credit: Will Alexander / WENN)
Taylor actually looked pretty good but since we're so used to having her glam team fix each loose strand on her head, this was a sight we're not used to seeing.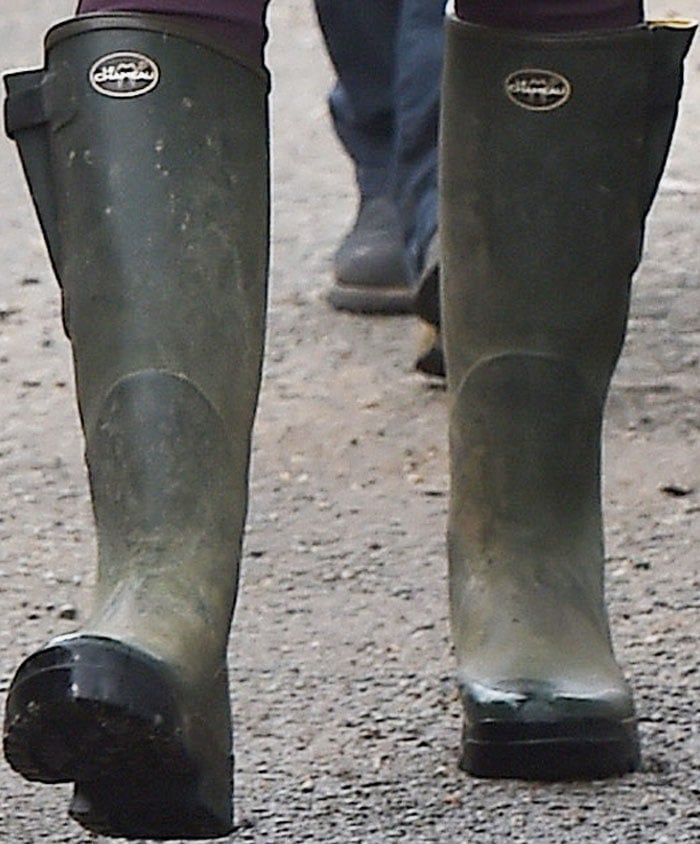 Not exactly glamorous – Taylor Swift keeps out beach sand in the Le Chameau 'Chasseur' boots (Credit: Will Alexander / WENN)
The pop icon wore a white knit sweater with a pair of Black Orchid "Black Jewel" mid-rise jeggings in Malaga Wine. Taylor put up her disheveled hair in a "Myna" headband by Free People and clutched a Rebecca Minkoff "Mara" saddlebag.
Her outfit was topped with a quilted black jacket. She finished her look with a pair of Le Chameau "Chasseur" boots, perfect for strolling England's green countryside.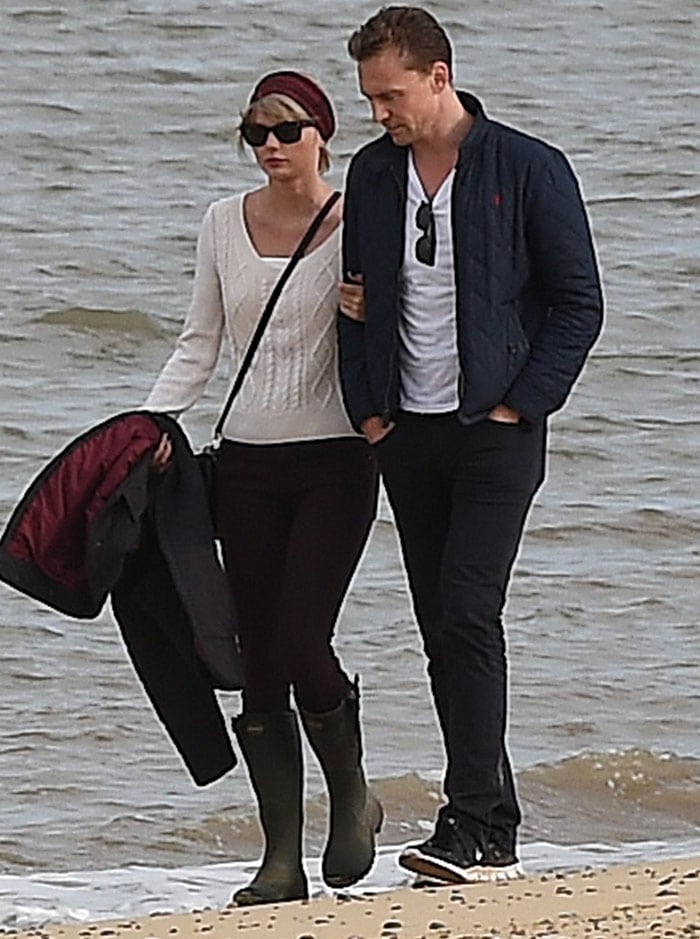 Taylor Swift clings on to her new man as they take a romantic stroll along the beach (Credit: Will Alexander / WENN)
If anything, it looks like Tom's mom is pretty down-to-earth, which might be why Taylor dressed so casually for the encounter. The trio were spotted along with some of Tom's friends enjoying a casual stroll on the beach.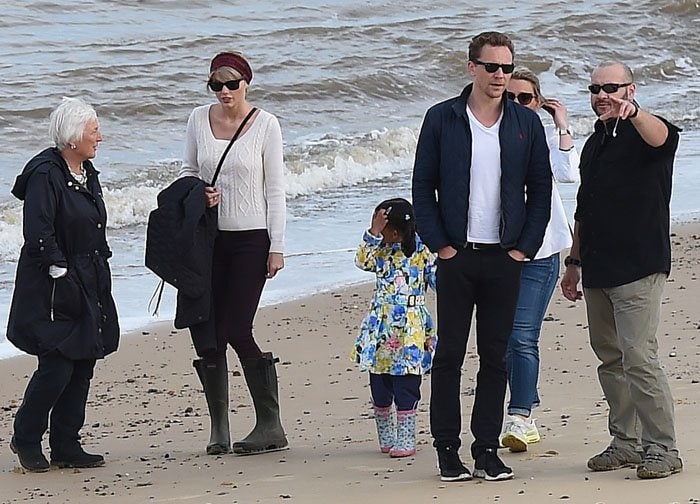 Taylor Swift spent the afternoon in England with Tom's mother Diana Patricia Hiddleston as well as some of his friends (Credit: Will Alexander / WENN)
If you're sand-conscious and out for a stroll with your significant other, Taylor's Le Chameau "Chasseur" boots are actually a pretty good footwear option.
Le Chameau "Chasseur" Boots, $110.06 – $500.00
The iconic Chasseur, a handcrafted premium leather lined zip boot, is instantly recognizable