Jessica Chastain's roles usually get filmgoers talking, and her role in the 2017 film "Molly's Game" was no exception.
Jessica portrayed Molly Bloom, a skier-turned-gambler, in the Aaron Sorkin-directed biographical crime drama.
Jessica Chastain was bullied for having red hair and freckles when growing up (Credit: PhotoXpress / WENN)
Jessica Chastain's rise to stardom
The decision to cast Jessica as Molly was an obvious choice.
The American-born actress and movie producer, who will turn 45 on March 24, is well known for her portrayal of feminist characters.
While Jessica's birth certificate indicates that she has no father, the actress was born to Jerri Renee and Michael Monasterio.
However, Jessica has never publicly acknowledged her birth father, and instead, has publicly thanked her stepfather Michael Hastey. According to her, Michael was the first person to help boost her into feeling secure.
But, when it comes to giving credit, Jessica has historically lauded praise onto her maternal grandmother Marilyn Herst, who has always believed in her.
Jessica grew up with two sisters and two brothers. Her younger sister, Juliet, committed suicide in 2003 at the age of 24 after years of battling drug addiction.
Jessica experienced a fair share of bullying and self-esteem issues while growing up, mostly due to her red hair. She opted to cut her red hair short because she hated it.
Jessica Chastain's Molly Costume
Jessica did keep her red hair for her role in "Molly's Game," even though she (or some clever film editing) seemed to darken it a bit.
Jessica's costume designer, Susan Lyall, also put in a good amount of work designing a wardrobe that would mirror that of the real Molly Bloom.
Real-life Molly stated that she would never wear the same outfit twice during the height of her poker career, so the film set out to do the same.
Jessica Chastain as Molly Bloom in the 2017 American biographical crime drama film "Molly's Game" (Credit: STX Entertainment)
Jessica wore a lot of low-cut dark dresses and push-up bras.
"There were a lot of things we had to check off to make each costume appropriate," Susan told Vulture. "Was it sexy enough, which is a very subjective thing? In our case, that usually meant was there enough cleavage showing, but without looking trashy."
"She always had cleavage at a game," Susan added. "When she met with her attorney or someone else or was at her real-estate office, there wasn't so much. But it was like going to war, like putting on her armor."
Jessica Chastain used dresses with deep Vs and push-up bras to look like Molly Bloom (Credit: STX Entertainment)
How did Jessica Chastain Balance Push-Up Bras With Feminism?
Like all good actors, Jessica took the role and put her own spin and talent into it. For her, that meant breaking stereotypes.
The redhead stated that she interjected a bit of her own personality into the role, which is something she's done on every movie she's worked on.
The self-proclaimed feminist typically strives to undertake roles that allow her to portray powerful women. Take, for example, her work on "The Martian," where she played a spacecraft commander in a role she hoped would motivate women to gravitate toward careers in space and science.
Jessica has also portrayed a strong woman lead in many movies — roles where she didn't have a boyfriend or love interest.
In addition to snatching up those complex female roles — and advocating for more of them — Jessica has also been very vocal about supporting female directors and supporting fellow women in Hollywood.
It looks like Molly Bloom was the perfect complex character for Jessica: A fierce, talented and savvy woman clad in cleavage-baring frocks.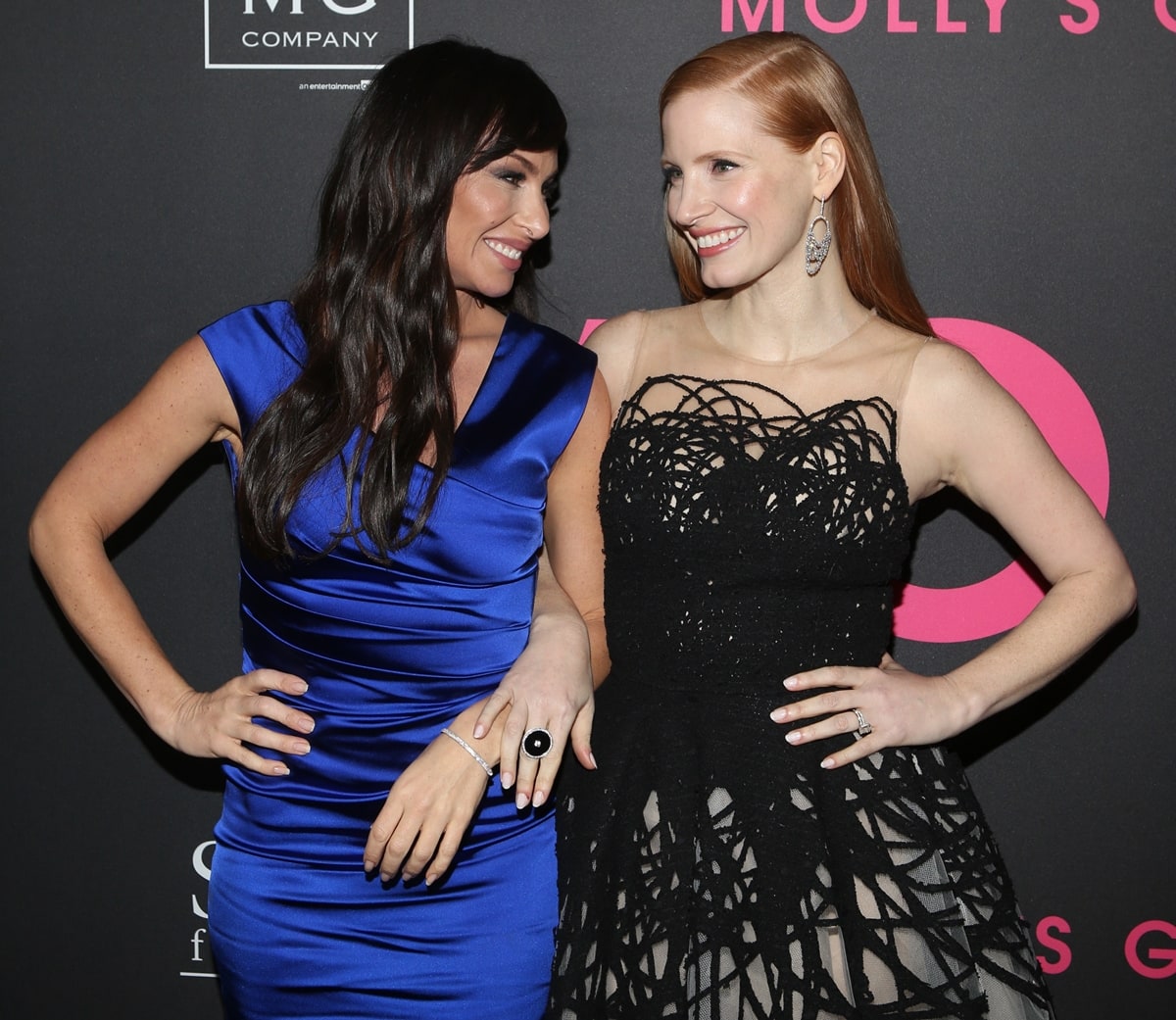 Molly Bloom and Jessica Chastain attend the New York premiere of "Molly's Game" held Dec. 13, 2017 at AMC Loews Lincoln Square in New York City (Credit: Derrick Salters / WENN)
Jessica Chastain's Private Life and Marriage
Jessica tends to lead a very private life. She's waved off questions about both her husband and having kids.
It's been speculated that Jessica is a mother, but nobody can confirm for sure.
What Activist Causes does Jessica Chastain Support?
In addition to her vocal support of women in film, this fiery redhead has been very involved in other social justice issues.
It appears that Jessica participated in Black Lives Matter protests based on her social media posts captioned with the "#TakeAKnee" hashtag.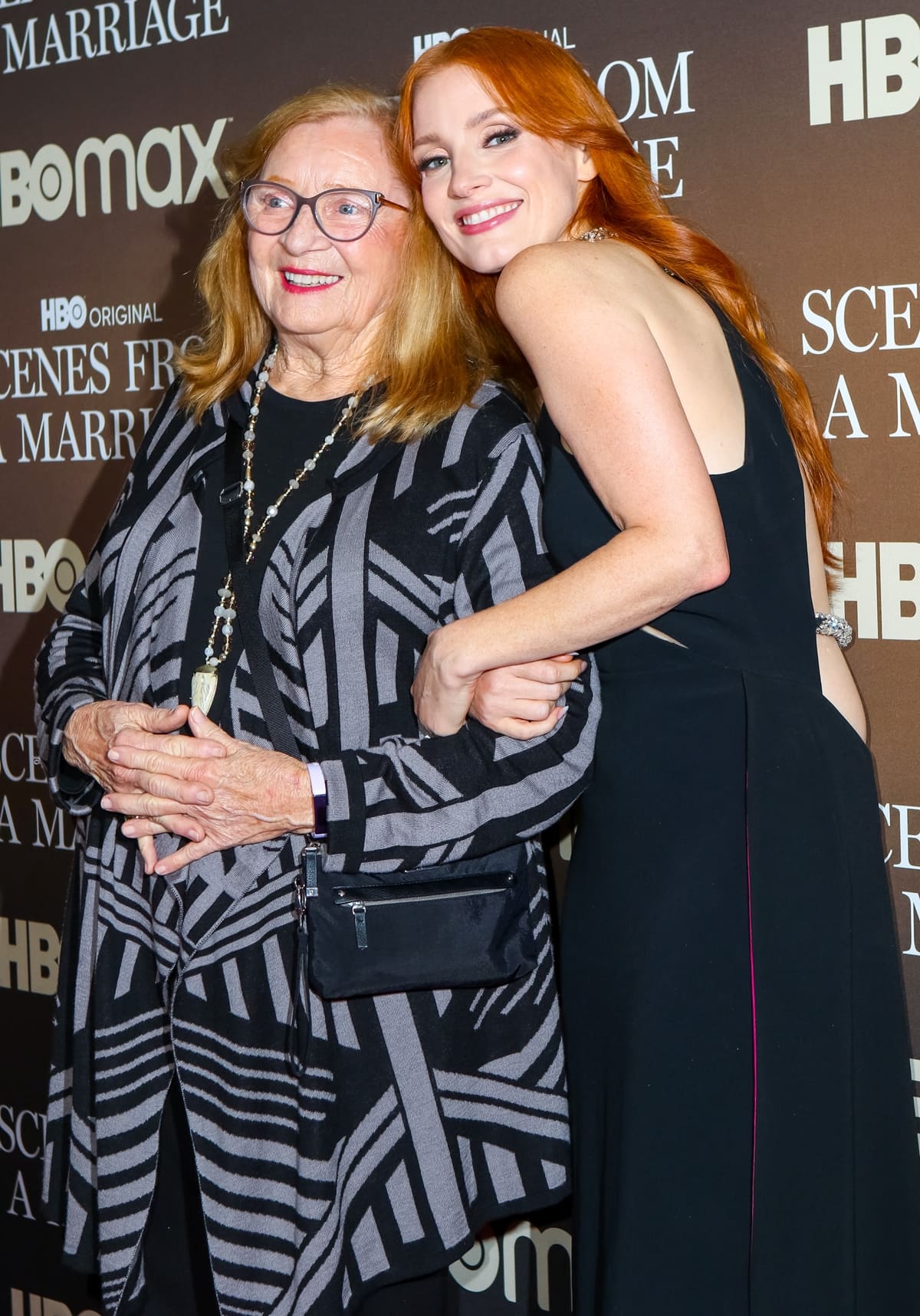 Jessica Chastain is very close to her grandmother Marilyn Herst (Credit: MEGA / WENN)
Molly Bloom's Reaction to Jessica's Performance
The real-life Molly Bloom, which inspired the story, said she was blown away by Jessica's interpretation of the role, despite the lack of preparation time Jessica was given.
"We spent less time together," Molly said. "She had little to no time to fully prepare herself to record enough research."
Molly Bloom ran an illegal gambling ring at The Viper Room in Los Angeles (Credit: Nicky Nelson / WENN)
Molly said Jessica pulled off the role to the point that even her friends and family members were shocked. They felt like they were almost watching the real Molly on screen, the former gambling pro said.
Jessica Chastain Off-Screen
In January 2013, Jessica Chastain was spotted keeping things bright during the dreary winter months as she exited a taping of "Late Night With Jimmy Fallon" in New York City.
Jessica Chastain wears her red hair down as she wraps up a taping of "Late Night with Jimmy Fallon" Jan. 18, 2013, at NBC Studios in New York City (Credit: WENN)
The actress braced herself against the winter cold as she exited NBC Studios in a bright blue Roksanda Ilincic "Kendal" dress covered with a neutral-colored trench coat from American fashion designer Michael Kors.
She added even more color to the look with bright red lipstick and toned the cheerful ensemble down with a nude pair of "Raven" sandals from Jimmy Choo.
Jessica did have the opportunity to use her footwear to add more color to the look, but that just wouldn't have matched her typically sophisticated and understated sense of style.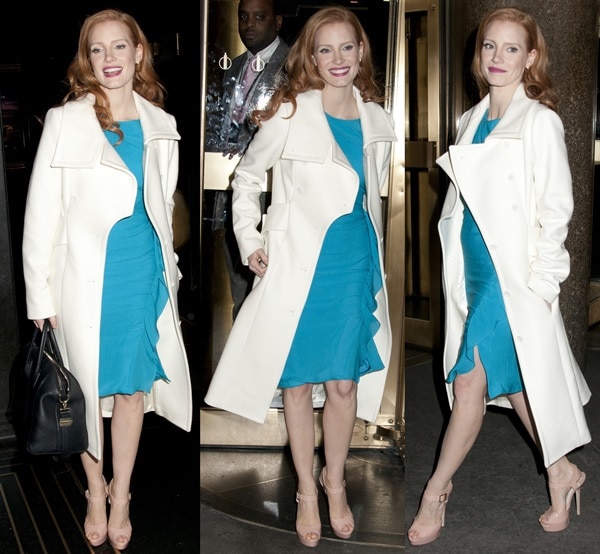 Jessica Chastain pairs a bright blue Roksanda Ilincic dress with nude Jimmy Choo pumps (Credit: WENN)
We think the amount of color she gave us was just right.
The exact style that Jessica wore has unfortunately sold out at Farfetch, but you can browse more recent arrivals from the same designer at Mytheresa.
Jimmy Choo Cruise 2013 Raven Sandals, $795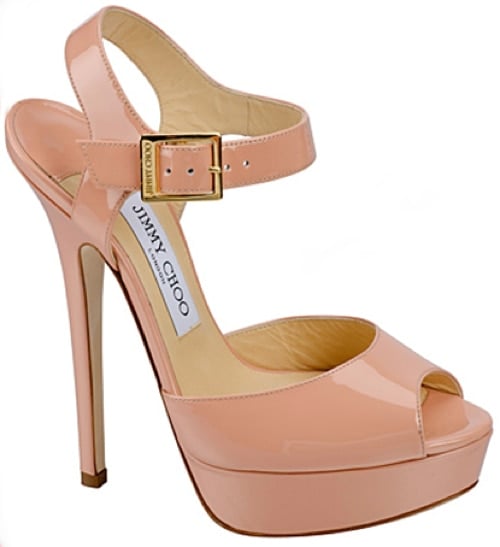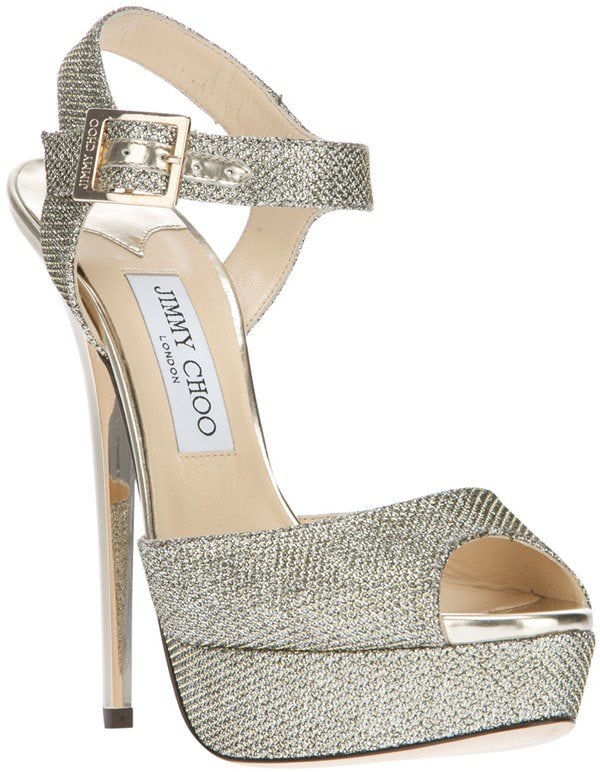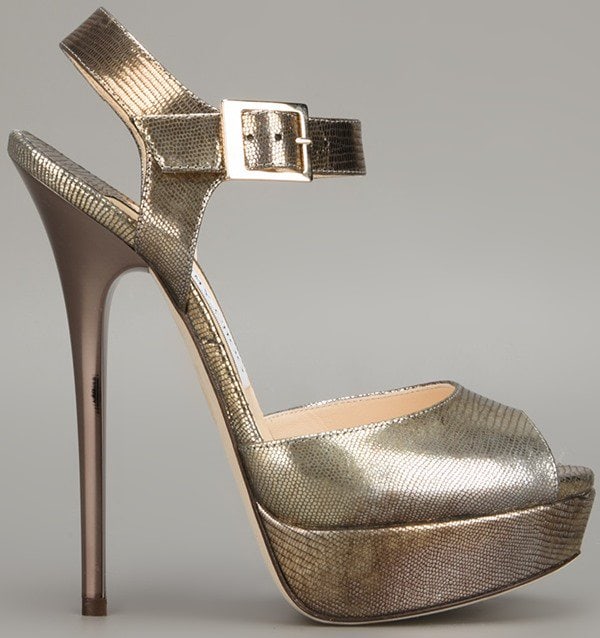 Would you make these chic and simple sandals your next shoes?