Born on March 24th, 1977 in Sacramento, California, Jessica Chastain is a 44-year-old American actress who is well-known for several roles, including The Tree of Life, The Help, Interstellar, and Zero Dark Thirty.
Jessica grew up both dancing and acting in her youth and went on to attend The Juilliard School in New York to receive formal acting training.
Jessica Chastain looks radiant in a red and white Christian Dior Fall 2021 plaid dress and jacket at a special screening of her movie The Eyes of Tammy Faye on December 2, 2021, at Soho House in New York City (Credit: MEGA / WENN)
2011 was a turning point for Jessica Chastain's career. She received several different nominations and won awards at several major award shows, notably including a 2012 Oscar nomination for Best Performance by an Actress in a Supporting Role for The Help.
Jessica Chastain in a sleeveless Gucci gown at the Rome Film Festival to promote her new film The Eyes of Tammy Faye on October 14, 2021, in Rome, Italy (Credit: KIKA / WENN)
Despite her being a household name, Jessica Chastain is quite private when it comes to her personal life. Very few personal details are known about the star, other than her unquestionable talent.
Who is Gian Luca Passi de Preposulo?
It comes as no surprise that Jessica Chastain's husband, Gian Luca Passi de Preposulo, is just as esteemed as she is. A Hollywood star deserves no less in a partner, and Passi de Preposulo is certainly up to the task.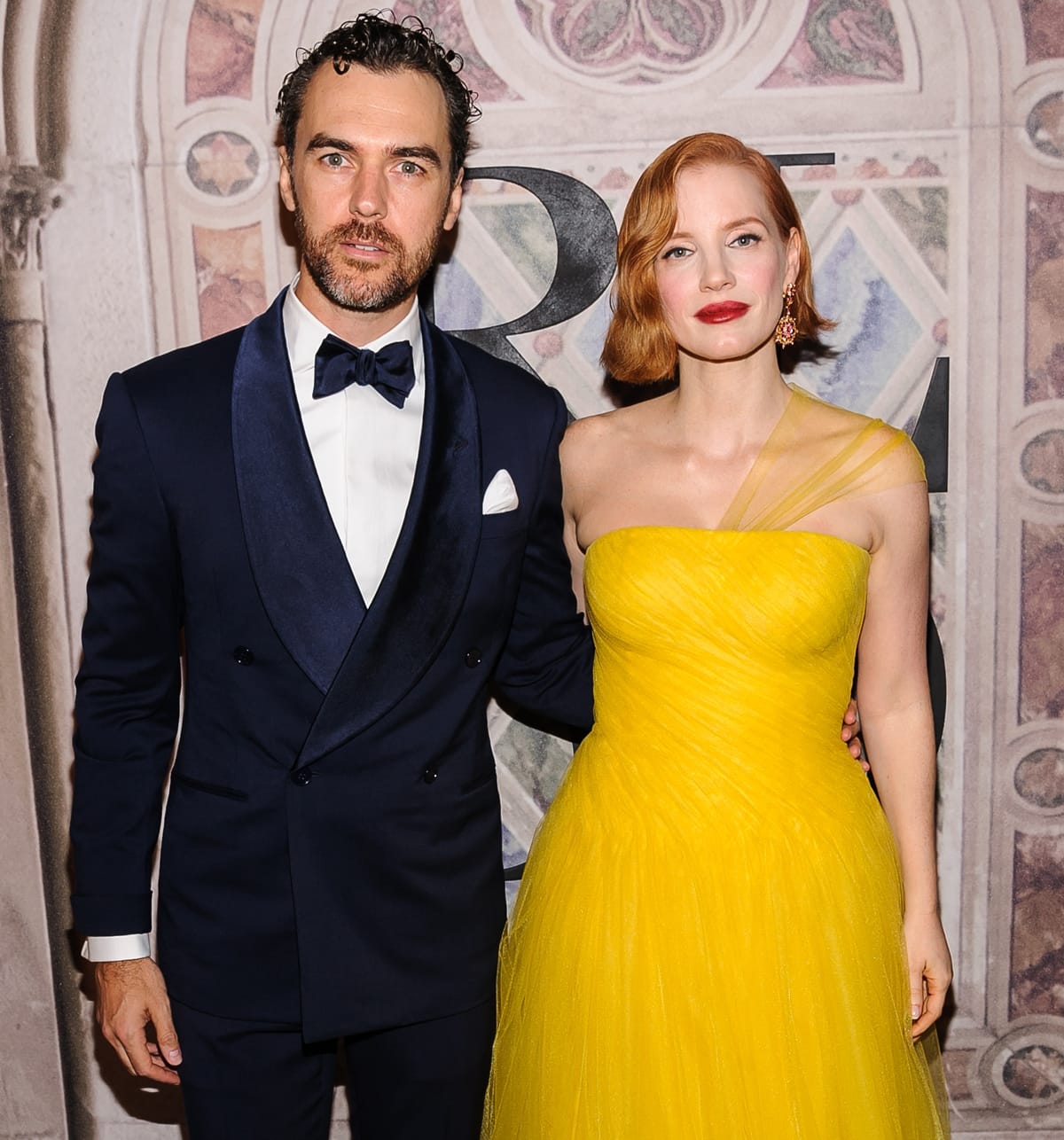 Gian Luca Passi de Preposulo and Jessica Chastain met at a fashion show on the same day she was nominated for a Best Supporting Actress Oscar for her role in The Help (Credit: WENN)
He descends from a long line of Italian nobility and is a count- if you don't believe it, just check out the family's very own Wikipedia page. His family Villa even makes their own prosecco!
"He's a gentleman… That's very important to me," Jessica told W Magazine of her then-boyfriend in 2015. "He's from an old-school Italian family. No one in his family has ever been divorced!"
Beyond just his last name, Gian Luca Passi de Preposulo is extremely successful in his own right, as well. He works as a fashion publicist and has worked as the head of Public Relations (PR) for both Armani and Moncler.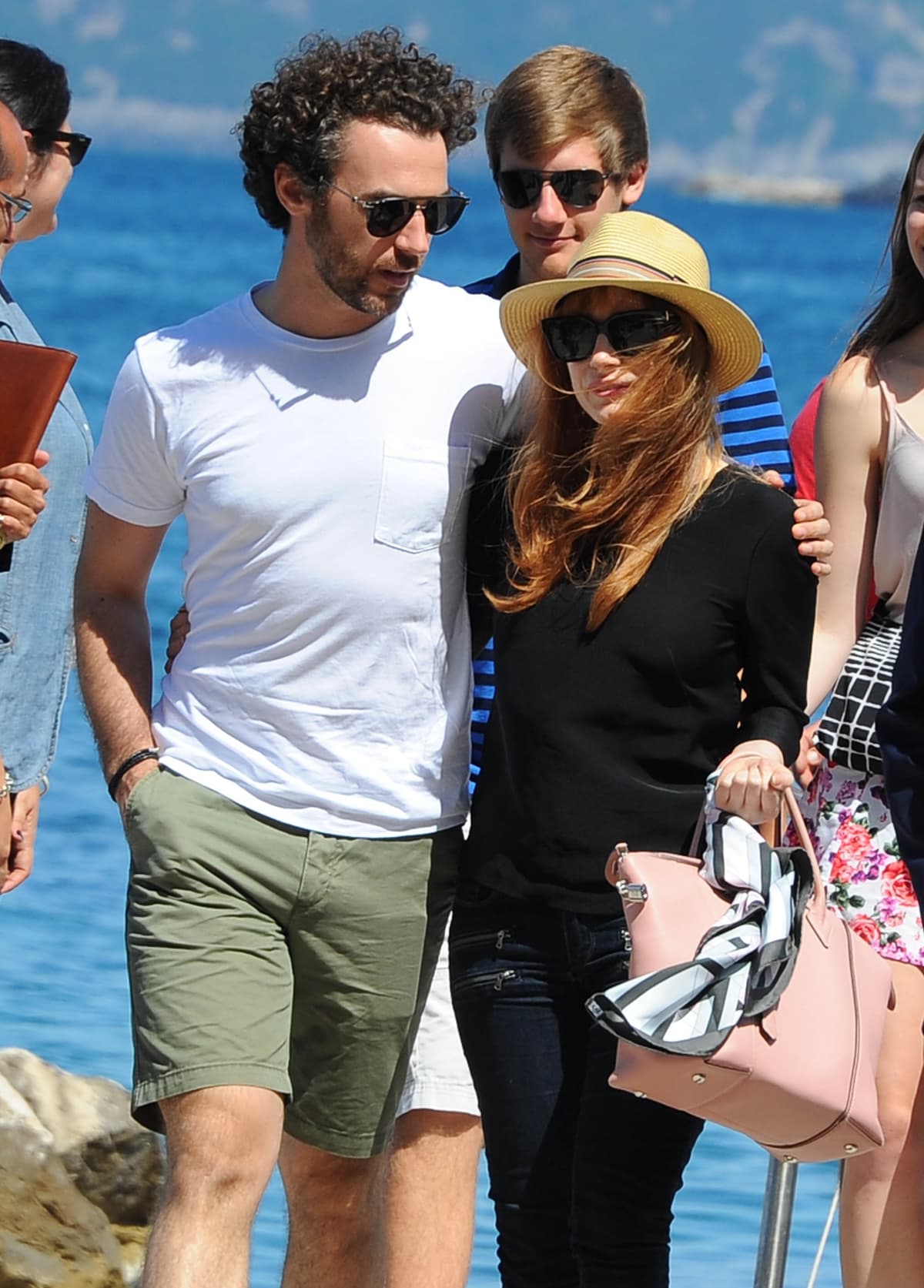 Gian Luca Passi de Preposulo is significantly younger and taller than his wife Jessica Chastain (Credit: WENN)
Thanks to his career as a high-level executive in the luxury fashion industry, Gian Luca Passi de Preposulo is no stranger to being around A-list celebrities, much like his beloved wife.
Jessica and Gian Luca's Relationship
Serendipitously, Jessica and Gian Luca met the day she discovered that she had been nominated for an Oscar due to her work in The Help. An Oscar nomination and meeting your future husband- talk about a wonderful 24 hours!
"It's probably the best day I ever had… It was the beginning of my career and then I met my future husband," she told Kelly Ripa in an interview.
The pair then began officially dating in 2012. Although they have since tied the knot, ironically, Jessica was not interested in marriage when they first started seeing each other.
Actress Jessica Chastain and her boyfriend Gian Luca Passi De Preposulo attend Day 1 of Ischia Global Film & Music Fest 2014 on July 12, 2014, in Ischia, Italy (Credit: WENN)
However, as time went on and their relationship grew, Jessica naturally began to change her mind about marriage, as she told The Wall Street Journal in 2018:
"And then as we got to know each other, the idea of marriage shifted for me. There are some things worth celebrating — and he's worth celebrating."
"I actually love being married. I never thought I would, but this is a spectacular human being, and I am celebrating that I get to share my life with him," she added.
Jessica and Gian Luca got married on June 10th, 2017, at Gian Luca's family estate in Carbonera, Italy. The event was attended by several notable celebrities and friends of the happy couple, including Anne Hathaway, Emily Blunt, and Edgar Ramirez.
(L-R) Gian Luca Passi de Preposulo, Jerri Chastain, Michael Hastey, actress/honoree Jessica Chastain, Marilyn Herst, Laci Smoot, and Daniel Hastey pose for a photo at Jessica Chastain's Hand and Footprint Ceremony at TCL Chinese Theatre on November 3, 2016, in Hollywood, California (Credit: FayesVision / WENN)
Since their wedding, Jessica Chastain and Gian Luca Passi de Preposulo have had two lovely children together, in 2018 and 2020. Both babies were born through a surrogacy arrangement, which by many is criticized for being unethical as well as medically and psychologically dangerous.
"I was told that the first year of marriage would be really difficult and people warned me, but actually it's incredible," she admitted to People in 2019.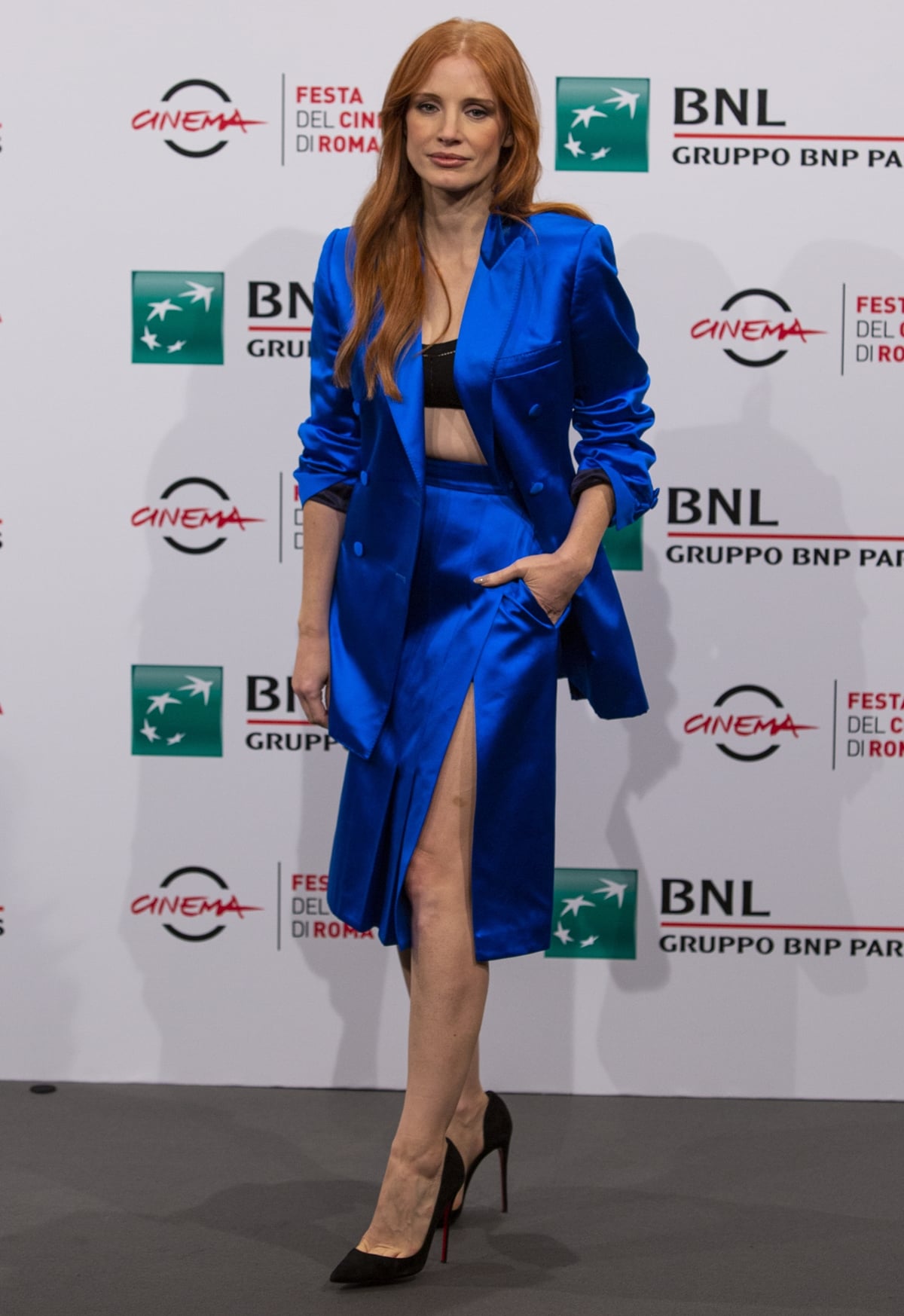 American actress Jessica Chastain in an electric blue skirt and jacket at a photocall for The Eyes of Tammy Faye in Rome on October 14, 2021 (Credit: MEGA / WENN)
A match made in heaven, Jessica and Gian Luca couldn't be more perfect for one another.
While she is a few years his senior (Chastain is 44 years old, while Passi de Preposulo is 38), they have an ideal height difference. Chastain stands at just 5'3, while Passi de Preposulo is 5'10.
In January 2013, Jessica Chastain was spotted out in two different pairs of hot high heels in a span of only two days!
The ravishing redhead first showed off her feet in "Camail" sandals from Rupert Sanderson. The following evening, she rocked peep-toe "Lady Gres" pumps from Christian Louboutin.
1. Rupert Sanderson Sandals
The American actress paired her Rupert Sanderson heels with a bright cobalt blue dress by Antonio Berardi that complemented her skin tone and hair color perfectly!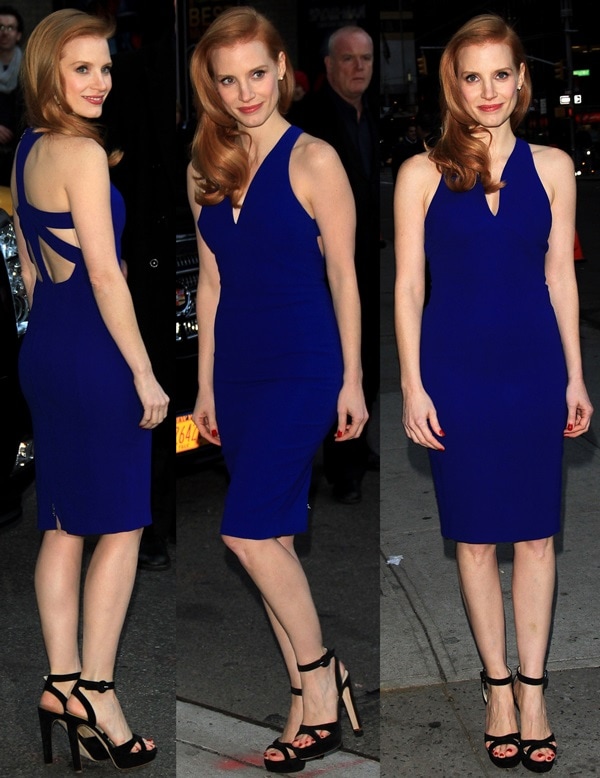 Jessica Chastain wears her red hair down at the Ed Sullivan Theater for a guest appearance on "The Late Show with David Letterman" on January 7, 2013 in New York City (Credit: WENN)
She finished her look with a red manicure and matching pedicure.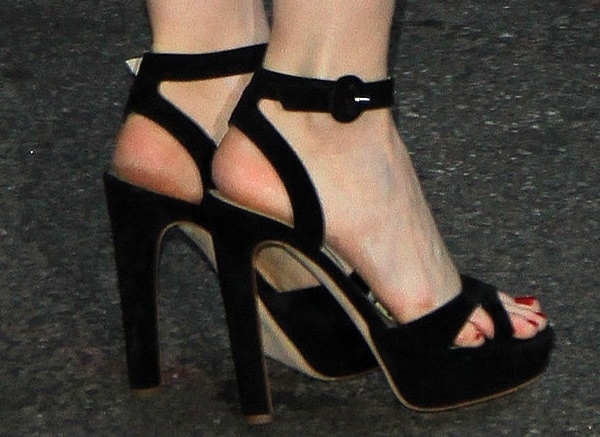 Jessica Chastain's feet in black Rupert Sanderson sandals (Credit: WENN)
Jessica's sandals have unfortunately sold out, but you can browse more recent arrivals from Rupert Sanderson at Farfetch.
Black Rupert Sanderson 'Camail' Suede Sandals, £249
2. Christian Louboutin Peep Toes
Jessica styled her Louboutins with a Pre-Fall 2013 black lace dress by Oscar de la Renta that had a very ladylike and vintage-inspired feel.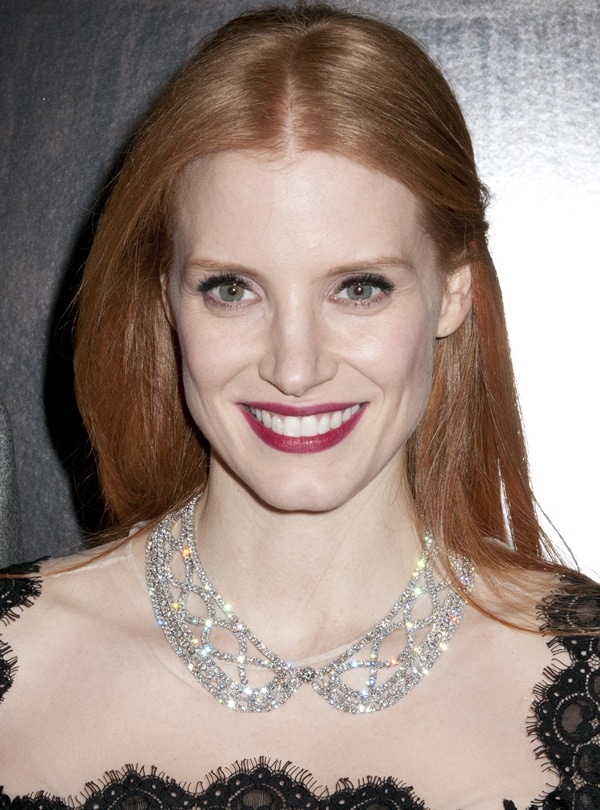 Jessica Chastain attends a special screening of "Mama" held on January 8, 2013 at the Landmark Sunshine Theater in New York City (Credit: WENN)
She paired the knee-length dress with a diamond bib necklace and wine-colored lipstick.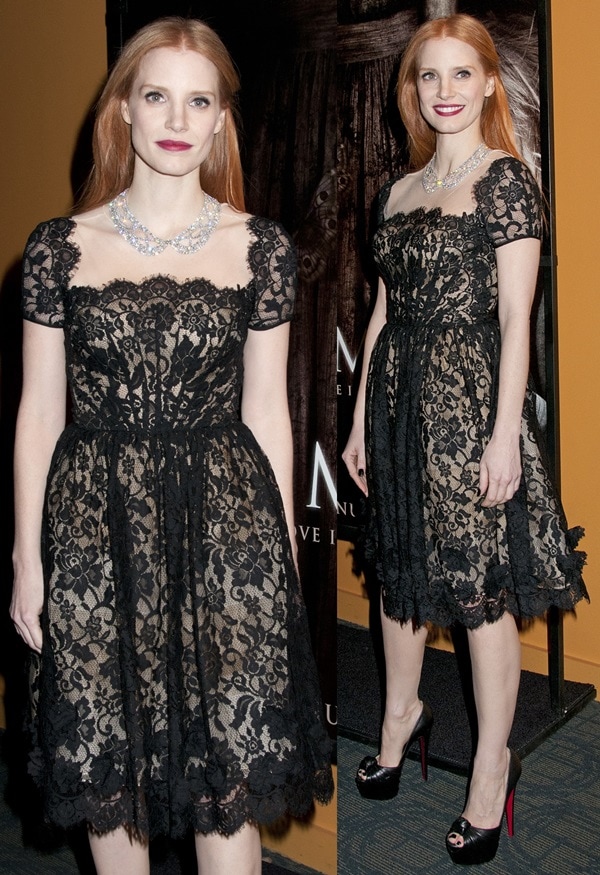 Jessica Chastain wears a black lace Oscar de la Renta dress (Credit: WENN)
She switched up her nail polish color, matching her black pedicure to the black Louboutins.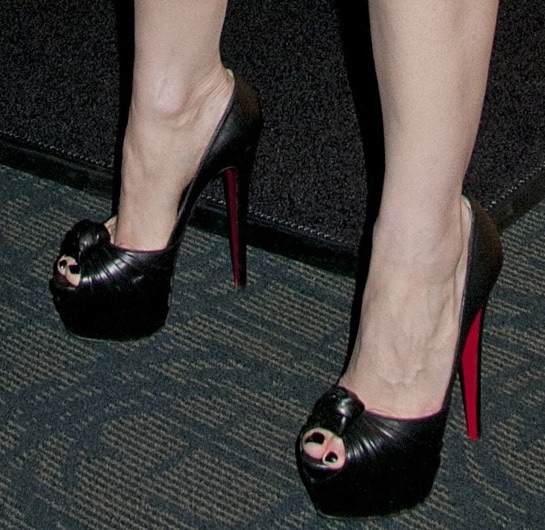 Jessica Chastain's feet in black Christian Louboutin pumps (Credit: WENN)
The Christian Louboutin "Lady Gres" pumps have unfortunately sold out.
However, more recent releases from Christian Louboutin are available at Nordstrom and Bergdorf Goodman.
Christian Louboutin Black 'Lady Gres' Leather Platform Pumps, $1,295