Sophia Bush is a 39-year-old American actress who has held several notable roles in Hollywood but is best known for her time spent playing Brooke Davis on One Tree Hill and Erin Lindsay in the NBC police procedural drama series Chicago P.D.
Born on July 8th, 1982 in Pasadena, California, Sophia grew up acting in high school productions and earned some minor roles in Hollywood.
She attended the University of Southern California for three years but eventually dropped out due to her casting in One Tree Hill.
One Tree Hill cast members Bethany Joy Lenz, Sophia Bush, and Hilarie Burton during The Cast of One Tree Hill Signs Their DVD and Soundtrack CD at F.Y.E. in New York City on January 25, 2015 (Credit: John Saint-Hilaire / WENN)
The show ran for nine seasons, during which Sophia Bush publicly fell in love with her co-star and on-screen love interest, Chad Michael Murray.
The two stars went so far as to get married in April 2005 but split after just five short months. Their divorce was made official in December 2006. Because One Tree Hill ran until 2012, their professionalism in the years following their divorce was quite impressive.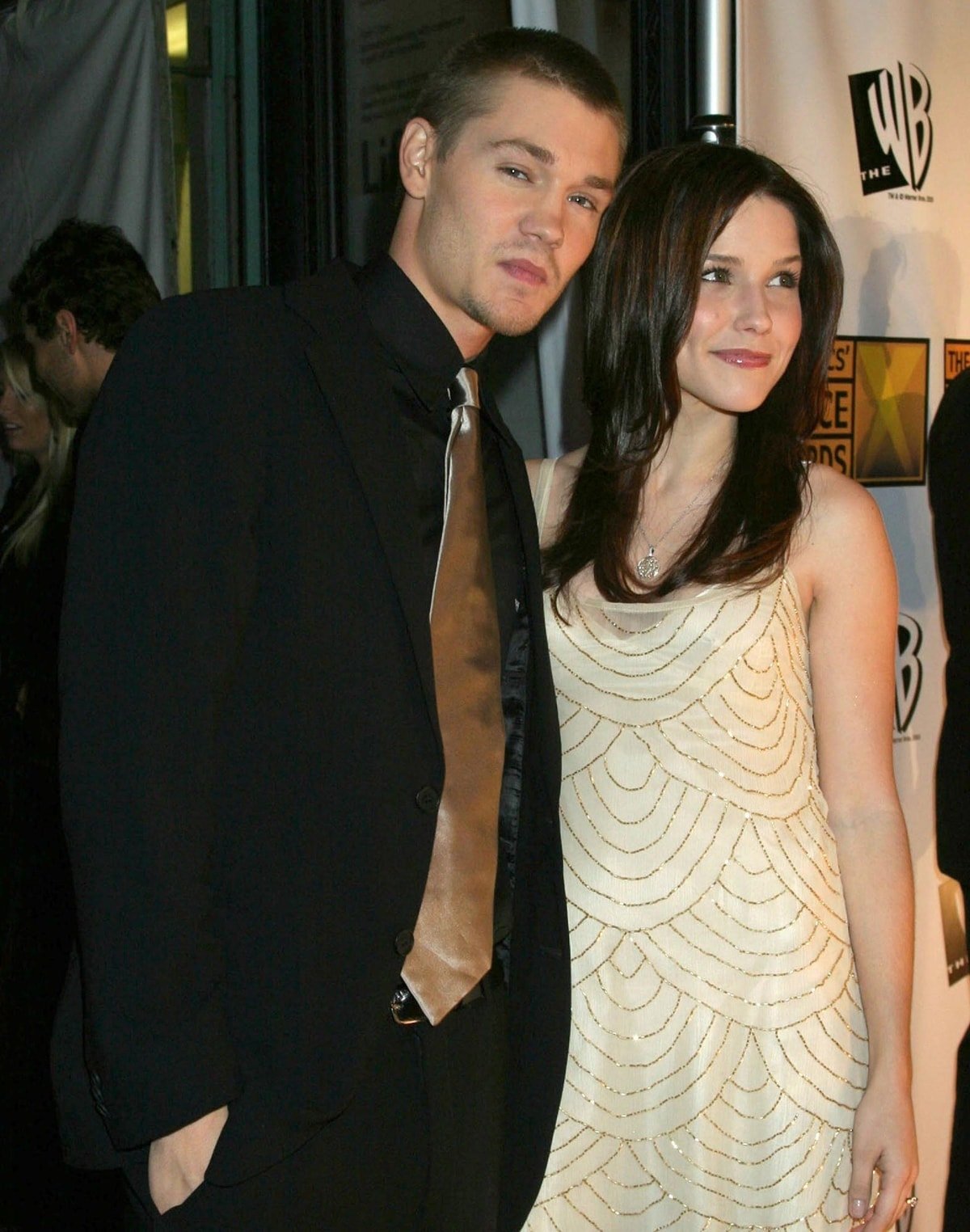 Sophia Bush and Chad Michael Murray fell in love after meeting in 2003 on the set of The CW's One Tree Hill (Credit: Nikki Nelson / WENN)
However, Sophia Bush did not let her divorce stop her from finding love again. She has dated several other men in the years since her divorce, but never quite as seriously- enter, Grant Hughes.
Who is Grant Hughes?
While Grant Hughes isn't quite as well-known as his fiance, he is still plenty impressive in his own right, which makes perfect sense. To capture the heart of a woman as impressive as Sophia Bush, he'd have to be.
Born on September 11, 1981, Grant Hughes is 40 years old, making him just one year older than Sophia Bush. His height is believed to be around 5′ 9″ (175 cm), which means he's significantly taller than his relatively short girlfriend, who measures just 5′ 4″ (163 cm).
The two didn't grow up too far away from each other either, with Grant Hughes being born in Los Angeles, California. However, unlike his fiance, Hughes chose to pursue a career in business rather than in Hollywood.
Grant Hughes is much taller and one year older than his girlfriend Sophia Bush (Credit: MEGA / WENN)
In his personal life, Grant Hughes is an avid traveler, philanthropist, athlete, and reader. Hughes has documented several trips to Israel, Indonesia, Italy, and more on his Instagram.
However, back at home in Venice, California, he also founded the Venice Book Club for bibliophiles to connect.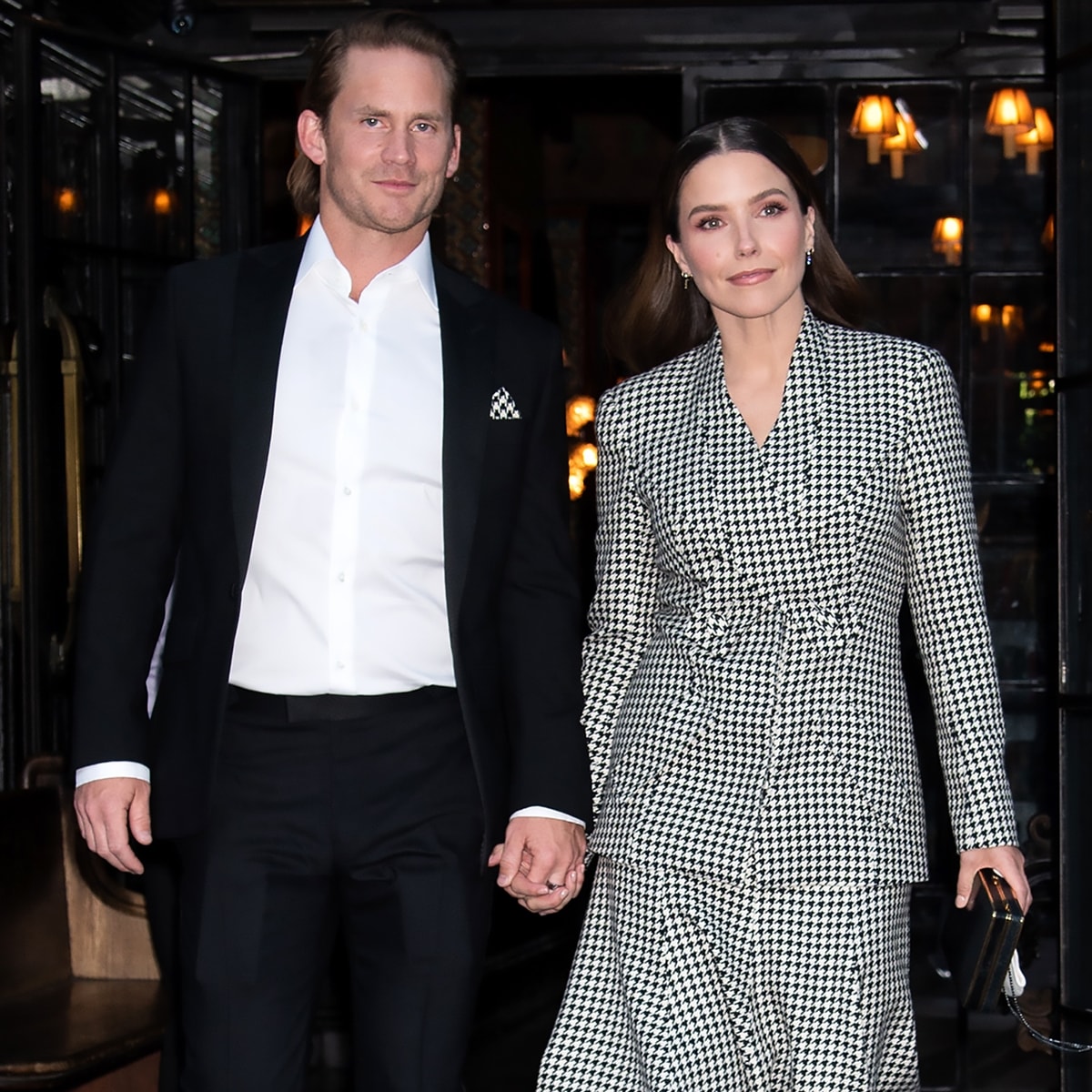 Grant Hughes and Sophia Bush were first spotted together in Malibu in May 2020 and announced their engagement in August 2021 (Credit: MEGA / WENN)
Grant Hughes has completed several marathons and triathlons, so his fitness level has never been called into question.
A big fan of giving back to his community, Hughes has also volunteered with the Wayfarer Foundation to assist people living on skid row, among several other initiatives.
What is Grant Hughes' Career?
Most notably, Grant Hughes is the Co-Founder and Chief Strategy Officer of FocusMotion Health. The company's main value proposition is to "create data-driven orthopedic recovery solutions" for surgery patients.
View this post on Instagram
From his personal initiatives to his career, Grant Hughes is an extremely ambitious, caring, and well-rounded individual.
What is Known About Their Relationship?
Despite their status as public figures, especially in the Los Angeles area, Sophia Bush and Grant Hughes have kept their relationship relatively private.
View this post on Instagram
Very little is known about how they met, or the inner workings of their relationship. The pair was first spotted together in May 2020, and officially announced their engagement on Instagram in August 2021 while vacationing in Lake Como, Italy.
Here's hoping that despite their privacy, the pair will share their undoubtedly gorgeous wedding pictures with the world!
In March 2016, Sophia Bush attended the 33rd annual PaleyFest Los Angeles presentation of "An Evening with Dick Wolf with the stars of Law & Order: SVU, Chicago Fire, P.D., & Med" held at the Dolby Theatre in Hollywood.
Sophia Bush wears her hair in a ponytail at the 33rd annual PaleyFest Los Angeles held on March 19, 2016, at the Dolby Theatre in Hollywood (Credit: Brian To / WENN)
The then 33-year-old actress had been continuously wowing us with her sartorial choices, and she did not disappoint in a midnight blue satin midi-style dress from Stella McCartney's Resort 2016 collection.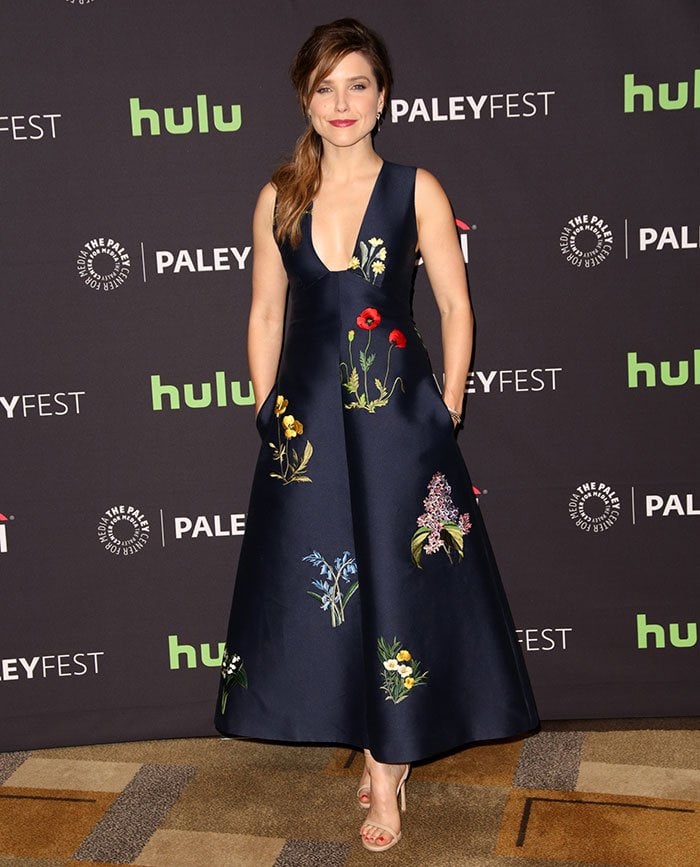 Sophia Bush wears a Stella McCartney dress to PaleyFest (Credit: Brian To / WENN)
The "Kaitlyn" dress is beautifully embroidered with English flowers and has a flattering A-line silhouette and a cleavage-baring U-shape neckline.
Sophia Bush shows off her cleavage in a Stella McCartney "Kaitlyn" dress (Credit: Brian To / WENN)
Sophia accessorized the look with a few bracelets, a pair of inverted triangle earrings by Ilana Ariel, and a pair of nude sandals by Stuart Weitzman.
She completed her look with a side-swept ponytail and red lipstick.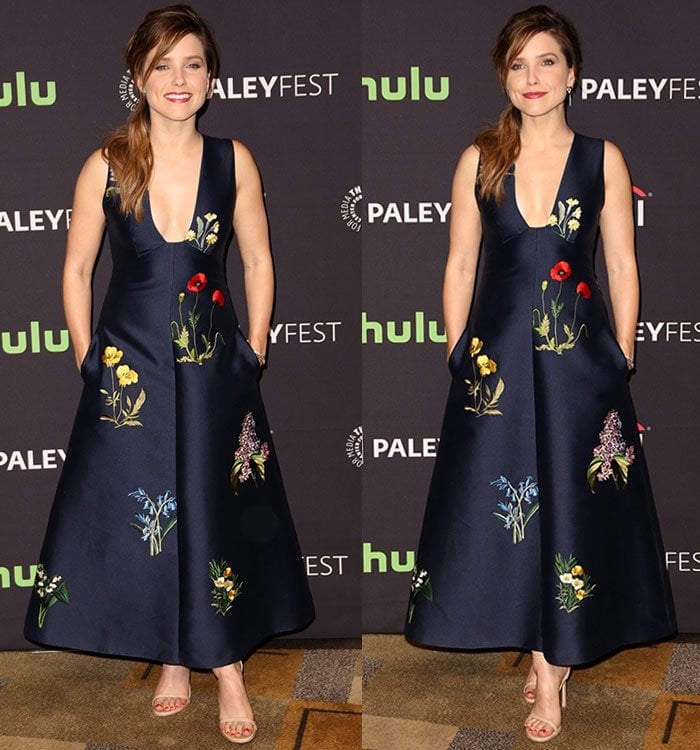 Sophia Bush shows off the pockets on her Stella McCartney dress (Credit: Brian To / WENN)
Sophia picked the classic Stuart Weitzman "Nudist" sandals for her feet.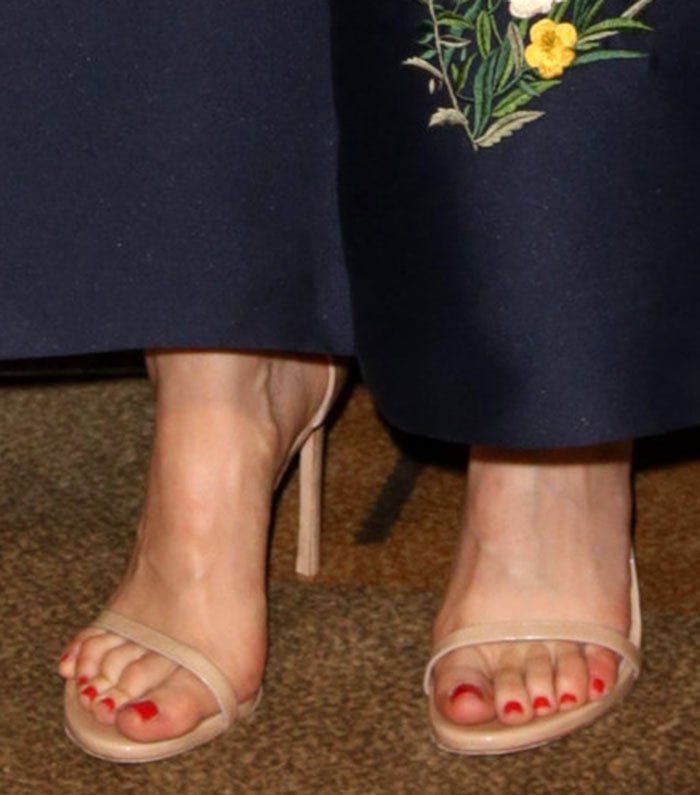 Sophia Bush's feet in nude Stuart Weitzman heels (Credit: Brian To / WENN)
These nude leather shoes feature a keyhole cutout at the heel counters, buckled ankle straps, open toes, and about 4.25-inch heels.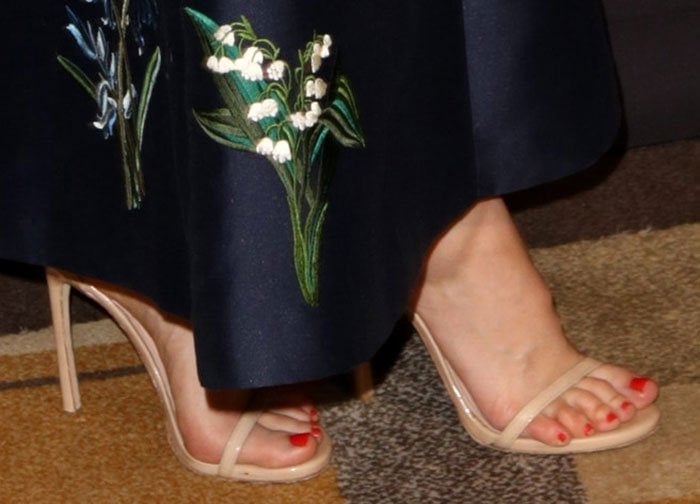 Sophia Bush's feet in leather "Nudist" sandals (Credit: Brian To / WENN)
You can check out these Stuart Weitzman sandals in different versions at Zappos and Nordstrom.
Stuart Weitzman "Nudist" Ankle-Strap Sandals, $395 – $415