One Tree Hill was chock-full of everything a teen in the early 2000s could want — love, lust, drama, step-brothers, basketball…
The plot only thickened (both on-screen and off-screen) when One Tree Hill actors Sophia Bush and Chad Michael Murray did the most obvious thing for any young CW network stars to do: fall in love.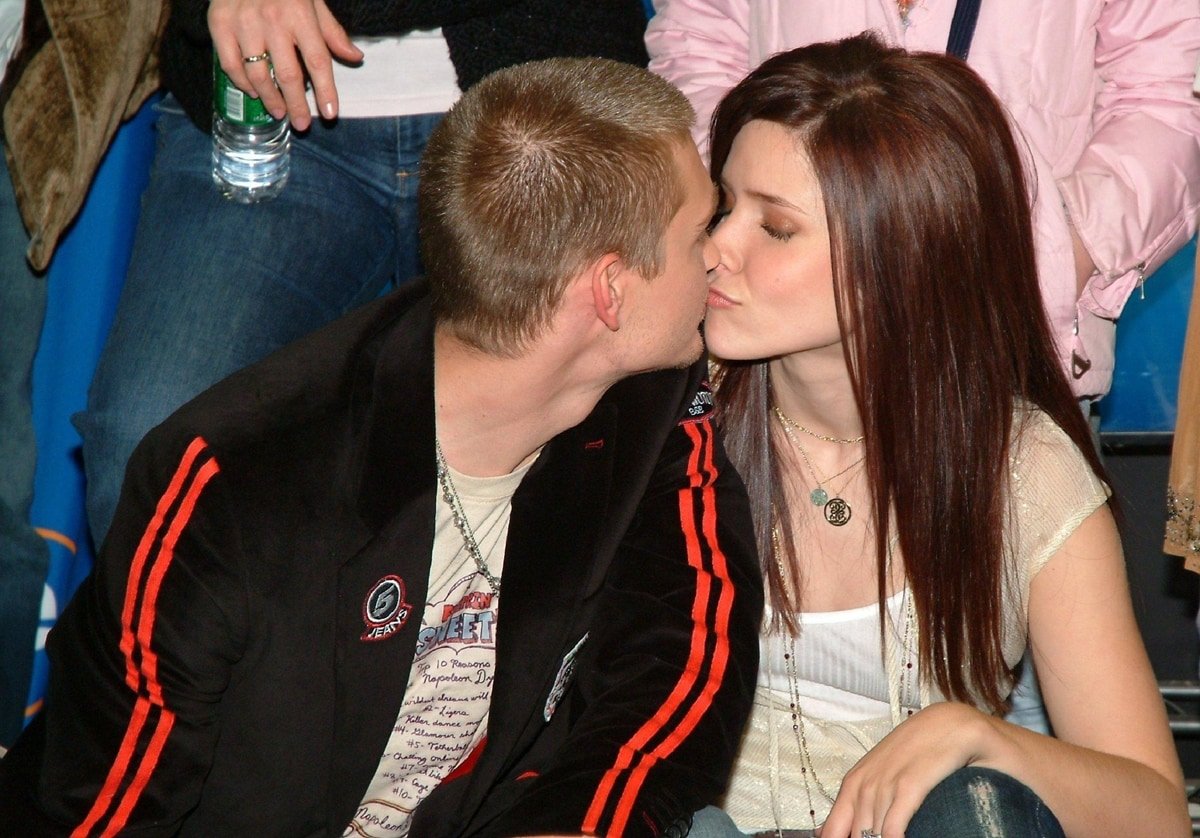 Sophia Bush and Chad Michael Murray started dating after meeting in 2003 on the set of The CW's One Tree Hill (Credit: John Saint-Hilaire / WENN)
Their romance made headlines in all the best teenybopper magazines.
While girls across the world were crying and tearing down their Chad Michael Murray posters, wishing that their lives were more like A Cinderella Story, the couple continued to publicly canoodle.
Eventually, Bush and Murray were married and fans grew to accept that they would never be swept off their feet by their One Tree Hill crush.
Unfortunately, as soon as fans were able to come to terms with the marriage, it ended. They were left with one question: why?
Follow along with us to learn more about Sophia Bush and Chad Michael Murray's relationship, marriage, and why their love fizzled so fast.
Young Love & Marriage
Sophia Bush and Chad Michael Murray first met in Wilmington, North Carolina in early 2003 where they had arrived to begin filming One Tree Hill.
The pair felt an instant connection and started dating that year. Unlike some celebrity couples, Bush and Murray made no attempt to keep their relationship a secret and were often featured together in the tabloids.
Sophia Bush and Chad Michael Murray married in 2005 in April 2005 in Santa Monica, California, and announced their split five months later (Credit: Nikki Nelson / WENN)
In the spring of 2004, after only a year of dating, Murray got down on one knee in Australia and proposed to his love. "I woke up one day and I said, 'This is the woman I want to spend the rest of my life with,'" Murray said in an interview with MTV that year.
The actor spared no effort when it came to the proposal, adorning his top-floor apartment with lights everywhere and hundreds of tiny tea light candles that spelled out the words "I LOVE U".
"That was probably the most nerve-wracking thing I've ever done in my life," Murray said in the same interview. "I thought to myself, 'If she says no, I've got 18 floors to jump.'"
In 2017, Sophia Bush penned an essay for Cosmopolitan magazine and described the event, writing, "In my 20s, when I was starting out my career as an actor, I wasn't looking for a relationship, but one found me and became serious, even though I hadn't planned to settle down until my 30s. But when the person you're with asks you to marry him, you think: This must be happening because it's supposed to."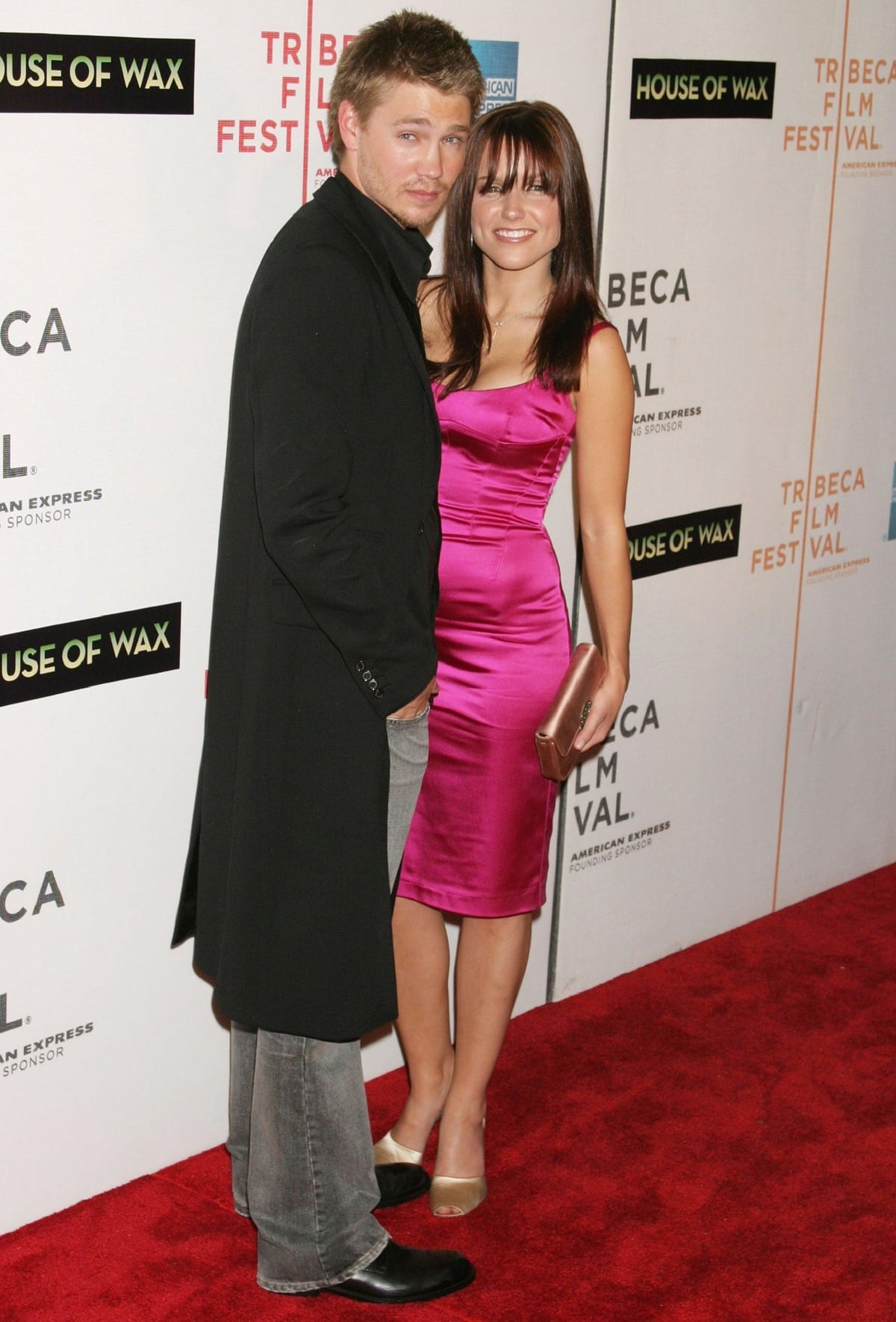 Sophia Bush and Chad Michael Murray met on the set of One Tree Hill in their early 20s (Credit: PNP / WENN)
Chad Michael Murray and Sophia Bush went on to tie the knot in April of 2005 during a beautiful ceremony on the beach in Santa Monica, California.
Unfortunately, their love was not meant to last, and their marriage ended long before One Tree Hill did.
… and Young Divorce
Only five months after Sophia Bush and Chad Michael Murray's wedding, the couple announced that they were getting divorced.
"This is a difficult and unfortunate situation," Murray said in a public statement. "I am glad that this is being resolved sooner rather than later. I am saddened to announce that Sophia and I are separating. This is a very difficult time for me."
Sophia Bush filed to annul her five-month marriage to Chad Michael Murray citing fraud as the grounds for annulling the union (Credit: PNP / WENN)
Murray had initially tried to have their marriage annulled in February of 2006, citing "fraud". However, once Bush finally spoke up about the marriage, this act seemed callous and a bit ridiculous.
For the most part, Sophia Bush stayed quiet about the divorce. It wasn't until 2017, when she wrote the aforementioned essay for Cosmopolitan magazine, that the actress shared her side of the story. Like many starlets, the level of publicity she and Murray received was a big source of stress for her.
"I refuse to let that one relationship define me, which is why I've done my best to avoid discussing it for 10 years," Bush wrote.
"The reality is that, yes, it was a massive event in my life. And the trauma of it was amplified by how public it became, which was incredibly foreign and bizarre to a girl who'd been just another college kid 24 months before her life blew up."
Sophia Bush in a Brock Collection Fall 2021 maxi dress at the season two premiere of the Apple TV+ series Ted Lasso on July 15, 2021, at the Pacific Design Center in West Hollywood, California (Credit: Nicky Nelson / WENN)
The actress also encouraged readers — especially young women — to not become caught up on the idea of "the one".
"I came to appreciate that relationships often serve a specific purpose at a certain point in time, for myriad reasons. Some are meant to heal you, some are meant to teach you how to build yourself up, and some are meant to show you how to trust your own intuition," Bush explained.
"This reality has taught me that the relationships that don't lead to lifetime commitments are not failures. Not every love can last forever."
Despite their divorce, Chad Michael Murray and Sophia Bush remained cordial and continued to star together on One Tree Hill until Murray left the show in 2009.
Moving On
Murray, who specifically focused on how difficult the divorce was for him (and not his ex-wife), quickly recovered.
In April 2006, only a year after he and Bush had gotten married, it was announced that Murray was engaged to Kenzie Dalton, a One Tree Hill extra who happened to be a high school senior.
This was disturbing for a myriad of reasons, but mostly because Murray's "rebound" was a teenager when he was a grown man at 25 years old. They eventually called off the engagement in 2013.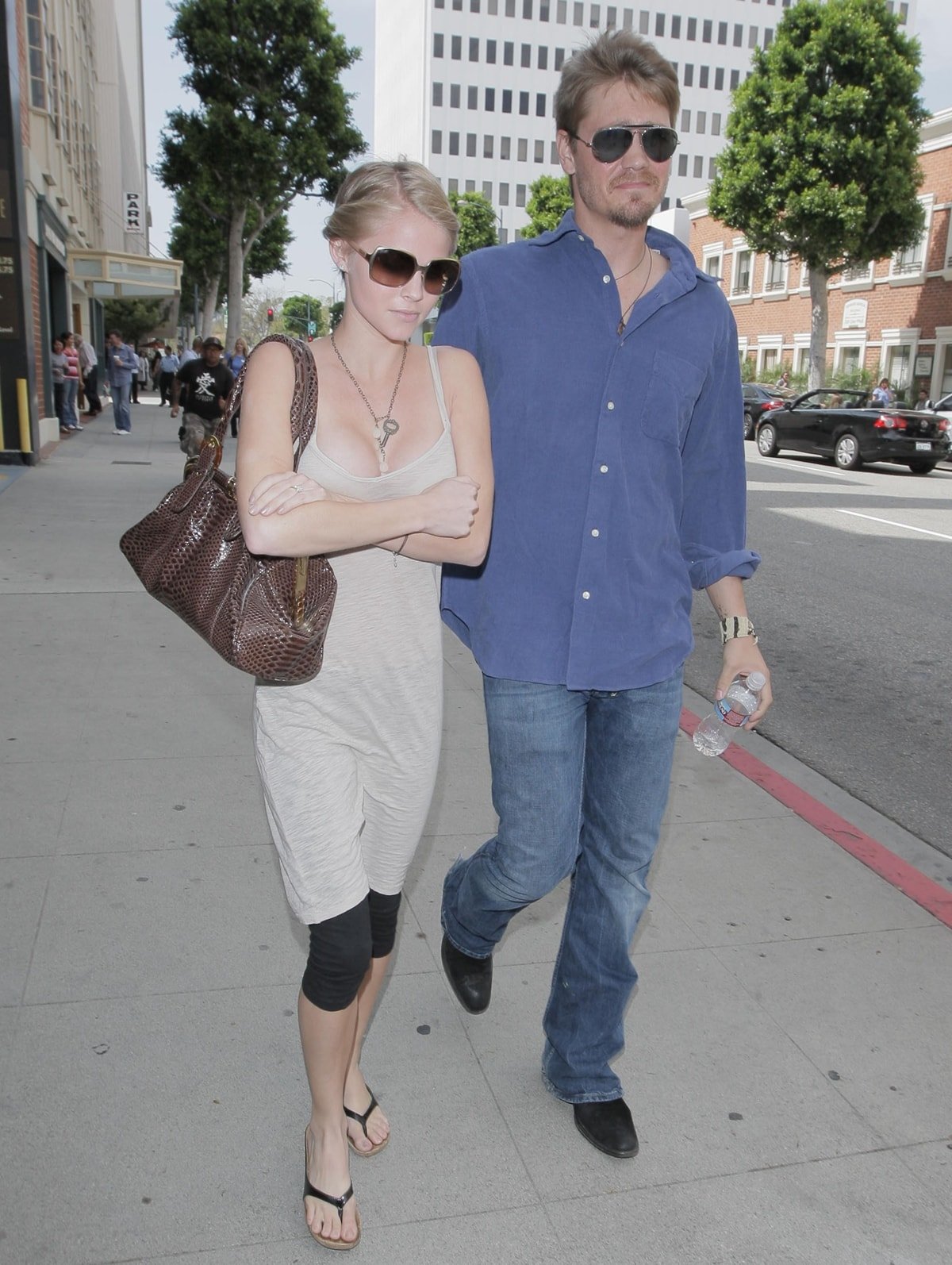 Chad Michael Murray split from fiancée Kenzie Dalton in September 2013 after a seven-year engagement (Credit: WENN)
In 2015, Chad Michael Murray announced that he had gotten married to Sarah Roemer, his co-star from Chosen, in a secret ceremony. The couple is still together and have two children, a son and a daughter.
"For me, it was the greatest thing that happened to me," the actor said to Entertainment Tonight after his daughter was born. "Having kids is a game-changer and I think you're always walking around with the mentality that you want to make sure that they're proud and you want to represent them well and just be a great leader."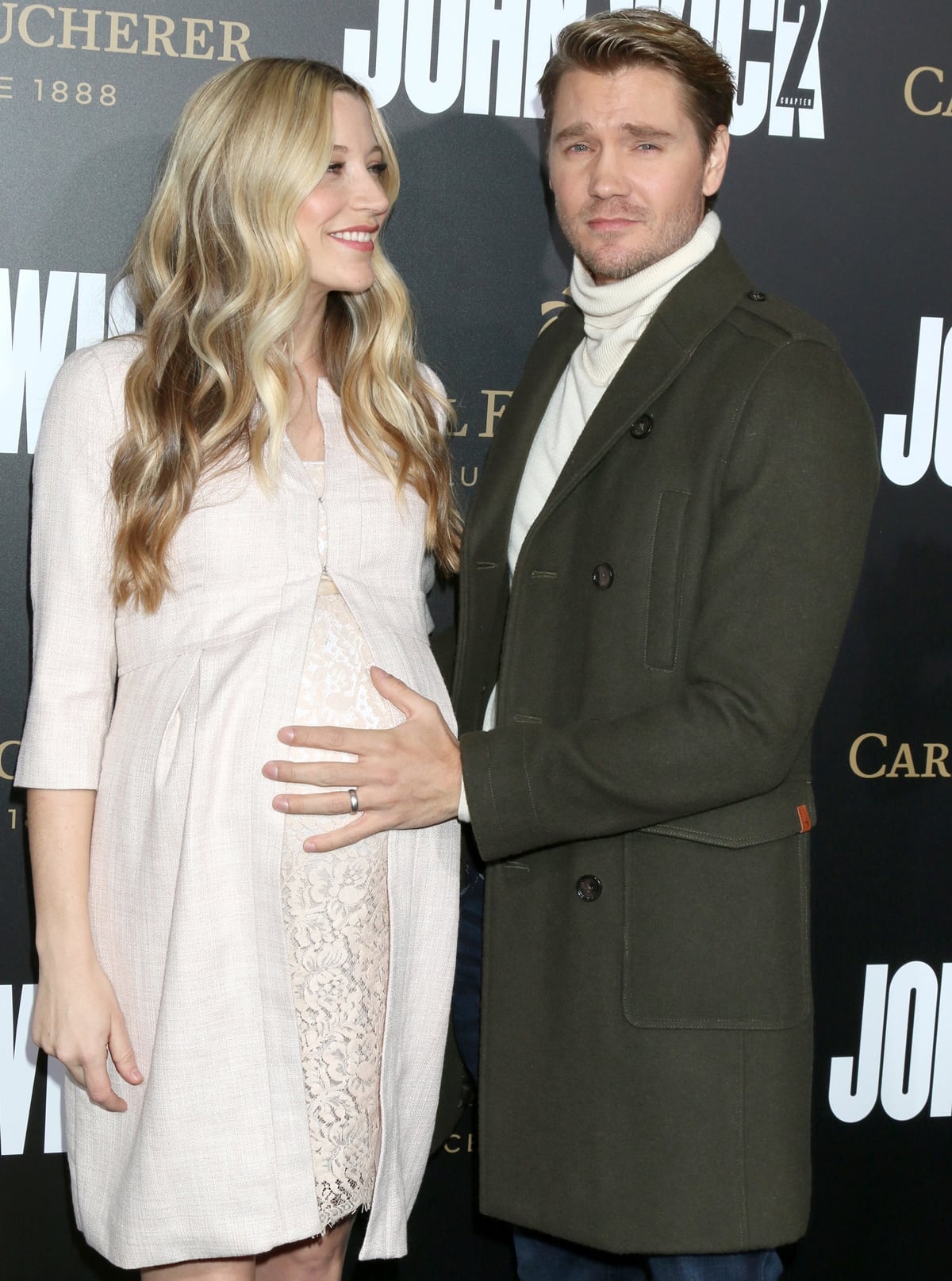 Chad Michael Murray and his pregnant wife Sarah Roemer attend the premiere of Summit Entertainment's 'John Wick: Chapter Two' at ArcLight Cinemas on January 30, 2017, in Hollywood, California (Credit: Nicky Nelson / WENN)
After her divorce, Sophia Bush went on to have a bevy of boyfriends, including One Tree Hill alums Austin Nichol and James Lafferty, soap opera actor Jesse Lee Soffer, and Google programmer Dan Fredinburg. Her relationship with the latter was cut short after he died in an avalanche while climbing Mount Everest.
In the spring of 2020, Sophia Bush began dating Grant Hughes, co-founder of Focus Motion Health. They have since been spotted together many times, including when they attended the 2021 Tribeca Film Festival together.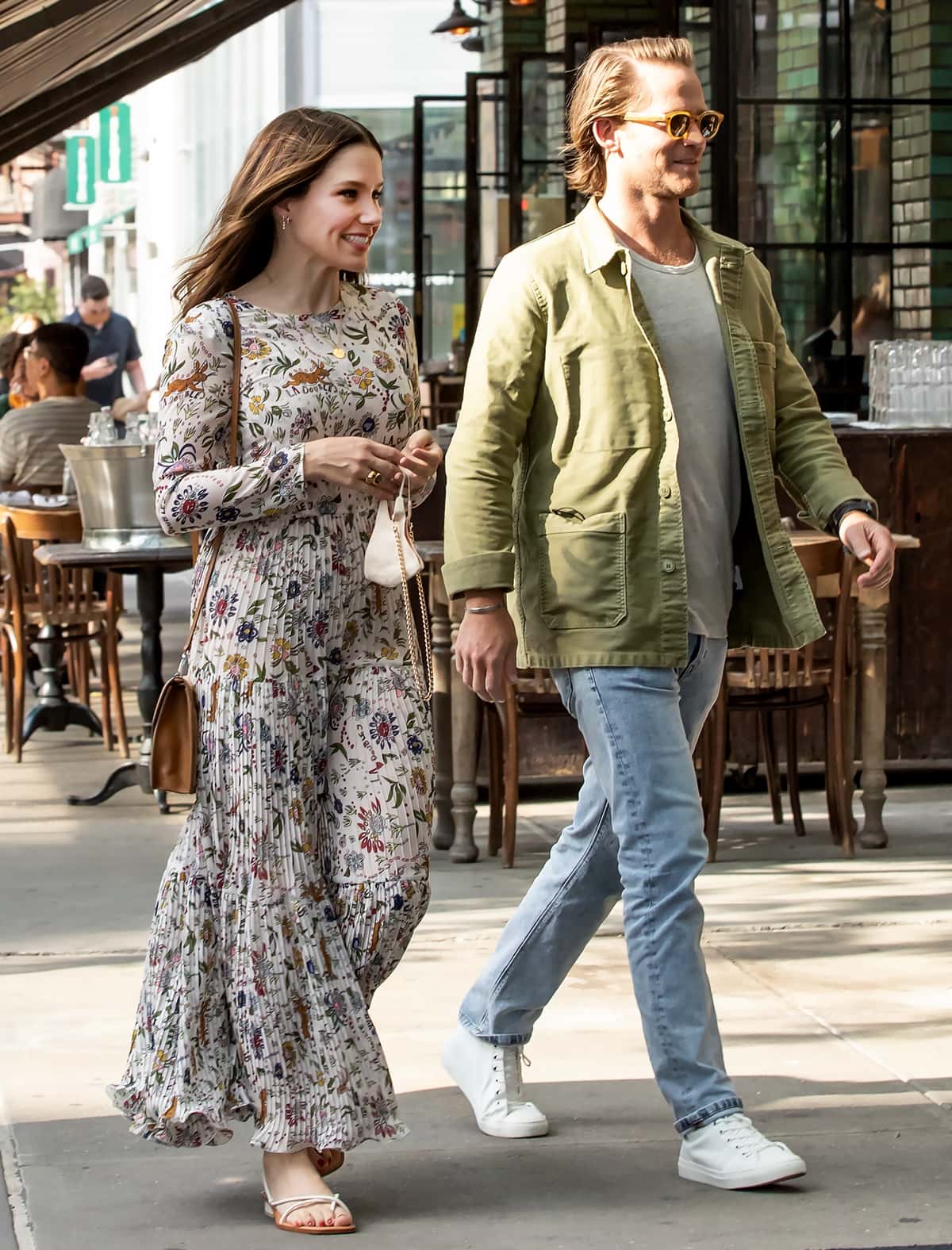 Sophia Bush and her boyfriend Grant Hughes on a date in New York City on June 18, 2021 (Credit: MEGA / WENN)
Bush says that as much as she loves being with Hughes, she is not going to make the same mistake of being too public with her relationship like she and Chad Michael Murray did.
"It's hard to have nothing that's yours," the actress said in a 2021 interview with Entertainment Tonight. "And when you are a person who lives in the public eye, everybody wants to pick over everything and that can be really tricky. I don't really hide what's going on in my life, but I don't flaunt it."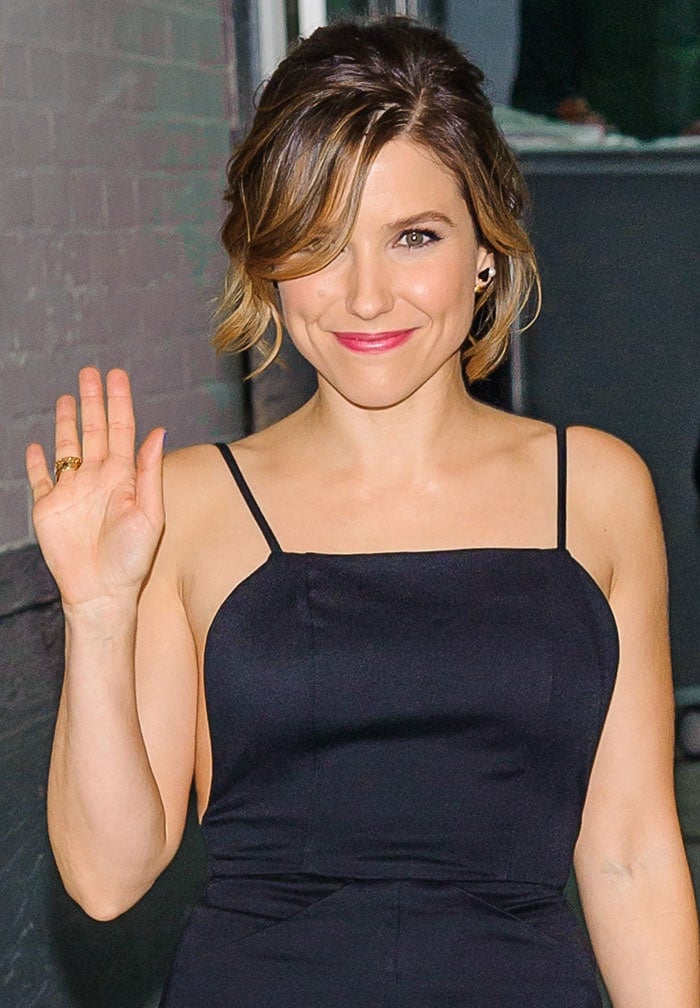 Sophia Bush clips her hair back for a "HuffPost Live" interview on March 8, 2016, at the Huffington Post Studios in New York City (Credit: C.Smith / WENN)
In March 2016, Sophia Bush proved she's more than just a pretty face as she talked about women's empowerment on HuffPost Live.
The then 33-year-old actress also discussed her collaboration with #TheGirlProject and beauty brand EcoTools to encourage women to inspire one another using social media. It was a topic perfect for International Women's Day.
For every message shared about women's empowerment on social media using the hashtag #MyTrueBeauty and the handle @EcoTools, the EcoTools team donated $1 for up to $100,000 to Glamour's #TheGirlProject, which aims to educate young women.
Sophia Bush wears a black jumpsuit to the Huffington Post Studios (Credit: TNYF / WENN)
Sophia turned heads in a form-fitting black jumpsuit, which accentuated her waist and flaunted her broad shoulders, putting her slender figure fully on display.
She teamed the jet-black number with some jewelry and a pair of black Stuart Weitzman sandals, rounding out her look with a messy updo and a swipe of pink lipstick.
Earlier, Sophia was spotted arriving at the Huffington Post studios in a different outfit.
Sophia Bush wears a Self Portrait dress outside the Huffington Post building in New York City (Credit: TNYF / WENN)
She picked a spring-perfect yellow-and-mint Self Portrait dress, which featured a guipure lace overlay and a waist-highlighting black ribbon belt.
Sophia Bush signs autographs for fans in New York City (Credit: TNYF / WENN)
The delicate number was teamed with the same Stuart Weitzman sandals she wore on the set.
Sophia Bush wears a gray-and-yellow Self Portrait dress out in New York City (Credit: TNYF / WENN)
She also sported the same hairstyle and makeup.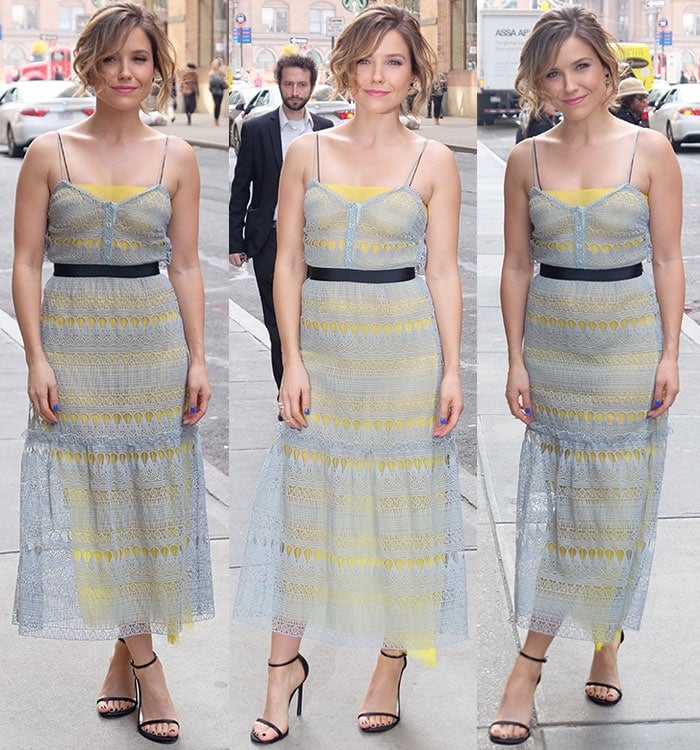 Sophia Bush keeps things fresh in an ankle-length Self Portrait dress (Credit: TNYF / WENN)
Sophia completed her outfit with a pair of black satin Stuart Weitzman "Nudist" sandals.
These classic sandals have a minimalist silhouette with buckled ankle straps, open toes, and about 4.5-inch heels.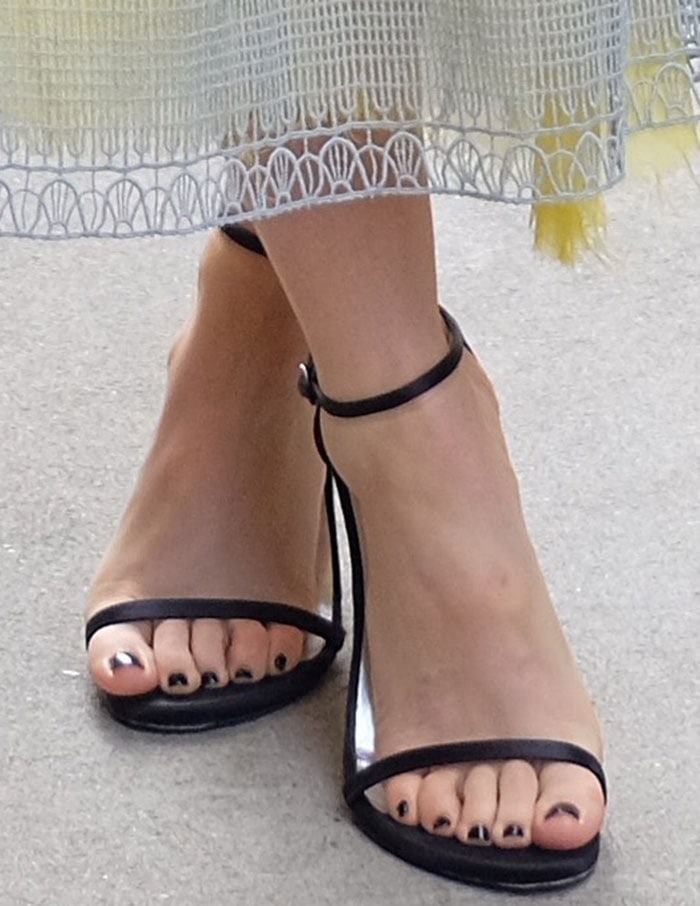 Sophia Bush's feet in black satin Stuart Weitzman sandals (Credit: TNYF / WENN)
You can get these Stuart Weitzman sandals in different versions at Nordstrom and Zappos.
Stuart Weitzman Nudist Sandals, $179 – $425