Taylor Swift may be one of the music industry's most polarizing figures, at least when it comes to celebrities.
The eternally blonde songstress has feuded with nearly every big name in the business, such as Kanye West, Kim Kardashian, and Katy Perry, to name a few.
Emphasis on few, as I'm not even counting the ex-boyfriends who were displeased by the songs Swift wrote about their breakups.
Whether you're a die-hard "Swiftie" or don't like the pop star at all, you've got to admit, the girl knows how to stir up some publicity.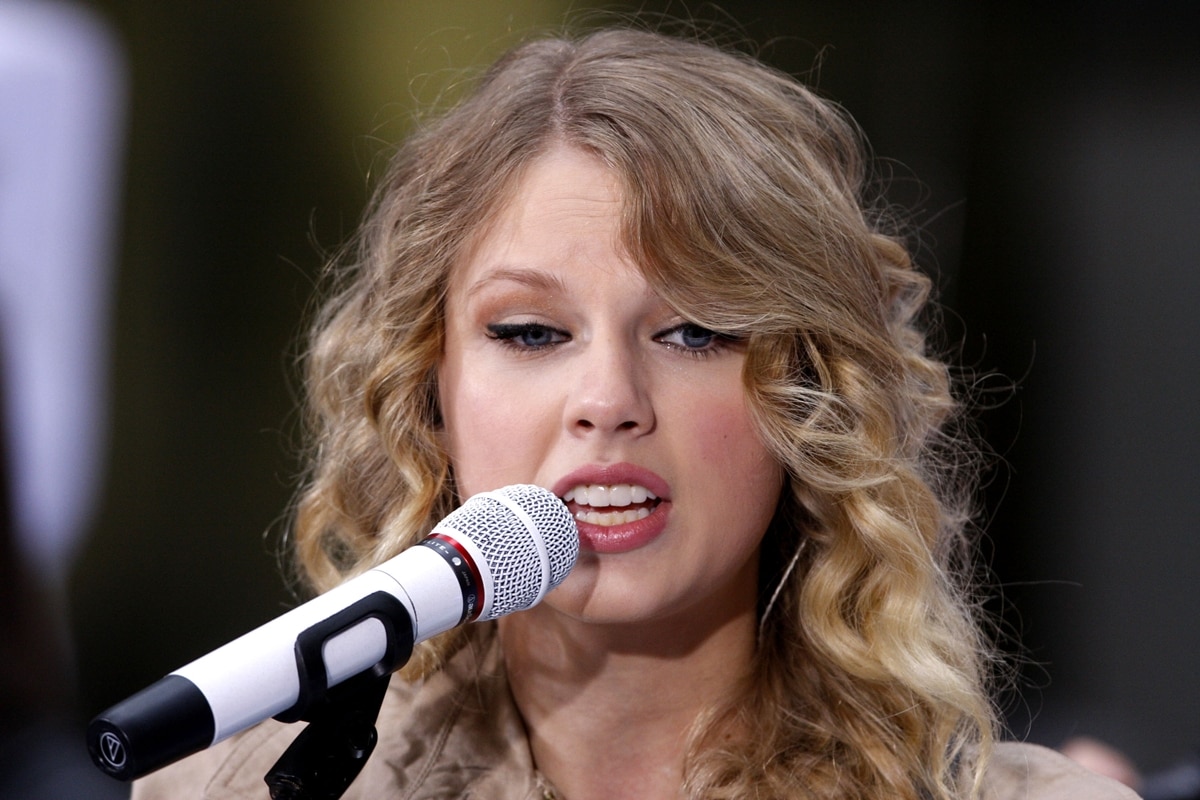 Taylor Swift wrote "Better Than Revenge" about her relationship with Joe Jonas and Camilla Belle (Credit: PNP / WENN)
Today, however, we're focusing on Swift's feud with actress Camilla Belle, which has been on and off since about 2008.
Though this is one of Swift's earliest celebrity dust-ups, much of their interactions with one another have not been as direct as, for example, the notorious "phone call heard around the world" which Kim Kardashian posted to Twitter, allegedly exposing Taylor Swift as a "snake emoji."
It all began in 2008. Swift had been dating The Jonas Brothers frontman Joe Jonas for a few months. At least—until it ended abruptly by way of what Swift called a "27-second phone call" (what is it with Taylor Swift and dramatic phone calls?).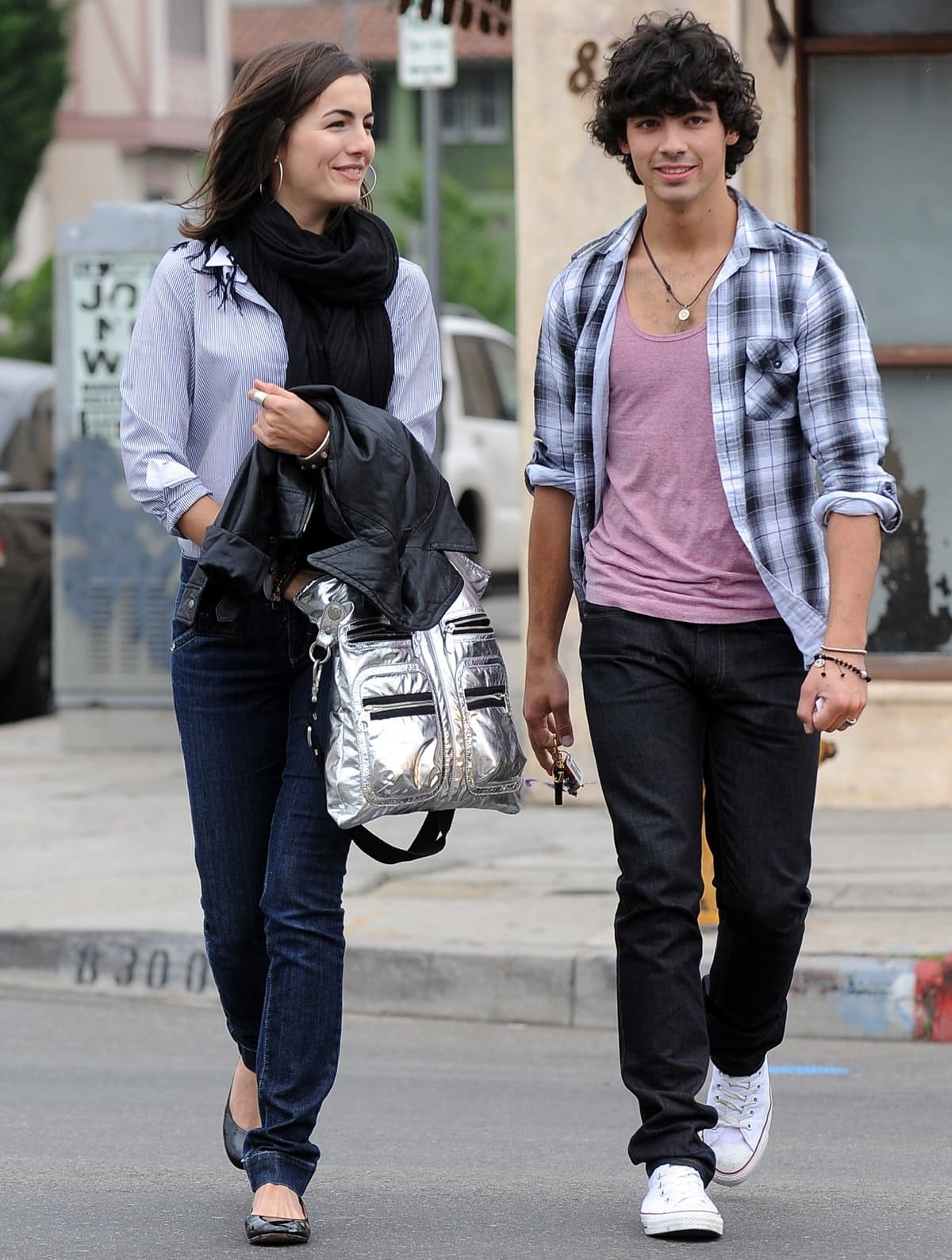 After meeting on the set of the Jonas Brothers' "Lovebug" music video, Joe Jonas dated Camilla Belle for a few months between late 2008 and mid–2009 (Credit: WENN)
Jonas insists this was not the case, claiming to People that he was not the one who ended the phone call. Needless to say, Swift was probably pretty furious and heartbroken.
Who did Taylor Swift write "Better Than Revenge" about?
Not long after Joe Jonas and Taylor Swift's breakup, Jonas was spotted canoodling with none other than actress Camilla Belle.
Swift wasted no time and quickly got to writing a diss track, which is none other than the now-infamous track "Better Than Revenge" from Swift's 2010 album, Speak Now.
The lyrics though never naming Belle explicitly, quite frankly, are scathing, with lines like "she took him faster than you could say sabotage" and "she's not a saint and she's not what you think/she's an actress but she's better known for the things she does on the mattress."
Joe Jonas and Camilla Belle felt the wrath of Taylor Swift after they started dating in 2008 (Credit: WENN)
These lyrics, understandably, are very hurtful, especially considering Belle isn't that famous of an actress (sorry, Camilla), and there weren't rumors about her being especially promiscuous before this song came out. Come out, Taylor—slut-shaming isn't cool!
Why even write a song entirely about the woman your ex-boyfriend dated instead of focusing the blame on him? Of course, this inevitably led to rumors of infidelity, as many assumed Jonas had cheated on Swift with Belle, who would have been aware that the two were dating before they became involved.
These rumors are not proven; however, many Swift fans believed them to be true, going online to berate Belle with cruel, hate-filled speech. Camilla was cyberbullied beyond belief during this era.
While Swift never confirmed that "Better Than Revenge" was about Belle, and the rumors of cheating were never substantiated, Swift never apologized. Honestly, you couldn't blame Camilla Belle for hating Swift—she damaged her reputation beyond belief.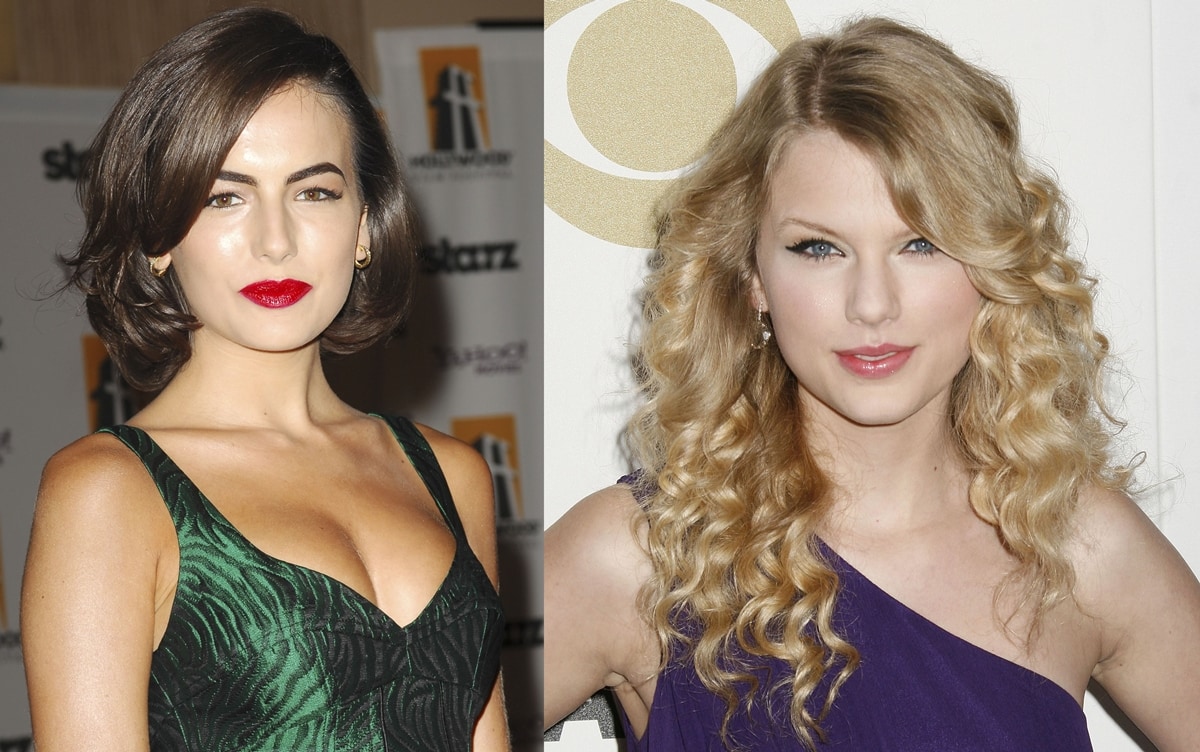 Taylor Swift and Camilla Belle are not friends and have been feuding since 2008 (Credit: WENN / Adriana M. Barraza / Apega)
In fact, some people even believe that this early feud between the two led to Belle's career downfall. Before 2010, when "Better Than Revenge" was released, Belle's filmography was full of blockbuster titles.
After 2010, she has had only a few notable films or television shows released. This could be due to directors and producers not wanting to work with her because of the reputation Swift branded her with.
On the other hand, the actress may have had a sour taste left in her mouth from all the negative publicity she received after the song's release and has chosen to stay a little further out of the spotlight. Either way, it is probable that Swift is a big reason that Belle is no longer an A-list actress.
In 2016, the bad blood (get it?) between Camilla Belle and Taylor Swift was only further cemented when Belle made an Instagram post that was seemingly directed at Swift.
The post was simple, a photo of text that read, "No need for revenge. Just sit back [and] wait. Those who hurt you will eventually screw up themselves [and] if you're lucky, God will let you watch."
Belle's post was made amid the throes of Swift's feud with Kanye West and Kim Kardashian after Kardashian posted a Snapchat video of a phone call between Swift and West.
Swift had publicly denounced West for including her name in the rapper's song, "Famous". The lyrics in question: "I feel like me and Taylor might still have sex/Why? I made that b*tch famous." Swift claimed that West never consulted her about these lyrics, and was offended by them.
Camilla Belle supported Katy Perry during her famous feud with Taylor Swift (Credit: David Lucas/ WENN)
However, in the video Kardashian uploaded, it sounds like Swift has not only been made aware that she will be referenced in the song, but that she genuinely likes and is encouraging the lyrics. Can you say "snake emoji"?
Though Camilla Belle never directly stated that her Instagram post was about Taylor Swift, it seems pretty clear that seeing a woman who once dragged her name through the mud get dragged herself was, indeed, "better than revenge". Additionally, the post specifically says "no need for revenge"—it can't get more on the nose than that.
Who could blame Belle for feeling a little bit of schadenfreude watching her (alleged) nemesis get their (alleged) comeuppance?
This isn't the first time the actress has chimed in about Swift's many feuds. A year earlier, in 2015, after Swift released "Bad Blood"—yet another diss track—this time about her former friend Katy Perry.
On Twitter, Perry wrote, "Finding it ironic to parade the pit women against other women argument about as one unmeasurably capitalizes on the take down of a woman…"
Belle retweeted the post and responded, "Couldn't have said it better…"
While Taylor Swift has never officially revealed the muse behind her song "Better Than Revenge," longstanding speculations suggest that the track may be inspired by actress Camilla Belle (Credit: Janet Mayer / Startraksphoto)
So, no, Camilla Belle and Taylor Swift are not friends. The two still have "bad blood" after a decade.
Even now, critics still wonder if Swift will ever apologize to Belle for the way she was treated after "Better Than Revenge" was released. While Swift never said the song was about Belle, she never said it wasn't about her and made no attempt to stop her fans from cyberbullying the actress.
In a 2014 interview with The Guardian, Swift did seem to feel a bit of remorse about "Better Than Revenge", saying, "I was 18 when I wrote that. That's the age you are when you think someone can actually take your boyfriend. Then you grow up and realize no one can take someone from you if they don't want to leave."
Taylor Swift still hasn't apologized for slut-shaming Camilla Belle (Credit: Sheri Determan / WENN / Avalon)
Though the country-turned-pop star has her hands full with all of her other celebrity feuds, perhaps it is time that Taylor Swift gives Camilla Belle a real apology.
In February 2016, Camilla Belle served up a gothic-chic look at the third annual Unite4:Humanity event held at the Montage Beverly Hills in California.
Camilla Belle wears her hair in a chic updo at the 3rd annual Unite4:Humanity event held on February 25, 2016, at the Montage Hotel in Beverly Hills, Los Angeles (Credit: FayesVision / WENN)
The then-29-year-old actress picked a sheer lace dress from Monique Lhuillier's Fall 2016 collection.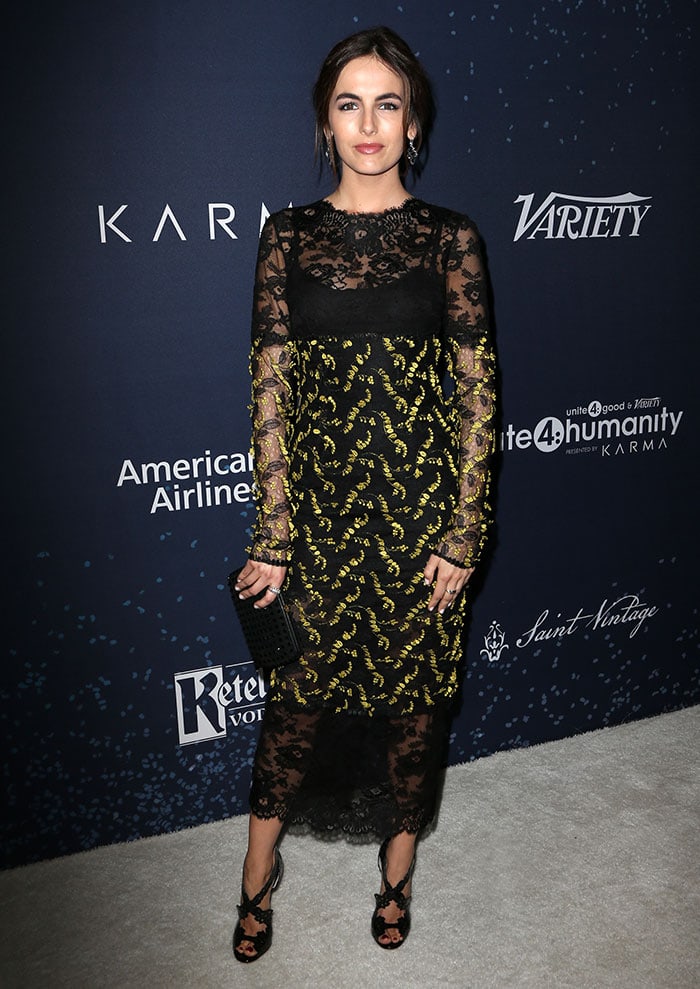 Camilla Belle wears a black-and-yellow Monique Lhuillier dress on the gray carpet (Credit: FayesVision / WENN)
While the modest cut and lacy design seemed a bit dated for the young star, the contrasting yellow petal embroidery gave a classic look a refreshingly modern twist.
The straight cut, however, was far from flattering, and the long sleeves and ankle-length scalloped hem didn't do her figure any favors.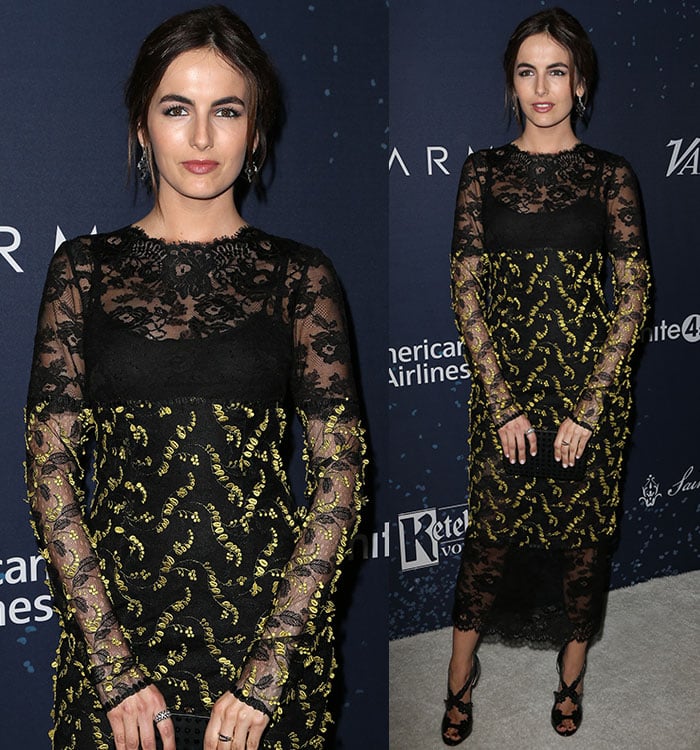 Camilla Belle wears a sheer embroidered Monique Lhuillier dress to the Unite4:Humanity event (Credit: FayesVision / WENN)
The When a Stranger Calls actress styled the dress with John Hardy drop earrings, rings, and a black clutch.
She wore her hair in a chic updo with face-framing tendrils and completed her beauty look with defined eyebrows, dark eyeliner, and pink lipstick.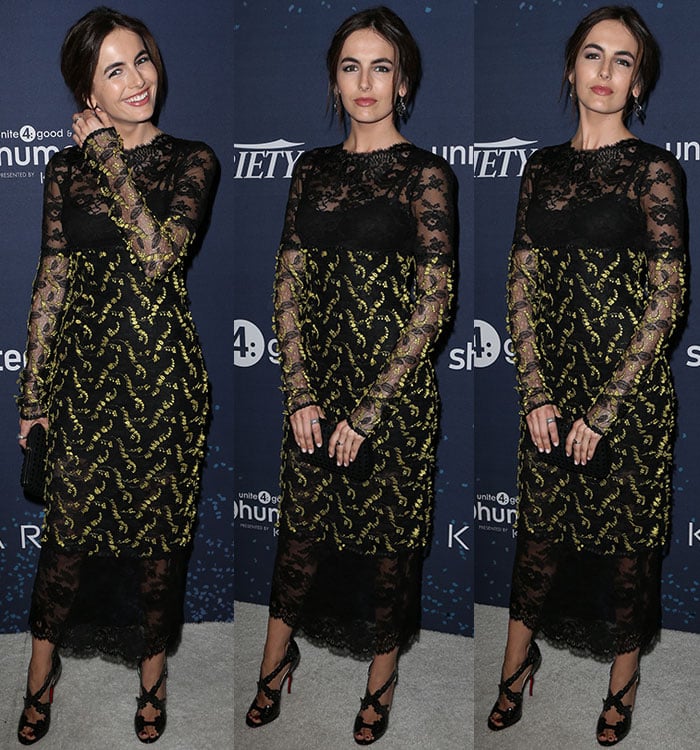 Camilla Belle hides her figure in a Monique Lhuillier fall 2016 dress (Credit: FayesVision / WENN)
Camilla rounded her look with the Christian Louboutin "Decoupadiva" sandals.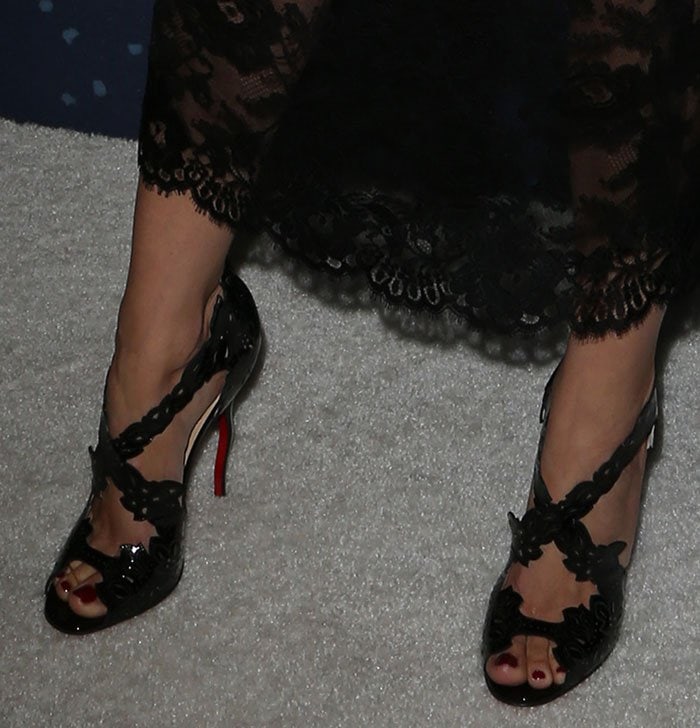 Camilla Belle's feet in black leather Christian Louboutin sandals (Credit: FayesVision / WENN)
These black patent leather sandals feature laser-cut floral designs that cascade down the foot, crisscross vamp straps, peep toes, back-zip fastenings, and about 4.7-inch curvy, sculpted heels.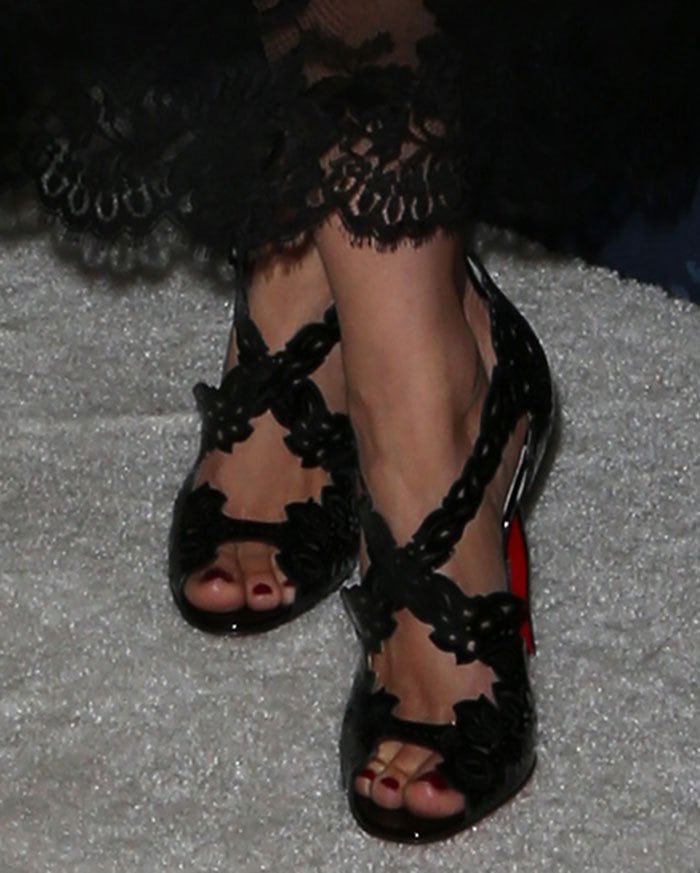 Camilla Belle's feet in red-soled "Decoupadiva" sandals (Credit: FayesVision / WENN)
These Christian Louboutin sandals are part of the Fall/Winter 2015 collection.
Christian Louboutin Decoupadiva Sandals, $1,195