Oooh, the fight between Kanye West and Taylor Swift ain't over yet. Just when we thought the cube-shaped bouquet of flowers Kanye sent Tay settled the "bad blood" between them, Ye had to go and write song lyrics about having sex with the 26-year-old songstress.
In his new song "Famous," Kanye raps, "I feel like me and Taylor might have sex / I made that bitch famous," clearly referring to his notorious interruption of Taylor's award acceptance speech at the 2009 MTV Video Music Awards.
What makes it even worse is that Kanye played the song during his Yeezy Season 3 fashion show, and the Kardashian-Jenners — including known Swift BFFs Kendall Jenner and Gigi Hadid — openly bopped along to it. Here's video evidence of the girls dancing to the very line that disses Taylor Swift:
Taylor's friends and family members were quick to rally around her. First to take a swipe at Kanye was Tay's younger brother Austin, who posted a video of  his Adidas Yeezy Boost 350 sneakers going into the trash:
Austin Swift's video clip of him throwing his Adidas Yeezy Boost 350 sneakers in the trash in reaction to Kanye West's lyrics about having sex with Taylor Swift — posted on Instagram on February 11, 2016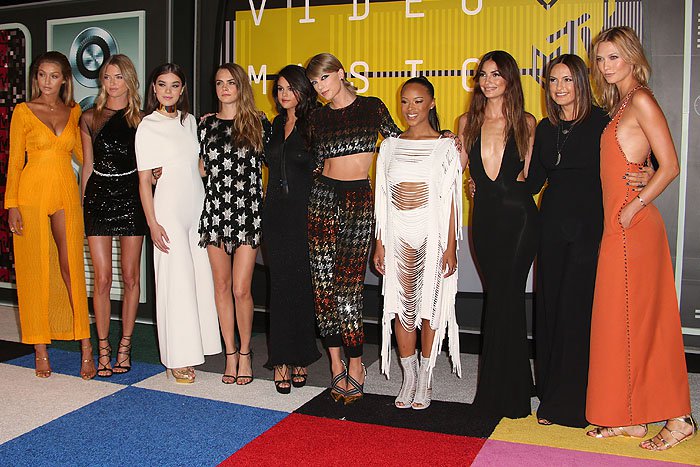 Members of the Swift Squad: Gigi Hadid, Martha Hunt, Hailee Steinfeld, Cara Delevingne, Selena Gomez, Taylor Swift, Serayah, Lily Aldridge, Mariska Hargitay, and Karlie Kloss at the 2015 MTV Video Music Awards held at the Microsoft Theater in Los Angeles, California, on August 30, 2015
The rest of the girl squad quickly followed suit. Jaime King — whose son is god-mothered by Taylor — immediately deleted her video from the Yeezy Season 3 fashion show. Gigi Hadid pointed out that just because she was at the show doesn't mean that she agrees with the music. Taylor's tall, blonde "twin" Karlie Kloss, who Instagrammed a pic of her wearing and flaunting her Yeezy sneakers, also deleted the shot after much pressure from Taylor Swift fans.
Your Next Shoes readers, would you throw out or stop wearing Yeezy sneakers too if you were in the same position as these Swift squad ladies?
Adidas Yeezy Boost 350 "Moonrock" Sneakers, available in select stores
Credit: FayesVision/WENN