Lea Michele and Matthew Morrison dated for a before starring together in the musical TV series Glee.
Morrison played teacher Will Schuster and coach to the Glee club. Lea Michele played Rachel Berry, one of his students. Given that their age difference is only eight years, the affair is anything but scandalous.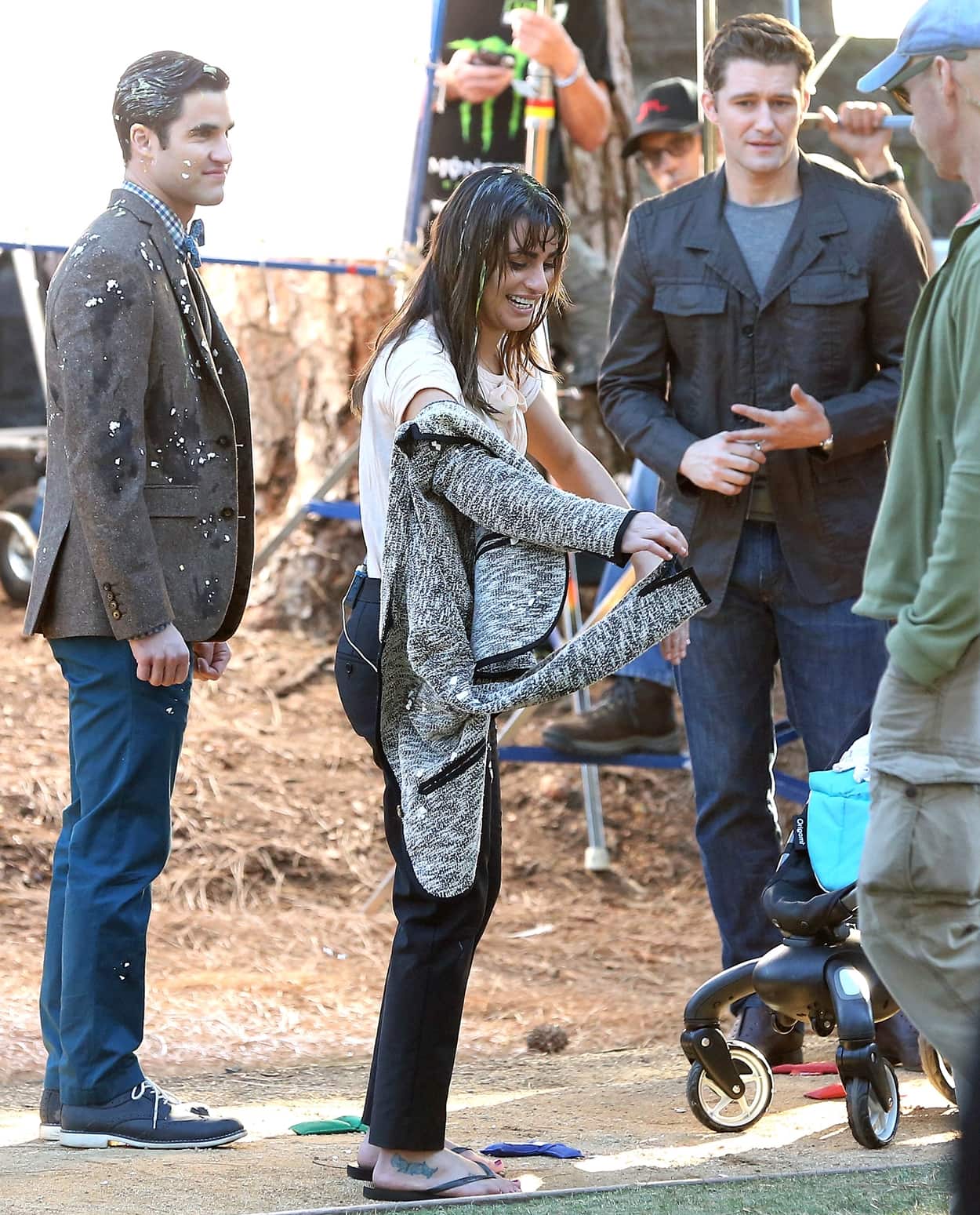 Matthew Morrison, Lea Michele, and Darren Criss on the set of Glee in Los Angeles on November 19, 2014 (Credit: Chiva / INFphoto)
There was a haze of confusion around the pair and their relationship for a long time. Matthew Morrison simply laughed off the rumors of a romantic relationship, and Michele simply said that the pair were "close."
The Truth Behind Their Dating History
Michele, 35, released her memoir in 2014, titled Brunette Ambition, which you can buy on Amazon.
She wrote, "When we shot the pilot, I met Cory Monteith, Kevin McHale, Amber Riley, and Chris Colfer for the first time."
Lea Michele as Rachel Berry and Matthew Morrison as Will Schuester in the American musical comedy-drama television series Glee (Credit: 20th Century Fox Television)
She then uncovers the mystery of her past relationship with Matthew Morrison, 43.
"I had worked on Broadway with Jenna Ushkowitz and Matthew Morrison before. Matt had been a friend of mine for years, and in fact, we'd actually dated back in the day for a Broadway beat."
Lea Michele had admitted she dated her Glee co-star Matthew Morrison (Credit: 20th Century Fox Television)
The two were seen sharing a kiss on stage during a tribute to The Rocky Horror Picture Show in 2010.
Although the stars are close, that doesn't mean that they were dating during the filming of Glee. It's been confirmed that the pair were romantically linked in 2007 before their appearance on Glee starting in 2009.
Who Have They Dated Since Their Broadway Beat?
After dating Michele in 2007, Morrison dated Kelly Brook and Olivia Munn. The actor married wife Renee Puente in 2014, and the couple has two sons.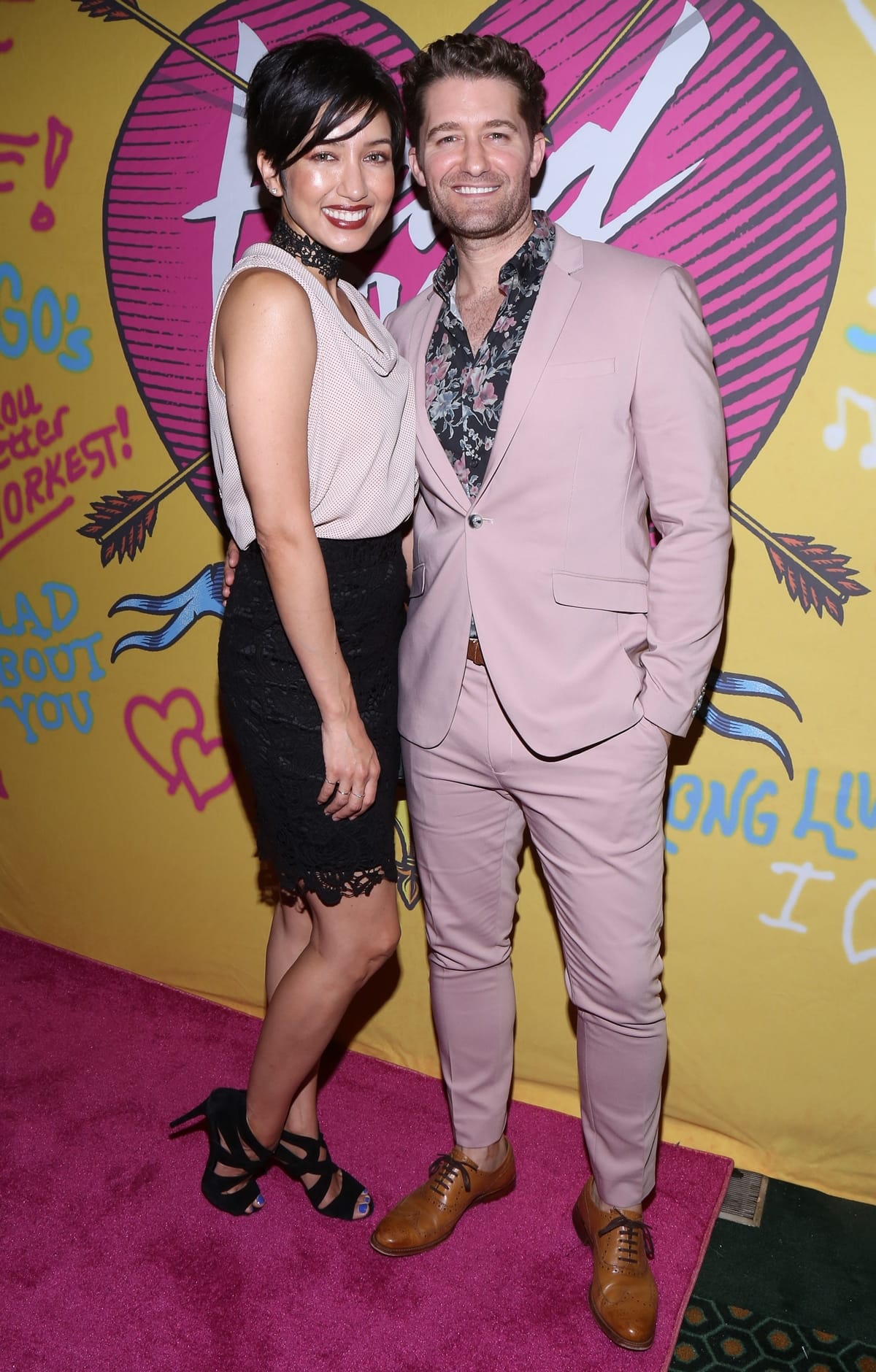 Renee Puente and Matthew Morrison met at a White Tie & Tiara Ball in London in 2011 and married in 2014 (Credit: Joseph Marzullo / WENN)
Michele dated John Lloyd Young after her Broadway beat with Morrison.
The actress was romantically linked to Cory Monteith during the filming of Glee. Monteith played the role of Finn Hudson on the musical TV series and died from a drug overdose in 2013.
Lea Michele met her husband Zandy Reich at a wedding and they married in 2019 (Credit: MEGA / WENN)
She dated Matter Paetz and Robert Buckley before marrying her husband Zandy Reich in 2019. The couple celebrated the birth of their first child in August 2020.
Matthew Morrison Keeps Quiet on Allegations Against Michele
In 2020, Michele was awash in allegations from castmates of her bullying on set. Samantha Marie Ware, a Glee costar, accused Michele of making the show set "a living hell."
Several actors from other productions and TV series addressed her diva-like behavior, including actresses Amber Riley and Heather Morrison. Michele released a statement in response to the allegations against her on Instagram.
"Whether it was my privileged position and perspective that caused me to be perceived as insensitive or inappropriate at times or whether it was just my immaturity and me just being unnecessarily difficult, I apologize for my behavior and for any pain which I have caused. We all can grow and change, and I have used these past several months to reflect on my own shortcomings."
Lea Michele revealed a white lace bra in a matching Gabriela Hearst Fall 2021 ribbed dress at the opening night of the new play "POTUS" on Broadway at The Shubert Theater on May 1, 2022, in New York City (Credit: MEGA /WENN)
Morrison made a brief comment about the allegations against his former Glee costar. Although the pair previously dated, Morrison made it clear he wasn't going to weigh in on the subject.
However, he did comment to FUBAR Radio's Access All Areas, "I honestly think it's a distraction of the bigger issues that are going on right now. You want to be a good, pleasant person to be around. That's about all I'm going to say."
Lea Michele wears her hair down as she attends Glamour Magazine's Game Changers Lunch held on April 20, 2016, at Au Fudge in West Hollywood (Credit: Michael Wright / WENN)
In April 2016, Lea Michele was all smiles as she waved to the paparazzi outside Jessica Biel's Au Fudge restaurant.
The actress joined fellow celebrities Emily Ratajkowski and Zendaya for Glamour's Game Changers Lunch, which "celebrates women who are using their voices to bring about positive change around the world."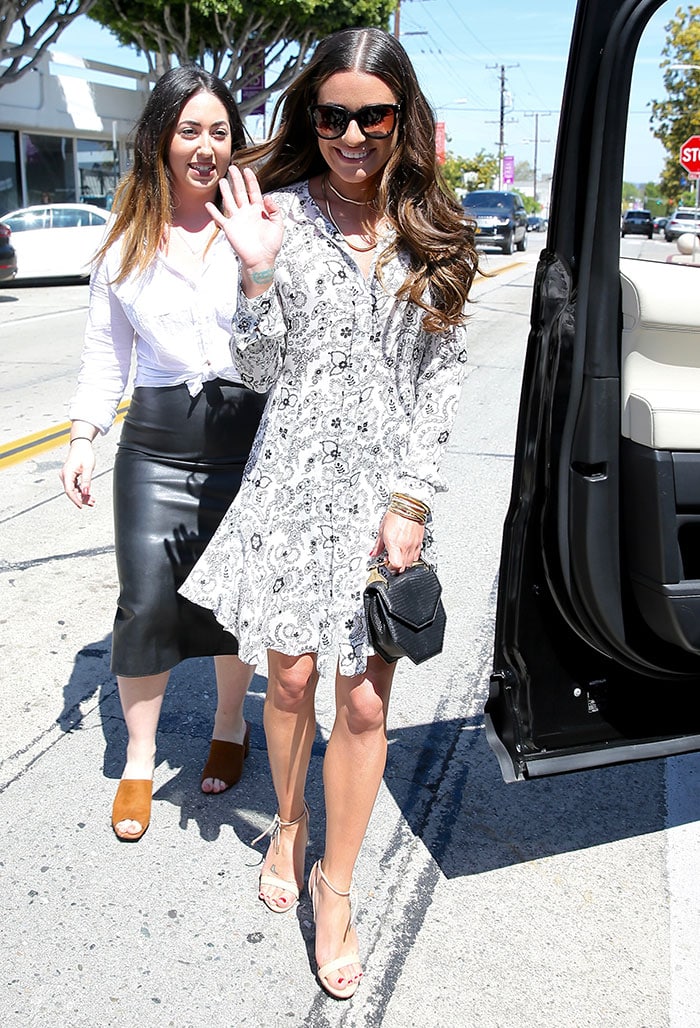 Lea Michele shows off her legs in a summery A.L.C. dress (Credit: Michael Wright / WENN)
The then-29-year-old actress looked summer-ready in a black-and-white A.L.C. printed dress, which showed only her toned legs.
It had a floaty silhouette, long sleeves, and a pleated skirt with a slightly dipped hemline.
Lea Michele looks summer-ready at Glamour Magazine's Game Changers Lunch (Credit: Michael Wright / WENN)
The "Scream Queens" star glammed up the summery number with a pair of earrings, a gold layered necklace, and a couple of gold bracelets.
She hid her eyes behind a pair of oversized sunglasses by Thierry Lasry and carried a black mini bag with a gold handle by M2Malletier.
Lea Michele wears an A.L.C. printed dress and a large pair of sunglasses from Thierry Lasry (Credit: Michael Wright / WENN)
She wore her hair in waves with a center part and kept her makeup simple with an accent of pink lipstick.
Lea slipped her feet into a pair of nude leather Aquazzura "Linda" sandals.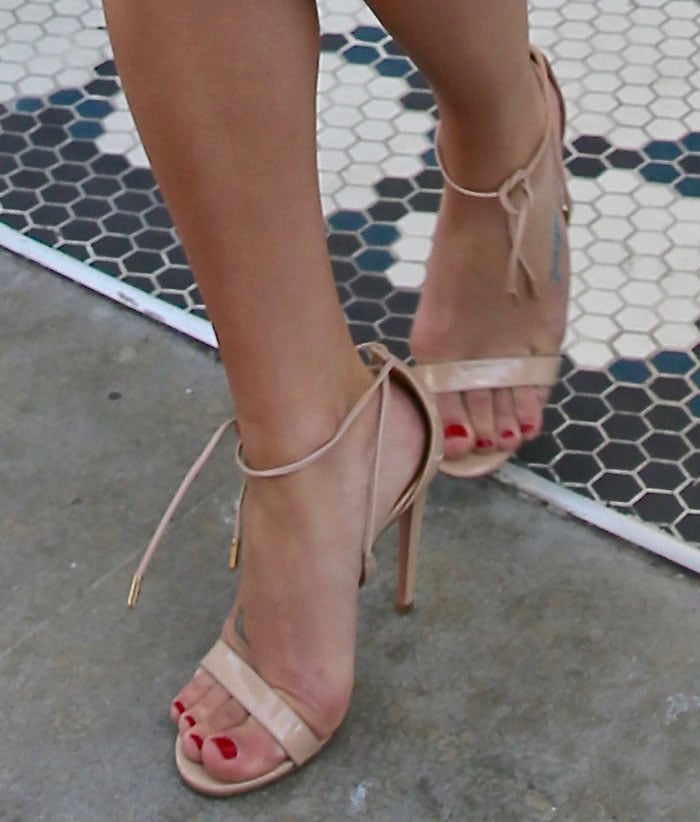 Lea Michele's feet in nude leather Aquazzura sandals (Credit: Michael Wright / WENN)
These sandals have open toes, lace-up detail that ties at the ankles, and four-inch heels.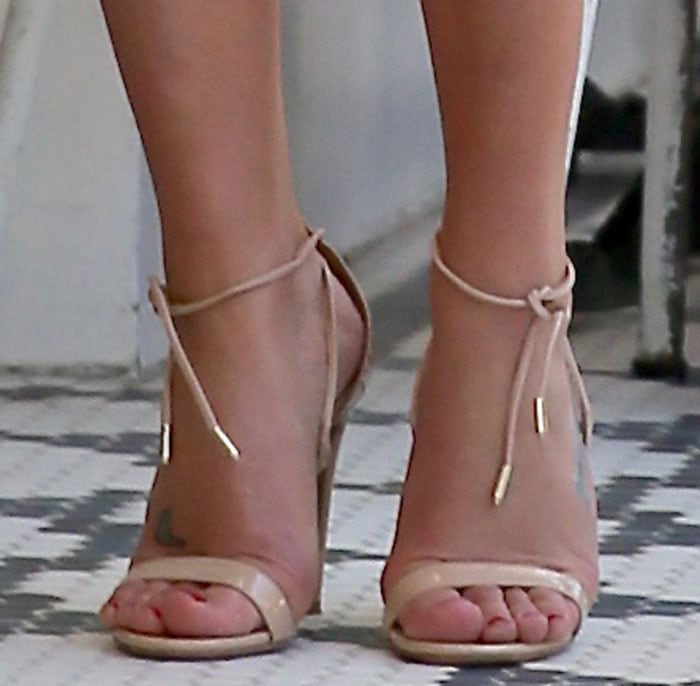 Lea Michele's feet in nude leather "Linda" sandals (Credit: Michael Wright / WENN)

You can check out these sandals from the popular shoe brand in different renditions at Nordstrom and Shopbop.
Strappy Aquazzura "Linda" Sandals, $675 – $995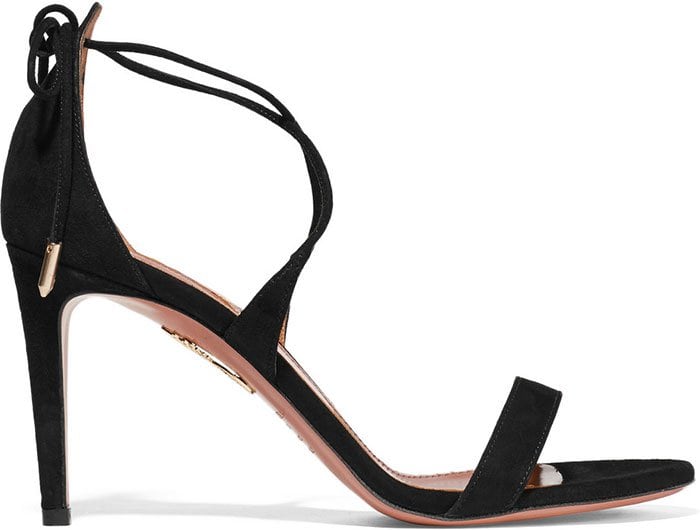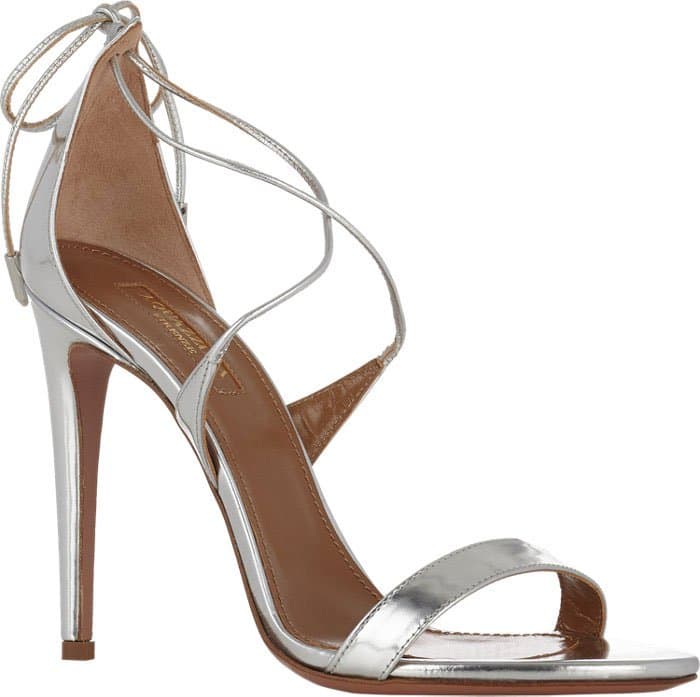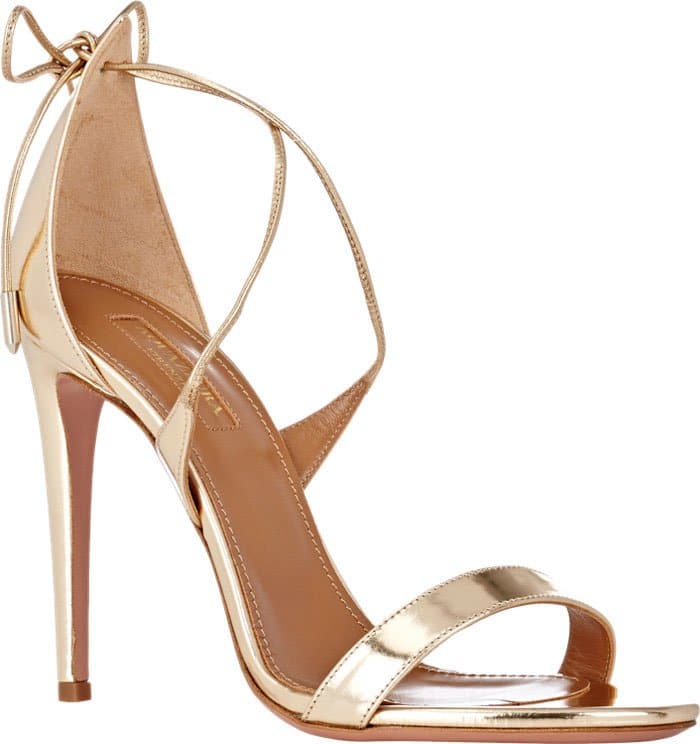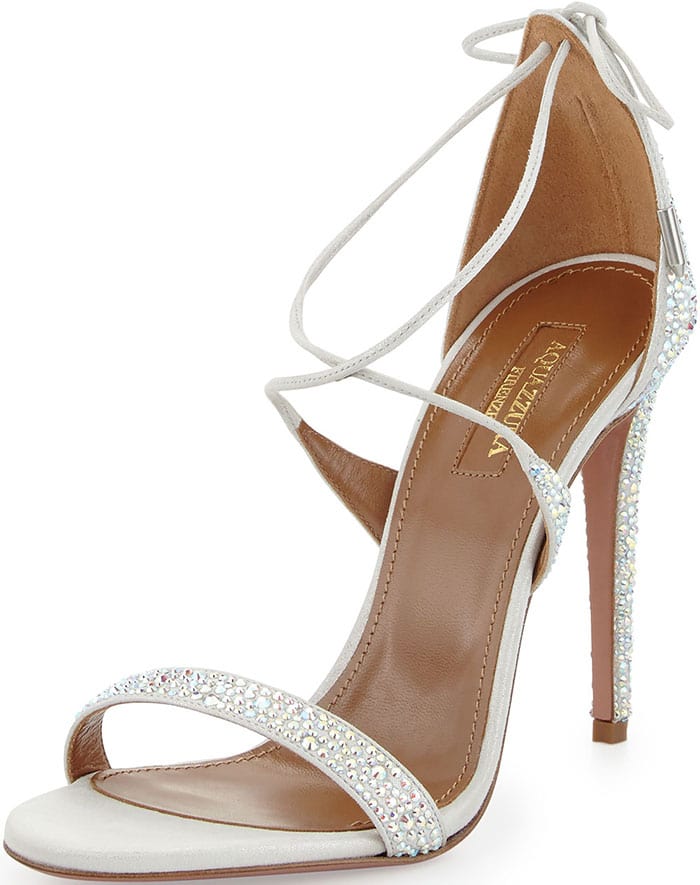 How often do you see a couple so fashionably dressed you just can't help but notice them? Not so often, right?
Well, take a look at 'Glee' star Matthew Morrison and his model girlfriend, Renee Puente in these pictures.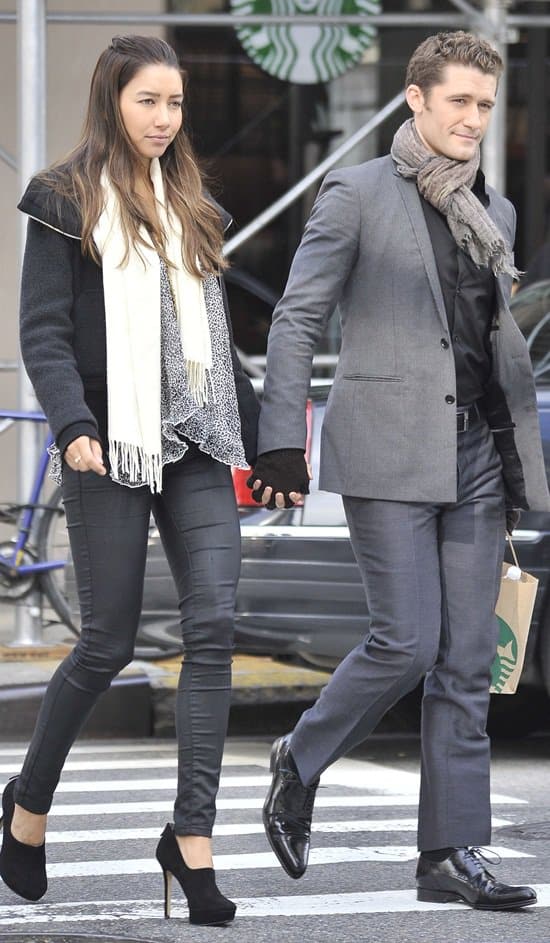 Matthew Morrison and Renee Puente married in 2014 after dating for 2 years (Credit: Stefan Jeremiah / TNFY / WENN)
In October 2012, the two were spotted walking hand in hand while out and about in Manhattan. They met at a White Tie & Tiara Ball in London in 2011.
Don't they both look gorgeous? Matthew was quite dapper in that suit and Renee was all chic and effortless in skintight jeans and booties.
Of course, we didn't miss those scarves around their necks either. We love how Renee picked a stark white extra to go with her dark ensemble.
It created a wonderful contrast. And Matthew's choice to go with something "distressed" and raw-edged provided an interesting complement to his uber polished attire, though perhaps a patterned wool scarf would have been a better choice.
Matthew Morrison of 'Glee' and his model girlfriend Renee Puente wear chic scarves on a date in Manhattan, New York, City, on October 17, 2012 (Credit: Stefan Jeremiah / TNFY / WENN)