2021 was a fantastic year for Zendaya, with four film releases, including Spider-Man: No Way Home and Dune becoming major hits. She started acting in 2009 and has acted so far in many acclaimed films and TV shows.
She has won numerous awards, including a Primetime Emmy Award and a Critics' Choice Movie award. In addition, Time magazine named her one of the 100 most influential people in the world in 2022. Amazing right?
Zendaya and her stylist Law Roach attend the HBO Max FYC event for "Euphoria" at the Academy Museum of Motion Pictures on April 20, 2022, in Los Angeles, California (Credit: MEGA / WENN)
The 25-year-old is having an excellent run in the industry, but she has had her share of ups and downs when it comes to critical acclamation.
Here are fun facts and Zendaya's age in her top 7 movies according to Rotten Tomatoes.
7. Malcolm & Marie – 56% Score
The story takes the film forward, but sometimes it is the performance of the actors that make up for the not-so-satisfying writing. Similarly, the performance of Zendaya and John David Washington was widely appreciated by both critics and the audience.
The critics opined that the strong chemistry between the film's stars often offset the film's flaws. In addition, the audience said that Zendaya and John David Washington bring Malcolm & Marie to life, even when the story and the dialogue they're given don't do them any favors.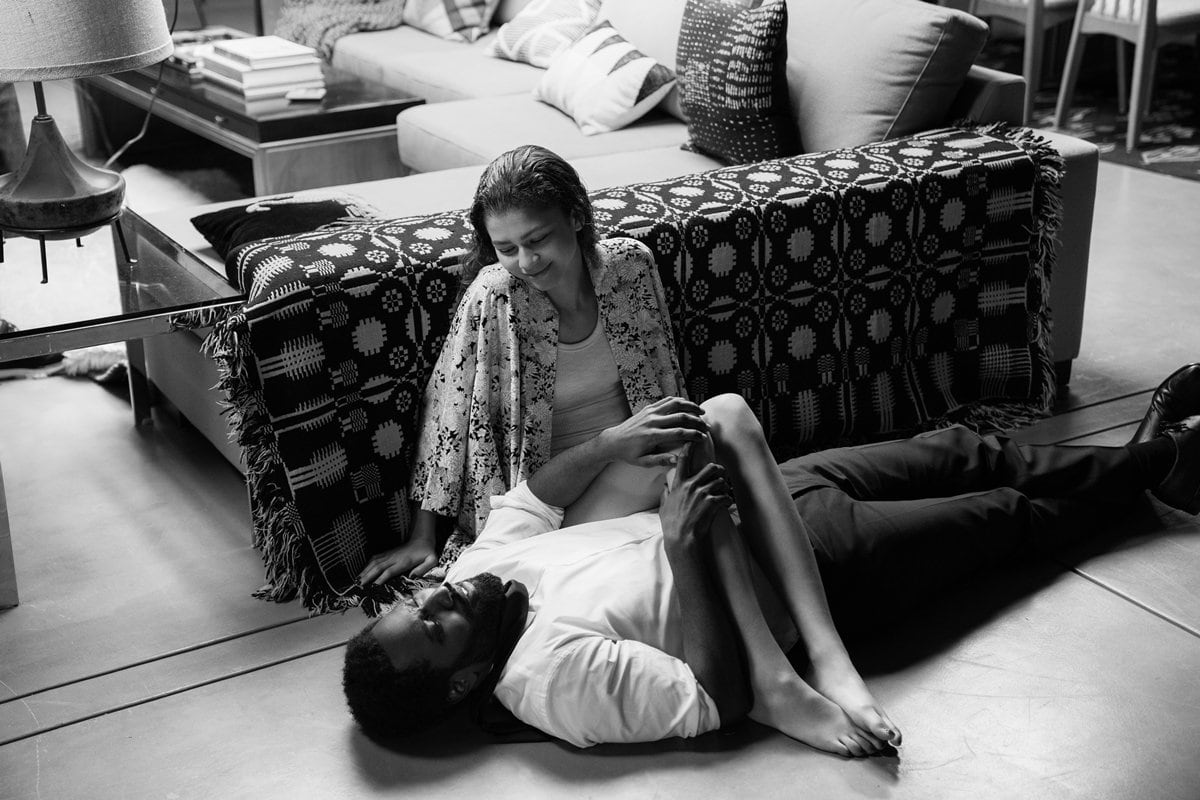 Zendaya and John David Washington served as producers and starred in the 2021 American black-and-white romantic drama film Malcolm & Marie (Credit: Netflix)
Malcolm & Marie released in January 2021. Since Zendaya's birthday falls on September 1, she was 24 years old when the film hit the screens.
Interesting Fact: Malcolm & Marie takes the credit for being Hollywood's first feature to be written, produced, and financed during the Covid-19 pandemic
6. The Greatest Showman – 57% Score
The Greatest Showman was released in 2017 when Zendaya was 21 years old. It received an average note from the critics.
They opined that the film tries hard to dazzle the audience with a Barnum-style sense of wonder — but at the expense of its complex subject's a far more intriguing real-life story.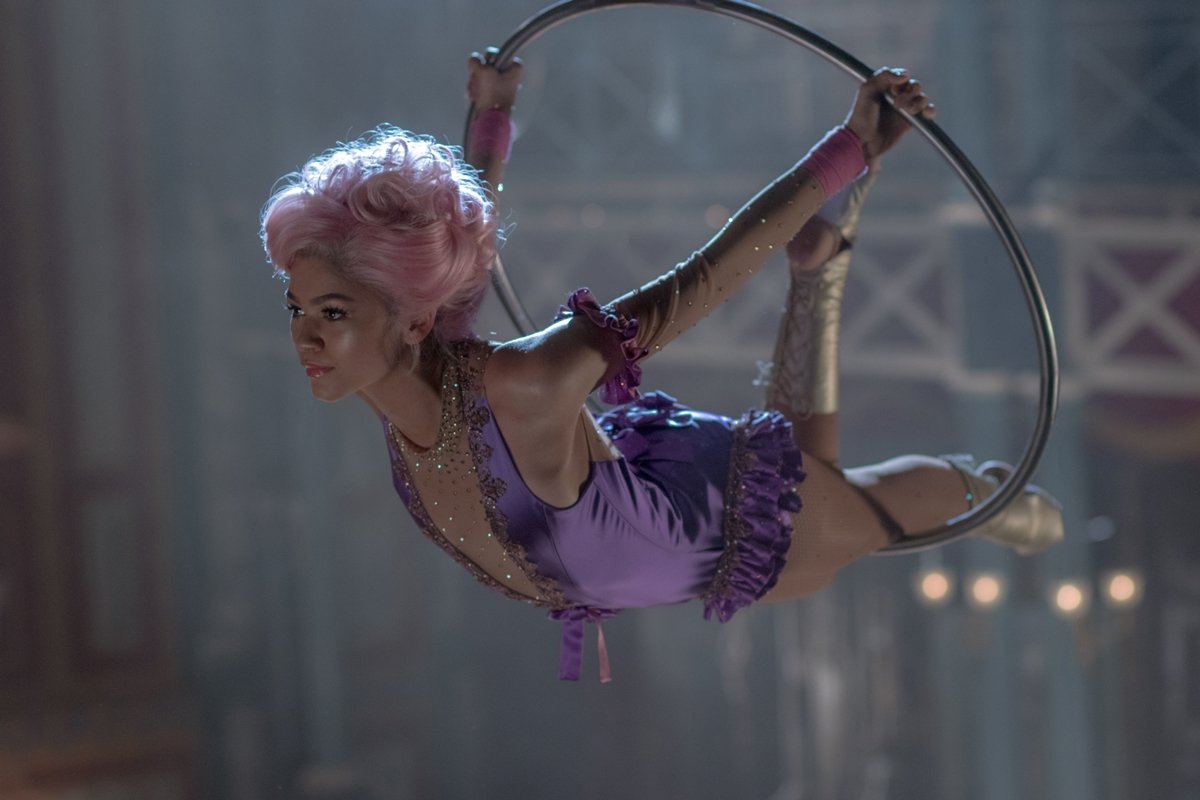 Zendaya hardly used stunt doubles as trapeze artist Anne Wheeler in the 2017 American biographical musical drama film The Greatest Showman (Credit: 20th Century Fox)
However, in terms of audience score, The Greatest Showman is only one score less than Spider-Man: Homecoming, released in the same year. It received a total score of 86%.
Interesting Fact: One fact is that the film was an original music production that took nine years to be made. Another central fact related to Zendaya is that the singer-turned-actor had sung the original soundtrack "Rewrite the Stars" along with Zac Efron, her co-actor.
5. Smallfoot – 76% Score
Smallfoot received positive responses from the critics who reviewed that it keeps the youngsters entertained with its colorful distraction and has a story whose message might even resonate with older audiences, suggesting that the film is a good watch for any age viewers.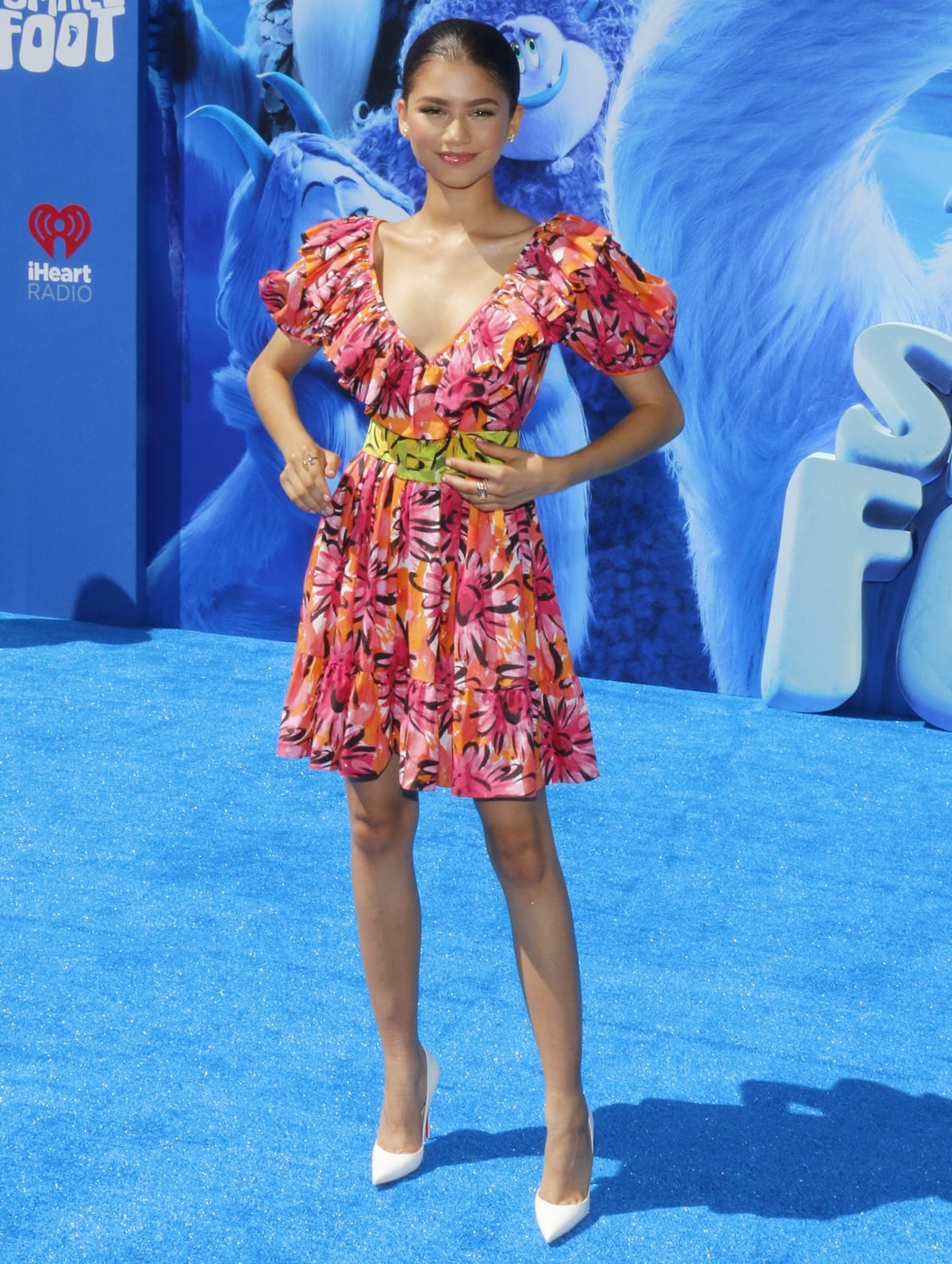 Zendaya flaunts her legs in a Michael Kors dress on the blue carpet as she steps out for the premiere of Smallfoot on September 22, 2018, at the Regency Village Theatre in Westwood, California (Credit: Tinseltown / Shutterstock)
However, the audience gave only 62% to the film. Smallfoot was released towards the end of September 2018, and so Zendaya was 22 years old during its release time.
Interesting Fact: This animation flick employed over 100 character animators, and the makers rendered millions of strands of hair for the principal actors.
4. Dune – 83% Score
Dune performed well among critics and audiences alike, with the former giving it 83% and the latter giving it a 90% score. Critics praised the scope and ambition of this visually thrilling adaptation.
On the other hand, viewers commented that the film is slow-building but gets you hooked and that you will be on the edge of your seat for the sequel. Dune was also released in 2021, and Zendaya was 25 years old when the film was released.
Zendaya disappointed her fans by appearing for only seven minutes as the mysterious young Fremen woman Chani in the 2021 American epic science fiction film Dune (Credit: Warner Bros. Pictures)
The sequel to Dune, Dune 2, is in the making now. She had a small yet exciting role in the first part and will have a more prominent presence in the future installments of Dune.
Interesting Fact: The internet broke out with possible assumptions and clarifications about what Zendaya's role as Chani actually is in Dune. Talking about the film, it is actually based on the first half of a novel titled the same, written by Frank Herbert and published in 1965.
3. Spider-Man: Far From Home (2017) – 90% Score
Spider-Man: Far From Home was rated below its prequel Spider-Man: Homecoming which was released in 2017. But the audience gave a score of 95%, which is higher than the rating of the first part.
The film was released in 2019 when Zendaya was 23 years old. The critics called it a breezily unpredictable blend of teen romance and superhero action.
Tom Holland as Peter Parker / Spider-Man and Zendaya as Michelle "MJ" Jones-Watson in the 2019 American superhero film Spider-Man: Far From Home (Credit: Sony Pictures Releasing)
They also asserted that Spider-Man: Far From Home stylishly sets the stage for the next era of MCU. The three films in the Spider-Man Trilogy scored the highest and are ranked the first three in Rotten Tomatoes' top films of Zendaya.
Interesting Fact: Zendaya was constantly worried about Tom Holland's safety during the shoot. She feared that he would not be able to breathe or he might choke inside the suit because he was wearing a one-piece costume.
2. Spider-Man: Homecoming (2017) – 92% Score
The first in the three-part series of Spiderman in the world of MCU. Though Zendaya was introduced in Spider-Man: Homecoming, she did not have a significant role in the first part.
Only towards the end of the film will her name be revealed as MJ. Spider-Man: Homecoming was well received by the critics and was scored 92%. The audience score was 87%.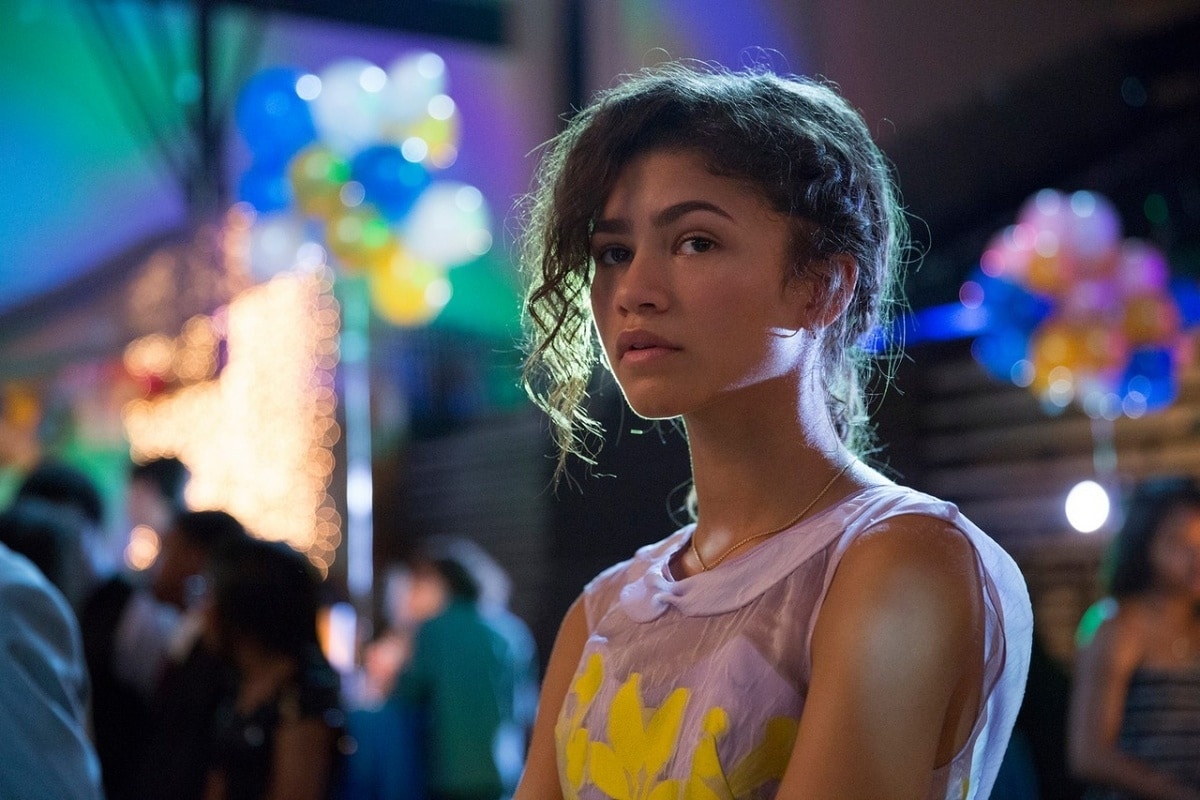 Zendaya made her debut as Michelle Jones, or "MJ" for short, in the 2017 American superhero film Spider-Man: Homecoming (Credit: Sony Pictures Releasing)
Interesting Fact: Zendaya's character as MJ is not Mary Jane Watson as in the character played by Kirsten Dunst in the first Spider-Man as Peter Parker's love interest.
Zendaya played the character Michelle, but the makers decided to call her MJ in homage since she plays the same character. Zendaya was 21 years old when Spider-Man: Homecoming was released.
1. Spider-Man: No Way Home (2019) – 93% Score
The critics praised the third and possibly last of the Spider-Man series as a bigger, bolder Spider-Man sequel. They appreciated that it expands the franchise scope and stakes without losing sight of its humor and heart.
Interesting Fact: Tom Holland asked Zendaya and Batalon (Ned Leeds) to visit the set even when they were not shooting to provide emotional support.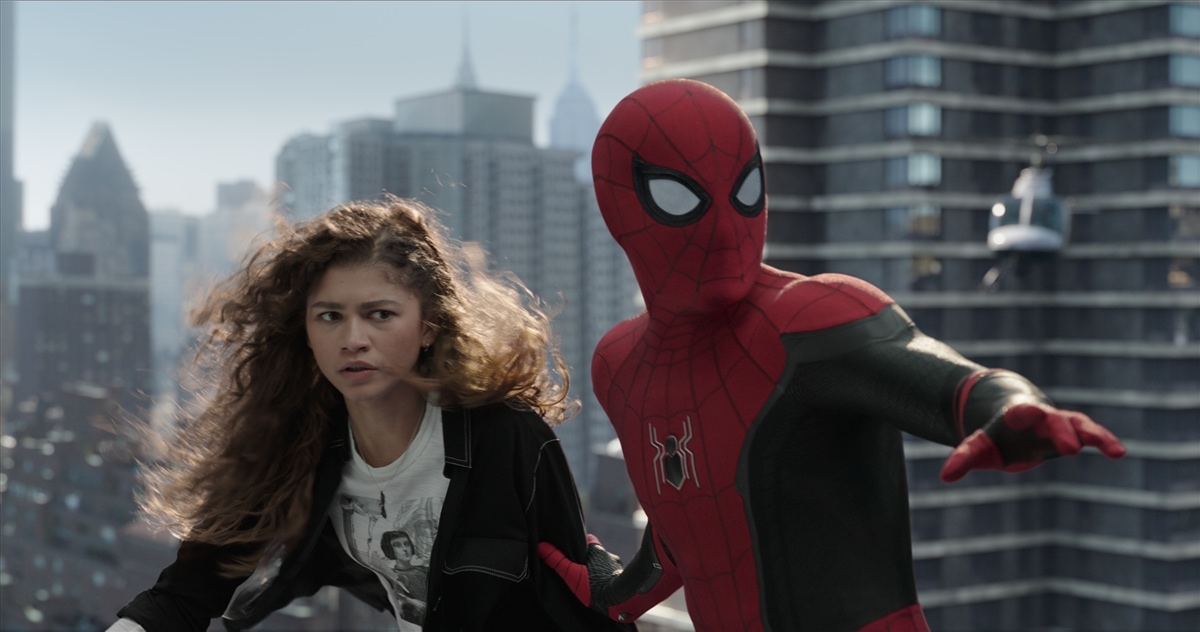 Zendaya's third Spider-Man film, the 2021 American superhero film Spider-Man: No Way Home, was a box office success (Credit: Sony Pictures Releasing)
While the critics gave a 93% score, the audience considered it franchise fan service at its best and gave a 98% score.
Zendaya was 25 years old when Spider-Man: No Way Home was released. The film was released in December 2021, 3 months after her 25th birthday.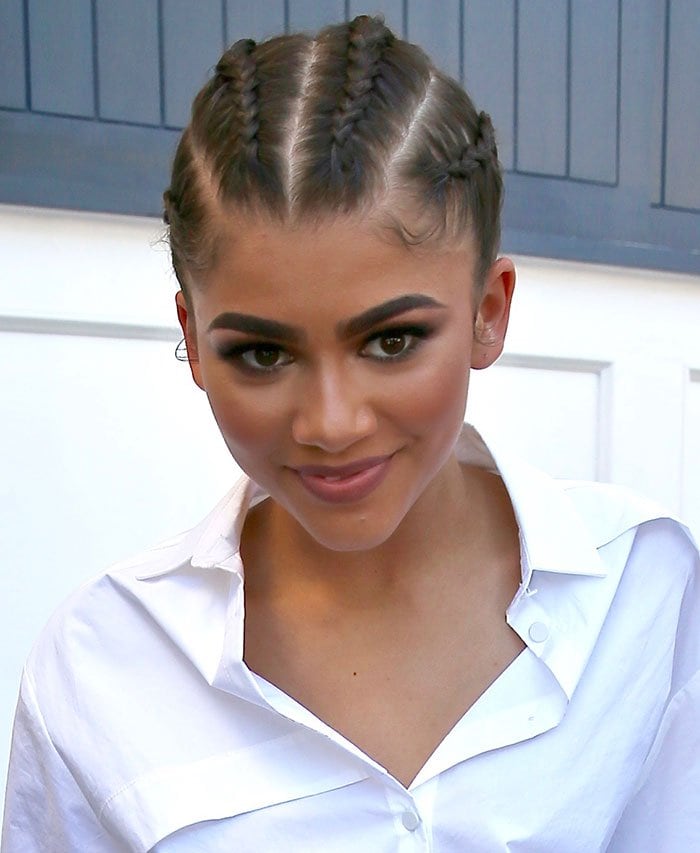 Zendaya wears her hair in braids at Glamour Magazine's Game Changers lunch held on April 20, 2016, at Au Fudge in West Hollywood (Credit: Michael Wright / WENN)
In April 2016, Zendaya was just 19, but she had already established herself as a true style icon. She turned 20 on September 1, 2016.
She's one of our favorite faces to watch when it comes to fashion, and it was no exception when she attended Glamour Magazine's event held in West Hollywood.
The "K.C. Undercover" star made quite the entrance as she showed off her mile-long legs in a Manning Cartell ensemble at Jessica Biel's restaurant Au Fudge.
Zendaya was at the restaurant to co-host Glamour's Game Changers lunch, which honored some of today's most influential women.
Zendaya shows off her mile-long legs in a silver miniskirt (Credit: Michael Wright / WENN)
Zendaya paired a white long-sleeved button-down shirt from Manning Cartell with a silver button-front mini skirt that showcased her endless legs.
She finished her ensemble with minimal silver jewelry by John Hardy and a pair of silver sandals by Stuart Weitzman.
Zendaya pairs an iridescent silver miniskirt with a white button-down shirt (Credit: Michael Wright / WENN)
Ever the hair chameleon, the Disney star switched up her hairstyle and went for sleek cornrows that tied into a knot at the nape of her neck.
She rounded out her look with heavy smoky eye-makeup, signature bold brows, and subtle pink lipstick.
Zendaya's Manning Cartell button-down shirt peeks out from beneath her silver skirt (Credit: Michael Wright / WENN)
Zendaya picked the silver version of the popular Stuart Weitzman "Nudist" sandals to match her skirt.
These glittery sandals have keyhole cutouts at the rear, adjustable ankle straps, open toes, and about 4.5-inch heels.
Zendaya's feet in silver Stuart Weitzman sandals (Credit: Michael Wright / WENN)
You can get these Stuart Weitzman sandals in different versions at Shopbop, Nordstrom, and Zappos.
Stuart Weitzman "Nudist" Sandals, $266 – $415