Netflix leans into its artsy side with the new Sam Levinson movie, Malcolm & Marie. Shot in black and white, the film is daringly artistic and worth talking about.
However, the age gap between co-stars Zendaya and John David Washington overshadows the new release's screenplay, filming, and overall execution.
Why the Fans Are Upset
Though both of the co-stars are legal adults, the age gap in the film is a significant 12 years. Zendaya was 23 when filming, while her co-star, Washington, was 35. This had many fans of Zendaya up in arms about the significant distance of age.
Zendaya and John David Washington have an age gap of 12 years (Credit: Netflix)
However, much of the controversy was about Hollywood films in general. Fans felt that the movie, Malcolm & Marie, was continuing the trend of letting male actors age and still receive lead roles while actresses are confined to youth.
Zendaya's Response to Fans' Reactions
Zendaya responded well to the criticism. She understood that her roles typically leaned on the younger side. Her career was built on the Disney channel and she continues to play a teenager in the hit show Euphoria.
Stepping into more mature roles can be jarring for fans and Zendaya recognized this by saying, "I've played a 16-year-old since I was 16."
"You have to remember, also, people grew up with me as a child," Zendaya told E! News' Victor Cruz in January 2021.
"It's like watching, I guess, your younger sibling now, you know, they're grown…So it's hard for people to wrap around the idea that I am grown in real life. You know, even though I do play a teenager on television still."
Zendaya plays Marie Jones in the Netflix drama/romance Malcolm & Marie (Credit: Netflix)
The film was also written with Zendaya in mind as the star. Levinson also directed Euphoria, so he knew Zendaya's potential and ability to transition to mature roles.
Since the film was written for Zendaya, she had a choice in her co-star. Casting John David Washington was Zendaya's just as much as Levinson's final choice.
John David Washington is the son of actor Denzel Washington and singer Pauletta Washington (Credit: WENN / Apega)
"I wasn't concerned about it because she is a woman," John David Washington told Variety in January 2021 about starring with the younger Disney Channel star. "People are going to see in this film how much of a woman she is."
"She has far more experience than I do in the industry," Washington added. "I've only been in it for seven years. She's been in it longer, so I'm learning from her. I'm the rookie."
Revenue from the Movie
The movie was sold to Netflix for $30 million. This is a significant profit that traditionally would be given back to actors, directors, and other people more visible on the movie's set.
However, Zendaya wanted to change that system. Levinson and Zendaya developed a point system for the movie's crew to earn revenue from the movie's sales as well. After all, their hard work took just as much time and energy as the big names of the movie.
John David Washington portrays writer-director Malcolm Elliott and Zendaya his girlfriend Marie Jones in the 2021 American black-and-white romantic drama film Malcolm & Marie (Credit: Netflix)
The result was crew members with points earning $300,000 or more in revenue from the movie's sales. This cuts into the salary Zendaya earns, but the star was willing to earn less to give back to the people that made the film what it was.
Zendaya has defended her role as John David Washington's younger lover in Marie Jones (Credit: Netflix)
This generosity and equal playing field is lacking with most other entertainment projects in Hollywood. Zendaya's system brings equality to the forefront of the set and should be a system adopted by all of Hollywood.
Should Movies Like This Exist?
The talent and message behind the movie, Malcolm & Marie, was overshadowed by the age gap on screen. However, the controversy doesn't mean the movie should be scrapped.
While older female representation should be addressed in Hollywood, the age gap in the movie shouldn't distract from the talent of the film.
Zendaya Coleman slicks her hair back at the 27th annual GLAAD Media Awards held on April 2, 2016, at the Beverly Hilton Hotel in Los Angeles (Credit: WENN / FayesVision)
In April 2016, Zendaya Coleman was only 19, but she had already proven that she is a true quadruple threat! She can sing, act, dance, and slay the style game! The superstar turned 20 on September 1, 2006.
The "K.C. Undercover" star continued to solidify her fashion icon status in an elegant midnight blue dress at the 27th Annual GLAAD Media Awards held at Beverly Hilton Hotel.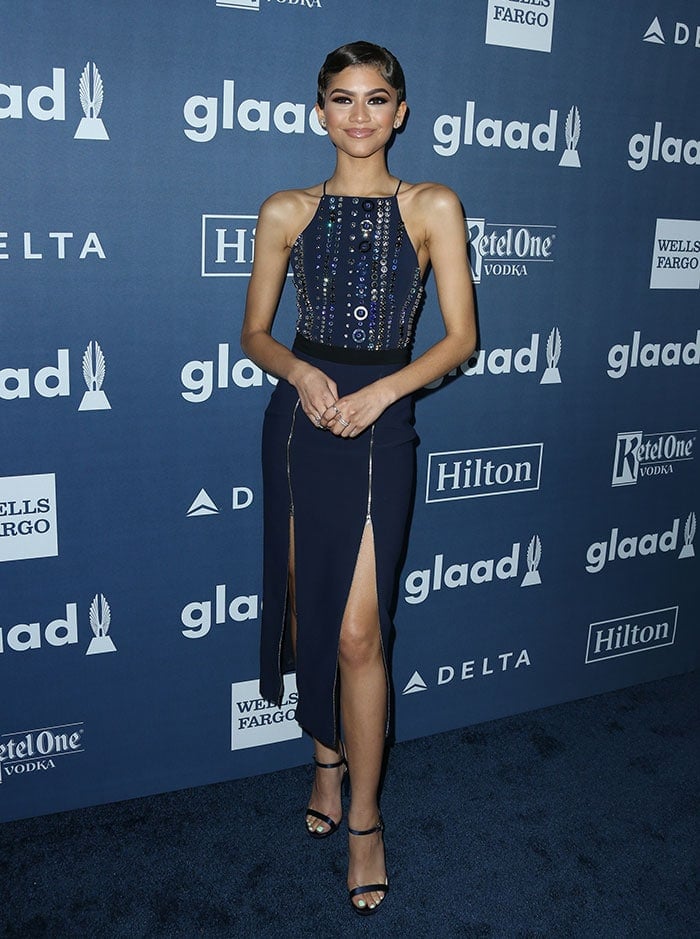 Zendaya matches her navy David Koma dress to the navy carpet at the GLAAD Media Awards (Credit: WENN / FayesVision)
She dazzled in a David Koma Spring 2016 midi dress, which featured a bedazzled bodice, a structured waist and a fitted skirt with zippered double front splits that flaunted her toned legs.
The Shake It Up actress teamed the look with a matching pair of navy heels by Jimmy Choo and further glammed up with Harry Kotlar diamond earrings and a Mattia Cielo ring.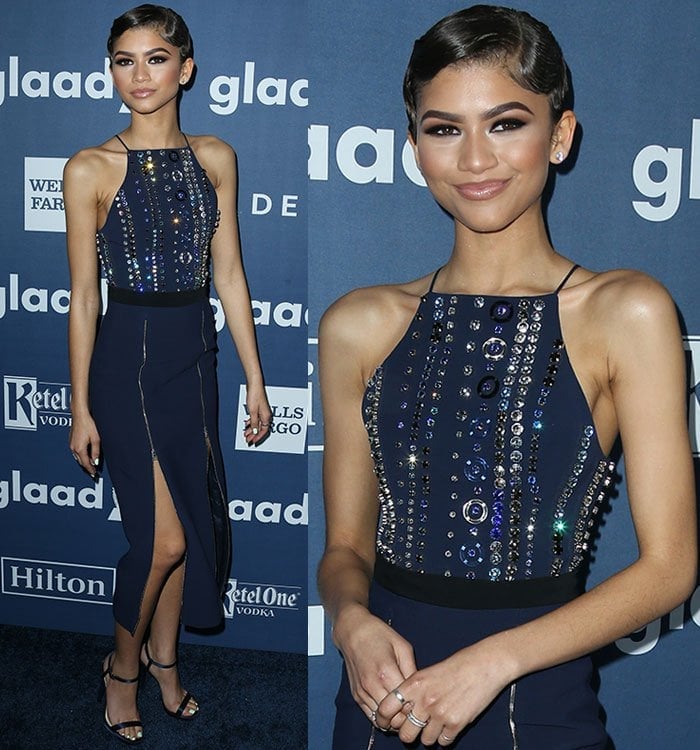 Zendaya wears a bejeweled David Koma dress (Credit: WENN / FayesVision / Apega)
Known for her ever-changing hairstyle, Zendaya went for a retro-glam look, channeling Josephine Baker with her 1920's finger waves.
Zendaya shows off her legs and shoulders in a David Koma dress (Credit: WENN / FayesVision / Apega)
She highlighted her eyes with smokey eyeshadow and mascara and completed the look with nude lipstick.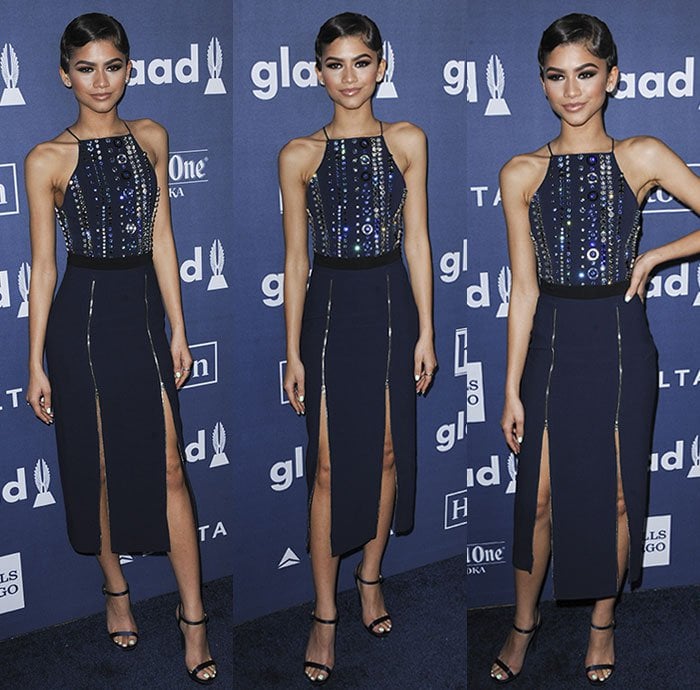 Zendaya Coleman stuns in an embellished David Koma dress (Credit: WENN / FayesVision / Apega)
Zendaya slipped into a pair of "Claudette" sandals by Jimmy Choo.
Zendaya's feet in blue satin Jimmy Choo sandals (Credit: WENN)
These navy blue satin shoes from the popular shoe designer feature adjustable ankle straps, open toes, half-inch platforms, and new sculptural heels that measure about four inches.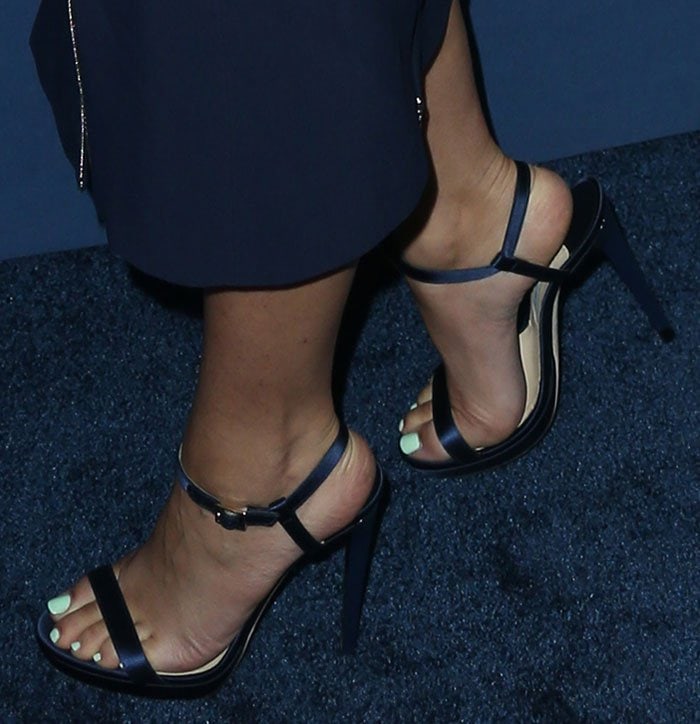 Zendaya's feet in navy blue "Claudette" sandals (Credit: WENN)
You can get these Jimmy Choo sandals at Farfetch and Mytheresa.
Jimmy Choo Claudette Platform Ankle-Strap Sandals, $795-$895