An actress well known for her versatility, Zendaya has come a long way from her breakout role as the titular character of the Disney TV show, K.C. Undercover.
She only continues to be on the rise as she remains well-regarded and multi-awarded in her acting career with one of her most recent accolades being a Primetime Emmy from playing the lead in the HBO TV series Euphoria.
However, the matter remains that she has not always been breaking this big since day one. What it took for her to become this prominent begins long before her stint as KC Cooper.
Young Thespian
As a young girl, Zendaya found her beginnings in the theater, specifically, the California Shakespeare Theater in Orinda (or Cal Shakes) where her mother Claire Stoermer worked as the theater manager.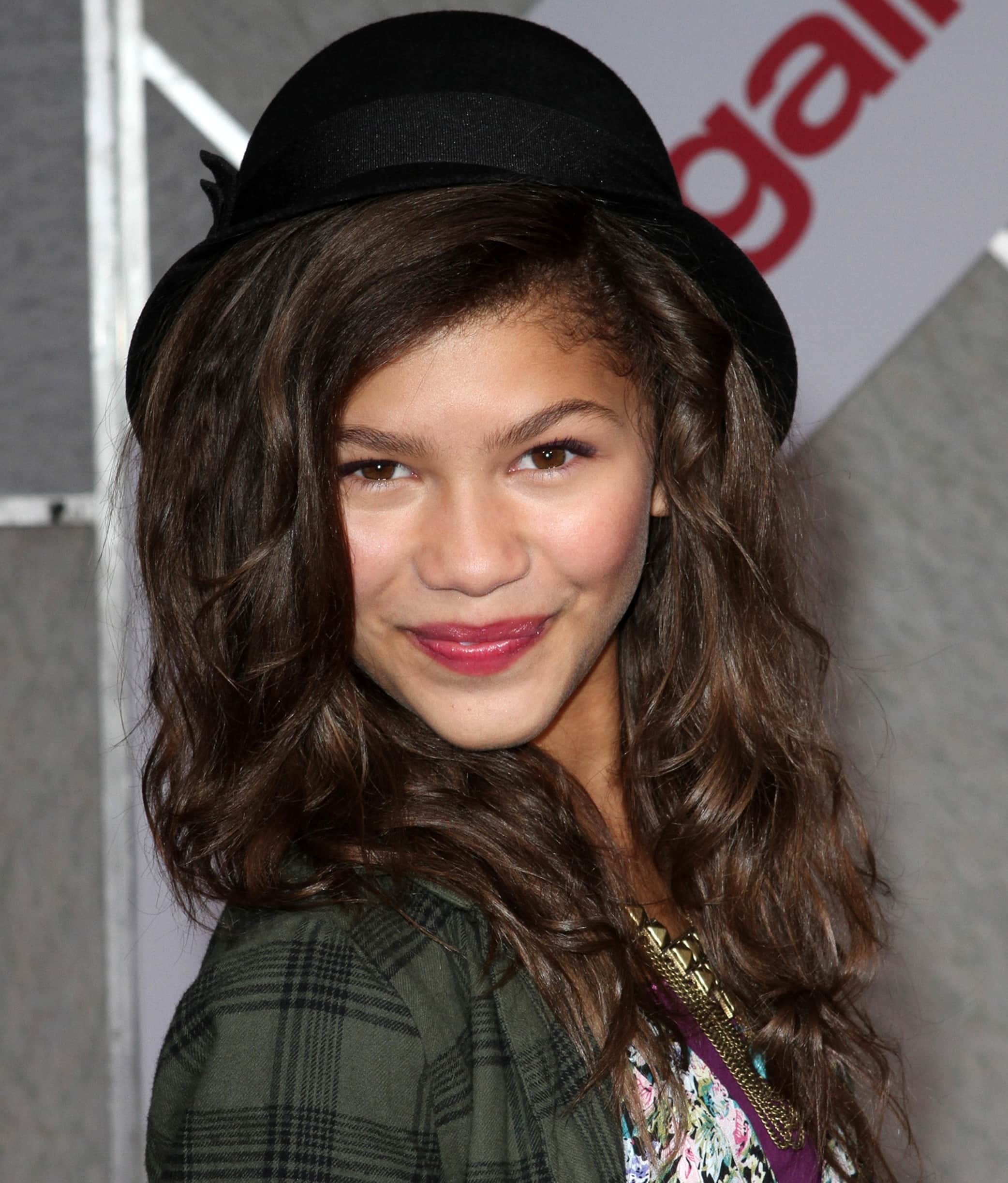 The then 14-year-old actress Zendaya Coleman at the Los Angeles Premiere "You Again" at the El Capitan Theatre on September 22, 2010, in Hollywood, California
In an interview with Datebook, Stoermer remembers Zendaya as being so shy to the point of repeating kindergarten and how everything changed when she started taking theater classes: "[it] brought her out of her shell."
She further adds, "I had to push her to go to it. But I do remember seeing her up there on that stage, and just the few little moments that she had her spotlight, it was like, 'whoa'."
Disney Child Star
In the early days of her budding career, Zendaya rubbed elbows with other Disney stars. She was featured in an iCarly toys commercial, and in a Sears commercial, she danced with Selena Gomez.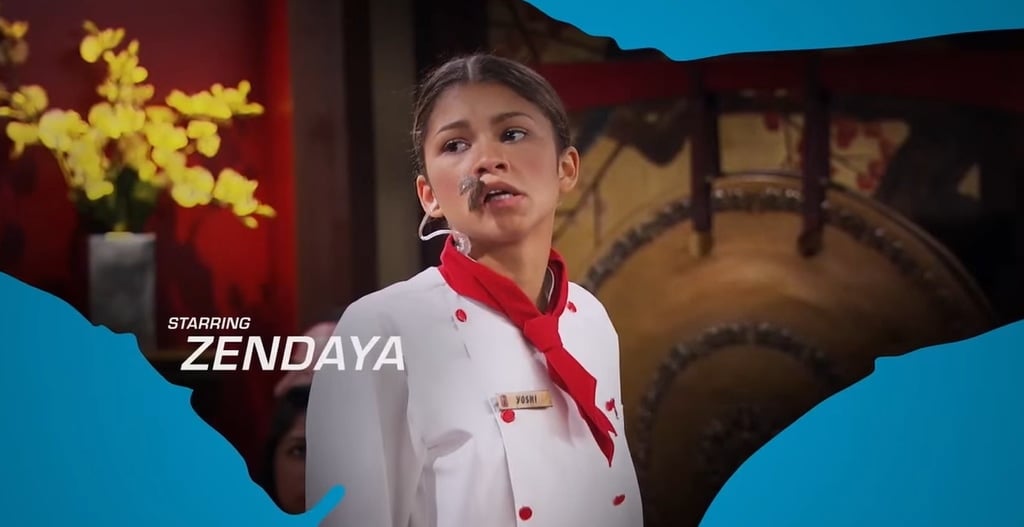 Zendaya as high school student and undercover spy K.C. Cooper, a high school student in K.C. Undercover
The year 2009 marked her first starring role in a sitcom called "Shake It Up" where she auditioned for CeCe Jones.
But instead of receiving the part, she was cast as Rocky Blue alongside Bella Thorne who played CeCe. The show became the second highest-rated premiere in Disney Channel's history.
After "Shake It Up" ended in 2013, Zendaya pursued another role—the star of the upcoming show, "K.C. Undercover." In an interview with The Seattle Times, she explained her decision to take on the part.
"The only reason I wanted to come back to the Disney Channel is because there was a lack of diversity at that time," she said.
Zendaya channeled her inner mime at the premiere of Megamind held at Mann's Chinese Theatre on October 30, 2010, in Hollywood, California
"There weren't any leads or families of color, and I felt like that was something that needed to happen. And I thought the idea of a girl doing a 'guy role' was really important. Young women are able to look at the screen and see that they can be anything, that they can do it all. A little boy can look up to a girl and say, 'I want to be like this girl.' And that's awesome."
"K.C. Undercover" began filming in late 2014 with then 18-year-old Zendaya and premiered on January 18, 2015. The show ran for three seasons, ending on February 2, 2018.
To celebrate its end, the actress said in an Instagram post that, it's the "end of an era. On to the next. Thank you for continuing to grow with me."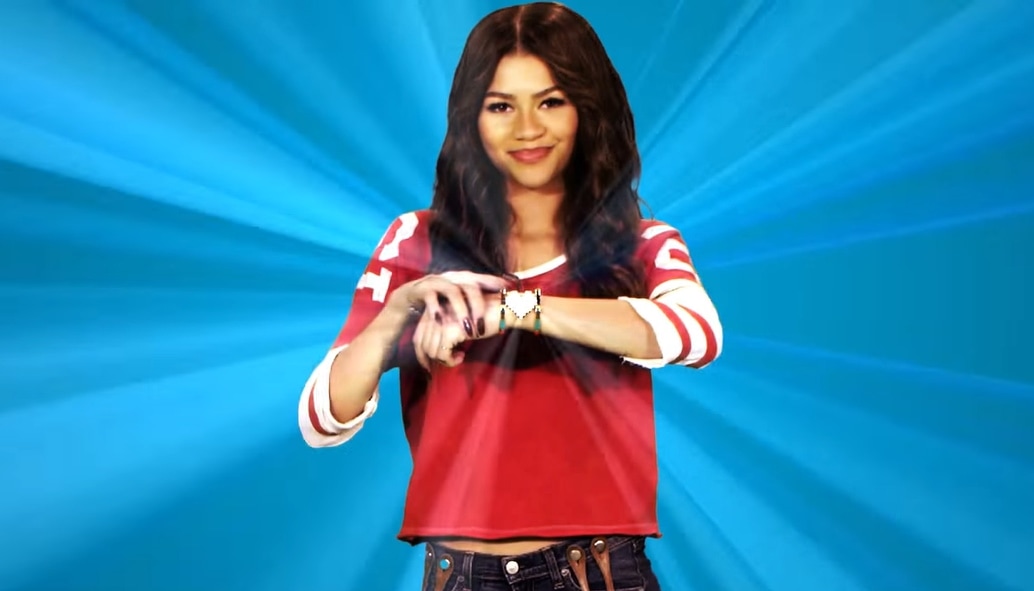 Zendaya was 18 years old when K.C. Undercover premiered on Disney Channel on January 18, 2015
Do you remember when you watched your first R-rated movie? Zendaya does. The reason she remembers isn't because of the movie itself, but rather, the reaction her parents had.
Zendaya chatted about the first R-rated movie she ever saw during a guest appearance on "Jimmy Kimmel Live!" filmed at ABC Studios in Los Angeles.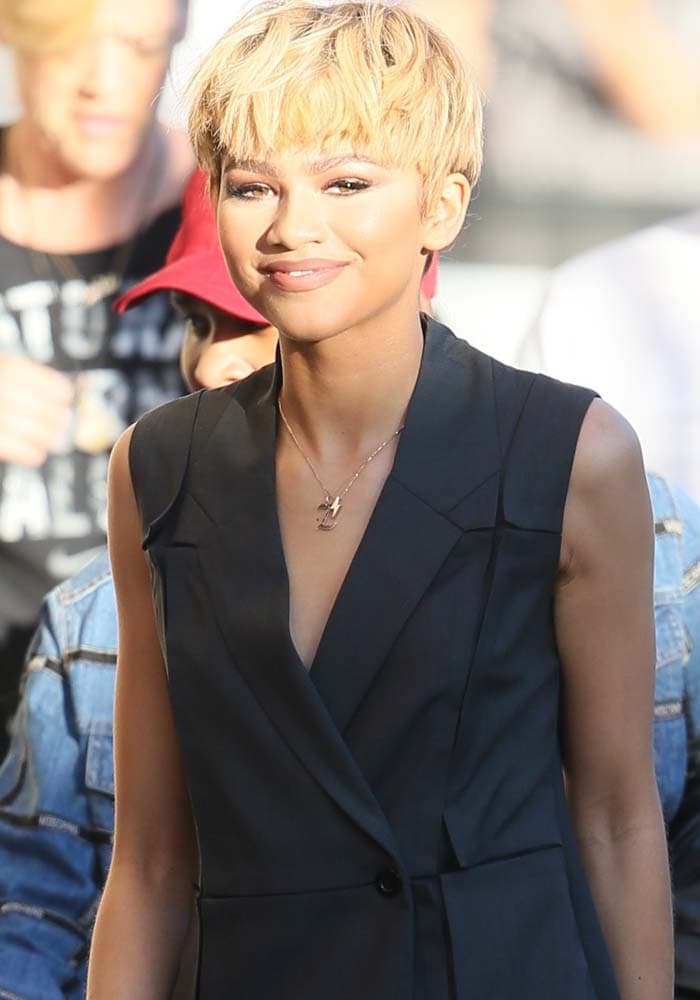 Zendaya shows off her blonde hair as she arrives at ABC Studios in Los Angeles on February 10, 2016, for an appearance on "Jimmy Kimmel Live!"
Zendaya's menswear game was strong in a double-breasted waistcoat and matching trousers. The young star showed off her sexy feet in a pair of Giuseppe Zanotti "Carine" sandals to insert glam into her otherwise plain outfit.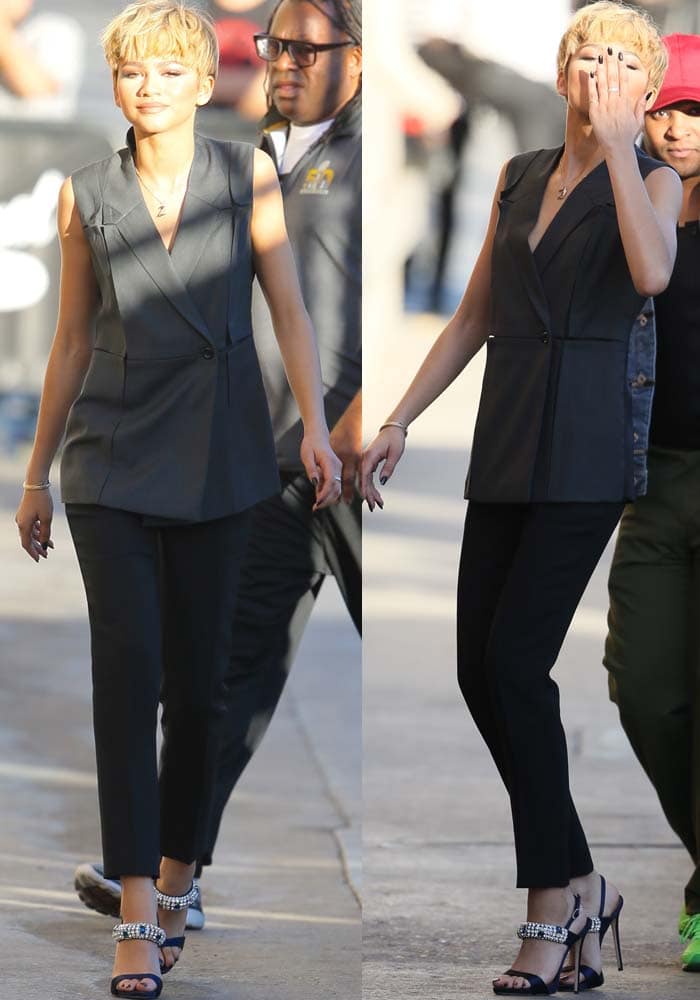 Zendaya rocks a menswear-inspired ensemble as she arrives for an appearance on "Jimmy Kimmel Live!"
The former Disney star's hairstyle had been getting mixed reviews (don't worry, it's a wig), but we loved it.
Granted, Zendaya would get her long tresses back in a few hours, but there's something very runway-chic about her short blonde 'do.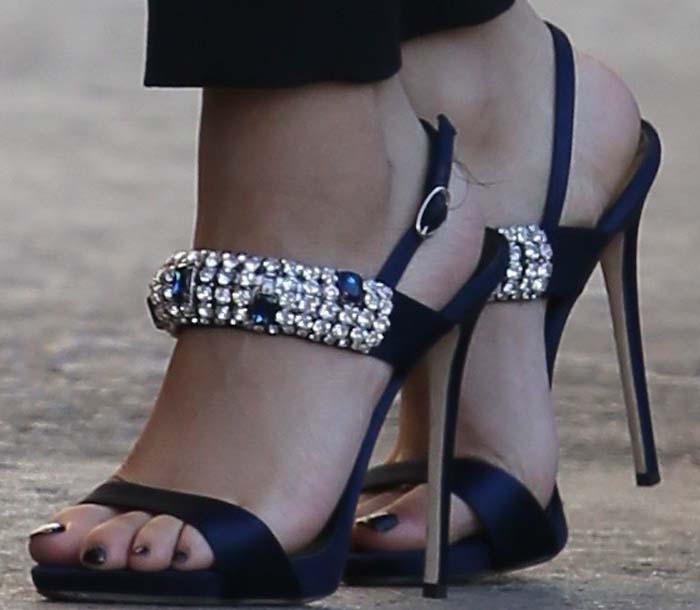 Zendaya's feet in embellished Giuseppe Zanotti sandals
Zendaya later slipped into a pair of jeans, a "Love" tee by Fyodor Golan, and a pair of bow sandals for the show.
The then 19-year-old actress revealed that her first R-rated movie was the 2005 American sex comedy film "Deuce Bigalow: European Gigolo," which she mistakenly watched with her naive dad Kazembe Ajamu Coleman.
The Giuseppe Zanotti "Carine" sandals are no longer available online but check out the brand's other embellished beauties at Farfetch and Amazon.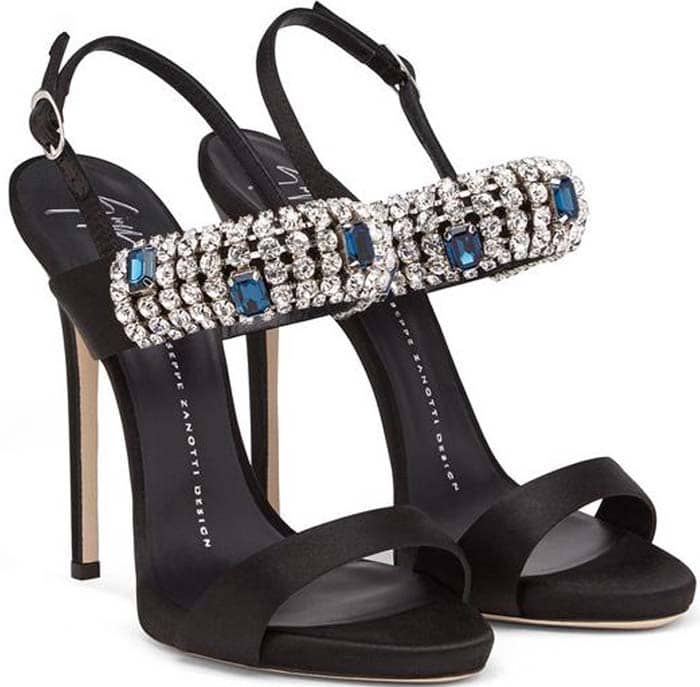 Giuseppe Zanotti 'Carine' Sandals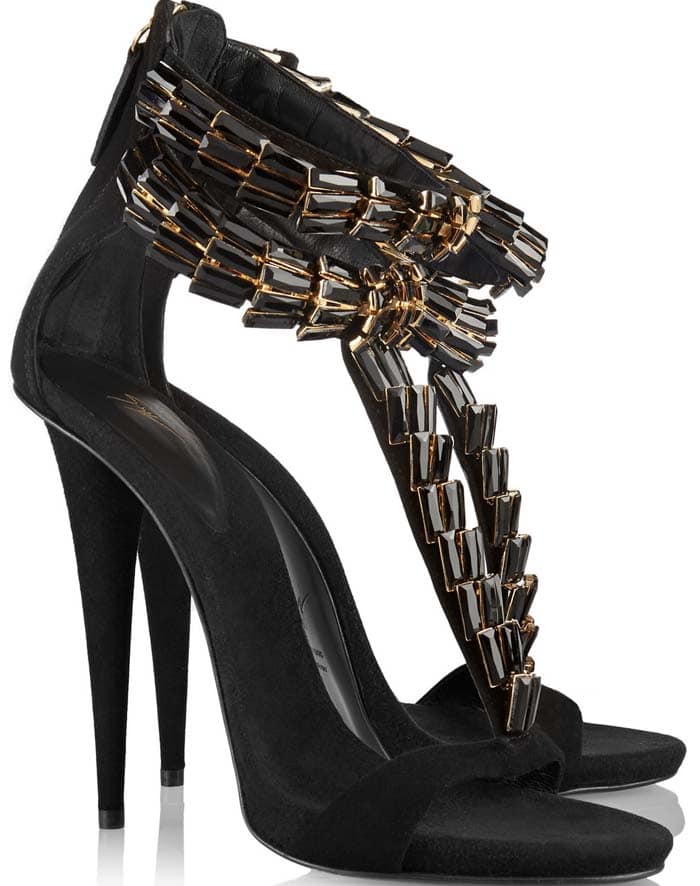 Giuseppe Zanotti Crystal-Embellished Suede Sandals, $3,290
Giuseppe Zanotti Jewel-Embellished Silk Evening Sandal in Black, $1,750
Credit: Michael Wright / WENN / FayesVision / Starbux