Rachel Posner is currently busy filming for the fourth season of The Marvelous Mrs. Maisel, which resumed production early this year amid the COVID-19 pandemic.
On Thursday, the House of Cards star was seen walking on the sidewalk while on the set of her critically acclaimed series in New York City.
Holding a clear, plastic umbrella, the 30-year-old actress wore a chic black A-line coat with oversized buttons. She layered it over a black dress that fell on her knees.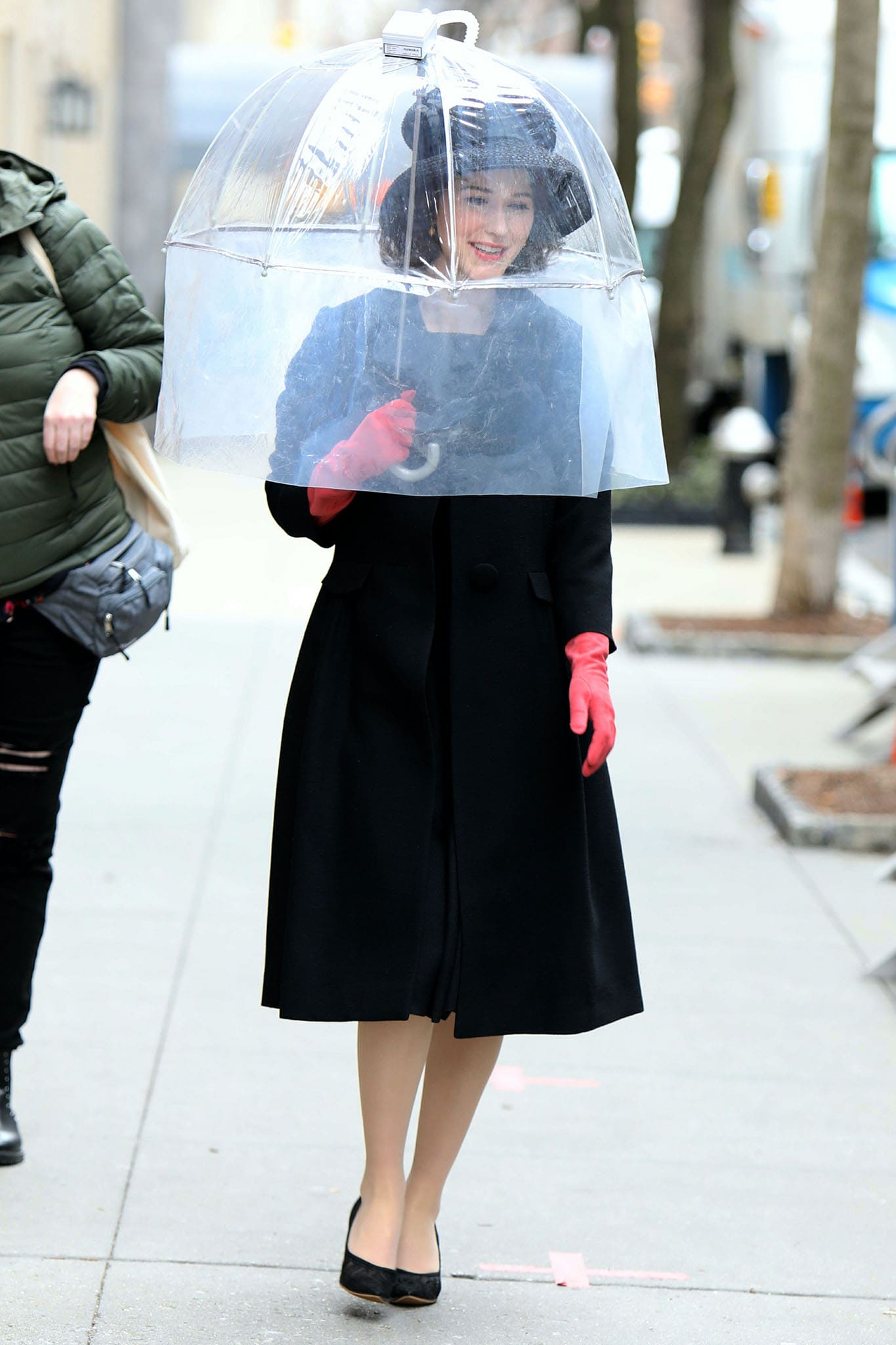 Rachel Brosnahan on the set of her critically acclaimed series, The Marvelous Mrs. Maisel, in New York City on March 4, 2021
Wearing her '50s short curls, Rachel glammed up her look with pink opera gloves, which matched her pink lips and cheeks.
She then wore a black hat and completed the look with a pair of pointy black mesh pumps.
Rachel Brosnahan teams her black coat with a black hat and pink opera gloves
On Tuesday last week, the Emmy-winning actress looked very feminine in a pink dress coat adorned with bow detail at the waist.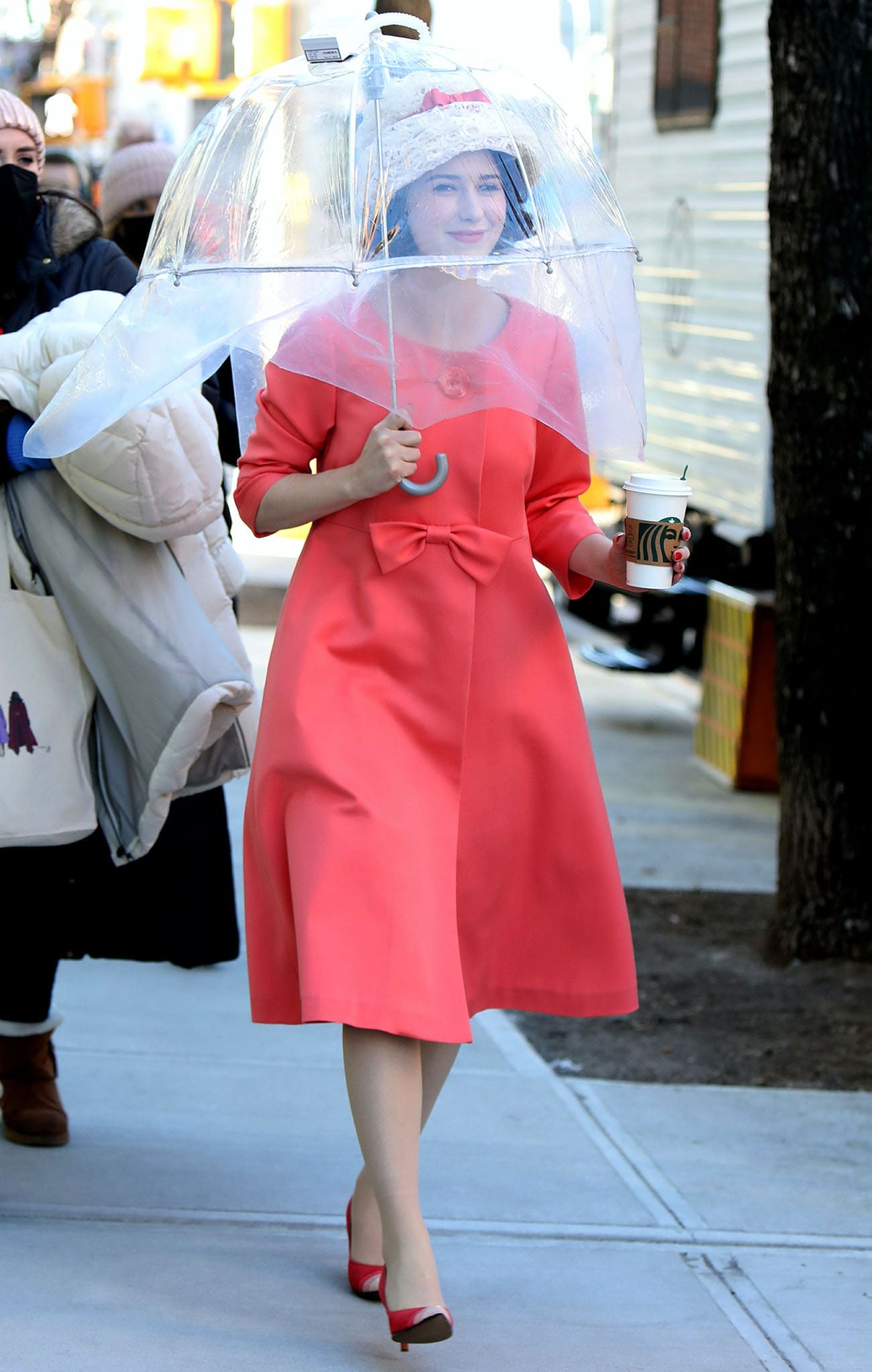 Rachel Brosnahan wearing a vintage pink coat dress with a lace hat on The Marvelous Mrs. Maisel set on March 2, 2021
Her retro set look was styled with a bow-detailed white lace hat and a pair of pink pumps with contrasting pointed toes.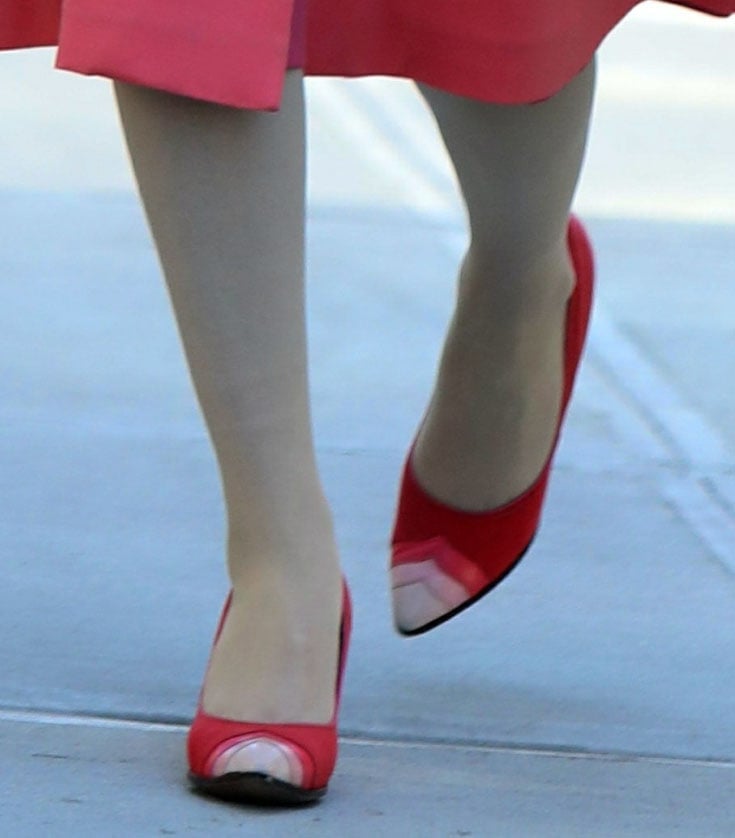 Rachel Brosnahan teams her feminine pink coat with pink pumps with contrasting gradient toes
For her second look, Rachel appeared more casual as she donned a long, brown coat with a black-and-white checkered scarf.
Underneath her topper, the Golden Globe winner wore a red-orange sweater and a pair of black pants.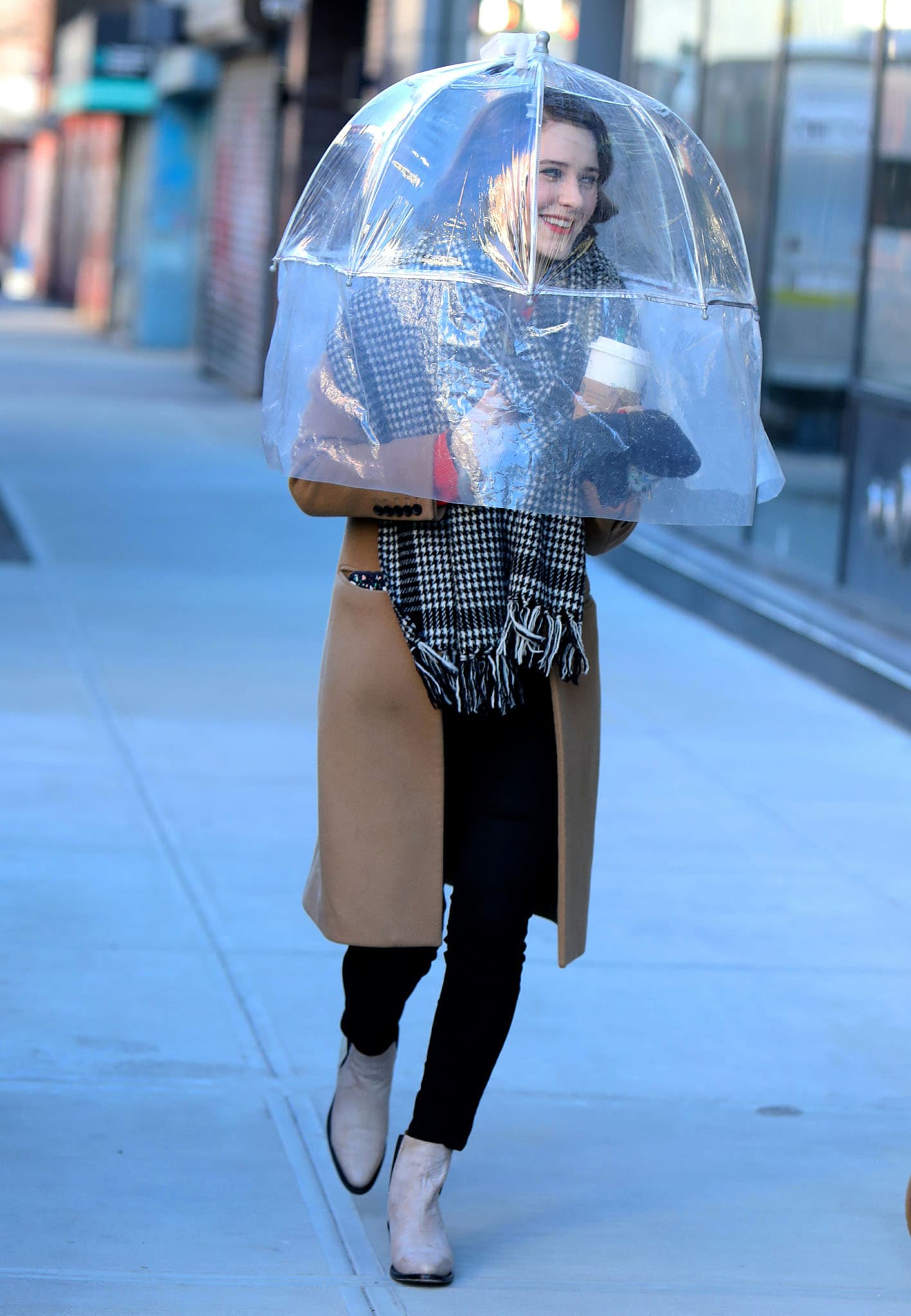 Rachel Brosnahan opts for a more relaxed look in black pants, tan coat, and checkered scarf
Completing her look was a pair of Chelsea ankle boots with short block heels.
Rachel Brosnahan pairs her casual-chic outfit with Chelsea ankle boots
Her portrayal of the titular character in the comedy series has earned her several awards, including a Primetime Emmy Award for Outstanding Lead Actress in a Comedy Series, two Golden Globe Best Actress awards in a TV Series Comedy, two Critics Choice Television Awards, and a Screen Actors Guild award.
But while she's gaining popularity for the role, Rachel is not exactly a Hollywood newcomer.
Rachel Brosnahan's Breakout Role in Netflix's The House of Cards
Before landing the lead role, Miriam "Midge" Maisel, in the period comedy-drama, Rachel was probably best known for playing the prostitute Rachel Posner in the House of Cards.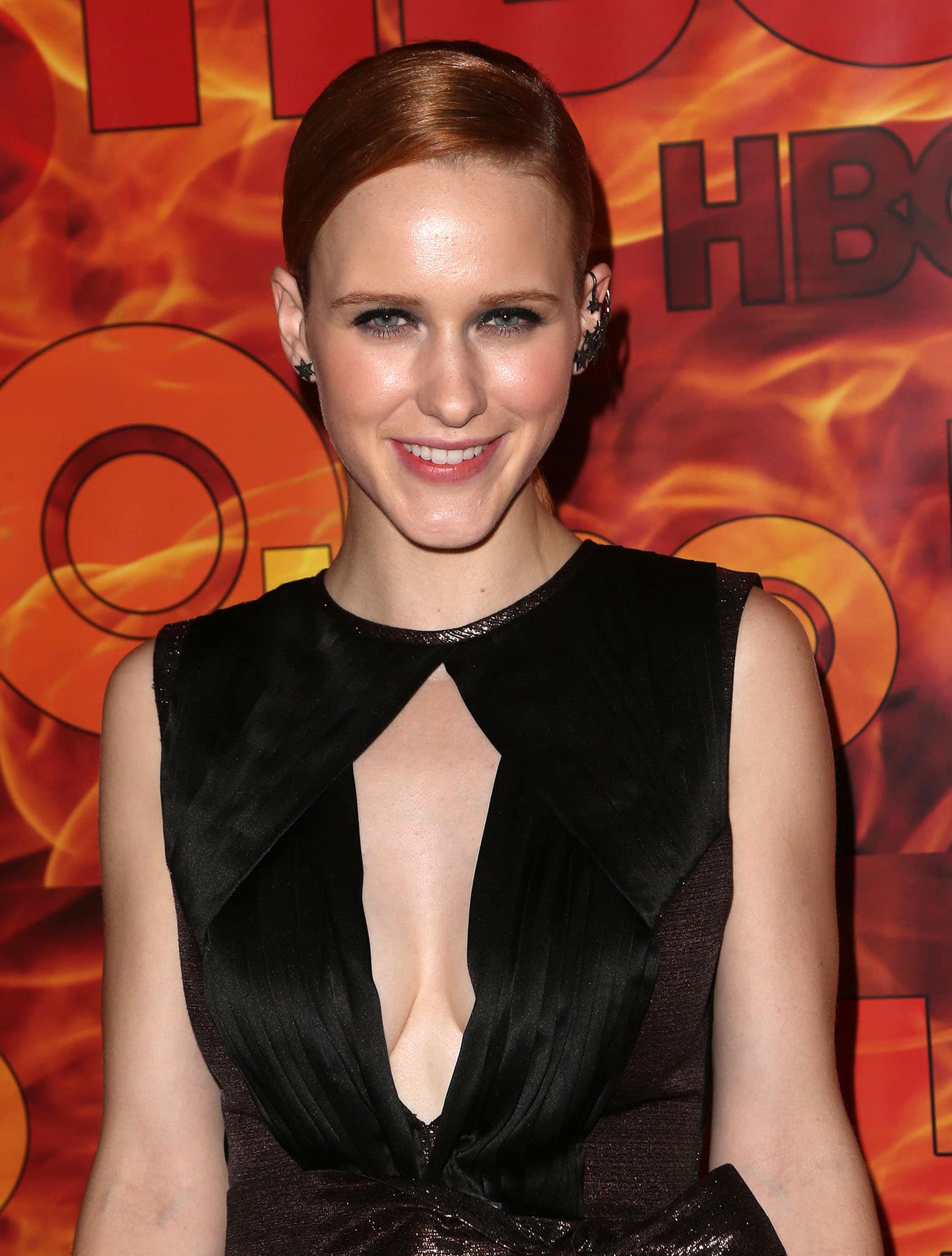 Rachel Brosnahan at the HBO's Official 2015 Emmy After Party on September 20, 2015
She was originally booked for just two episodes with only five lines, but House of Cards creator, Beau Willimon, was impressed that he decided to develop her character and extend her role to 19 episodes.
What Happened to Rachel Posner?
Rachel Posner was hired as a prostitute by Congressman Peter Russo, who was arrested for DUI while he was with Rachel.
President Frank Underwood's Chief of Staff Doug Stamper gave her $10,000 to keep her quiet about Peter.
Doug later helped Rachel from her boss, who fired her after she refused to sleep with him. He set her up with a new apartment and a job as a waitress. In exchange, Rachel must seduce Peter Russo and get him drunk before his radio appearance.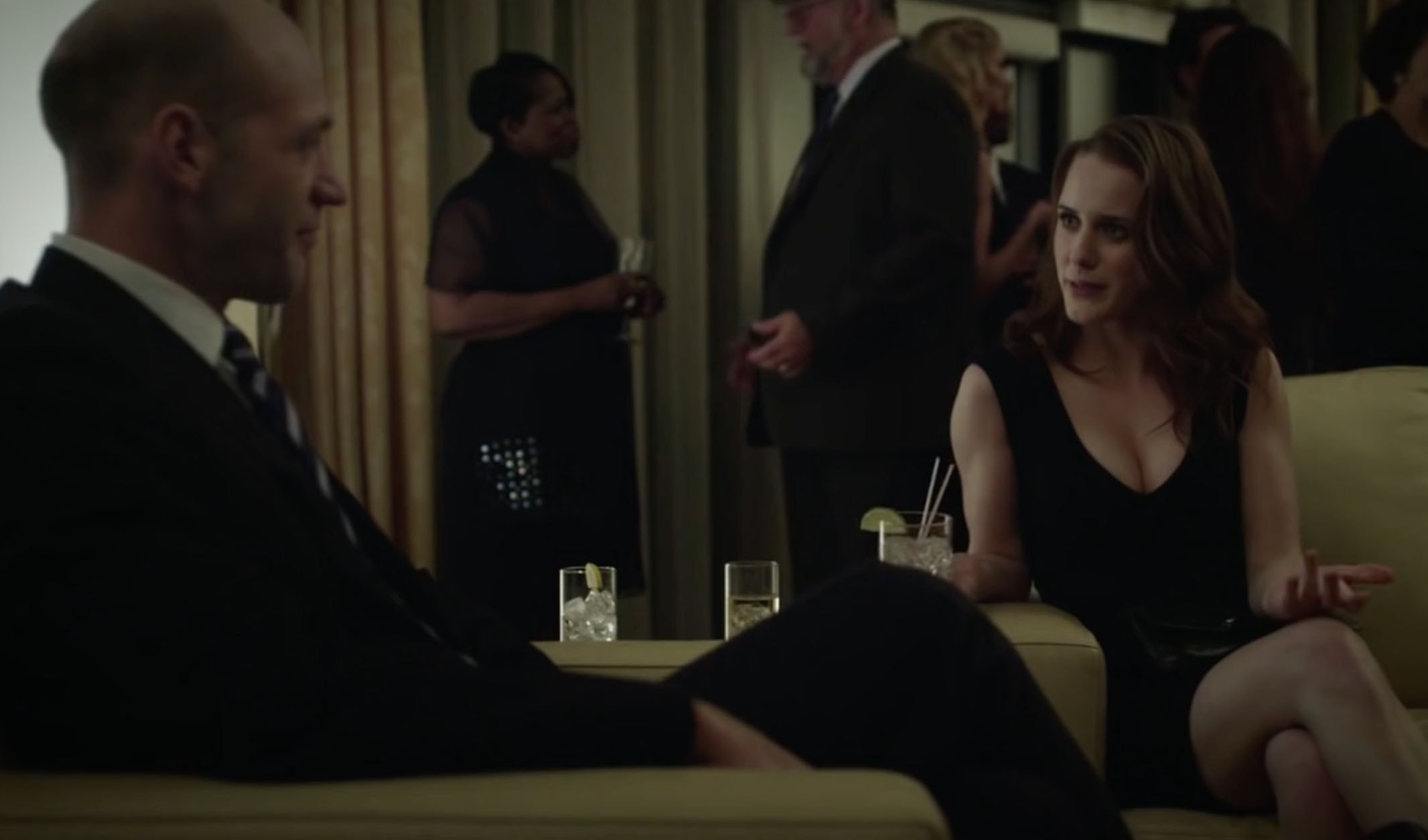 Rachel Brosnahan's character, Rachel Posner, seduces Peter Russo in House of Cards Season One
In the second season, Doug moved Rachel out of Washington, D.C. to an apartment in Maryland. He intentionally isolated her, and he started to fall for her.
Despite his efforts to keep her from other relationships, Rachel developed an intimate relationship with a woman, Lisa Williams. Doug ordered Rachel to break up with Lisa, which she did for Lisa's safety.
Rachel Posner meets Lisa Williams in House of Cards Season Two
Doug then woke Rachel up in the middle of the night and drove her to nowhere. A terrified Rachel jumped out of the car and ran into the woods. Doug followed her, and Rachel ambushed him and hit his head with a rock.
Rachel appeared mostly in flashbacks in season three. Doug, who survived the attack, sought help from a hacker, Gavin, to search for Rachel. Gavin initially told Doug that Rachel was dead, but to help free his friend from the FBI, he told Doug that he found Rachel. Before giving Doug the location, Gavin asked him to clear his friend's name.
Doug later found Rachel in New Mexico, living under a fake name, Lisa. He kidnapped her and drove her in the middle of nowhere.
Rachel begged him to let her go, which he did. But after a few moments, he changed his mind and ran her over with his van.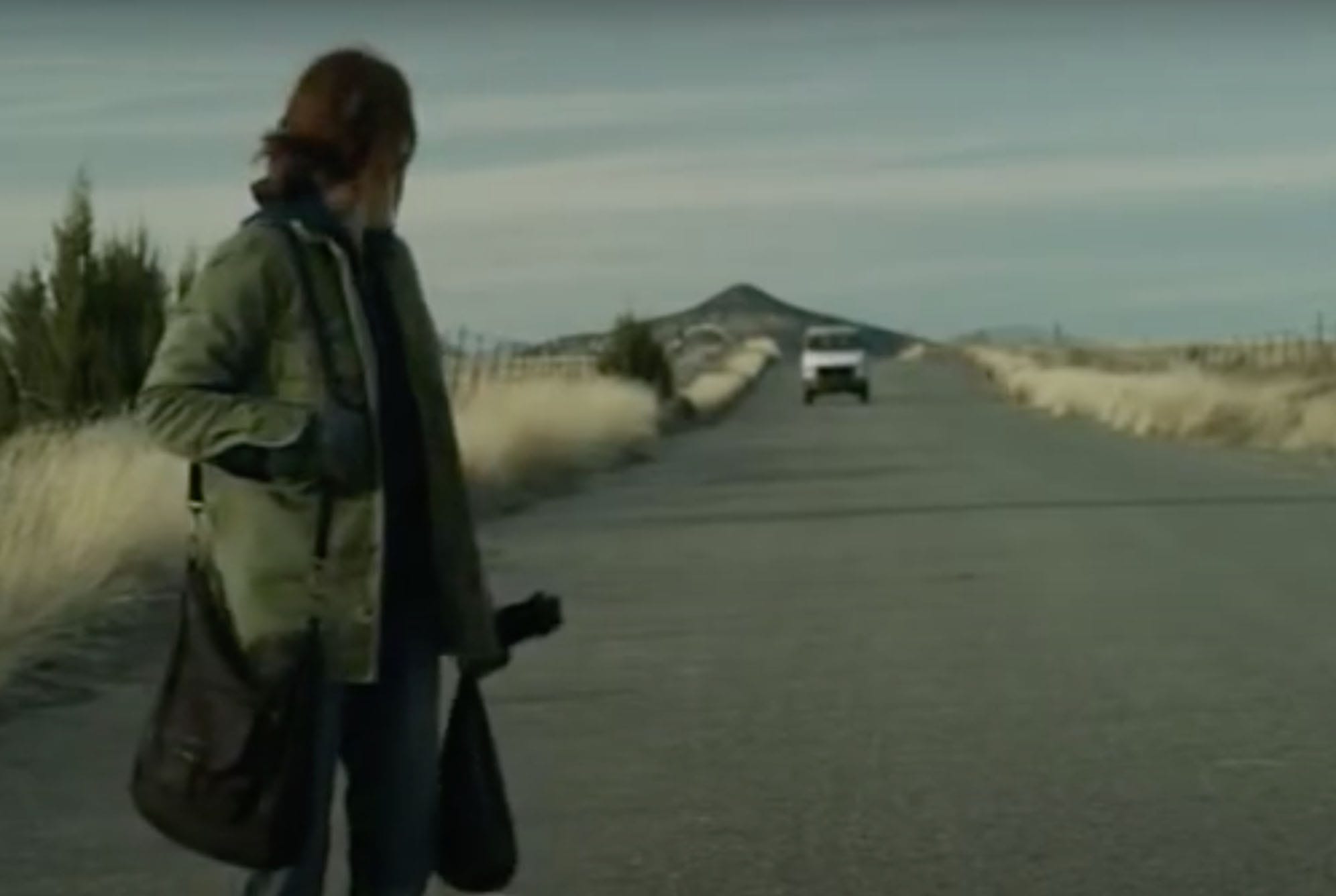 Doug Stamper runs over Rachel Posner in House of Cards Season Three
Her death wasn't shown, but Doug was seen burying her body.
Credit: FayesVision / Instar / WENN