Across the majority of industries women are paid less than men, so why would we think Hollywood would be any different?
Perhaps because as viewers we see female and male actors in the same light.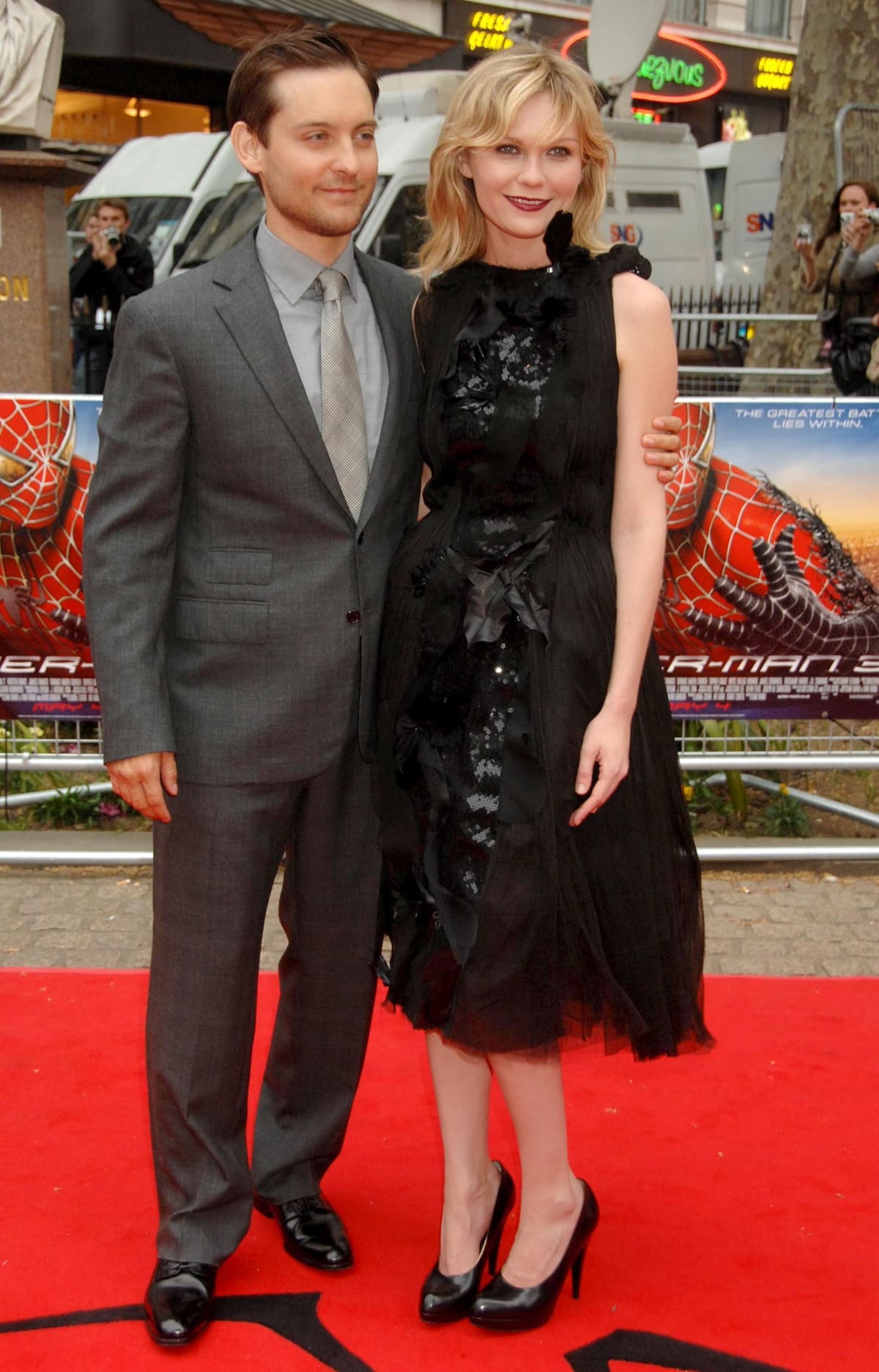 Tobey Maguire and Kirsten Dunst attend the UK premiere of the 2007 American superhero film Spider-Man 3 held at the Odeon Leicester Square on April 23, 2007, in London (Credit: Goff / INFphoto)
We don't see their roles as any different, we certainly don't leave any movie thinking that the female role was less important or that their acting was sub-par. But how bad is it?
Kirsten Dunst – was she experienced enough?
In the Spider-Man movies, Kirsten Dunst starred as Mary Jane Watson alongside Tobey Maguire, who portrayed Peter Parker, our Spider-Man superhero.
Spider-Man was Kirsten's first role in the superhero territory, but she was no stranger to the big screen having starred in Interview with the Vampire opposite Tom Cruise and Brad Pitt in 1994.
"Water was getting up [Maguire's] nose because of the rain, and then he couldn't breathe in the Spider-Man suit, and then… and it just felt very late at night," Dunst told W Magazine about the iconic kiss scene in the 2002 film.
"But the way it was presented to me, [director Sam Raimi] gave me this book of famous kisses, so that made me realize how romantic and special Sam wanted this to be," she added. "Even though it wasn't necessarily feeling that way with Tobey hanging upside down."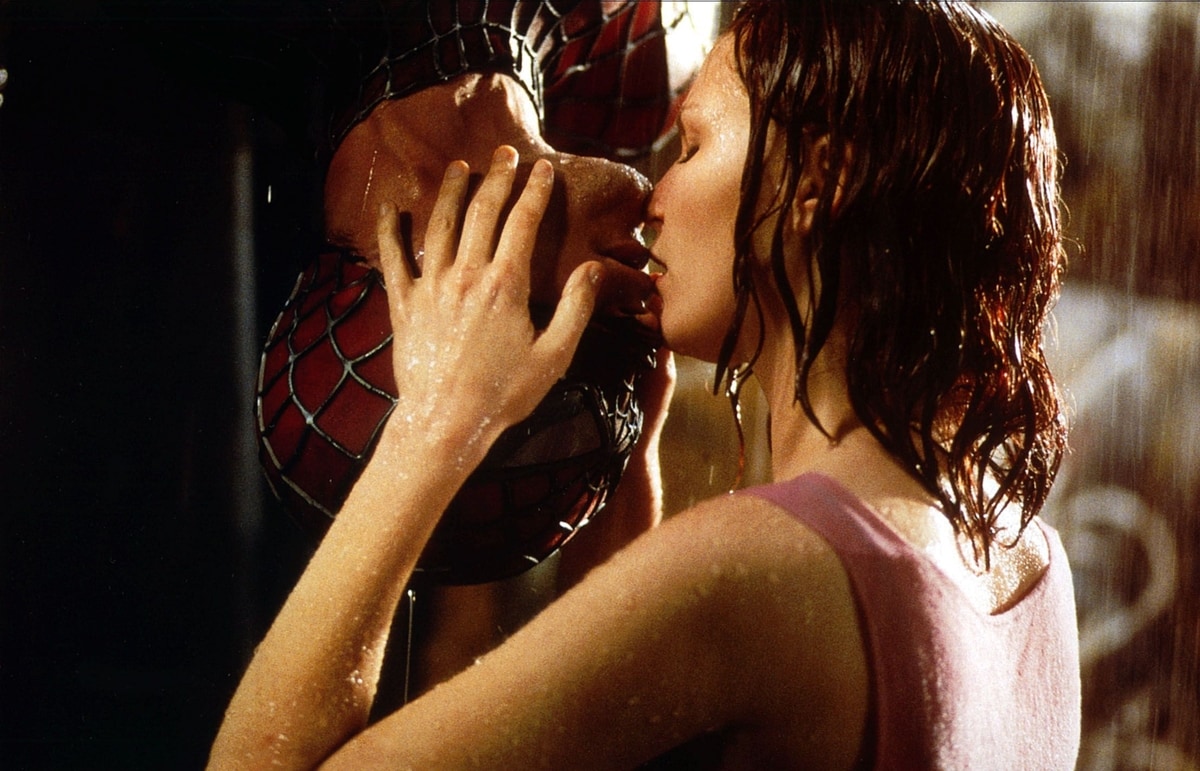 Kirsten Dunst's iconic upside-down kiss with Tobey Maguire in the 2002 American superhero film Spider-Man (Credit: Sony Pictures Releasing)
Her performance saw her winning the MTV Movie Award for Best Breakthrough Performance, in addition to receiving a Golden Globe Award nomination for Best Supporting Actress.
She subsequently starred in the drama film Little Women alongside Winona Ryder and Claire Danes in 1995.
Her career continued from strength to strength with her receiving roles in Jumanji opposite the likes of Robin Williams; Wag the Dog opposite Robert De Niro and Dustin Hoffman and then in the 2000 comedy Bring It On.
How bad is the pay disparity?
Kirsten Dunst shared her experience in a November 2021 interview with The Independent, "The pay disparity between me and Spider-Man was very extreme. I didn't even think about it. I was just like, Oh yeah, Tobey [Maguire] is playing Spider-Man."
She went on to say, "But you know who was on the cover of the second Spider-Man poster? Spider-Man and ME."
Kristen Dunst is proud of her upside-down kiss in the rain with Tobey Maguire in Sam Raimi's Spider-Man movie (Credit: Sony Pictures Releasing)
But let's go back to Spider-Man 1 back in 2002, the movie grossed $821m and according to reports Kirsten earned $2m while Tobey reportedly earned $4m.
In a separate interview with Variety, Kirsten admits, "Because I was young, I thought, 'Oh wow, I'm getting paid a lot of money for the Spider-Man movies'. But definitely, the men were getting paid more."
2 years later and Spider-Man 2 was released and once again the film grossed over $788m. And despite being equally promoted for the movie, Kirsten earned $7m versus Tobey's $17.5m plus an additional 5% of the film's box office gross.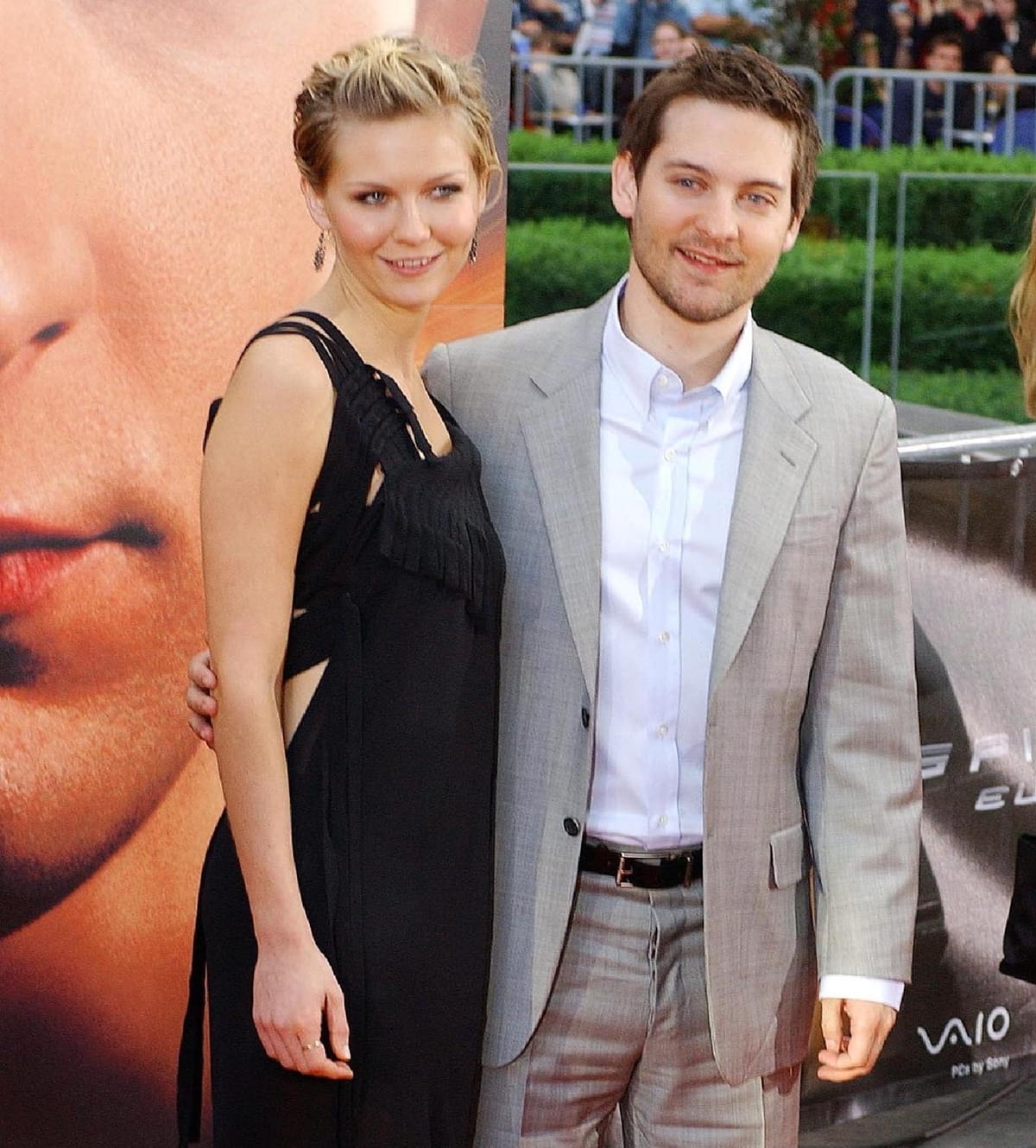 Tobey Maguire was paid much more for the Spider-Man movies than his co-star Kirsten Dunst (Credit: WENN)
Fast forward to 2004 and Spiderman 3 grosses $894m, with Kirsten earning $10m and Tobey took a bit of a pay cut only receiving only $15m but he did also receive 7.5% of the gross earnings.
Trying to find the logic
Even if we agree that Spider-Man as the main character should earn more, should he really be earning that much more?
For 3 movies Tobey Maguire earned $36.5m excluding those back-end payments while Kirsten earned a total of $19m. It may just be us, but we are battling to see his extra $17.5 worth of acting or maybe that's what you get paid for putting on the suit.
In a 2017 report, "Hollywood's Wage Structure and Discrimination", by the Lancaster University, results showed that female actors earned roughly US$1.1m less than male counterparts with similar experience.
Tobey Maguire as Peter Parker / Spider-Man and Kirsten Dunst as Mary Jane "MJ" Watson in the 2002 American superhero film Spider-Man (Credit: Sony Pictures Releasing)
The study went on to show that actresses earned on average $2.2m less per film.
As much as we have tried, we don't understand the logic and are still wondering how on earth Hollywood justified and continues to justify these huge differences. Until we can understand that, there is no hope of bringing about change.
Kirsten Dunst wears her hair in a bun as she arrives at Los Angeles International Airport on April 1, 2016 (Credit: WENN)
In early 2016, there was sad news for Kirsten Dunst fans who were hoping to see the actress walk down the aisle soon.
Kirsten and her boyfriend, actor Garrett Hedlund, called it quits after four years of dating. It came as a surprise since the two showed up together at the Golden Globes, and Kirsten had even hinted at wanting a child.
Garrett Hedlund in Gucci and Kirsten Dunst in Valentino at the 2016 Golden Globe Awards held at the Beverly Hilton Hotel on January 10, 2016, in Beverly Hills, California (Credit: INFphoto)
Confirming their romance in January 2012, they met while filming the movie adaptation of Jack Kerouac's 1957 novel On the Road.
Actors Kirsten Dunst, Garrett Hedlund, and Kristen Stewart attend the "On The Road" premiere during the 2012 Toronto International Film Festival on September 6, 2012, in Toronto, Canada (Credit: Dara Kushner / INFphoto)
Breakup rumors aside, Kirsten was photographed arriving at the Los Angeles International Airport looking off-duty trés chic.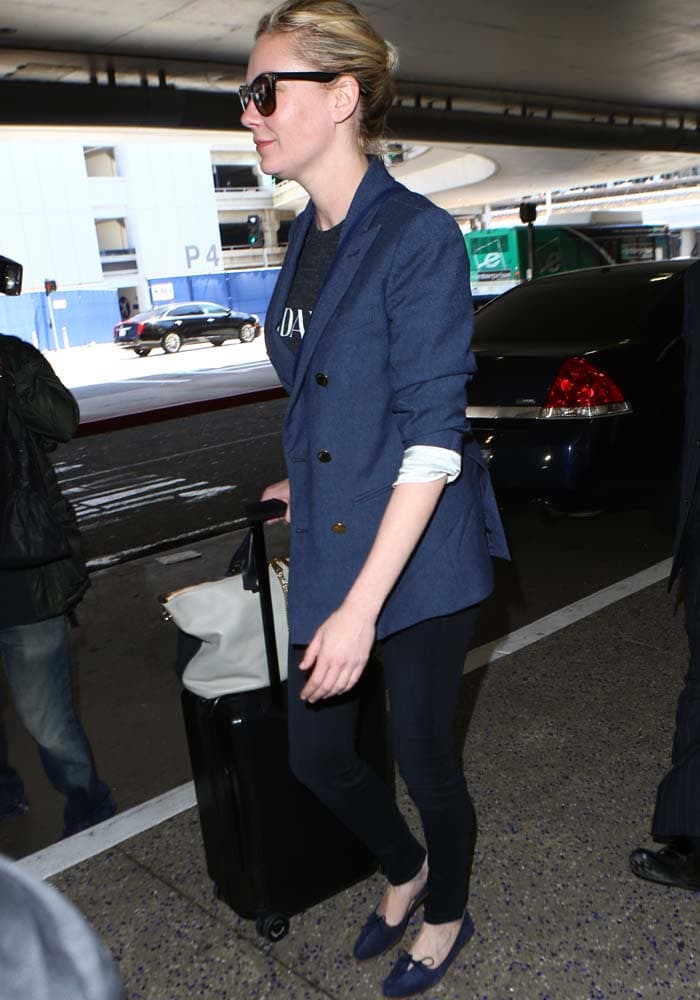 Kirsten Dunst wears a Gucci blazer as she arrives at LAX (Credit: WENN)
The then 33-year-old actress wore a casual Rodarte tee with a pair of blue denim jeans dressed up with a blazer from Gucci.
Kirsten matched her ensemble with a blue shoulder bag by Roger Vivier and a pair of Salvatore Ferragamo flats.
Kirsten Dunst matches her navy ensemble to her navy luggage (Credit: WENN)
Kirsten's navy suede flats featured cognac-colored heels and a bow design on the front.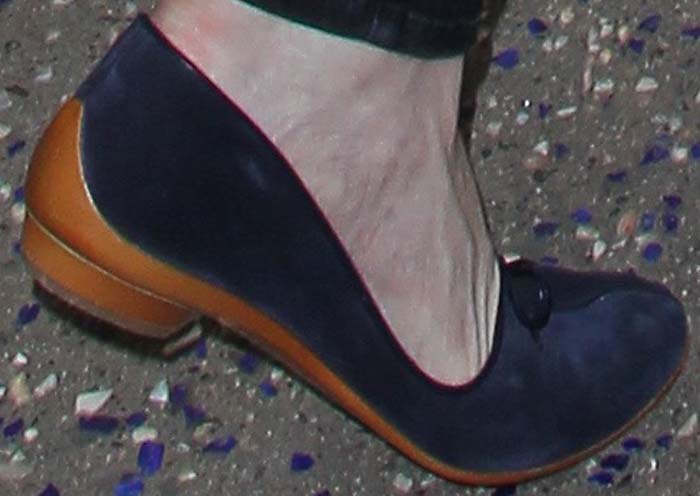 Kirsten Dunst's feet in suede Salvatore Ferragamo flats (Credit: WENN)
You can order Salvatore Ferragamo suede flats similar to Kirsten Dunst's airport footwear at Saks Fifth Avenue and Zappos.
Salvatore Ferragamo "Audrey" Buckled Suede Ballet Flats, $525
Salvatore Ferragamo "Audrey" Buckled Suede Ballet Flats, $525