One show had us laughing our hearts out while tuning in week after week – Two and a Half Men. This hilarious series, which premiered in 2003, quickly skyrocketed to fame, captivating audiences with its witty humor and unforgettable characters.
Fast forward to 2015, after 12 wildly successful seasons, the curtain finally fell on this beloved show. It became one of the most popular sitcoms on television, showering its main cast members with substantial paychecks.
Promo shot of the American television sitcom Two and a Half Men featuring the cast during the second season of the show (Credit: CBS)
With many of them already boasting of impressive careers before joining the cast, the series only served to supercharge their bank accounts. And for some, it was the windfall they needed to reach new financial heights.
If you've ever wondered how much these talented actors raked in during their time on the show, you're in for a treat. Continue reading if you are curious to know the net worth of each cast member and where they've journeyed after bidding farewell to the Malibu beach house antics.
1. Ashton Kutcher as Walden Schmidt – $200 Million Net Worth
Portraying the character of Walden Schmidt, a wealthy and somewhat lonely billionaire, Ashton Kutcher took center stage after Charlie Sheen's departure. He purchased Charlie's iconic Malibu beach house and, surprisingly, allowed his brother Alan to continue residing there.
For the 45-year-old actor and film producer, stepping into Charlie's shoes meant entering a lucrative contract. He inked a deal reportedly worth a remarkable $20 million, translating to approximately $750,000 per episode.
Ashton Kutcher (pictured with wife Mila Kunis) played Walden Schmidt and has an outstanding net worth of $200 million (Credit: Faye's Vision / Cover Images)
Known for his charismatic presence and versatility, Ashton entered Hollywood easily. His journey began as a model before he stepped into the spotlight on the hit show.
But his talents extend beyond the sitcom realm, gaining fame as Michael Kelso in That '70s Show and ventured into film with roles in Dude, Where's My Car? and The Butterfly Effect. Additionally, he made his mark in the entertainment industry as the mastermind behind the hit series Punk'd on MTV.
Ashton Kutcher's journey to financial success didn't stop at acting and producing. He was a savvy businessman, co-founding the venture capital firm A-Grade Investments. He struck gold with tech start-ups like Skype, Foursquare, and Airbnb through his investments.
His knack for business has played a significant role in amassing his staggering net worth, which currently stands at an impressive $200 million.
2. Jon Cryer as Alan Harper – $70 Million Net Worth
Being the only cast member to appear in every episode of Two and a Half Men, Jon Cryer breathed life into the endearing and often comically pitiful Alan Harper, Charlie's divorced and perpetually down-on-his-luck brother.
The 58-year-old became a household name thanks to his outstanding performance of Alan, earning him an impressive $620,000 paycheck per episode in the final few seasons, numerous Emmy nominations, and two well-deserved wins.
Jon Cryer portrayed Alan Harper, and he has an impressive $70 million net worth (Credit: Abby Grant / Cover Images)
However, before Alan graced our screens in 2003, Jon was already a recognizable face in Hollywood. The '80s and '90s kids fondly remember him as Duckie from the iconic John Hughes film Pretty in Pink.
Jon also had a recurring role as the infamous Lex Luthor on The CW's Supergirl, appearing in the 1991 comedy film Hot Shots! He previously had a part as himself in the YouTube Premium series Ryan Hansen Solves Crimes on Television.
With a net worth estimated at a substantial $70 million, Jon Cryer's career has spanned decades, leaving an indelible mark on the big and small screens.
3. Angus T. Jones as Jake Harper – $20 Million Net Worth
Dedicating a significant part of his life, Angus T. Jones is the former child star who brought the lovable but mischievous character Jake Harper to life from the tender age of 10 through 20.
When he first embarked on his journey on the show, Angus received a substantial signing bonus and over $200,000 paycheck per episode. Eventually, as the show became even more popular, his pay soared to an astonishing $300,000 per episode before he left.
Angus T. Jones embodied Jake Harper, and he has a net worth of $20 million (Credit: INFphoto)
While Jake Harper remains one of TV's most unforgettable characters, the 29-year-old actor is best known for more than just his role in the sitcom.
He also appeared in films like George of the Jungle 2, Bringing Down the House, and The Rookie, solidifying his versatility as an actor. Additionally, he graced the small screen in shows such as CSI: Crime Scene Investigation, Hannah Montana, and Horace and Pete.
Since departing from the show, Angus T. Jones pursued higher education and took a break from acting. Despite being less active, his time on Two and a Half Men made history, earning him the title of the highest-paid child actor and accumulating an impressive net worth of $20 million.
4. Holland Taylor as Evelyn Harper – $12 Million Net Worth
Holland Taylor graced our screens as Evelyn Harper, Charlie and Alan's sharp-tongued and unforgettable mother. While her character was often underrated, she made sporadic yet memorable appearances throughout the show's run, infusing each episode with her unique humor.
The 80-year-old seasoned actress and accomplished playwright's estimated salary per episode hovered around $75,000, a respectable figure but relatively lower than some of her co-stars.
Holland Taylor (pictured with partner Sarah Paulson on the left) played Evelyn Harper and has a net worth of $12 million (Credit: Julien Reynaud / ABACA / INSTARimages / Cover Images)
Beyond her role in Two and a Half Men, Holland boasts an impressive resume. She is recognized for her contributions to shows like The Practice, The Naked Truth, and The L Word, as well as her appearances in movies such as George of the Jungle, The Truman Show, and Legally Blonde.
Notably, Holland ventured into playwriting with Ann, a production she both wrote and starred in, based on the life and work of Ann Richards. This endeavor brought her back to her theatrical roots.
With a career spanning stage and screen, Holland Taylor's estimated net worth is a commendable $12 million.
5. Charlie Sheen as Charlie Harper – $10 Million Net Worth
Charlie Sheen is famously known for his role as Charlie Harper in the first ten seasons of Two and a Half Men. His portrayal of the charismatic and hedonistic jingle writer entertained audiences and made him one of the highest-paid sitcom stars of his time.
In the show's first season, the 58-year-old pocketed a staggering $800,000 per episode, a paycheck that dwarfed the salaries of his co-stars Ashton Kutcher and Jon Cryer in the final season.
Charlie Sheen embodied Charlie Harper, and he has a $10 million net worth (Credit: INSTARimages)
But here's the jaw-dropping part: By the time Charlie reached his final season, he was making an astonishing $2 million per episode.
However, Charlie's wealth wasn't solely due to his time on the sitcom. He had accumulated fortune since the 1980s, starring in iconic movies like Platoon, Wall Street, and Hot Shots! He also made his mark on TV with Spin City and Anger Management roles.
Today, Charlie Sheen's estimated net worth is an impressive $10 million, but his role as Charlie Harper remains an iconic part of television history.
6. Conchata Ferrell as Berta – $10 Million Net Worth
Conchata Ferrell, the beloved face behind Berta's iconic character in Two and a Half Men, left an indelible mark on the show as Charlie's no-nonsense and intimidating housekeeper, who often bossed her employer around.
Despite her celebrated status, she was one of the lowest-paid actors in the series. Remarkably, even with fewer lines than the rest of the cast, she earned an astounding amount per episode, consistently pulling in over $1 million annually.
Conchata Ferrell played Berta and had a net worth of $10 million (Credit: Adam Nemser / Startraksphoto)
Known for her role as Berta, Conchata also showcased her talent in movies like A Very Nutty Christmas and Wishin' and Hopin' and shows such as The Ranch and Teen Angel.
Tragically, Conchata Ferrell passed away in 2020 at age 77. At the time of her passing, her estimated net worth stood at an outstanding $10 million, placing her in the same financial league as Charlie Sheen.
7. Courtney Thorne-Smith as Lyndsey McElroy – $8 Million Net Worth
Courtney Thorne-Smith took on the recurring role of Alan's girlfriend, Lyndsey McElroy, in the popular sitcom Two and a Half Men.
The 55-year-old's journey in the entertainment industry began in the '80s when she made her film debut in Lucas, coincidentally sharing the screen with Charlie Sheen.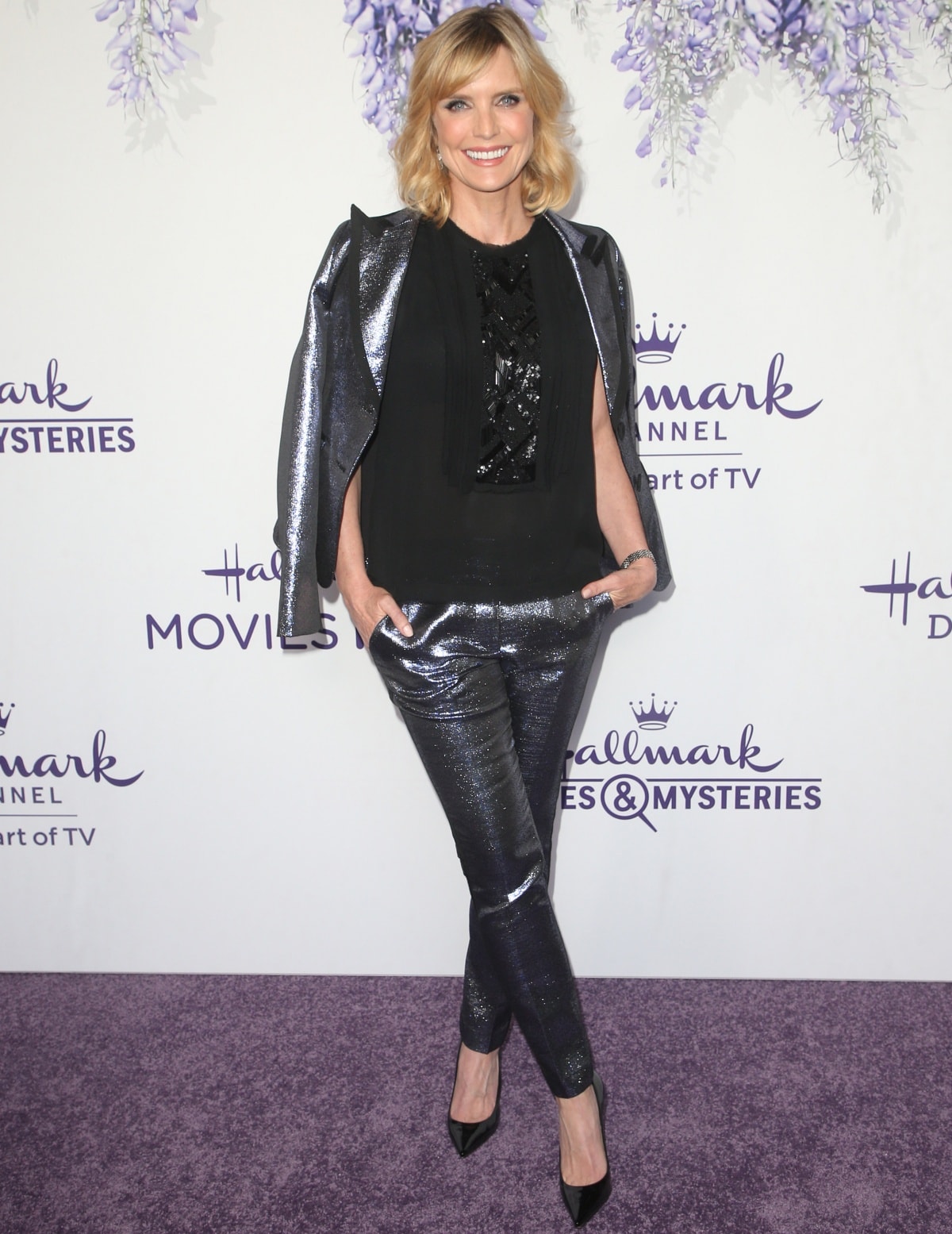 Courtney Thorne-Smith portrayed Lyndsey McElroy, and she has a net worth of $8 million (Credit: Media Punch / INSTARimages)
Courtney continued establishing herself in the '80s with roles in films like Revenge of the Nerds II: Nerds in Paradise and Summer School. She then achieved notable fame for her part in the '90s drama Melrose Place, which followed in the footsteps of the iconic Beverly Hills, 90210.
Beyond her portrayal of Lyndsey, she is best known for her appearances in movies like Chairman of the Board and The Lovemaster, as well as her roles in hit shows such as Ally McBeal and According to Jim.
With a career spanning decades from early roles in the '80s to her prominent presence on both the big and small screens, Courtney Thorne-Smith is estimated to have a net worth of $8 million.
8. Melanie Lynskey as Rose – $5 Million Net Worth
New Zealand actress Melanie Lynskey portrayed the unforgettable character of Rose, the creepy stalker neighbor with an eerie infatuation for Charlie.
While the exact details of her salary progression on the show remain hazy, it's believed that she initially earned around $200,000 per episode. Rose's popularity grew, as did her paycheck, solidifying her status as a standout villain on Two and a Half Men.
Melanie Lynskey played Rose and has a $5 million net worth (Credit: Faye's Vision / Cover Images)
The 46-year-old's acting journey commenced at age 17, and she's captivated audiences ever since. Beyond her memorable role on the sitcom, Melanie boasts a diverse portfolio of supporting appearances in films like Ever After, Coyote Ugly, and Flags of Our Fathers.
She also ventured into television, gracing screens in the HBO series Togetherness from 2015 to 2016, lending her voice to cartoons, and starring in the Hulu series Castle Rock.
As of today, Melanie Lynskey boasts an estimated net worth of $5 million, a testament to her talent and dedication to her craft, leaving a lasting impact from a young actress to a seasoned professional.
9. Marin Hinkle as Judith Harper Melnick – $4 Million Net Worth
Jumanji: The Next Level actress Marin Hinkle, best recognized for her portrayal of Alan's acerbic ex-wife Judith Harper Melnick, played a relatively small yet memorable role in over 100 series episodes.
Despite the size of her role, the 57-year-old commanded a staggering income, earning around $500,000 per episode, particularly in her later seasons.
Marin Hinkle portrayed Judith Harper Melnick, and she has a net worth of $4 million (Credit: Roger Wong / INSTARimages)
Marin's journey in the entertainment industry extends back to the '90s when she appeared in Shakespearean plays and got her start on the daytime soap opera Another World.
In addition to her time on Two and a Half Men, Marin gained further acclaim by portraying Rose Weissman in the Amazon Prime Video series The Marvelous Mrs. Maisel, earning her an Emmy nomination.
Her versatile career includes roles in series like Deception and small parts in films such as I Am Sam and Quarantine. She's also made memorable guest appearances in TV series like Law & Order: SVU and ER.
With a diversified career in television and film, Marin Hinkle's estimated wealth currently stands at a remarkable $4 million.
10. Amber Tamblyn as Jenny – $3 Million Net Worth
Amber Tamblyn, known for her role as Jenny Harper, stepped into the series during its final seasons, taking over from Angus T. Jones after his departure. As Jenny, she portrayed the previously unknown illegitimate daughter of Charlie Harper, a character whose existence was shrouded in mystery.
The 40-year-old began her journey in the entertainment industry long before her Two and a Half Men days. She debuted at age 12 on the hit soap opera General Hospital, setting the stage for a career filled with remarkable achievements.
Amber Tamblyn played Jenny and has a net worth of $3 million (Credit: Darla Khazei / INSTARimages / Cover Images)
Her introduction to Hollywood included small parts in Buffy the Vampire Slayer, Boston Public, and The Twilight Zone. Her talent landed her roles in notable series like Joan of Arcadia, for which she received both Emmy and Golden Globe nominations, and an extended arc on House.
She graced films such as The Ring, The Grudge 2, and 127 Hours on the big screen. Amber also left an indelible mark as a central figure in The Sisterhood of the Traveling Pants franchise.
With an impressive 49 acting credits, Amber Tamblyn has carved out a successful career, amassing an estimated net worth of $3 million.
11. Jennifer Taylor as Chelsea – $3 Million Net Worth
Jennifer Taylor stepped into the role of Chelsea, Charlie's ex-fiancée and a rare love interest for the notorious womanizer in Two and a Half Men.
Beyond her role in the show, the 51-year-old has graced the big screen, debuting in the 1998 erotic thriller Wild Things.
Jennifer Taylor portrayed Chelsea, and she has a $3 million net worth (Credit: Abby Grant / Cover Images)
She is best known for her appearances in movies such as God's Not Dead: A Light in Darkness, Fair Haven, and Like a Country Song, as well as her work in shows like The Young and the Restless and Burn Notice.
Jennifer has a history of small but impactful television appearances dating back to the late '90s, including roles in series like Pacific Blue, Charmed, Las Vegas, and NCIS. Her most recent TV venture was her portrayal of Anne in the popular series Shameless.
As of 2023, Jennifer Taylor's estimated wealth sits at $3 million, making her one of the regulars on the show, albeit at the lower end in terms of net worth among the cast members.