Mila Kunis and Ashton Kutcher are one of those Hollywood couples that everyone is rooting for. They both seem down to Earth in a way that many actors aren't, and neither of them has a scandalous backstory (that we know about).
They've been a couple – both on-screen and off – for most of Kunis's acting career.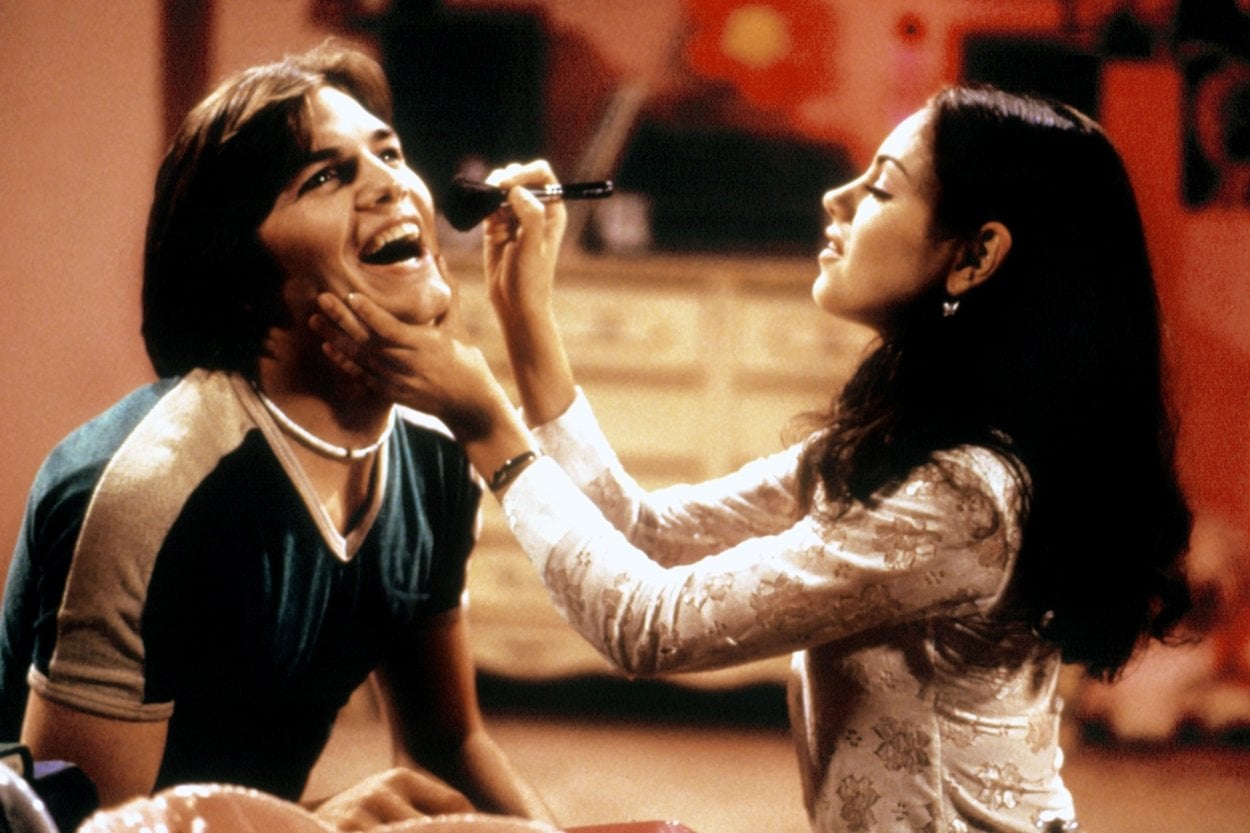 Ashton Kutcher and Mila Kunis started dating after meeting on the set of That 70's Show (Credit: Fox)
They grew up together on the set of That 70s Show. Mila Kunis played Jackie, a stuck-up rich kid with a hidden sweet side, while Ashton Kutcher played Kelso, her dumb-but-beautiful love interest.
Their on-screen relationship lasted for the first few seasons of the popular sitcom.
Life After That 70s Show
Kunis, 27 at the time, went on to star in Friends With Benefits alongside Justin Timberlake.
The film posed the question asked by millions of hopeful people every year: can friends sleep together without wanting more?
According to this film, they can't. The two characters profess their love to each other in the most Hollywood way. Spoiler alert: it involved a flashmob.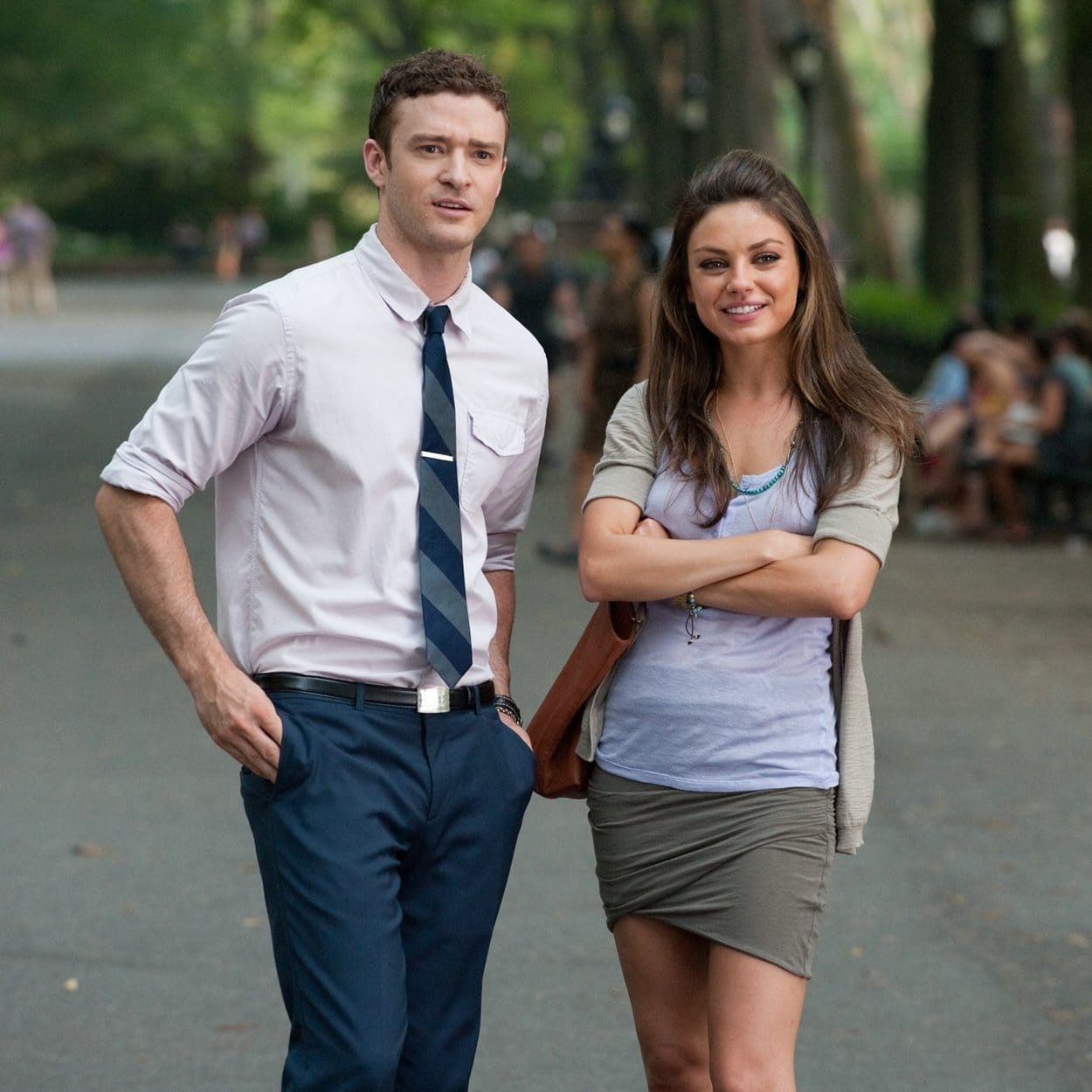 Justin Timberlake as Dylan and Mila Kunis as Jamie in the 2011 American romantic comedy film Friends with Benefits (Credit: Sony Pictures Releasing)
In addition to the flashmob, this movie featured one more surprise: Kunis revealed that she used a butt double while filming the more intimate scenes.
During an interview for On Air With Ryan Seacrest, Kunis stated, "I showed side boob and I figured I can't just give away everything all at once… I gotta let it all out in little pieces here and there."
She went on to describe the audition process: "These lovely women had to show us their derrieres and the chosen one resembled my body the most without looking like it's fake."
Mila Kunis used a butt double for her nude scenes with Justin Timberlake in Friends With Benefits (Credit: Sony Pictures Releasing)
A similar movie was released at the same time starring Kunis's former on-screen lover Ashton Kutcher.
Kutcher was the leading man in No Strings Attached, which as you may have guessed is a film following a near-identical plotline to the one Kunis starred in.
Natalie Portman as Dr. Emma K. Kurtzman and Ashton Kutcher as Adam Franklin in the 2011 American romantic comedy film No Strings Attached (Credit: Paramount Pictures)
Kutcher has not yet revealed the use of a body double, though he's admitted that he hated filming the sex scenes with Natalie Portman.
"I never thought in my entire life that anything related to sex in any way would be something I'd get tired of. But I was shooting so many sex scenes that I was actually getting tired of shooting sex scenes," Kutcher claimed while promoting the film.
"'Do we HAVE to shoot another sex scene? OH COME ON! MORE attractive women naked and all over me?"'
"We finally got to the point where we'd run out of positions. Everybody on the set was out of ideas, so we were consulting the Kama Sutra," he joked. Perhaps not surprisingly, his co-star did not enjoy the experience either.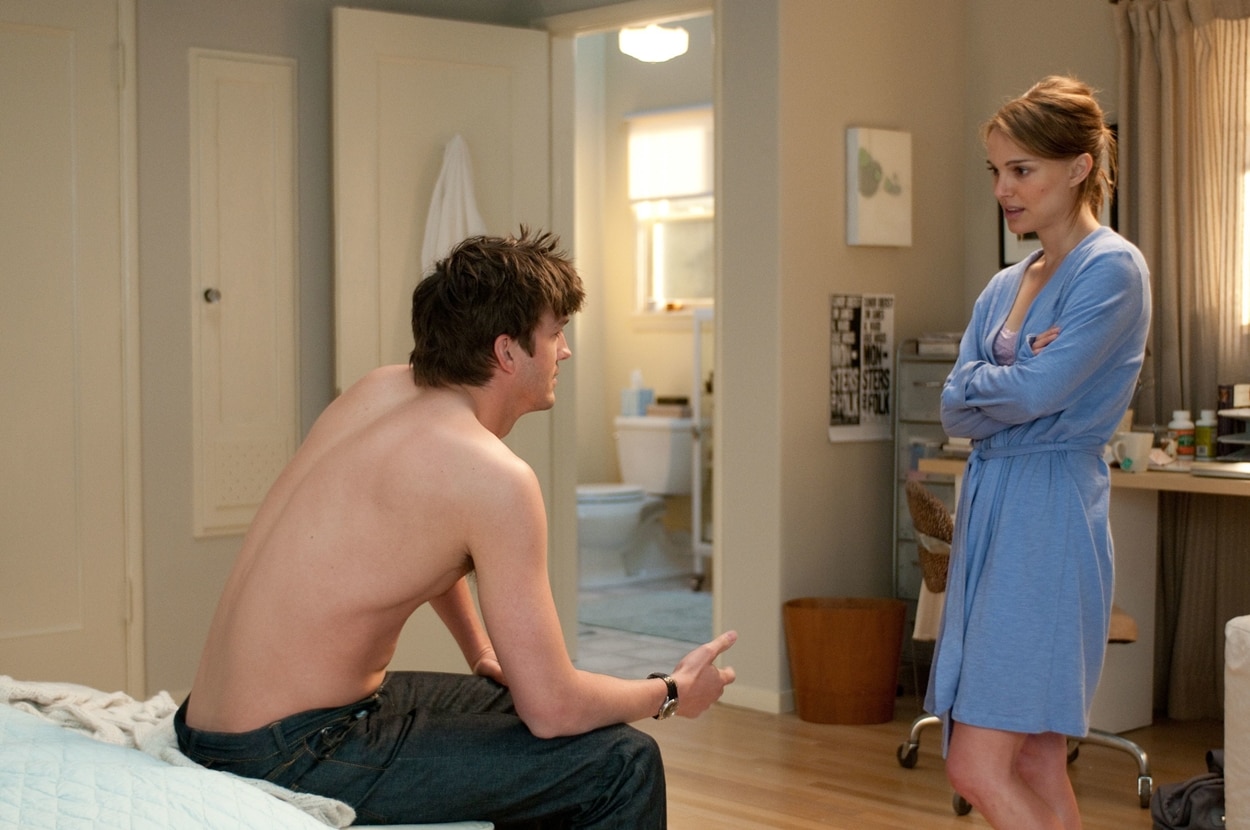 Natalie Portman and Ashton Kutcher agree to be friends with benefits in No Strings Attached (Credit: Paramount Pictures)
"I'm pretty immature, so I get pretty embarrassed still. I would like, check out once in a while, certain shots to make sure I felt okay," the actress confessed in an interview with Coming Soon.
"Because sometimes once you see it, like, there was one of the panties coming off that we did, and after I watched it I was like, oh that's not bad, because it was really quick."
Friends With Benefits… Unless?
2012 found both Kunis and Kutcher recently single and at a party together. That's all it took to spark a connection.
"She's like, 'You're not ready to be in a relationship' and I'm like, 'I"m not ready to be a in a relationship,'" Ashton said about reconnecting with Mila.
Ashton Kutcher and his pregnant wife Mila Kunis in Los Angeles on August 17, 2016 (Credit: Chiva / INFphoto)
"I was looking around, and there was a really beautiful man from the back," she recalled in an interview.
"I was literally like, 'Oh, he's kinda hot.' … And then he turned around, and I was like, 'Oh, my God, it's Kutch.' I thought it was the weirdest thing that I was checking this guy out, and it was someone that I had known forever," Kunis said about seeing her future husband at the party.
"It was funny because I'd just done this movie called No Strings Attached and she just did a movie called Friends With Benefits and we legitimately lived out our movies, which was virtually the same movie," he said.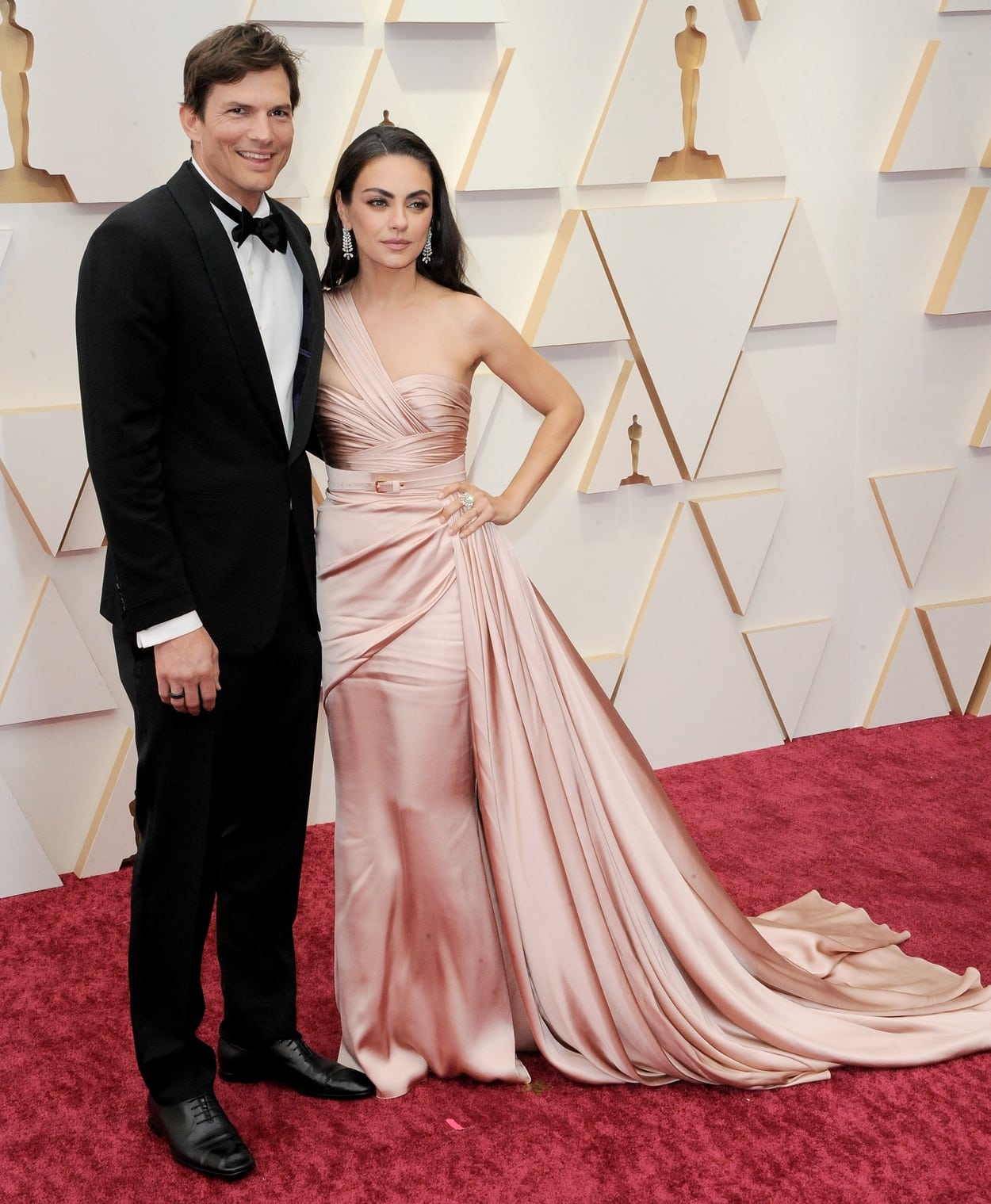 Ashton Kutcher in a black suit and Mila Kunis in a light pink belted Zuhair Murad dress at the 94th Annual Academy Awards at Hollywood and Highland on March 27, 2022 in Hollywood, California (Credit: MEGA / WENN)
"We lived our movies out, where we were like, 'Let's just hook up. Let's have fun. We're both single. We both trust each other. Everything's great.' None of us wanted tension. OK, great. We hooked up for three months. And just like our movies, one of us caught feelings," Kunis told told Marc Maron an an episode of his "WTF" podcast.
Kunis added more details in an interview with James Corden: "Three months later, we're living together, six months later, we're married and have a kid," she said. "We clearly didn't watch the end of either one of our movies."
First Kiss, Last Kiss
Their relationship is more romantic than you think.
A kiss shared between Jackie and Kelso on the set of That 70s Show just happened to be Kunis's first kiss.
She was only 14 at the time, despite the casting call asking for actors over the age of 18.
Ashton Kutcher and Mila Kunis in jeans with a Johnny Was Nadia floral bomber jacket, a Lauren Moshi Jimi Hendrix Wolf Foxy Lady tee, and white Vans Authentic sneakers attend the 6th annual PingPong4Purpose at Dodger Stadium on August 23, 2018 in Los Angeles, California (Credit: FayesVision / WENN)
Kutcher has no idea it was her first kiss.
"I was so nervous," he recalled. "She acted so cool. She seemed as if she'd done it a thousand times. I was the one with the butterflies in my stomach."
And the rest, they say, is history. Kunis and Kutcher are happily married with two children.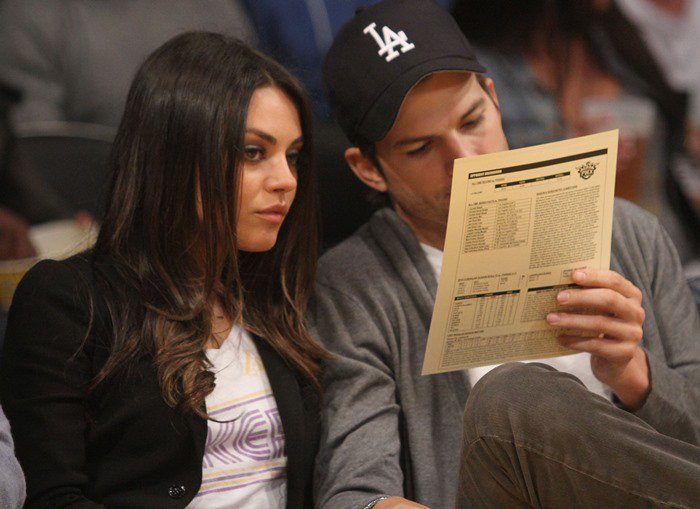 Mila Kunis wears her hair down as she attends the LA Lakers vs. Phoenix Suns game with Ashton Kutcher on February 12, 2013, at Staples Center in Los Angeles (Credit: WENN)
Did you know Mila Kunis and Ashton Kutcher are Lakers fans? In February 2013, the Hollywood duo looked very sporty and adorable at an LA Lakers game.
Mila wore a pair of leather Barbara Bui sneakers, black skinnies, a Lakers t-shirt, and a black blazer. Ashton matched her casual style.
Mila Kunis laughs as she attends a Lakers game with partner Ashton Kutcher (Credit: WENN)
We think the then-29-year-old actress was perfectly dressed for the occasion.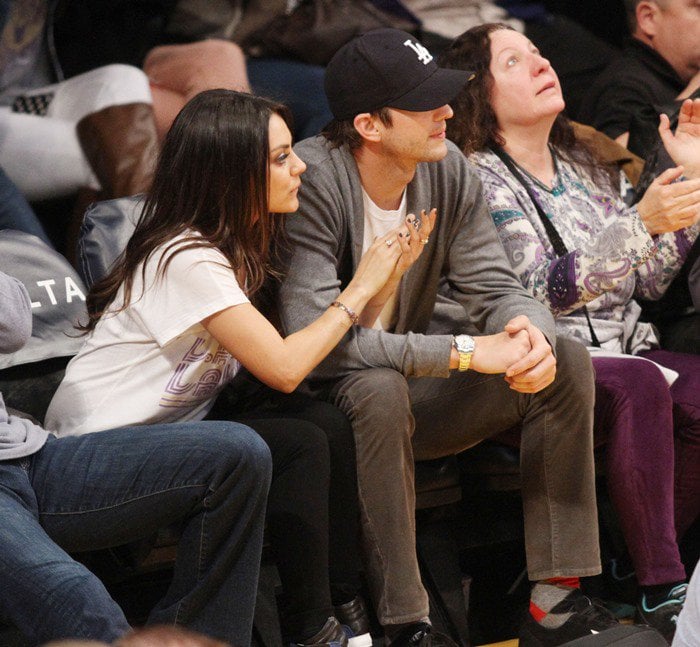 Mila Kunis pairs jeans with a Lakers tee for a basketball game (Credit: WENN)
Mila's leather sneakers feature hidden wedge heels, black laces, purple and silver details, and white soles and straps.
Mila Kunis wears Barbara Bui sneakers court-side (Credit: WENN)

After searching high and low, we were able to locate a very similar Barbara Bui style on the designer's page. However, it has now sold out.
Black Barbara Bui Leather Sneakers, $550