In July 2016, "Law & Order: SVU" actress Hilary Duff wore a pair of jewel-encrusted sandals from Collection Privee?, a footwear brand founded by Massimo Bizzi.
Hilary Duff leaves her blonde hair down as she picks up take-out food from Le Pain Quotidien on July 26, 2016, in Los Angeles (Credit: Owen Beiny / WENN)
In season 10, episode 19 of "Law & Order: SVU," Hilary Duff's character, Ashlee Walker, is accused of murdering her baby, whose cause of death is later determined to be measles.
The episode was titled "Selfish" and aired on April 28, 2009, when Hilary Duff was 21. She celebrated her 22nd birthday on September 28, 2009.
It is partly inspired by the true story of two-year-old Caylee Anthony who went missing in June 2008 in Orlando, Florida, and was later found dead in December of that year. The case gained national attention. Her mother, Casey Anthony, was charged and ultimately acquitted of Caylee's murder in a highly publicized trial.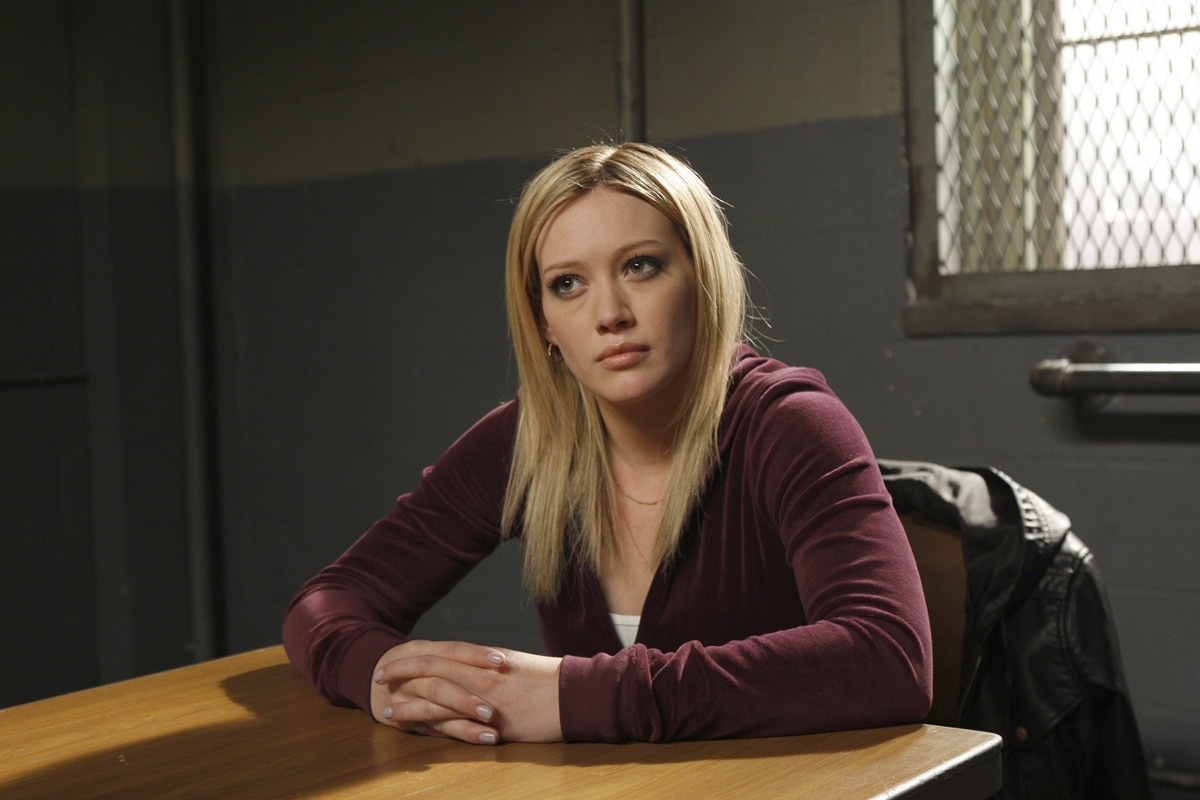 Hilary Duff played the character Ashlee Walker in season 10, episode 19 of "Law & Order: SVU," where she was accused of murdering her baby (Credit: NBC)
While Ashlee Walker (Hilary Duff) admits to spanking her child, she attempts to pin the blame on someone else, leading to a trial that involves another mother and tragic consequences. Despite portraying a questionable mother on screen, Duff has expressed her love for parenting in real life, saying she never regrets having children.
"I wanted to have all these kids. Do I dream about day drinking with my friends on a rooftop somewhere? Yes, all the time, but I don't wish I never had them," Duff told Bustle in a video interview.
Hilary Duff, Peter Hermann, and Anastasia Barzee would later reunite in the popular TV series Younger.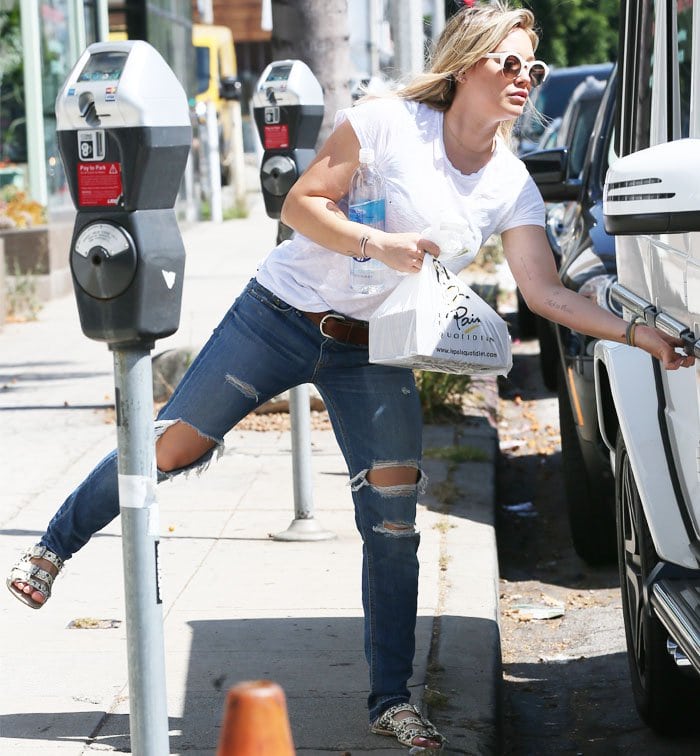 Hilary Duff heads to her vehicle after grabbing takeout at Le Pain Quotidien (Credit: Owen Beiny / WENN)
While the former "Lizzie McGuire" star usually looks put-together, she doesn't often think outside the box when it comes to style. She has her "uniform" — Rag & Bone or Isabel Marant boots paired with denim! — and usually doesn't deviate.
However, we must commend the actress-slash-singer for stepping out of her comfort zone while picking up some takeout from Le Pain Quotidien in Los Angeles.
Hilary still went with denim. She paired some extremely tattered jeans with a brown leather belt and a white tissue tee.
She finished the casual ensemble with white cat-eye summer sunglasses.
Hilary Duff wears a white tissue tee with tattered denim and a brown leather belt (Credit: Owen Beiny / WENN)
Hilary took a step (pun intended) away from her beloved Rag & Bone and/or Isabel Marant boots.
Instead, she sported a pair of triple-buckled sandals from Collection Privee?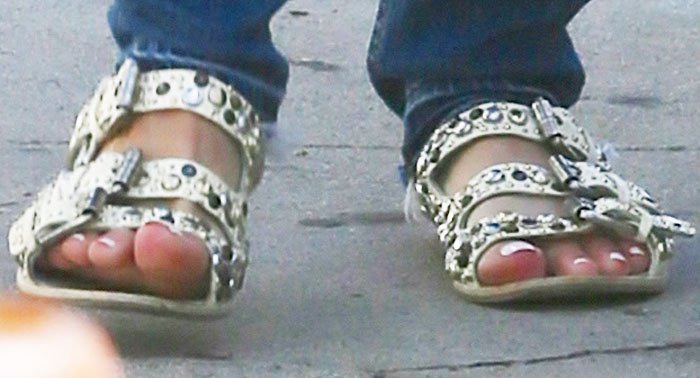 Hilary Duff's feet in triple-buckled and embellished Collection Privee? sandals (Credit: Owen Beiny / WENN)
Is it our favorite look from the former Disney star? Probably not. But we still appreciate her little experimentations stepping away from what's become her uniform as of late.
Unfortunately, these quirky shoes from Collection Privee? are already sold out. However, we found a nice alternative from Birkenstock at Zappos.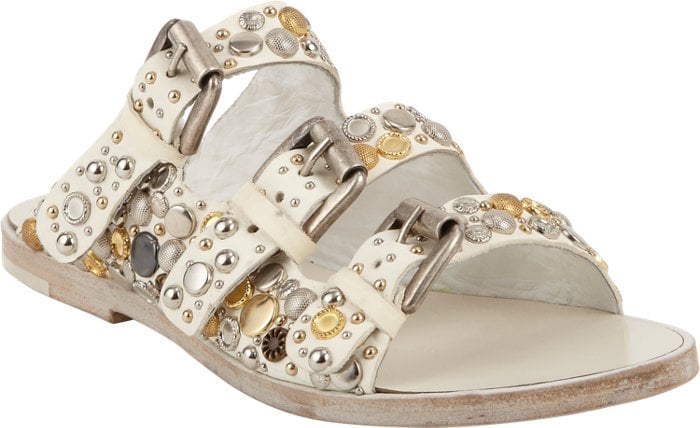 Collection PRIVÉE Triple Buckle Embellished Sandal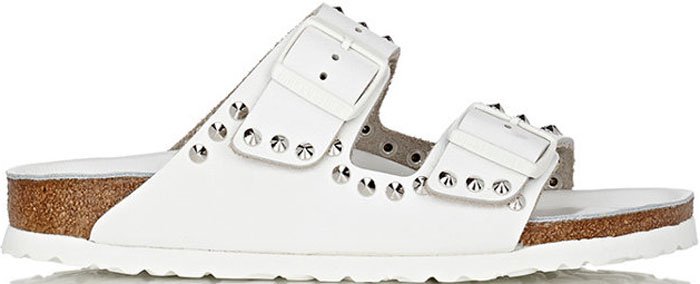 Birkenstock Studded "Arizona" Double Buckle Sandals, $194.00 – $224.95