A Cinderella Story starring Hilary Duff and Chad Michael Murray graced our screens on July 16, 2004, and since then, it has had a consistent cult following.
Fans of the movie have called it one of the best rom-coms ever put out and even though it premiered 18 years ago, it still remains a relevant film that has inspired many copycats over the years.
Haylie Duff (L) and her sister Hilary Duff attend the world premiere of "A Cinderella Story" at Grauman's Chinese Theatre in Hollywood, California, on July 10, 2004 (Credit: Everett Collection / Shutterstock)
There are so many things that even the most loyal fans don't know about the movie or its production!
Hilary Duff's Age at the Time of Filming
One of the most shocking facts about A Cinderella Story is how young Hilary Duff was when filming took place!
Hilary Duff was 16 years old when attending the premiere of "A Cinderella Story" and was 15 while filming the movie (Credit: Everett Collection / Shutterstock)
Chad Michael Murray was 22 during production, which is normal because in a lot of situations movies about high school students feature adult actors.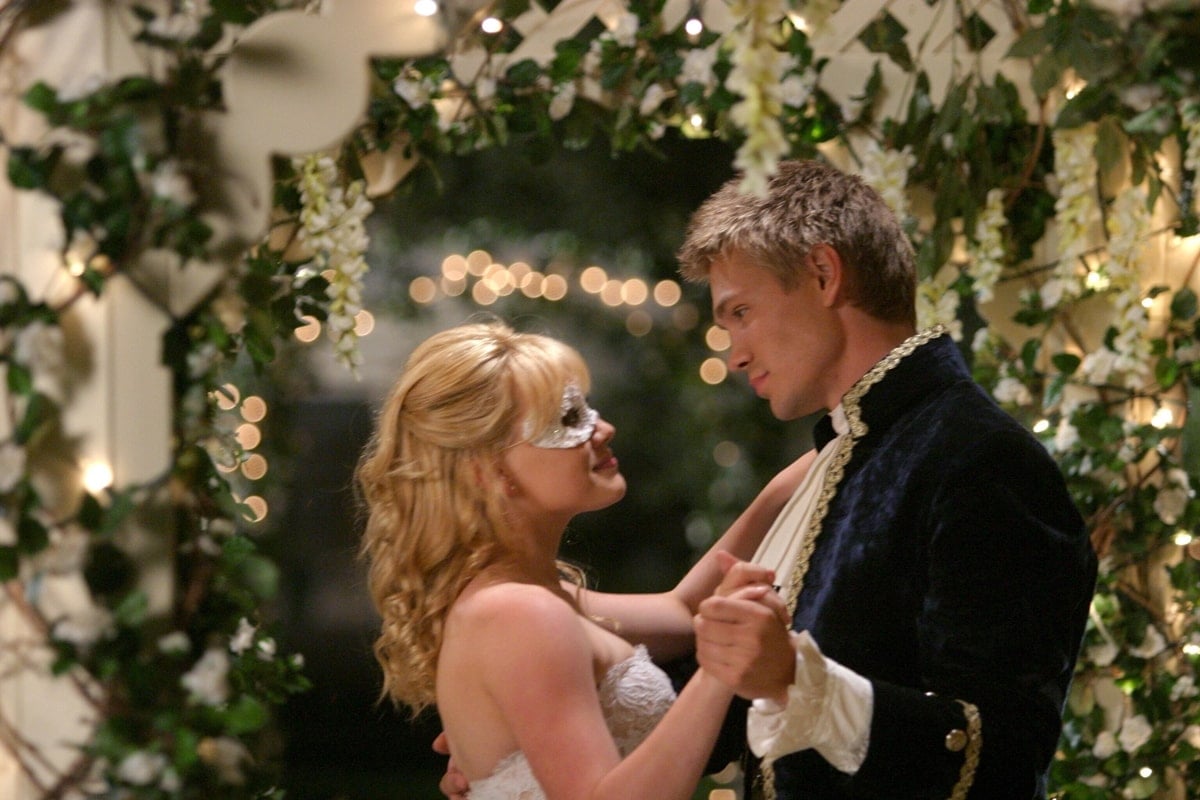 Hilary Duff as Samantha "Sam" Montgomery and Chad Michael Murray as Austin Ames in the 2004 American teen romantic comedy film A Cinderella Story (Credit: Warner Bros. Pictures)
But did you know that Hilary Duff was only 15 when she famously kissed Murray in the iconic football stadium scene?
A fan of Charles Perrault's story "Cinderella," the teen idol was cast thanks to her performance as the title character of the television series Lizzie McGuire.
"Duff is barely mediocre, bordering on irritating on many different occasions, and the numerous subplots are often ridiculous and boring. In fact, the script (by newcomer Leigh Dunlap) as a whole is so bland and uninspired that there wasn't really much director Mark Rosman could have done," Peter Knegt wrote in his review for Exclaim!.
Ron From Harry Potter Was Almost Austin Ames
If your childhood crush was on Rupert Grint from Harry Potter, you'll be disappointed to find out that he was originally cast as Austin Ames!
Grunt, who is most commonly known for his role in Harry Potter, was the original pick for Ames but had to back out after filming conflicts related to Prisoner of Azkaban which was set to come out the same year.
Rupert Grint won the role of Austin Ames in A Cinderella Story but was replaced by Chad Michael Murray (Credit: Albert Ferreira / Sstartraksphoto.)
Once this happened, Chad Michael Murray took his place.
Austin Ames' Dad Also Plays the Dad of Chad Michael Murray's Love Interest in One Tree Hill
Actor Kevin Kilner played Austin Ames' dad in A Cinderella Story and then went on to play Peyton Sawyer's dad in the popular TV series One Tree Hill.
Kevin Kilner plays the father of Austin Ames (Chad Michael Murray) in A Cinderella Story and the father of Hilarie Burton's character Peyton Sawyer in One Tree Hill (Credit: Marty Hause / Startraksphoto)
Thomas Ian Griffith originally played the part in season 1 but producers decided to recast the role when Larry Sawyer returned in season 3 because they believed Griffith was too flirty with Hilarie Burton (the actress who played Peyton Sawyer).
A Cinderella Story Fueled the Fire for the Fight Between Hilary Duff and Lindsay Lohan
One of the most notorious feuds in Disney history was the one between actresses Hilary Duff and Lindsay Lohan after their love triangle with singer Aaron Carter.
Did you know that this fighting was happening during the filming of A Cinderella Story?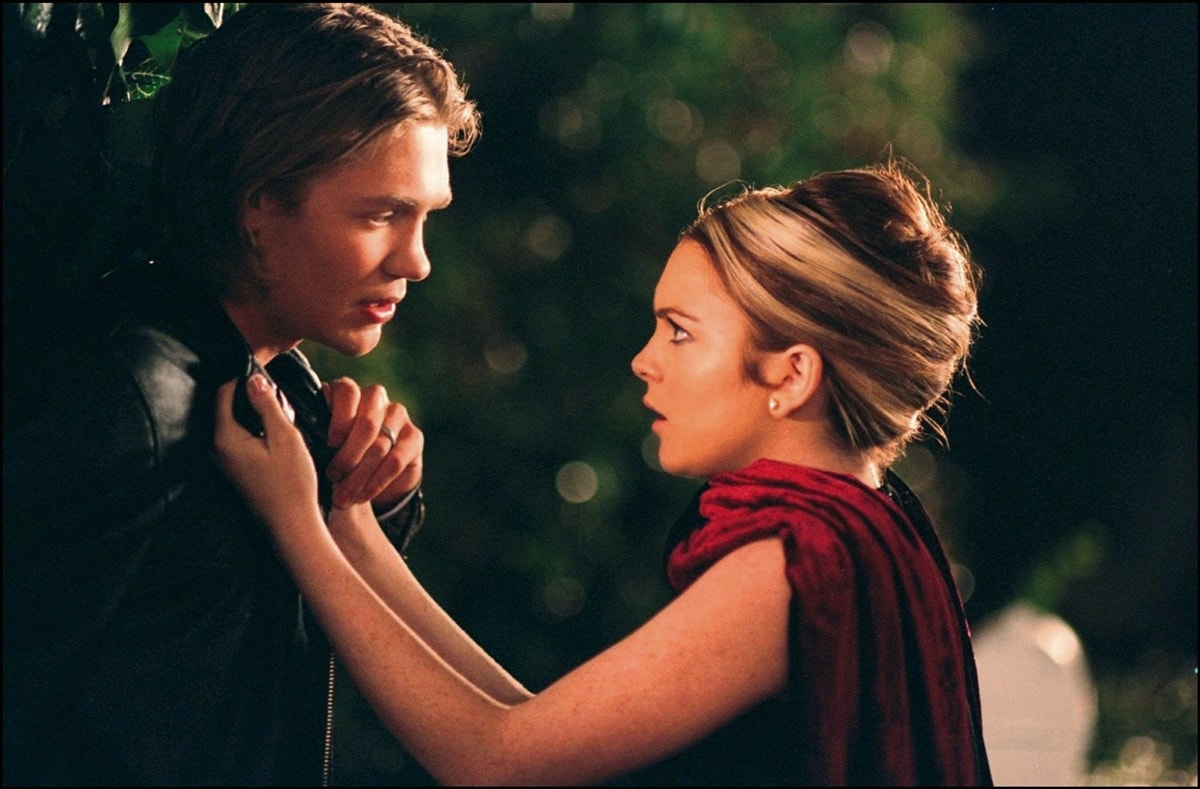 Lindsay Lohan as Anna Coleman/Tess Coleman and Chad Michael Murray as Jake in the 2003 American fantasy-comedy film Freaky Friday (Credit: Buena Vista Pictures)
Chad Michael Murray starred in Freaky Friday alongside Lindsay Lohan and played her love interest in the film. When Lohan found out that Murray was starring as Duff's love interest, she called him and told him mean things about Duff.
This resulted in Hilary Duff banning Lindsay Lohan from coming to the premiere of A Cinderella Story.
A Cinderella Story Sparked Inspiration for Many Other Cinderella Movies
At the time of writing and filming, many others had the same idea to produce a modern Cinderella adaption. Hilary Duff's A Cinderella Story was the first, but it was certainly not the last.
This film was followed by other films telling the same classic story with a different twist. These adaptions include Another Cinderella Story which was released in 2008, A Cinderella Story: Once Upon a Song which was released in 2011, A Cinderella Story: If the Shoe Fits which was released in 2016, and A Cinderella Story: Christmas Wish which was released in 2019.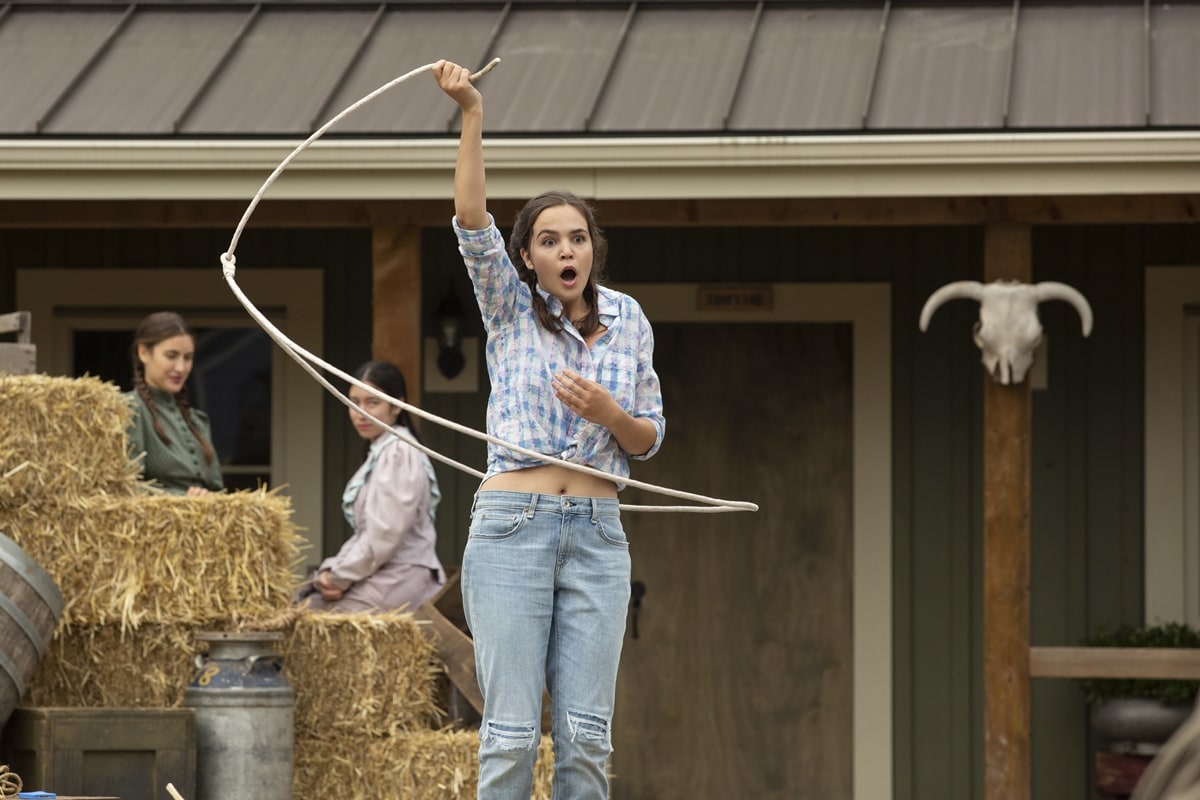 Bailee Madison as Finley Tremaine in the 2021 American teen comedy musical film A Cinderella Story: Starstruck (Credit: Warner Bros. Home Entertainment)
The sixth installment of the A Cinderella Story film series, A Cinderella Story: Starstruck, was released in 2021.
The Iconic Film A Cinderella Story
Producers and actors involved in A Cinderella Story couldn't have guessed how well the movie would be received when they initially started filming.
It is responsible for launching many careers, inspiring many other movies, and showing the world the beloved fairytale of Cinderella in a new and modern light.
What is your most memorable scene from the film?
Hilary Duff wears her hair down as she steps out for some shopping in Beverly Hills on April 21, 2016 (Credit: WENN)
In April 2016, Hilary was photographed taking her son Luca out on another afternoon of shopping in Los Angeles.
Hilary looked noticeably gloomy (perhaps she was still recovering from a recently Instagram-publicized bout of flu?) in a white tee paired with a black ruffled skirt.
Hilary Duff wears a yellow leather jacket with a black ruffled skirt (Credit: WENN)
The "Younger" actress completed her look with a yellow leather IRO Ashville jacket, a pair of oversized aviator sunglasses, and Giuseppe Zanotti metal-plated Nuvorock sandals.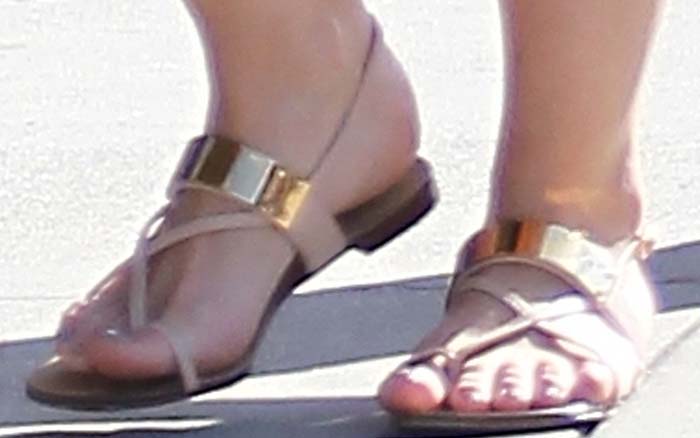 Hilary Duff's feet in metal-plated Giuseppe Zanotti sandals (Credit: WENN)
Hilary brought her son Luca to her to the grocery store. The then-28-year-old shared a giggle with her son as she undid the straps on his grocery cart seat.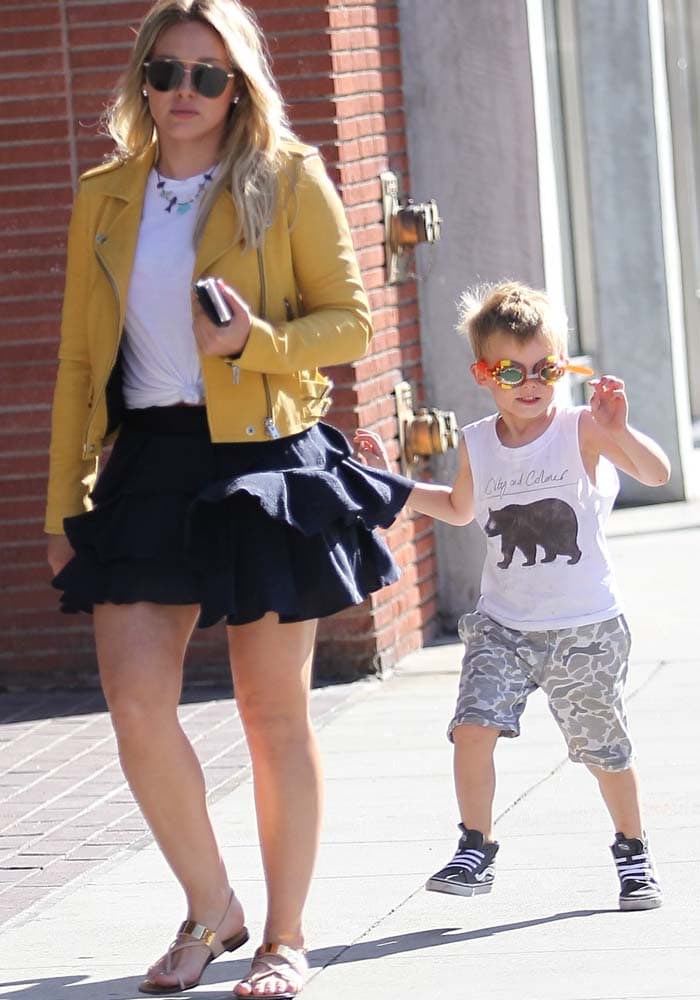 Hilary Duff and her son Luca stroll around Beverly Hills during a shopping trip (Credit: WENN)
Hilary even shared a snap of the happy family on her Instagram with the caption, "We are so proud of this boy."
The actress showed that it is indeed possible to stay friends with an ex! The three looked genuinely comfortable around each other.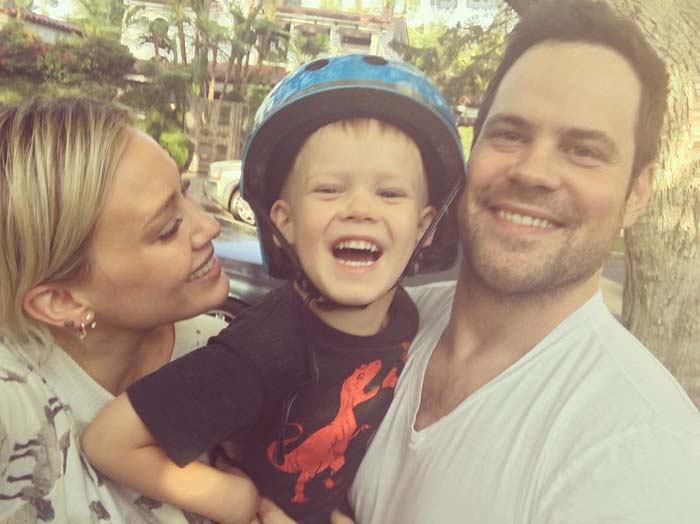 Hilary Duff shows that Luca's dad Mike Comrie is an attentive parent (Credit: Hilary Duff's Instagram)
You can order Hilary's summer sandals by Giuseppe Zanotti at Ssense and Farfetch.
Nude Giuseppe Zanotti Gold Metal Plate Sandal, $650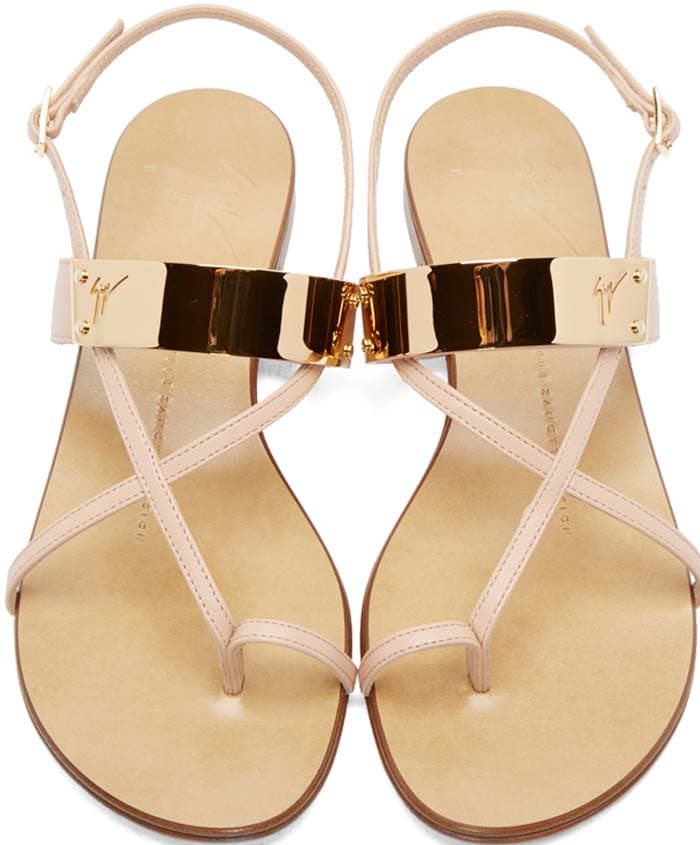 Black Giuseppe Zanotti Gold Metal Plate Sandal, $650