Playing the title character Lizzie McGuire on the American comedy television series that premiered on Disney Channel on January 12, 2001, Hilary Erhard Duff became a rich woman.
After a total of 65 episodes, the final episode aired on February 14, 2004. The Lizzie McGuire Movie, a theatrical movie based on the series, was released on May 2, 2003, by Buena Vista Pictures. In August 2019, a sequel series was announced to be entering production for Disney+.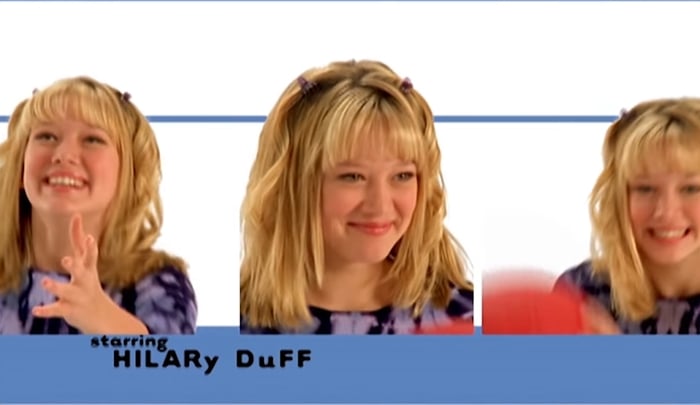 Hilary Duff earned $15,000 per Lizzie McGuire episode and $1 million for the movie
Starring in one of the most popular Disney Channel shows of the early 2000s, according to EW she earned $15,000 per episode and $1 million for the movie.
Why was Lizzie McGuire canceled?
The series was canceled after Disney Channel failed to reach an agreement with Hilary Duff regarding her pay per episode. Her family sought $100,000 per episode, but the studio was only willing to increase her per-episode salary from $15,000 to $35,000.
Following the success of The Lizzie McGuire Movie, which grossed a worldwide total of $55.5 million, Hilary Duff was offered $4 million for a sequel plus a percentage of the profits. Unfortunately, they were not able to reach a financial agreement.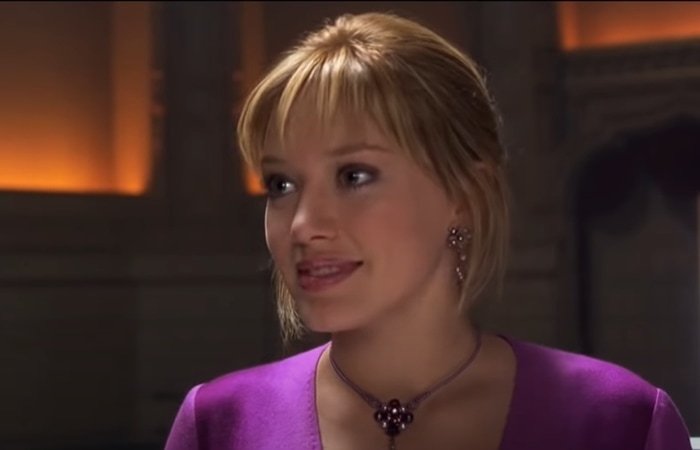 Hilary Duff was paid $1 million for The Lizzie McGuire Movie, a 2003 American teen comedy film directed by Jim Fall
"We very much wanted to continue the Lizzie franchise," Disney Studios production chief Nina Jacobson told The Los Angeles Times.
"But every deal has its tipping point, the point at which it no longer makes sense. Unfortunately, that's the point we reached in the Lizzie negotiations, and we ultimately had to say goodbye, she added."
"Disney's strong-armed tactics and failure to pay our client a fee commensurate with offers received from other studios and networks caused the breakdown of negotiations with the Duffs. While the Lizzie McGuire franchise may be over for Disney, Hilary Duff's career is flourishing," a lawyer representing Hilary Duff responded.
In December 2015, Hilary Duff enjoyed a day out with her son Luca Sunday in Studio City.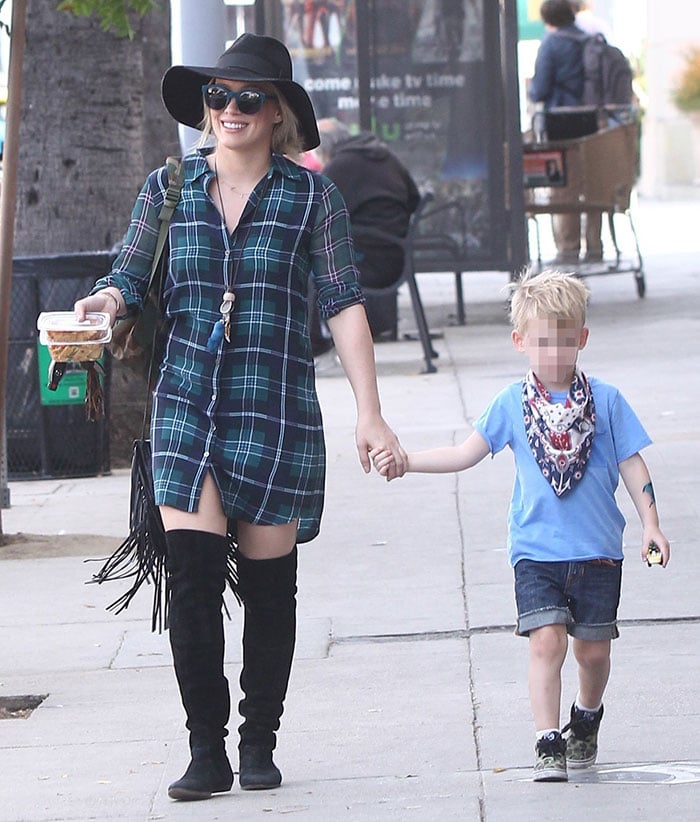 Hilary Duff covers her hair with a trendy hat while out in Studio City with her son Luca on December 6, 2015
The then 28-year-old actress embraced the autumn weather by wearing a green-and-navy plaid shirtdress from Equipment that featured sheer long sleeves.
Hilary Duff wears an Equipment shirtdress while out with her son Luca
Hilary accessorized with a large fedora hat, a pair of oversized sunnies, a long necklace, and a black fringed bag by Saint Laurent.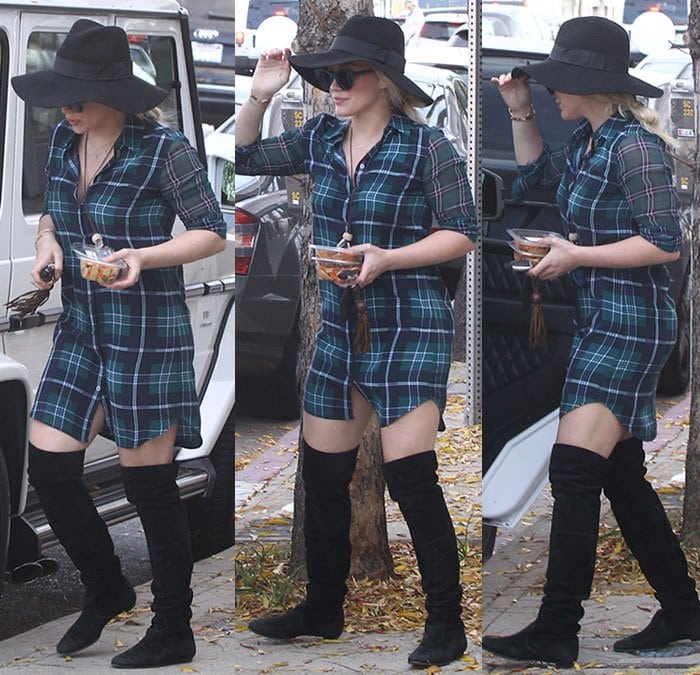 Hilary Duff pairs thigh-high boots with a plaid button-up shirtdress
She pulled her blonde locks back into a low, messy ponytail, and she completed her look with neutral makeup.
Hilary Duff's feet in thigh-high suede boots
Thigh-high boots tend to look best on tall women with long legs, but the 5'2" actress made the pair of black suede over-the-knee boots work for her.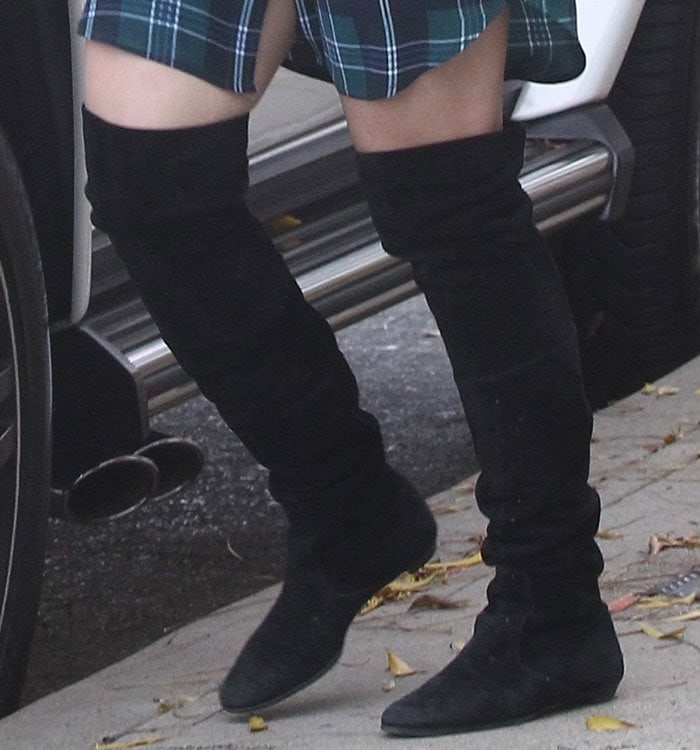 Hilary Duff's feet in thigh-high suede boots
Hilary's boots look similar to Saint Laurent "Babies" boots, which feature tapered toes, side zip closures, and 1.5-inch heels. You can get this pair at Farfetch and Matches Fashion.
Saint Laurent "Babies" Knee Boots, $1,495
Credit: WENN