Hilary Duff's height of 5 feet 1 inch (154.9 cm) is considered below the average size for an adult American woman, typically between 5 feet 3 inches and 5 feet 4 inches (160-162.5 cm).
Hilary Duff's shoe size is 6.5 US, roughly converting to 4.5 UK, 37 EU, and 23.5 JP in other standard international shoe size systems.
Frankie Muniz and his date Hilary Duff attend the Sizzlin 16 party held at Club A.D. in Hollywood, California, on January 30, 2002 (Credit: WENN)
One of the best-known child stars of the early 2000s, she has a net worth of $25 million as of 2023. Shorter than the average American woman, Hilary has sold an estimated 15 million records since her debut in 2002.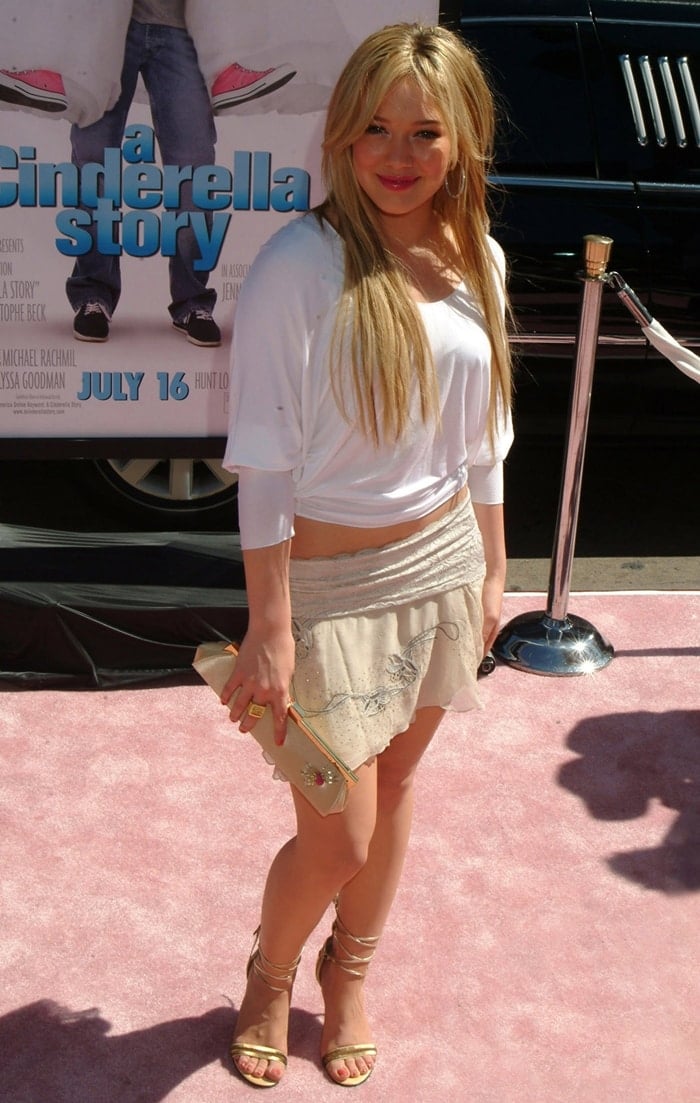 Hilary Duff flaunts her legs at the premiere of "A Cinderella Story" at Grauman's Chinese Theater in Hollywood, California, on July 10, 2004 (Credit: Jody Cortes / WENN)
In 2016, she was ordered to pay ex-husband Mike Comrie $2.4m as part of their divorce settlement. Duff has been in a relationship with Matthew Koma since January 2017.
Hilary Duff's feet are shoe size 6 (US) (Credit: Nikki Nelson/ WENN)
She portrays Kelsey Peters in the American comedy-drama television series Younger.
Hilary Duff Facts
What is Hilary Duff's net worth?
Hilary Duff is an American actress and recording artist with an estimated net worth of $25 million.
Full Name:
Hilary Erhard Duff
Born:
Hilary Erhard Duff, born in Houston, Harris, Texas, U.S., on September 28, 1987, celebrated her 36th birthday in 2023.
Dating:
Hilary Duff has had a few high-profile relationships over the years. She was first linked to Aaron Carter in 2000, when they were both teenagers. The relationship lasted for about three years.

In 2002, Duff began dating Frankie Muniz, her co-star in the film Agent Cody Banks. The relationship lasted for about two years.

In 2004, Duff began dating Joel Madden, the lead singer of the band Good Charlotte. The relationship lasted for about two years.

In 2007, Duff began dating Mike Comrie, a former NHL player. The couple got married in 2010 and had a son together, Luca, in 2012. They divorced in 2016.

In 2017, Duff began dating Matthew Koma, a musician. The couple got married in 2019 and have two daughters together, Banks and Mae.
Kids:
Hilary Duff has three children.

Her first child, Luca Cruz Comrie, was born on March 20, 2012, with her then-husband, Mike Comrie. Duff and Comrie divorced in 2016.

Her second child, Banks Violet Bair, was born on October 25, 2018, with her current partner, Matthew Koma.

Her third child, Mae James Bair, was born on March 24, 2021.
Weight:
Hilary Duff has been rumored to weigh between 115 and 125 pounds, depending on the source. However, it is important to note that these are just rumors, and Duff has never publicly disclosed her weight.
Shoe Size:
Hilary Duff's shoe size is 6.5 US, which is below the average range for women's shoe sizes in the United States, which is around 8.5 US.
Is Hilary Duff short?
Yes, she is short. Her height of 5ft 1in (154.9 cm) is shorter than the average American woman.

The average height for adult women in the United States is about 5ft 4in (162.5 cm). So, Hilary Duff's height is a bit below this average.
Nationality:
Hilary Duff is a citizen of the United States of America.
Source of Wealth:
Hilary Duff has amassed her net worth through her successful career in entertainment. She started her career as a child actress, appearing in the films Casper Meets Wendy (1998) and The Lizzie McGuire Movie (2003). She then went on to star in the popular Disney Channel series Lizzie McGuire (2001-2004).

Duff has also released several albums, including Metamorphosis (2003), Hilary Duff (2004), and Dignity (2007). Her music has sold over 15 million copies worldwide.
Ethnicity/Race:
Hilary Duff is of German, English, Scottish, Scots-Irish/Northern Irish, Welsh, and French descent.
Hilary Duff Quotes: Inspirational Words from the Former Disney Star
"People are going to say what they want to say and think what they want to think, and I can't change their minds." – Hilary Duff
"It's hard to stay true to yourself and what you want in life when there are so many distractions and so much craziness going on around you." – Hilary Duff
"No, I'm not! I'm not a tomboy! I love my makeup! That's not true! I'm not a tomboy!" – Hilary Duff
Hilary Duff showcased her bridal-inspired fashion sense at the 2023 Vanity Fair Oscar Party held at the Wallis Annenberg Center for the Performing Arts on March 12, 2023, in Beverly Hills, California (Credit: Featureflash Photo Agency / Shutterstock)
"Weird, but sometimes I feel more like my cartoon character than I do Lizzie because she's a little more edgy and snappy." – Hilary Duff
"I knew I wanted to act, and I was really driven, so I kept going for it. We moved to L.A. full-time when I was 8 or 9." – Hilary Duff
"People talk worse about people than they talk good about people, because a lot of people like drama." – Hilary Duff
"At first, when I got bad press and people would talk bad about my family or something like that, I would get really upset, but now it's just not worth my energy." – Hilary Duff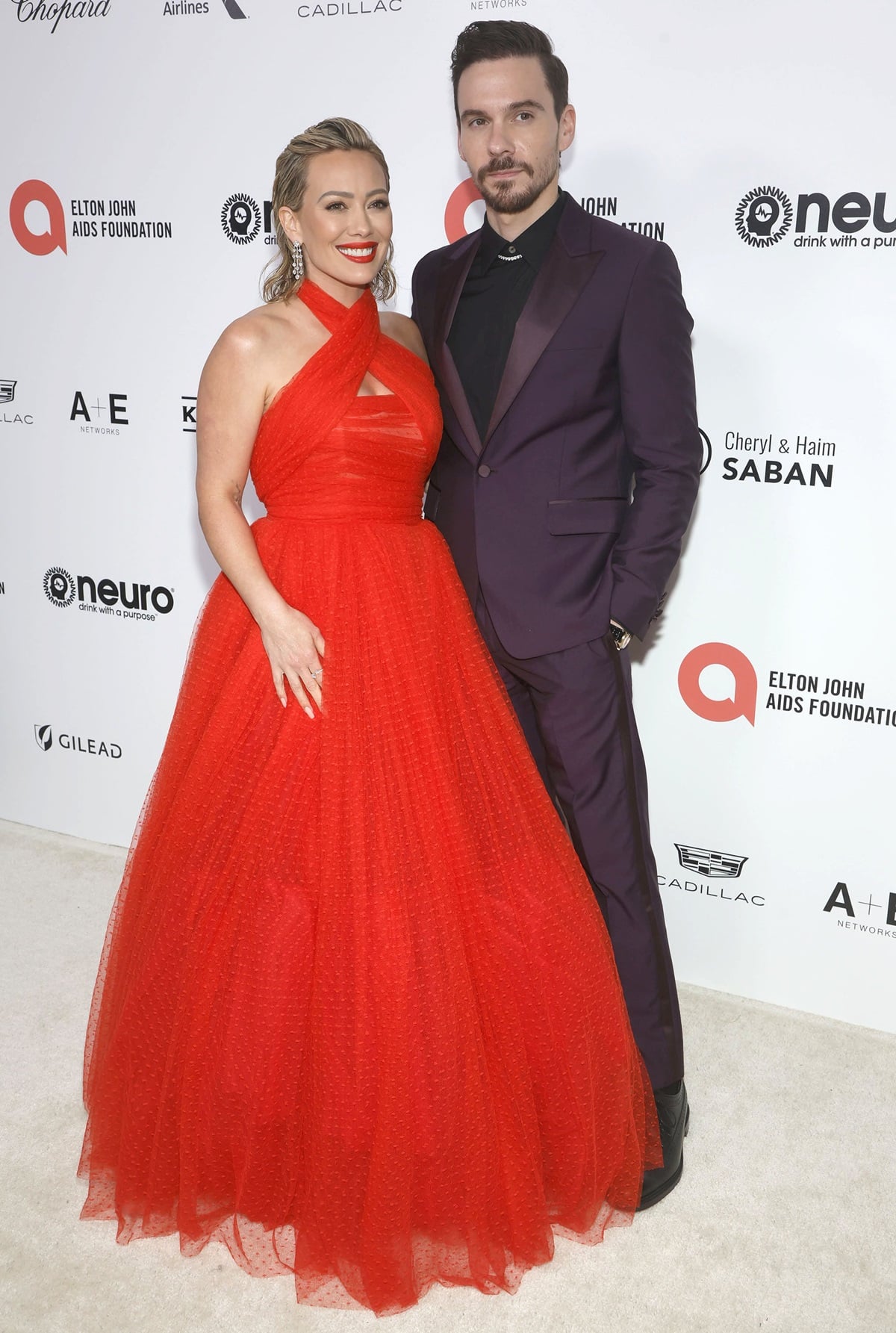 Hilary Duff, in a red Giambattista Valli ballgown with a halter neckline, posing with Matthew Koma at the Elton John AIDS Foundation's 31st Annual Academy Awards Viewing Party on March 12, 2023, in West Hollywood, California (Credit: Fayes Vision / Startraksphoto / Cover Images)
"I'm drawing the gossip surrounding the celebrity, or the image the celebrity tries to push on us." – Hilary Duff
"I have an older sister named Haley and she wanted to be an actress. So I wanted to be an actress. It's really funny the way that some people don't give kids enough credit for like really being driven, and really wanting to do things so badly." – Hilary Duff
"I love my mom. I totally look up to her, and she just doesn't let anybody take advantage of me. People might call that a stage mom." – Hilary Duff
"My relationship with my mom is so amazing. We never got to have that stage that people go through, like when you're 13 and you think you're too cool for your parents. When you're embarrassed by them and stuff. We never went through that because I was constantly working and she constantly had to be there." – Hilary Duff
"There definitely was a time when I was pretty obsessed with my weight, but I'm better off not stressing about my body all the time." – Hilary Duff
"Before I wasn't sure what I wanted to say, but now, I have had so many different experiences that they have given me what I want to get across in my music." – Hilary Duff
"I think ambition can be having something that you're good at and love to do." – Hilary Duff
"I love that Euro-pop dance music, but with girl power. I also listen to Janis Joplin and Bob Dylan. I have a Beatles song tattooed on my foot. I'm all over the place." – Hilary Duff
"I've had a very unique path that's different from everybody else's. I was never a dater. I never went out that much. I've always had long-distance relationships. And, everything has come very fast in my life. I haven't waited for much." – Hilary Duff
"As a mom, it's so important to feel confident in what you're doing." – Hilary Duff
"Everybody always talks about it, about how you don't know love until you meet your baby, and you really feel that. There are no words. It was a really wonderful surprise. And there is no way to prepare yourself for the sleep deprivation and what comes with it." – Hilary Duff
"I have been writing songs and poems since I was a little girl. I started writing short scripts, which evolved into the idea for a book." – Hilary Duff
"I'm outgoing when I have to be, but usually, I'm kinda shy. I always think people don't want to talk to me. Some people might take that as being stuck-up, but I'm just shy." – Hilary Duff
"Now my music is kind of pop-rock, right? If I'm 25 and singing still, I don't want to be singing music like that." – Hilary Duff
"Mom always tells me to celebrate everyone's uniqueness. I like the way that sounds." – Hilary Duff
"I have always been interested in the paranormal and afterlife, everything from ghosts to angels. I think that everyone has that curiosity of the great unknown." – Hilary Duff
"I started taking singing classes just two years ago. It was great. I never knew I could sing but I kind of found my voice." – Hilary Duff
"I'm pretty good at thinking about everything – all of my consequences – before I make a decision, and I think about everything that's going to happen because of that decision. I'm a Libra, and I'm very strategic." – Hilary Duff
"I just think that there's so much judgment in the world, whether it's coming from women in general or from men onto women – it's a lot. And when it comes to being a mom, I wish everyone could band together and realize that everyone has different beliefs, different styles, and different things that work for them and their family." – Hilary Duff
"A part of me isn't like those women who love being pregnant. I love my baby, and I miss that feeling of being attached to him when he's kicking, but I was so ready to not be pregnant." – Hilary Duff
"Guys make me feel secure and comfortable when I'm scared or need attention. They bring stability. And affection. And fun. And drama. You learn so much from a boyfriend. It's hard to put into words, I guess." – Hilary Duff
"Humans are very complex; I definitely have a new respect for authors that are able to write books nonstop. It's an incredible talent." – Hilary Duff
"Sometimes I got scared of being too honest, because being in the public eye, I have always tried to hide my personal life. But I realized that isn't healthy." – Hilary Duff
"I love Natalie Portman. She worked when she was younger, and she's so talented and private. She doesn't do things that are too crazy, but she pushes the envelope enough." – Hilary Duff
Hilary Duff: How the Short Actress Uses Fashion to Lengthen Her Silhouette
Hilary Duff was born in Houston, Texas on September 28, 1987. Joel Madden's ex-girlfriend began taking ballet classes and auditioning for local theatrical productions at a young age because she greatly admired her older sister, who was undertaking the same activities.
Ultimately, both siblings would find success in the entertainment industry.
Hillary Duff (R) was inspired by her older sister Haylie Duff to become an actress (Credit: Tinseltown / Shutterstock)
Hilary Duff was first known to the public for her role as the titular character on the Disney Channel's Lizzie McGuire.
The show was a smash hit, and Hilary Duff moved on to several other teen and young adult rom-coms in the early 2000s, such as The Lizzie McGuire Movie and A Cinderella Story.
Hilary Duff as Samantha "Sam" Montgomery and Dan Byrd as Carter Farrell in the 2004 American teen romantic comedy film A Cinderella Story (Credit: Warner Bros. Pictures)
Hilary Duff is an iconic and beloved actress for many millennials and older members of Gen-Z.
Given that Hilary Duff works in the entertainment industry alongside runway models, it makes sense that she may feel shorter compared to most of her immediate reference group.
Hilary Duff looks short surrounded by Sutton Foster, Debi Mazur, Miriam Shor, and Molly Bernard at the LA Press Day For Comedy Central, Paramount Network, And TV Land at The London West Hollywood on May 30, 2019, in West Hollywood, California (Credit: DFree / Shutterstock)
Hilary Duff has spoken to the press several times about her insecurities as a shorter woman. In 2016, when asked if she could change anything about her appearance, she told StyleCaster:
"I'd probably be a little taller. I'm 5'2″. I'd honestly be happy at 5'4″, but I'd maybe want to be 5'5″.
How Does Hilary Duff Handle Being Short?
Despite her short stature, Hilary Duff has found several ways to trick the eye and lengthen her silhouette through her style.
Firstly, using one of the most common style tricks for shorter women, Hilary Duff is a huge fan of heels. On a red carpet, she once told reporters that she wears big heels all the time to compensate for her height.
Hilary Duff boosted her height in Giuseppe Zanotti sandals paired with a Maria Lucia Hohan Fall 2013 dress at the 2014 iHeartRadio Music Awards held at the Shrine Auditorium on May 1, 2014, in Los Angeles (Credit: Featureflash Photo Agency / Shutterstock)
As she's grown older and started a family of her own, she's updated her wardrobe to accommodate her new lifestyle. She told Yahoo!:
"My everyday vibe is jeans and shorts, if I'm getting ready for an event or have some sort of work dinner I tend to dress a little sharper. And I like things that have structure — I'm only 5'2″ so I dress very specifically because I'm so short."
Hilary Duff's black and gold Giuseppe Zanotti high heels made her look much taller (Credit: Featureflash Photo Agency / Shutterstock)
Sharp, structured looks are definitely flattering and an easy way to play with proportions for smaller frames.
5 Other Short Celebrities
While Hilary Duff may not be the biggest fan of her own height, she certainly isn't the only short celebrity.
Despite the numerous statuesque models in the industry, there are several smaller celebrity women as well – here are a few who also stand around 5'1, just like Hilary Duff:
1. Lady Gaga
Although Lady Gaga is known for being larger than life thanks to her crazy stage outfits and outstanding performances, she is actually quite petite.
She also compensates for her height with extremely high heels- and did so even more often when she first came into the spotlight.
2. Vanessa Hudgens
A fellow Disney star, Vanessa Hudgens is also a very petite celebrity who first came into the spotlight for High School Musical.
3. Reese Witherspoon
Reese Witherspoon is not well known for her short height, and does a great job of playing with her proportions through her style and excellent posture.
4. Kristen Bell
Instead of compensating for her height, Kristen Bell simply embraces it. She is well known for being a petite beauty!
5. Kourtney Kardashian
The shortest member of the Kardashian clan is also ironically the oldest, though she also does an excellent job of wearing flattering apparel that maximizes her proportions.
You might not realize how short she is unless she's standing next to her 5'9 half-sister, Kendall Jenner!
Hilary Duff's Isabel Marant Bobby Wedge Sneakers
Hilary Duff wears her hair up as she grocery shops with her son, Luca Cruz Comrie, on November 11, 2012, in Los Angeles (Credit: WENN)
In November 2012, Hilary Duff ran some errands with her son in a pair of height-boosting Isabel Marant Étoile "Bobby" wedge sneakers.
She paired her casual-chic shoes with floral-printed black Level 99 jeans and a black zip-up hoodie.
Hilary Duff wears floral-printed black jeans as she takes her son grocery shopping in Los Angeles (Credit: WENN)
She carried a reusable grocery Goyard St. Louis tote and styled her hair up in a casual messy bun.
Hilary Duff runs errands in red Isabel Marant wedge sneakers (Credit: WENN)
We've previously featured these shoes in olive green on Nicki Hilton. However, we really like the cheery red option. They'd look great with black skinnies or leggings and a printed tunic.
You can check out similar wedge sneakers from the same fashion designer at Nordstrom and Mytheresa.
Isabel Marant Étoile "Bobby" Wedge Sneakers in Blue, $665
Isabel Marant Étoile "Bobby" Wedge Sneakers in Red, $665