Dominic Fike is putting an end to the breakup rumors for now.
In the June/July 2022 issue of GQ, Fike opened up about his relationship with his Euphoria co-star, Hunter Schafer. The article revealed that 26-year-old Fike "is very much in love" with his 23-year-old girlfriend.
According to the profile, the pair met in Los Angeles while on the set of the critically-acclaimed series.
Hunter Schafer as Jules Vaughn in Euphoria (Credit: HBO)
Fike's journey to stardom was a tumultuous one. It involved city-hopping, making music, going to jail, and basically walking around like a real-life Euphoria character.
That last point is why he believed he was perfect for the show. However, he bombed his audition for the first season as he decided to take shrooms before going in for his turn.
His eccentric behavior on that day cost him the role, but it did give him time to focus on his music for several years before releasing his 2020 debut studio album "What Could Possibly Go Wrong."
Dominic Fike on the set of Euphoria's second season (Credit: HBO)
Everything but the kitchen sink
Fike got the record deal for his album after his "3 nights" EP blew up on Soundcloud in 2018. Interestingly enough, the deal was in negotiation while he was serving time in jail for violating his probation from a battery of a police officer charge in 2016.
His stint in jail didn't deter him from landing a deal as record labels were so impressed by Fike and recognized his potential. In fact, a $4 million record deal with Columbia Records welcomed him after his release.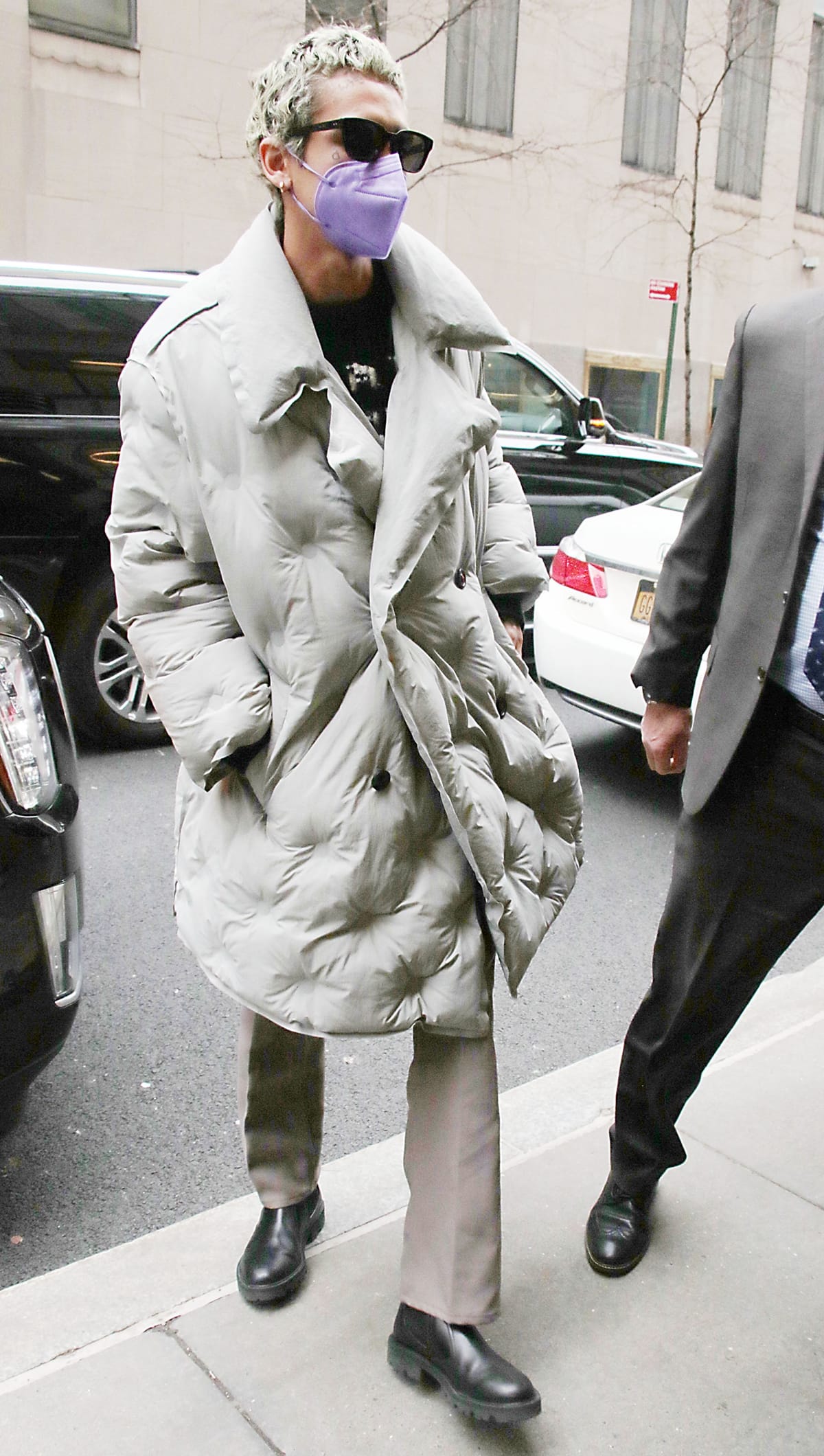 Dominic Fike wears a purple face mask and a light gray long puffer coat in New York City while arriving at NBC Studios for a taping of the "The Tonight Show Starring Jimmy Fallon" on February 22, 2022 (Credit: Roger Wong / INSTARimages)
According to his YouTube channel IN-FOCUS, he even found ways to write songs from his jail cell.
"I had to write music to it, but there was no source of music or scale," Fike explained about his songwriting process while confined in jail.
"I literally had to bang on my sink every day, wind up the scale, find the note…start from there, write it, and then be able to go up. So that was the source of music I had in jail."
Second time's the charm
Fike spent time in rehab in the spring of 2020. When the Euphoria casting directors learned that he was taking steps in the right direction, they reached out to him again for the show's second season.
This led to him landing his first ever acting role as the mysterious Elliot. Fike joined a stellar cast of talented young actors that included Zendaya, Storm Reid, Sydney Sweeney, and Alexa Demie.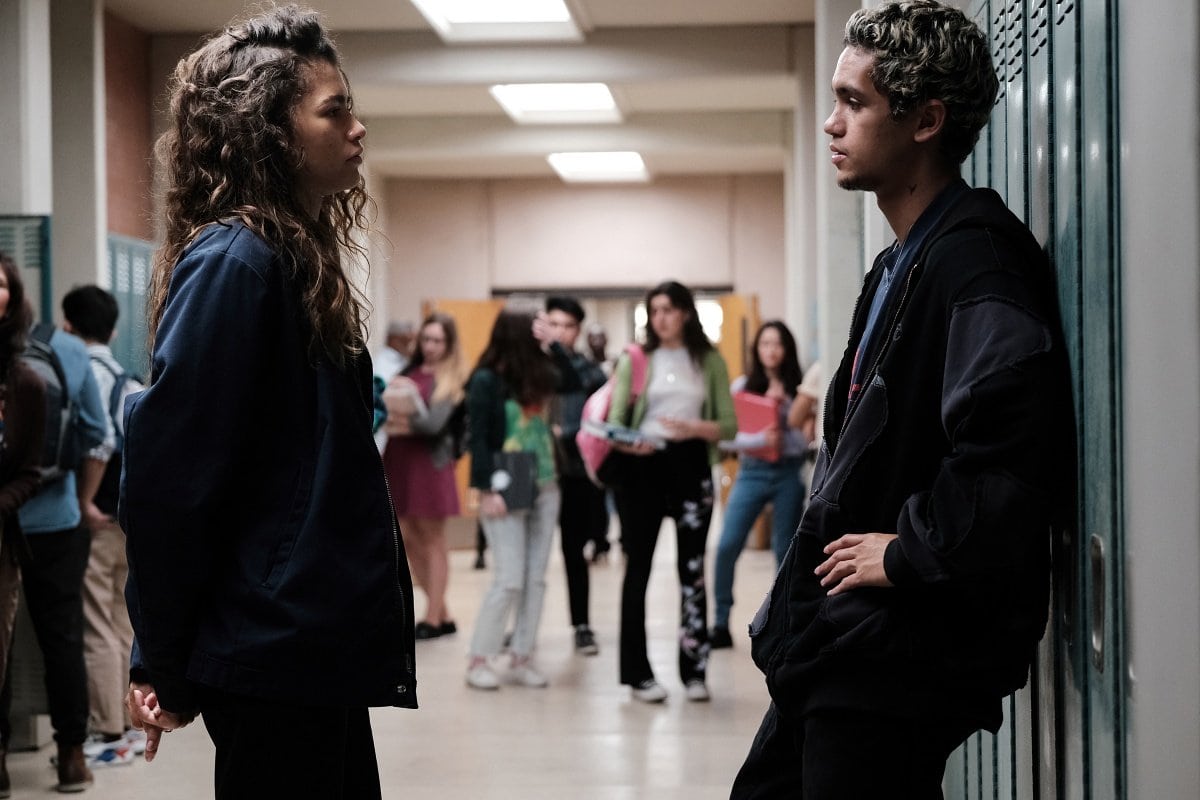 Zendaya as Rue Bennett and Dominic Fike as Elliot in Euphoria (Credit: HBO)
The multi-hyphenate star didn't intend to keep on acting, but that changed once his episodes aired. Fike signed on for another season of Euphoria, and it looks like he has other acting projects in the works as well.
"There's some crazy shit that I'm about to be doing, and that I'm about to be committed to for a long time, potentially," he shared on his GQ profile. He didn't explain further or give any specifics, but that just made it even more intriguing.
In addition, his return to the Emmy-winning series allows him more time to spend with his girlfriend and co-star, Hunter Schafer.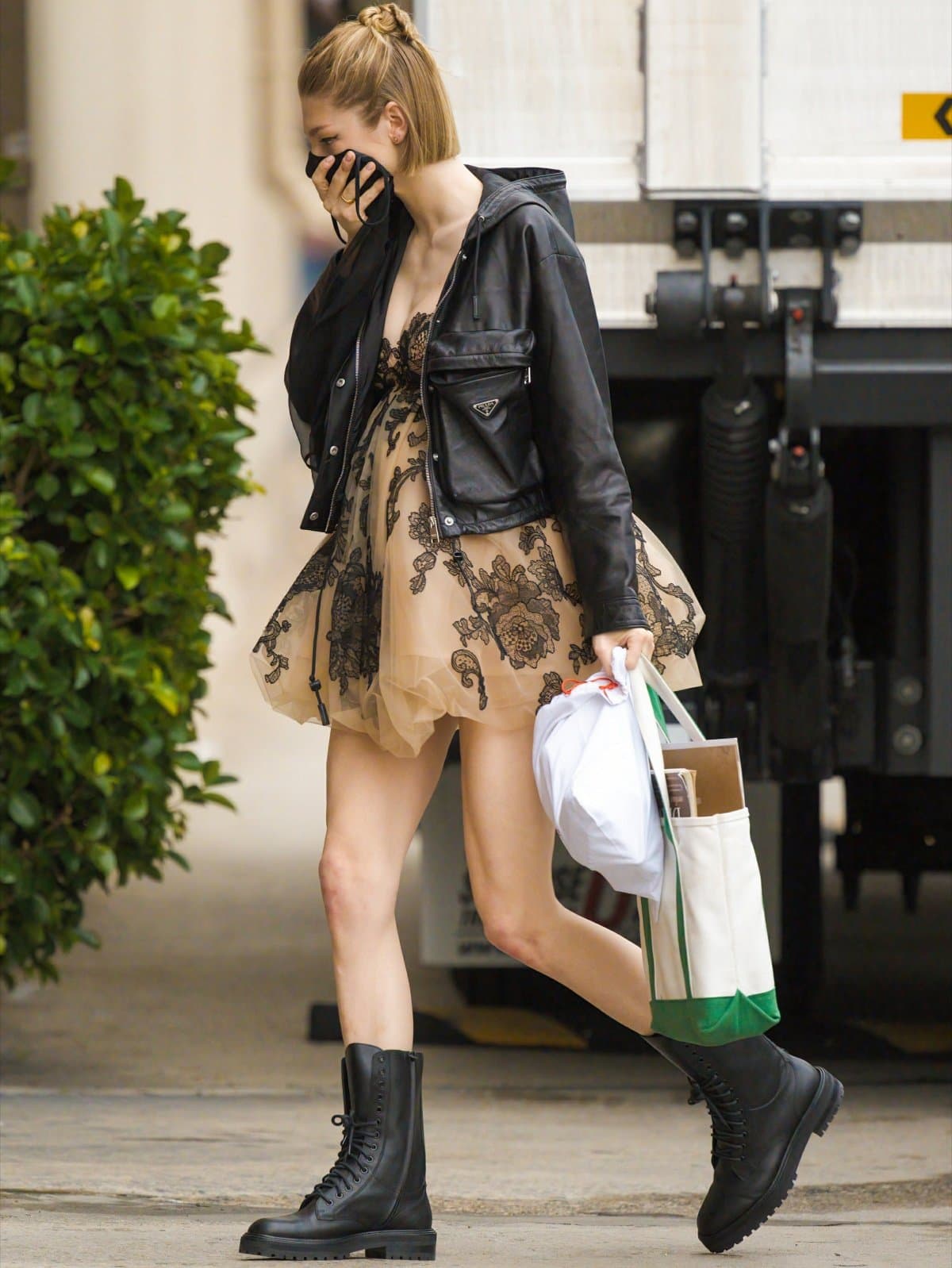 Hunter Schafer in Prada lace-up boots and a Prada black leather hooded jacket over a Vera Wang Spring 2021 organza dress with black lace trims outside the studios of Jimmy Kimmel Live in Los Angeles, California, on January 17, 2022 (Credit: BauerGriffin / INSTARimages)
Fike admitted to GQ that "he misses her" as Schafer was in Milan at the time of his interview. He also shared that he's been to the SoHo Prada store multiple times to catch a glimpse of her face on the ads.
Hunter Schafer for Prada's Spring/Summer 2022 campaign (Credit: Prada's Instagram)
Model behavior
Schafer was assigned male at birth but now identifies as a trans woman, who uses she/they pronouns.
She first became well known in 2016 when she was named as a plaintiff in the American Civil Liberties Union's lawsuit against North Carolina House Bill 2. The bill forced people to use the bathrooms for the gender they were assigned at birth
View this post on Instagram
As Schafer told the New York Times, "I don't know if I would call myself an activist, as much as someone who's just vocal about being trans, which sometimes can feel like activism, because just existing as a trans person can often be hard enough, particularly for people of color or people who don't pass."
In 2017, the 5'10" beauty graduated high school then signed with Elite Model Management and moved to New York City.
She's worked with prominent names in the fashion industry before making her acting debut in Euphoria in 2019.
View this post on Instagram
Instant chemistry and finding love on set
Fike, who is 5'11", provided some insight into his relationship with Schafer in the current issue of GQ.
While he was the new kid on set, he was overwhelmed by the amount of star power to which he was exposed. However, he found instant chemistry with Schafer early on.
Fike described his experience watching Schafer get into character before filming an emotional scene. "I wanted to hug her. The tears started going, she said, 'Okay, I'm ready.' And then they did the scene."
He revealed that he had a huge crush on the actress and asked her to teach him how to cry on command. The learning experience was strange, especially since he was harboring a crush on his co-star, but it paid off for him in the end.
"In those moments, your relationship is accelerated because you're so vulnerable with someone, immediately. Which usually takes a long time," Fike told GQ. "Some people fall in love, like, fucking months after they meet, or years after. We developed an attraction—it sped it up so fast. We just really got to know each other so quickly."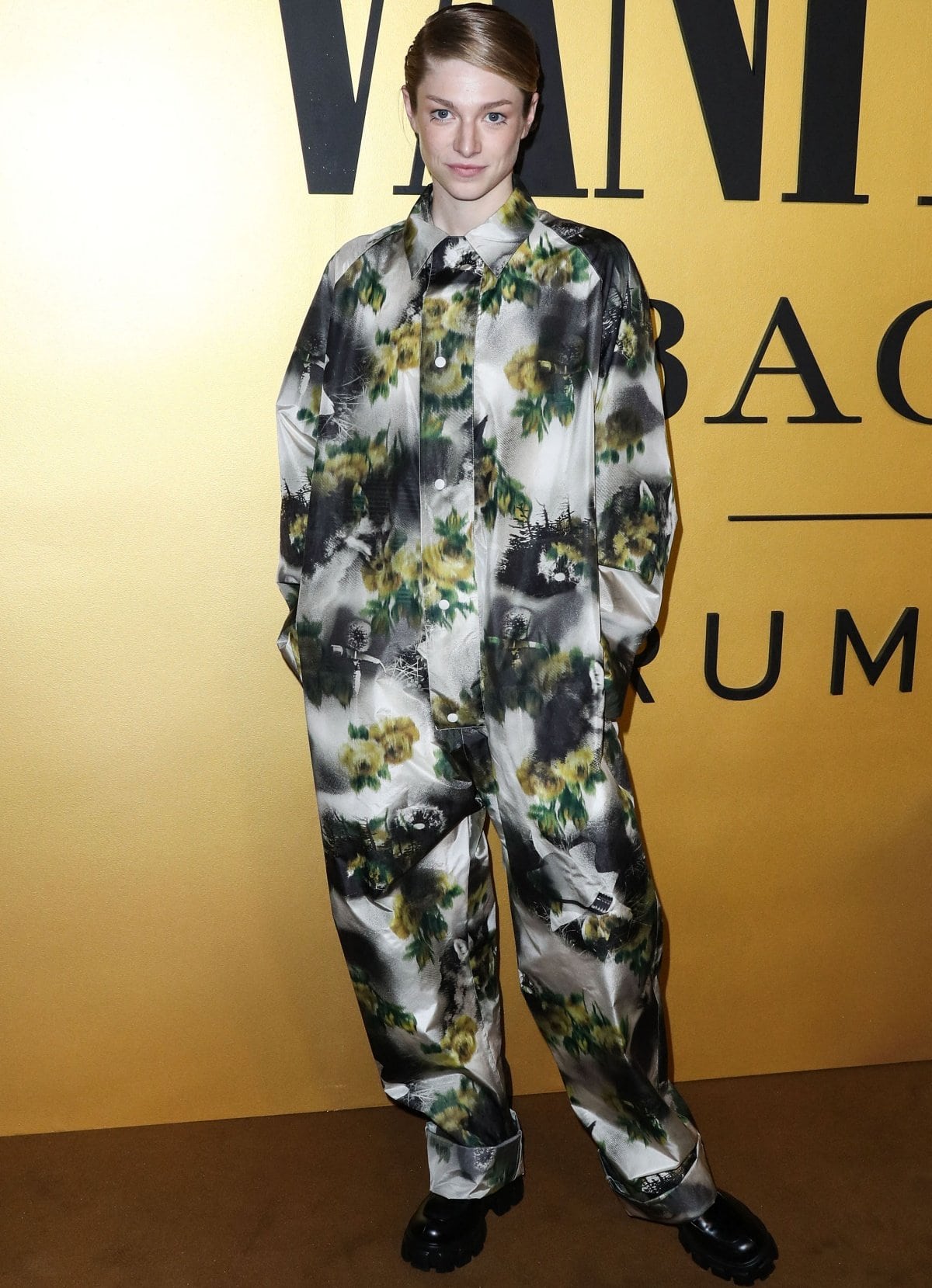 Hunter Schafer in a Prada floral printed silk jumpsuit and black leather Monolith shoes at the Vanity Fair Hosts Vanities Party: A Night for Young Hollywood held at Musso & Frank in Los Angeles, California, on March 22, 2022 (Credit: Xavier Collin / ABACA / INSTARimages)
While Fike and Schafer have found love, fans of the show also discovered an appreciation for his presence in the past season.
The GQ profile mentioned that Fike constantly gets approached by avid fans of Euphoria to talk about how much they love him in the show.
Setting a "new beauty standard"
Of course, it's hard to miss him due to his unique look and style. Fike also has several face tattoos, which make it easier to identify him.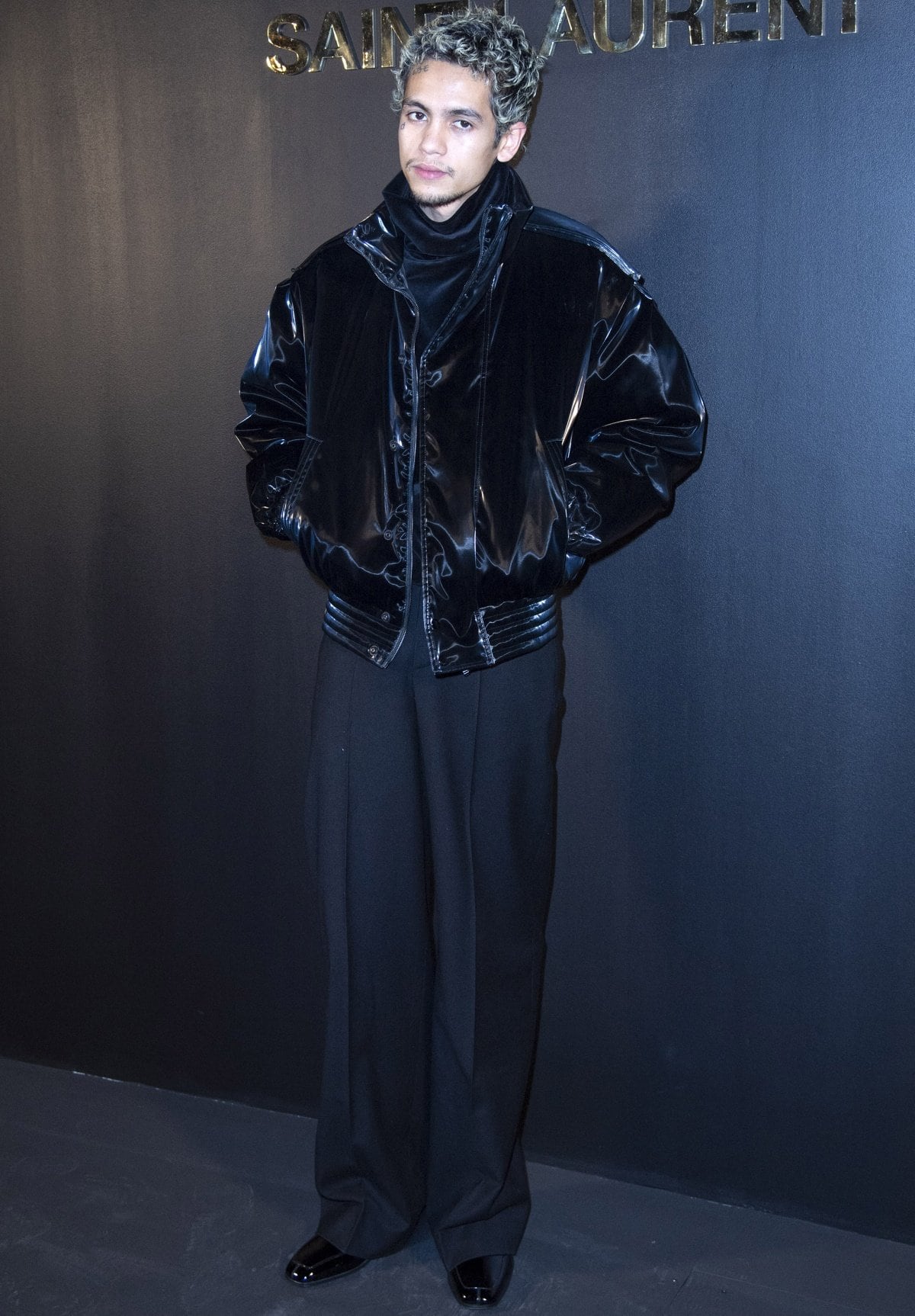 Dominic Fike looking cool in an all-black look at the Saint Laurent show during Fall/Winter Paris Fashion Week in Paris, France, on March 1, 2022 (Credit: Aurore Marechal / ABACA / INSTARimages)
Among his tattoos is a small apple that he apparently got for his sister Apollonia. In a 2019 interview with Complex, he shared that his apple tattoo "serves as a reminder for what he's working for."
The GQ profile also noted that Fike looks good in anything. It mentioned that his distinct look could set "a dirty new beauty standard" with his "face tattoos, mustache, and grown-out bleached hair."
Well, it looks like Calvin Klein agrees. Fike joined an international cast of superstars for the brand's Spring 2022 campaign. He went back to his roots and hung out with his fellow skaters for his #mycalvins ad photographed by Glen Luchford.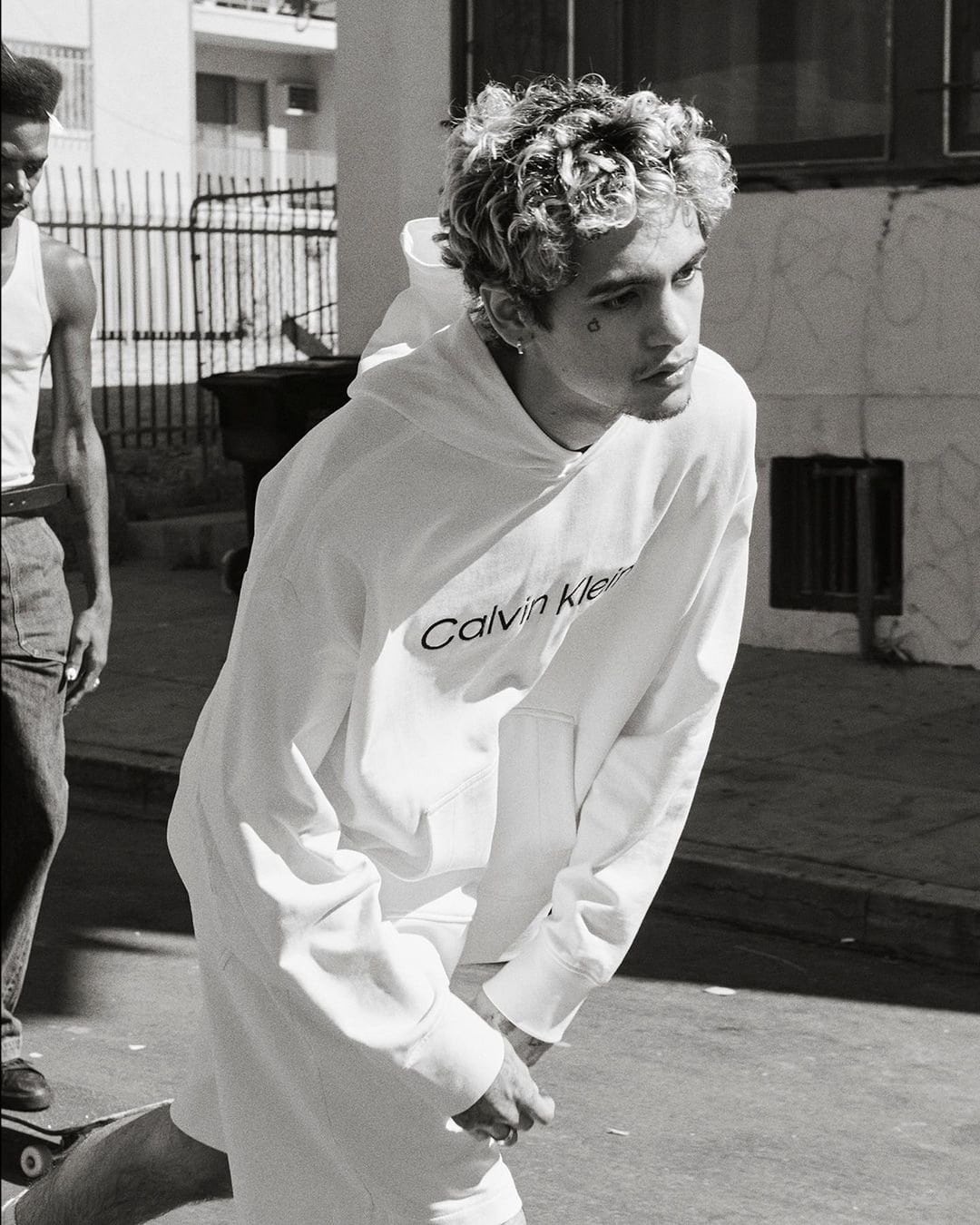 Dominic Fike in his #mycalvins ad photographed by Glen Luchford for Calvin Klein (Credit: Dominic Fike's Instagram)
Channeling an extraterrestrial warrior princess
Last year, Schafer stunned at the Met Gala in a fantastical look dripping with '90s pop culture references. She wore a silver two-piece set from Prada's Spring 1999 collection that featured square-cut jewels.
It consisted of a tight-fitting skirt and a structured crop top, which looked like a shield and gave off a warrior princess vibe.
She finished off her look with a blunt bob, black heels, sculptural nails, contact lenses with a white-out effect, and a white-gold Evangeline AdaLioryn brooch resting across the bridge of her nose.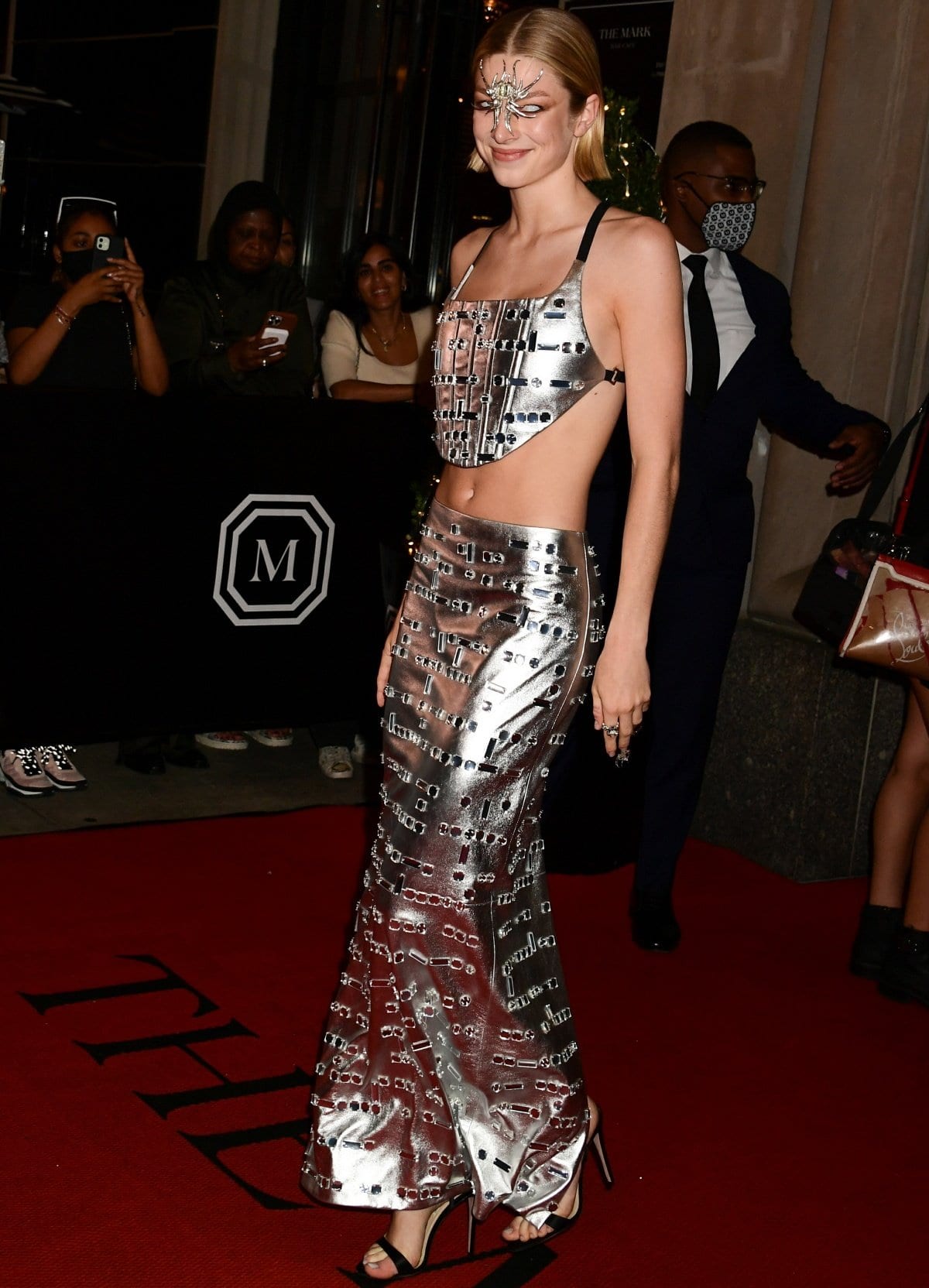 Hunter Schafer leaving The Mark to attend the 2021 Met Gala in a Prada Spring 1999 silver two-piece look (Credit: JENNIFER GRAYLOCK / INSTARimages)
Making their blue-carpet debut as a couple
Earlier this year, the pair made their debut on the blue carpet at the Vanity Fair Oscar Party.
They joined other couples such as Ciara and husband Russell Wilson, Heidi Klum and husband Tom Kaulitz, Kourtney Kardashian and husband Travis Barker, and a pregnant Sophie Turner with husband Joe Jonas.
The combination of their good looks, incredible style, and magnetism captured everyone's attention as they stayed close to each other during the star-studded event.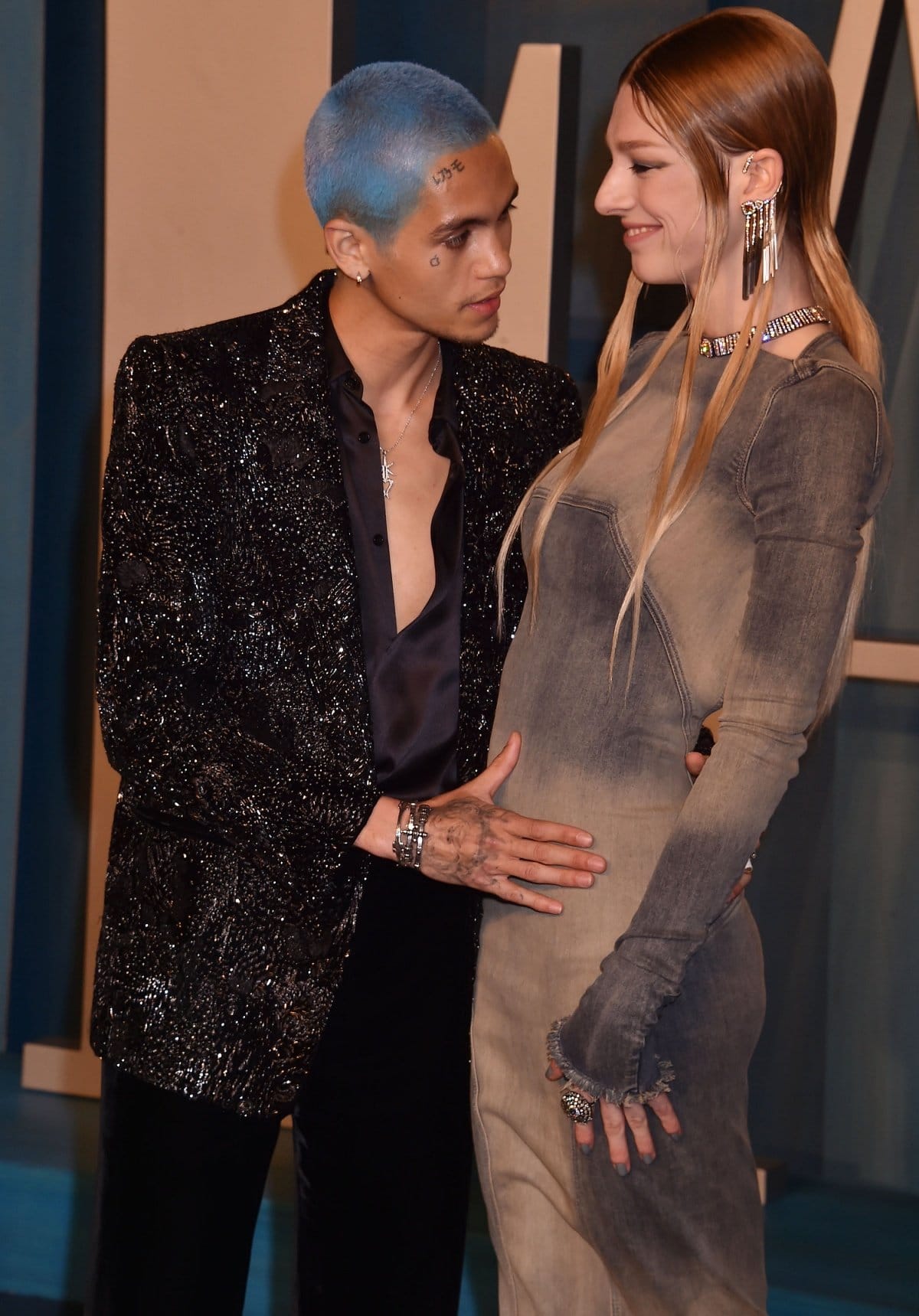 Dominic Fike and Hunter Schafer making their blue-carpet debut as a couple at the 2022 Vanity Fair Oscar Party held at the Wallis Annenberg Center for the Performing Arts in Beverly Hills, California, on March 27, 2022 (Credit: PAPIXS / INSTARimages)
Fike oozed bad-boy charm in his head-to-toe Saint Laurent look. He wore a black embroidered jacket over a silk shirt tucked into a pair of black velvet pants.
Meanwhile, Schafer showed off her statuesque silhouette in a Rick Owens Fall 2022 faded denim fishtail gown. Her blue-grey eyeshadow matched Fike's blue buzzcut, which tied their looks together. She finished it off with nude pink lips, a wet-hair look with a clean center part, and De Beers jewelry.
Dominic Fike in head-to-toe Saint Laurent and Hunter Schafer in a Rick Owens Fall 2022 dress at the 2022 Vanity Fair Oscar Party (Credit: INSTARimages)
There's no denying that Dominic Fike and Hunter Schafer are two of the coolest people in Hollywood at the moment. Their charm, incredible talent, and je ne sais quoi propel them to even greater heights.
Here's hoping that their relationship will last so they can slay Hollywood together. We look forward to seeing more of these two in the future.