After announcing that they're expecting baby number two, Joe Jonas and Sophie Turner swapped bedtime for the Vanity Fair Oscar Party.
The celebrity couple kept their look classic with Louis Vuitton outfits, complete with Tiffany & Co. and Louis Vuitton jewelry.
Sophie Turner in a red dress and Joe Jonas in a wool suit at the 2022 Vanity Fair Oscar Party on March 27, 2022, at the Wallis Annenberg Center for the Performing Arts in Beverly Hills, California (Credit: PAPIXS / INSTARimages)
Former Game of Thrones star Sophie Turner walked the Vanity Fair red carpet in a custom-made silk dress designed by Louis Vuitton.
The dress had a vintage-inspired silhouette with its white zipper detailing and pleated skirt. The expectant mother finished off her outfit with gold sandals and jewelry from the French brand's High Jewelry Collection.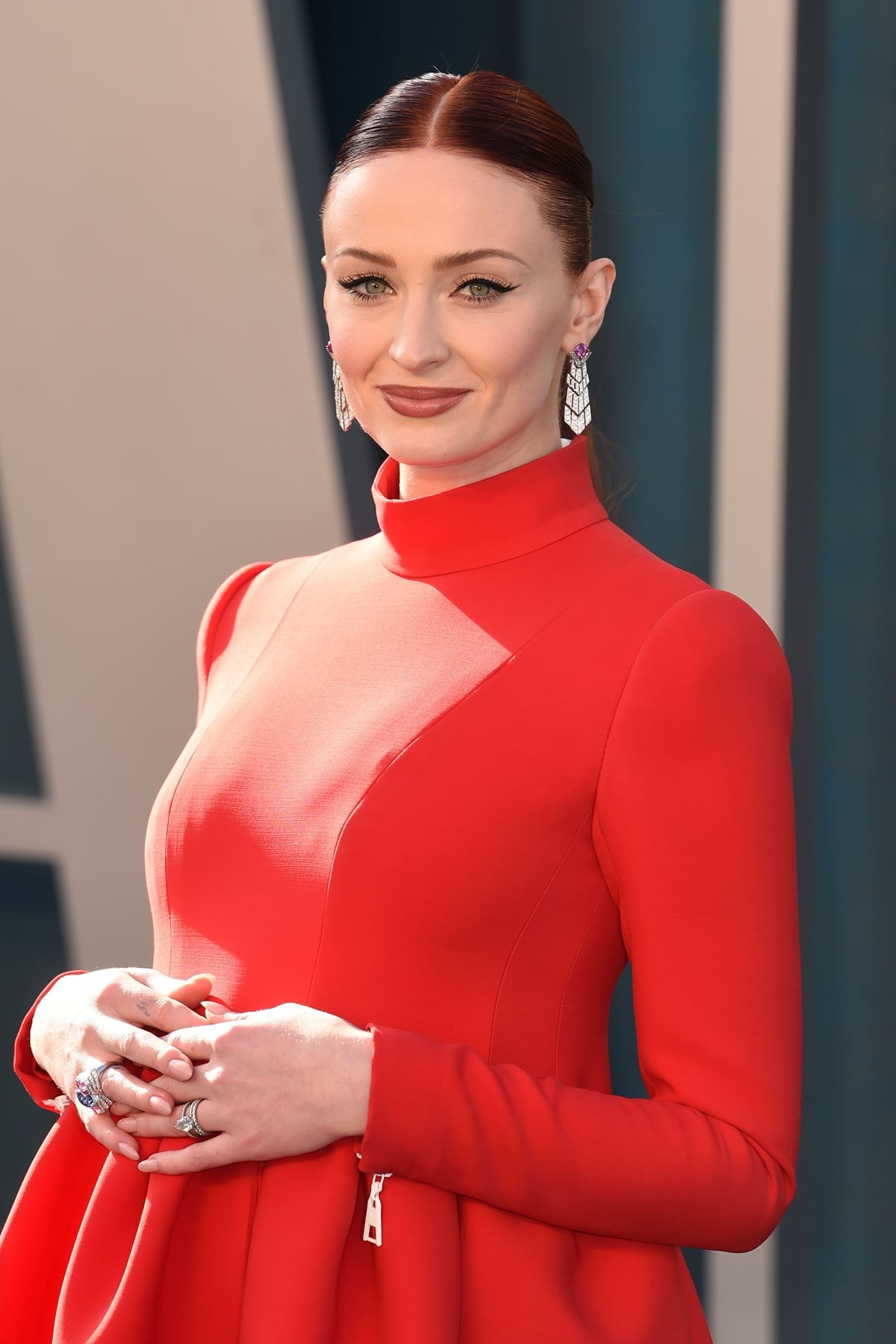 Sophie Turner showed off her baby bump in a scarlet red full-sleeve high neck Louis Vuitton dress with glittering jewelry (Credit: INSTARimages)
Her husband, Joe Jonas, was also wearing Louis Vuitton with a crystal embroidered wool suit. While Sophie dazzled in Louis Vuitton jewelry, Joe's jewelry was provided by Tiffany & Co.
Speaking of Sansa, er Sophie Turner, in April 2014 the actress was spotted attending the season 4 premiere of 'Game of Thrones' in Paris.
Sophie Turner in a black Mauro Grifoni pointy collar dress at the 'Game of Thrones, Season 4' Paris premiere at Le Grand Rex on April 2, 2014, in Paris, France (Credit: WENN)

For the occasion, she chose to go classic by wearing an LBD by Italian fashion designer Mauro Grifoni, but she infused her look with subtle twists by sporting a braided updo and by pairing the dress with flirty peep-toe, t-strap sandals fashioned with tiny bow detail at the t-bar.
At the time, everyone was talking about "The Lion and the Rose," the second episode of the fourth season of HBO's fantasy television series Game of Thrones. The episode written by George R. R. Martin aired on April 13, 2014.
How Did They Get the Poison in Joffrey's Cup?
In the critically acclaimed episode, Joffrey Baratheon dies after drinking poisoned wine at his royal wedding reception.
Several people were wondering who killed King Joffrey. No, it wasn't his uncle, Tyrion, although he was implicated. It was Olenna Tyrell, the matriarch of the Tyrell clan and grandmother to Lady Margaery.
She took a poisoned stone from Sansa's necklace and put it in Joffrey's wine glass.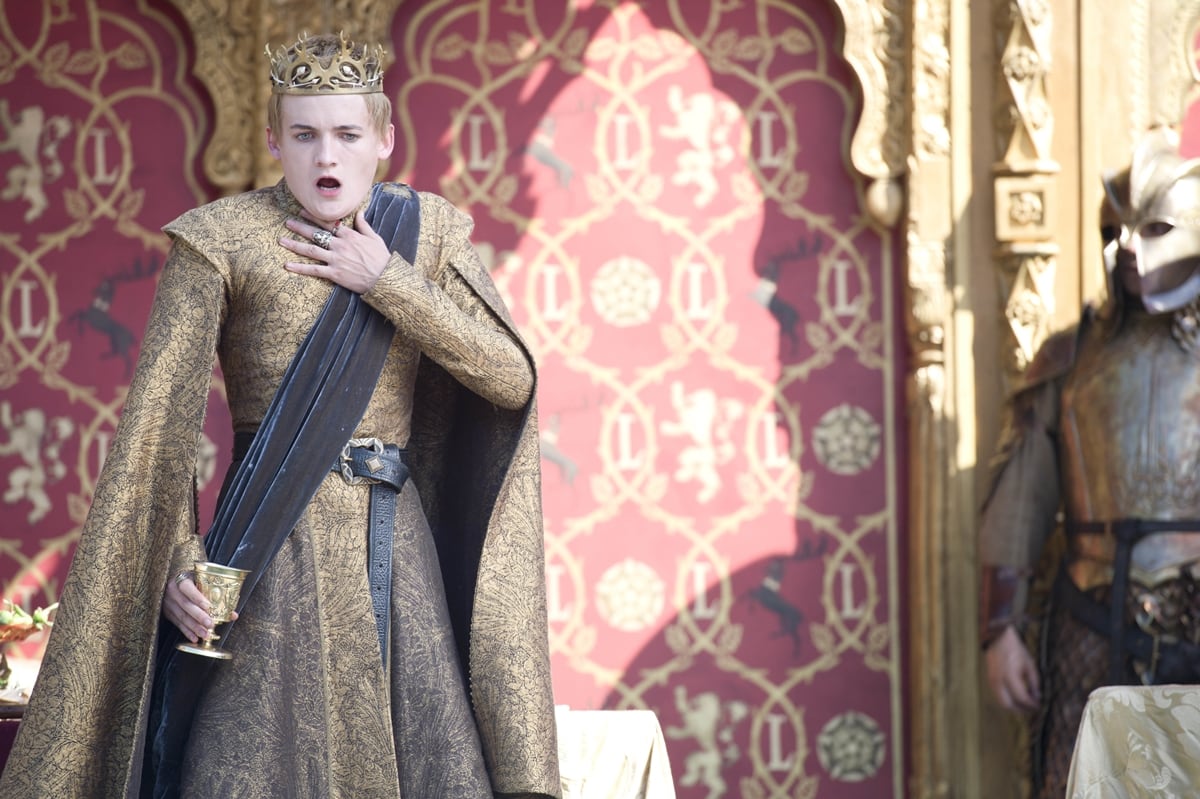 Jack Gleeson as Joffrey Baratheon dies from poisoned wine due to a plot by Lady Olenna Tyrell and Lord Petyr Baelish (Credit: HBO)
Actually, scrap that. It was Little Finger's doing (remember him?), and Olenna was simply the "instrument." Also unaware of her part in the murder was Sansa Stark (played by Sophie Turner).
The poison used to kill the king was stored in one of the "vials" attached to her necklace, a gift that was given to her by Olenna. It's a complicated web, so it's best to follow the series.
Game Of Thrones star Sophie Turner with screen husband-to-be Jack Gleeson (Credit: HBO)
"This is the best season for me. Sansa kind of takes a very unexpected path both for viewers and for her and she learns a lot this season," Sophie told EW about the fourth season premiere of her hit show Game Of Thrones.
"She becomes her own person instead of relying on Margaery or Cersei's influence as in the past seasons. She develops her own personality and her own way of being, if you will. And she just totally transforms. It's just gonna be a really good season, and I just think there's a lot of kind of twists in it. It's more than just the normal Game of Thrones."
Sophie Turner's feet in bow-detailed t-strap heels (Credit: WENN)
We can't say we love the mix she put together, but she didn't look bad either. The outfit was nothing exciting, but the shoes she wore were a totally different case.
They looked old-fashioned yet surprisingly sexy and feminine. They're from Christian Louboutin — meet the "Belly Nodo" t-straps that you can buy at Mytheresa.
Christian Louboutin "Belly Nodo" T-Strap Sandals in Black, $895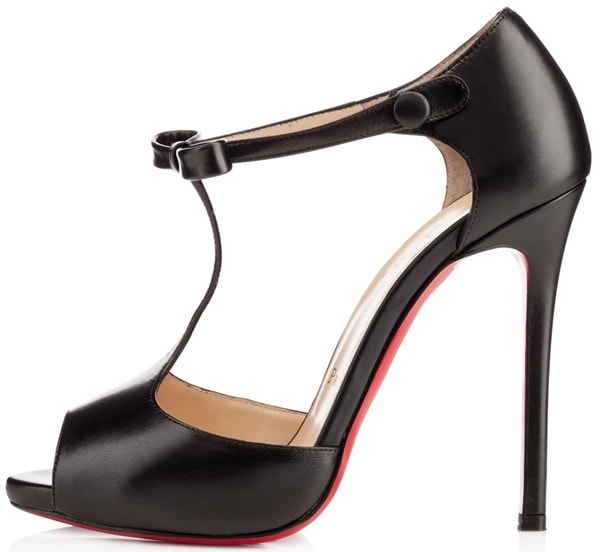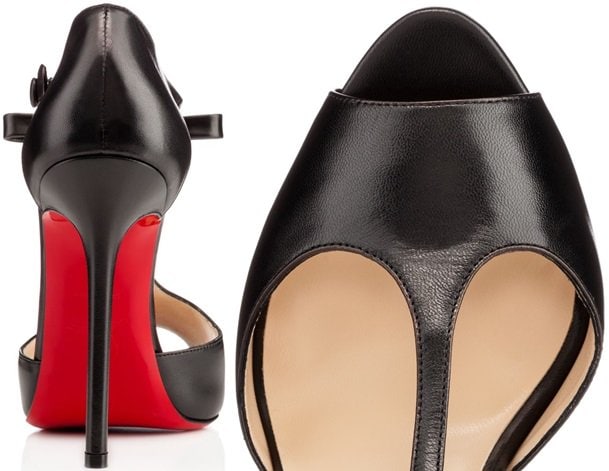 These sandals feature an elegant and demure t-strap silhouette that will remind you of dancing shoes.
Only, you really can't dance in them the whole night because the pin-thin heels are 120 mm tall, or a little over 4 inches. They're quite ladylike, especially with the bows that sit delightfully on the ankle straps.
So, do you fancy the 'Belly Nodo' heels? They are also available in white at Nordstrom.
Christian Louboutin "Belly Nodo" T-Strap Sandals in White, $895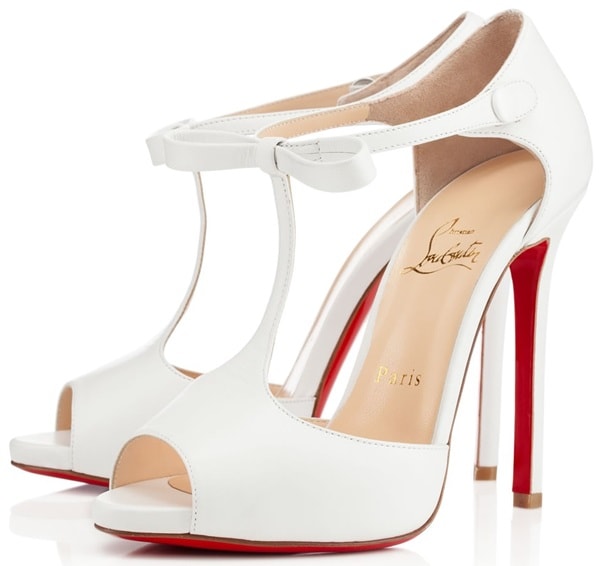 Alternatively, if your budget can't take spending $900 on shoes, you may try the following pocket-friendly styles from Zappos that won't cause too much damage to your wallet.
Sadly, these don't come with bows on them:
Geox "D Liz" T-Strap Sandals, $180
Guess "Amity" T-Strap Sandals, $90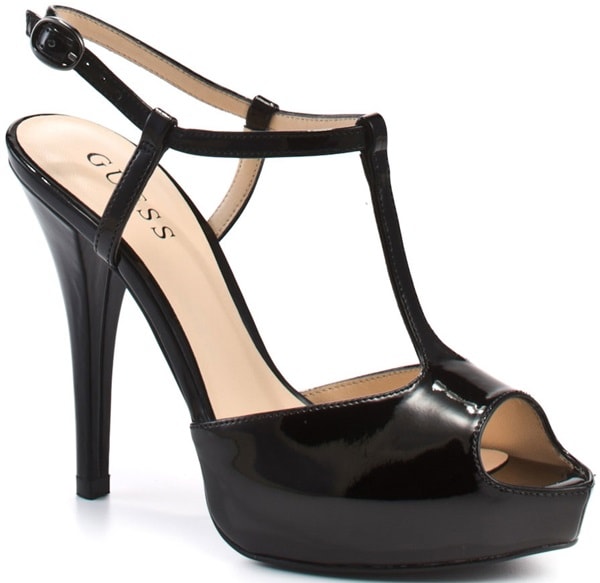 Michael Antonio "Tipton" T-Strap Sandals, $50
Steven "Rita" T-Strap Sandals, $129