The Vanity Fair Oscars afterparty is a top conclusion to the Oscars and with a star-studded guest list.
The event was held at the Wallis Annenberg Center for the Performing Arts in Beverly and gave celebs another chance to exude glamour after the Oscars.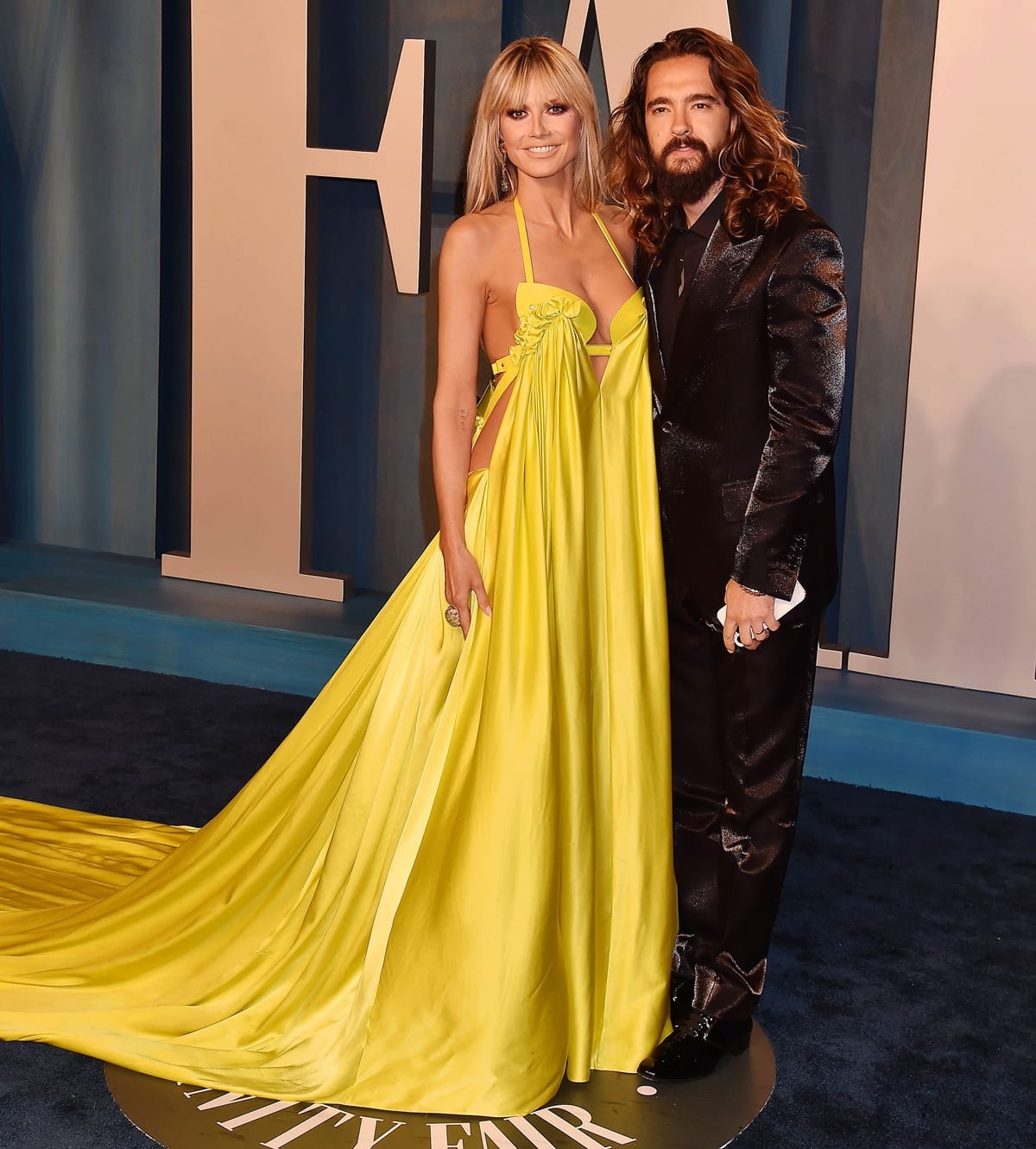 Heidi Klum in a yellow AZ Factory Spring 2022 gown with her husband Tom Kaulitz at the 2022 Vanity Fair Oscar Party hosted by Radhika Jones at Wallis Annenberg Center for the Performing Arts on March 27, 2022, in Beverly Hills, California (Credit: PAPIXS / INSTARimages)
Supermodel Heidi Klum, 48, turned heads on the navy carpet, accompanied by her husband, Tom Kaulitz, 32. The pair put on a loved-up display, with Klum wearing an AZ Factory Spring 2022 gown.
The Afterparty Look
The dress from Alber Elbaz's fashion label that Klum donned for the afterparty featured a cutout top with thin straps, a low back, and a midriff cutout which gave the dress a sleek update.
The flowing yellow silk garment featured a wide skirt and a dramatic train. Structured cups appeared to hold up the pleated train of the bold gown.
Heidi Klum's yellow dress is being compared to an ugly breast pump a yellow sheet falling off a bra (Credit: INSTARimages)
She accessorized the dress by donning a pair of sparkling Lorraine Schwartz drop earrings.
Her choice in footwear was concealed mainly by the pleated gown's hem, but a pair of Gianvito Rossi Metropolis sandals with PVC straps peeped out from under the yellow silk.
Available at Mytheresa, the heels had an estimated height of 3-4 inches. Similar heels were also worn by Regina Hall and Kristen Stewart during the evening.
Haute Couture Misses the Mark
Sometimes haute couture fashion misses the mark, with people commenting that Klum's yellow silk dress looks "like a fabric breast pump."
A Twitter commenter pointed out that "If that dress was on Project Runway, Heidi would have scribbled "needs support" on her PR comment card, and Nina Garcia would have said, "looks too much like an arts & crafts project."
Fashion critics didn't have anything positive to say about Heidi Klum's dress at the 2022 Vanity Fair Oscar Party (Credit: PAPIXS / INSTARimages)
Earlier in the evening, Klum had donned a stunning embroidered silver Ellie Saab Spring 2022 Haute Couture mini dress with a feathered cape to the Elton John AIDS Foundation 30th Annual Academy Awards Viewing Party.
Although celebrities don't always make the fashion choices that their fans expect of them, the Oscars still wowed viewers with fabulous fashion and stylish flair.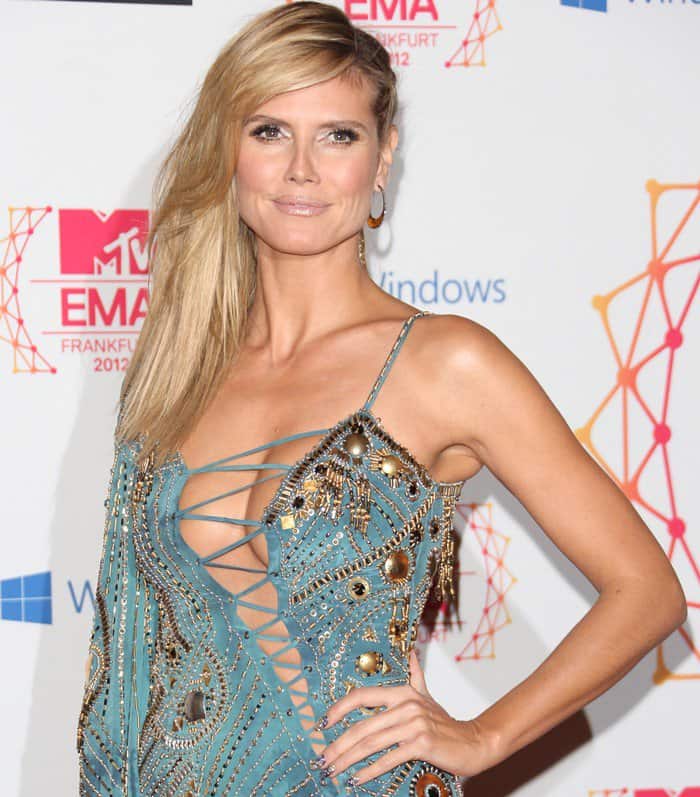 Heidi Klum styled her Versace dress with Lorraine Schwartz jewelry (Credit: Lia Toby / WENN)
If supermodel moms had a Queen B, it would probably be Heidi Klum. The former Victoria's Secret model and 'Project Runway' front definitely still has it.
In fact, she can give her younger counterparts a serious run for their money whenever she wants to, especially when it comes to dressing daringly sexy on the red carpet.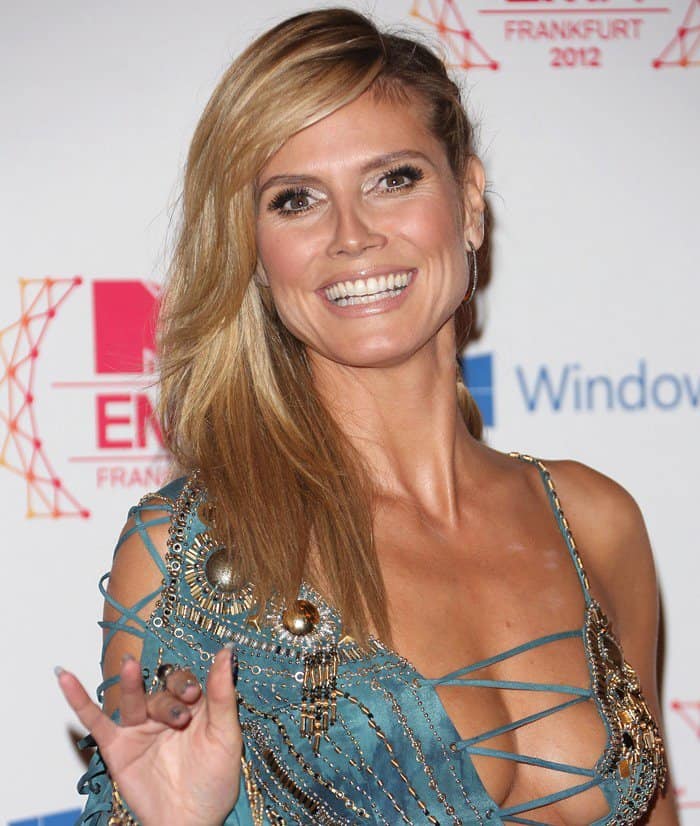 Heidi Klum flaunted her boobs in a teal one-sleeve Versace dress featuring gold beading and an asymmetrical plunging neckline (Credit: Lia Toby / WENN)
A case in point is the va-va-voom look she pulled off at the 2012 MTV EMAs (Europe Music Awards) held in Germany in November 2012.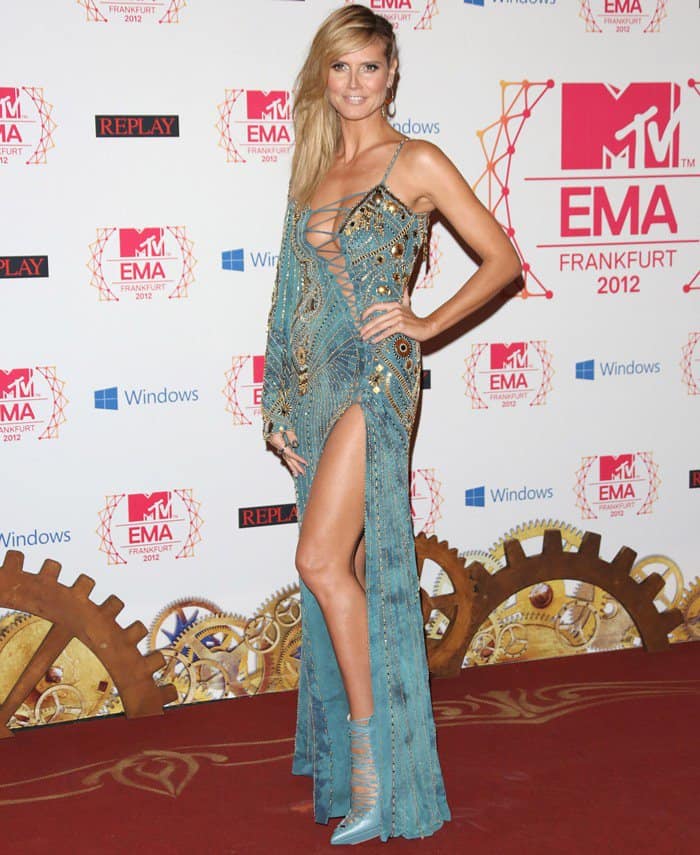 Heidi Klum hosted the MTV Europe Music Awards 2012 held at Festhalle Frankfurt in Frankfurt am Main, Germany (Credit: Lia Toby / WENN)
Heidi was jaw-droppingly hot in a gold-embellished dusty blue gown that was highly revealing — fashioned with a thigh-high slit that showed off a lot of her leg and an insanely deep lace-up neckline that would have looked almost vulgar had the dress not been tastefully done.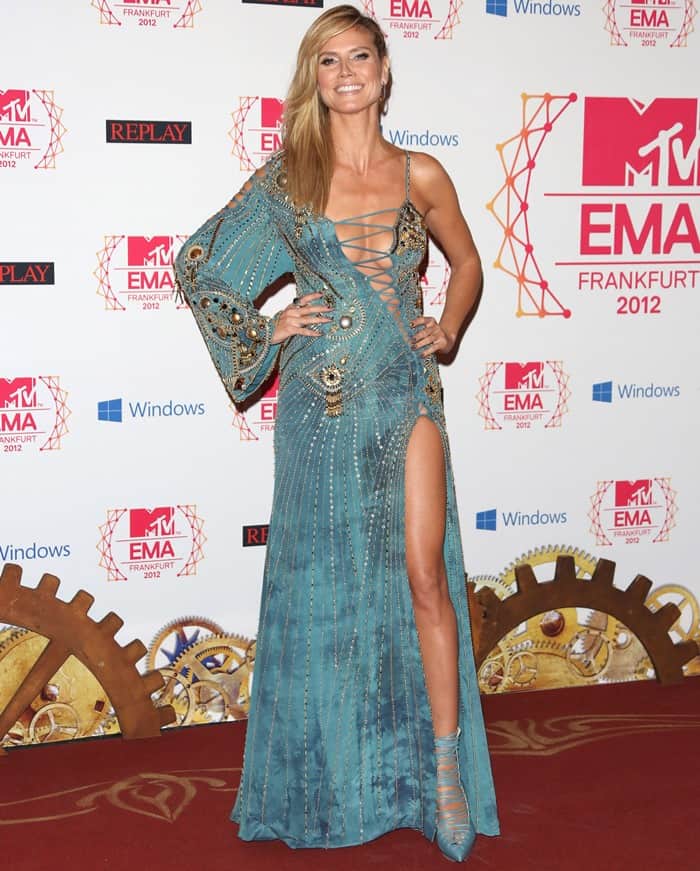 Heidi Klum on the red carpet of the MTV Europe Music Awards 2012 held at Festhalle Frankfurt in Frankfurt am Main, Germany on November 11, 2012 (Credit: Lia Toby / WENN)
Well, what do you think of Heidi's red carpet style? Yep, a tad risque but seriously wow, right?
She certainly left us speechless for a few seconds, that much we can say. But while the dress was stunning and her hair was perfectly styled, what made us do a double-take were the equally blue tie-up pointy-toe heels on her feet.
Heidi Klum wears shoes that are a hybrid of pumps and booties (Credit: Lia Toby / WENN)
Now, those are some seriously interesting shoes! They're like a hybrid of pumps and booties. Do you like them? Would you wear a pair?
Heidi Klum displays her feet in Versace shoes (Credit: Lia Toby / WENN)
For the curious fanatics, Heidi's look is from Versace's Spring 2013 collection. You can check out the latest from the luxury clothing brand at Farfetch and Nordstrom.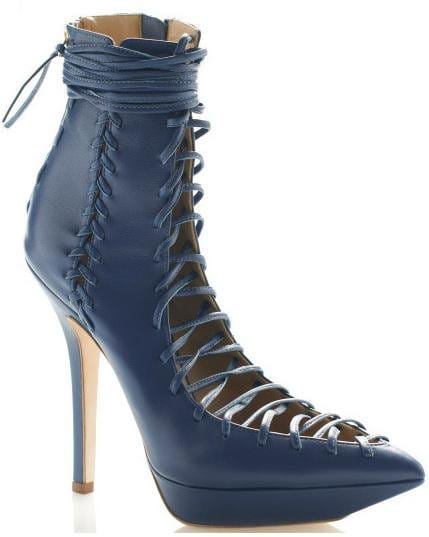 Versace Spring 2013 Lace-Up Booties
If you can't wait and you're willing to spend, you may try the following lace-up booties from Cesare Paciotti instead.
Cesare Paciotti Lace-Up Booties, $732