It seems that Heidi Klum has found her "Happily Ever After" in the arms of Tokio Hotel guitarist, Tom Kaulitz. The supermodel has spent years in and out of relationships under the magnifying glass of public scrutiny. Has she found the one?
Heidi Klum Gets Her Start in Modeling
Heidi Klum has become one of the most recognizable celebrities on the planet. Originally from Germany, Heidi first began modeling in 1992 after winning a $300,000 modeling contract from a contest at age 19.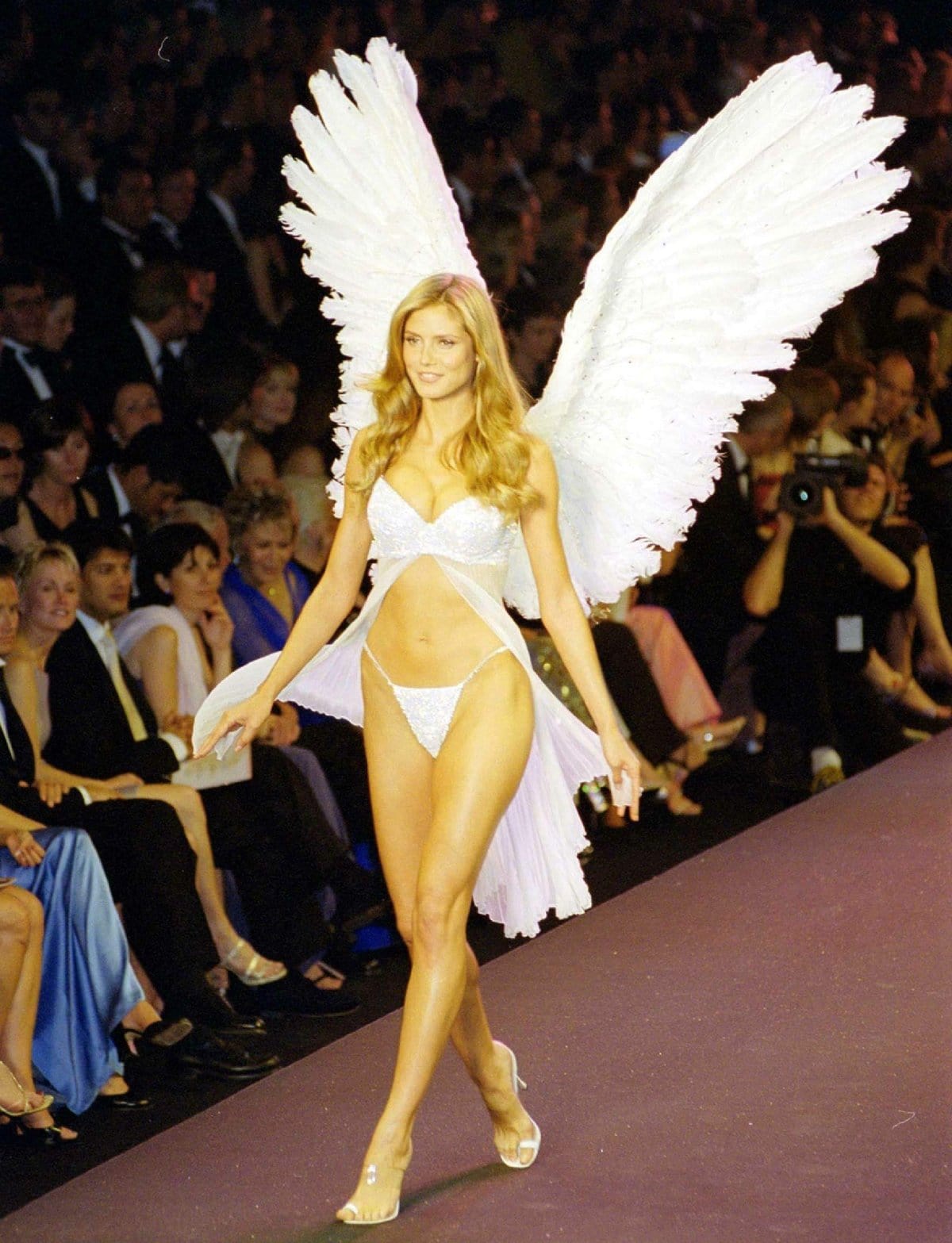 Model Heidi Klum on the runway at Victoria's Secret fashion show benefit for amfAR, Cinema Against Aids 2000 at the Cannes Film Festival on May 18, 2000 (Credit: WENN)
She then struck stardom on the cover of 1998's Sports Illustrated Swimsuit edition. It wasn't long before she was tapped for one of the coveted positions as a Victoria's Secret Angel.
She was the first German Angel on the team and paved the way for more international modeling superstars to make the leap across the pond.
Heidi Klum's Television and Movie Career
After appearing in the Victoria's Secret televised runway shows, it was clear that Klum held a sparkle that could be captured by cameras for television and movies. She also has a fantastic, bubbly personality and a flare for fashion.
After hosting the Victoria's Secret Fashion Show for several years, she was asked to appear as a host and judge on shows like Germany's Next Top Model and Project Runway.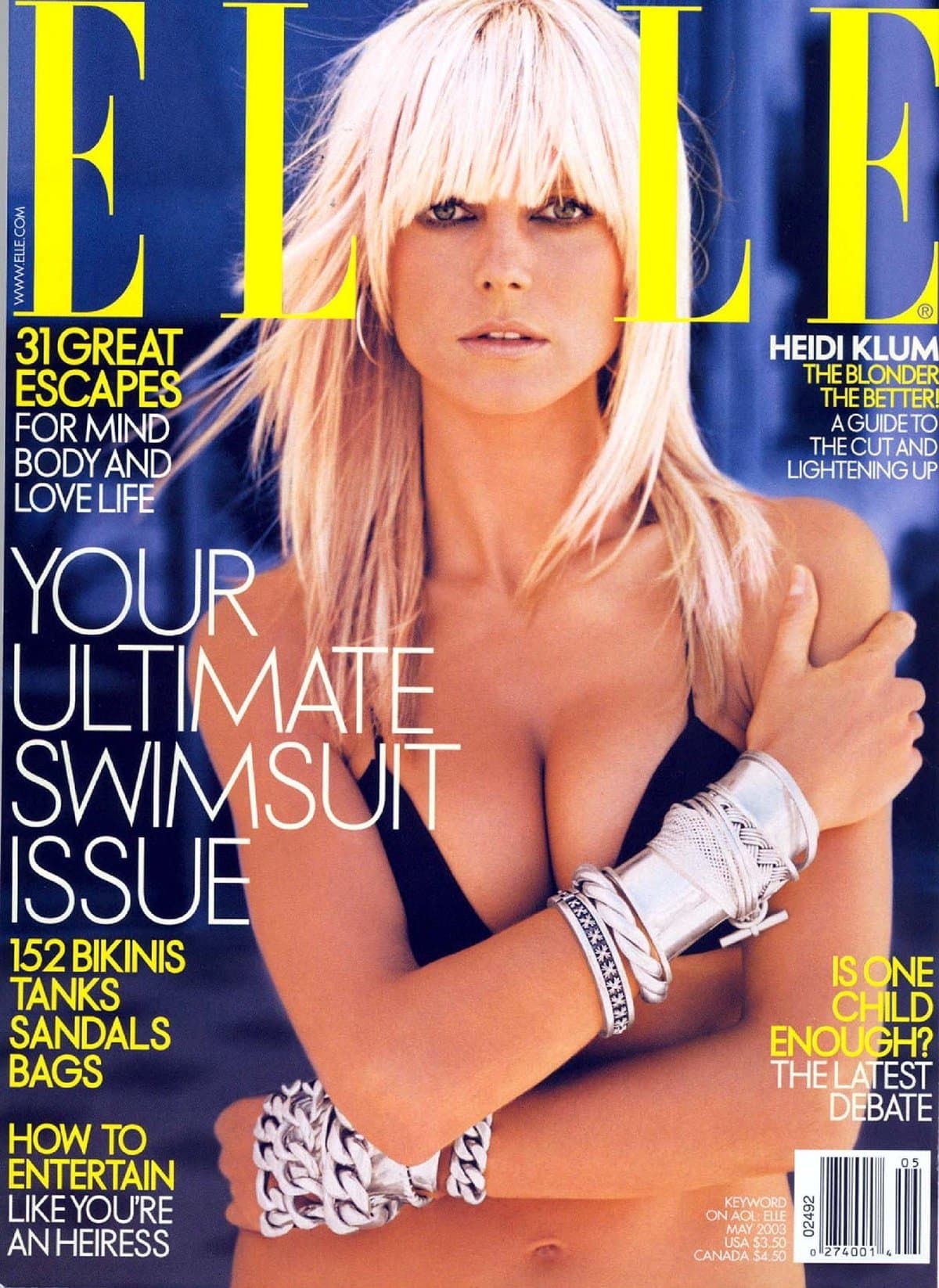 Heidi Klum on the cover of the May 2003 issue of Elle magazine (Credit: WENN)
She has also been featured on shows like Spin City, Sex and the City, and How I Met Your Mother. Heidi, alongside fashion legend, Tim Gunn, earned her a Primetime Emmy Nomination for her work on Project Runway.
Heidi is also no stranger to the big screen, playing in films like Ella Enchanted and Blow Dry. She also made several cameo appearances in movies like The Devil Wears Prada and Perfect Stranger.
Heidi Klum's Previous Marriages
As a highly publicized celebrity, Heidi has been known to quickly fall in love.
"I love being in love, Like when you have butterflies in your stomach and when you feel great," Heidi once told Closer magazine.
Heidi's First Husband, Ric Pipino
Her first marriage was to celebrity stylist, Ric Pipino. Pipino is Australian and has often worked on photoshoots like Sports Illustrated.
Heidi Klum outside the Ivy Restaurant in Beverly Hills waiting for a cab with her hairdresser husband Ric Pipino on March 26, 2001 (Credit: WENN)
The two were wed in 1997 following a brief engagement; however, they divorced in 2002 after five years.
Heidi Klum is Mother to Leni, Biological Daughter of Formula 1 Chief, Flavio Briatore
Following her divorce from Pipino, Heidi had a brief romance with billionaire Flavio Briatore. Briatore is best known for his work as a Formula 1 racing team chief and his history of dating beautiful supermodels.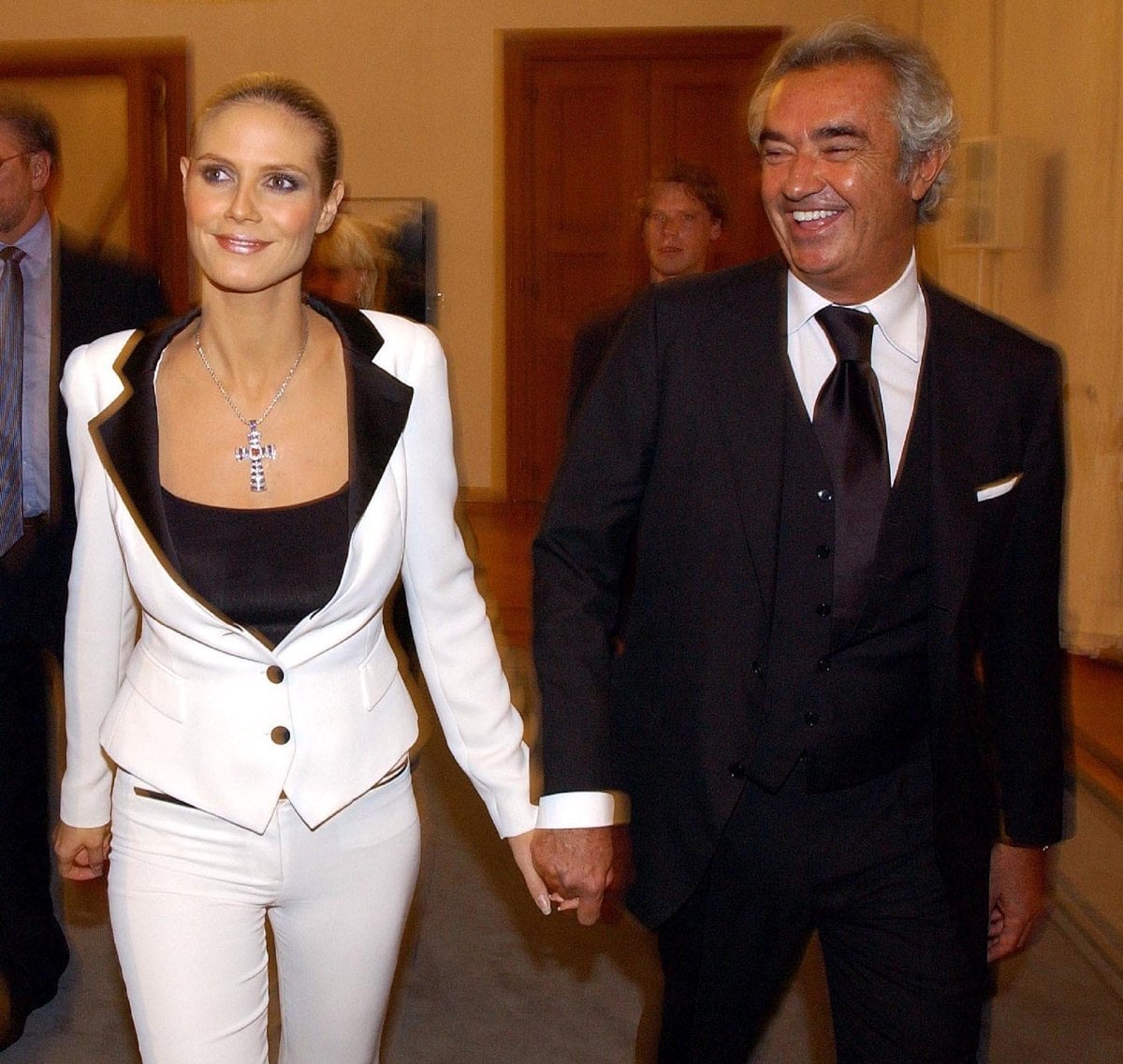 Heidi Klum and boyfriend Flavio Briatore at a charity gala for the German children and youth fund on October 21, 2003 (Credit: WENN / SCHROEWIG)
The two separated shortly after Heidi Klum found that she was expecting Flavio's child, Klum's first.
Heidi Klum's Second Husband, Seal
In the few months following the breakup, Heidi met her second husband, world-renowned musician, Seal, in the lobby of a New York hotel.
The two, who have often described their immediate attraction as "magnetic," were married the following year in 2005 after the birth of Heidi's daughter, Leni Olumi Klum. Seal went on to adopt Lenni as his own child.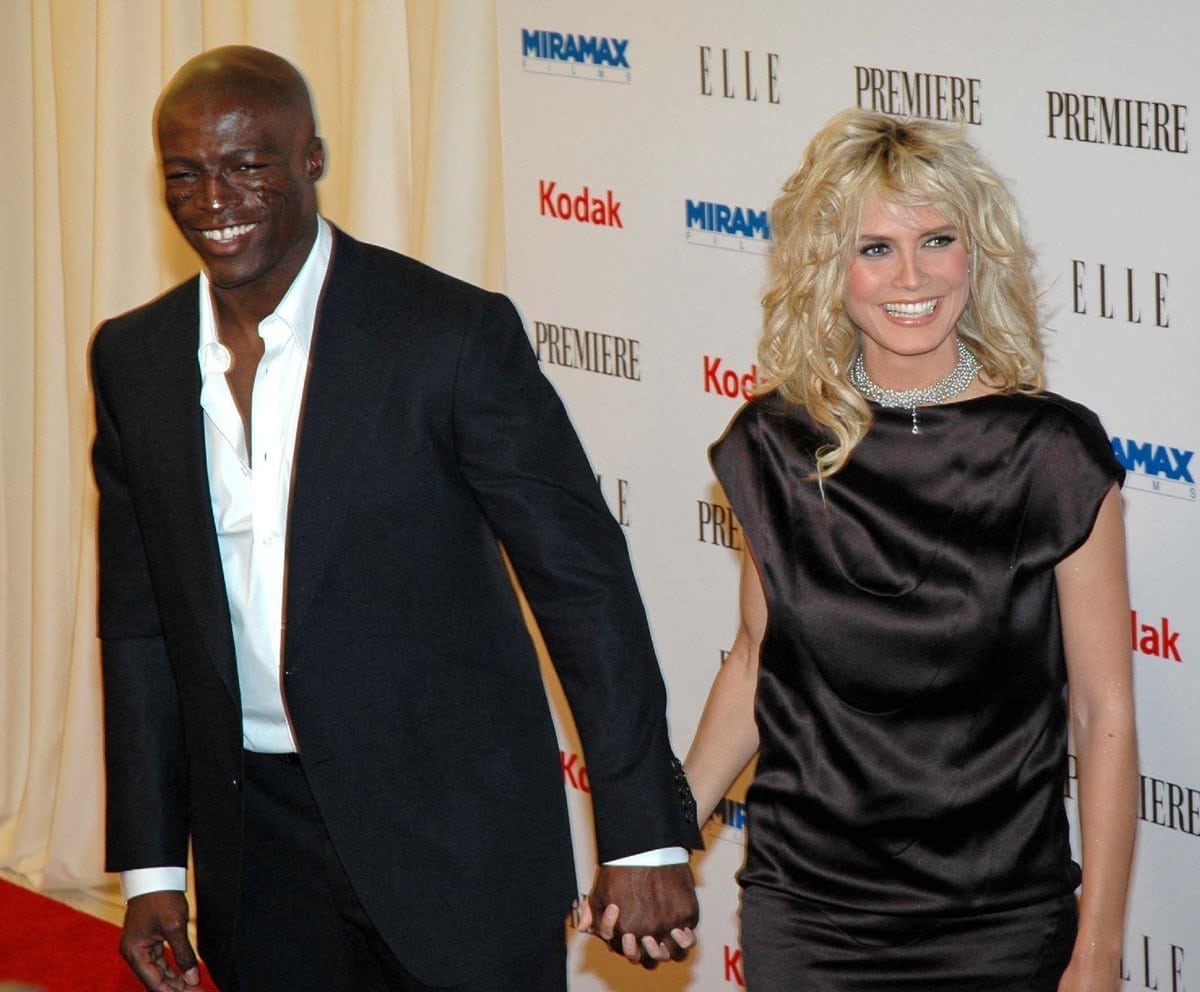 Heidi Klum and British singer-songwriter Seal announced their shocking separation on January 22, 2012 (Credit: Dimitri Halkidis / WENN)
Their engagement, which took place in a custom-built igloo atop an isolated mountain in Whistler, B.C., was every bit as romantic and eccentric as the couple.
Their marriage seemed to be the stuff of storybooks, with two beautiful and intriguing souls gushing to media outlets about their idealistic relationship and public displays of affection. The two had three more children, Lou, Henry, and Johan.
Heidi's Divorce from Seal
Unfortunately, their relationship started to take a darker turn when the two started to grow apart during busy professional seasons.
Additionally, it's said that Seal's anger issues drove a wedge between himself and the rest of their family. They eventually separated in 2012 and divorced in 2014, with Heidi maintaining custody of the children and Seal maintaining visitation rights.
The British singer-songwriter and German model are reportedly struggling to remain friends.
Heidi Stepped Out With… Her Bodyguard?
Following her separation from Seal, Heidi was spotted out and about with bodyguard, Martin Kirsten.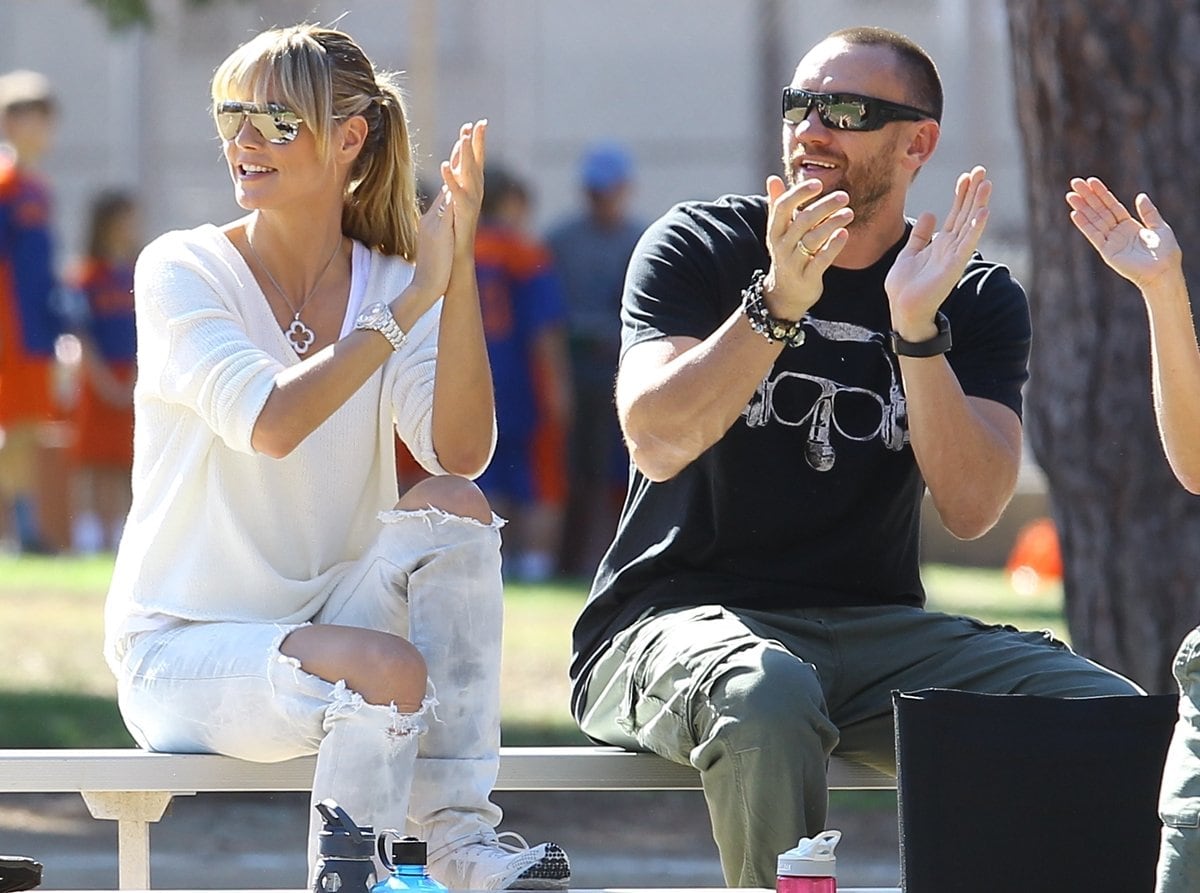 Heidi Klum attends football practice with her boyfriend Martin Kirsten in Brentwood on November 2, 2003 (Credit: WENN)
Their relationship was short-lived; however, it made some waves among critics that slammed Heidi for moving on so quickly. Even Seal chimed in, thrashing her for associating with "the help," as he put it.
Heidi Finds Love With Art Dealer, Vito Schnabel
In 2014, Klum developed a relationship with Vito Schnabel, who has several art galleries to his name, both in the U.S. and Internationally.
The two appeared very much in love, putting on quite the display of affection for cameras and fans.
After three years, however, the distance between Heidi's work in Los Angeles and Vito's work in New York proved to be too much for their relationship. The pair split in 2017.
Who is Tom Kaulitz?
Most Americans may be unaware of Tom Kaulitz's notoriety outside of his association with Heidi Klum. Tom Kaulitz is a guitarist for the German band Tokio Hotel.
German group Tokio Hotel (L-R) Bill Kaulitz, Tom Kaulitz, Georg Listing, and Gustav Schaefer at the 2006 World Music Awards at Earls Court on November 15, 2006, in London (Credit: Daniel Deme / WENN)
He's not to be confused with his identical twin brother, Billy, who is the lead singer of Tokio Hotel. The twins began performing music together early in their childhood under the guidance of their stepfather, German rocker Gordon Trümper.
The band rose to fame in the early 2000s following an appearance on the talent show, Star Search.
Heidi Meets Tom Kaulitz During Germany's Next Top Model
In 2018, Heidi and Tom were introduced while Heidi was filming Germany's Next Top Model, by a mutual friend. The two were divorcees and recently out of long-term relationships.
Heidi Klum and her 17 years younger boyfriend Tom Kaulitz couldn't keep their hands off each other after meeting in 2018 (Credit: WENN)
Heidi is 17 years older than Tom, but the age gap didn't eclipse the obvious magnetism between the two. Hopefully, he won't be overdosing on Viagra pills.
Rumors of their relationship swirled, as onlookers caught glimpses of Heidi and Tom getting closer in the following months.
Heidi and Tom Kaulitz Make it Official
The couple started publicly dating in May of 2018. Pictures of the two filled Heidi's Instagram feed as their relationship progressed.
"He is the kindest, sweetest, most caring, loving person. I feel so lucky. I don't know the last time I was this happy in my life," Heidi told People that year. "Maybe it is because he is German, and we understand each other in a different way."
"For the first time, I have a partner who I can discuss everything with. Someone who shares duties that we all have in our life," she added.
Heidi Klum and Tom Kaulitz married in February 2019, just two months after getting engaged in December 2018 (Credit: WENN)
"I used to be on my own with everything. For the first time, I get to experience what it is actually like to have a partner."
Heidi and Tom occasionally still get pushback on the 17 year age difference, but the German model shrugs off the criticism saying, "You have to just live a happy life without worrying too much about what people think because worrying is only going to give you more wrinkles."
Heidi Klum and Tom Kaulitz's Two Weddings
After only eight months, Tom proposed to Heidi on Christmas Eve, in December of 2018. In an Instagram snap, Heidi displayed the show-stopping ring while draped over Tom's shoulders. "I SAID YES" she captioned the photo.
Details later emerged that Tom had enlisted the help of her four children for the proposal, which included breakfast in bed, accompanied by a ring box.
View this post on Instagram
Two months later in February of 2019, they tied the knot in a secret ceremony in California, alongside only family and select friends. News broke of their marriage months after the ceremony.
View this post on Instagram
They later welcomed friends and family to a larger wedding and celebration in Capri. The second set of vows happened aboard the same yacht that hosted celebrations for both Grace Kelly and Jacqueline Kennedy Onassis.
What do Heidi's Kids Think About Their Mom's New Husband?
Heidi's four children were very much a part in planning Heidi's newest union. Tom and the kids reportedly love each other very much, and the family is doing very well together.
"I think it's working out pretty good," Tom says about his relationship with the kids. He also revealed that he's been teaching the kids how to play guitar.
Heidi and Tom Live Happily Ever After
Two years later, the Klum-Kaulitz crew is still thriving. Heidi regularly appears as a host on America's Got Talent while Kaulitz still works as a singer and songwriter.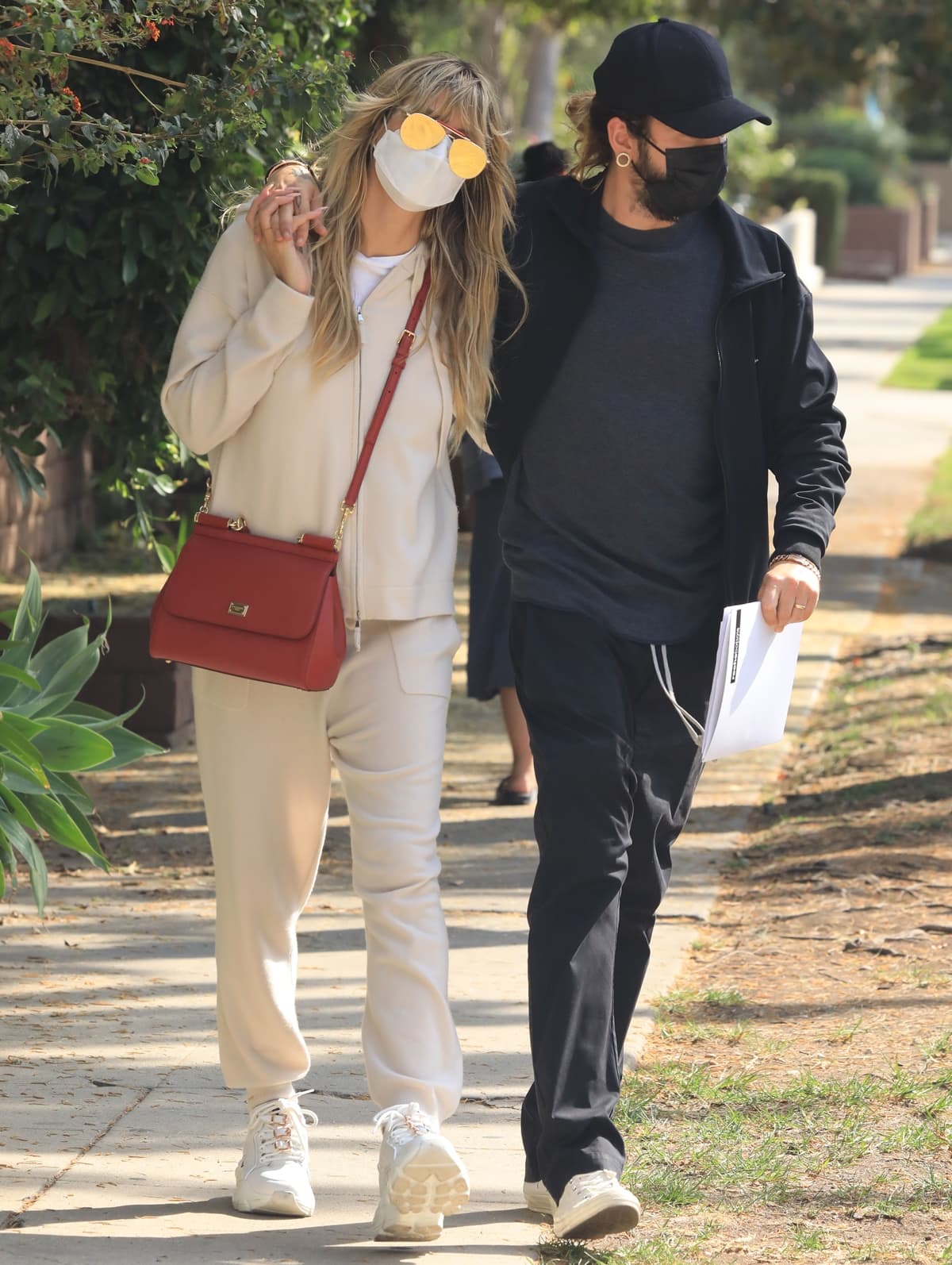 Heidi Klum and Tom Kaulitz out shopping in West Hollywood on September 29, 2021 (Credit: MEGA / WENN)
They report that they do not intend to have more children, rather prefer to enjoy their rather perfect, rather glamorous life together as-is, living happily ever after.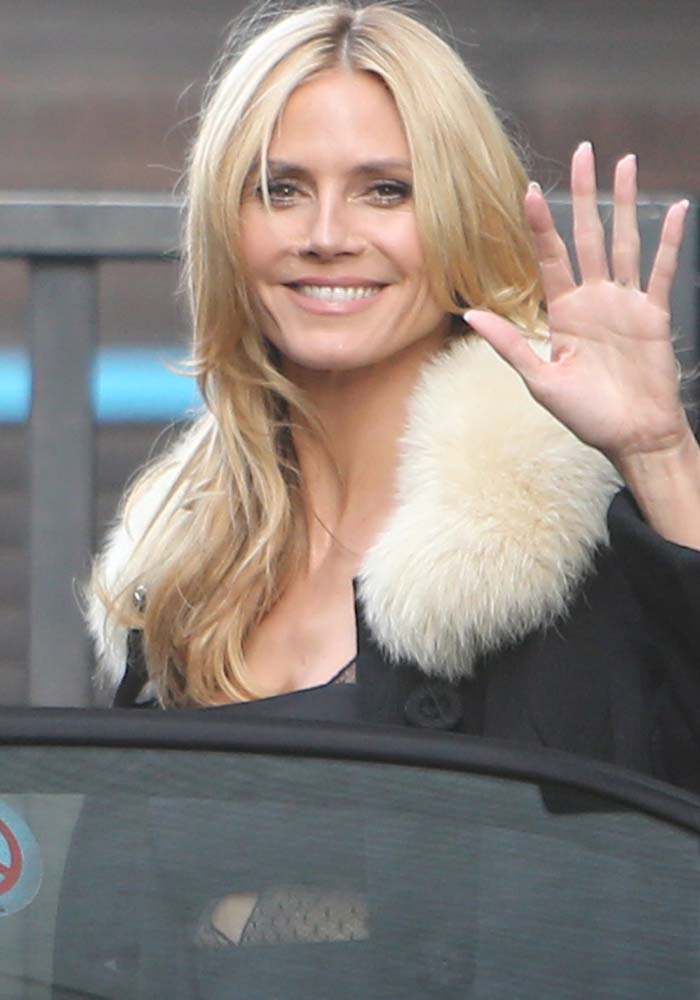 Heidi Klum wears her hair down as she arrives at ITV Studios in London on March 17, 2016 (Credit: Rocky / WENN)
What would be the first thing on your agenda upon arriving in London? We can think of a million things, but dim sum probably wouldn't be it.
In March 2016, Heidi Klum made a quick dash to London following her Kids' Choice Awards appearance, putting dim sum as No. 1 on her to-do list.
The model was spotted outside ITV Studios to guest star on the London-based show "Lorraine."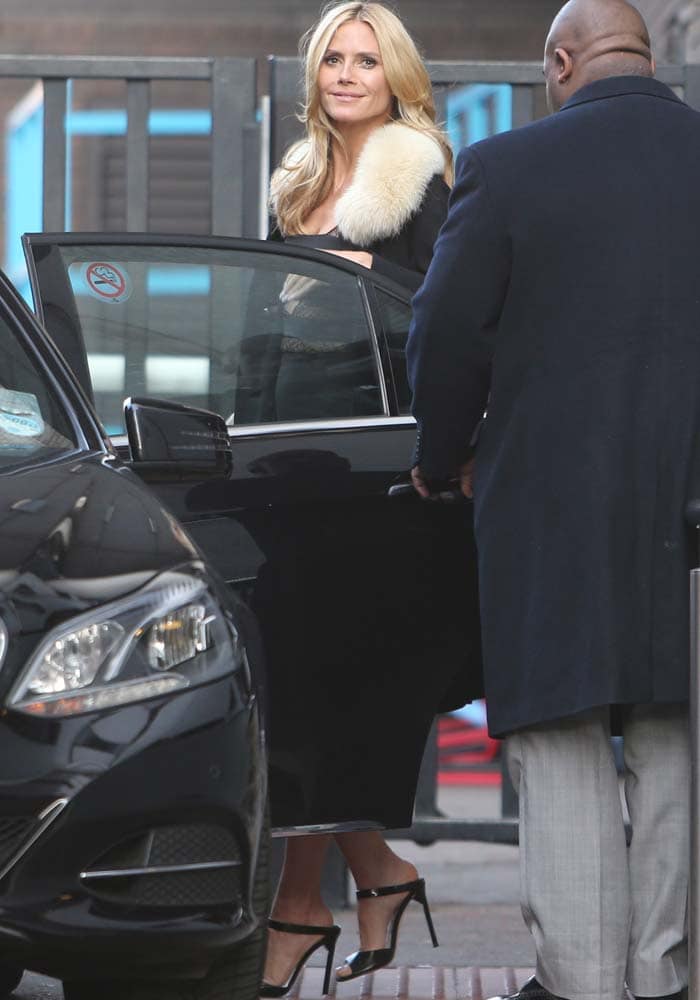 Heidi Klum greets the paparazzi as she exits ITV Studios (Credit: Rocky / WENN)
Heidi was spotted in a fur and leather jacket, which she wore over a sheer dress by Noam Hanoch.
Heidi Klum's feet in black leather Jimmy Choo sandals (Credit: Rocky / WENN)
The then 42-year-old wore her revealing dress with a pair of Jimmy Choo "Deckle" sandals in black leather.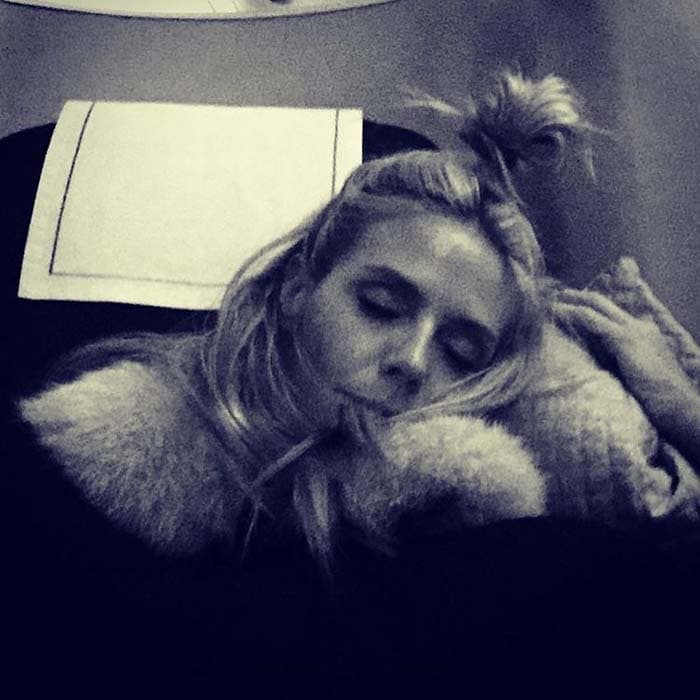 Heidi Klum gets some shut-eye on the plane on her way to London (Credit: Heidi Klum's Instagram)
Heidi must have been excited about her Chinese food because she even uploaded a photo of the menu on her Instagram. As for outfit posts during her London visit, let's just say the dim sum trumped it.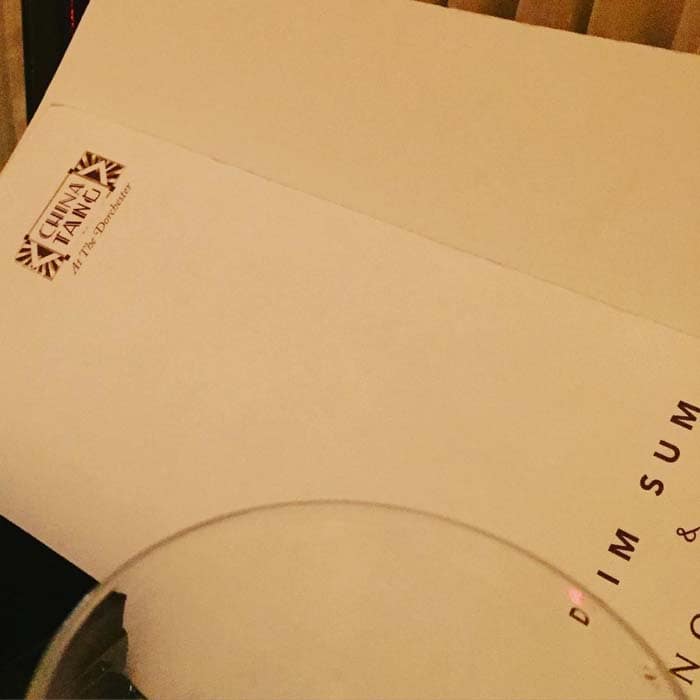 Heidi Klum shows off her dim sum from China Tang at The Dorchester (Credit: Heidi Klum's Instagram)
You can get Heidi's Jimmy Choo "Deckle" sandals in the snake-embossed leather variety at Farfetch.
Snake-Embossed Jimmy Choo 'Deckle' Elaphe Sandals, $950