Earlier this month, Heidi Klum's 16-year-old daughter Helene "Leni" Boshoven Samuel made her modeling debut alongside her mom on the cover of Vogue Germany. Born on May 4, 2004, in New York, her biological father is Italian businessman Flavio Briatore.
Tom Kaulitz's supermodel wife couldn't contain her excitement and shared some sweet words for her daughter on Instagram.
"My dear @leniklum, I'm so proud of you. And it's not because you chose this path. I know that no matter which way you go, it will be your own. You always know exactly what you want and what you don't want. You are not a mini-me. And I'm happy for you that you can now show who YOU ​​are," Heidi wrote in her native German.
Helene "Leni" Boshoven Samuel made her modeling debut alongside her mom Heidi Klum on the cover of Vogue Germany, January/February 2021
The mother-daughter duo was styled by Christiane Arp, who has been at the helm of Vogue Germany as editor-in-chief since March 2003, and fashion director Nicola Knels.
View this post on Instagram
"I know that being my daughter is not always easy. You never had the opportunity to grow up 'normally.' But what is normal? Growing up with three different daddies probably wasn't either. But you have the talent to get the best out of everything. And I would say: none of it harmed you – on the contrary: you are a self-confident young woman who fights for her goals. And even more important: you are a really great person with your heart in the right place," she added.
"I hope that no matter where you are, you always carry what I have given you over the past 16 years. For the big decisions in life, but also for the very little ones. And even if you often don't want to hear your mom's clever advice, here's another one: never do something you don't want to do and always listen to your gut instinct," Heidi went on to say.
View this post on Instagram
"I am sure that an exciting time is waiting for you. Vogue is the best way to start the career you dream of. And even if it is a little difficult for me to let go of you into this world, I will always do everything so that you are happy and that your dreams come true. I am proud to be your mom!"
View this post on Instagram
Rumored to have undergone plastic surgery, Heidi also shared a selfie from the set of Vogue with her mother Erna and 16-year-old daughter Leni.
View this post on Instagram
After a successful run with her lingerie line, in January 2016 Heidi Klum tapped into her businesswoman side once again to expand her retail empire. This time, she debuted a swimwear line.
The German supermodel announced the launch of her Heidi Klum Swim label on her Instagram.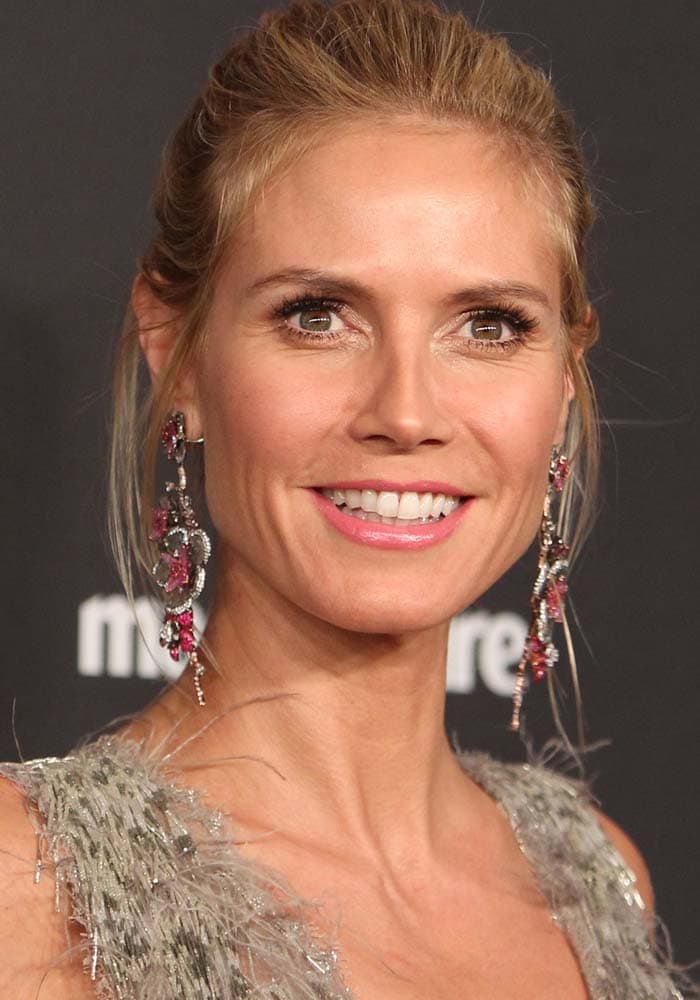 Heidi Klum wears her hair back at the Golden Globes and the Weinstein Company and Netflix 2016 After Party held January 11 at the Beverly Hilton Hotel in Los Angeles
How Heidi managed to do all of this behind the scenes baffled us, especially since she at the time was busy with the Golden Globes.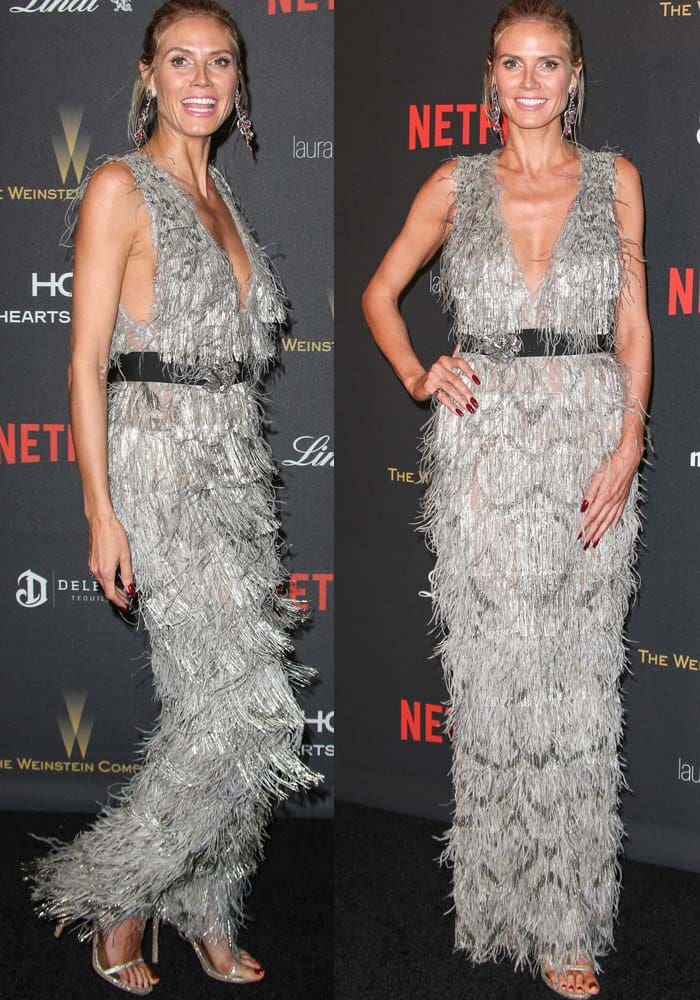 Heidi Klum keeps things fun in a fringe-covered Marchesa dress
The model-turned-host arrived on the red carpet of the prestigious award show in a show-stopping fringe number.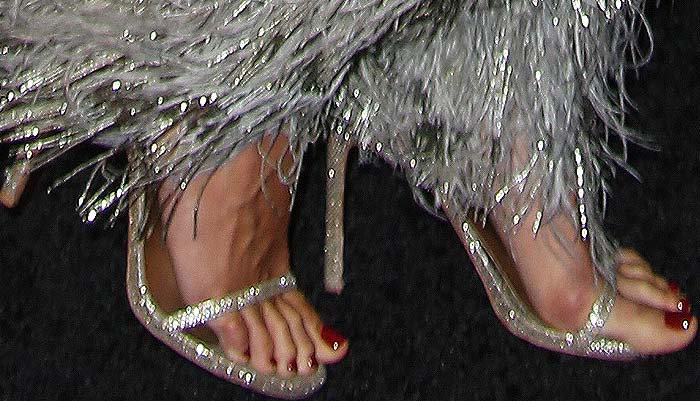 Heidi Klum's feet in glittery Stuart Weitzman heels
Heidi wore a silver fringed dress with a low neckline from the dreamy line, Marchesa. The then 42-year-old paired the frock with the glitter Stuart Weitzman "Nudist" sandals.
While the dress was gorgeous, we were not quite feeling it for the Golden Globes.
We would have expected something less casual and 50's-flapper-costume-like, and maybe something more majestic. Also, the glitter sandals were a bit too matchy-matchy.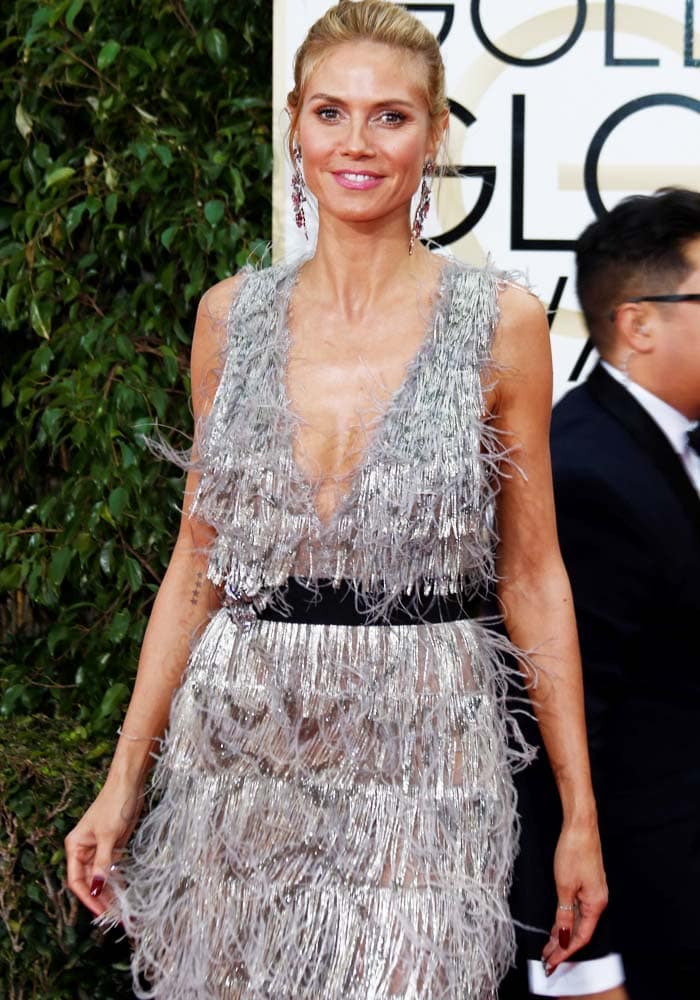 Heidi Klum sparkles in a flapper-style silver Marchesa dress
Nonetheless, Heidi carried it off well on the red carpet, all thanks to her glam squad.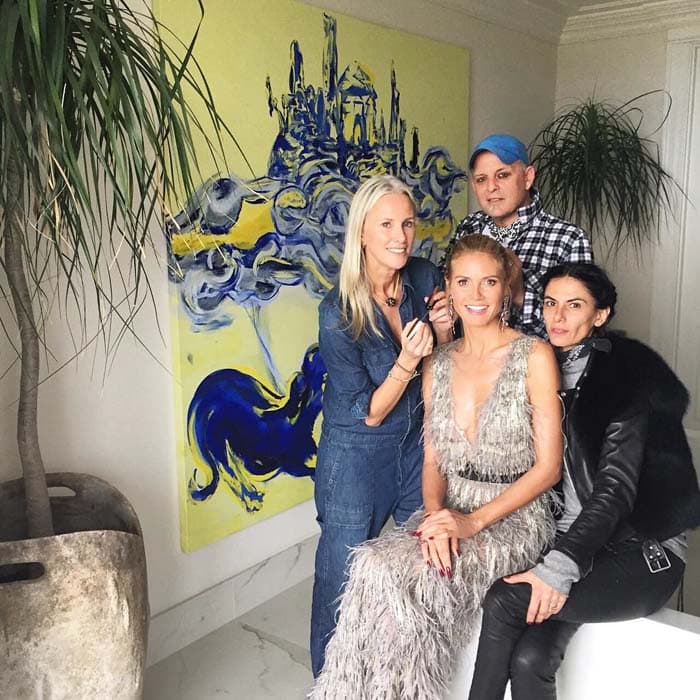 Heidi Klum thanks her glam team for the Golden Globes on her Instagram
Heidi should know a thing or two about swimsuits. After all, she did model about a million of them throughout her career.
The Stuart Weitzman "Nudist" heels in Heidi's exact glitter shade are no longer available online, but do check out some of the other dazzling colors available at Nordstrom and Shopbop.
Stuart Weitzman Pewter Glitter Lamé "Nudist" Stiletto Sandals, $398
Stuart Weitzman "Nudist" Glitter Leather Sandal in Multi, $398
Stuart Weitzman Quartz Sugar Lace And Glitter "Nudist" Stiletto Sandals, $398
Credit: Heidi Klum's Instagram / Adriana M. Barraza / FayesVision / WENN