Heidi Klum, who can hear an envelope opening from miles away, showed off her pinched nose on the red carpet at the 2019 MTV VMAs at the Prudential Center in Newark, New Jersey.
Heidi Klum has said that she has never had a nose job or any work done on her face
Do you believe her claim that she's never had plastic surgery?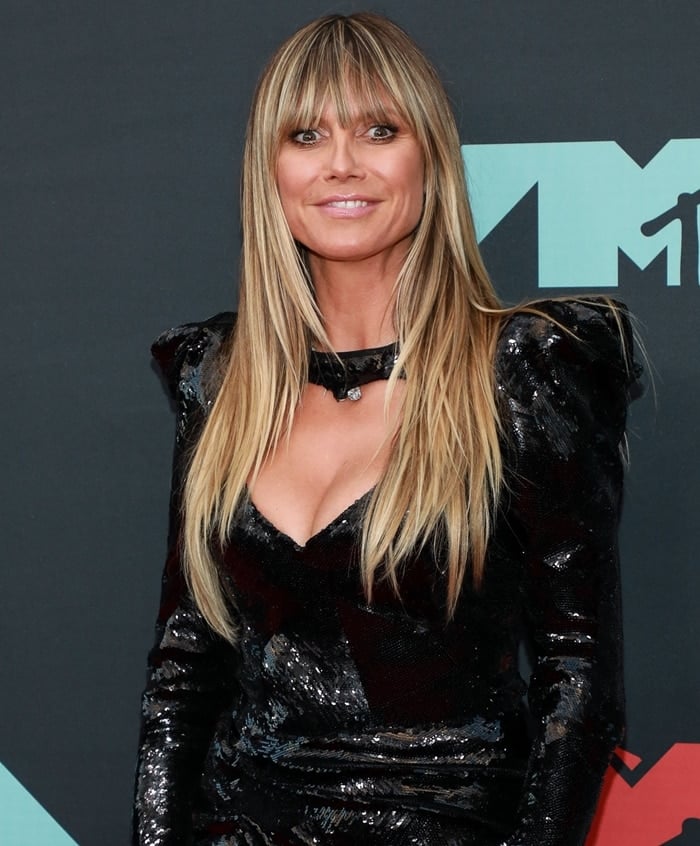 Heidi Klum shows off her pinched nose at the 2019 MTV VMAs at the Prudential Center in Newark, New Jersey on August 26, 2019
The then 46-year-old America's Got Talent star flaunted her legs in a black sequined dress from the Nedo by Nedret Taciroglu Autumn/Winter 2019 Collection with shoulder pads and a heart cutout.
Heidi Klum claims she has never had plastic surgery or received any fillers or injections
In a 2013 interview with Access Hollywood and a 2011 interview with Piers Morgan, Heidi claimed she has never gone under the knife or opted for any cosmetic procedures.
Heidi Klum before and after: Attending the 1999 CFDA American Fashion Awards and out shopping in March 2020
"I've never done anything," the German model and television host responded when asked if she's ever had surgery or received any fillers or injections. "I've been too scared, to be honest with you."
"I'm scared that all of a sudden you're changing too much, your face starts changing, I don't know," she said of going under the knife.
"I would have a hard time looking in the mirror and seeing something that I'm not used to seeing. I'd be afraid!"
Heidi Klum paraded her long legs in a black sequined dress from Nedo by Nedret Taciroglu
Making her first public appearance after getting married to Tom Kaulitz in Italy, Heidi styled her cheap and cheesy dress with Lorraine Schwartz jewelry, Neil J. Rodgers' Stella sandals and toted a crystal Judith Leiber clutch.
Heidi Klum showed off her latest engagement and wedding rings
Heidi also showed off her new wedding band and her three-stone engagement ring featuring a green center gemstone surrounded by a halo. It's not known how long she's planning to stay married this time.
Heidi Klum makes sure everyone knows she's having a fantastic time
Heidi Klum and 29-year-old Tokio Hotel guitarist Tom Kaulitz married in a secret ceremony back in February, exactly one year after the couple met. They got married for the second time on a yacht on August 3 in Capri, Italy.
Heidi Klum attends the Valentino Haute Couture Fall/Winter 2019 2020 show as part of Paris Fashion Week on July 3, 2019, in Paris, France
If you want to see what her face looked like before, check out the below picture from 1999 and compare it to the photo from 2020. Do you think she had a nose job or a facelift?
Heidi Klum at the 1999 MTV Video Music Awards and the One World: Together At Home concert in April 2020
Credit: News Pictures / WENN / Avalon / Sidewalk