Heidi Klum, whose legs are insured for $2.2 million, tied the knot with Tom Kaulitz in February 2019, just two months after Kaulitz proposed to Klum on December 24, 2018.
Estimated to have a net worth of $160 million and an annual salary of $19 million, she did not find it financially burdensome to get married for the third time.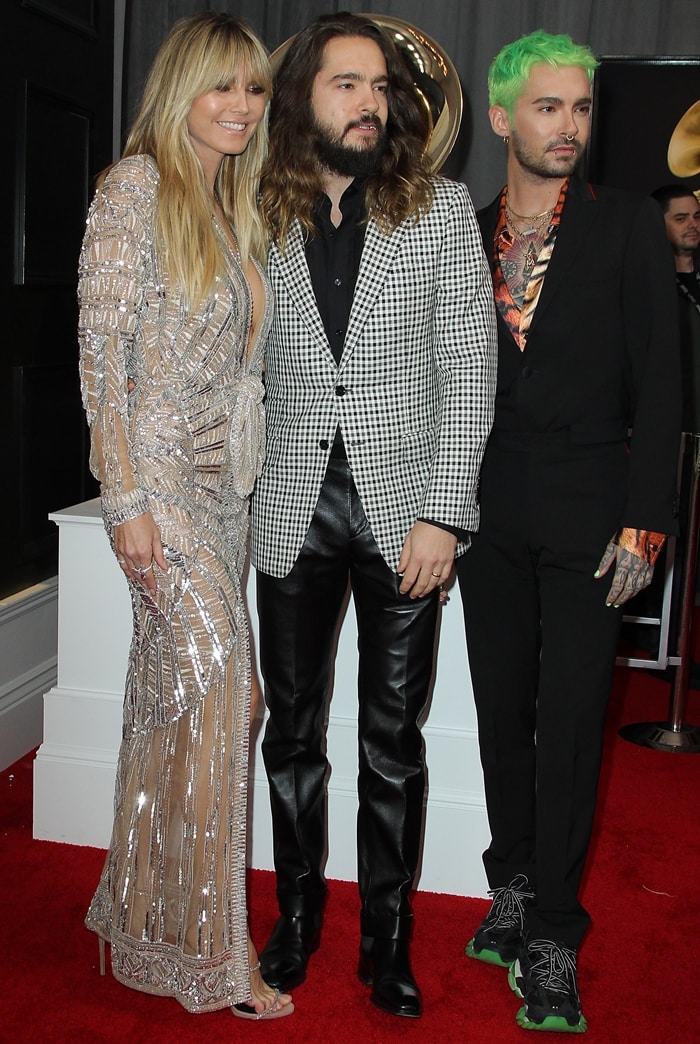 Heidi Klum with her husband Tom Kaulitz and Tom's twin brother Bill at the 2020 Grammy Awards at the Staples Center in Los Angeles on January 26, 2020 (Credit: Adriana M. Barraza / WENN)
The 46-year-old model and television personality joined her husband and his twin brother Bill Kaulitz at the 2020 Grammy Awards at the Staples Center in Los Angeles.
Wearing a sparkling Dundas Pre-Fall 2020 plunge gown and accessorizing with Lorraine Schwartz jewelry, Heidi showed off her feet in blush suede Kanda sandals from Giuseppe Zanotti that you can purchase at Farfetch.
What is Tom Kaulitz's net worth?
Famous for being the guitarist of the band Tokio Hotel, Tom is 17 years younger than Heidi. In a July 2018 interview with Instyle, she revealed what it's like to date a much younger man. A few months earlier, she broke up with Vito Schnabel.
"Lately, I'm being reminded more about my age by people other than myself," Klum told the magazine.
"My boyfriend is many years younger than me, and lots of people are questioning that and asking about it. That's really the only time when age seems to be shoved in my face and I have to give an answer for it."
Heidi Klum has a net worth of $90 million and an annual income of $19 million (Credit: Adriana M. Barraza / WENN)
"I don't really think about it that much otherwise. You have to just live a happy life without worrying too much about what people think because worrying is only going to give you more wrinkles," Klum added.
Her husband, a German musician, actor, and producer, has a net worth of $25 million dollars. In 2010, he spent some of his money on Viagra pills and ended up getting sick after taking too many.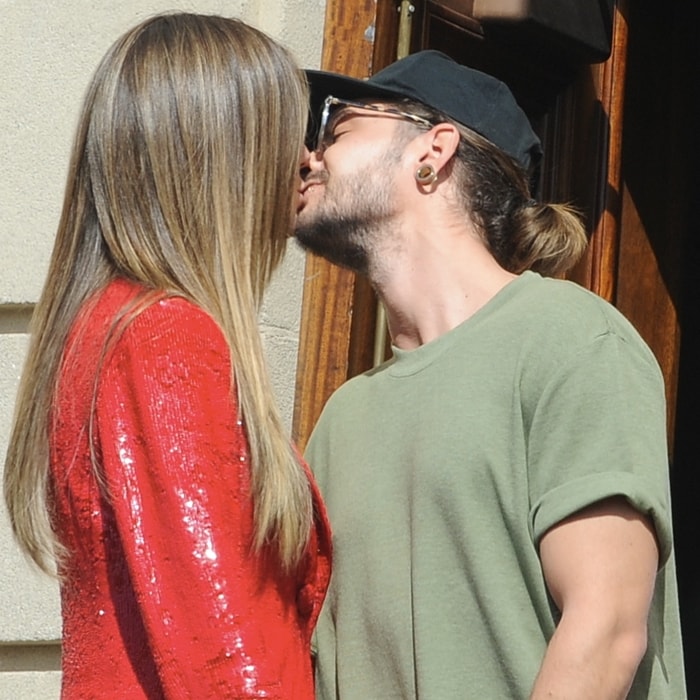 Heidi Klum her boyfriend Tom Kaulitz couldn't stop kissing in Pasadena, California, on March 25, 2018 (Credit: WENN)
"I popped a few more pills, probably too many," he told a German newspaper according to Billboard. "The next morning my head was pounding and everything in front of my eyes was blurry. It wasn't fun any more. It was pretty bad."
Kaulitz revealed it took two days for the effects to wear off. "Unfortunately there were situations where it just wasn't appropriate," he added.
Crafted in Italy, the Kanda sandals that Heidi wore to the Grammys are characterized by three thin bands, embellished by a crystal-studded chain.
Giuseppe Zanotti Suede Kanda Sparkle Sandals, $563 at Farfetch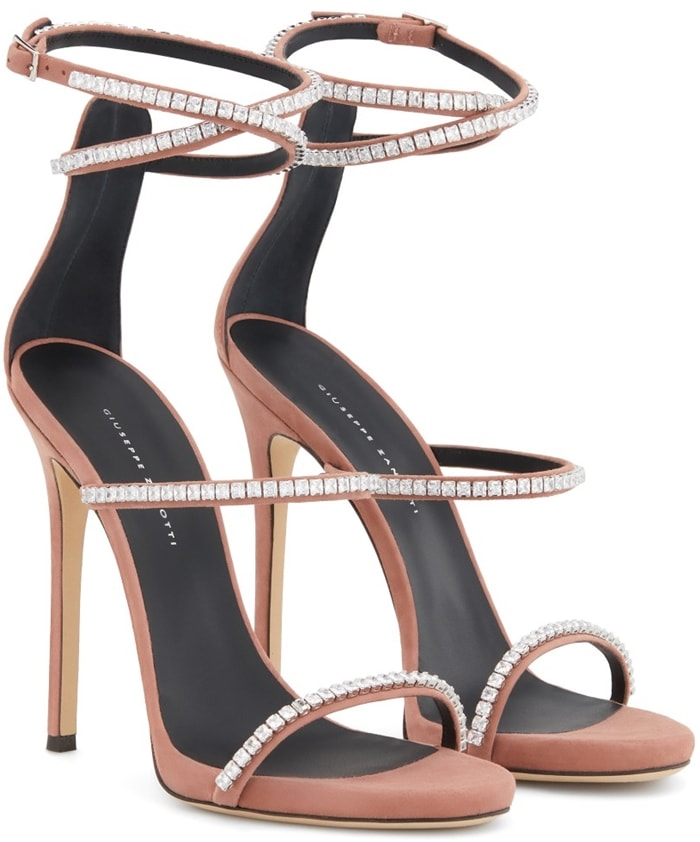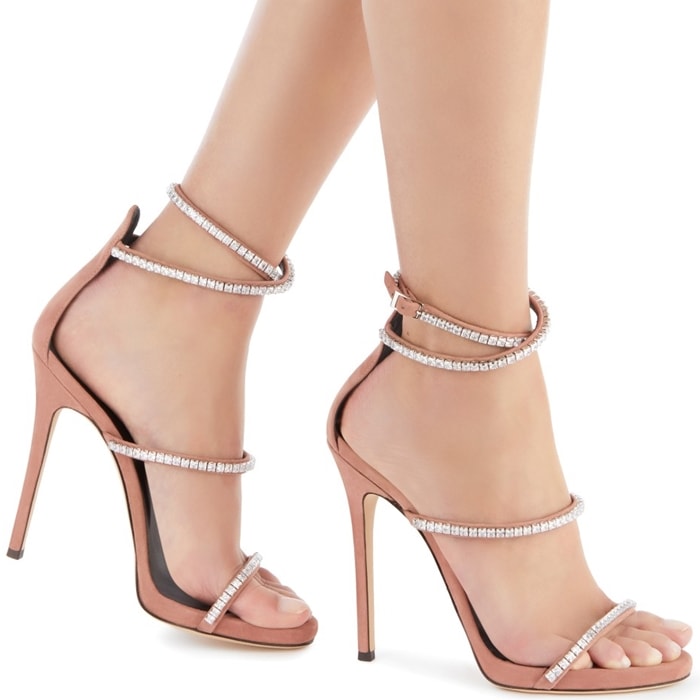 Apparently, Heidi Klum really loves her Giuseppe Zanotti heels! In March 2013, she posted a picture of herself kissing a mixed-media calf-hair d'Orsay on her Twitter feed, which caught our attention. The model and TV personality has great taste in shoes if you ask me.
We've previously featured this style on Gwyneth Paltrow. Actually, It's hard to believe that we haven't seen more celebs showing their love for it.
I like everything about it — from the glam gold heel to the animal-print calf-hair straps. My favorite color is red, so the rich hue placed on the heel cup is the perfect finish in my opinion.
Heidi Klum's shows off her Giuseppe Zanotti heels on March 12, 2013 (Credit: Heidi Klum's Twitter)
We found Heidi's Giuseppe Zanotti shoes at Giuseppe Zanotti, Amazon, Farfetch, and Bergdorf Goodman.
The platform makes wearing it comfy (okay, as comfy as a stiletto heel can be), while the ankle strap adds some stability. I'd rock this style with a pair of leather skinnies and my favorite white tank for an instant date night look this spring!
Giuseppe Zanotti Calf-Hair d'Orsay Stilettos, $895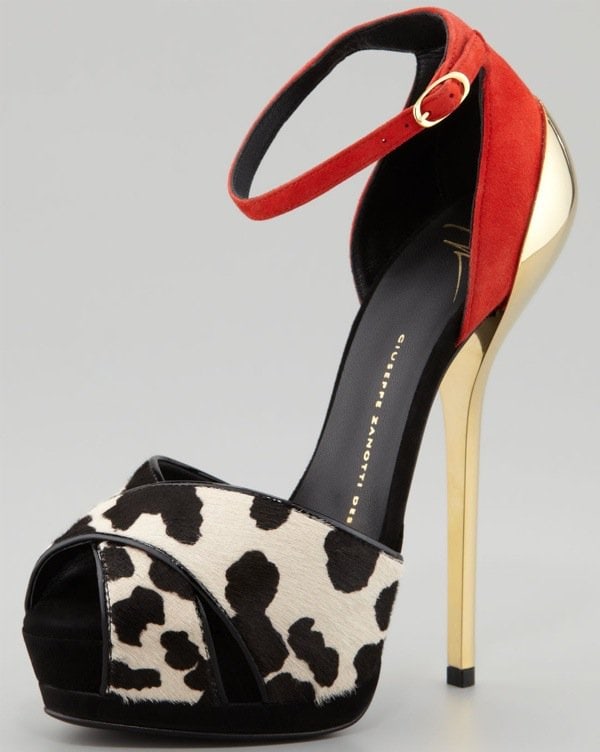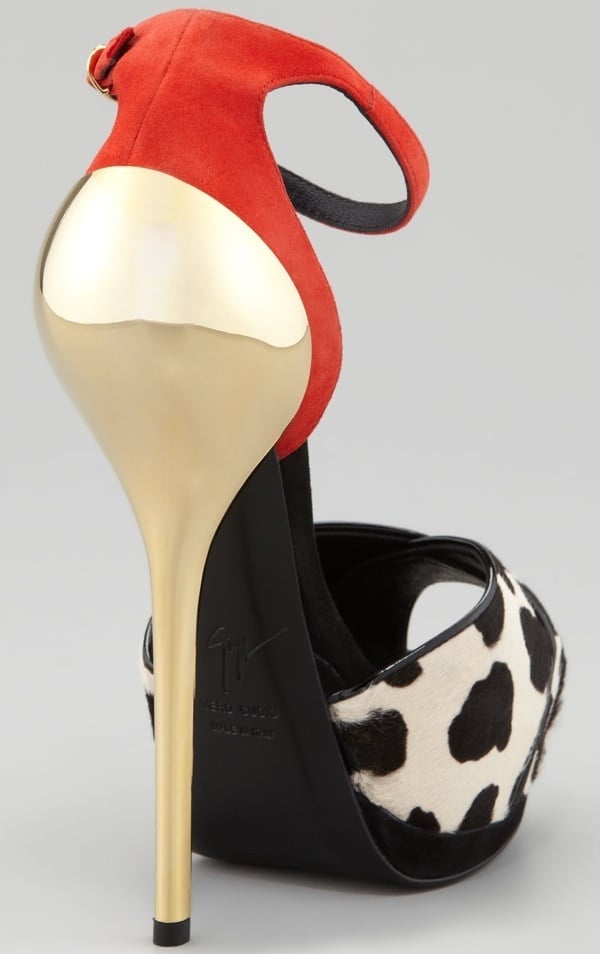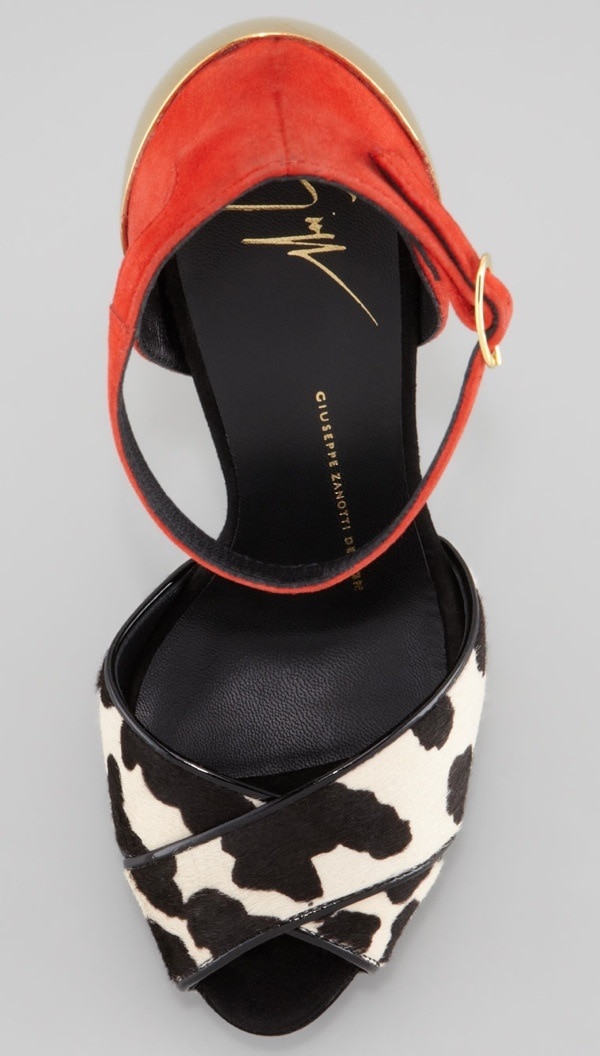 What's your verdict, shoe fanatics? Do you love d'Orsay heels enough to give it a kiss?