Wearing a dress by Nicole + Felicia, Leni Klum poses for the cover of Rollacoaster Magazine's Fall/Winter 2021 issue.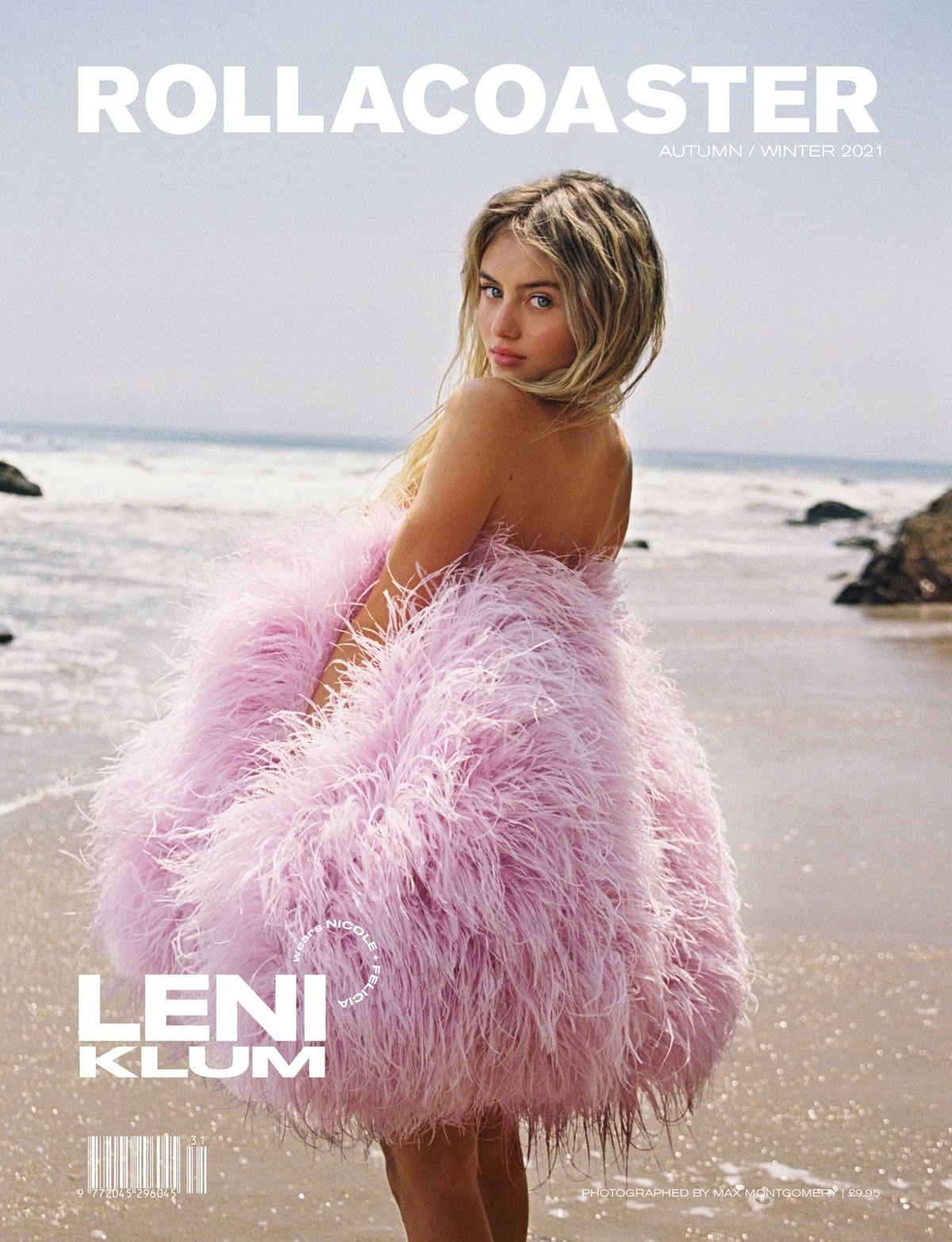 Leni Klum poses in a pink feather dress for the cover of Rollacoaster Magazine's Fall/Winter 2021 issue (Credit: Rollacoaster Magazine)
The 17-year-old daughter of Heidi Klum spoke to Rollacoasta's Octavia Akoulitchev about wanting to become a model for a long time.
"I've always wanted to model, ever since I was 12 years old. It all started when I was in Brandy Melville. That was my favorite brand at the time. I remember one of the girls that worked there was like 'we would love to shoot you in our clothes.' I was freaking out because I loved the brand, and I was shopping with my mom that day so I was like 'mom, please, I'm begging you! I've wanted to do this for so long. You can do it, why can't I?' She said no, and that I was too young."
Heidi Klum eats lunch with her daughter Leni Olumi Klum on July 3, 2021, at Fred Segal in Los Angeles (Credit: MEGA / WENN)
Born on May 4, 2004, in New York, Leni Olumi Klum turned 17 on May 4, 2021. Her biological father is Flavio Briatore.
"Ever since then I've been begging and begging. When I turned 16 she finally was like, 'okay, you can model now, that's fine.' I'm 17 now, so for the past year I've been modeling, and I've loved it," Leni added.
"She's always telling me, 'just be true to yourself, and don't let what other people are saying affect you or change what you're doing. And it's always okay to say no.'"
Leni Klum wears a strapless blue dress with a gemstone crown, drop earrings, and a statement necklace for the Dolce & Gabbana Alta Moda fashion show in Venice on August 29, 2021 (Credit: MEGA / WENN)
"Because I have this platform, I just think it's super important to make others aware of the climate and the fact that the environment is something everyone should focus on. The world is everyone's shared home – people should think of it like that and should treat it like it's their home. People don't treat their apartments like they do the planet, they don't throw trash everywhere in their apartments, they clean up after themselves. I think that we should treat our planet like that. It's so much easier than people think to make lifestyle changes too."
Leni Klum asked her mom Heidi to let her model when she was 12 years old (Credit: MEGA / WENN)
Heidi Klum is no stranger to taking fashion risks on the red carpet. In March 2016, it was no different when she stepped out to attend Nickelodeon's 29th annual Kids' Choice Awards.
Heidi Klum wears her hair down at the 2016 Nickelodeon Kids' Choice Awards held March 12, 2016, in Inglewood, California (Credit: FayesVision / WENN)
The then 42-year-old model, whose legs are insured for about $2 million, paraded her prized assets in a skintight glittering blue-and-white mini dress from Atelier Versace's Spring 2016 collection.
Heidi looked excited as her show "America's Got Talent" was nominated in the Favorite Talent Competition category.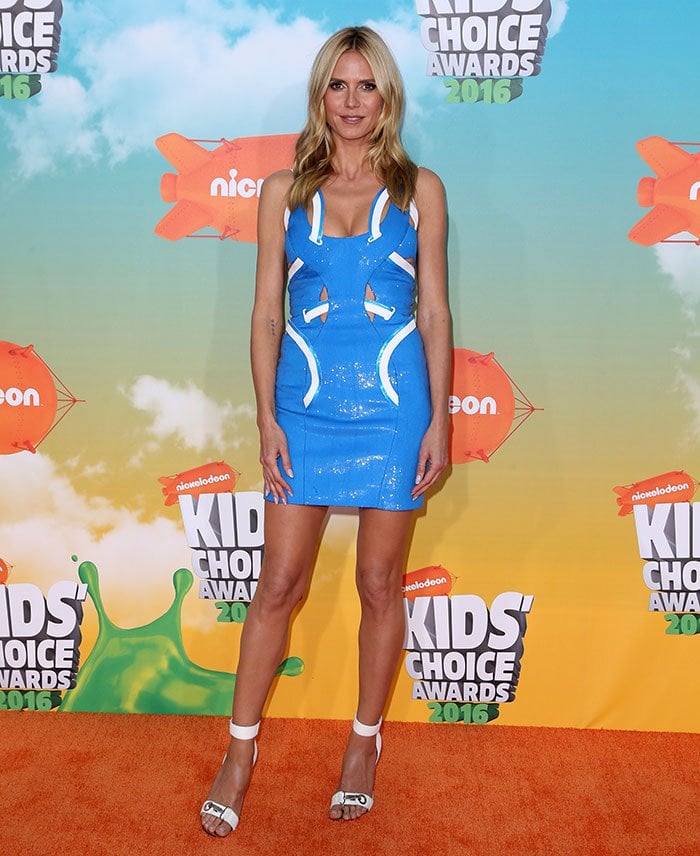 Heidi Klum wears a revealing Versace dress on the orange carpet (Credit: FayesVision / WENN)
The German model's tiny frock looked fun and playful enough for the event, but we think the revealing cutouts made it a bit too sensual for a children's TV network event.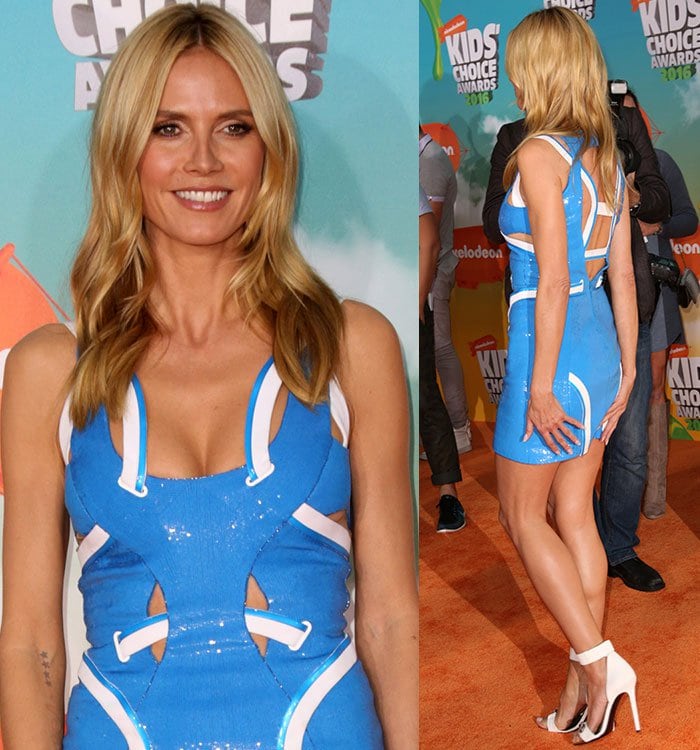 Heidi Klum shows off some skin in a blue-and-white Versace dress (Credit: Brian To / WENN)
She did not wear any jewelry and simply paired the unusual dress with a pair of white sandals.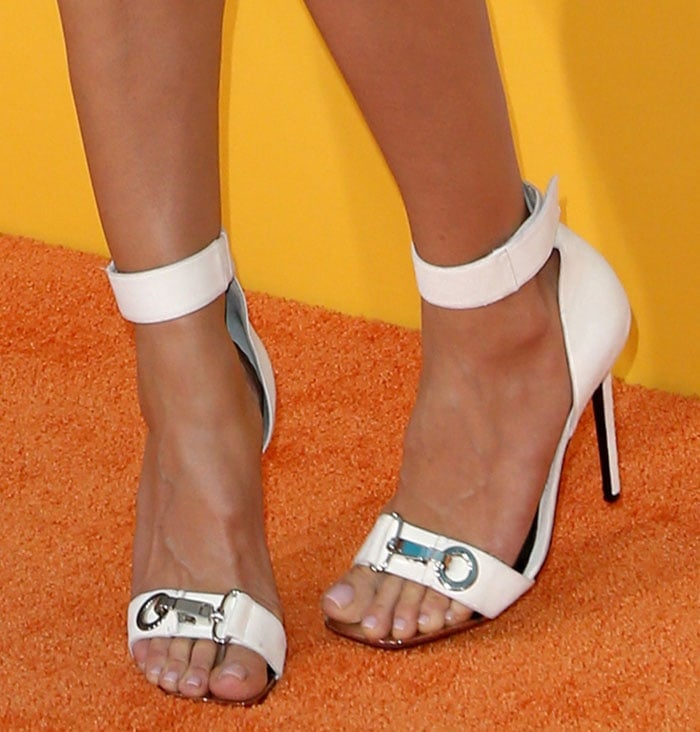 Heidi Klum's feet in white Versace sandals (Credit: FayesVision / WENN)
Heidi's white sandals are also from the Versace spring 2016 collection. These leather sandals feature Velcro ankle straps, buckle-detailed front straps, and about four-inch heels.