It's no wonder Mark Wahlberg is one of Hollywood's highest-paid actors. He's a fantastic and prolific performer, but few know that he's also a grounded family man.
Actor Mark Wahlberg in a Giorgio Armani tuxedo and his wife Rhea Durham in a Marchesa dress at the 79th Annual Academy Awards held on February 25, 2007, at the Kodak Theatre in Hollywood, Los Angeles (Credit: Nikki Nelson/ WENN)
The Transformers actor and his wife, Rhea Durham, are actually celebrating twenty years together this year.
Growing Up in Mark Wahlberg's Enormous Family
Mark was born and raised in Boston, Massachusetts. He was the youngest of nine siblings: Tracey, Mitchelle, Donna, Buddy, Arthur, Jim, Robert, Mark, Donnie, Paul, and Scott.
The family lived in a rough area of South Boston, and Mark was actually involved in several tussles growing up.
His parents divorced when he was 11 years old, leaving Mark and the other siblings to split time between his parents' households.
Wahlburgers is a casual dining burger restaurant and bar chain owned by chef Paul Wahlberg (C) and his brothers, actors Donnie Wahlberg (L) and Mark Wahlberg (Credit: Michael Carpenter / WENN)
Mark dropped out of school at the age of 14 and fell into the culture of crime that surrounded him. This eventually led to serving part of a prison sentence in response to assault charges.
Marky Mark and the Funky Bunch
By the time Mark was 13, he and his brother, Donnie, were ratcheting up their musical chops as original members of the boy band, New Kids on the Block. Mark resigned from the band after a few months, but Donnie went on to achieve success with the band.
Mark, however, later formed his own group as the lead of Marky Mark and the Funky Bunch. He and his group did take their single, "Good Vibrations" platinum, putting himself in the spotlight for other opportunities in the entertainment industry.
Mark Wahlberg's Screen Career
After landing on the record charts, American fashion designer Calvin Klein took notice of the buff musician and recruited Mark for their ad campaign in 1992.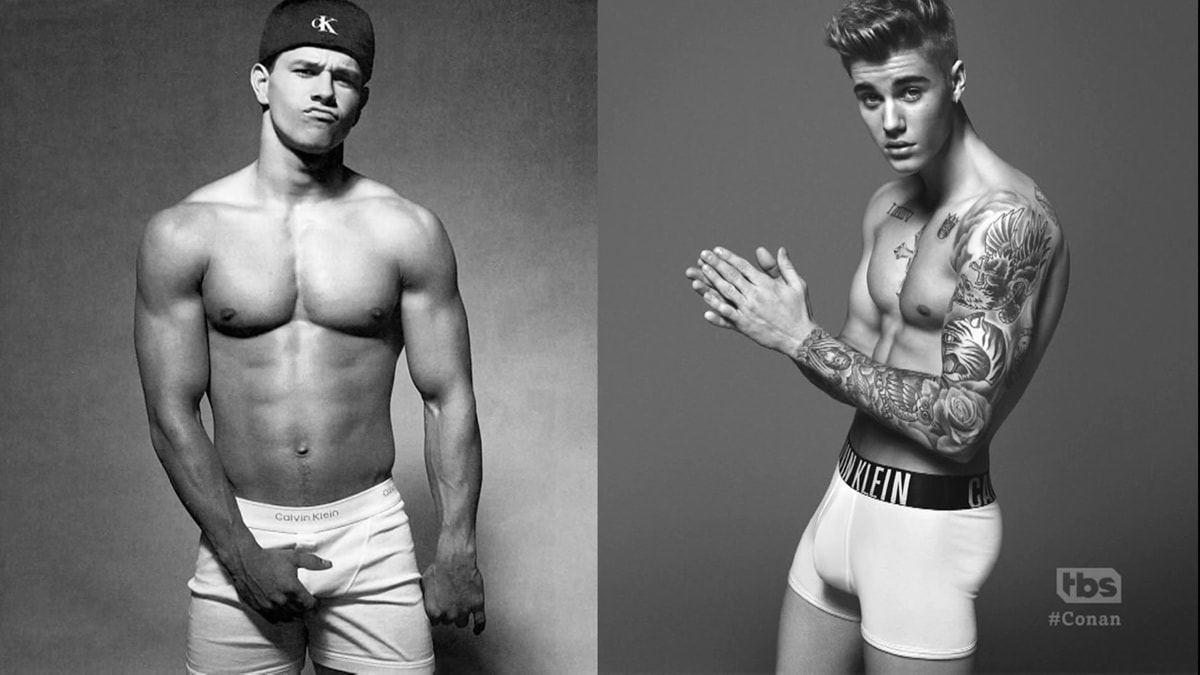 Justin Bieber was so proud of his ads for Calvin Klein that he decided to send the photos to his friend Mark Wahlberg, who was a model for the underwear brand when he was younger (Credit: TBS / Conan)
Early on, the Calvin Klein marketing team was able to spot his widespread appeal and printed ads of him alongside supermodel, Kate Moss, in magazines, store windows, and billboards.
The shoot is still known as one of the most famous and controversial campaigns in modern history. It was only a matter of time before Hollywood got wind of Mark Wahlberg.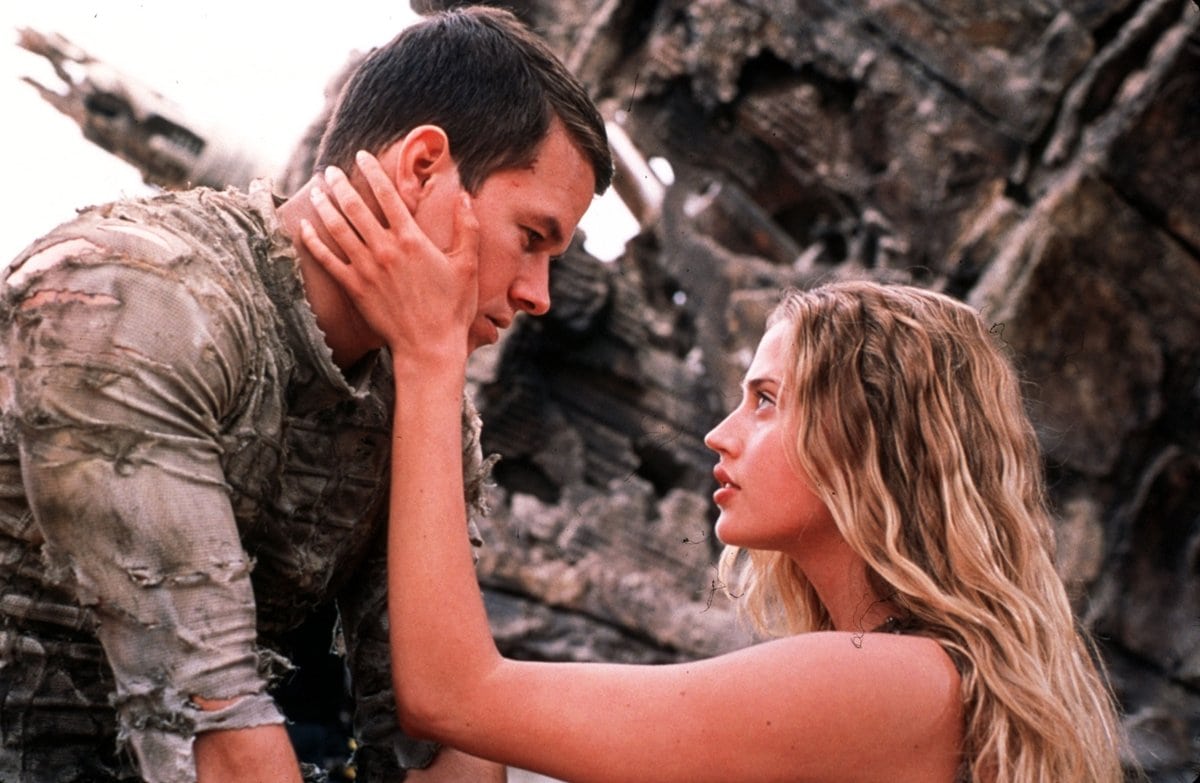 Mark Wahlberg as Captain Leo Davidson and Estella Warren as Daena in the 2001 American science fiction film Planet of the Apes (Credit: WENN / 20th Century Fox)
By 1993, he would use his moniker, Marky Mark for the last time in the TV movie, The Substitute. From then on, he resumed using the name Mark Wahlberg for professional acting work, starting with Renaissance Man, where he starred alongside Danny DeVito in 1993.
As a massive Boston Celtics fan, Mark was excited to be cast as Mickey, opposite Leonardo DiCaprio in Basketball Diaries in 1994.
In the following years, Wahlberg racked up massive movie credits. He quickly became a go-to talent for films like Planet of the Apes, The Italian Job, the Transformers franchise, and comedies like Ted and Daddy's Home.
Mark Wahlberg at a Los Angeles party in 1999 to celebrate the launch of the Absolut Tom Ford/Absolut Gucci advertising collaboration (Credit: WENN/ Marcus Hoffman)
He also has found success as an executive producer for many shows, like the HBO hit, Entourage, which is said to vaguely mirror Wahlberg's rise to fame.
Mark currently has a slew of projects as both an actor and producer in varying stages of production and pre-production. We're likely to see a lot more of Mark Wahlberg in the coming months.
Mark Wahlberg Searches for Love
As a prolific actor and model, Mark found himself surrounded by some of the most talented actresses and models in their industries. As a result, it's been rumored that he became quite close to a few.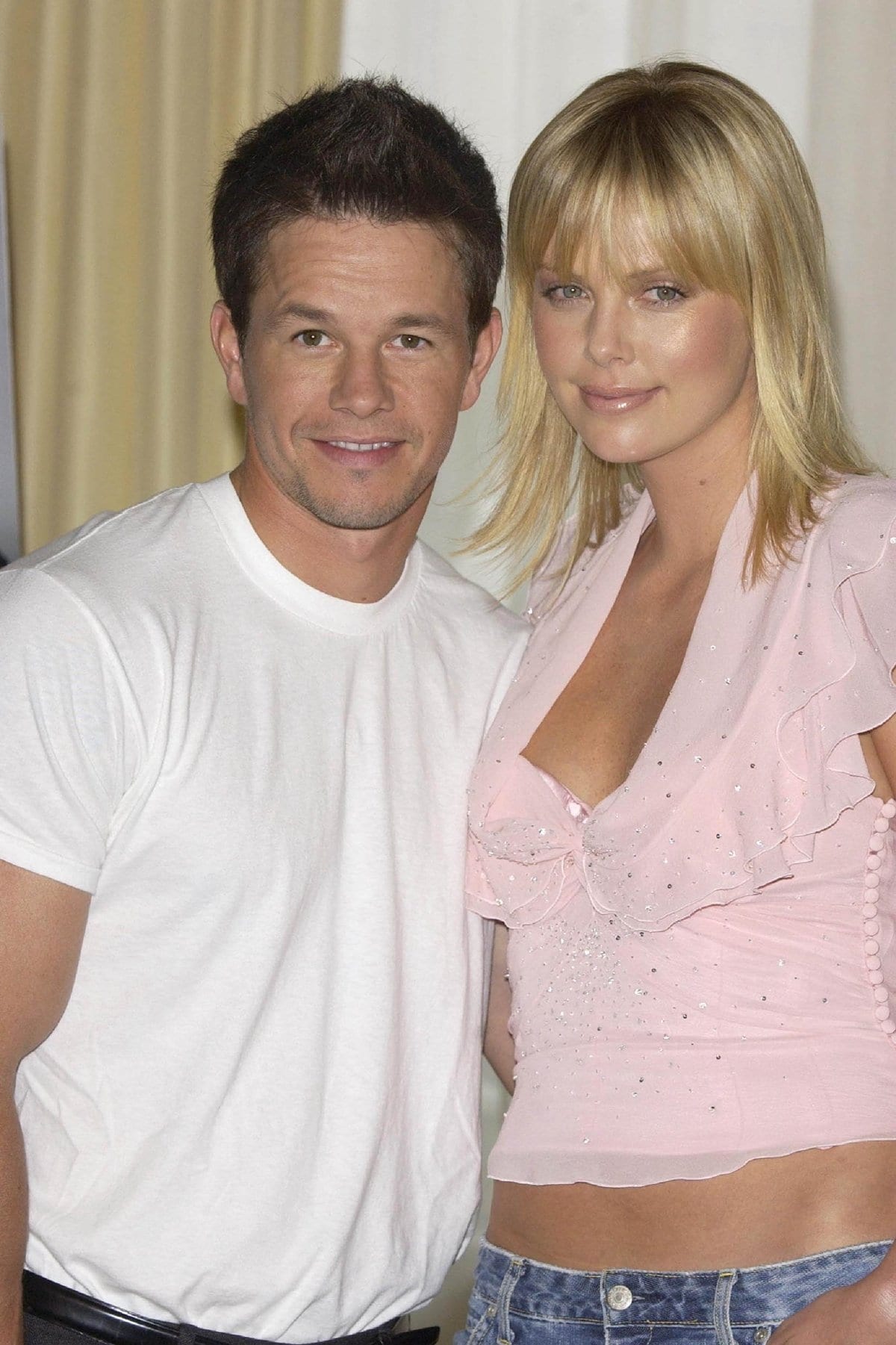 Mark Wahlberg and Charlize Theron are rumored to have dated while filming The Italian Job (2003) together (Credit: WENN)
Among these starlets are Reese Witherspoon, Jessica Alba, Traci Bingham, Shannen Doherty, Jordana Brewster, and Charlize Theron.
There are also reports of a brief romance with actress China Chow following the filming of "The Big Hit."
Model Rhea Durham Steals Mark Wahlberg's Heart
One day at a press junket in New York, Wahlberg met model Rhea Durham in 2001. Despite Mark's optimistic 5'8" frame, he asked the 5'9" model if she'd like to go out with him.
When she accepted, he asked if she wanted to go to church with him the next morning as their first date.
Although the Florida native was raised Protestant, she attended Catholic mass at Saint Patrick's Cathedral in New York City with Mark the next morning.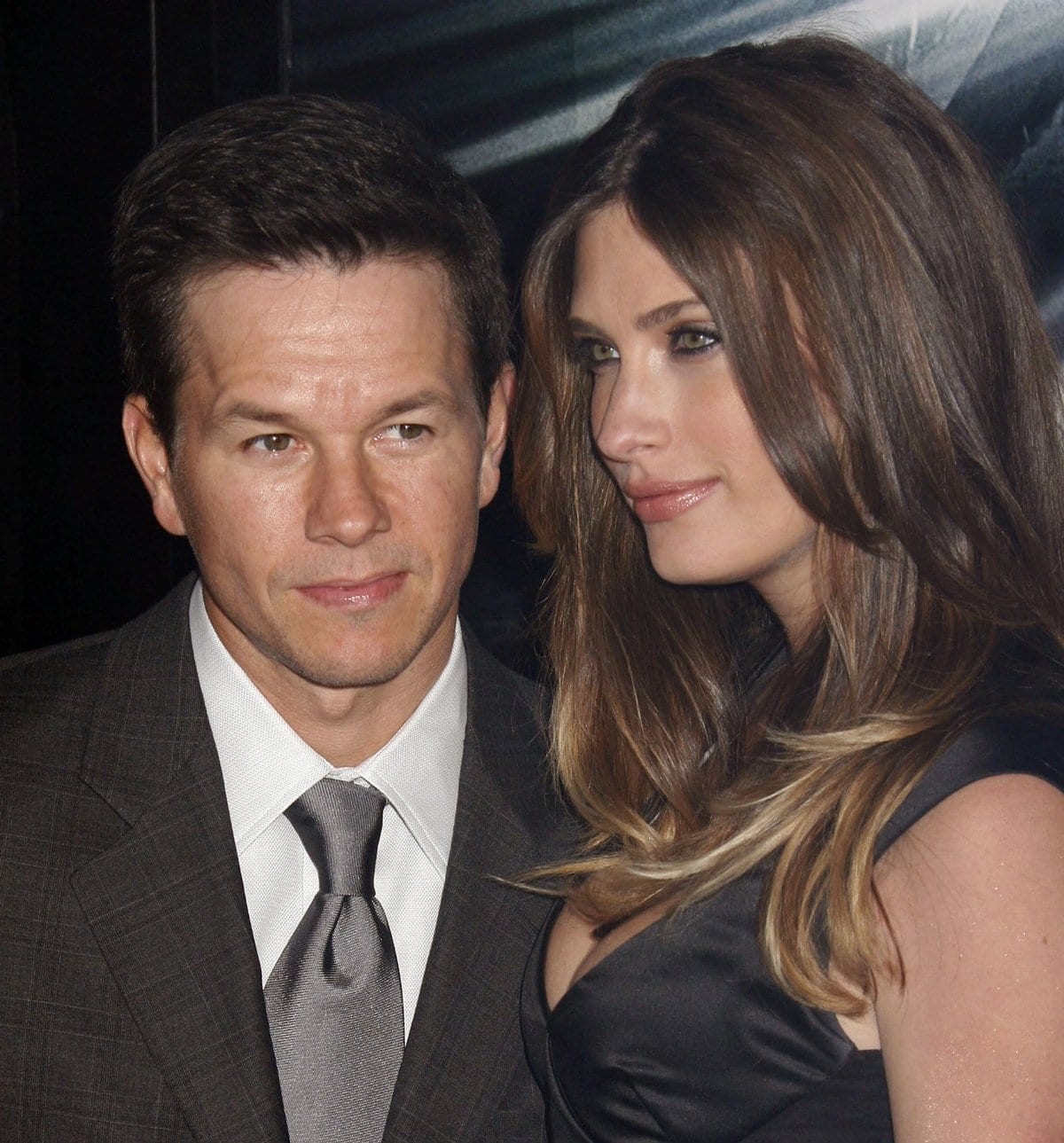 Mark Wahlberg met his taller wife Rhea Durham at a press junket in New York in 2001 (Credit: Adriana M. Barraza / WENN)
The two began dating exclusively after that before Rhea actually converted to Mark's faith in Catholicism. They welcomed their first daughter, Ella Rae, together in 2003.
In a strange twist of fate, Mark also lost his sister, Debbie, the same day that Ella was born due to a heart attack paired with sepsis during treatment for another medical condition.
Mark credits the day as being both the happiest and the saddest of his life, honoring both Ella and sister Debbie on the "bittersweet" day each year.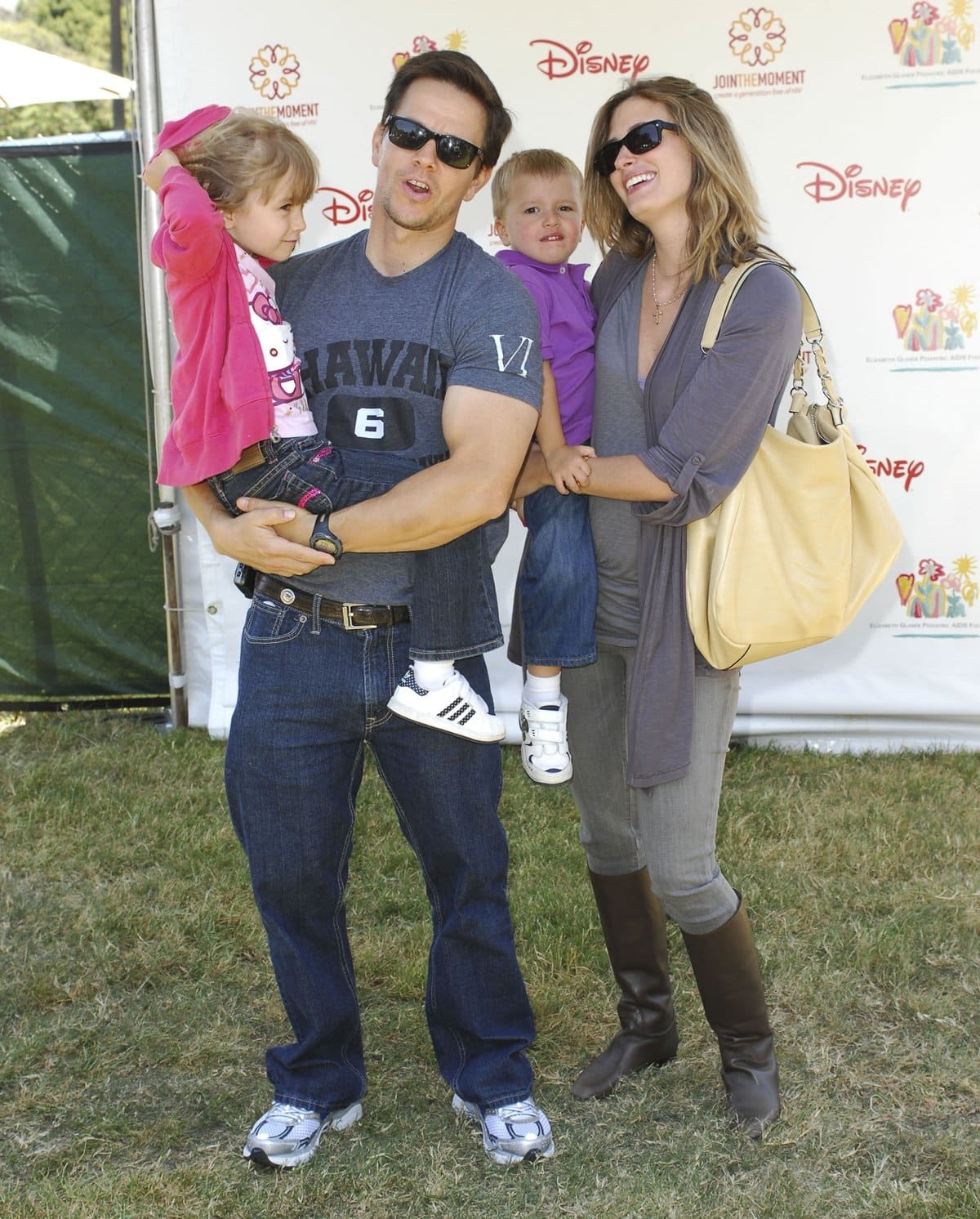 Mark Wahlberg and Rhea Durham with their children Ella Rae Wahlberg and Michael Wahlberg attend the Elizabeth Glaser Pediatric AIDS Foundation 20th Annual A Time for Heroes Celebrity Carnival held at Wadsworth Theater on the Veteran Administration Lawn in Los Angeles on June 7, 2009 (Credit: Apega / WENN)
Rhea, who is seven years younger than Mark, is an accomplished model who has been featured in magazines like French Vogue, ELLE, and Marie Claire. She's also made an appearance as herself in the TV sitcom, Spin City.
American model Rhea Durham has appeared on the cover of French Vogue, Marie Claire, British and American ELLE (Credit: WENN)
The Wahlberg family grew with the addition of two sons, Michael and Brendan, in the coming years. While both Rhea and Mark were blissfully committed to one another, they didn't tie the knot until much later in 2009.
Mark Wahlberg was joined by his wife Rhea Durham and three of their four kids, Ella, Michael, and Brendan, at the premiere of his movie Transformers: Age of Extinction on June 25, 2014, at the Ziegfeld Theatre in New York City (Credit: Joel Ginsburg / WENN)
The couple was wed with only twelve people in attendance, including their three children. The next year, the Wahlbergs welcomed their fourth and final child, Grace Margaret.
Family Life at the Wahlberg House
Having come from a rough childhood, Wahlberg wants to make sure he provides access to everything his children would need and want. He and his wife, Rhea, make sure to be involved in all aspects of their children's lives.
The family has been spotted in the crowds at their son's sporting games. On an episode of Ellen, Wahlberg remembers a time that his song, "Good Vibrations," played over the speakers.
Mark Wahlberg outside the Sandy Lane Hotel, a luxury resort in Barbados, with his wife Rhea Durham on December 28, 2018 (Credit: WENN)
He said you could see his son trying to hide from embarrassment inside his helmet. These days, Mark says he catches the game from inside his car to make sure that his kids get a fair shot at living a normal life.
His daughter, Grace Margaret, is turning out to be quite the equestrian. She and her horse, Daisy Mae, compete regularly- and quite successfully!
Is There Beef Between Wahlberg Wives, Jenny McCarthy, and Rhea Durham?
Rumors sparked shortly after Rhea and Mark's intimate wedding about whether there was drama among the extensive Wahlberg clan.
After all, why wouldn't such a family man extend an invitation to his brother Donnie and his celebrity wife, Jenny McCarthy? As it turns out, Mark and Rhea were also no-shows for Donnie and Jenny's wedding.
We may have seen some confirmation of the conflict following a snarky tweet by Rhea seemingly in response to McCarthy's social media post sporting pink hair.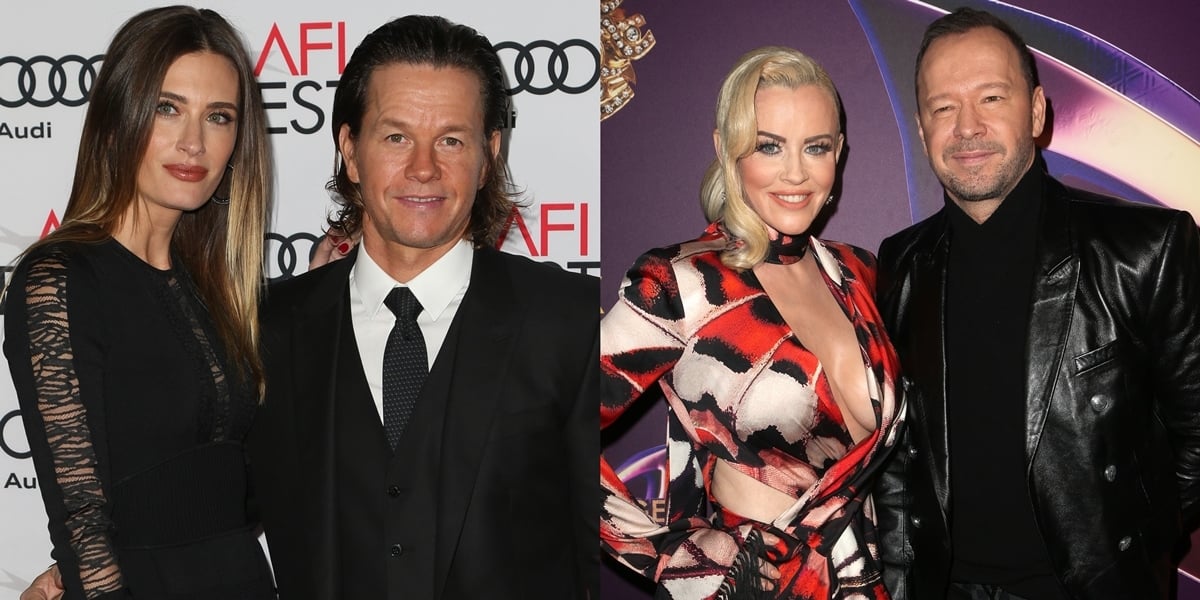 Mark Wahlberg's wife Rhea Durham is reportedly not on good terms with Donnie Wahlberg's wife Jenny McCarthy (Credit: FayesVision / WENN)
"Don't u think after age 25 it might be strange for a woman to dye her hair pink, purple, green, or any color of that sort??? #needattention?" Rhea tweeted.
Jenny's husband, Donnie, was quick to reply with "Imagine the depth of pain somebody must be in, to be unkind to another human being."
Rhea's tweet was quickly replaced with a backhanded apology, which ended with "I have more to think about than this. Again Sorry!"
While it's unclear if the drama between the wives is founded in an actual event, it may be attributed to the fact that the two are just polar opposites!
Mark Wahlberg: Entrepreneur and Philanthropist
Wahlberg seems to have his hands in a little bit of everything lately. Mark joined with his brothers Donnie and Paul to form Wahlburgers, a fast-casual joint with unique burger offerings. There are currently around 50 locations including franchised locations.
Mark has also invested in other companies that keep bumping up his net worth. He's backed AQUAhydrate water, which he discovered on set one day.
Its other investors are also in the entertainment industry, like Sean "Diddy" Combs and Jillian Michaels. AQUAhydrate was recently snapped up by another celebrity-endorsed brand, The Alkaline Water Company, which sent AQUA's owners straight to the bank.
Mark Wahlberg and Sean "Diddy" Combs are active investors in AQUAhydrate (Credit: FayesVision / WENN)
Looking back to 2001, Wahlberg founded The Mark Wahlberg Youth Foundation to benefit inner-city youth.
The foundation is a way to fund other outreach programs like the Boys and Girls Club of America, and provide other enrichment programs that inner-city youth wouldn't otherwise have access to.
They also build basketball courts in underserved communities and offer a yearly summer camp. The MWYF also utilizes strategic partnerships to bring awareness to issues like opioid addiction.
Another somewhat unexpected charitable contribution arose when it was revealed that Mark had received $1.5 million to reshoot scenes from All The Money In The World while his female counterpart, Michelle Williams, received $1,000 and a small daily stipend.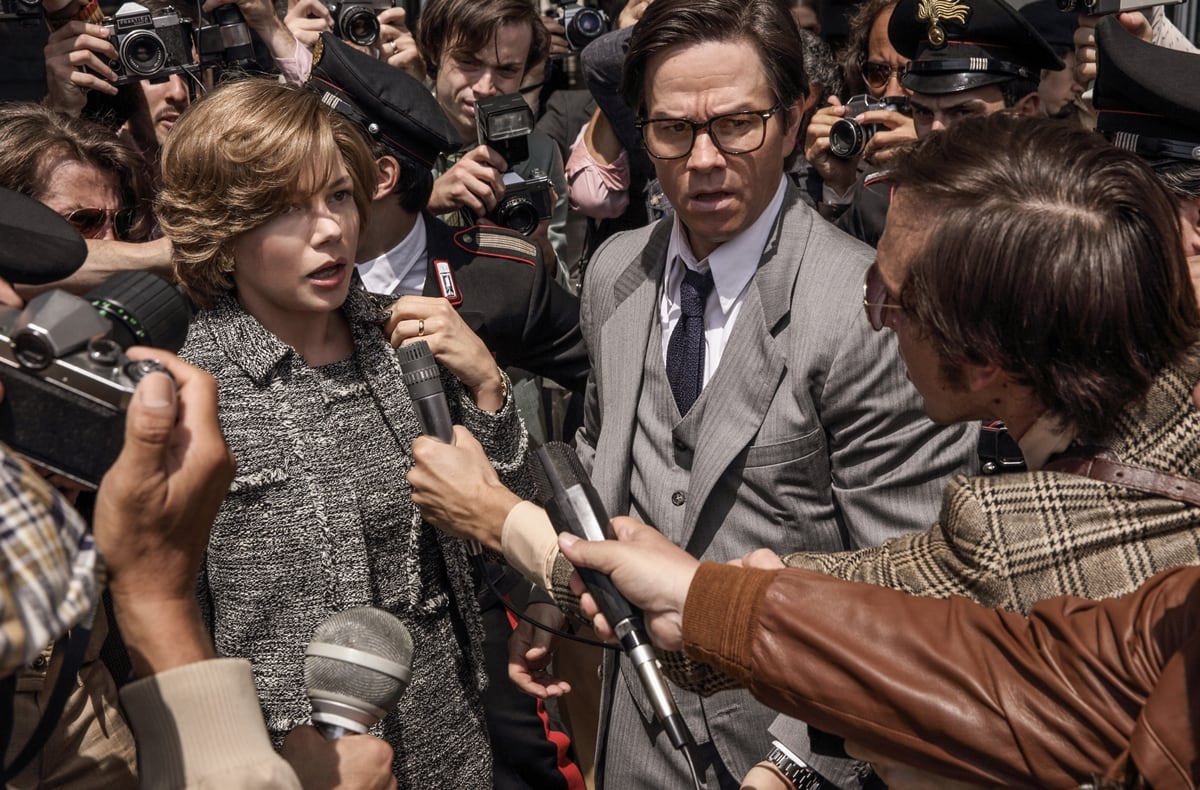 Mark Wahlberg was paid $1.5 million for reshooting his scenes in All the Money while his co-star Michelle Williams was paid less than $1,000 (Credit: TriStar Pictures)
When the imbalance went public, Mark chose to donate his entire paycheck to the Time's Up Legal Defense Fund in Michelle's name. The gesture has been hailed as a generous response to gender pay inequity in the industry.
Mark Wahlberg is clearly unstoppable. He's broken down barriers between a life of crime and a successful music career. He's also crossed over from his music career to be one of the highest-paid actors ever.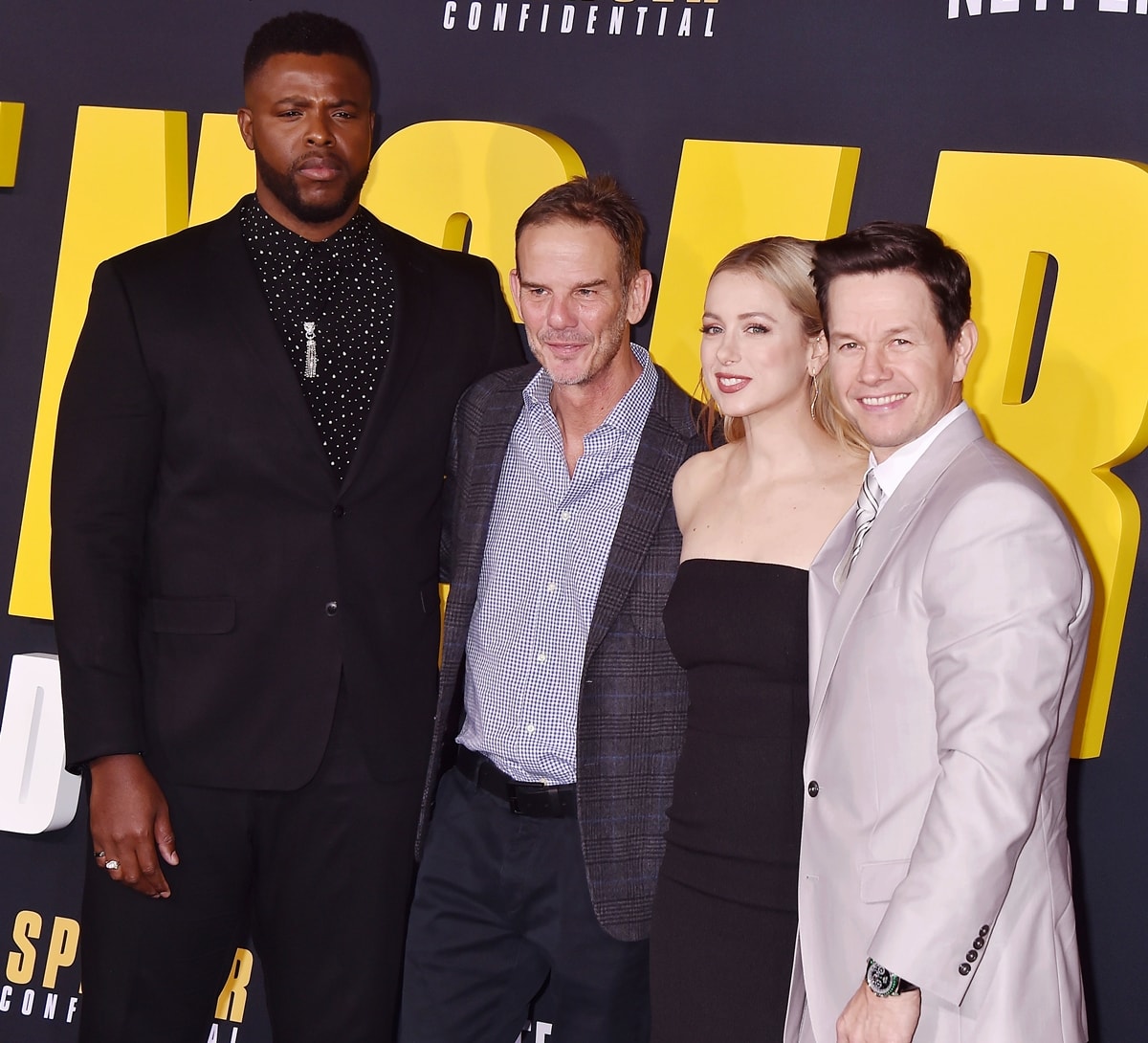 Winston Duke, Peter Berg, Iliza Shlesinger, Mark Wahlberg at the Premiere of Netflix's "Spenser Confidential" at Regency Village Theatre on February 27, 2020, in Westwood, California (Credit: Avalon / WENN)
Even with more projects in the works, he's built an infrastructure to lift up those around him and the less fortunate. We'll have to keep our ear to the ground- we don't want to miss out on what he and his family are up to next!
We've seen Sienna Miller go from a fashionable socialite to a respectable actress. In 2016, she starred in the 2016 American crime drama film Live by Night with Ben Affleck.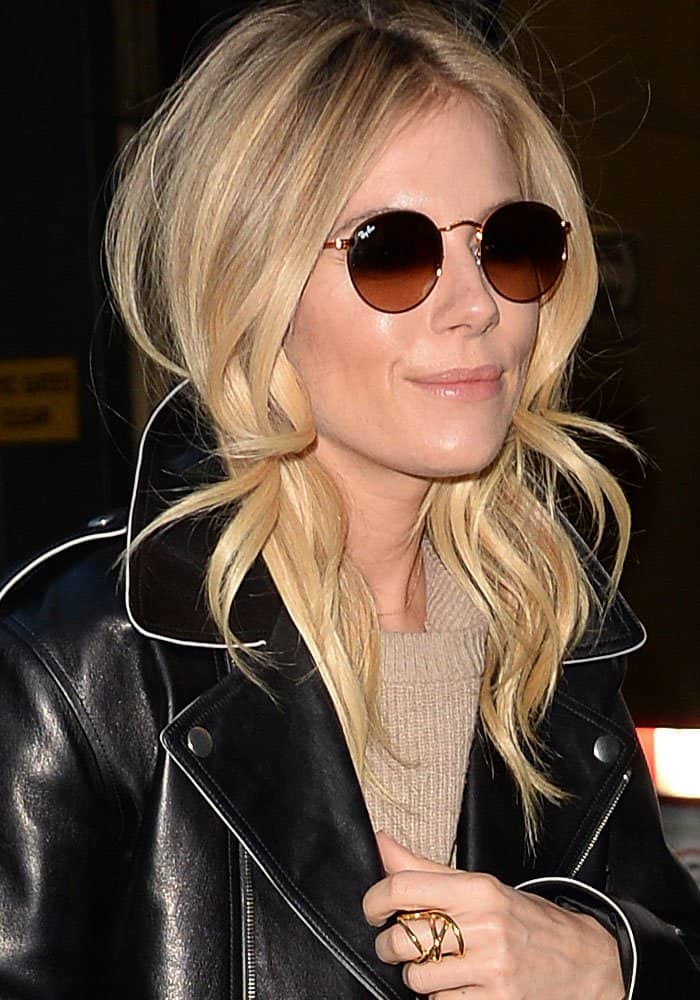 Sienna Miller wears Ray-Ban round metal sunglasses outside BBC Radio 1 in London on January 13, 2017 (Credit: Tony Oudot / WENN)
After her successful career transition, in January 2017 Sienna showed potential with comedic roles as well after a hilarious sit down with Matty Healy of 1975 and radio host Nick Grimshaw.
Sienna brightened up everyone's morning as she came into BBC Radio 1 for the breakfast show in London.
Sienna Miller shows off her feet in Miu Miu platform sandals (Credit: Tony Oudot / WENN)
In true Sienna Miller form, the actress stepped out during the morning in a black leather jacket. Underneath, Sienna wore a cozy-looking sweater with loose black culottes.
The actress finished her look with a pair of Ray-Ban round metal sunglasses, a Louis Vuitton Capucines bag in black leather, and a pair of Miu Miu suede platform sandals.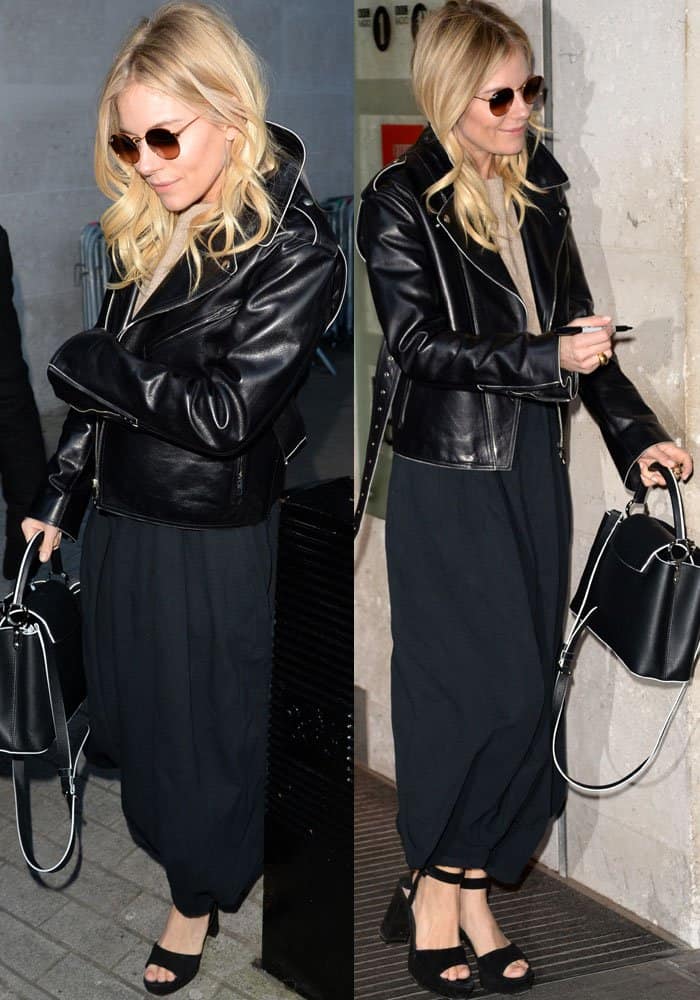 Sienna Miller stepped out in a leather jacket over a knitted sweater (Credit: Tony Oudot / WENN)
During the radio show, Sienna said she attended her first Golden Globes shortly after giving birth to her daughter, Marlowe.
The actress went on, saying Mark Wahlberg came up to hug her, which made her lactate. Fortunately, it didn't show on her dress.
"I met him just six months after having a baby and I was still breastfeeding, but what he doesn't know is that when he very sweetly gave me a big hug I lactated all over him!" the British beauty later said on BBC's The Graham Norton Show. She gave birth to her daughter Marlowe Ottoline Layng Sturridge in July 2012 with her ex-beau Tom Sturridge.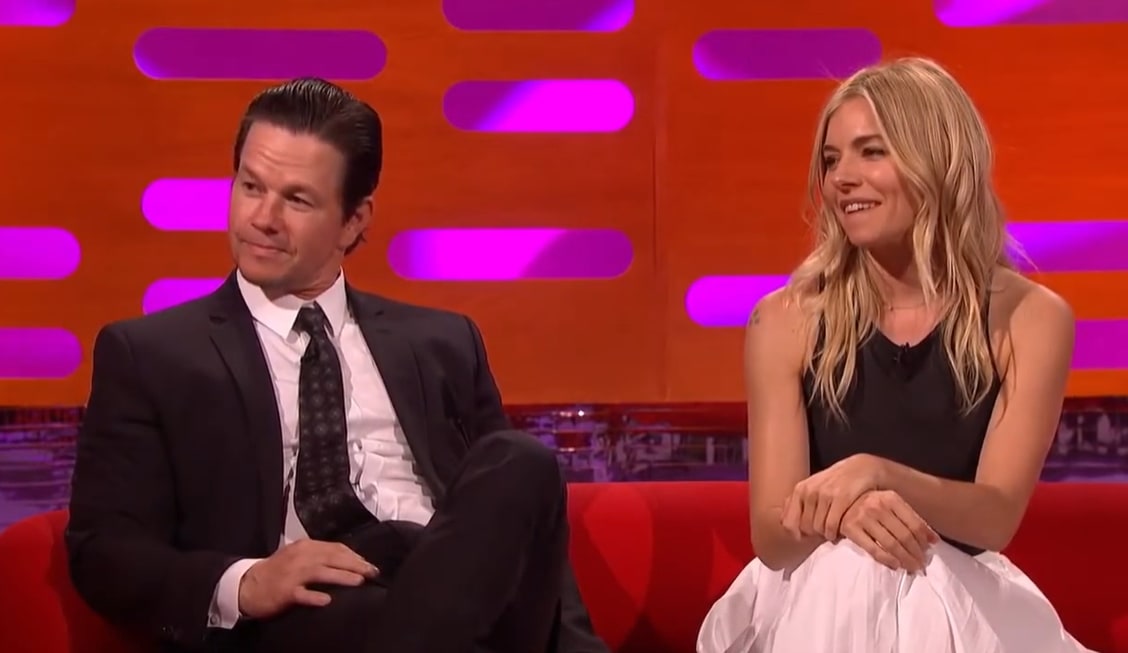 Sienna Miller revealed she lactated on Mark Wahlberg the first time they met (Credit: BBC / YouTube)
In the clips, Sienna is seen having a hoot with Matty Healy and Nick Grimshaw despite the early morning hours. The three even arranged to meet up afterward just to hang out.
You can shop Sienna's Miu Miu sandals at Farfetch and Nordstrom.
Miu Miu Platform Ankle-Wrap Sandals, $690