Heidi Klum and Seal (Henry Samuel) gave people hope for love as their match made in heaven was the definition of "Couple Goals."
Their relationship seemed unbreakable from the moment they started dating when Seal accepted Klum, who was pregnant at the time, and her unborn child as part of his family.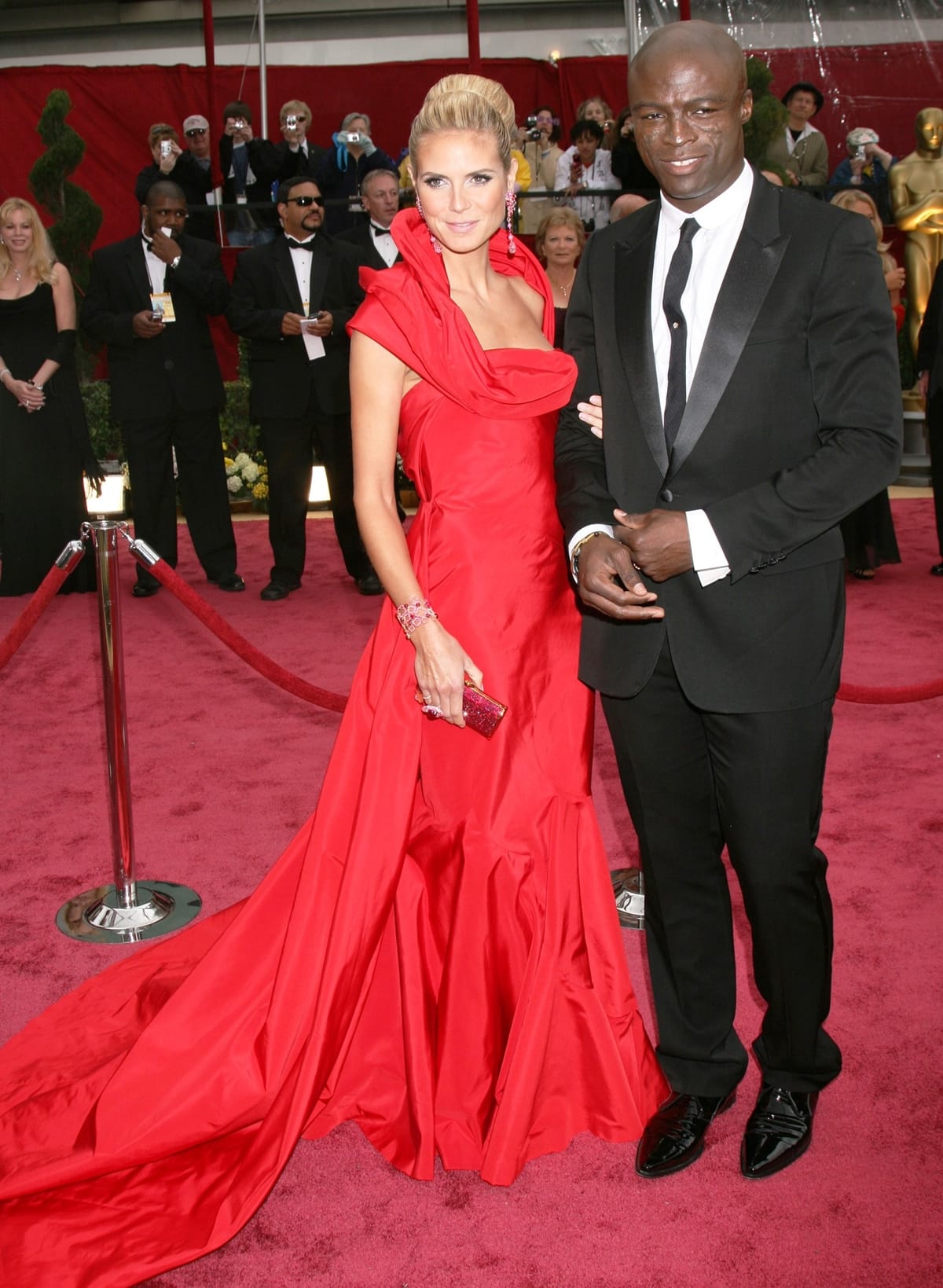 Singer Seal and TV personality Heidi Klum arrive at the 81st Annual Academy Awards held at The Kodak Theatre on February 22, 2009, in Hollywood, California (Credit: Nikki Nelson/ WENN)
Unfortunately, matches made in heaven sometimes have an expiration date. Heidi and Seal announced their separation in 2012 and finalized their divorce in October 2014 due to irreconcilable differences. Shattering the perfect couple image in the eyes of their fans, Heidi and Seal moved on.
Love at First Sight
Supermodel Heidi Klum recalls the first time she met Seal. To her, it was love at first sight. He was dreamy, charming, sexy, and everything in between. Right away, she swept off her feet, and they began dating immediately.
"I met him in a hotel lobby in New York City, and he came in just from the gym. I was sitting there and I was like, wow," Heidi said about meeting her future husband.
Seal was very good to her. After receiving the bombshell news of her pregnancy with her previous boyfriend, Flavio Briatore, Seal stepped up to the plate and decided to be a father to the child. He was in love with Heidi, and pregnancy from a previous lover wasn't going to stop that.
Heidi Klum, internationally renowned model and television personality, shares a unique connection with her ex-partner Flavio Briatore, who is the biological father of their daughter, Leni Klum (Credit: WENN / SCHROEWIG)
As far as the public was concerned, their love was absolutely flawless. Klum and Seal would take every opportunity that they could to dote on the other in interviews or publicly. They could not stop bragging about how wonderful the other person was. It seemed almost too perfect, which we learn later that it was.
Heidi and Seal quickly got married while she was still pregnant, in a secret wedding in Mexico. Life couldn't have been any better for the two of them. Heid recalls being so deeply in love with Seal that she wanted to make him look good by looking good herself. She modernized her style and wanted to be a sexy trophy next to him.
Heidi Klum and Seal's love story began when they serendipitously crossed paths in a New York City hotel lobby in 2004 (Credit: WENN)
The couple, who referred to each other as best friends, had three more beautiful children together. With vacations, family and love, things couldn't have looked any better for them.
Trouble In Paradise
Unfortunately, all good things must come to an end. During a vacation in 2011, things didn't seem to be all they were making it out to be. While Heidi herded the kids around, Seal was spotted by paparazzi clubbing the entire time. Images surfaced of Seal dancing with barely clothed women while his wife and children were blocks away in their hotel. YIKES!
Less than a year later, Klum and Seal would announce their separation, which would result in their divorce being finalized in October of 2014. The match made in heaven wasn't as perfect as we all believed it to be.
Heidi Klum and ex-husband Seal watch their children play in a soccer game in Brentwood, Los Angeles, on October 4, 2014 (Credit: WENN)
It wasn't Seal's escapades on vacation that led to their relationship ultimately ending. That was merely a symptom of deeper problems within their marriage. They both had been struggling for quite some time and had been quiet about it.
Their public image had remained flawless. After their separation, Heidi and Seal did their best to remain cordial about the other person. They still had their reputations to maintain, and they didn't want to make things worse for the children.
A Broken Team
After their separation, rumors began to surface about Heidi and Seal's relationship. Friends close to them stated that Heidi felt they needed to divorce because of Seal's anger problems. It had begun to make things hard at home and was beginning to disturb the children.
While unconfirmed by neither Heidi nor Seal, we do know that Heidi wasn't happy by Seal's constant absence. She talks about how he was never there, and it is reported that she was often left alone to be the only one parenting the children.
Following a nearly seven-year-long marriage, Heidi Klum made the difficult decision to file for divorce from Seal in April 2012 (Credit: Mike Stotts/ WENN)
Coincidentally, Seal felt the very same way. In an interview with Us Weekly, seal states, "It requires teamwork. If you are a team, if both parents are a team, then it's really easy, and that's not a real challenge at all. … But you have to be a team. And if you're not a team, then it can all fall to pieces. I never had that teamwork [with Klum]."
Heidi claims that she did her best to make her marriage work. In an interview, Heidi stated that they would renew their vows every single year. Her thought behind that was that if they re-established their love frequently, they would be able to make their marriage work. Does that mean trouble was brewing in paradise less than a year after they got married?
Seal, on the other hand, was not a fan of the renewal parties. Completely unaware of how Seal felt, Heidi would put on an elaborate spectacle to celebrate her wonderful relationship with her wonderful husband. To seal, it was all a big circus.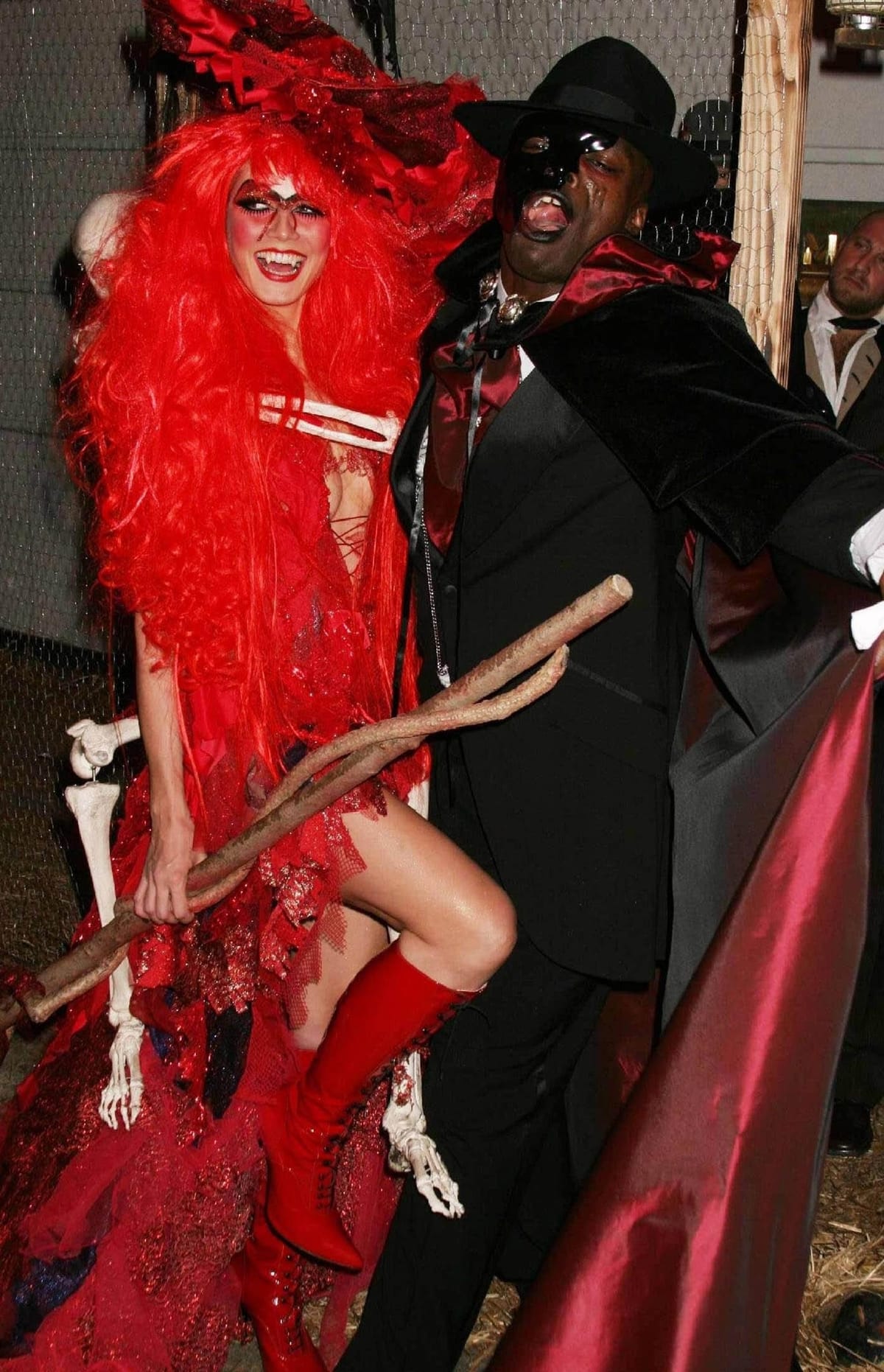 Heidi Klum as a red witch and Seal as the Phantom from The Phantom of the Opera attend her 5th Annual Halloween party at Marquee on October 31, 2004, in New York City (Credit: PNP / WENN)
He didn't understand why she needed to put on such big shows. Seal was a private person, and Heidi was just not taking that into consideration with these events.
Following their separation, rumors surfaced of Heidi's possible infidelity. This was a gray area as Heidi and Seal had already been separated when she started to openly have a relationship with one of her bodyguards.
Seal accused Heidi of "fornicating with the help" while they were still married. While he may not have been done with the relationship, she clearly was.
Moving On
It has been years since their divorce, and the couple has officially moved on in their lives. Well, maybe just Heidi.
Seal reports struggling to have meaningful relationships. He started a relationship shortly after their divorce, and he tried to be happy, but it was short-lived.
It is not uncommon to spot Seal in the clubs with his arms around other women, but that is clearly not an indication of contentment.
Seal and his girlfriend Laura Strayer enjoying a stroll in Saint Tropez on August 4, 2021 (Credit: MEGA / WENN)
Seal stated that he believes that the entire concept of marriage is flawed. His relationship and separation from Heidi broke him. While being far from perfect, it was clear that Heidi was Seal's world, and he was not ready for them to split up.
It is reported that Seal is currently in a happy relationship with one of his former assistants from when he was married to Heidi, Laura Strayer. Hopefully, Seal can give love another try and find true happiness.
Heidi didn't waste any time after her separation from Seal. She immediately started dating her bodyguard before the divorce was even finalized. This led to accusations of infidelity from Seal. She was unphased by them, and she quickly put her marriage behind her.
She dated a few others before finally marrying Tokio Hotel singer Tom Kaulitz in a private ceremony, February 2019. They had another ceremony with friends and family later that year to make their nuptials public.
Heidi Klum has been married to the Tokio Hotel guitarist Tom Kaulitz since 2019 (Credit: MEGA / WENN)
In an interview with People, Heidi said, "For the first time, I have a partner who I can discuss everything with. Someone who shares duties that we all have in our life," Klum added.
"I used to be on my own with everything. For the first time, I get to experience what it is actually like to have a partner."
Friends or Cordial Co-Parents?
Heidi's snub to seal while declaring her love for Tom is a clear indicator that there might be some bitterness between the two of them. That doesn't stop them from trying to do their best to be everything their kids need them to be.
This includes joint vacations and Seal even joining the audience of America's got talent, although that might have been for publicity or because Seal still shared feelings for Heidi. During one of their vacations, the paparazzi caught a photo of Seal kissing Heidi on the cheek. Romance or salutation? Salutation.
Even though they try hard to appear friends for the public and their children, problems still arise between them. They struggle with custody, and Heidi harbors bitterness regarding Seal's approach to parenting. There isn't one.
Seal takes Leni Samuel and Lou Samuel shopping for wintry athletic gear in Beverly Hills on November 23, 2016 (Credit: WENN)
Recently, Heidi was scheduled to go to Germany to judge in "Germany's Next Top Model." As with every other time she traveled, Heidi planned to take the kids with her. Due to concerns over Covid, Seal objected.
This led to a legal dispute, and Heidi called for an emergency custody hearing. In a scathing letter to the judge, Heidi lays out Seal's usual interactions with the kids, which was next to none. He spent less than six weeks total with the kids in an eight-month period. She used this to question the motives behind his objection.
Heidi offered to let Seal take the kids for another Christmas vacation and was ordered by the judge to make reasonable accommodations to return the kids to the United States in the event that Covid led to the borders being shut down. They both agreed, and Heidi took the kids to Germany.
Happy Ending?
While we don't know whether or not Heidi and Seal will ever become real friends again, it is clear that they are trying their best to be what their kids need them to be. Hopefully, there will be a resolution, and the two of them can move past the problems they had in the past, but that seems unlikely.
Perhaps Seal finding true love will start the process of mending his broken friendship with Heidi, and they both can heal.
In 2016, a significant change occurred on the popular reality competition show America's Got Talent (AGT) when Simon Cowell joined the judging panel, replacing Howard Stern.
This announcement created a buzz among fans and media alike, as Cowell's reputation as a brutally honest and influential judge preceded him.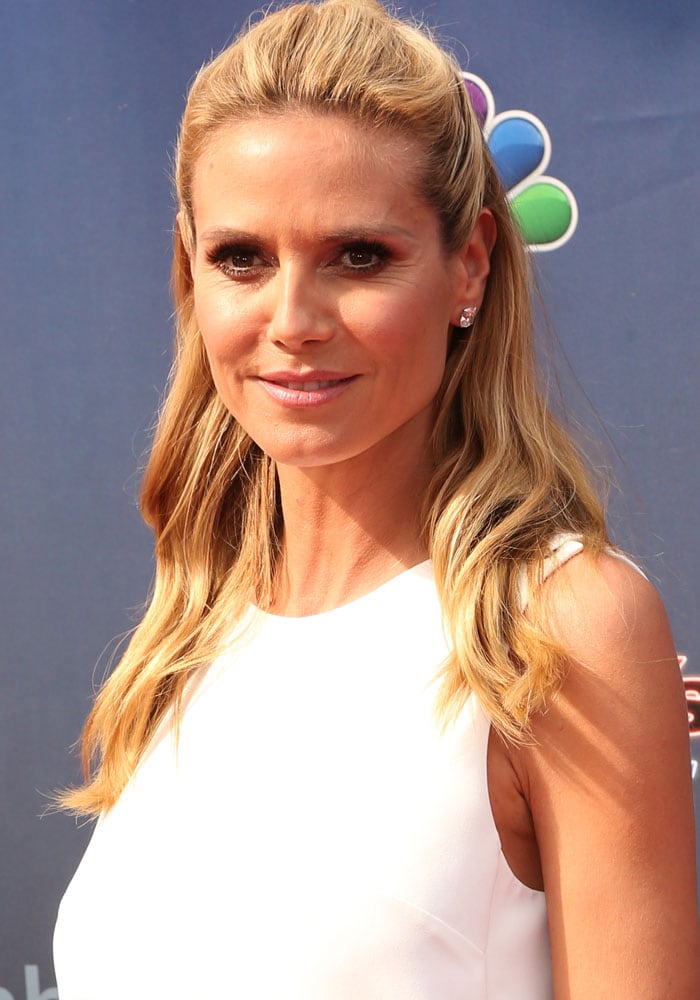 Heidi Klum wears her hair half-up, half-down at NBC's "America's Got Talent" Season 11 kick-off held on March 4, 2016, in Pasadena (Credit: FayesVision / WENN)
Simon Cowell has always played the "bad judge" role, which is how he attained his fame through American Idol in the first place.
After leaving Idol for "America's Got Talent" — creating the show as an executive producer — Simon took his place at the table as a judge for the first time.
Wondering what show judge Heidi Klum thinks about that? Wonder no more. In March 2016, the model shared her opinions about Simon Cowell's decision to join the panel at the season 11 kick-off in Pasadena.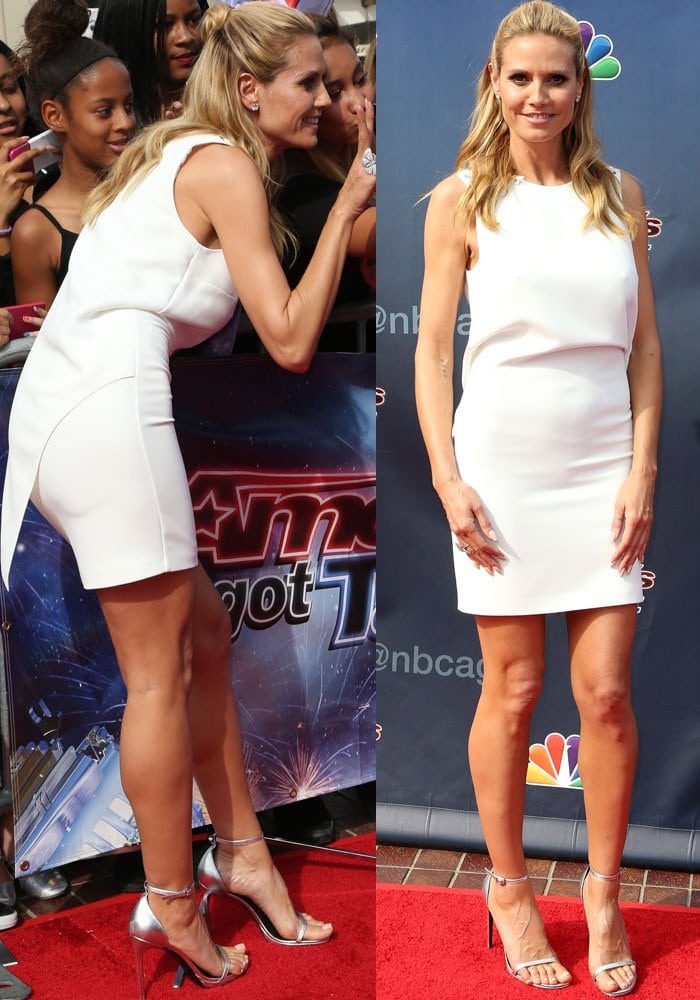 Heidi Klum wears a simple white dress on the red carpet (Credit: FayesVision / WENN)
Heidi Klum triumphed over her previous Oscars fashion mishap by making a stunning comeback, captivating everyone with her attire. She confidently donned an elegant white dress that boasted a breathtaking silhouette, accentuating her natural beauty.
Complementing the ensemble, she tastefully adorned her feet with the exquisite silver "Jane" sandals from the renowned designer Saint Laurent.
She wore her hair half-up and half-down and accessorized with a pair of diamond earrings and some rings.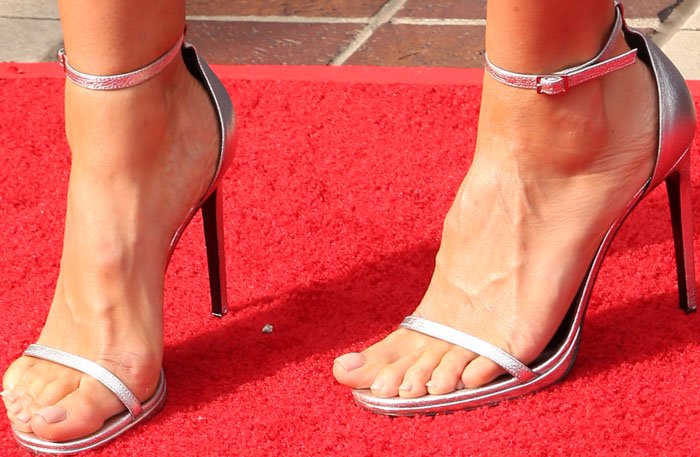 Heidi Klum's feet in silver Saint Laurent sandals (Credit: FayesVision / WENN)
Contrary to expectations, Heidi Klum was not apprehensive when she learned that her boss would be joining the judging panel. Instead, she was genuinely intrigued and excited to hear Simon's perspective.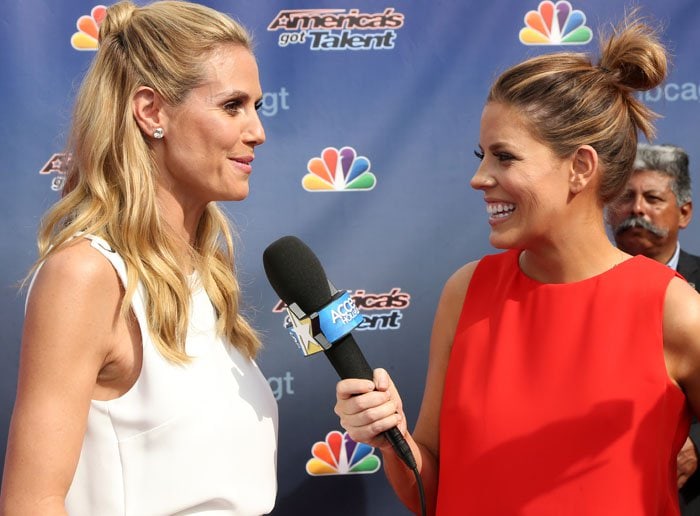 Heidi Klum participates in an interview on the red carpet of the "America's Got Talent" Season 11 kick-off (Credit: FayesVision / WENN)
The supermodel also reminded us that the judge Simon replaced — Howard Stern — wasn't exactly gentle either.
Simplicity is key. You can order Heidi's Saint Laurent "Jane" sandals in gold and silver on Nordstrom and Farfetch.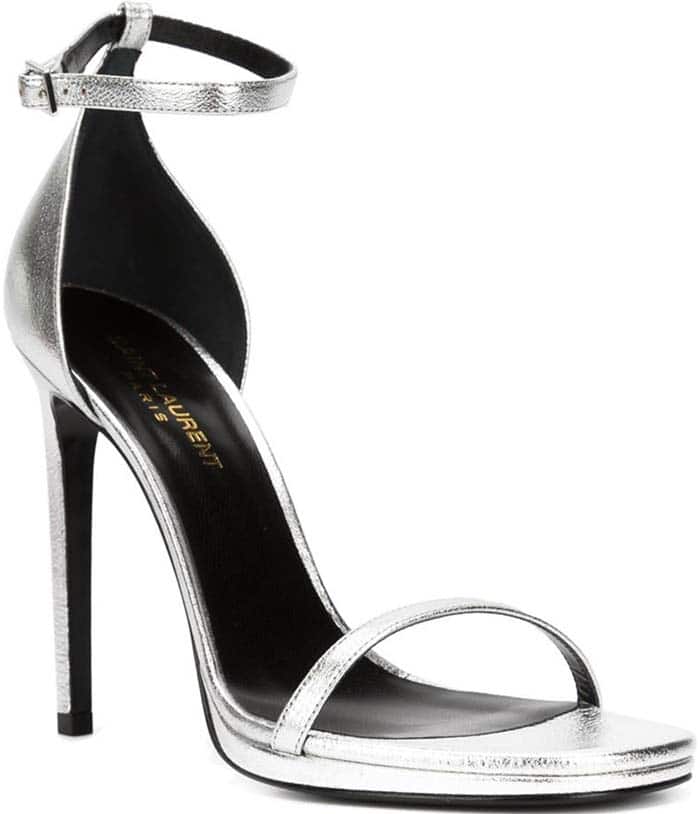 Saint Laurent Metallic Leather 'Jane' Sandals in Silver, $695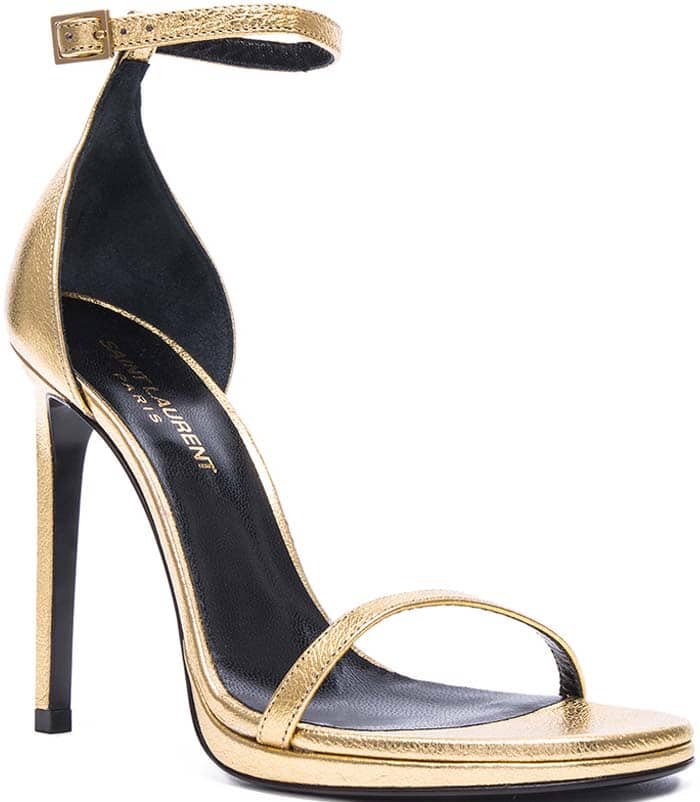 Saint Laurent Metallic Leather 'Jane' Sandals in Gold, $695