Emmy award winner Darren Criss has always loved the spotlight but has managed to stay out of the limelight for the most part.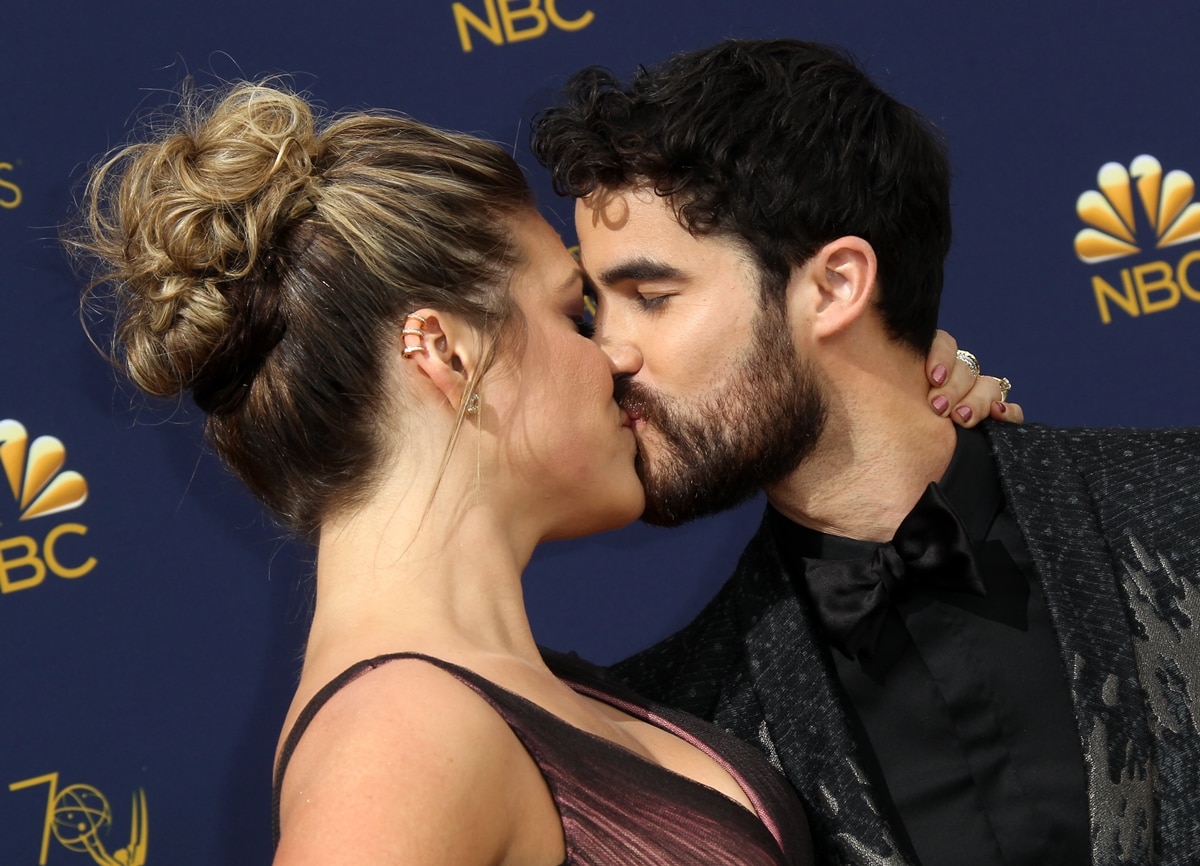 Darren Criss kisses Mia Swier at the 2018 Emmy Awards held at the Microsoft Theater on September 17, 2018, in Los Angeles (Credit: Adriana M. Barraza / WENN)
The Glee star's personal life was always kept under wraps until he married his wife. That being said though, even today three years after their wedding, many don't know that he is married!
Who exactly is Mia Swier and how did she become Darren Criss's wife?
Born September 1, 1985, Mia Swier is an all-around powerhouse of a woman. A musician, director, producer, and business owner, Swier is an NYU graduate with a love for all things television. She's even in an all-girl Guns N Roses tribute band called Guns N Hoses!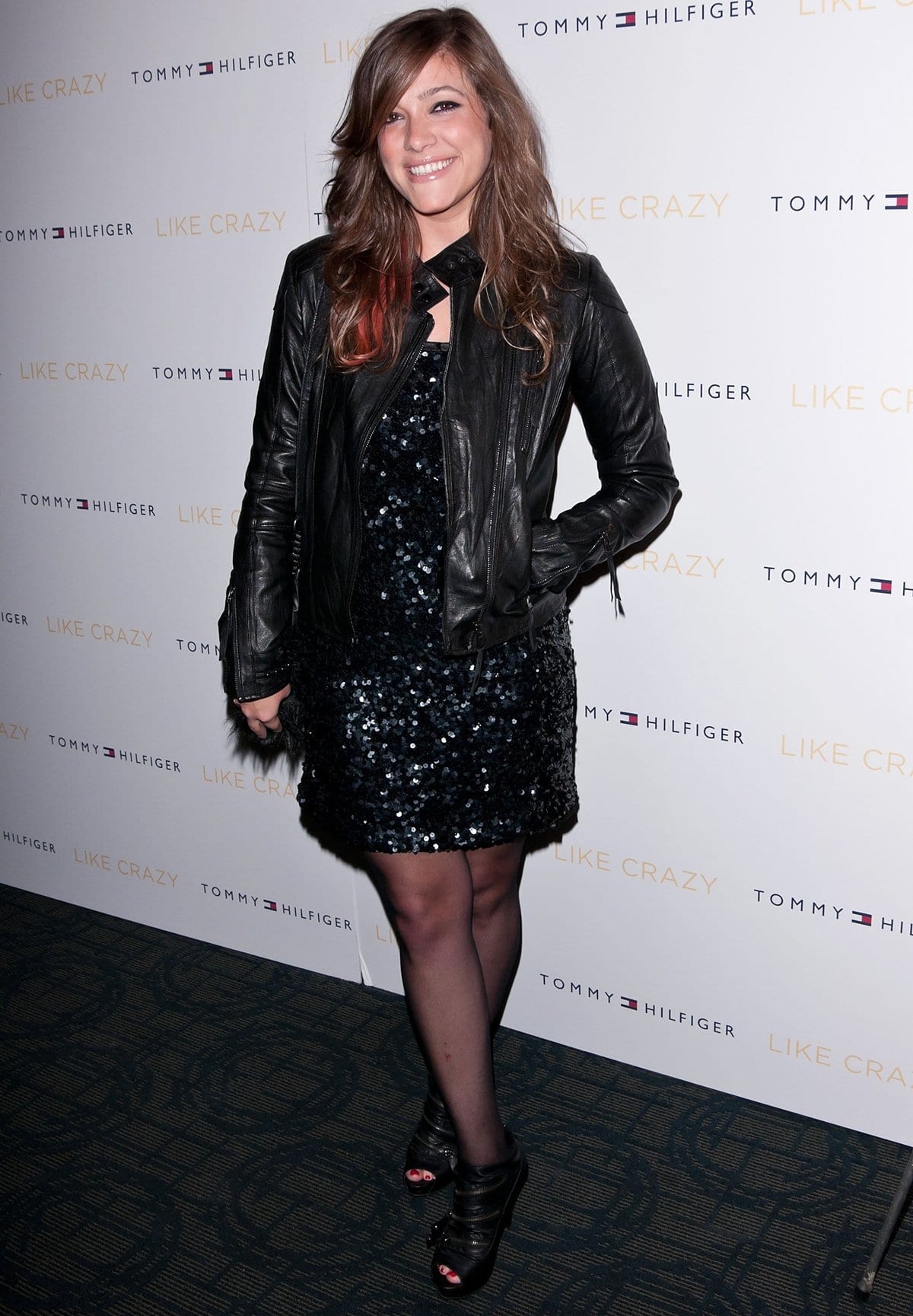 Mia Swier, bassist of Shoot the Freak, attends the "Like Crazy" premiere at the Sunshine Landmark theater on October 18, 2011, in New York City (Credit: C.Smith/ WENN)
Mia Swier is good at everything, and she is regarded as a kind and talented woman, though she tends to work behind the scenes directing promotional content.
She has done a lot of this kind of work for Fox and Showtime and even worked on Glee with Darren Criss. Despite popular belief, Mia Swier and Darren Criss did NOT meet on Glee.
How Did They Meet?
So, what's their story? Darren and Mia met through mutual friends in 2006. They didn't start dating until 2010 and they didn't get engaged until 2018.
Darren Criss and Mia Swier attend day 2 of the 2013 Coachella Valley Music & Arts Festival at the Empire Polo Club on April 13, 2013, in Indio, California (Credit: STS / WENN)
This long love story is something that Darren admits is his fault. He told People magazine that, "The idea of marriage was not something I gravitated to earlier in life. It's almost painfully cliché but boys grow up slower."
"Girl just mature faster. This is science. I am definitely no exception. I will say this: I dragged my feet," he added.
Their Extravagant Wedding
Darren Criss and Mia Swier were married on February 16, 2019, in New Orleans Louisiana.
As with everything else Darren Criss has ever done, this wedding was extra and amazing. The four-day event had performances from Glee stars like Lea Michele, a huge surprise concert, a performance by Mia Swier herself, and lots of tequila shots.
Darren Criss and Mia Swier attend the 2015 Tony Awards at Radio City Music Hall on June 7, 2015, in New York City (Credit: Joseph Marzullo / WENN)
Darren has stated multiple times since then that he wishes he could "get married every year" simply to redo how amazing their special day was and relive the moment.
Life After the Wedding Bells
When asked about how life has changed after getting married, Darren Criss told People magazine that "In many ways, it's not been a change at all."
He stated that "we were together for a long time before. By that point in our lives, it was a validation and sharing of our life and existence." How sweet is that?
Wearing Emporio Amani, Darren Criss got support from his girlfriend Mia Swier at the premiere of his new series American Crime Story: The Assassination of Gianni Versace at ArcLight Hollywood on January 8, 2018, in Hollywood (Credit: Brian To /WENN)
These days, Darren is still doing what he does best and was recently a star in Netflix's show Hollywood. Mia is still behind the scenes, doing as great as ever.
The dynamic duo owns a piano bar in Los Angeles, and they live happily together in the midst of running around juggling all of their projects.
Couple goals, am I right?
Wearing an Armani suit and Christian Louboutin shoes, Darren Criss and Mia Swier attended the 2018 Elton John AIDS Foundation's Academy Awards Viewing Party at The City of West Hollywood Park on March 4, 2018, in West Hollywood, California (Credit: FayesVision / WENN)
In August 2013, Darren Criss was joined by Lucy Hale at the 2013 Teen Choice Awards. The two stars hosted the event together and Lucy was truly the belle of the ball in a chic all-white outfit by Houghton.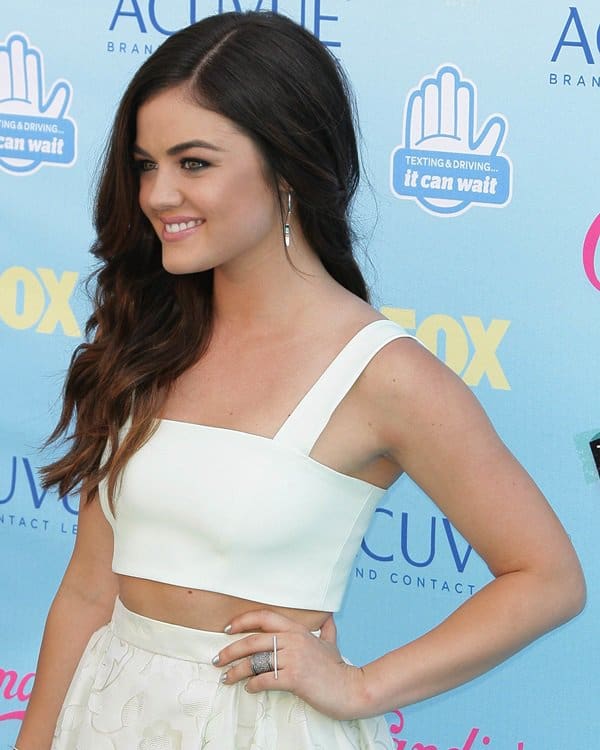 Lucy Hale wears silver earrings by Topshop and jewelry by Sophie Hughes (Credit: FayesVision / WENN)
The then 24-year-old Pretty Little Liars actress's perfect summer outfit was comprised of a cropped top and an A-line mini skirt.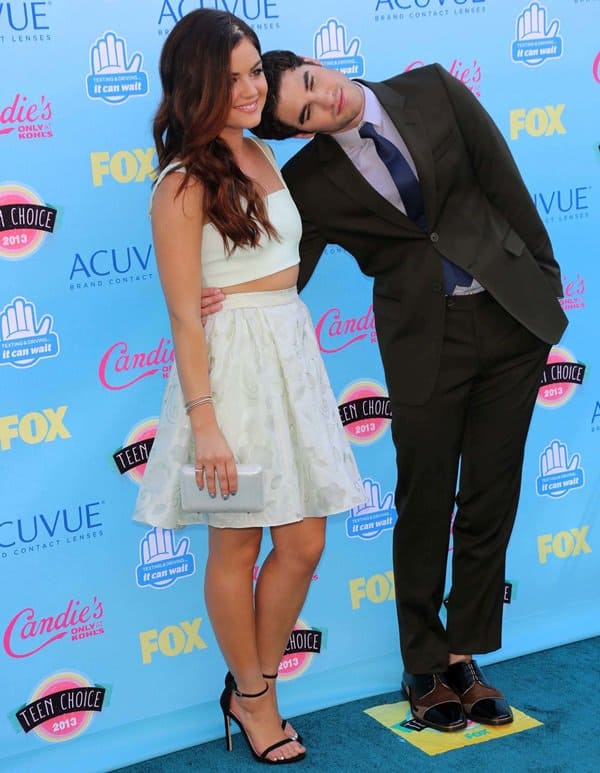 Co-hosts Lucy Hale and Darren Criss at the Teen Choice Awards 2013 (Credit: FayesVision / WENN)
It is a great style that's well-suited for her petite body frame. While it may seem like a safe and simple look for such an event, if it is executed perfectly, then it's bound to turn out just as good as the more elaborate and grandiose looks.
The How I Met Your Mother star certainly did pull off this dazzling all-white look, don't you agree?
Lucy Hale in a Houghton top and skirt, Stuart Weitzman shoes, Topshop earrings, Sophie Hughes bracelets and rings, and a Kotur clutch at the 2013 Teen Choice Awards held at the Gibson Amphitheatre on August 11, 2013, in Los Angeles (Credit: FayesVision / WENN)
Aside from her cropped top, her A-line high-waist skirt is versatile enough to suit women of varying sizes and shapes.
This style automatically adds a feminine vibe to one's look and is very reminiscent of those flimsy girly skirts worn during childhood.
Lucy completed the outfit with a pair of ankle-strap Stuart Weitzman Nudist sandals, silver earrings by British multinational fashion retailer Topshop, jewelry by Sophie Hughes, and a white leather clutch by Kotur Morley.