Naya Rivera's body was found on Monday after search efforts at Lake Piru, a reservoir located in Los Padres National Forest and Topatopa Mountains of Ventura County, California. The 33-year-old Glee star went missing on Wednesday last week while boating with her 4-year-old son Josey Hollis Dorsey.
Her son, who was found alone on the boat, told authorities his mother never came back after going for a swim.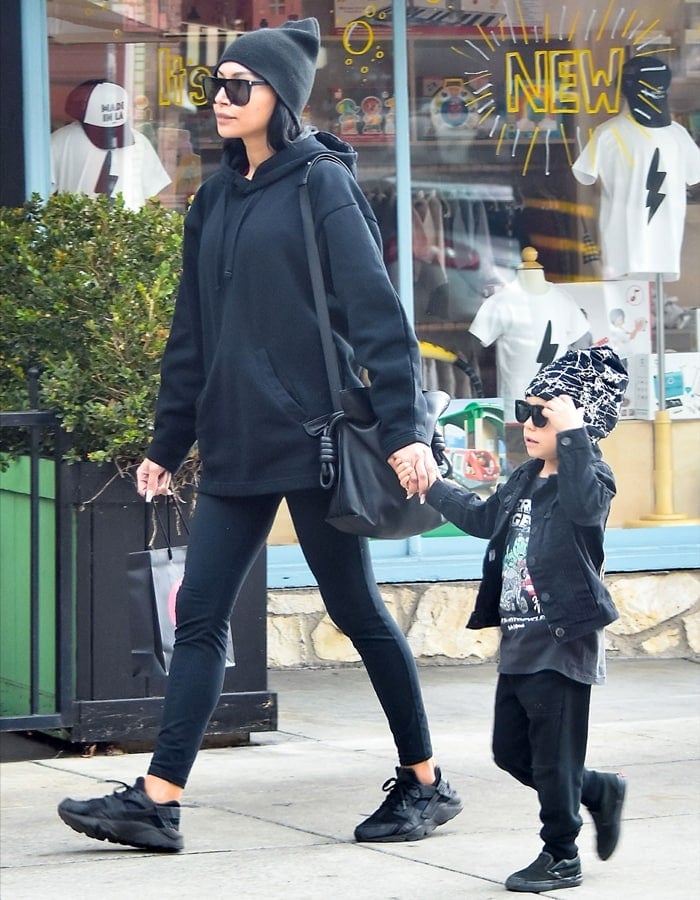 Naya Rivera out for a walk with her son Josey Hollis Dorsey in Los Angeles on January 16, 2020
"Based on the location where the body was found, physical characteristics of the body, clothing found on the body, and the physical condition of the body, as well as the absence of any other persons reported missing in the area, we are confident the body we found is that of Naya Rivera," Sheriff Bill Ayub said at a press conference.
Shay Mitchell's lookalike is best known for playing the cheerleader Santana Lopez in the hugely popular musical comedy TV series Glee.
Glee actresses Jenna Ushkowitz, Naya Rivera, Dianna Agron, and Lea Michele arrive at the American Idol Top 12 Party held at AREA on March 5, 2009, in Los Angeles, California
Appearing in commercials for Kmart as a baby, she had numerous television roles prior to her breakthrough as high school cheerleader Santana Lopez on Fox's musical comedy series Glee.
Naya Rivera at Camille Winbush's Sweet 16 Bash held at the Marina Del Rey aboard the Fantasea One Yacht in Los Angeles on February 11, 2006
Her Glee co-star and longtime friend Kevin McHale paid tribute to Naya Rivera on Instagram. He revealed that exactly seven years ago, he and Naya were together in London when they learned about the death of their co-star Cory Monteith.
"My Naya, my Snixxx, my Bee. I legitimately can not imagine this world without you," the American actor wrote on Instagram.
"7 years ago today, she and I were together in London when we found out about Cory. We were so far away, but I was so thankful that we had each other. A week ago today we were talking about running away to Hawaii. This doesn't make sense. And I know it probably never will."
"She was so independent and strong and the idea of her not being here is something I cannot comprehend. She was the single most quick-witted person I've ever met, with a steel-trap memory that could recall the most forgettable conversations from a decade ago verbatim. The amount of times she would memorize all of those crazy monologues on Glee the morning of and would never ever mess up during the scene… I mean, she was clearly more talented than the rest of us," he continued. "She was the most talented person I've ever known. There is nothing she couldn't do and I'm furious we won't get to see more."
In July 2013, Naya Rivera made no mistake in dressing up for her appearance on Jimmy Kimmel. Just months earlier, it was announced that Rivera had signed a deal with Columbia Records to produce a solo album.
Celebrities had been flaunting their toned abs the entire summer, so Naya's ensemble did not surprise us. Do you think she forgot her shirt?
Naya Rivera makes her way inside El Capitan Theatre to make an appearance on Jimmy Kimmel Live! in Hollywood, California, on July 30, 2013
Bralets, crop tops, and crop shirts were really hot in the summer of 2013. The American actress and singer stepped up her game in a halter bikini top, which showed off her cleavage and toned stomach.
Pairing her bikini top with a leather skirt made the look even sexier!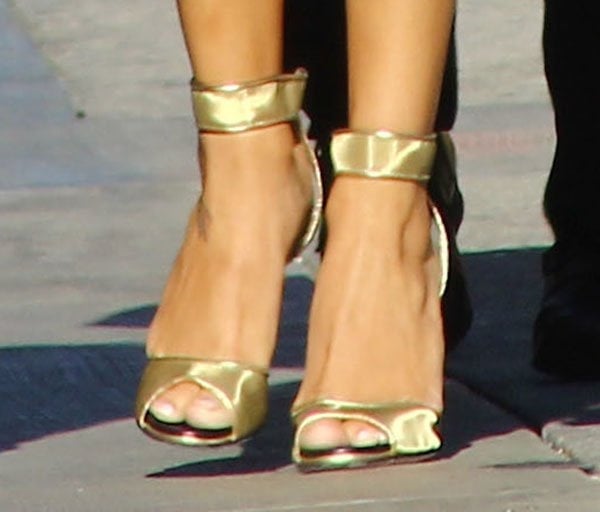 Naya Rivera shows off her feet in Diane von Furstenberg "Rae" sandals
Naya's sexy and elegant heels feature shimmering mesh peep-toe vamps, ankle straps with metallic gold leather trimming, zipper fastening at the back, and 4.5-inch heels.
Diane von Furstenberg 'Rae' Metallic Mesh Sandals, $398 at Shopbop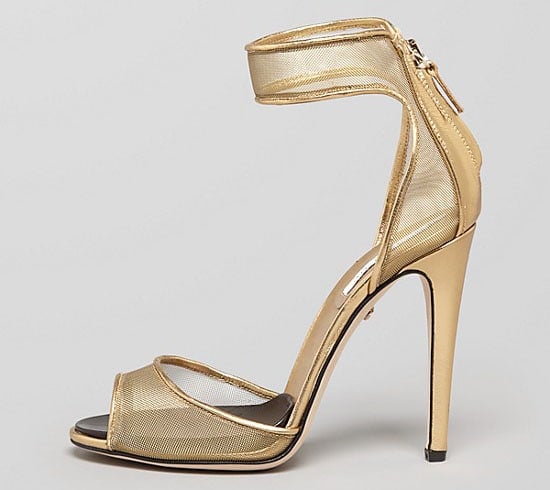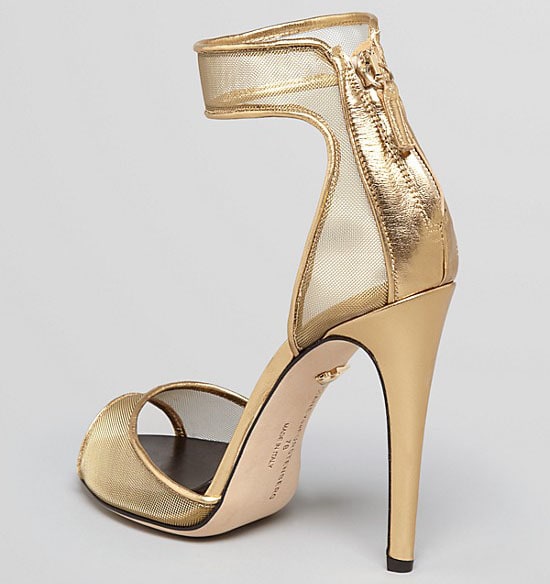 We love the softness of the textures in her bikini top, echoed by its soft blush-cream color, which is contrasted with the hardness of the leather skirt.
The tight-fitting skirt did the Norma Kahali top some favors by emphasizing it through clean lines. The paparazzi moment was undoubtedly all about the swimsuit-turned-television-outfit. And Naya's abs. We can't leave that one out.
Credit: WENN / Instar / Adriana M. Barraza / Moreen Littrell