Lea Michele made her first public appearance at the 2013 Teen Choice Awards on August 11 following the death of her boyfriend, Cory Monteith.
She took to the stage in a pretty pink ensemble to accept the award for Choice TV Comedy Actress.
The 26-year-old actress broke down in tears as she paid tribute to Cory while accepting her award. She was talking through tears saying,
Thank you, guys. Thank you.

I just wanted to be here today to personally thank all of you and tell everyone out there how much all of your love and support has meant to me over these very past difficult few weeks. Not that I had any doubt before, but you guys are most certainly the greatest fans in the world.

An emotional Lea Michele dedicated her Teen Choice Award To Cory Monteith (Credit: FOX)

And I want to dedicate this award to Cory, for all of you out there who loved and admired Cory as much as I did. I promise that with your love, we're going to get through this together. He was very special to me and also to the world. We were very lucky to witness his incredible talent, his handsome smile, and his beautiful, beautiful heart. So, whether you knew him personally or just as Finn Hudson, Cory reached out and he became a part of all of our hearts, and that's where he'll stay forever. So, thank you, guys, so much.
Everybody at home and in the audience was undoubtedly moved by her acceptance speech! Even celebrities at the event were teary-eyed as they listened to Lea's brave tribute:
Lea Michele snagged the Best Actress (Comedy) award at the Teen Choice Awards (Credit: FOX)
Despite the tears, Lea Michele looked fabulous as usual. Somehow, she managed to hold it together, and we must say her pink ensemble made her glow!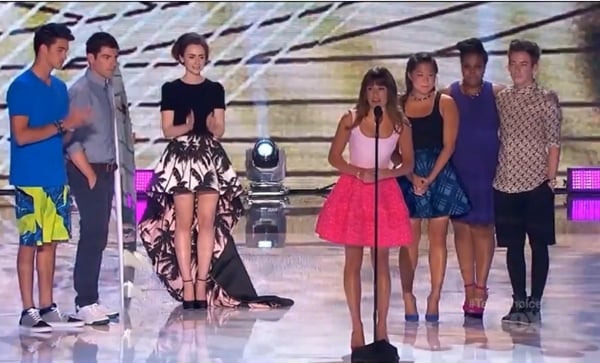 Lea Michele wore a "Cory" necklace and hot pink ensemble while dedicating her Teen Choice Awards speech to boyfriend Cory Monteith (Credit: FOX)
While we have yet to identify her pink pointed-toe pumps, which seem to feature leather cap toes and covered heels, below are some similar pink shoes from Farfetch that we hope you'll like.
Actor Cory Monteith, a star in the television series "Glee," was found dead in a hotel room in Vancouver, British Columbia, on July 13, 2013 (Credit: FOX)
We'll keep you posted for updates and will bring you more shoes from the Teen Choice Awards shortly!
Pink Casadei Pointed-Toe Pumps, $635.00
Sergio Rossi Pink Suede Pointy-Toe Pumps, $540
While delivering her speech, Lea wore a "Cory" necklace. It was not the first time for us to see this necklace, but it was definitely a very fitting occasion to wear the priceless jewelry piece.
Lea Michele wears a "Cory" necklace around her neck (Credit: FOX)
Lea also wore it a few months earlier. It seems to be her favorite go-to jewelry on casual days.
Lea Michele wears a cute necklace that reads Cory in honor of her boyfriend and Glee co-star Cory Monteith (Credit: WENN)