Featuring the iconic split-toe from the defunct Nike Aqua Gear line and a plethora of neon hues, the futuristic Aqua Rift sneaker from Nike is available in barely volt/fire pink/orange, football grey/crimson/blue, and white at Nordstrom.
You can also buy this style in bright crimson/hyper blue/black/lemon venom and black/fire pink/green strike/white at Nike. Even more amazing colorways can be yours at End Clothing. What are your thoughts on this pair?
Split-Toe Aqua Rift Sneakers, $120
Blending features from 2 classic '90s footwear styles, this chunky rubber sole sneaker combines retro beach function with vibrant beach style. It is rippling with sculpted patterns and textures, from its cutout construction with a single Velcro strap to its sporty split toe.
For anyone with a bunion, beginning or advanced, this shoe has been designed to relieve your foot pain. By repositioning the great toe to the inside, it puts it back in alignment. It won't cure the problem, but it sure alleviates the pain for me. I had a pair back in the '90s, and when they wore out, it was terrible. But here they are again–the rift toe Nike and socks!
Super comfy. I was worried about the split toe but I barely notice it. I purchased these shoes for fashion and not water activities.
I have to say this is the coolest shoe I've ever bought from Nike. I love that's it's different and can really be eye-catching and speak to the personality someone has. The shoe does run small I usually wear a 7 in shoes but I get a 7.5 in Nike. Based only reviews I got a 7.5 and this really did help. I can't wait to wear them they are so comfy and cool! I love the color I already want another pair. If you're gonna do it, do it!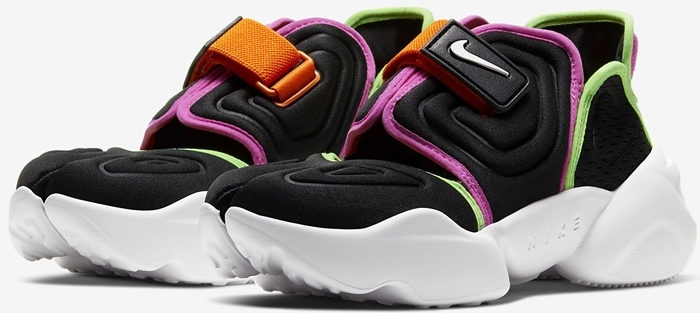 Feels like what I imagine walking on clouds would feel like. The insole is very soft and comfortable. It runs small so I would recommend going up a 1/2 size.