Known for their feuding, in June 2020 Naya Rivera unfollowed her Glee co-star Lea Michele on Instagram following the allegations about Lea's behavior on the set of Glee and other projects. Just weeks later, Shay Mitchell's lookalike was found dead at Lake Piru after tragically drowning.
Samantha Ware, who portrayed Jane Hayward in the sixth season of Glee, tweeted Lea Michele, "LMAO remember when you made my first television gig a living hell?!?! Cause I'll never forget. I believe you told everyone if [you] had the opportunity you would 'shit in my wig!' Amongst other traumatic microaggressions that made me question a career in Hollywood…"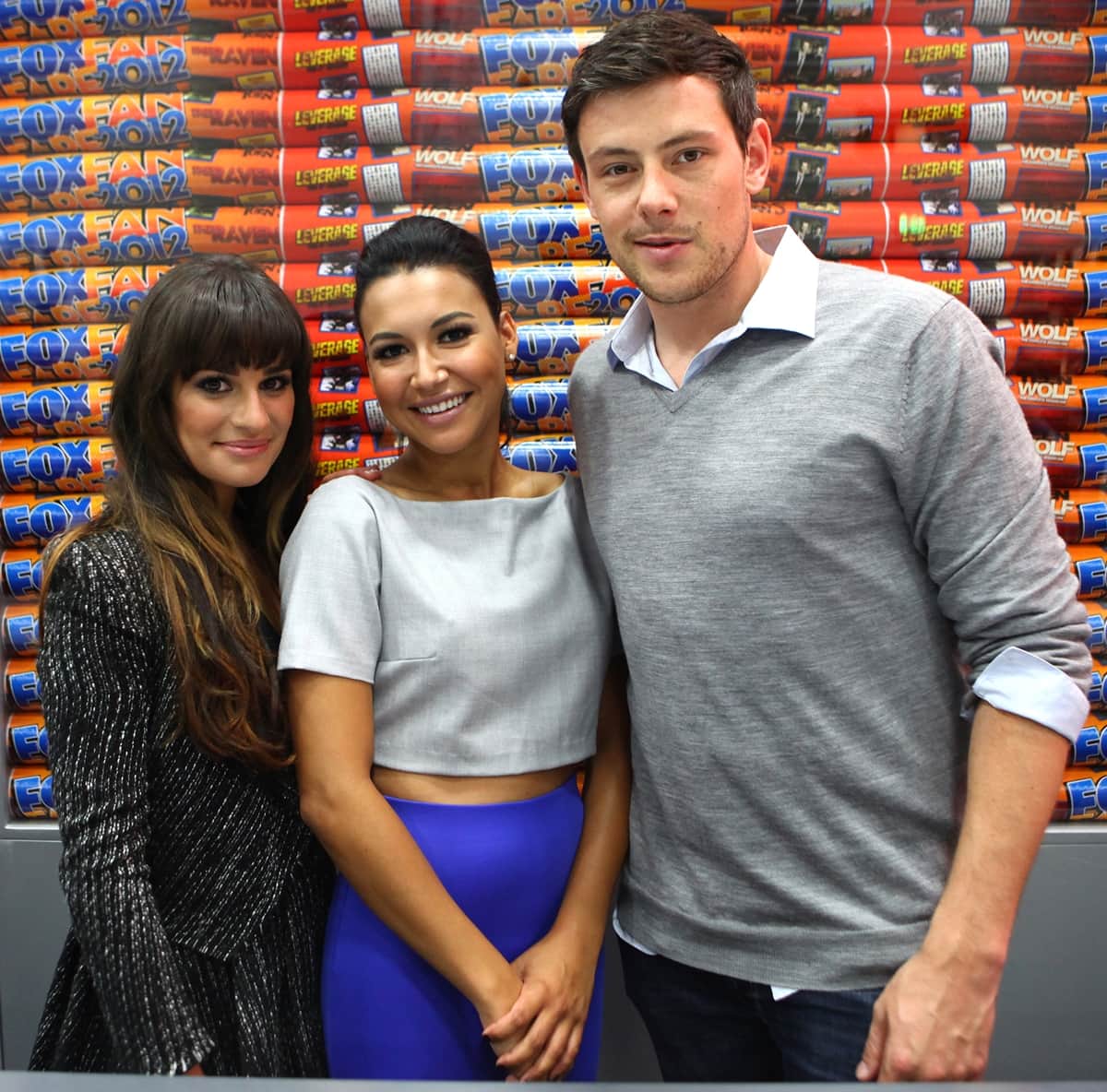 Lea Michele, Naya Rivera, Cory Monteith attend San Diego Comic-Con 2012 (Credit: B.Dowling / WENN)
In 2016, Naya wrote about her "feud" with co-star Lea Michele in her book "Sorry, Not Sorry: Dreams, Mistakes & Growing Up" that you can buy on Amazon.
"One of the Glee writers once said that Lea and I were like two sides of the same battery and that about sums us up," Naya wrote.
"We are both strong-willed and competitive – not just with each other but with everyone – and that's not a good mixture."
Naya added, "As the show progressed, though, that friendship started to break down, especially as Santana moved from a background character to one with bigger plot lines and more screen time. I think Rachel – erm, I mean Lea – didn't like sharing the spotlight. On top of that, she had a hard time separating work from our outside friendship, whereas it was a lot easier for me. I'm not offended when people offer feedback or criticism, and if things get heated on set, I try to keep perspective. We're all stressed, yes, but we're all working toward the same goal, so laugh it off and keep it movin'. Lea was a lot more sensitive, though, and it seemed like she blamed me for anything and everything that went wrong."
"If I'd complained about anyone or anything, she'd assumed I was b-tching about her," Naya made clear.
Lea Michele endured a bitter feud with her Glee co-star Naya Rivera (Credit: Cousart / JFXimages / WENN)
"Soon, she started to ignore me, and eventually it got to the point where she didn't say a word to me for all of season six. Lea and I definitely weren't the best of friends, and I doubt we'll ever sit on her couch and eat kale together again, but the rumors of our 'feud' were blown out of proportion."
Naya also wrote about Lea's relationship with Cory Monteith. The Glee co-stars dated from 2012 until his death. The actor, who played Finn Hudson on the American musical comedy-drama television series, was found dead in a hotel room in his native Canada on July 13, 2013.
"When Cory and Lea started dating, it was a total surprise. The more serious they got, the less Cory hung out with us, and the more he seemed like a different person. One year he came back from the break between seasons super skinny. He said he'd been spending a lot of time at the gym and was trying to be responsible – not spending money all the time and buying crazy cars like he used to. My personal feelings for Lea aside, I knew that she wasn't a partier, so I felt like maybe their relationship could actually be good for him. I was happy for Cory to have a stable influence in his life, wherever it was he found it."
Chord Overstreet, Jenna Ushkowitz, Cory Monteith, Naya Rivera, Lea Michele, Dianna Agron, Heather Morris, and Amber Riley on location for 'Glee' in Manhattan's Washington Square Park on April 29, 2011 (Credit: C.Smith / WENN)
Glee's creator Ryan Murphy also discussed the feud in an interview with E!.
"I feel like in the case of that show [Glee], that show was just a s–tstorm of difficulty, largely because, what do you do when you're 18 years old or 19 years old and you wake up one day and you're world-famous? I think a lot of that was informed by their youth and being involved in a phenomenon. And I know for a fact that they [Lea and Naya] admired each other's work, 'cause I directed them both in scenes," Ryan said about the Naya Rivera and Lea Michele feud.
When Naya Rivera was confirmed dead at the age of 33 in July 2020 on the seven-year anniversary of the day that Cory passed away at the age of 31, Lea took to her Instagram Stories to share three images.
One image shows Cory holding a bouquet of flowers while standing on a bridge in Central Park. The other photos are black-and-white portraits of Rivera and the cast
We know that foot tattoos are popular among celebrities.
In December 2014, Lea Michele even picked a pair of shoes that matched the color of her tats when she attended The Hollywood Reporter's Women in Entertainment Breakfast held at Milk Studios in Los Angeles.
Lea Michele at The Hollywood Reporter's Women in Entertainment Breakfast held at Milk Studios in Los Angeles on December 10, 2014 (Credit: Brian To / WENN)
The then 28-year-old actress sported a blue floral-print strapless dress from the Oscar de la Renta Resort 2014 collection featuring a bubble-hem peplum.
Lea Michele in a blue floral-print strapless dress from Oscar de la Renta (Credit: Brian To / WENN)
She styled it with Anita Ko jewelry and Jimmy Choo's "Tiga" sandals.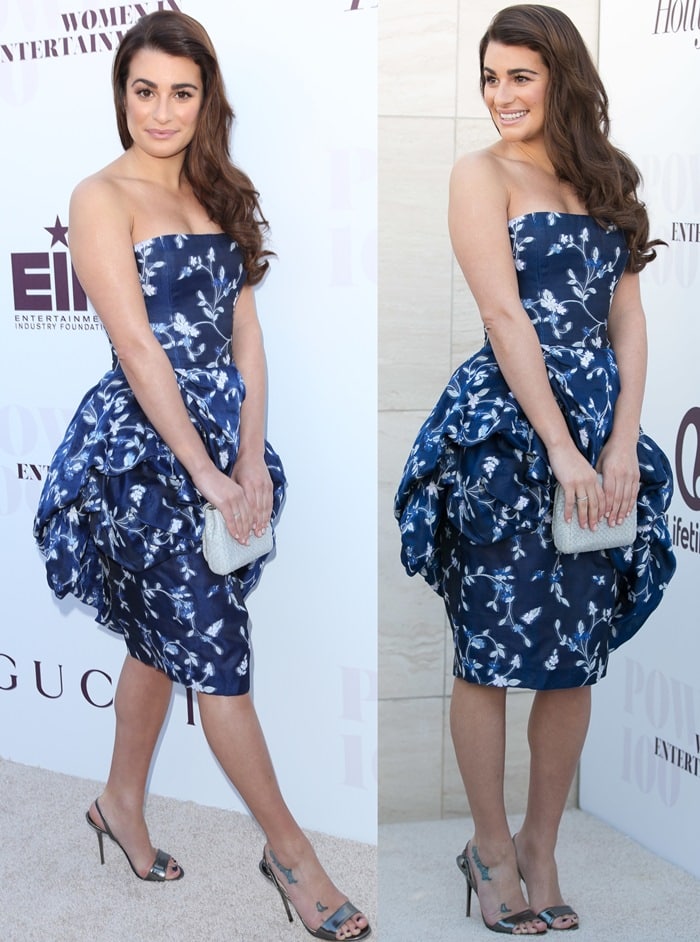 Lea Michele picked shoes that matched the color of her foot tattoos (Credit: Brian To / WENN)
How do you like Lea's floral bustled-peplum dress and Jimmy Choo sandals? You can browse the latest from the popular footwear designer at Farfetch, Mytheresa, Nordstrom, and Saks Fifth Avenue.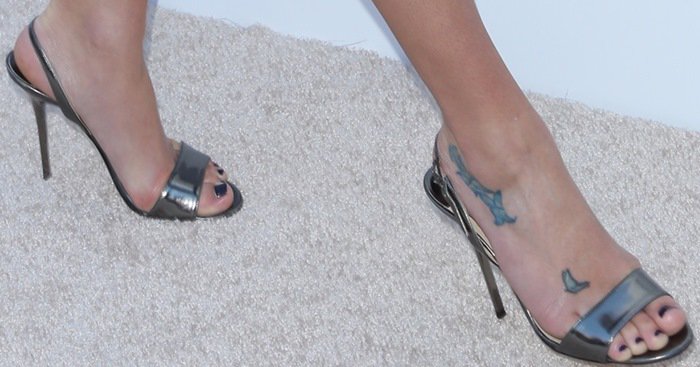 Lea Michele shows off her feet in Jimmy Choo sandals (Credit: Brian To / WENN)
Would you have opted for a different pair of shoes? Perhaps we can tempt you with today's fix at Kim Kardashian's ShoeDazzle that you can buy for $10.
Chyanne Jewel-Embellished Chain-Link Sandals, $10