Jennifer Lopez boasts of an illustrious career that spans decades. Her versatility allowed her to shine in different areas such as music, film, television, fashion, and even business.
The talented superstar has worked with everyone from rookies to iconic figures.
One such icon is Ray Liotta, who captivated audiences with his superb acting performances in films such as "Goodfellas." The two worked together in NBC's crime drama "Shades of Blue," which ran from 2016 to 2018.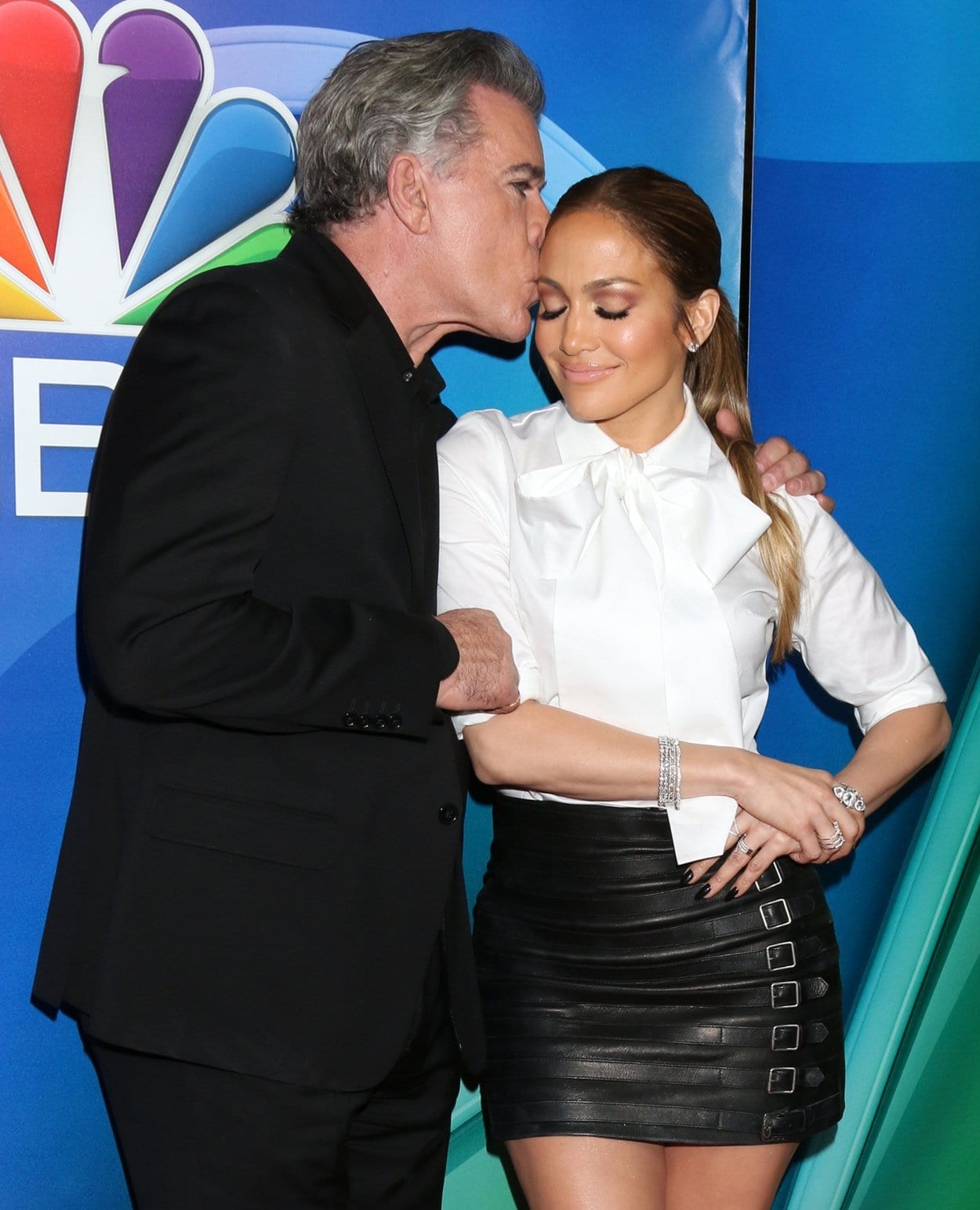 Jennifer Lopez gets a kiss on the head from her 'Shades of Blue' co-star Ray Liotta (Credit: Joe Seer / Shutterstock)
While he was of mostly Scottish heritage, Liotta became famous for portraying Italian-Americans and had an estimated net worth of $14 million dollars at the time of his death.
Abandoned as a baby at an orphanage, he was adopted at the age of six months by township clerk Mary (née Edgar) and auto-parts store owner Alfred Liotta.
"At first, I didn't understand how a parent could give up a child. So, I had that kind of energy of just being like, that's just f— up," he told People about being abandoned by his birth parents.
"And then you realize, when I finally met my birth mom and my birth siblings … in my 40s, by then, I wasn't as angry about it happening. I don't know. It's just another journey."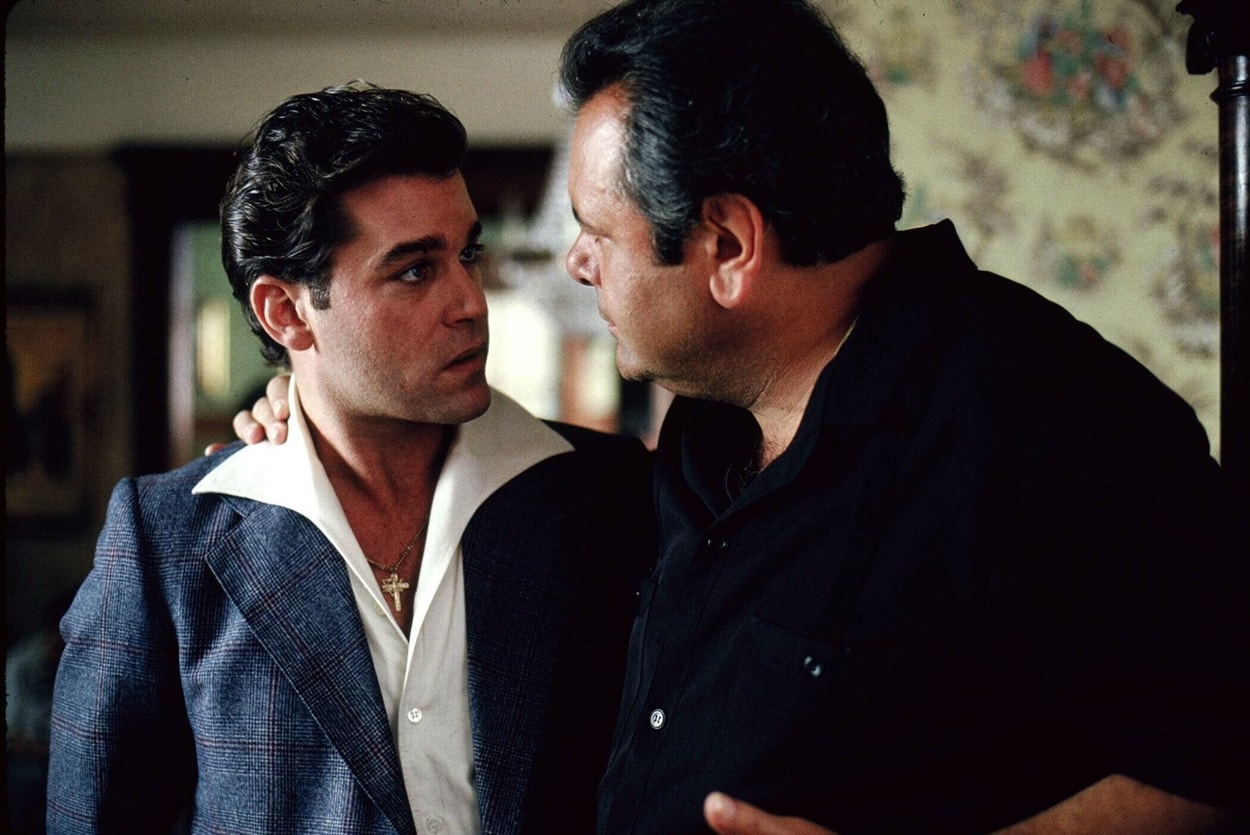 Ray Liotta as Henry Hill and Paul Sorvino as Paulie Cicero in the 1990 American biographical crime film Goodfellas (Credit: Warner Bros.)
"After years, you grow up, and you just see the pattern of things. I've definitely developed more patience. Now I'm grateful for my health. And being born. For my parents that adopted me. I mean, it could have gone a lot of different ways," Liotta added.
He leaves behind his fiancée Jacy Nittolo and his only child, daughter Karsen Liotta, whom he shares with his ex-wife, Michelle Grace.
"My whole life is about her. Being a dad. She'll come up and visit me on set. I don't like to go too long without seeing her. Maybe a couple of weeks. I just had a period of four months at home because I decided not to do a movie so I could spend more time with her. It was all about taking her to dance classes, playing with her," he told The Guardian about his daughter in 2007.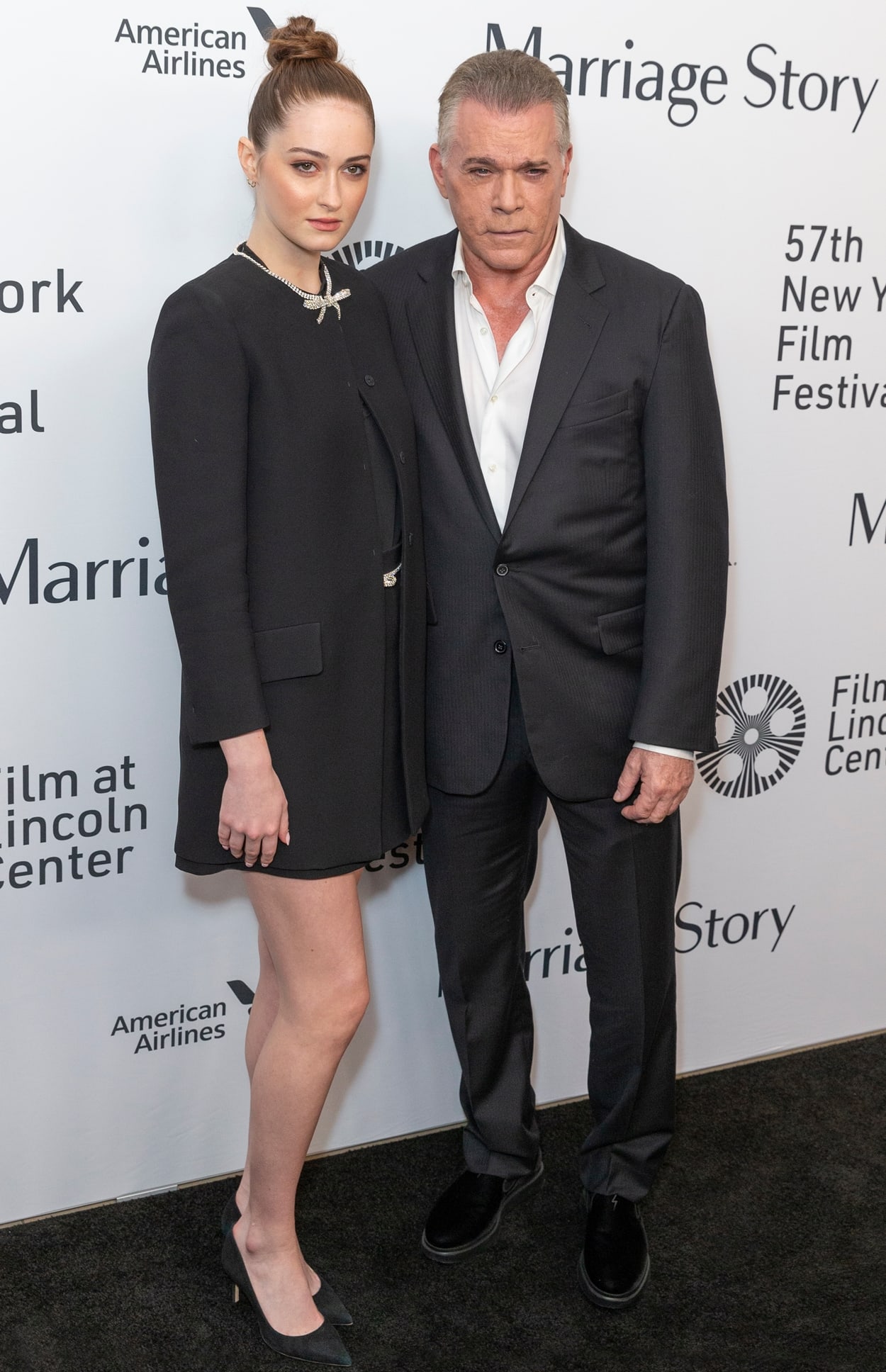 Karsen Liotta and her father Ray Liotta attend the "Marriage Story" premiere at the 57th New York Film Festival on October 4, 2019, in New York City (Credit: Lev Radin / Shutterstock)
News of Ray's passing shocked the world, as he was then filming "Dangerous Waters" in the Dominican Republic. He reportedly died in his sleep on May 26 at the age of 67.
Countless people paid tribute to the legendary actor, sharing their own stories to celebrate the man and his legacy.
Jennifer Lopez as Harlee Santos and Ray Liotta as Matt Wozniak in the American crime drama television series Shades of Blue (Credit: NBC)
Jennifer shared a sweet snapshot of her with Ray on Instagram, calling him her "partner in crime on Shades of Blue."
She revealed that the "original Goodfella" was "the epitome of a tough guy who was all mushy on the inside."
The In Living Color actress also shared that she "was thrilled" when she found out that she'd be working with Ray.
She recounted that "the first time we walked on set to do our first scene together there was an electric spark and a mutual respect and we both knew this was going to be good."
Jennifer Lopez and Ray Liotta filming the American crime drama television series Shades of Blue in New York City on May 11, 2017 (Credit: Zelig Shaul / ACE PICTURES / INSTARimages
The Maid in Manhattan actress added that she "enjoyed doing our scenes together and I felt lucky to have him there to work with and learn from."
"Like all artists he was complicated, sincere, honest and so very emotional. Like a raw nerve, he was so accessible and so in touch in his acting and I will always remember our time together fondly."
View this post on Instagram
His fiancée, Jacy Nittolo, also wrote an emotional tribute to the late actor days after his death in the Dominican Republic.
"My life these past couple of years have been nothing but truly magical," Nittolo said in an Instagram post. "Ray and I share a deep love that I will cherish in my heart forever."
"We laughed daily and we were inseparable. The chemistry was wild in the best way," she added.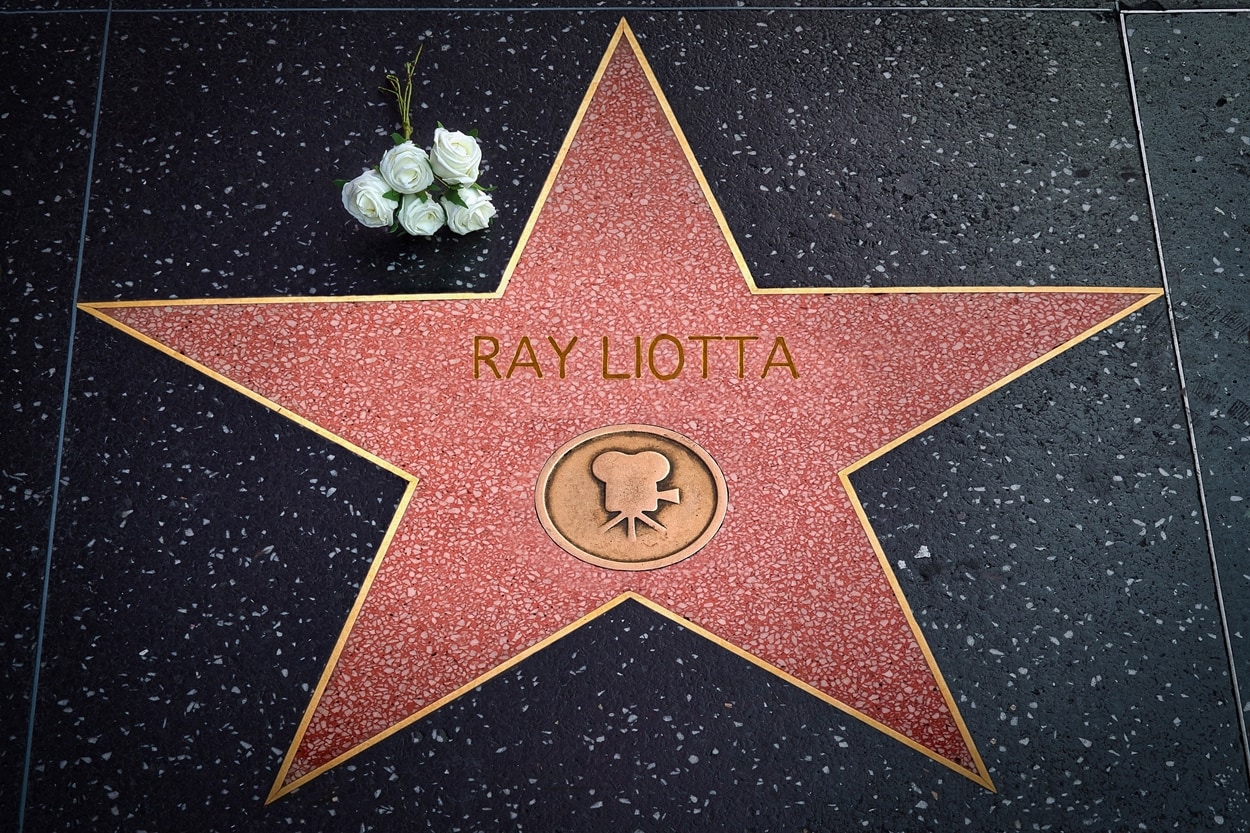 Hollywood icon Ray Liotta died at the age of 67 in his sleep while filming Dangerous Waters in the Dominican Republic (Credit: Elliott Cowand Jr / Shutterstock)
"He was everything in the world to me and we couldn't get enough of each other. The kind of real love that one dreams of."
"He was the most beautiful person inside and out that I've ever known…and even that is an understatement."
They got engaged in December 2020, with Ray writing that he "asked the love of my life to marry me, and thank God she said yes!"
View this post on Instagram
Jennifer may be mourning the loss of a good friend, but she still has plenty of things to celebrate.
For starters, she found love again and got engaged for the second time to actor Ben Affleck. They cozied up to each other for all the world to see in her "Marry Me" music video.
Ben even flew to Spain just so they could spend time together on her day off from filming her Netflix movie "The Mother."
The 52-year-old superstar also received the Icon Award at this year's iHeartRadio Music Awards. She even became the face of the latest eyewear campaign of Dolce & Gabbana.
Jacy Nittolo and her boyfriend Ray Liotta attend the "The Many Saints Of Newark" Tribeca Fall Preview at Beacon Theatre on September 22 in New York City (Credit: MEGA / WENN)
Netflix also announced a new documentary entitled "Halftime," which will be aired on June 14. It tackles the pleasures and perils of being a global superstar, but with a primary focus on Jennifer's 2020 Super Bowl halftime show with Shakira.
The multi-hyphenate star shared the trailer of her new documentary on Instagram. In the video, she touches on her struggles to be taken seriously and the sexism she's faced in the industry. The scenes are interspersed with clips of her rehearsing as she prepares for her Super Bowl halftime show performance.
View this post on Instagram
Despite her busy schedule, Jennifer still manages to spend time with herself and the people she loves. She's been spotted in Los Angeles several times this month while clad in casual-chic outfits.
Out and about with fiancé Ben Affleck
The engaged couple skipped out on this year's Met Gala, opting to spend a casual time together instead. They were spotted holding hands outside the RED Studios in Hollywood.
Ben wore a cream-colored sweater, loose-fit pants, and blue lace-up sneakers.
Meanwhile, Jennifer styled her Brunello Cucinelli grey wool jumpsuit with a white cropped tee from The Great. She added a touch of glam with Valentino sunglasses and her favorite black Hermes Birkin bag.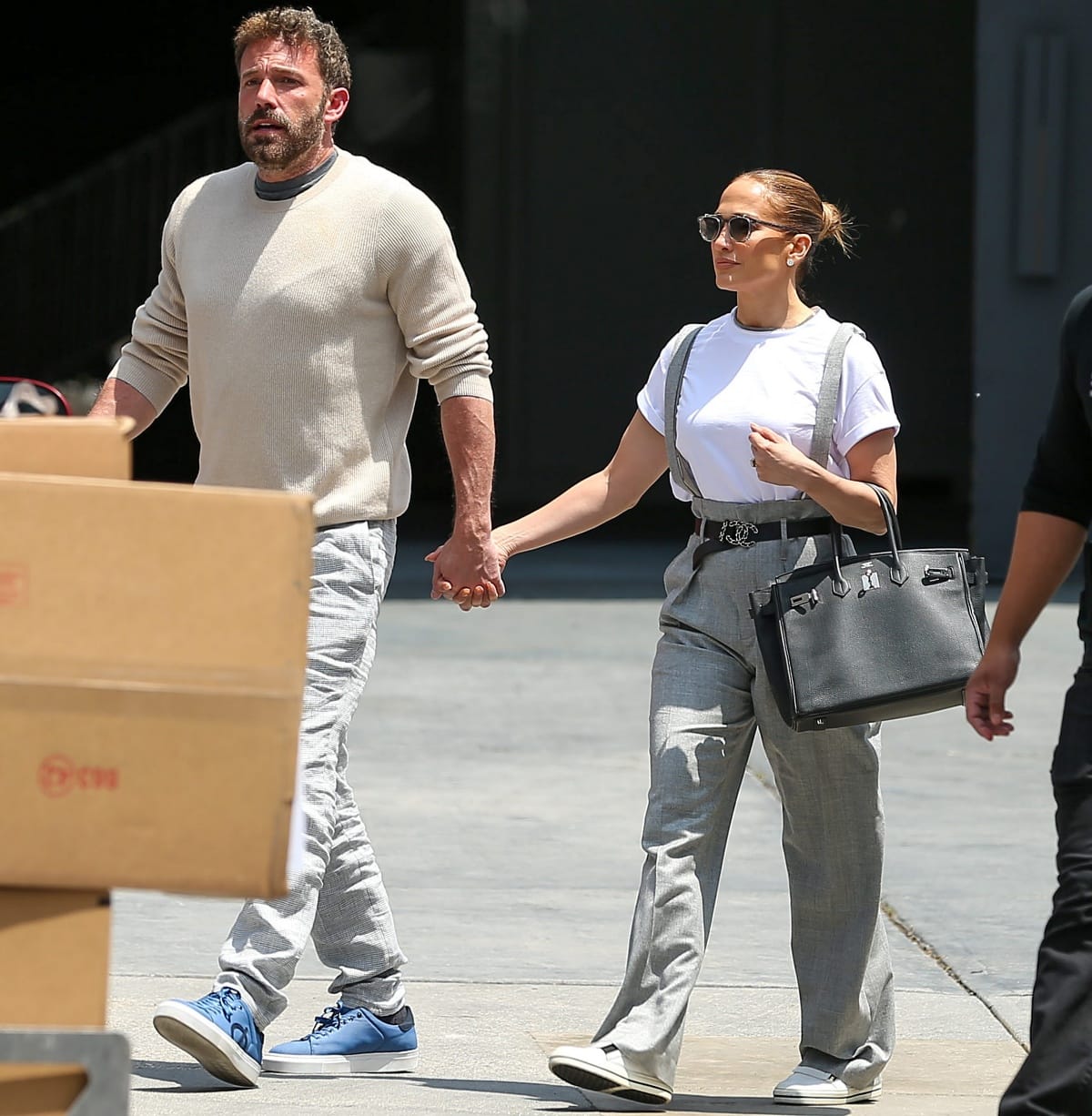 Ben Affleck and Jennifer Lopez holding hands outside the RED Studios in Hollywood, California, on May 3, 2022 (Credit: BauerGriffin / INSTARimages)
To finish off her look, she wore the Roger Vivier "Sneaky Viv" white zip-up sneakers. Crafted from smooth white leather, these slip-on shoes feature gold-tone side zips with signature buckle pulls.
Roger Vivier "Sneaky Viv" Zip Sneakers in White, $471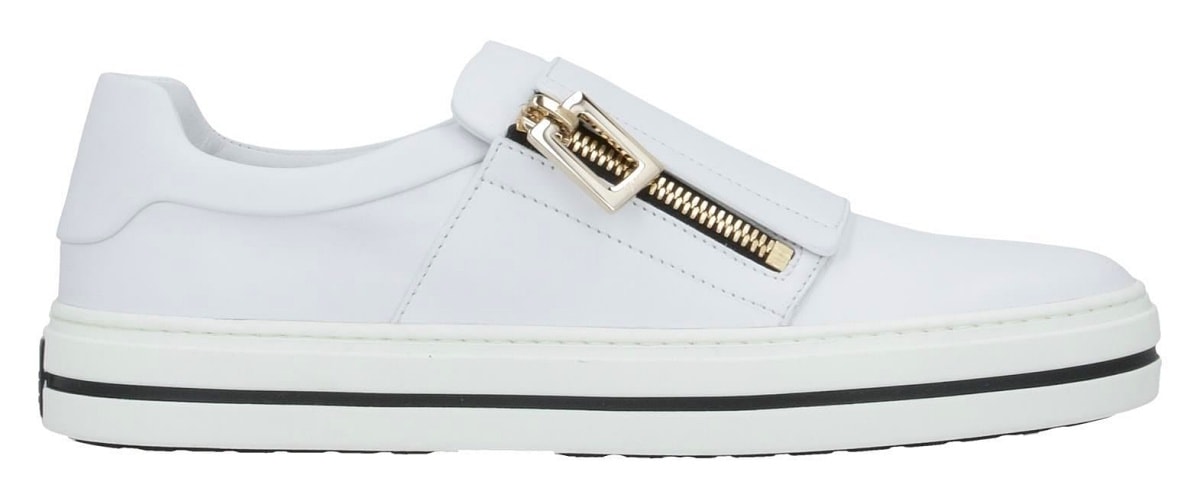 These sneakers feature smooth white leather, round toes, and gold-tone side zips
Lunch with friends
A few days later, Jennifer traded her sneakers for pink suede booties to meet some friends for lunch in LA.
She wore a long white knitted cardigan with fringe trim over a cream-colored turtleneck top. Jennifer added a Valentino patterned midi skirt for a nice contrast to her look.
The fashion icon also carried a Gucci white leather handbag and donned a pair of Chloe sunglasses. Her pink suede boots featured pointed toes and bow details.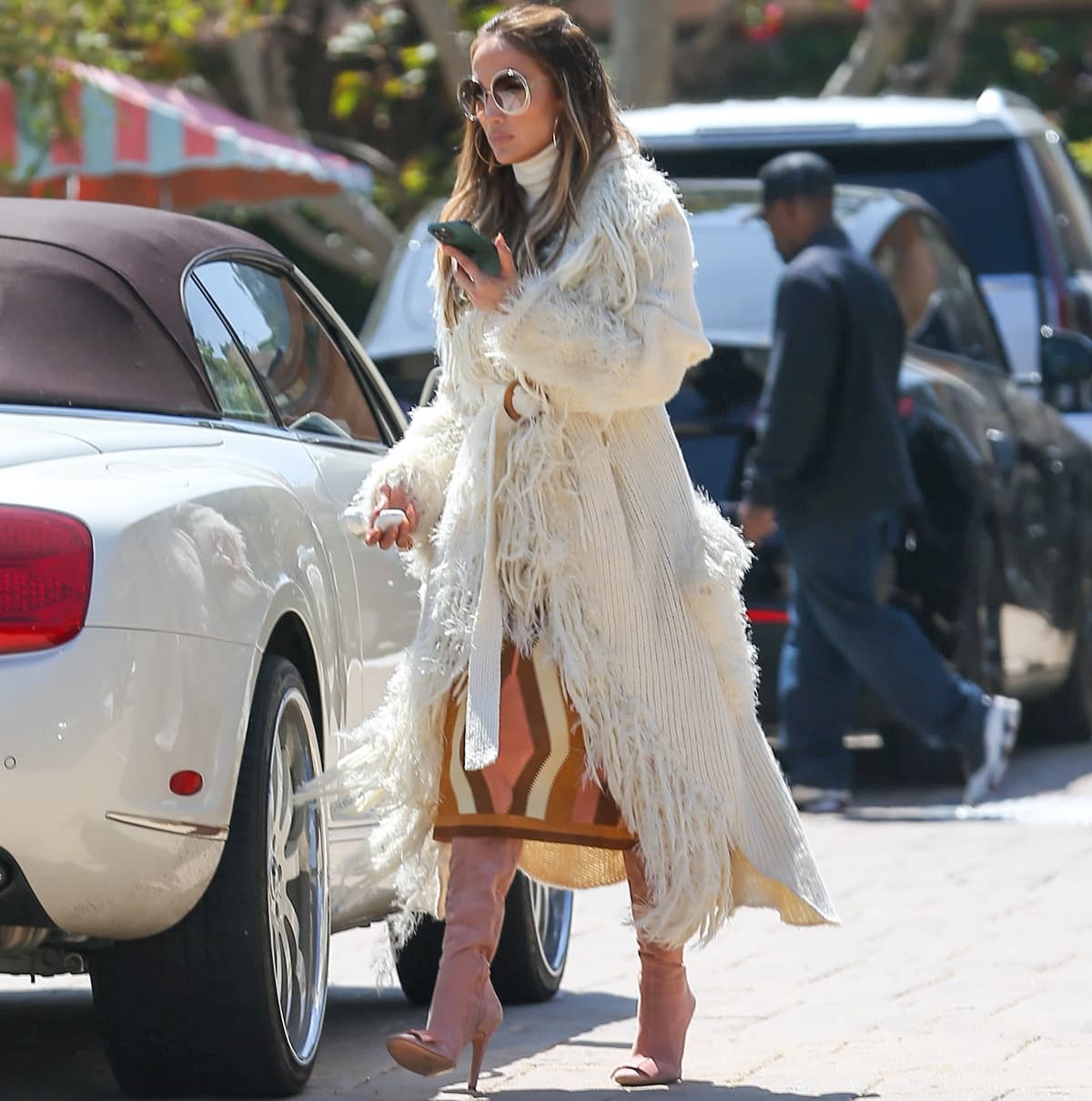 Jennifer Lopez wearing a knitted cardigan, a patterned midi skirt, and pink suede boots in Los Angeles, California, on May 5, 2022 (Credit: BauerGriffin / INSTARimages)
Vintage shopping
Breezing through LA in a white sundress, Jennifer stopped by a vintage store to enjoy a bit of shopping.
She looked pretty in her DÔEN white dress and Gucci "Carolina" crystal wedges. These sandals featured buckled ankle straps, embellished toe bands, jute wedges, and gold leather trim.
The world-renowned star also carried a Dior Medium Book Tote and donned a pair of Celine shades. She rounded out her look with a topknot, large hoop earrings, and layered necklaces.
Jennifer Lopez wearing a white sundress and Gucci embellished wedges while shopping in Los Angeles, California, on May 14, 2022 (Credit: BauerGriffin / INSTARimages)
Running errands in LA
The "Marry Me" actress added her signature glam touch to her casual look to run errands in LA.
She wore a white cropped vintage knit cotton tee and paired it with loose-fitting belted khaki pants.
Her accessories include Jennifer Fisher silver hoop earrings, Max Mara geometric sunglasses, and a Hermes Himalayan crocodile bag.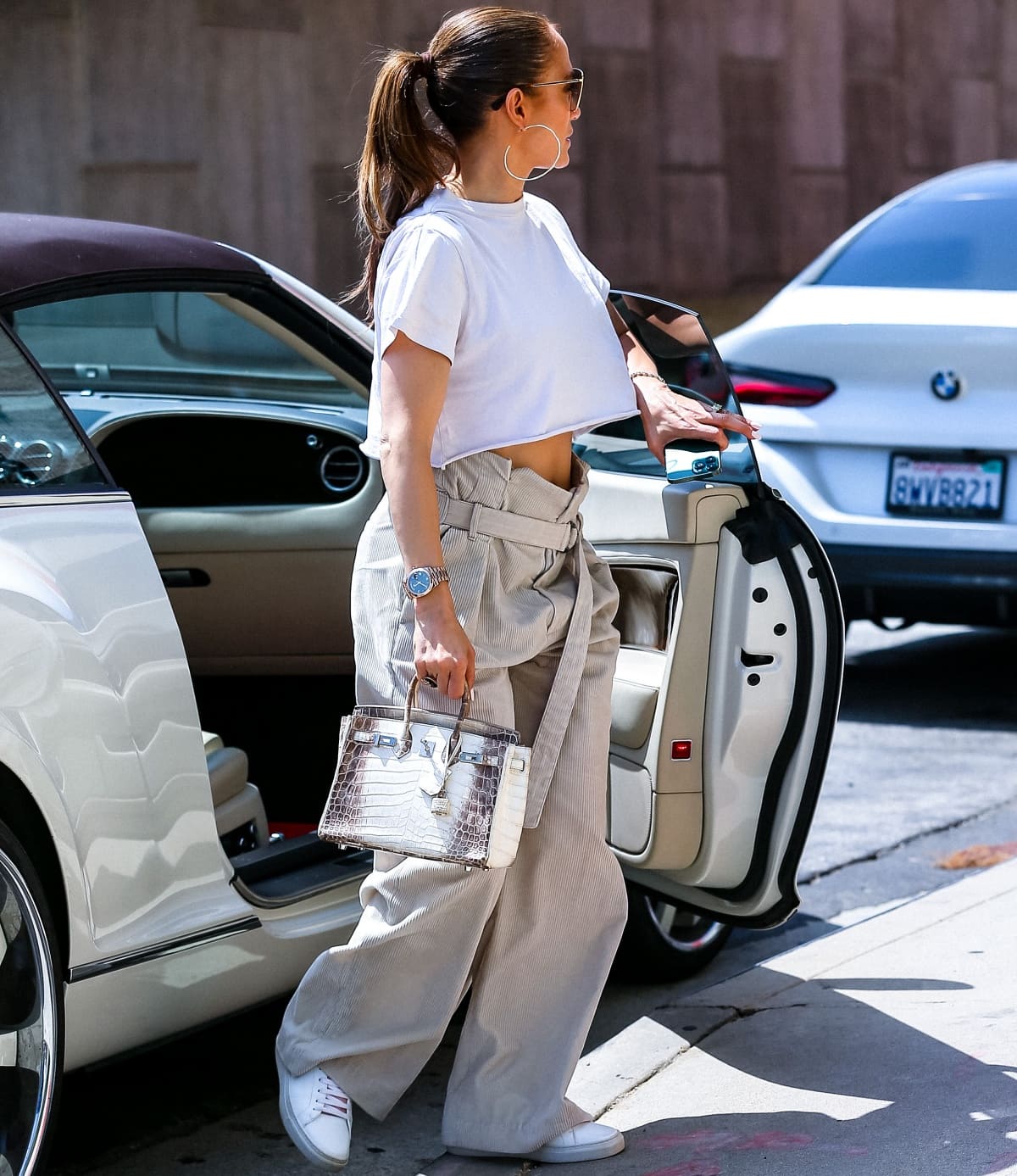 Jennifer Lopez in a cropped tee and white leather sneakers while running errands in Los Angeles, California, on May 25, 2022 (Credit: BauerGriffin / INSTARimages)
As for her footwear, Jennifer wore the Niki white sneakers from ZCD Montreal.
"Niki" Lace-Up Sneakers in Dusty Rose, $75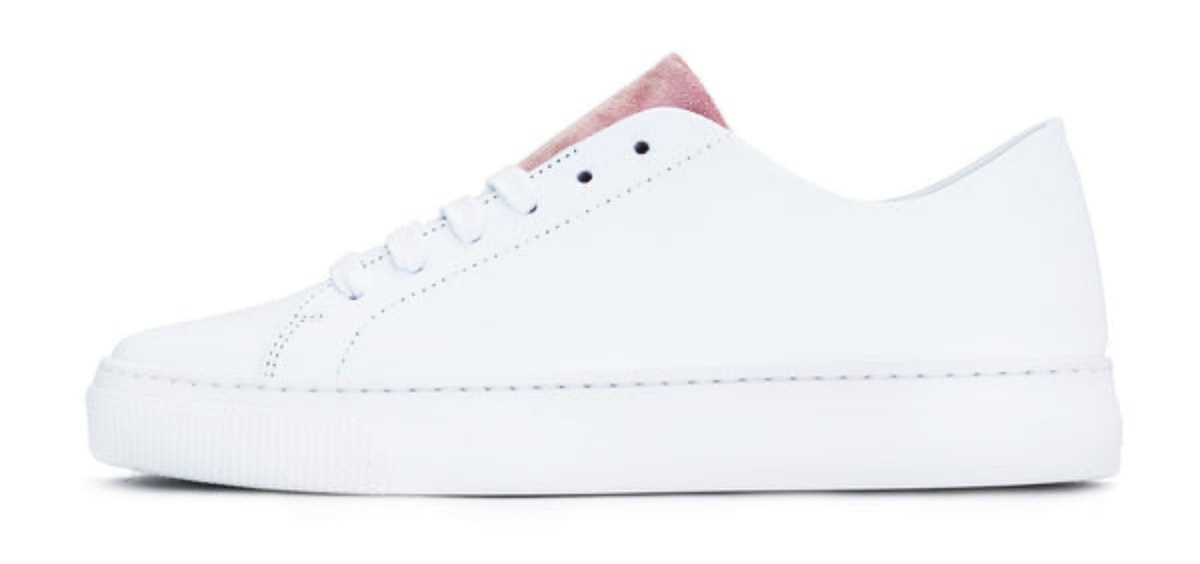 These white leather sneakers feature a lace-up front and a dusty rose velour tongue
Leaving a dance studio in LA
You can always count on Jennifer Lopez to look stylish even after spending a day in a dance studio.
She pulled off a sporty chic vibe in a black linen jumpsuit from Good American. It featured knotted straps and a deep V-shaped neckline, revealing glimpses of skin and her white sports bra.
Jennifer styled her look with Dolce & Gabbana sunglasses, a Foundrae gold chain necklace with an assortment of pendants, and her trusty Hermes Birkin bag.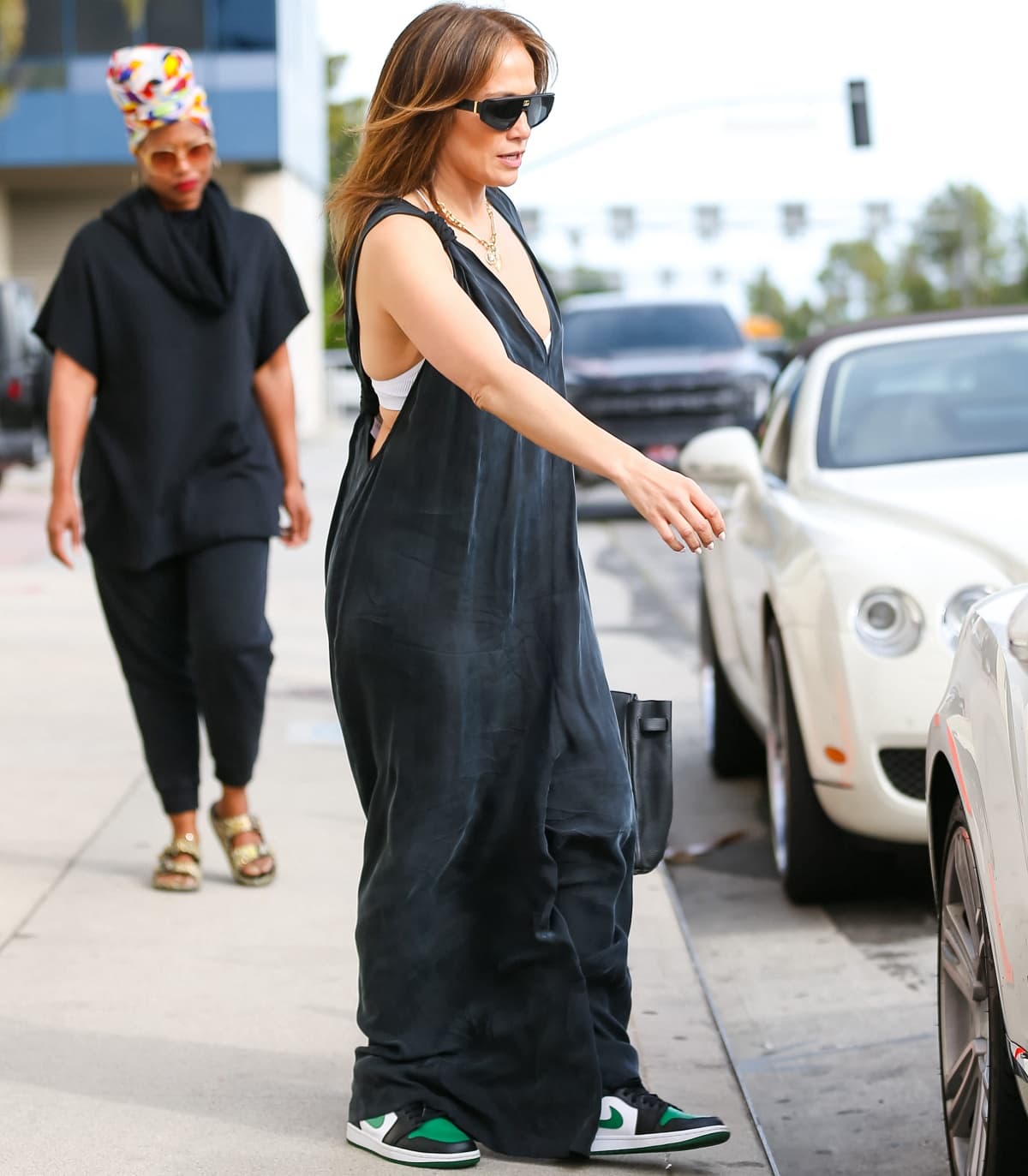 Jennifer Lopez in a black linen jumpsuit and Air Jordan 1 pine green sneakers while leaving a dance studio in Los Angeles, California, on May 27, 2022 (Credit: BauerGriffin / INSTARimages)
The final piece of her ensemble was a pair of pine green Nike Air Jordan 1 sneakers, which added a cool edge to her look.
Air Jordan 1 Retro High "Pine Green" Sneakers, $704 at Farfetch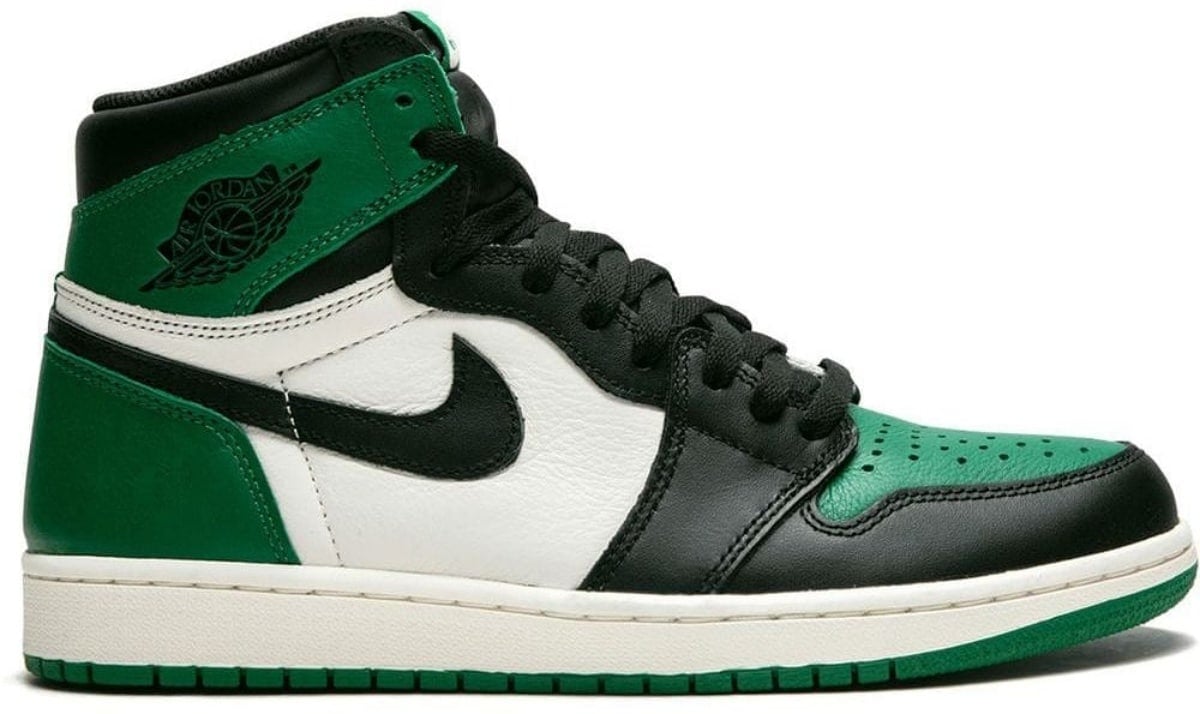 These sneakers feature a paneled color-block design, a lace-up front, rubber soles, and the iconic Nike swoosh
This year promises a slew of projects and a fully-blossomed romance for Jennifer Lopez. We can't wait to see her thrive and capture even more attention in a string of fabulous looks for the rest of 2022.