Most famous for playing Alex Dunphy in the popular American sitcom Modern Family, Ariel Winter appears to have taken some time away from the spotlight of the acting industry by moving away from Los Angeles.
So, how and why did this occur? Read on to find out!
What happened?
Ariel Winter recently put her Los Angeles home on the market for almost a whopping $4 million, moving out of her native California with her boyfriend to a new – and undisclosed – state.
Ariel Winter bought the 5 bedroom 7 bath mini-mansion for $3,450,000 in 2020 and listed her Studio City home for $3,995,000 in early 2022 (Credit: MEGA / WENN)
Why Winter moved away from Los Angeles
One prime reason why Winter decided to take the plunge and move away from this acting capital was that she dreamed of having a more personal, everyday living situation.
She claimed to have always been followed by paparazzi for a colossal part of her life, especially since being a child actress submerged Winter into fame early on.
Actress Ariel Winter attends the Wags & Walks 10th Annual Gala at the Taglyan Complex on November 6, 2021, in Los Angeles, California (Credit: BauerGriffin / INSTARimages)
The star actress admitted to hating pictures of herself that she hadn't signed up for, disliking the constant feeling of being watched. Not being a fame-seeker, Winter continuously desired to have a normal life – something which appeared to be impossible in LA.
With privacy on her mind and the need to live her life in peace, Winter finally considered the possibility of living elsewhere, even though she had lived in LA for her entire life.
"Part of the reason I always hated L.A. is because I have been followed by paparazzi for a very long portion of my life," Ariel told Julie Bowen on her Quitters podcast. "And I really, really dislike having my space invaded."
Luke Benward and Ariel Winter decided to leave Los Angeles and moved to another state (Credit: Eugene Powers / Shutterstock)
"I don't like pictures of me when I haven't signed up for pictures of me. I don't like feeling watched. I've always just wanted to live a very, very normal life, just have a normal existence."
"People have always been like, 'You don't like L.A., why don't you just move'… and then I just randomly looked and decided why not," she added.
"We [boyfriend Luke Benward] sold our cars, got an Escalade to fit all the dogs for the drive, put my house on the market, and sold my house."
Ariel Winter in a genie costume at Camp Ronald McDonald for Good Times "20th Annual Halloween Carnival" held at Universal Studios Backlot on October 21, 2012, in Universal City, California (Credit: Kathy Hutchins / Shutterstock)
"Everything normal that I would do, it's not going to stay normal. It's really just about the feeling of not being comfortable to do normal things."
"It feels like a different thing here. I'm going to get to live some of the young adult [life] I haven't been able to live," Winter said about her new home.
Luke Benward and Ariel Winter, who have been dating since December 2019, attend the 17th Annual HollyShorts opening night celebration held at Hollywood & Highland Complex on September 23, 2021, in Hollywood, California (Credit: Eugene Powers / Shutterstock)
After the thought sparked, Winter took only a week and a half to decide to take the plunge and leave this state.
Acting career after Modern Family
Winter departed from the state of acting opportunities, although it appears that she is not yet entirely done with acting.
She was set to appear in the comedy Hungry, originally starring Demi Lovato. After Lovato was reported to have scheduling issues, Winter quickly replaced this starring role.
Despite this, the singer-actress and manager Scoot Braun remained the show's two executive producers.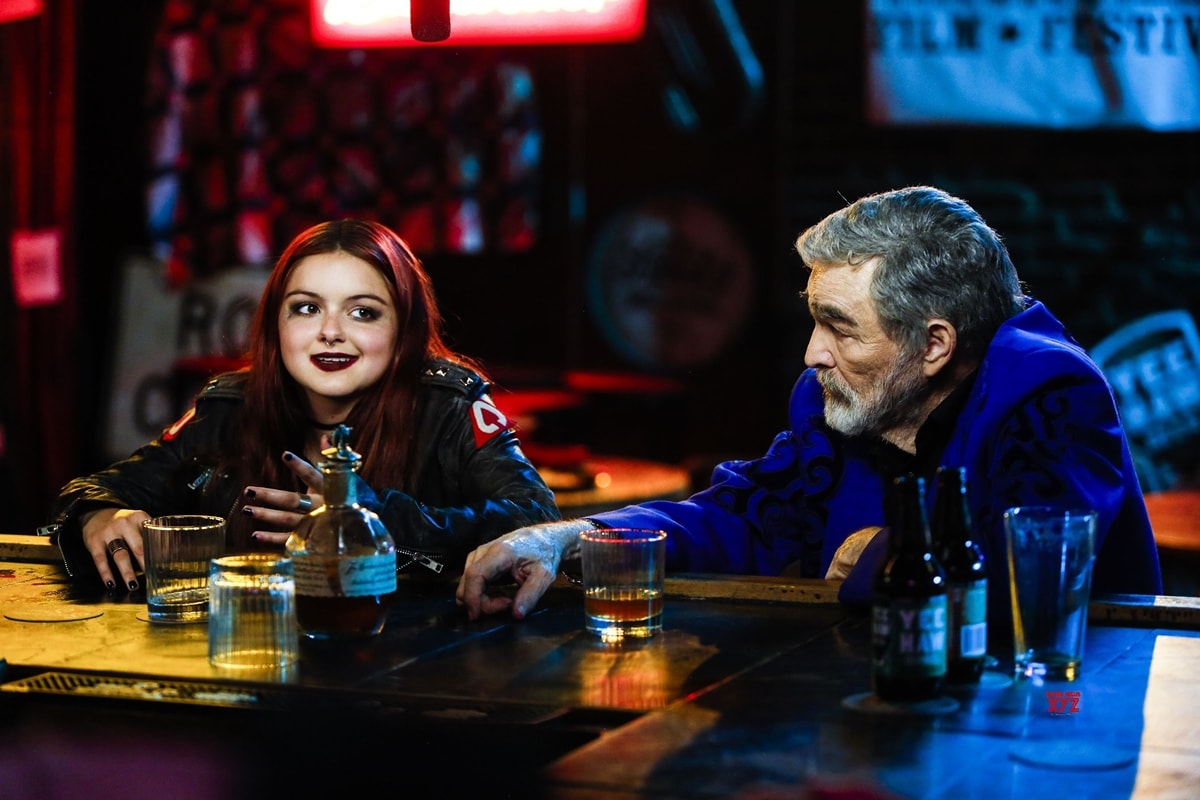 Burt Reynolds as Vic Edwards and Ariel Winter as Lil McDougal in the 2017 American comedy-drama film The Last Movie Star (Credit: Whitener Entertainment Group)
Hungry was to follow the story of some friends belonging to a food issues group, helping each other out with success, love, and anything else that would improve their lives.
It was also supposed to star Gabriel Iglesias, Alex Brightman, Ryan McPartlin, Valerie Bertinelli, and Ashley D. Kelly.
However, NBC actually opted to ax its comedy pilot, meaning that Winter never got to carry out her star role to its full extent.
Conclusion
Even though Winter has taken herself away from the LA scene, this isn't to say that she will never be on our screens again.
Furthermore, the actress refuses to call her latest residence her 'forever home', admitting that she has certainly learned that if she doesn't like a place, there's always the opportunity to leave and enjoy what elsewhere has to offer.
Ariel Winter flaunts her dyed red hair at Glamour Magazine's Game Changers Lunch held on April 20, 2016, at Au Fudge in West Hollywood (Credit: Michael Wright / WENN)
In April 2016, Ariel Winter joined Jaime King, Lea Michele, and Emily Ratajkowski at Glamour magazine's Game Changers Lunch event held at the Au Fudge restaurant in West Hollywood.
Never one to shy away from a plunging neckline, the "Modern Family" actress showed off her ample assets in a sexy white Jay Godfrey "McMurray" jumpsuit.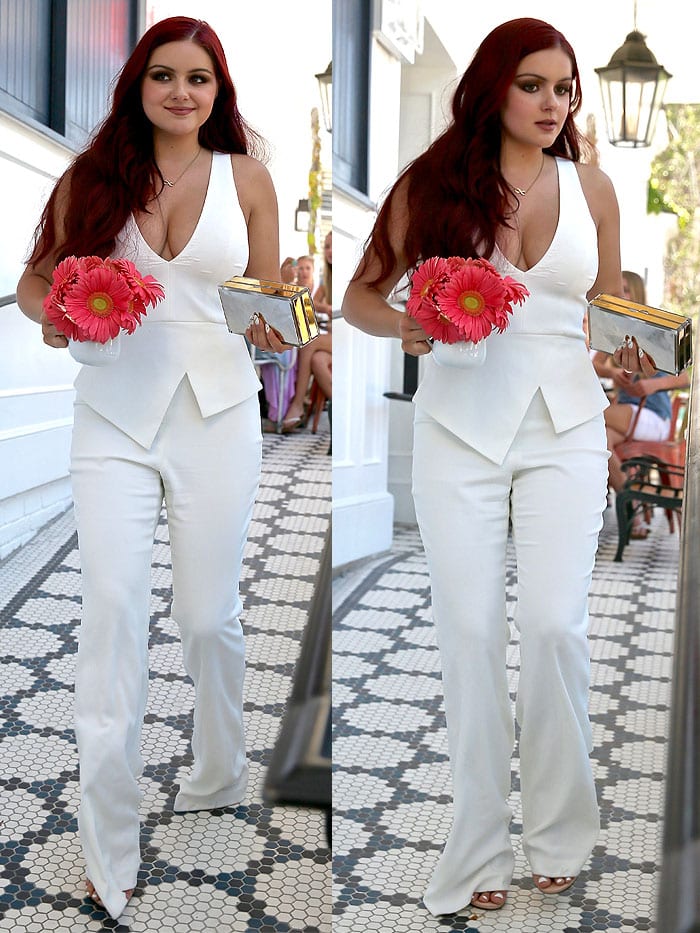 Ariel Winter shows off her cleavage in a white Jay Godfrey jumpsuit (Credit: Michael Wright / WENN)
She matched the fresh look with a gold chain necklace, a white-and-gold box clutch, white nails, and nude open-toe sandals.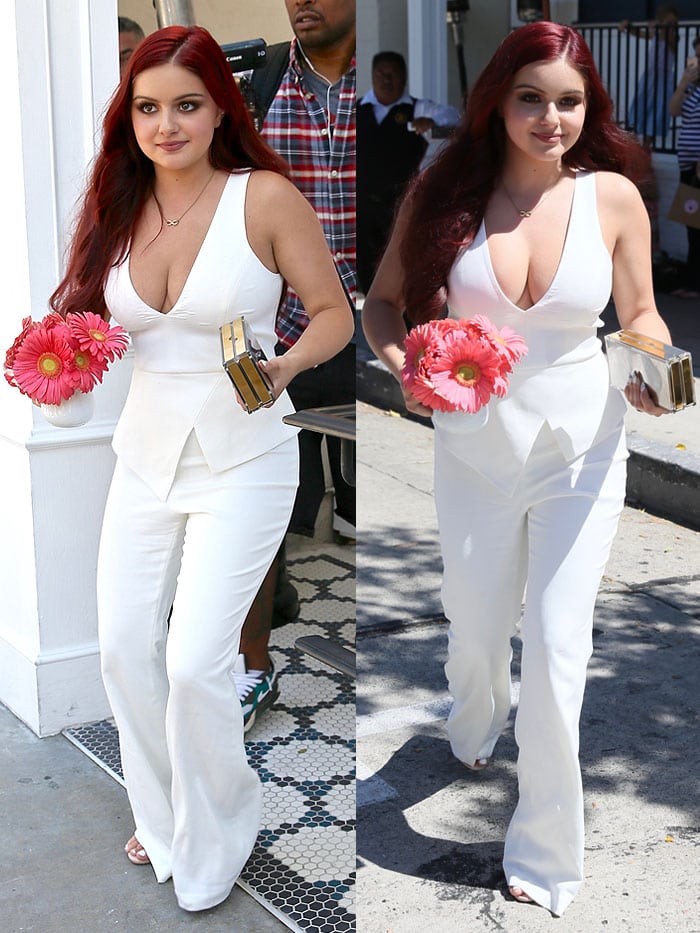 Ariel Winter wears a white Jay Godfrey jumpsuit to a Glamour Magazine luncheon (Credit: Michael Wright / WENN)
We only got a quick peek at the nude open-toe sandals on Ariel Winter's feet.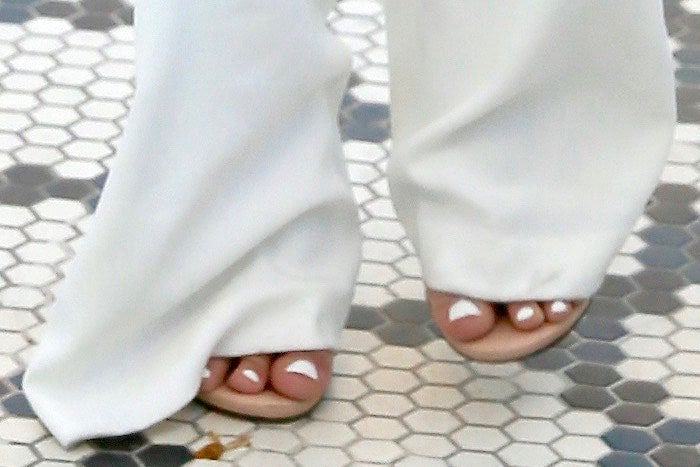 Ariel Winter's feet in nude open-toe sandals (Credit: Michael Wright / WENN)
Ariel famously underwent a breast reduction surgery in June 2015, and she's never hidden it or kept it a secret.
In fact, she even went out of her way to show off the scars at the 2016 SAG Awards in a black strapless Romona Keveza gown.
"Guys there is a reason I didn't make an effort to cover up my scars! They are part of me and I'm not ashamed of them at all. :)" she tweeted about the breast reduction surgery she underwent when just 17.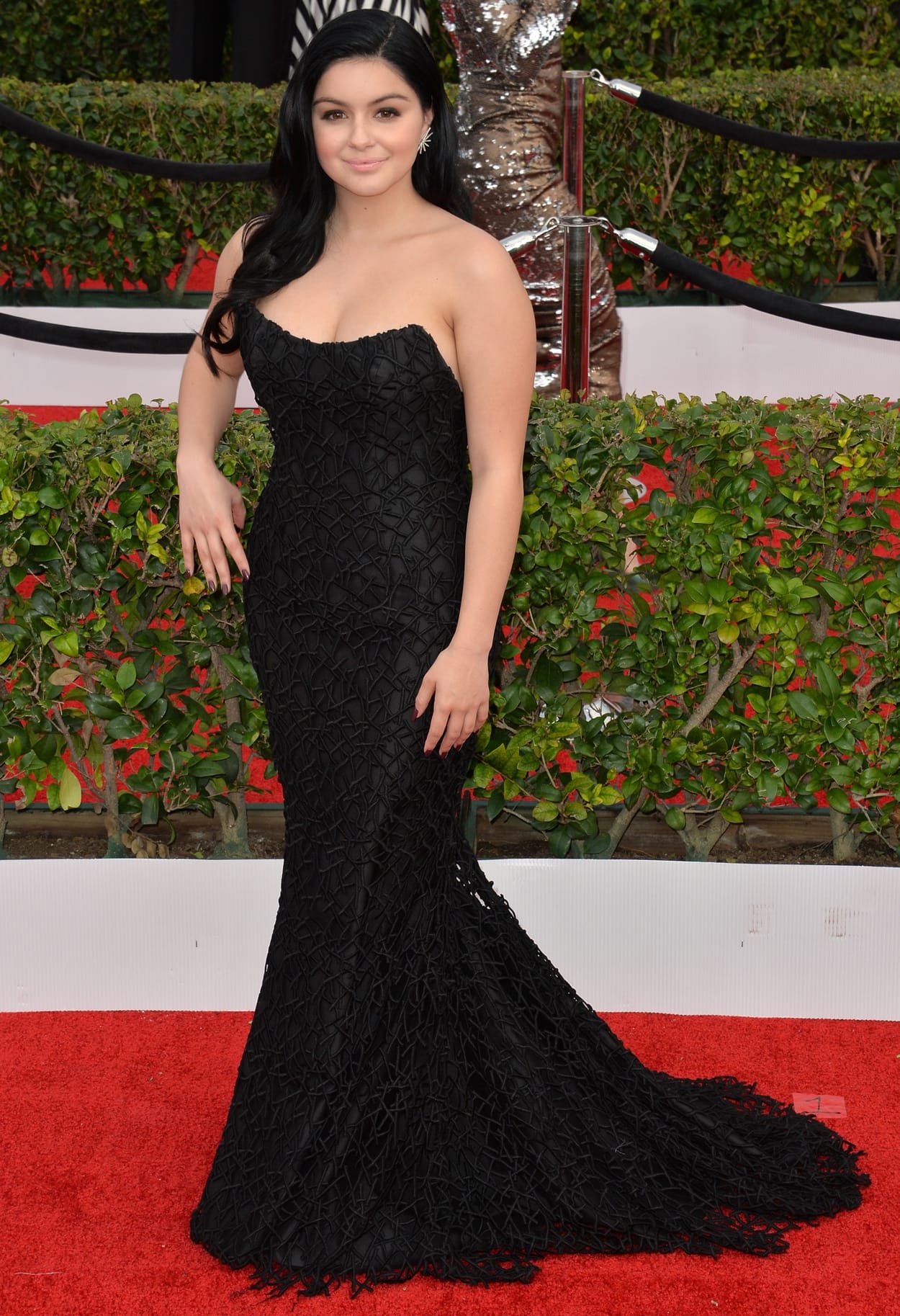 Ariel Winter in a black body-hugging style Romona Keveža mermaid dress at the 2016 Screen Actors Guild Awards held at the Shrine Auditorium on January 30, 2016, in Los Angeles (Credit: Featureflash Photo Agency / Shutterstock)
Ariel's confidence is truly inspiring. As a testament to how inspiring she is, Kim Kardashian was moved to send Ariel white flowers as a thank you for showing support in the whole nude selfie debacle.
In June 2015, Winter underwent breast reduction surgery to go from a 32F to a 34D.
"I got it for myself," she told Glamour in August 2015. "I can't even really put it into words about how amazing it feels to really feel right."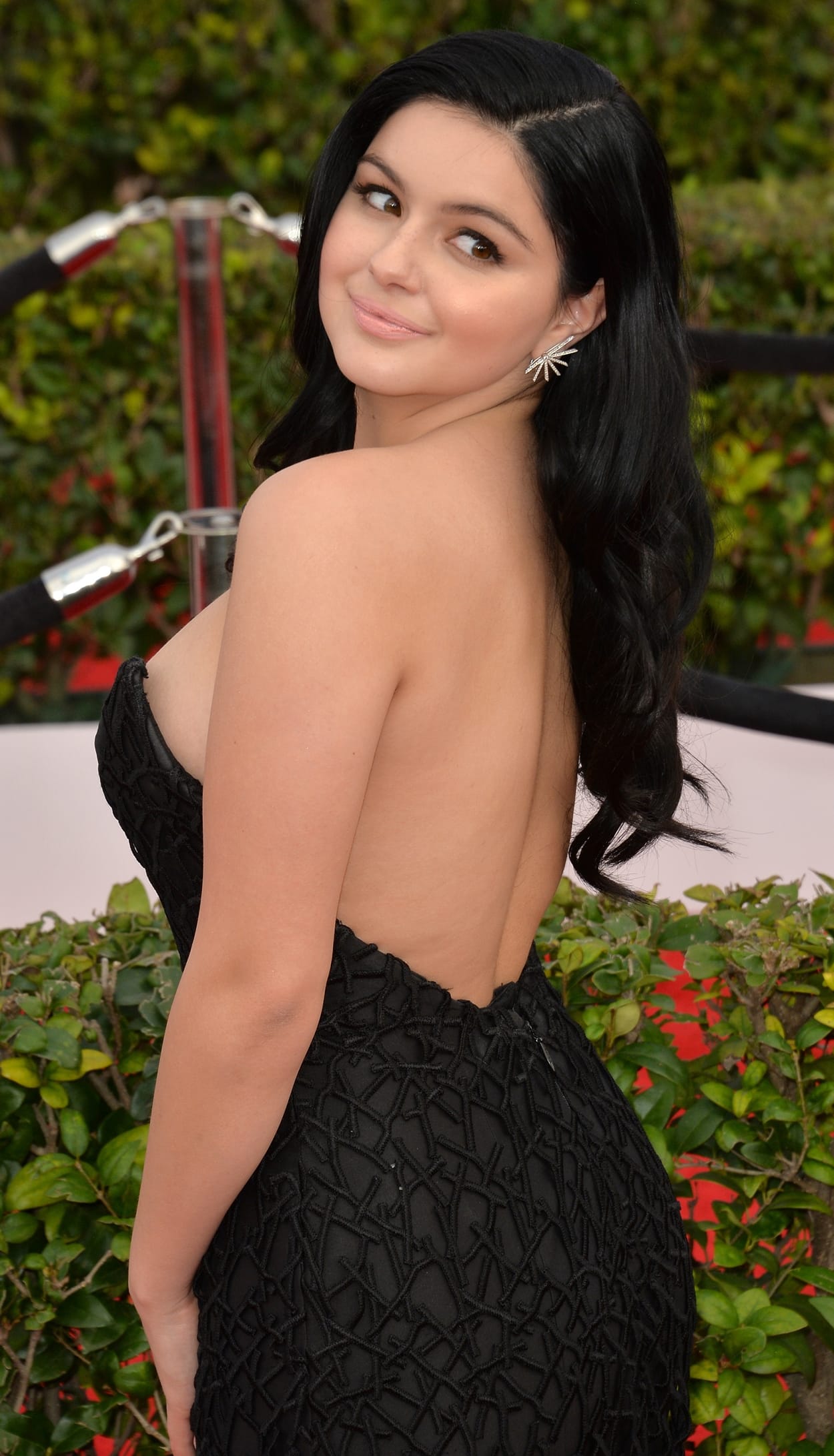 Ariel Winter did not try to conceal scars from her breast reduction procedure (Credit: Featureflash Photo Agency / Shutterstock)
Nude sandals should be part of every woman's shoe arsenal. Calibrate your collection with the three nude sandal picks below that are just $10 at JustFab.
Ankle-Strap 'Tali' Sandals in Nude, $10
Ankle-Strap 'Rosey' Sandals in Natural, $10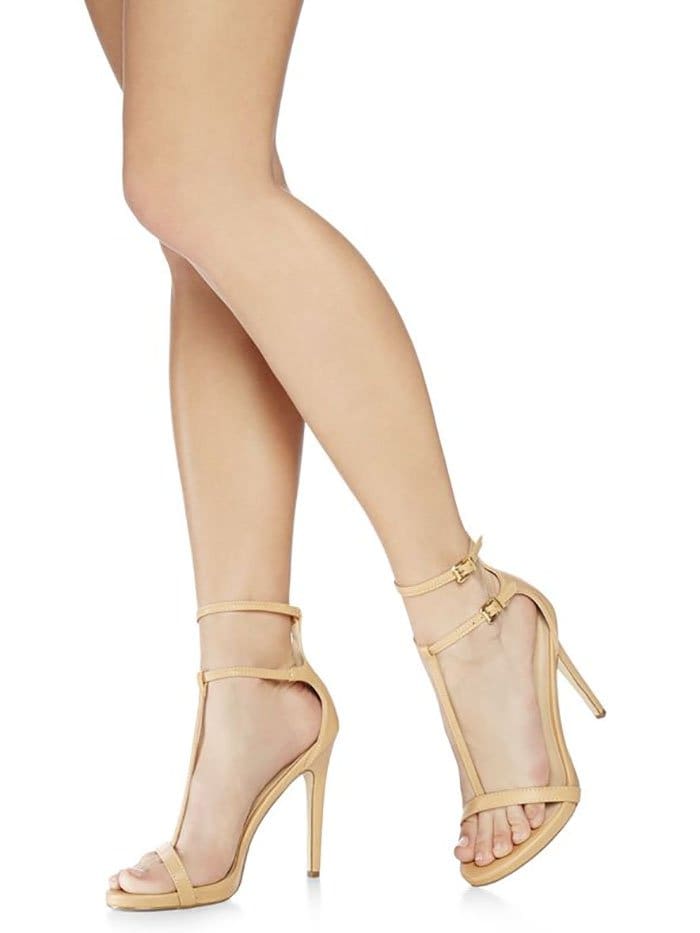 Strappy 'Ritah' Sandals in Natural, $10