At first glance, you might view Seth Green and Clare Grant as a bit of a mismatch. Clare looms at 5'7" over Seth's alleged 5'4" frame. You might also be surprised to know that the two have been married for 11 years!
Clare Grant and Seth Green in 2007 at the Golden Apple Comics and married on May 1, 2010, at Skywalker Ranch in Marin County, California (Credit: WENN / Avalon)
Despite their obvious height difference, you'll find that they're clearly cut from the same cloth.
What Made Seth Green Famous?
Originally from Overbrook Park, Pennsylvania, Seth took to acting at age 7. He is not related to American television director Bruce Seth Green.
By the time he was 10 years old, he started collecting screen credits in commercials, tv shows, cartoons, and movies, being cast alongside Hollywood royalty like Jodie Foster and Rob Lowe.
Seth Green and his girlfriend Chad Morgan at the world premiere of "Austin Powers – The Spy Who Shagged Me" on June 8, 1999, at the Universal Ampitheater in Universal City, California (Credit: WENN / Marcus Hoffman)
He has even been featured in music videos like "Weird Al" Yankovic's "White & Nerdy" and Fall Out Boy's "This Ain't A Scene, It's An Arms Race."
While it's undeniable that Seth is a talented performer, he also lends his expertise behind the keyboard and the camera. Along with friends, he co-created Stoopid Buddy Studios in 2005.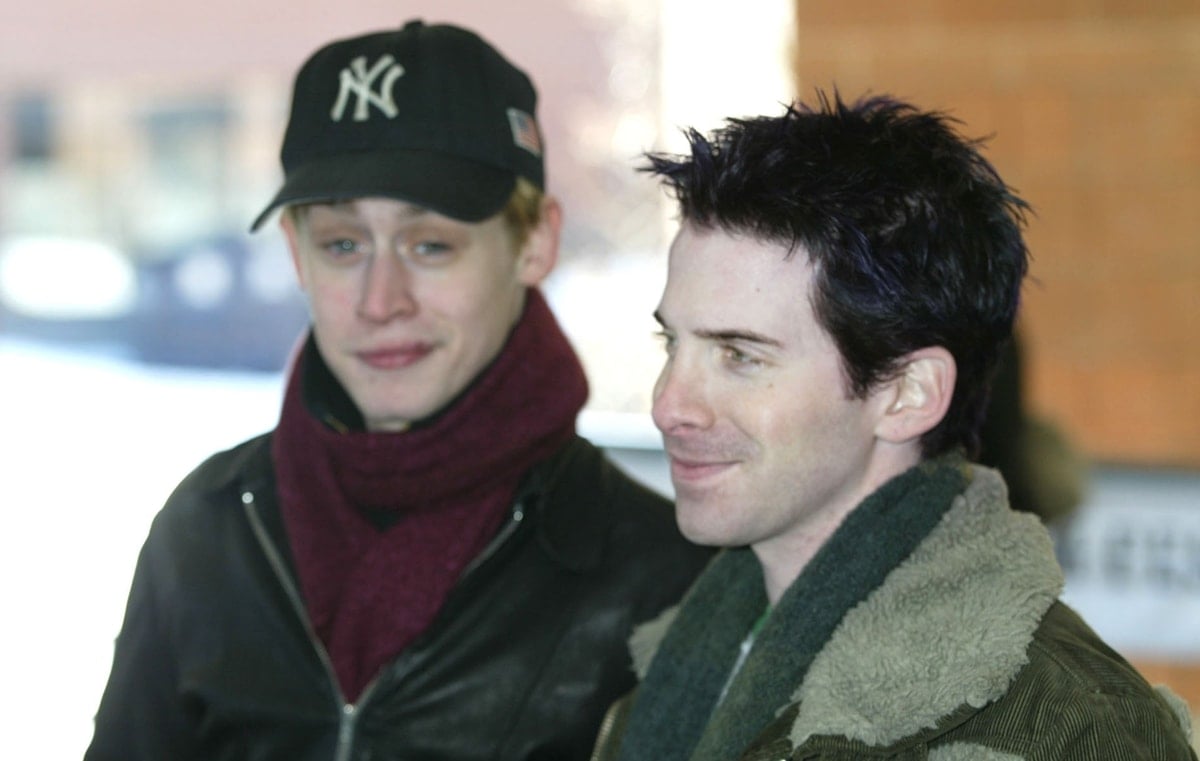 Macaulay Culkin and Seth Green at the 2003 Sundance Film Festival in Utah on January 22, 2003 (Credit: Scott Sine / WENN)
Seth's production company brought the award-winning Robot Chicken to Cartoon Network's Adult Swim programming. Robot Chicken combined stop-motion-animation with star power behind the mic to win five Primetime Emmy Awards for their work in stop-motion-animation.
In 2019, Green made his big-screen directorial debut when he released his movie, Changeland, which he also wrote.
In an interview, he described how he reached out to friends within his own circle to cast the roles, including friends like Macaulay Culkin, Breckin Meyer, and his wife, Clare Grant.
He is said to have tailored each character to the strengths and personality of the friend it was destined for. Seth described the budget as slim, asking the cast and crew to perform each scene "tight," eliminating the need for excessive retakes.
Seth Green Out of the Spotlight
Seth's long performance history has connected him with many celebrities socially. With interests that range from music to comic books, he honestly sounds like an all-around fun guy to hang out with.
Maybe it's his outgoing personality and sense of humor that has had this star exchanging numbers with some of the most beautiful and talented women in Hollywood.
Seth Green as former child star Randall Finn in Friends with Benefits, the 23rd episode of the seventh season of the American sitcom television series Will & Grace (Credit: NBC)
Of Seth Green's publicized relationships, one of the earliest long-term relationships was with Chad Morgan. An American actress, Chad Morgan also worked alongside Seth on Robot Chicken.
Green has also been linked with the very talented actresses Candace Bailey, Kristin Chenoweth, and Robin Bain over the years.
It was 2007 when Seth Green and Clare Grant met for the first time. They were both in attendance at the grand re-opening of Golden Apple Comics, a near-legendary comic book shop in Los Angeles, California.
Seth Green (L) and his girlfriend Clare Grant arrive at Adult Swim's "Robot Chicken: Skate Party" bus tour held at Skateland on August 1, 2009, in Northridge, California (Credit: WENN)
They only met in passing, but it was only weeks later that they met again at Comic-Con. Throughout the week at Comic-Con, they continued to cross paths, learning more about each other. It was soon after that a mutual friend slipped Seth her phone number.
The pair describe their first date as a "play date," where they discovered they held much more in common. From an identical In-N-Out order to their eerily similar television watchlists, Clare decided from their first "play date" that "this could be a beautiful friendship."
It wasn't too long after that Green and Grant spent two weeks on a Robot Chicken promotional tour aboard a party bus. "That's when I knew that there really couldn't be anybody else for me," Green said of their time together.
Seth Green and Candace Bailey dated for about a year before splitting in November 2007 (Credit: Nikki Nelson / WENN)
The actor worked diligently with a jeweler to create a custom engagement ring over the next few months before proposing to Clare.
Within months, the two were wed on May 1, 2010, at George Lucas's very exclusive Skywalker Ranch, perhaps the ultimate destination wedding for two, star-crossed Star Wars fans.
The happy couple thoughtfully themed their wedding around toys and action figures- a nod to their work together on Robot Chicken and shared interests.
Clare says her mother was seated at a Care Bears-inspired table, as she called Clare, "Clare Bear," growing up. Another friend with an interest in ponies was seated at a My Little Pony-inspired table.
Married to Clare Grant for over a decade, Seth Green says he has no plans to have kids (Credit: FayesVision / WENN)
Lucky for the wedding guests, all the toys were up for grabs as favors at the end of the night!
Who is Clare Grant?
Clare Grant, named for her father, Clarence, is originally from Tennessee. She got her start in the spotlight at a Junior Miss Tennessee pageant, following years of performance training. Her career blossomed as she worked to finish her Bachelor of Fine Arts in theater performance in Tennessee.
Grant modeled professionally both in the U.S. and abroad and acted in various small roles before being cast in the American anthology television series Masters of Horror in 2005.
Since then, Clare has appeared in both television series like CSI: Miami, as well as feature films like Walk the Line and Black Snake Moan.
Of Irish, English, Scandinavian, and Native American descent, Clare Grant modeled to support herself through college (Credit: Noam Nitzart / WENN)
After serendipitously meeting Seth Green at Golden Apple Comics, she began lending her voice to more projects like Green's Robot Chicken and other animated projects over the years.
In 2011, Grant co-created and produced Unicorn Girls, a series about "geeky gamer girls." The project spanned three years, where she also starred. It was a perfect synergy between her performance and passion for the gaming subculture.
The show met criticism for sexualizing so-called "gamer girls," but it still went on to be a success despite the hard knocks.
As for Clare's former romantic relationships, she's either stayed very tight-lipped or, as her filmography credits would indicate, maybe she's been so busy and career-focused that she's not pursued serious romantic relationships prior.
Seth Green and Clare Grant at the 61st Primetime Emmy Awards held on September 20, 2009, at Nokia Theatre in Los Angeles, California (Credit: FayesVision / WENN)
In any case, it seems both Clare and Seth have struck gold with their amazing chemistry!
Scandal Knocks at the Door of the Happy Couple
In 2018, both Seth and Clare found themselves dragged into a scandal. Former actor, Isaac Kappy, revealed in rambling footage on social media that Seth Green was, in his estimation, a pedophile. There was little to no evidence to substantiate his claim.
On a different occasion, Kappy describes Seth as revealing a secret room in his home that was lined with bunk beds. He also inferred their purpose was to house minors that Green called "chickens," a code word for underaged participants in sex trafficking rings.
The wild accusations did not end with the one video. Mr. Kappy has also gone on record accusing other celebrities of pedophilia.
Pictured with fellow actor Tom Sandoval (R), Isaac Kappy (L) accused Seth Green of pedophilia before taking his own life (Credit: Brian To / WENN)
Things got even more complicated when Seth Green's name appeared on a now-debunked flight log connected with Jeffrey Epstein, a known sex trafficker.
Kappy went on to write a series of chilling letters, addressed to Seth and Clare's home, sending Clare happy birthday wishes and professing his love for the family. He also alluded to his cryptic plan of "triggering events," which is, if nothing else, concerning.
But how does Isaac Kappy even know Seth and Clare? Seth reports that they had shared friend circles that would occasionally meet up for game nights. It was at one of these gatherings that Kappy reportedly choked Paris Jackson.
Following the choking incident, Isaac Kappy made threats of violence against officers of the Los Angeles Police Department on Instagram, inferring that he was armed and prepared to shoot anyone that tried to apprehend him. Soon after, Kappy took his own life by jumping to his death in March of 2019.
What Are They Up To Now?
Green and Grant currently reside in Hollywood, California. In addition to Seth's writing and producing career, he continues to voice the teenage son, Chris, in the long-running animated hit, Family Guy.
He also continues to write, produce, and provide voice talent for Robot Chicken, entering its 11th season in the fall of 2021.
Clare continues to act, produce, and perform voiceover work, adding to her already prolific credits. She contributed to the new season of Robot Chicken and has several projects in production, including comedies and other animated series.
The couple is regularly seen at award banquets, as they always seem to have their finger on the pulse of a successful project. It's been a running observation at formal events that Clare is significantly taller than Seth.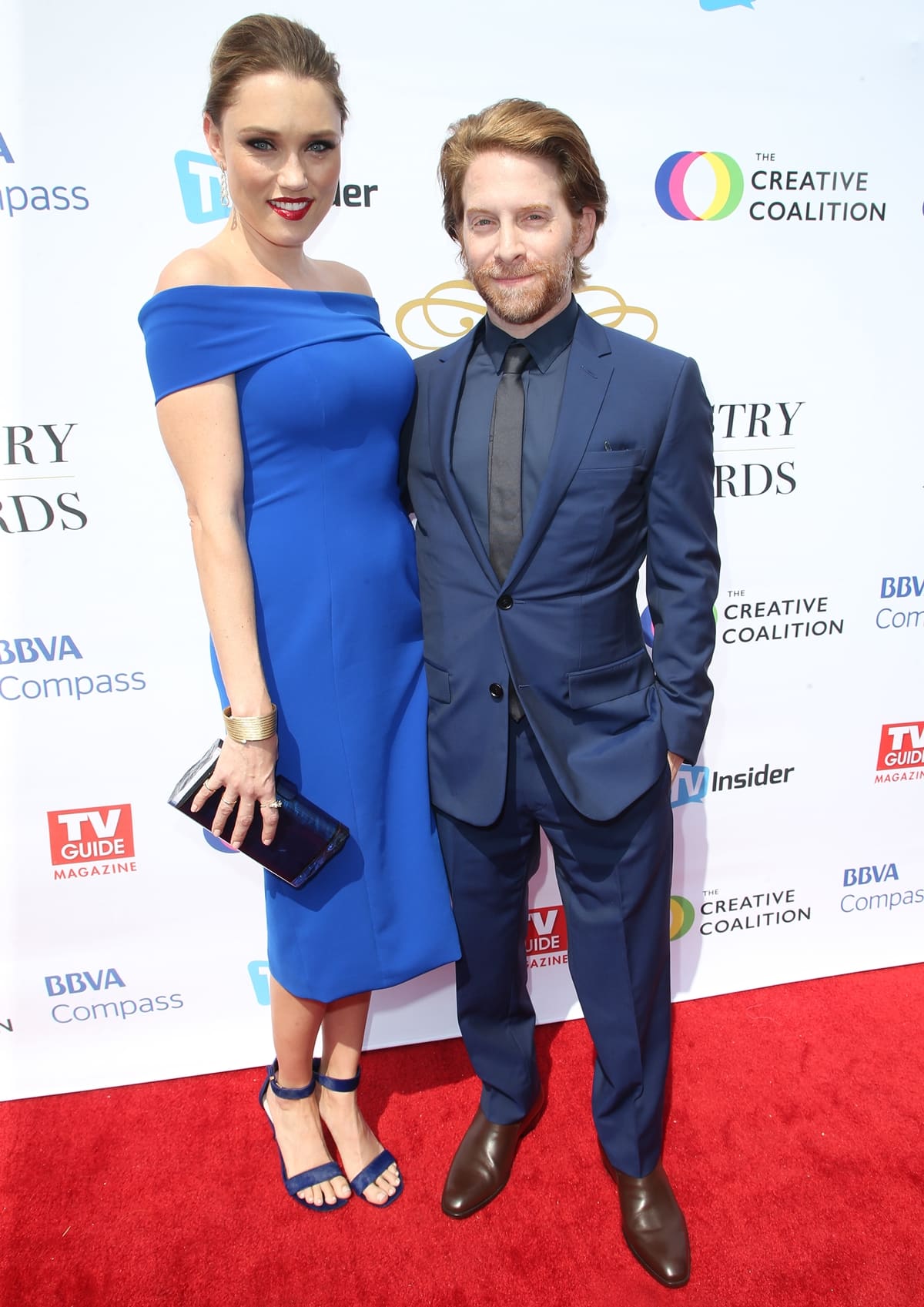 Actors Clare Grant (L) and Seth Green (R) attend the Television Industry Advocacy Awards at TAO Hollywood on September 16, 2017, in Los Angeles, California (Credit: FayesVision / WENN)
Clare stands at only 5'7", while Seth is a mere 5'4". The difference may be a bit exaggerated, though, as she has been known to rock some fierce-looking heels! Luckily Seth has a great sense of humor and doesn't seem to mind.
You can find them off the red carpet, outside of "business hours," contributing to charitable organizations or hosting game nights at their California home. They honestly sound like such a fun couple- maybe we should ask for an invite!
Actress Clare Grant (L) and actor Seth Green attend the premiere of Disney's "Star Wars: The Rise of Skywalker" on December 16, 2019, in Hollywood, California (Credit: Avalon / WENN)
"Clare is an amazing partner, an exceptional woman, and such a great friend," Seth recently told American weekly magazine People.
"I've never connected to anybody as perfectly as I do Seth. I just feel so lucky that we found each other," Clare says.
The pair have been blissfully married for over ten years- a huge milestone in showbusiness! Congratulations are in order! Currently, neither Clare nor Seth report on having plans of adding children to the mix. It seems for now they're already one of the busiest couples in Hollywood.
We can't wait to see more of them on the screen and on the red carpet!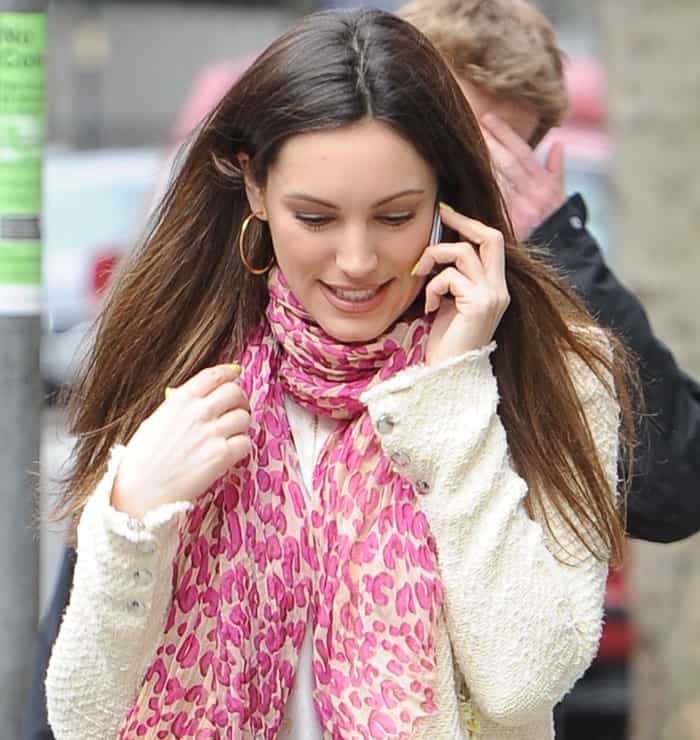 Kelly Brook wears a pink printed scarf with a white knit blouse (Credit: WENN)
Kelly Brook — an English actress, entrepreneur, and 'Playboy' model — walked the streets of London in April 2013 looking casual chic.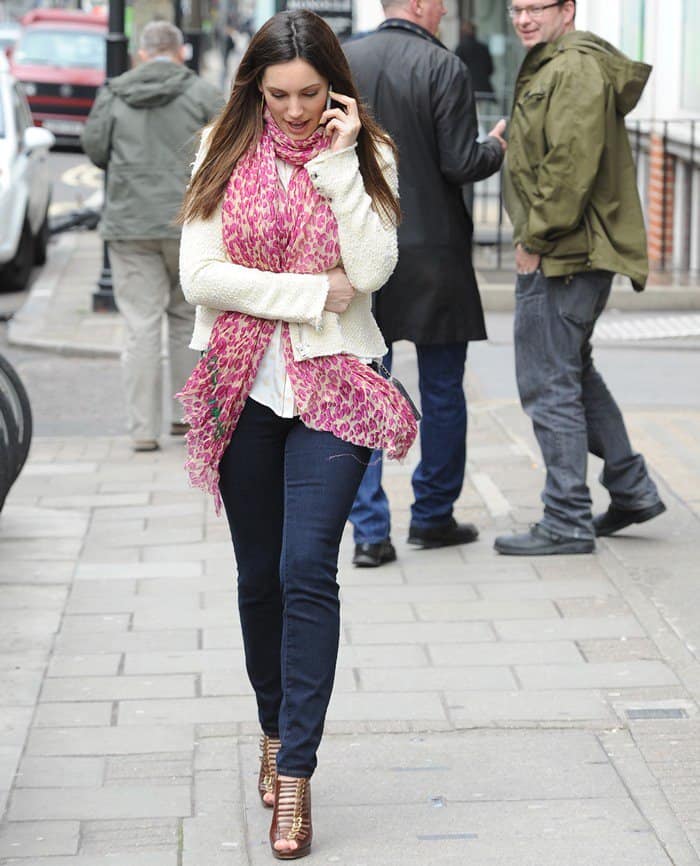 Kelly Brook wears jeans with brown leather buckled 'Manon' booties from Christian Louboutin (Credit: WENN)
You probably remember her as Seth Green's girlfriend in the 2003 American heist action thriller film The Italian Job or the comedy Kelly Brook's Cameltoe Shows.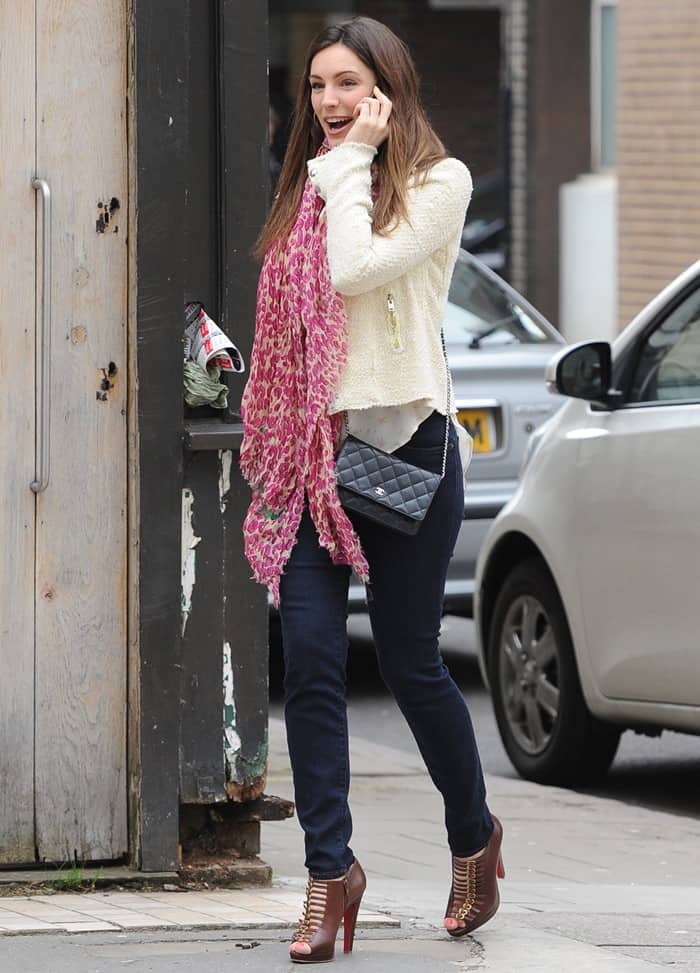 Kelly Brook chatting on her mobile phone while in Soho, London on April 15, 2013 (Credit: WENN)
In this instance, she wore skinny jeans, a white knit blouse, a black Chanel crossbody bag, a pink printed scarf, and brown leather buckled 'Manon' booties from Christian Louboutin.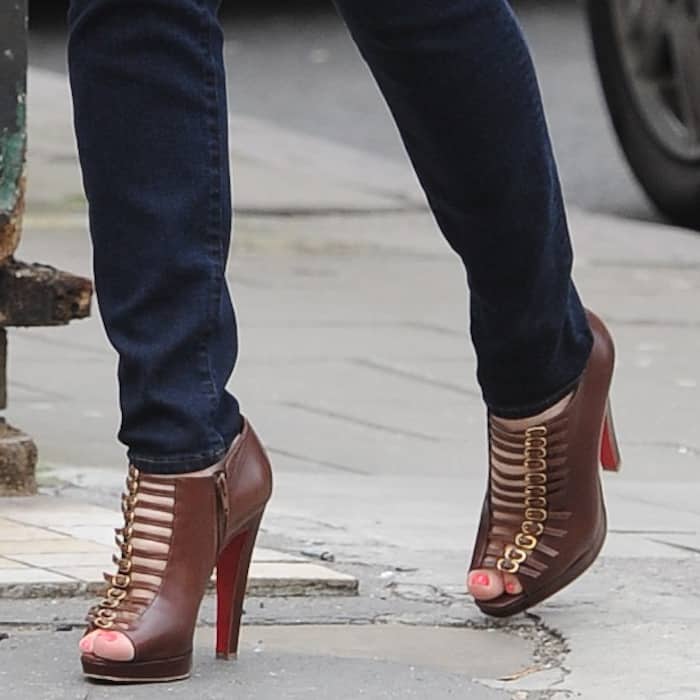 Kelly Brook shows off her feet in Christian Louboutin brown leather buckled 'Manon' booties (Credit: WENN)
I'd say these Manon leather booties, which were introduced in Louboutin's Fall/Winter 2012 collection, kept Kelly's outfit from looking very plain. What do you think?
They have unfortunately sold out online, but you can browse more recent arrivals from the same designer at Mytheresa and Nordstrom.
Christian Louboutin Manon Booties in Black, $1,295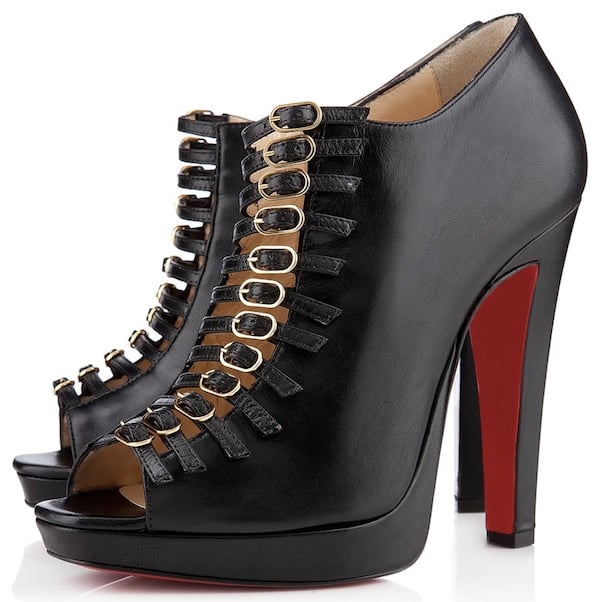 Christian Louboutin Manon Booties in Beige, $1,295