Gwyneth Paltrow joined her longtime friend Rob Lowe on his Literally! With Rob Lowe in July 2020. The goop entrepreneur revealed that Rob Lowe's wife, makeup artist Sheryl Berkoff, taught her "how to give a blow job" when she was a teenager.
"I met Sheryl when I was 15 or 16," the 47-year-old Politician actress said. "She was doing my mom's makeup on this TV movie, and I went down to visit. It was in Florida. I met Sheryl, and I was like immediately obsessed with her."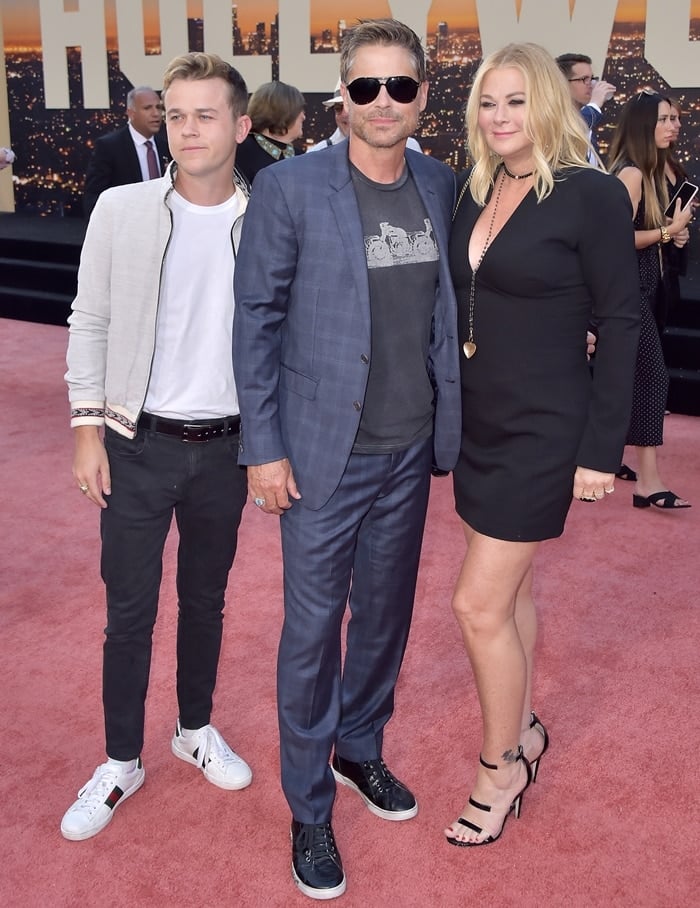 Rob Lowe (C) with his son John Owen Lowe and his wife Sheryl Berkoff at The Los Angeles Premiere Of Once Upon A Time In Hollywood at TCL Chinese Theatre on July 22, 2019, in Hollywood, California
"First of all, she was dating Keanu Reeves, who was my celebrity crush. And she was so cool," Paltrow added.
"And she knew that I was sneaking cigarettes, and she would come smoke with me behind the trailer, and she taught me how to give a blow job, and you know, all the classic Sheryl stuff."
In 1991, a young Gwyneth Paltrow fronted Esprit's safe sex campaign to endorse birth control and prevent STDs
"I just worshipped her. I thought she was literally the coolest chick of all time," she said. Gwyneth clearly appreciated how Berkoff treated her like an adult.
"She was so awesome to me. And I was a high school kid. Like, the fact that she's loved me that much before I was anyone or anything, you know?"
"It was less about remembering the technique — although I'm sure that I implemented it the first chance I got," Paltrow said without sharing any specifics.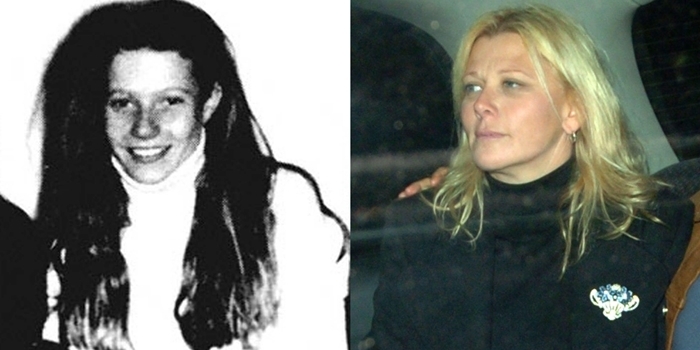 While still a teenager, Gwyneth Paltrow (L) got blowjob lessons from Rob Lowe's wife Sheryl Berkoff
"It was so cool to have someone treat me like an adult and see me as like a young woman and someone who is sexual. She just made me feel so free," Paltrow explained.
When growing up, she didn't have conversations about sex with her parents, actress Blythe Danner and film producer-director Bruce Paltrow.
Who is Sheryl Berkoff?
Dating Keanu Reeves for a time in the late '80s, Sheryl Berkoff first met Rob Lowe in 1983 on a blind date. They started dating when they met again several years later on the set of Bad Influence, a 1990 American psychological thriller film directed by Curtis Hanson.
| How much is Sheryl Berkoff's net worth? | She shares a net worth of $60 million with her husband, Rob Lowe. |
| --- | --- |
| Full Name: | Sheryl Lynn Berkoff |
| Born: | June 20, 1961 in Los Angeles, California |
| Husband: | She married Robert Hepler Lowe in 1991 |
| Kids: | John Owen Lowe and Matthew Edward Lowe |
| Did Keanu Reeves and Sheryl Berkoff date? | Yes, she dated Keanu Reeves for a time in the late 1980s |
| Nationality: | American |
"I had met my now wife, Sheryl, and was attempting my first try at monogamy — which was not really in my nature at the time — and I wasn't able to do it. It made me examine how I was living my life. That led me to getting sober, which led me to changing my life — giving me everything I now have," Rob Lowe told Haute Living in September 2014.
She was a make-up artist at the time and now runs her own business called Sheryl Lowe Jewelry️. Rob and Sheryl have two sons named Matthew Edward Lowe (b. 1993) and John Owen Lowe (b. 1995).
John Owen Lowe, Rob Lowe, Sheryl Berkoff, Matthew Edward Lowe, and Rob Lowe's parents, Barbara Lynn and Charles Lowe, at Rob Lowe's Star ceremony on the Hollywood Walk Of Fame held on December 8, 2015 in Hollywood, California
"Well, listen, we would never have been drawn to each other if she wasn't a great sport and didn't have amazing perspective, and she continues to have that to this day. She's very secure with herself, and that makes it easy for me to go about and do what I do, and sometimes my work calls me to hop into a bed and kiss a pretty girl," Rob Lowe told The Guardian in 2009.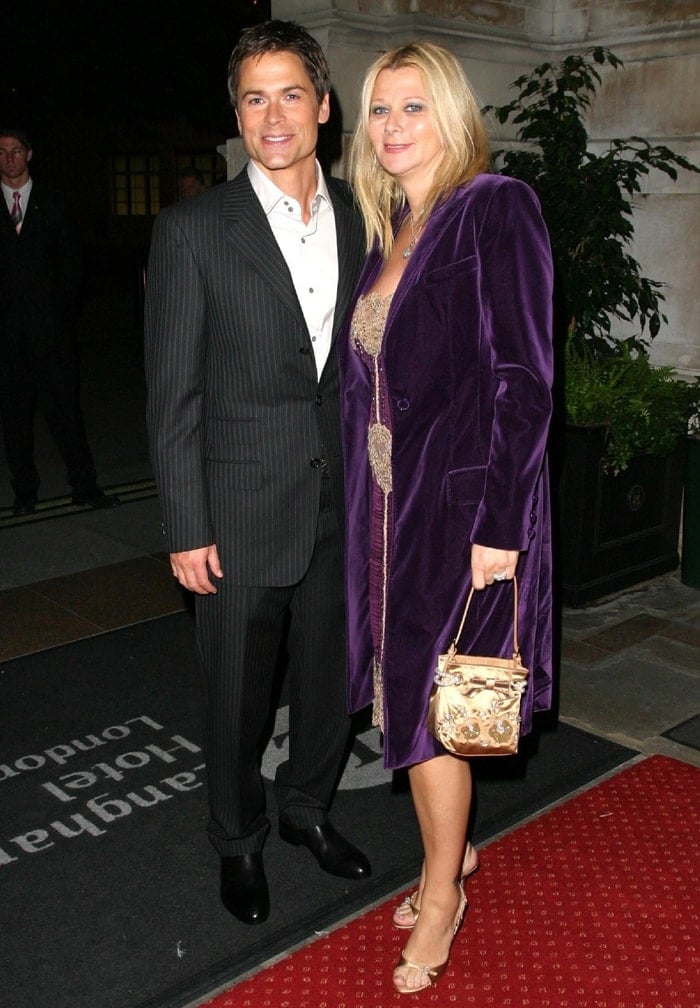 Rob Lowe with his wife Sheryl Berkoff in London on September 6, 2005
In December 2015, was anyone else surprised to see Gwyneth Paltrow turn up at actor and funny man Rob Lowe's big Hollywood Walk of Fame moment?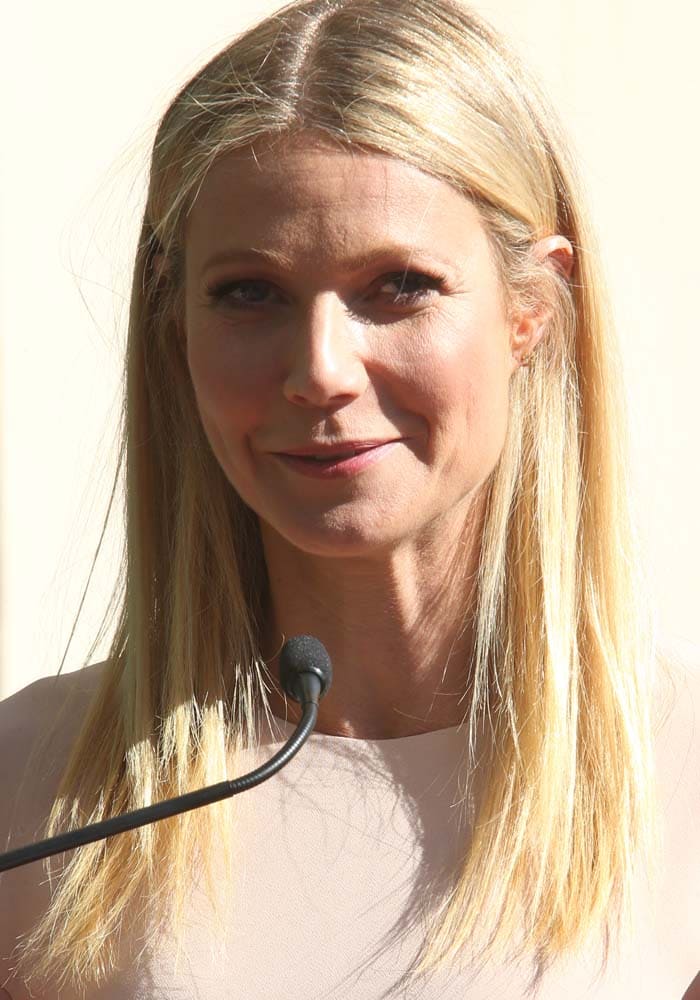 Gwyneth Paltrow wears her blonde hair down as she supports friend Rob Lowe at the Hollywood Walk of Fame on December 8, 2015
We were a little caught off guard — but as it turns out, Gwyneth and Rob have been friends since their teens.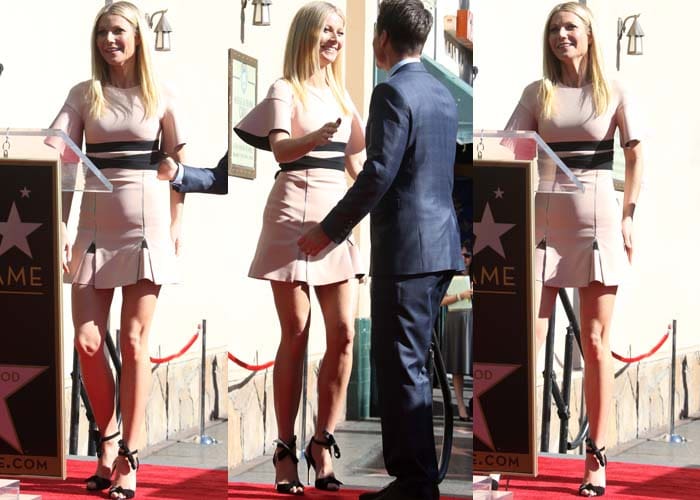 Gwyneth Paltrow supports friend Rob Lowe at his Hollywood Walk of Fame induction ceremony
The two met at the age of 17, thanks to Gwyneth's friendship with Rob's now-wife, Sheryl Berkoff-Lowe.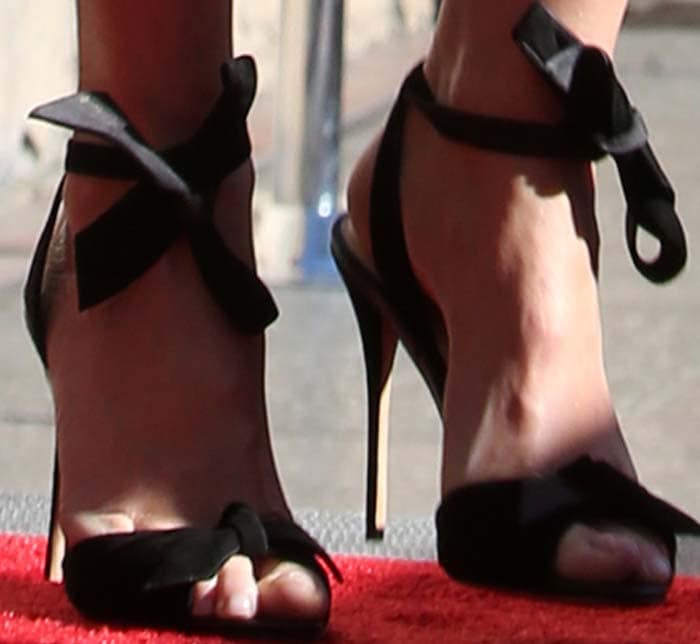 Gwyneth Paltrow's feet in Alexandre Birman heels
Gwyneth wore a stunning bell-sleeved pastel pink dress to the induction ceremony.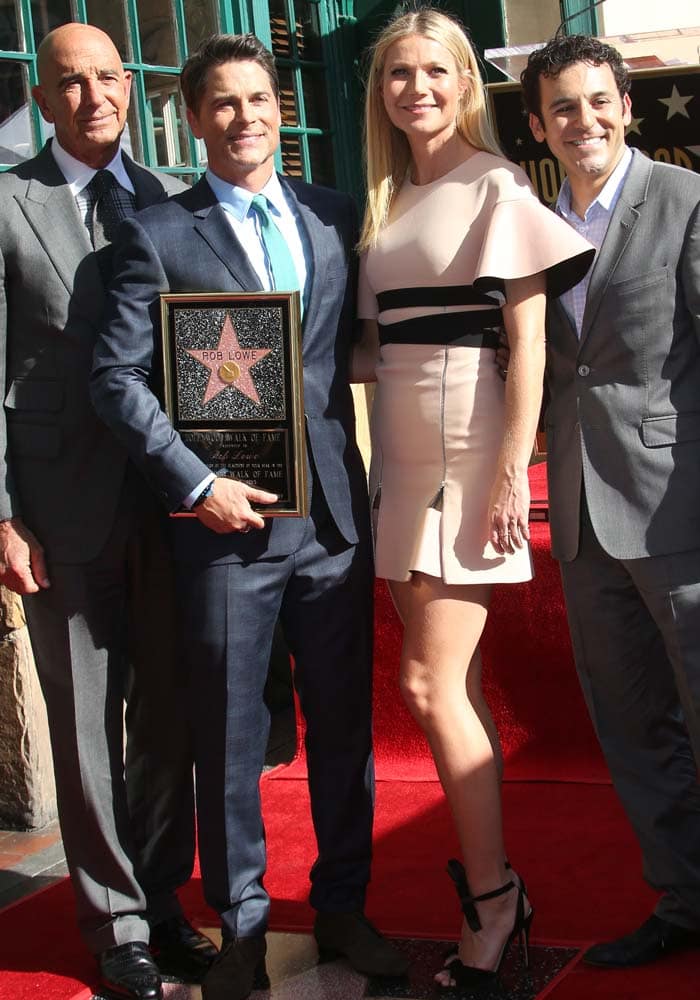 Gwyneth Paltrow poses with Rob Lowe and company on the red carpet of the Hollywood Walk of Fame
The frock hit just above her knees and featured black detailing on the waist.
She wore her long blonde hair straight and down and finished her ensemble with a pair of Alexandre Birman heels.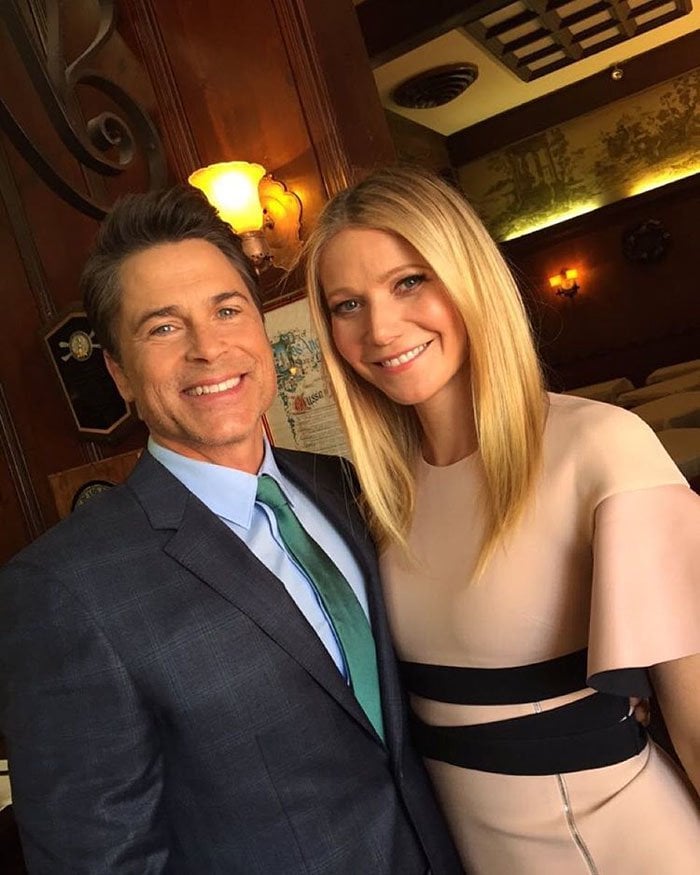 Via Rob Lowe's Instagram
Gwyneth also talked about how Rob's two boys were a testament to the kind of person he is. Hear her whole speech below
Gwyneth Paltrow gives a speech as Rob Lowe receives his star on the Hollywood Walk of Fame
Get Gwyneth's romantic bow heels from Alexandre Birman by clicking your way to Nordstrom and Shopbop.
Alexandre Birman Suede Tie Sandals, $357
Alexandre Birman Suede Bow-Tie d'Orsay Sandal in Dalia, $595
Alexandre Birman Suede Bow-Tie d'Orsay Sandal in Nude, $595
Credit: Rob Lowe's Instagram / FayesVision / WENN / Z.Tomaszewski / Nigel Hine