Making her professional career as a child model when she was three years old, Jodie Foster's breakthrough came with Scorsese's psychological thriller Taxi Driver that was released on February 8, 1976.
Widely regarded by critics as one of the greatest films of all time, Jodie portrayed a child prostitute named Iris. For her performance, she received a nomination for the Academy Award for Best Supporting Actress.
Jodie Foster portrayed child prostitute Iris in Taxi Driver
"They were very uncomfortable about my character. Nobody knew how to direct me," Jodie said about her portrayal of Iris on The Graham Norton Show in May 2016.
"Scorsese would say something like 'unzip his fly' and just start laughing and not know what to do so he would hand it over to Robert De Niro and then Robert would tell me what to do."
"And he was even more 'Robert De Niro' then, even quieter and more strange."
Martin Scorsese completed shooting Taxi Driver on the streets of New York in 1975. Jodie Foster, who was born on November 19, 1962, turned 13 on November 19, 1975. She was 12 when filming the movie.
Robert De Niro was 31 when filming the movie and turned 32 on August 17, 1975.
Jodie Foster was 12-years-old when filming Taxi Driver with the then 31-year-old Robert De Niro
Who turned down the role in Taxi Driver that went to Jodie Foster?
For the role of Iris, a number of actresses were considered, including Kim Basinger, Linda Blair, Carrie Fisher, Bo Derek, Michelle Pfeiffer, and Melanie Griffith. In total, there were more than two hundred applicants for the role.
In a September 2016 interview with W Magazine, Jodie Foster revealed how she got the role.
I didn't really audition for Taxi Driver. I had done a film with Martin Scorsese before called Alice Doesn't Live Here Anymore and so he actually called my mom up and said, 'Bring Jodie in; we are doing a new movie.' And we read the script and she thought he was crazy. I came to meet with him in my school uniform, which was a little gray pleated skirt and white Peter Pan collar and a blue blazer. And she looked at him and said well, 'If you really think that she can play this, I guess, you know, it's up to you.
In May 2016, Jodie Foster was honored by her 'Panic Room' on-screen daughter Kristen Stewart as she accepted her star on the Hollywood Walk of Fame.
While Kristen Stewart was just 10 when the movie was being filmed, the two have remained close friends ever since.
"I grew up blocks from Hollywood Boulevard and would cross it every single day of my life," Jodie said during her acceptance speech. "And you do that thing where you're like, 'Will I ever be on the Walk of Fame someday?' "
For the ceremony, Kristen donned a black sheer sweater with gold buttons styled with a matching button-down leather skirt with pockets from the Chanel Pre-Fall 2016 Collection.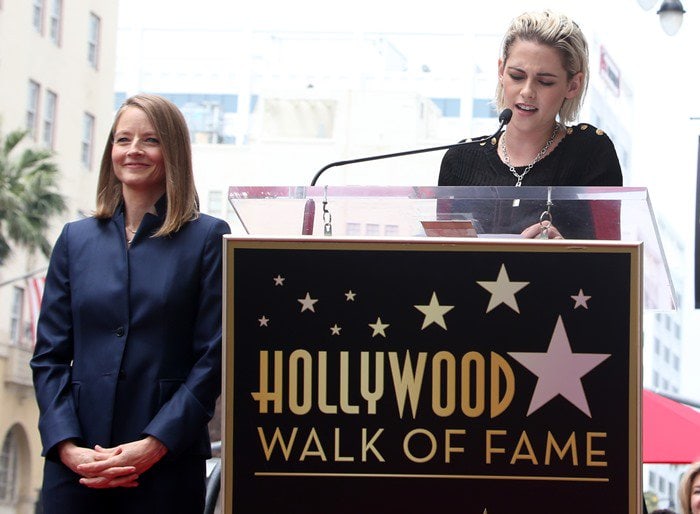 Kristen Stewart made a speech at the ceremony honoring her Panic Room co-star
She accessorized with a Jillian Dempsey 'Punk Lock' necklace and completed the ensemble with a pair of black suede 'Bond' pumps from Kurt Geiger.
Kristen Stewart's Jillian Dempsey 'Punk Lock' necklace
"She's always encompassed what I thought was sort of the prime example of where you want to be and she's been there for me," Stewart said in her speech.
"She's a baller on every level. It's out of control," the actress continued. "She did everything young. She kicked Yale's ass. She won Oscars. She became a filmmaker herself. She created a family and still is just normal and cool and kind."
Kristen Stewart's black sheer sweater with gold buttons
Jodie wore a Max Mara navy suit while proudly receiving her honorary star.
Earlier this year, we've spotted Amy Adams and Chrissy Teigen in the same suede Kurt Geiger d'Orsay pumps.
President and CEO of the Hollywood Chamber of Commerce Leron Gubler, Kristen Stewart, Jodie Foster, and American politician Mitch O'Farrell
They feature a pointed toe, slip-on fastening, and cushioned luxurious leather interior lining for maximum comfort.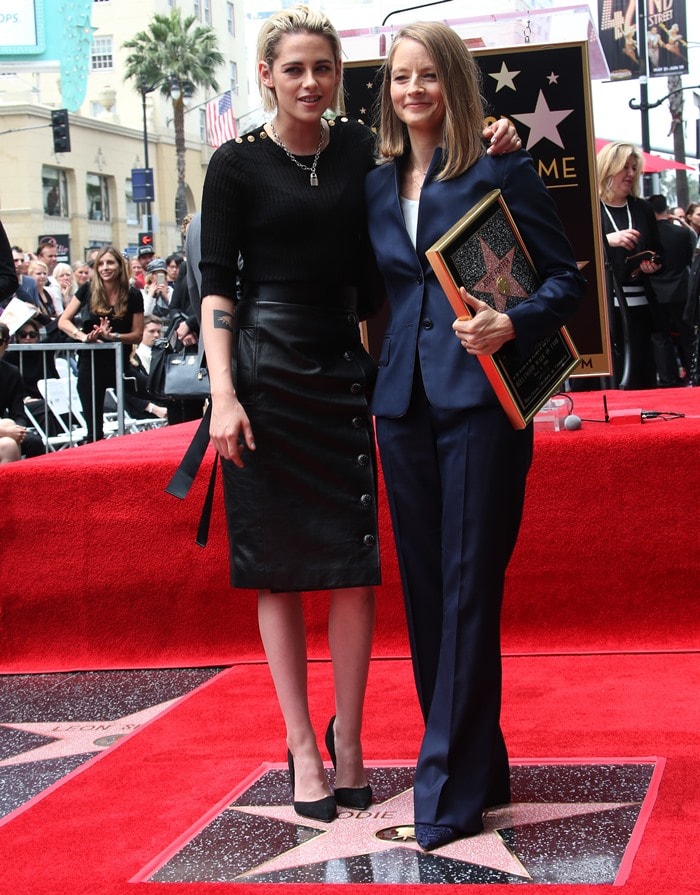 Jodie Foster smiles with her friend Kristen Stewart on the Hollywood Walk of Fame in Hollywood on May 4, 2016
You can order a pair at Nordstrom and Zappos.
Kurt Geiger "Bond" Court Pumps, $400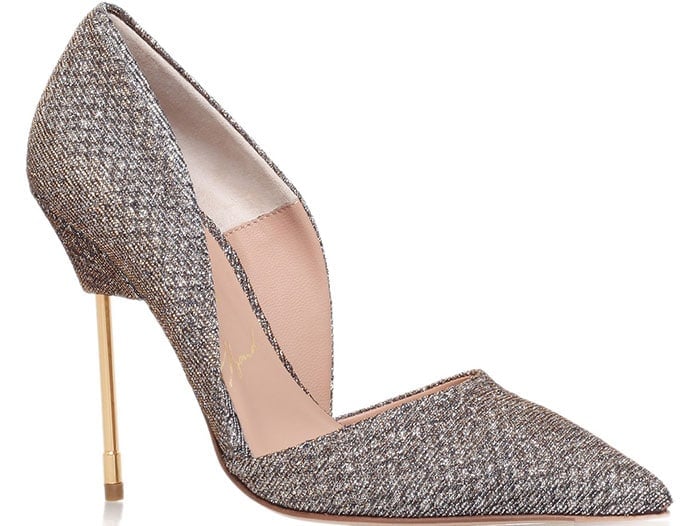 Credit: WENN / FayesVision / Nicky Nelson