With her impeccable style, Jane Fonda graced the L'Oreal Lights on Women Awards during the 76th annual Cannes Film Festival.
On May 26, the 85-year-old iconic actress appeared in a light gray suit that exuded elegance.
The ensemble consisted of a tweed and silver blazer adorned with decorative buttons, adding a touch of sparkle to her overall look.
Underneath the outerwear, Jane wore a white satin top that perfectly complemented the light gray trousers, tailored to perfection for a simple yet sophisticated aesthetic.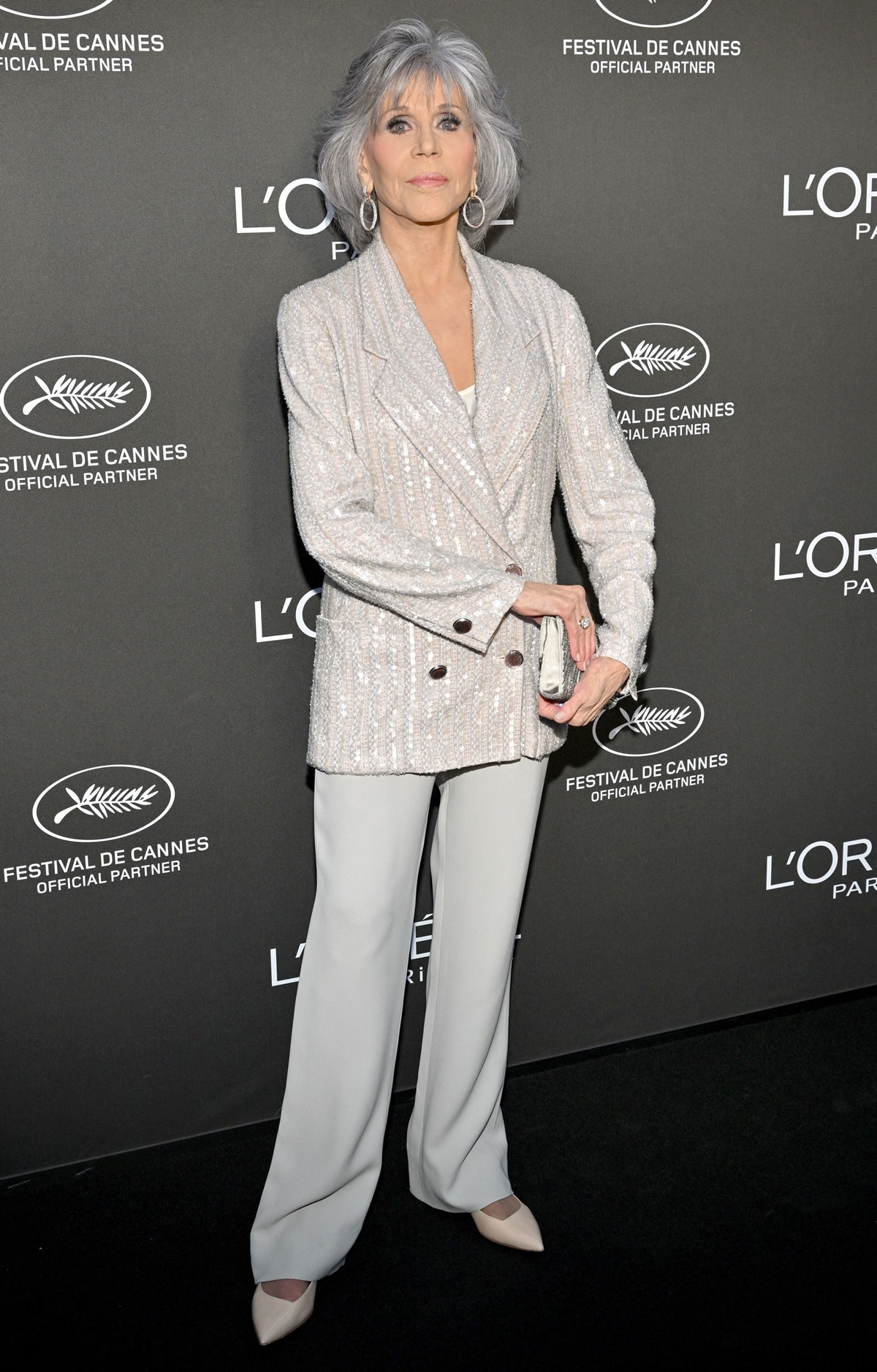 Jane Fonda dazzled at the L'Oreal Lights on Women Awards in a sleek light gray suit featuring a stunning tweed and silver blazer adorned with decorative buttons for a touch of glamour (Credit: Julien Reynaud / Abaca Press / INSTARimages)
To complete her ensemble, Jane carefully selected accessories that enhanced her outfit's allure. She carried a coordinating silver chainmail clutch, which effortlessly matched the silver accents on her blazer.
Dangling earrings encrusted with diamonds gracefully adorned her ears, glamourizing her overall appearance. Her hair was styled in a chic, quaffed fashion, emphasizing her timeless beauty.
Jane paid meticulous attention to every detail, including her choice of footwear. She confidently stepped onto the black carpet wearing a pair of neutral nude pumps with pointed toes.
The patent leather sheen on the shoes added a touch of sophistication, while the thin but walkable 3 to 4-inch stiletto heels elevated her stature.
Jane Fonda adorned her ears with dangling diamond-encrusted earrings and styled her hair in an elegant, quaffed style (Credit: IPA / INSTARimages)
The following day, Jane Fonda again stole the spotlight at the prestigious Cannes Film Festival closing ceremony. Demonstrating her mastery of aging gracefully, she captivated fans with a stunning black sequin gown.
The ensemble featured black wide-legged pants, perfectly paired with a black-sequinned asymmetric tunic that gracefully trailed behind her, creating a captivating silhouette.
To accentuate her glamorous look, Jane adorned herself with glistening jewels on her neck and ears, adding a touch of sparkle to her ensemble. Her skin glowed radiantly, and she sported a Barbie pink lip color that further enhanced her natural beauty.
Jane Fonda's presence at the Cannes Film Festival went beyond her impeccable fashion choices, as she made a profound impact on the event with her meaningful contributions.
Jane Fonda graced the closing ceremony in a black sequin top paired with matching trousers, radiating sophistication and glamour at the closing night of the 76th annual Cannes Film Festival on May 27, 2023 (Credit: IPA / INSTARimages)
During the closing ceremony, she was honored to present the Palme d'Or, the festival's top trophy, to the talented French writer-director Justine Triet.
Justine's film, Anatomy Of A Fall, a Hitchcockian mystery thriller that explores a woman accused of murder after her husband's suspicious death, stood out among a record-breaking seven women directors competing for the prestigious award.
Her remarkable achievement as the third female director to win the Palme d'Or added to the prestigious history of the award, following the successes of Julia Ducournau, who won for Titane in 2021, and Jane Campion, who shared the honor for The Piano alongside Farewell My Concubine in 1993.
Jane, who also received an honorary Palme d'Or at Cannes in 2007 and the festival's Kering Women In Motion Award in 2015, expressed her admiration for Justine and highlighted the historical significance of the moment.
Jane Fonda radiated elegance as she gracefully showcased a stunning custom ensemble by AMI Paris featuring a captivating black sequin-embroidered top accentuated by an alluring asymmetrical train (Credit: Abaca Press / INSTARimages)
As she presented the award on stage, Jane reflected on her first Cannes Film Festival experience in 1963, when no women directors were competing.
She acknowledged the progress made, saying, "There were no women directors competing at that time, and it never even occurred to us that there was something wrong with that."
However, in an unexpected turn of events, Jane Fonda found herself in a comedic moment during the award presentation.
Justine Triet accidentally left the award scroll on the podium as she accepted the Palme d'Or. Quickly rectifying the situation, Jane hurried to grab the certificate and hand it to Justine.
But despite her best efforts to get the attention of the winning director, the actress resorted to an unconventional action.
Jane Fonda presented Justine Triet with the Palme d'Or for her film "Anthomy of a Fall" at the 2023 Cannes Film Festival. When Triet accidentally left the scroll at the podium, Fonda threw it at her back to get her attention. https://t.co/0lZ01HS6dB

— Your Next Shoes (@yournextshoes) May 31, 2023
In a viral video circulating on social media, Jane threw the Palme d'Or certificate at Justine's back, generating laughter and astonishment from the audience.
Although the scroll landed on Justine's back and eventually fell to the floor unnoticed, Jane's frustration and humorous gestures left an indelible mark on the closing ceremony.
A man on stage intervened and tried to hand the certificate to Justine, who was so engrossed that she still failed to notice it.