Cannes Film Festival witnessed a stunning display of elegance and empowerment as Kate Winslet graced the red carpet to pay homage to female filmmakers at the prestigious L'Oréal Lights on Women Awards.
The 47-year-old actress effortlessly commanded attention, leading the stars with her impeccable style.
Kate exuded sophistication in a sharp white trouser suit, showcasing her innate fashion sensibility. The tailored ensemble exquisitely accentuated her slender figure, while the black laser-cut top added a touch of contemporary flair.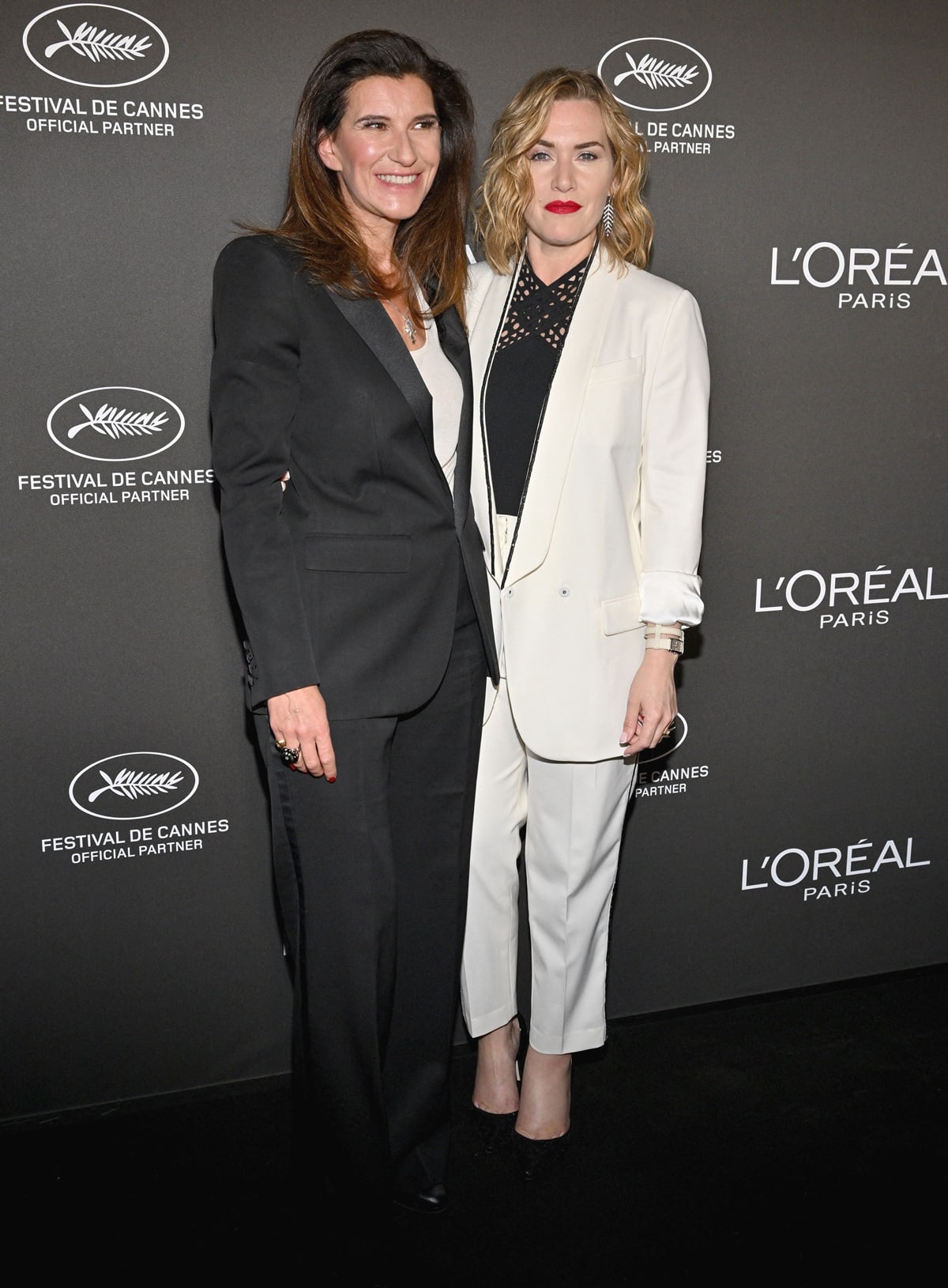 Delphine Viguier-Hovasse and Kate Winslet attended the L'Oreal – Lights on Women Award at the 76th annual Cannes film festival on May 26, 2023, in Cannes, France (Credit: Julien Reynaud / Abaca Press / INSTARimages)
The Titanic actress opted for pointed black heels to elevate her stature, exuding confidence with every step. Accessories played a vital role in completing her captivating look, as she carried a sleek black clutch and adorned her wrist with a cream watch.
Adding an irresistible whimsy and glamour, Kate highlighted her outfit with mesmerizing feather-shaped earrings.
The Revolutionary Road star's beauty choices further enhanced her overall allure. A bold red lip was a vibrant pop of color against the pristine white suit, exuding a sense of empowerment. Her blonde locks cascaded in soft waves, framing her radiant face with elegance.
During the event, Kate shared a moment with the legendary Jane Fonda, a fellow advocate for women's rights and an icon in her own right.
Kate Winslet paid tribute to the incredible female filmmakers at the L'Oréal Lights on Women Award. She was joined by Cannes Film Festival's Iris Knobloch and L'Oréal Paris' Delphine Viguier-Hovasse https://t.co/jtgTMPVeRs #Cannes2023 #LightsOnWomenAward #WomenInFilm https://t.co/qShc0fXu7E

— Your Next Shoes (@yournextshoes) May 31, 2023

Jane epitomized sophistication, donning a sequinned white blazer and ivory trousers, echoing Kate's impeccable style.
As the president and juror for the award, Kate Winslet took center stage alongside Cannes Film Festival president Iris Knobloch and L'Oréal Paris global brand president Delphine Viguier-Hovasse, setting the tone for the evening's prestigious awards ceremony and dinner.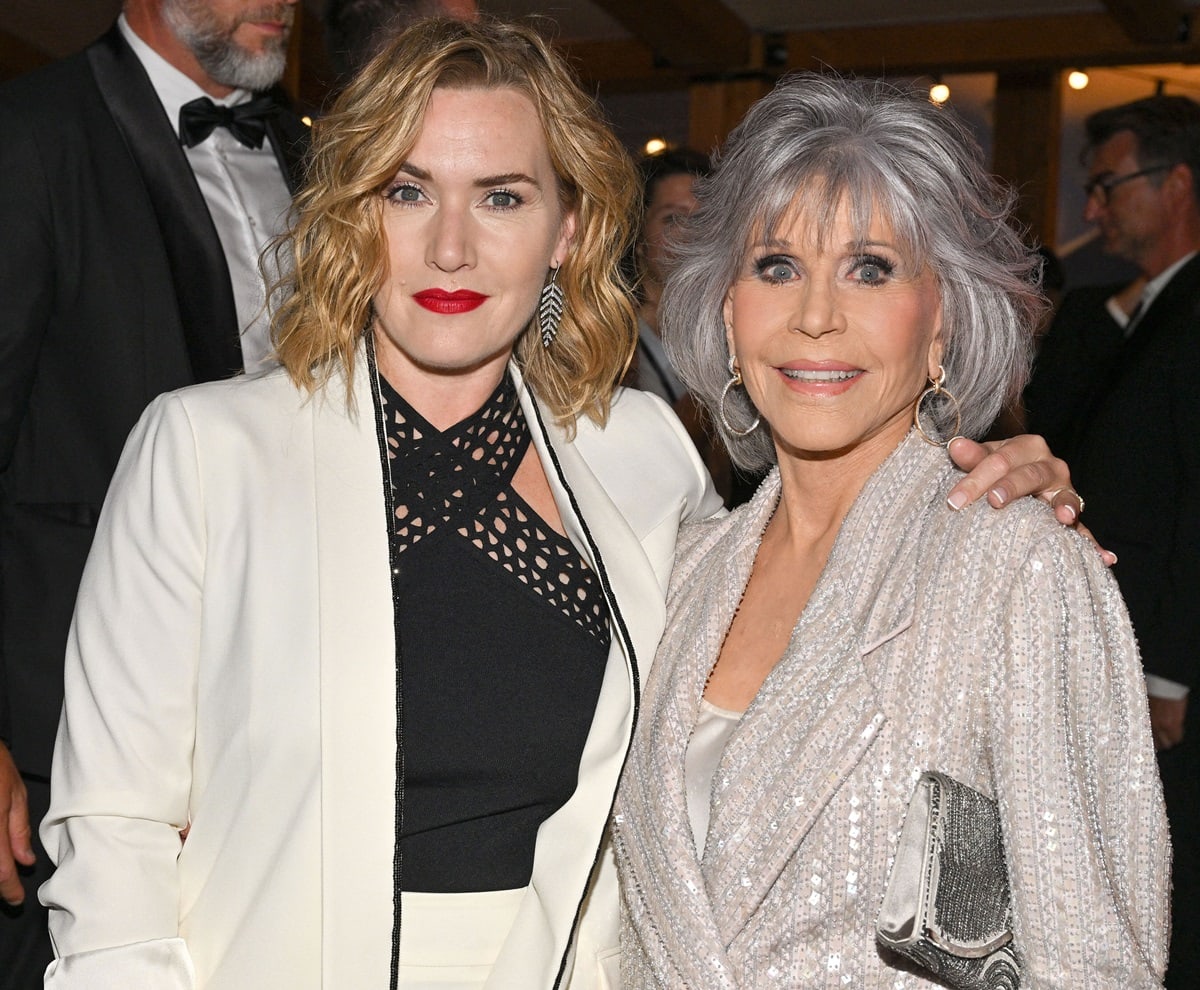 Kate Winslet and Jane Fonda opted for chic power suits and made a stylish statement at L'Oreal's Lights on Women Award event during the 2023 Cannes Film Festival (Credit: Julien Reynaud / Abaca Press / INSTARimages)
The Lights on Women Award, designed to champion emerging female directors, was pivotal in the festival's program. This year, the award recognized the exceptional talent of French director Fatima Kaci and her thought-provoking film The Voice of Others, a poignant exploration of grief and resilience.
As the sole juror, Kate personally selected Fatima as the deserving recipient of the honor.
In her passionate speech, per WWD, Kate highlighted the significance of female voices in the film industry and the need for their inclusion.
Michael Fassbender's co-star said that judging the films "reconfirmed for me that we as women want and need our very personal voices to be heard more than ever before. We deserve this space. We yearn for it, we have earned our place at the table."
Kate emphasized filmmakers' arduous journey, facing numerous challenges, from funding projects to enduring setbacks, noting that "not one part of that journey is easy."
Recognizing the slow progress toward gender parity, Kate's words conveyed a sense of urgency for change while acknowledging the achievements made thus far.
Kate said, "There have been times in recent years when I felt that we're creeping a little bit closer to gender parity in the cinema world, then there are moments in the last few years when I've continued to witness displays of male power to not only go to prove that the needle still hasn't quite swung firmly enough in our direction, but also that the culture does need further change."
Age has brought a sense of self-acceptance and positivity for Kate Winslet, allowing her to embrace all aspects of herself (Credit: Julien Reynaud / Abaca Press / INSTARimages)
She continued, "And it's made me want to just hug every woman I know, and to keep reminding them and each other just how capable, necessary and vital we are as women to the film industry."
Kate's heartfelt address emphasized the important role occasions like the L'Oréal Lights on Women Awards play in promoting creative voices and propelling conversations forward.
The Award-winning actress noted, "They are reaching a wider audience and generations of women everywhere, not just within the walls of the film industry. And this means everything because this is how we will change the culture and how we can change the way that people think."
She added, "Occasions like this really do give a platform for us to share our creative voices, and to propel the conversation forward so that we can create permanent change, and we will do it."