Alright, naysayers. Open about having being fat-shamed, Kate Winslet is here to prove you wrong.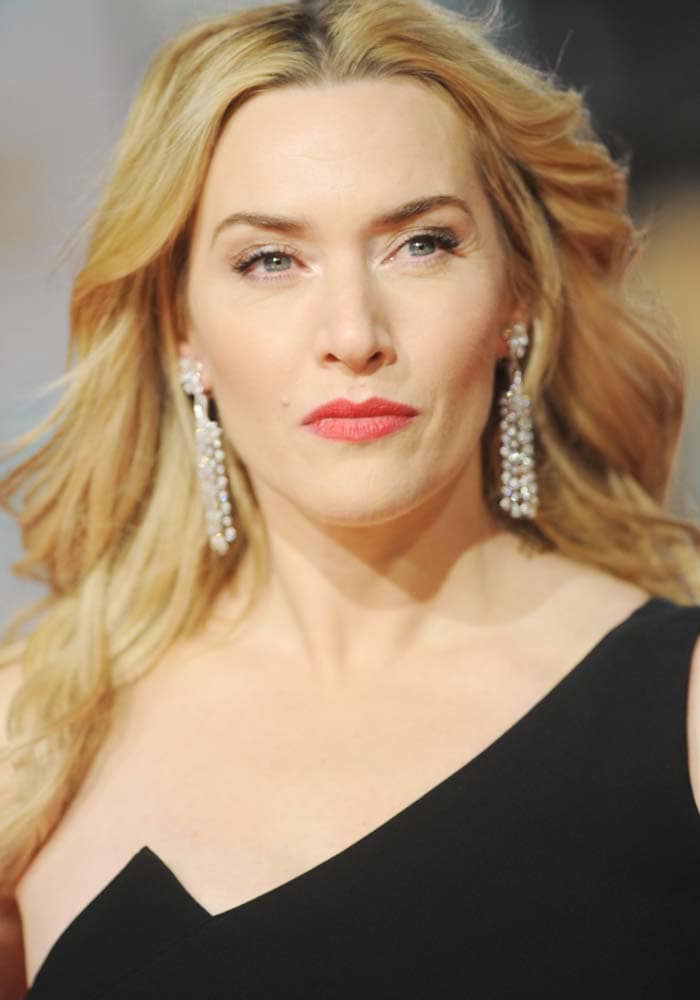 Kate Winslet wears her blonde hair in curls at the British Academy Film Awards held at the Royal Opera House on February 14, 2016, in London (Credit: Lia Toby / WENN)
Kate — who was told that she would never make it as an actress by her drama teacher at the age of 14 — took home the Best Supporting Actress Award at the 69th British Academy Film Awards held in London.
The Titanic actress hit the red carpet in an asymmetrical structured dress by Antonio Berardi.
"I had been bullied at school. They called me Blubber. Teased me for wanting to act. Locked me in the cupboard. Laughed at me," Kate said about bullying at the fourth annual WE Day UK event at the SSE Arena in Wembley, London, in March 2017.
"I was even told that I might be lucky with my acting if I was happy to settle for the fat girl parts," Michael Fassbender's Steve Jobs co-star added.
"I felt that I wasn't enough, I wasn't good enough. I didn't look right … and all because I didn't fit into someone else's idea of 'perfect.' I didn't have the perfect body."
Kate Winslet wears an Antonio Berardi dress on the red carpet (Credit: Lia Toby / WENN)
"I would often get cast as the crocodile, or the scarecrow, or the dark fairy, I was even a dancing frog once," she recalled.
"But it didn't matter. I still loved it. I loved acting. It didn't matter how big or small the parts were. I wanted to be great and I was determined to keep learning."
"One day, I was cast as Rose in Titanic," she said about her Titanic breakthrough. "The most unlikely candidate, Kate from the sandwich shop in Reading, suddenly acting in one of the biggest movies ever made!"
The "Titanic" star dressed the one-shouldered frock up with jewelry from David Morris, a red Jimmy Choo ruffled clutch and the Jimmy Choo "Karmel" pumps in black.
Kate Winslet's feet in glittery Jimmy Choo pumps (Credit: Lia Toby / WENN)
In the winners' room, Kate said that when she was a teenager, her drama teacher told her that she would "do okay" if she "was happy to settle for the fat girl parts."
The actress raised up her trophy afterward and hilariously quipped, "Look at me now."
"So what I feel like saying in those moments is — to any young woman who has ever been put down by a teacher, by a friend, or even a parent, just don't listen to any of it, because that's what I did," she added.
Kate Winslet was told by her drama teacher to settle for the fat girl parts (Credit: WENN / Avalon)
"I didn't listen and I kept on going and I overcame my fears and I got over a lot of insecurity."
Accepting her third BAFTA win, Kate told women to "keep believing" in themselves and dedicated her award "to all those young women who doubt themselves— because you shouldn't be doubting. You should just be going for it."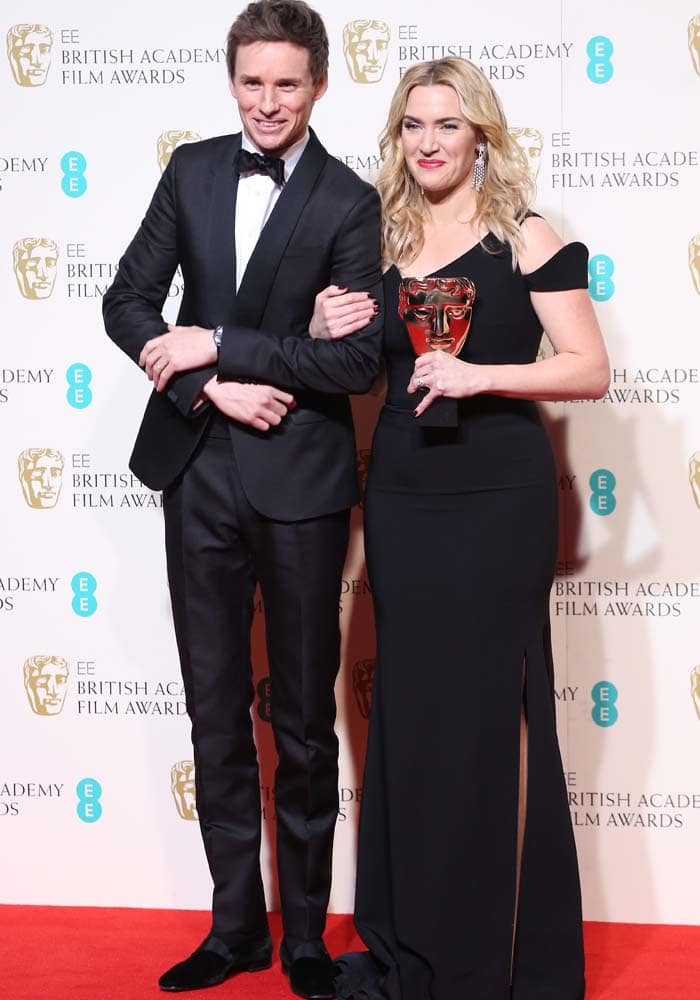 Eddie Redmayne and Kate Winslet pose for photos at the BAFTAs in London (Credit: Lia Toby / WENN)
You can order Kate's elegant glitter, mesh, and suede "Karmel" pumps by Jimmy Choo in two colors at Farfetch and Nordstrom.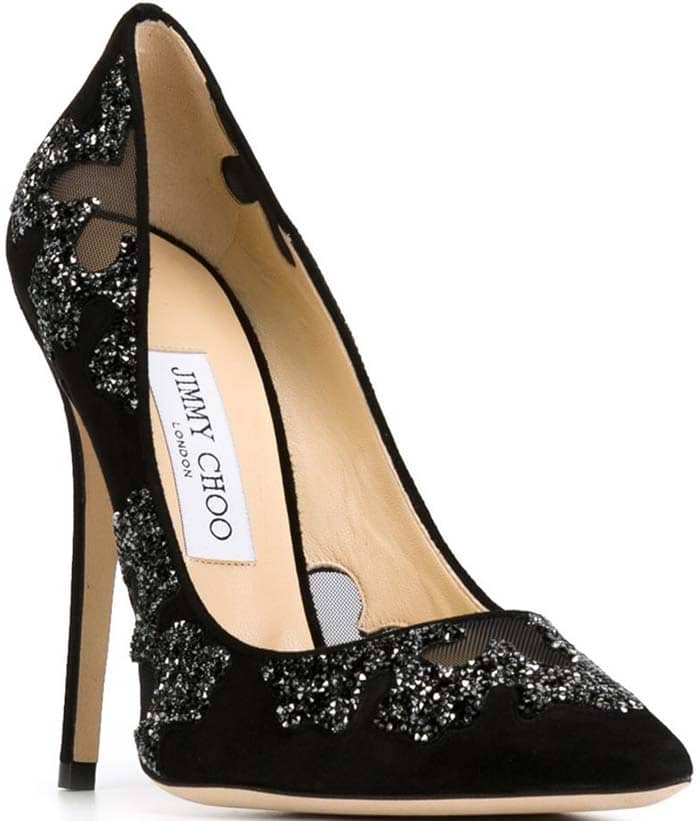 Jimmy Choo 'Karmel' Crystal Mesh Pumps in Black, $1,495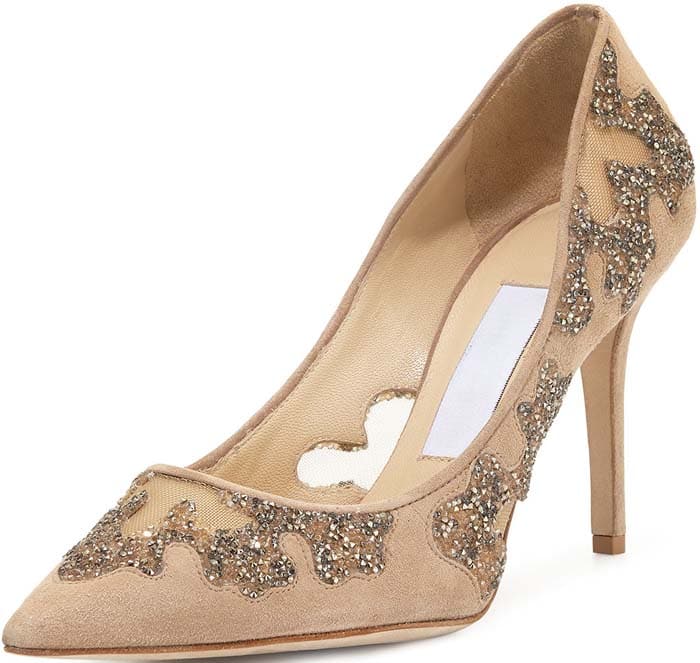 Jimmy Choo 'Karmel' Crystal Mesh Pumps in Nude, $1,495