The Cannes Film Festival red carpet has been a showcase of glitzy celebrity style, with stunning dresses donned by the likes of Elle Fanning, Naomi Campbell, Catherine Zeta-Jones, Helen Mirren, and Uma Thurman.
However, on Sunday, Jennifer Lawrence took her turn on the red carpet in a refreshingly relatable and rebellious way, making a statement against protocols.
As she arrived at the Palais des Festivals for the premiere of the French thriller movie Anatomie D'une Chute (Anatomy Of A Fall), the Oscar-winning actress wore a sweeping red silk Christian Dior gown.
Jennifer Lawrence made a stunning appearance at the Cannes Film Festival on May 21 for the premiere of "Anatomie D'une Chute (Anatomy Of A Fall)" in a Dior A-line gown complemented by a matching wrap and exquisite Tiffany & Co. jewelry (Credit: Aurore Marechal / Abaca Press / INSTARimages)
The X-Men star's custom couture ensemble exuded elegance with its sweeping train, gracefully flowing flared skirt, and beautifully rounded bodice, evoking memories of her iconic red Calvin Klein gown from the 2011 Oscars.
To add extra glitz, stylist Jamie Mizrahi adorned Jennifer's outfit with a matching draped shrug, a white gold and diamond-encrusted swirling Dior collar necklace, and exquisite Dior Joaillerie rings.
While the rest of her ensemble exuded glamour and elegance, the mom-of-one decided to break away from formality regarding her footwear.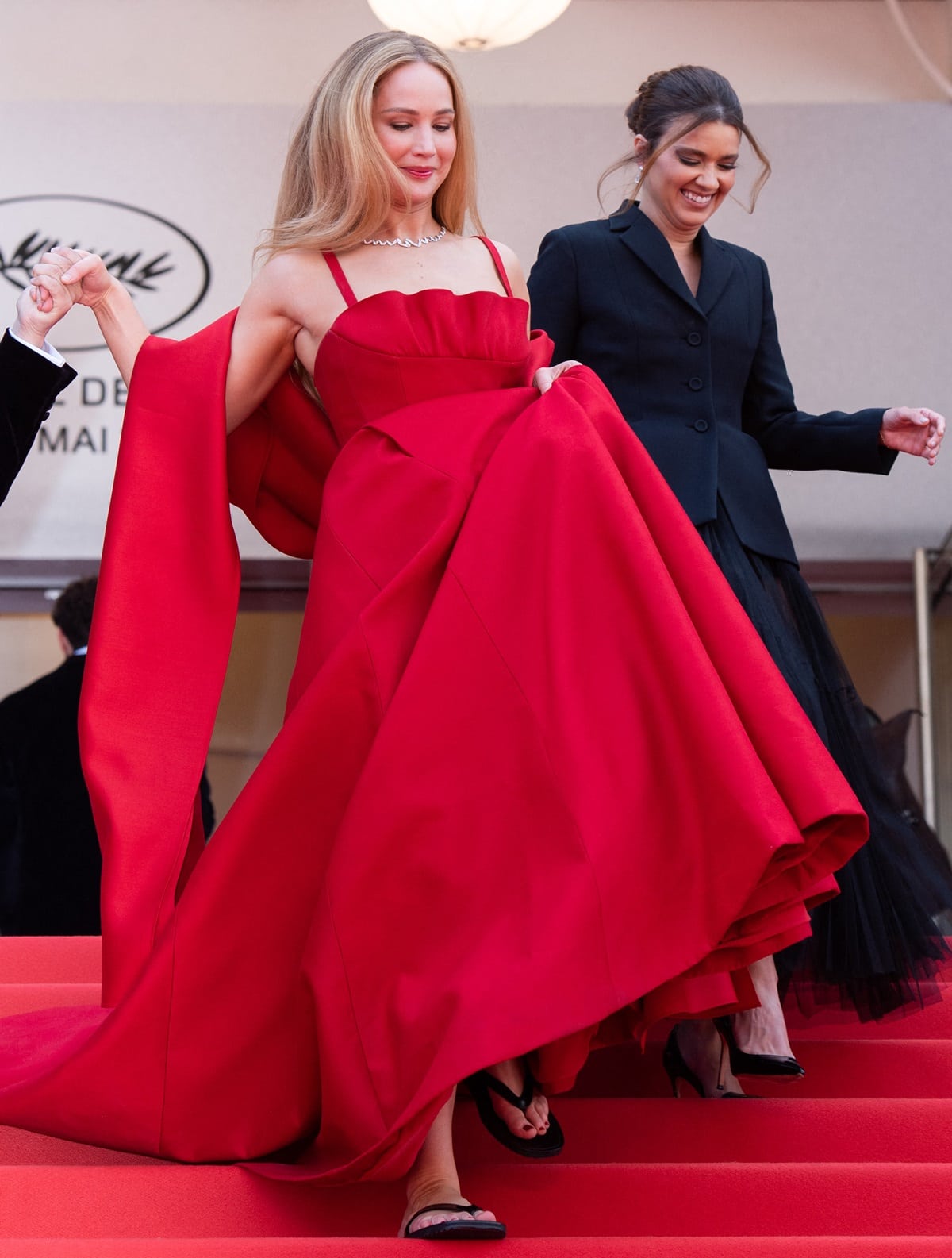 Arriving with Justine Ciarrocchi, Jennifer Lawrence made a striking fashion statement in a custom cardinal red Christian Dior Couture ball gown boasting a wrap-around shawl, a scalloped neckline, and a voluminous pleated skirt (Credit: Aurore Marechal / Abaca Press / INSTARimages)
Instead of stiletto-heeled pumps or sandals, Jennifer surprised everyone by wearing a pair of black rubber flip-flops.
These thin-soled, thong-style slip-on shoes starkly contrasted the hot red gown, emphasizing the Passengers star's legendary relatability and sense of humor.
Her unexpected choice of footwear sent a message that comfort should take priority when necessary, even on the glamorous Cannes red carpet.
This playful deviation from conventional is not the first time Cooke Maroney's wife has embraced her relatability.
Lifting her hemline, Jennifer Lawrence revealed a pair of black flip-flop sandals underneath her red Christian Dior Couture ball gown (Credit: Aurore Marechal / Abaca Press / INSTARimages)
We might recall her memorable tripping incidents at the 2013 Academy Awards to receive her Best Actress trophy, on the Oscars red carpet the following year, and even while leaving a dinner party in London for her movie, Silver Linings Playbook.
These mishaps have only endeared her to fans further, and the flip-flops seem to embrace her lighthearted nature.
The red dress and flip-flops marked Jennifer's second appearance at the Cannes Film Festival that day.
She had graced the red carpet to promote her upcoming movie, Bread and Roses, a documentary about the lives of three Afghan women under Taliban rule, which she produced.
Jennifer stunned in a draped light gray Dior gown with a long skirt and sleeveless bodice, part of the brand's Spring 2023 Couture collection.
Jennifer Lawrence opted for a captivating ensemble from the Christian Dior Spring 2023 Haute Couture collection for the "Bread And Roses" photocall at the 76th annual Cannes film festival at Palais des Festivals on May 21, 2023, in Cannes, France (Credit: Doug Peters / PA Images / INSTARimages)
The dress featured sheer base layers and interlocking rows of delicate crochet, which, combined with The Hunger Games star's carefree updo and minimal makeup, gave her a naturally luminous and ethereal look.
Her ensemble boasted a plunging low-cut back, revealing a silk bra with twisted straps and a matching bodice cinched with a small bow, adding a bohemian romance to the overall appearance.
Jennifer's stylist added elegant accessories to complete the outfit, including Alison Lou's pear cocktail drop earrings set with white topaz, black enamel, and a silver watch-chain bracelet.
With her hair elegantly swept up into a regal updo, Jennifer Lawrence styled her semi-translucent sheath dress with drop earrings (Credit: Doug Peters / PA Images / INSTARimages)
Her footwear choice for this ensemble was a pair of Dior gem-heeled sandals. These sleek, shiny gold shoes featured thin mirrored soles and towering 4-inch stiletto heels. The layered gold ankle and toe straps, adorned with crystal linings, added splendor to the look.
Jennifer Lawrence's choices on the Cannes red carpet made a lasting impression, reminding us all that comfort and self-expression can go hand in hand, even in the most glamorous settings.