Elle Fanning, the reigning fashion princess of the Cannes Film Festival, effortlessly set the tone for the star-studded event, exuding her distinctive style and innate grace.
Elle Fanning looked exquisite in a custom Alexander McQueen gown with a strapless bodice and a flowing train at the Jeanne du Barry screening and opening ceremony of the 76th Cannes Film Festival in Cannes, France on May 16, 2023 (Credit: PA Images / INSTARimages)
On Tuesday, the 25-year-old actress stepped onto the red carpet in Cannes, France, for the premiere of Jeanne du Barry starring Johnny Depp, radiating pure elegance in a mesmerizing custom Alexander McQueen gown inspired by the Fall 2023 collection.
Elle's ensemble featured a silver strapless bodice that accentuated her youthful charm in a breathtaking departure from the original design's metallic tendrils.
The magnificent creation boasted a pale pink tulle train that trailed behind her as she made her way up the carpet, reminiscent of a modern fairy tale come to life.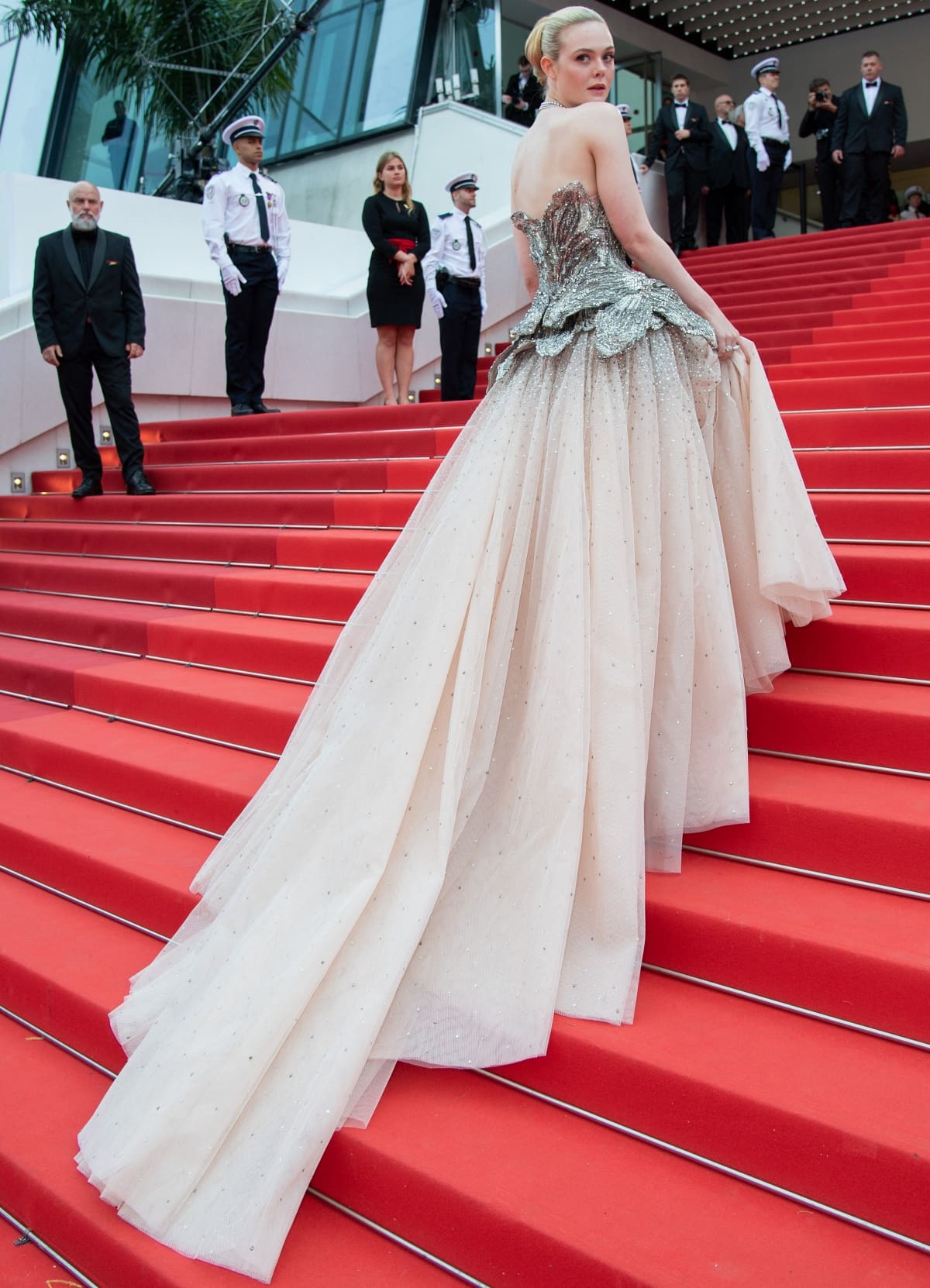 The Alexander McQueen gown's tulle train trailed behind Elle Fanning as she went up the iconic steps at this year's Cannes Film Festival (Credit: Abaca Press / INSTARimages)
Her specially constructed "orchid" attire was crafted with Paris net adorned with intricate silver bugle beadwork and dazzling crystal embroidery.
Every stone had been meticulously hand-beaded, leaving "The Great" star in awe of the artistry and skill of the creative director, Sarah Burton.
Complementing her ethereal look, Elle opted for a soft makeup palette with a hint of silver eyeshadow, enhancing her radiant features. Her blonde locks were elegantly swept back into a chic updo, adding a touch of sophistication to her overall appearance.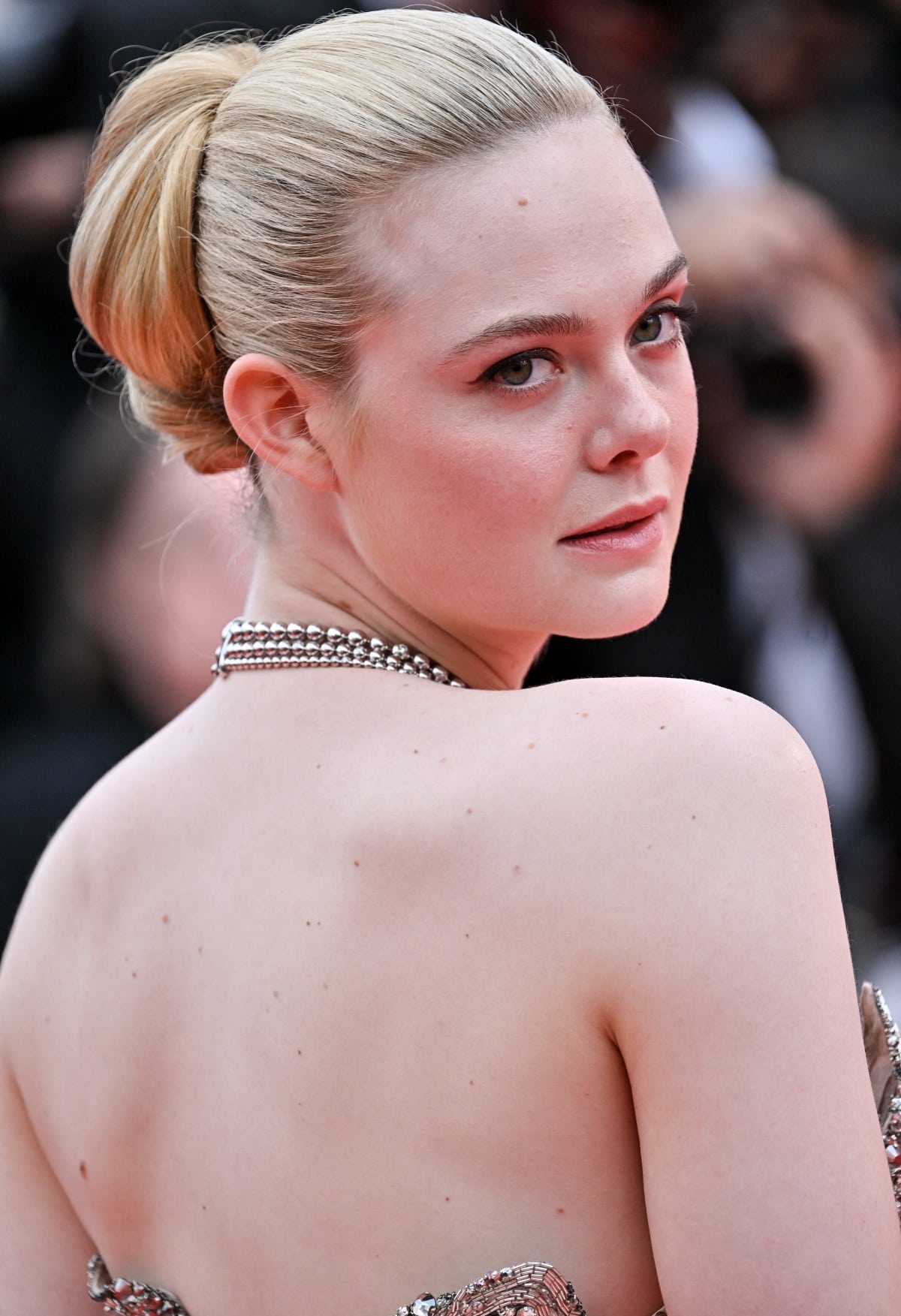 Elle Fanning's hair was swept up in a chic updo to show off her gorgeous face and flawless beauty look (Credit: Abaca Press / INSTARimages)
Elle, who attended the event as an ambassador for L'Oreal, was not only a vision in her Alexander McQueen gown but also adorned herself with captivating accessories from the esteemed brand Cartier.
These remarkable pieces were the perfect finishing touches to her eye-catching presence at the prestigious film festival's opening night.
Elle couldn't contain her admiration for Sarah Burton, expressing her gratitude in a recent interview with British Vogue, saying, "There is no one more kind."
The Super 8 actress marveled at the time they shared and the awe-inspiring artistry she witnessed in the McQueen London studio.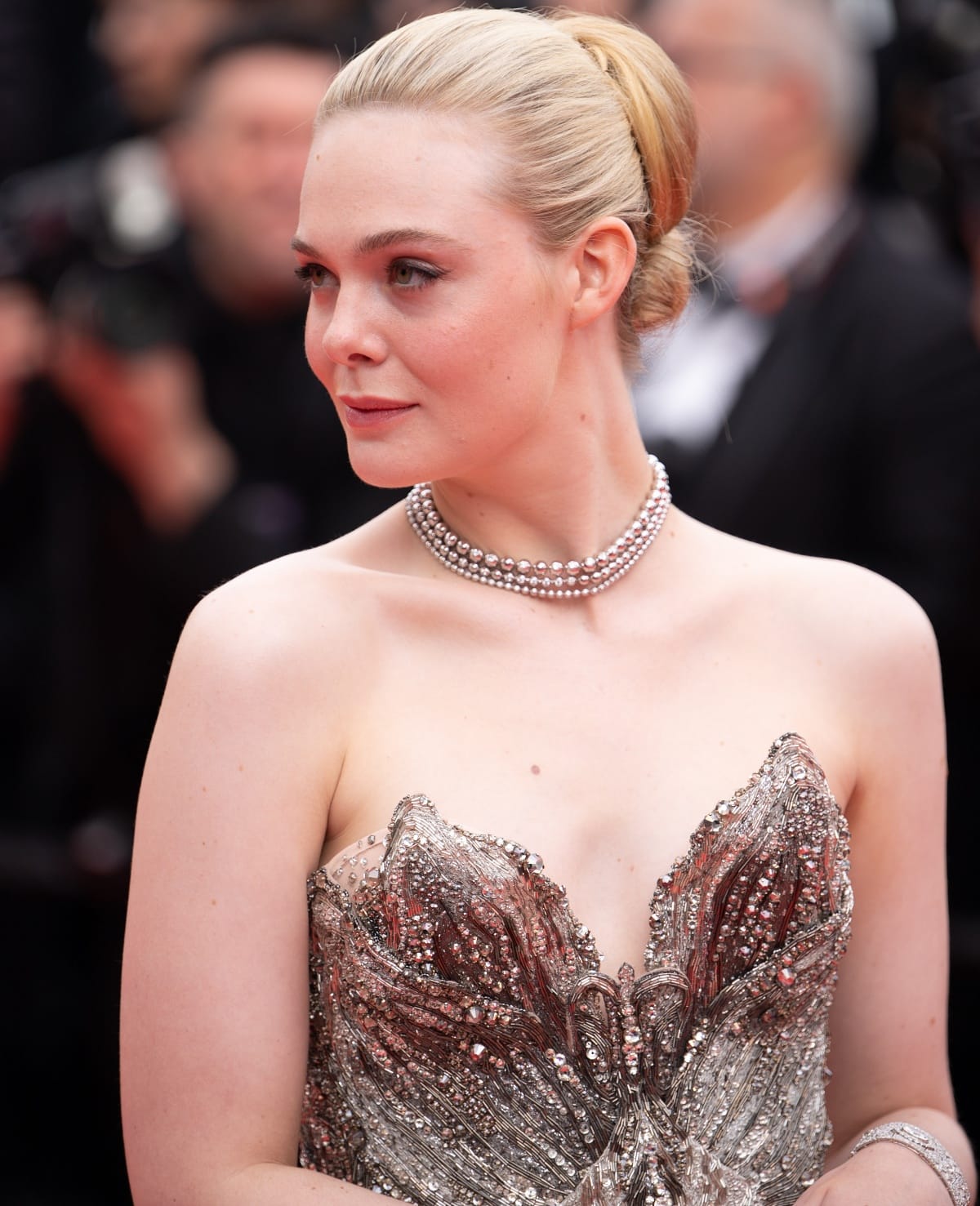 Elle Fanning's stunning Cartier jewels perfectly complemented her custom Alexander McQueen gown (Credit: Robert Smith / INSTARimages)
She shared, "My jaw is still on the floor over each stone beaded by hand and the fact she did this for me! The time we shared and the artistry I witnessed from [Sarah Burton] in the McQueen London studio are a memory I will cherish forever."
The dress, to The Neon Demon star, was more than just fabric and thread. It was a "dress of dreams" and a "work of art."
While Elle's talents have been widely recognized, she recently shared a surprising anecdote on the Happy Sad Confused podcast, revealing how her Instagram following once hindered her chances of landing a part in a major franchise.
The Maleficent actress, who currently has 6.3 million followers, said, "I did try out for…I'm not going to say what it was, but I didn't get a part once for something big because – it might not have just been this reason, but this was the feedback that I heard – was because I didn't have enough Instagram followers at the time. So that was a little like…I firmly don't believe in not getting a part [for that]. It was for a bigger thing, a franchise thing."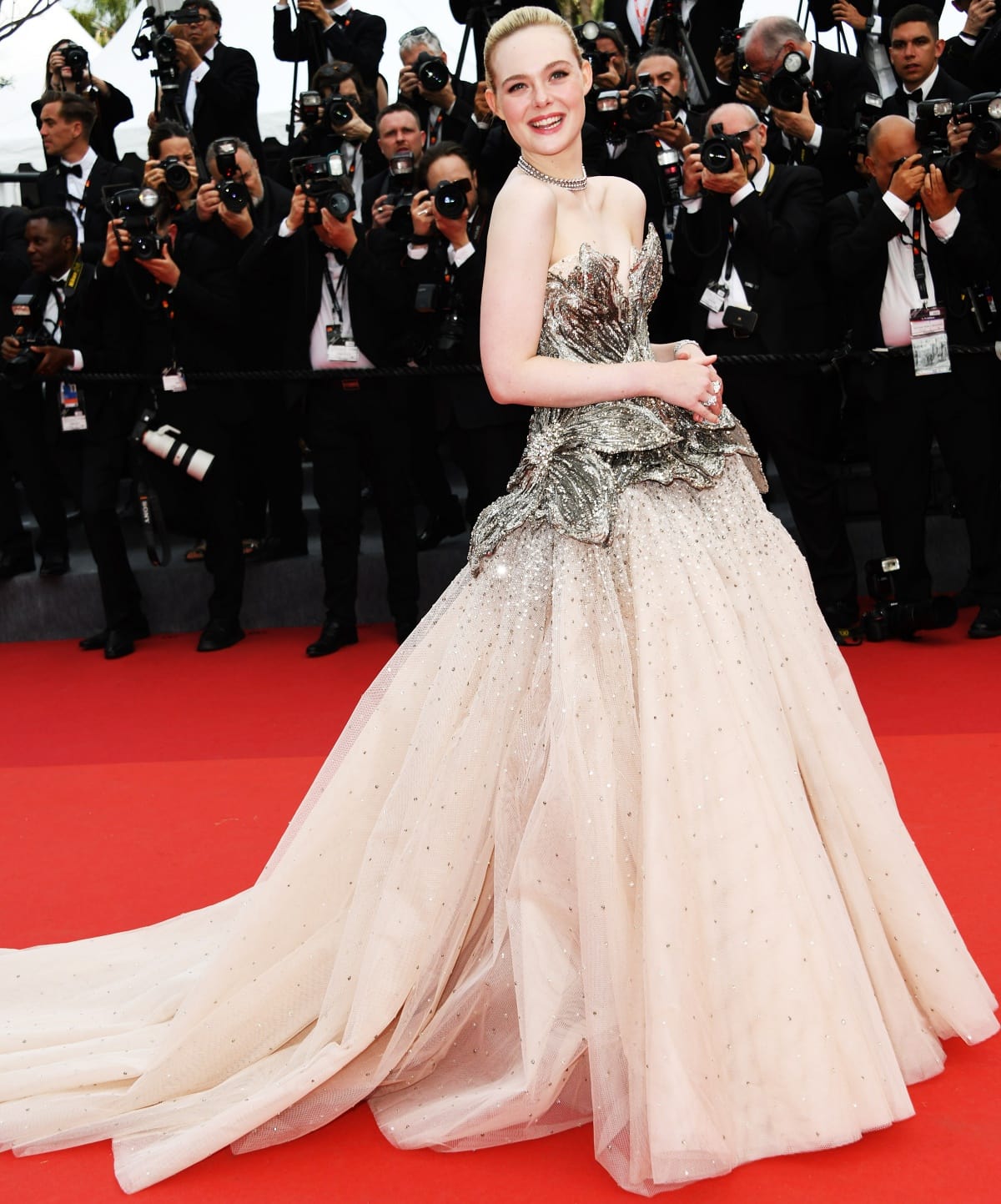 Elle Fanning looking every bit the fashion princess of the Cannes Film Festival in her exquisite Alexander McQueen gown (Credit: IPA / INSTARimages)
However, she remains open to opportunities of that nature, believing in the importance of balancing blockbuster projects and independent work.
Elle continued, "I would never say no to those things, but I would have to have a meeting and really talk to see what it is. I didn't have to go through what Nick [Hoult] did…they made him try the [Batman] suit on [when he auditioned for The Batman, a part that Robert Pattinson ultimately got]. You need a balance. If you want to do your indie work, especially in producing now…[having a big franchise] does make you breathe better."