For the premiere of her latest film, "May December," Natalie Portman made a grand entrance at the Cannes Film Festival, captivating the crowd with her impeccable style.
The 41-year-old actress exuded radiance as she stepped onto the red carpet at the prestigious Palais des Festivals on Saturday. She was clad in a breathtaking Dior Couture gown that paid homage to the fashion house's rich heritage.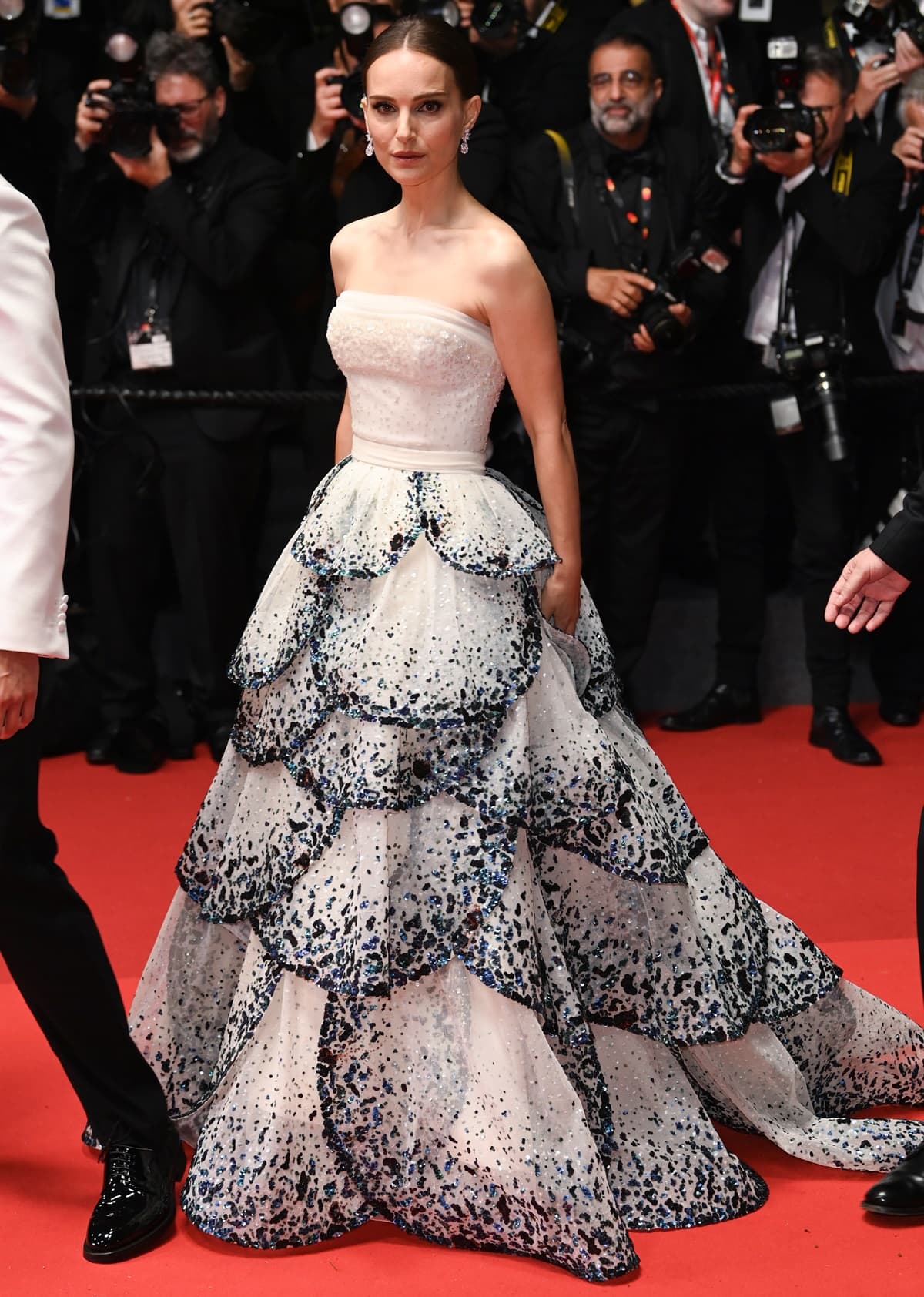 Natalie Portman elegantly donned a Dior Haute Couture embroidered tulle Grand Gala gown, skillfully recreated by Maria Grazia Chiuri (Credit: PA Images / INSTARimages)
Designed by the talented creative director Maria Grazia Chiuri, the gown was a stunning recreation of Monsieur Christian Dior's legendary "Junon" dress from the iconic 1949-1950 Fall/Winter collection.
While the original dress is not currently on display, it resides within the esteemed Costume Institute's collection of The Metropolitan Museum of Art.
The strapless silhouette of the historic masterpiece beautifully showcased Natalie's enviable collarbone and slender neck, with a white bodice delicately draped in sheer beaded fabric. Its tailored fit flawlessly accentuated the Thor: Love and Thunder star's incredible physique, hugging her curves.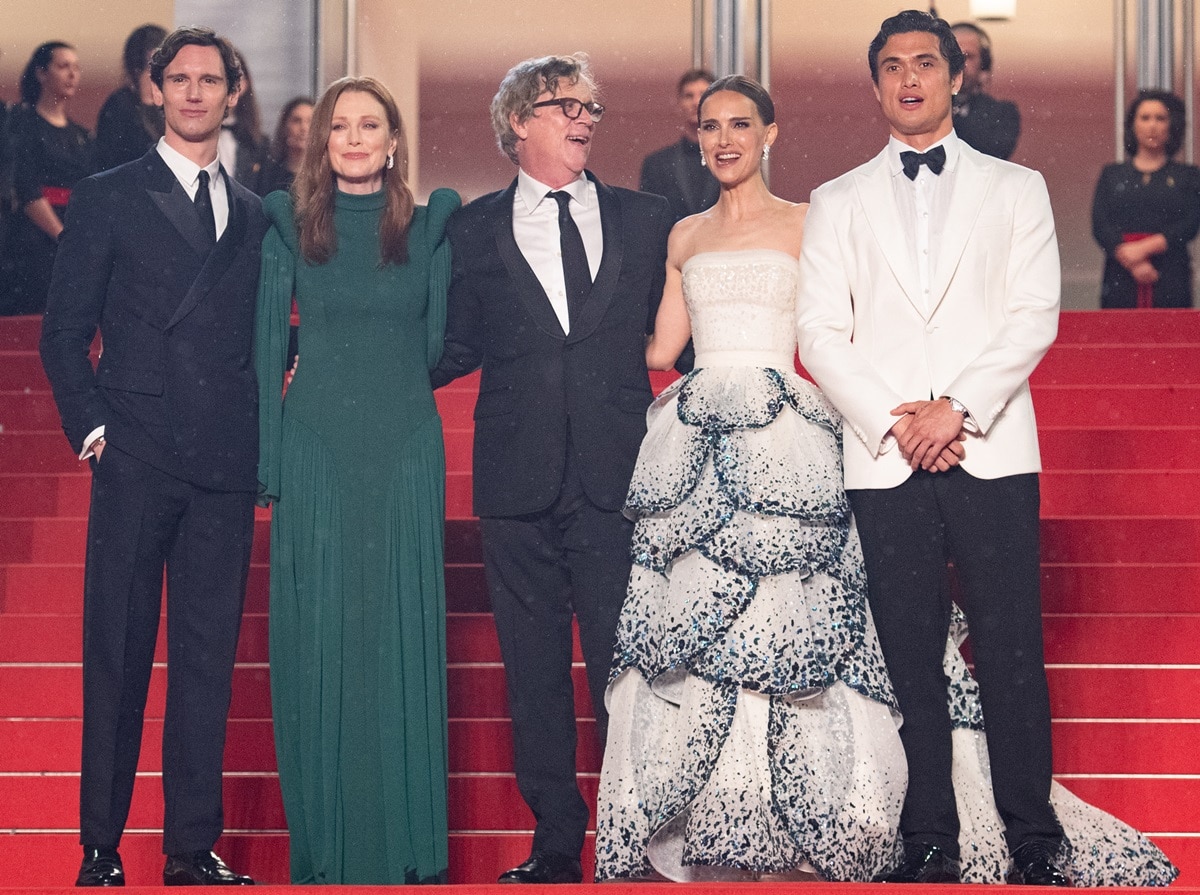 Cory Michael Smith, Julianne Moore, Todd Haynes, Natalie Portman, and Charles Melton attend the "May December" red carpet during the 76th annual Cannes film festival at Palais des Festivals on May 20, 2023, in Cannes, France (Credit: Abaca Press / INSTARimages)
Her skirt cascaded into a mesmerizing display of layered slits resembling eyeless peacock feathers or iridescent fish scales. Embellished with shimmering blue ombré sequins, the gown emanated a sense of ethereal drama that left onlookers in awe.
As a long-standing ambassador and muse for the French luxury brand since 2011, Natalie Portman's presence in Dior was a natural and celebrated choice. Her Cannes appearance solidified her enduring association with the esteemed fashion house, establishing her as a true fashion icon.
To complement the already captivating ensemble, the Star Wars actress adorned herself with a simple yet dazzling set of sparkling diamond drop earrings, allowing the gown to take center stage.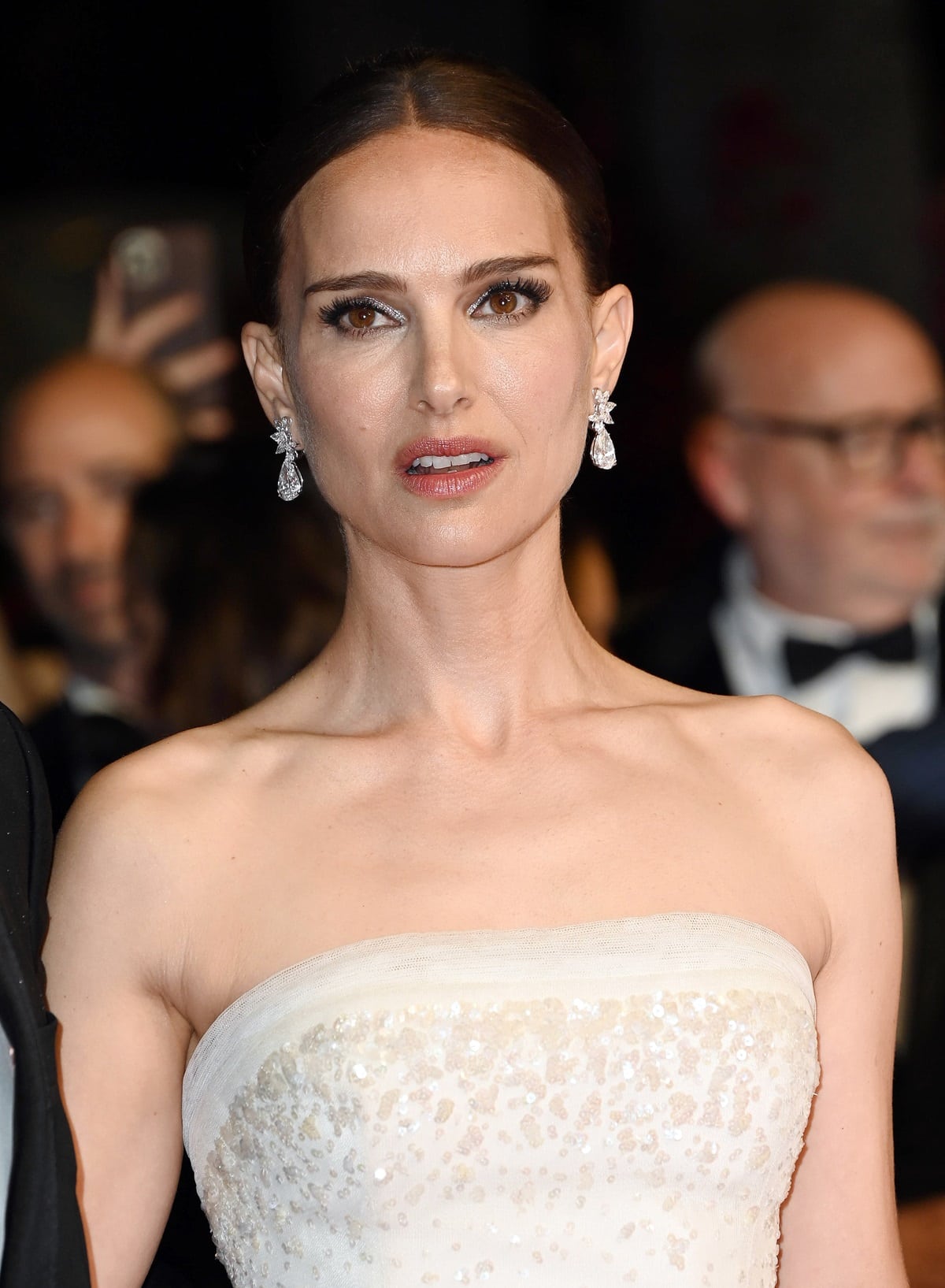 Natalie Portman effortlessly exuded elegance, earning accolades from fashion experts who hailed her dress as one of the highlights of the prestigious French festival (Credit: IPA / INSTARimages)
With her hair sleekly pulled back into an elegant bun, Natalie opted for a dewy makeup palette that accentuated her stunning features.
Completing her ensemble, the Black Swan star opted for towering platform heels that elevated her stature and perfectly complemented the gown's elegance.
Crafted with pale ivory satin uppers, curved peep-toe straps, and thick platform soles, the heels exuded sophistication while allowing the gown's silhouette and historical allusions to shine.
Following the unforgettable night before, Natalie Portman returned to the Cannes Film Festival the next day for the "May December" photocall.
Natalie Portman flaunted her legs in a captivating Dior belted mini dress and Jimmy Choo Minny sandals at the "May December" photocall at the 76th annual Cannes film festival at Palais des Festivals on May 21, 2023, in Cannes, France (Credit: Doug Peters / PA Images / INSTARimages)
Again, she displayed her sartorial prowess, donning a contemporary Dior belted mini dress that paid homage to the brand's timeless elegance while adding vibrant color.
Wearing a vivid red ensemble expertly styled by Ryan Hastings, Natalie's outfit featured a modestly pleated skirt, cinched at the waist with an attached thin belt. It was accompanied by a coordinating blazer casually draped over her shoulders.
For a genuine touch of movie star glamour, the Award-winning actress accessorized her striking ensemble with oversized black cat-eye Dior sunglasses, exuding an air of mystery and allure.
Natalie's sleek-heeled shoes perfectly complemented her attire, adding a final touch of sophistication.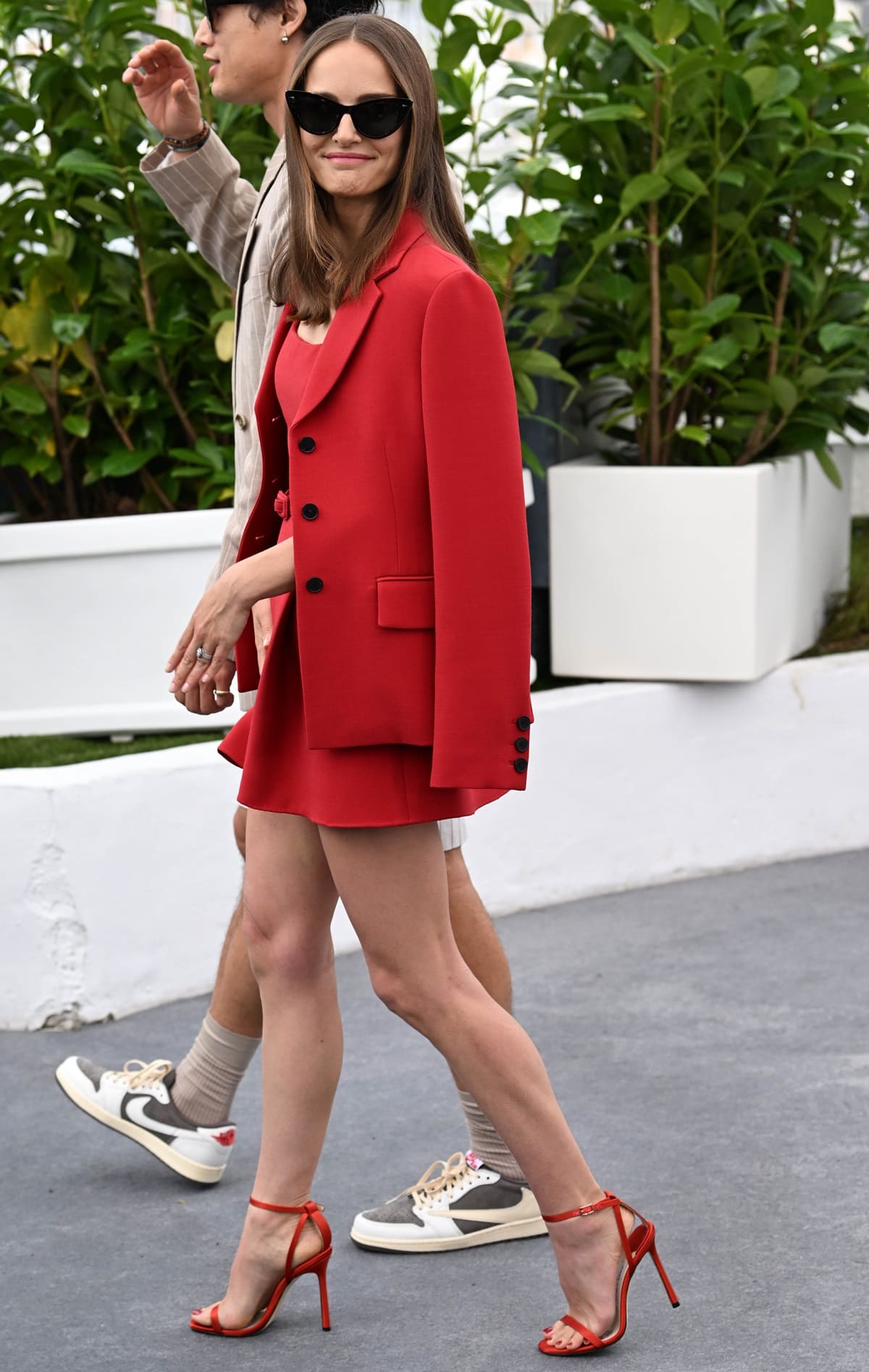 The vibrant red hue and the daring high hemline ensured that Natalie Portman's ensemble commanded attention and rightfully took center stage (Credit: Doug Peters / PA Images / INSTARimages)
The Jimmy Choo Minny shoes, adorned with red satin uppers and delicate ankle, toe, and slingback straps, provided the actress' ensemble's ideal balance.
During the press conference for her film, Natalie spoke openly about the existing expectations set for women. Natalie emphasized that "May December" revolves around the concept of performance and the diverse roles women undertake in various environments, for different individuals, and even for themselves.
She expressed her deep curiosity about this subject. "This aspect of, even here—the different ways we as women are expected to behave at this festival even compared to men," she continued. "How we're supposed to look, how we're supposed to carry ourselves."
"The expectations are constantly imposed on you, shaping your behavior, whether you embrace them, reject them, or navigate a middle ground," Natalie shared. "You're undeniably influenced by the social structures surrounding you."
Natalie Portman displayed her pedicured toes in red satin Jimmy Choo Minny sandals (Credit: Doug Peters / PA Images / INSTARimages)
In the upcoming Todd Haynes drama, "May December," Natalie Portman takes on a captivating role alongside Julianne Moore and Charles Melton.
Natalie portrays an actress delving into the depths of a complex character for an upcoming film centered around a turbulent relationship.
The movie revolves around a couple, once thrust into the limelight due to their significant age difference. As they embark on the journey of parenthood with the arrival of their twins, they find themselves confronted with the prospect of their extraordinary lives being turned into a motion picture.
Netflix triumphs at Cannes! 🎉 After an intense all-night auction, they've secured the North American rights to "May December," an exciting drama directed by Todd Haynes, starring Julianne Moore and Natalie Portman. This deal, valued at $11 million, steals the spotlight as the… https://t.co/TlDVQEXPnF

— Your Next Shoes (@yournextshoes) May 24, 2023
However, the harmonious family dynamics unravel when a prominent Hollywood actress enters their lives, seeking to resolve the intricacies of the wife's persona.
Natalie Portman also graced the 2023 Cannes Film Festival as the esteemed godmother of the Chopard Trophy.
The Academy Award-winning actress turned heads in a strapless Dior Fall 2017 dress and Chopard jewelry on the red carpet during the premiere of the highly anticipated film, "The Zone of Interest," on Friday.
Daryl McCormack, Natalie Portman, Caroline Scheufele, Naomi Ackie, and Tang Wei attend the "The Zone Of Interest" red carpet during the 76th annual Cannes film festival at Palais des Festivals on May 19, 2023, in Cannes, France (Credit: IPA / INSTARimages)
Natalie's presence at the festival was dedicated to acknowledging this year's remarkable Chopard Trophy recipients, namely Naomi Ackie, the talented actress from "I Wanna Dance With Somebody," and Daryl McCormack, the accomplished actor from "Good Luck to You, Leo Grande."
They were joined by German businesswoman Caroline Scheufele, the artistic director and co-president of Chopard, to celebrate this achievement.