The Cannes Film Festival is renowned for its dazzling red carpet moments.
And this year, Uma Thurman brought a touch of familial elegance to the event as she surprised everyone by arriving with her 21-year-old son, Levon Thurman-Hawke, as her date for the opening screening of Jeanne Du Barry starring Johnny Depp on May 16 in Cannes, France.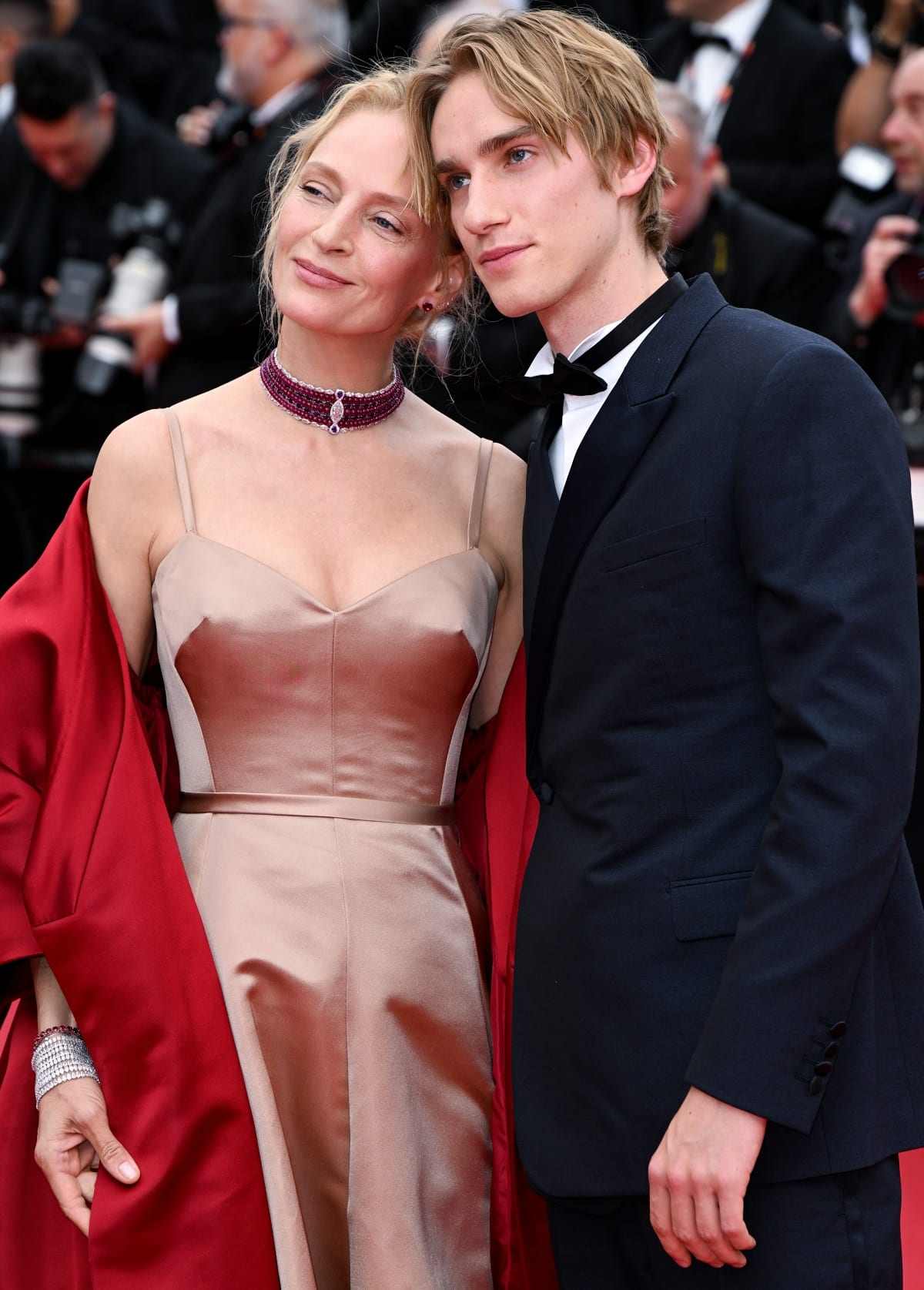 Uma Thurman with son Levon Hawke at the Jeanne du Barry screening and opening ceremony of the 76th Cannes Film Festival in Cannes, France on May 16, 2023 (Credit: PA Images / INSTARimages)
As the mother-son duo strolled the carpet together, Uma and Levon radiated joy, their smiles lighting up the day. They exuded style and sophistication, capturing the attention of onlookers and photographers alike.
The 53-year-old actress, famous for her love of dramatic trains, donned a breathtaking nude silk Christian Dior Haute Couture dress.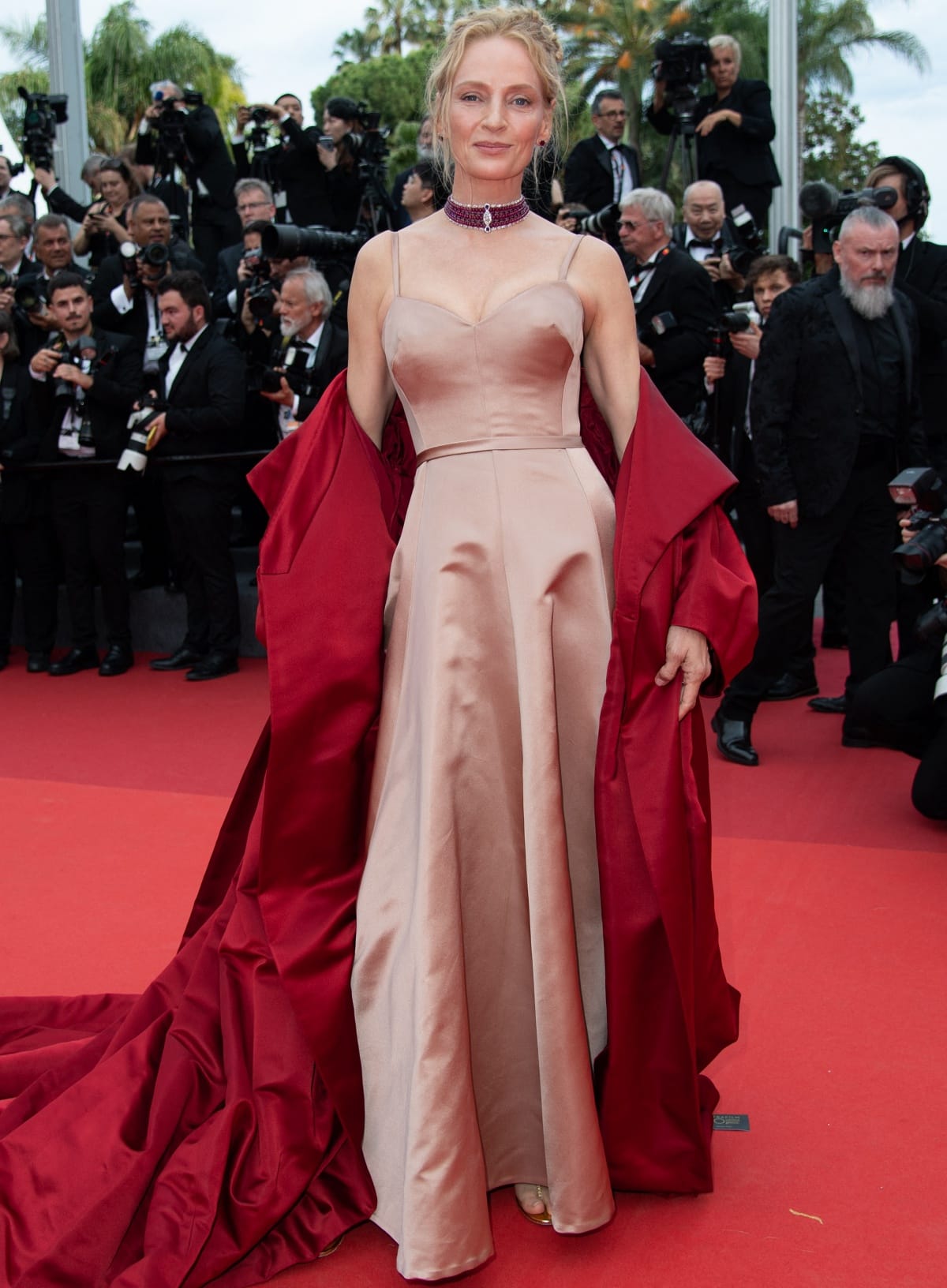 Uma Thurman making a dramatic entrance in a nude silk Christian Dior Haute Couture dress with a flowing train (Credit: Abaca Press / INSTARimages)
Designed exclusively by the talented Maria Grazia Chiuri, the ensemble featured a crimson robe coat, a sweeping train, and a corset-style bodice with delicate spaghetti straps.
It was a captivating choice for the event that perfectly showcased Uma's impeccable fashion sense.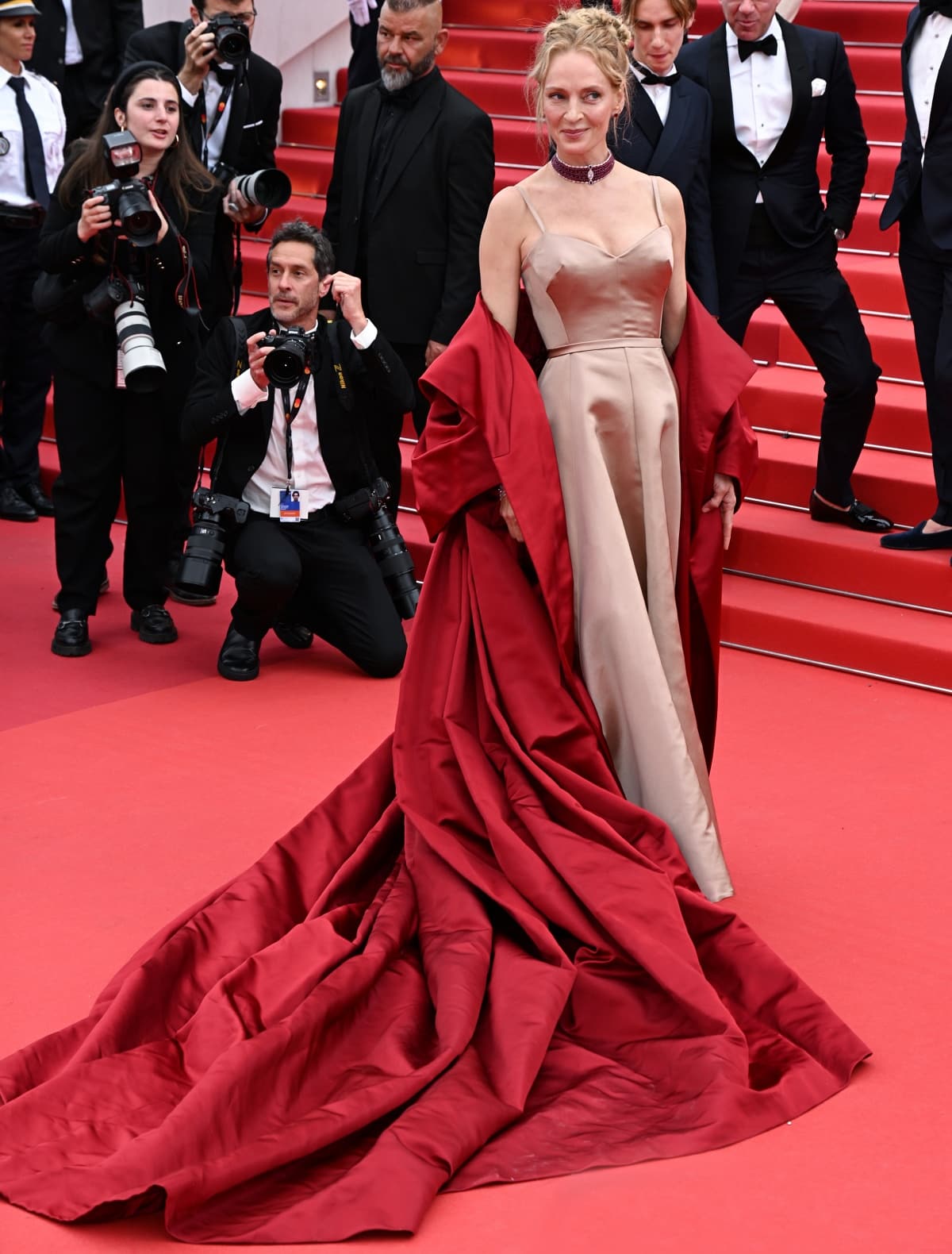 Uma Thurman showing off her magnificent crimson robe coat with a sweeping train (Credit: PA Images / INSTARimages)
The Pulp Fiction star adorned herself with bold jewelry to complete her ensemble, including a matching beaded Chopard choker necklace.
Uma opted for a neutral makeup palette, allowing her natural beauty to shine through. Her blonde tresses were elegantly styled in an updo, exuding timeless elegance.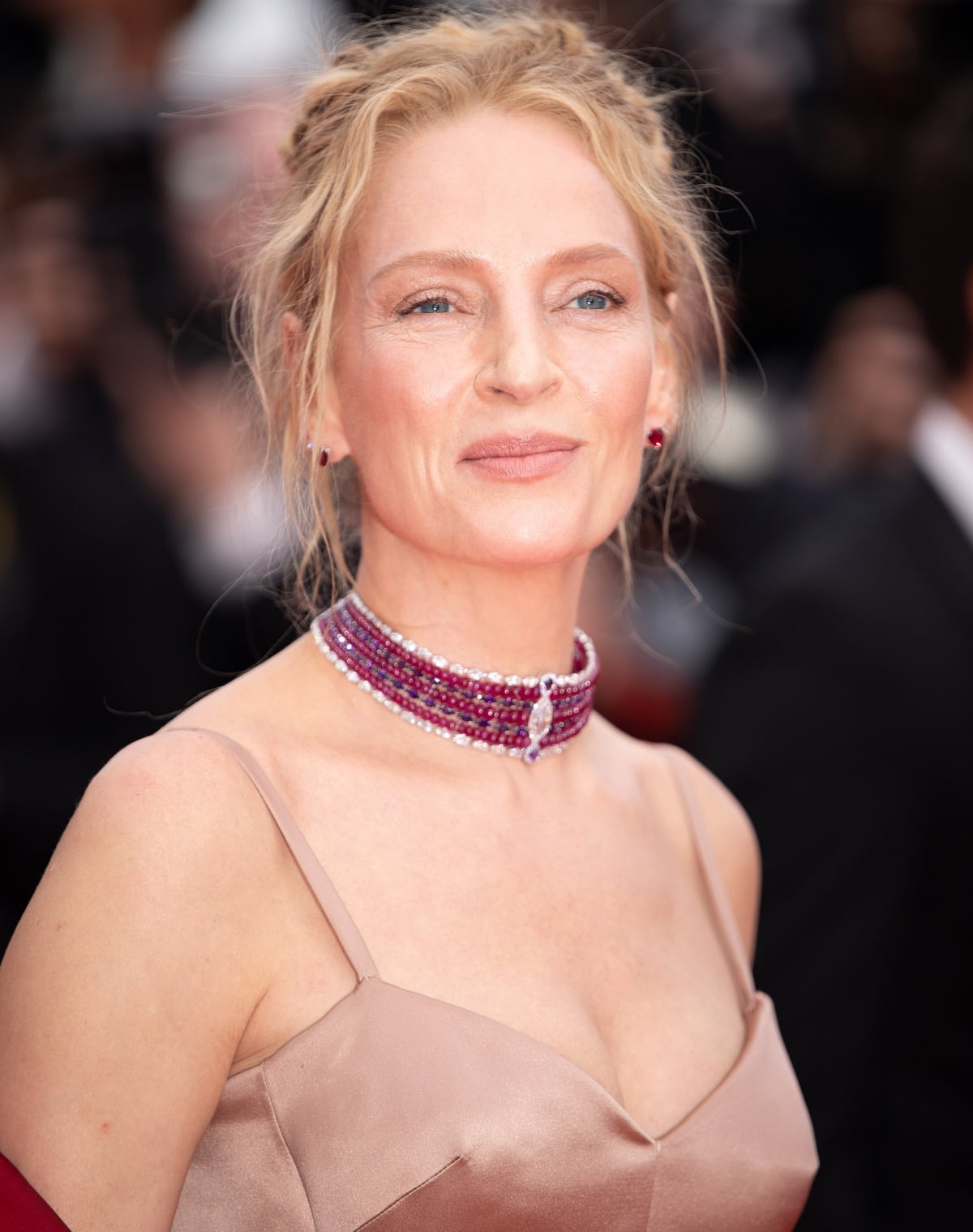 Uma Thurman kept her hair and makeup styling minimal to keep the focus on her stunning ensemble (Credit: Robert Smith / INSTARimages)
Levon Roan Thurman Hawke, the Batman & Robin actress' handsome son, stood by her side, looking dapper in a classic double-breasted black tuxedo, white shirt, and a sleek black bowtie.
His understated yet refined choice perfectly complemented his mother's ensemble, showcasing their impeccable taste.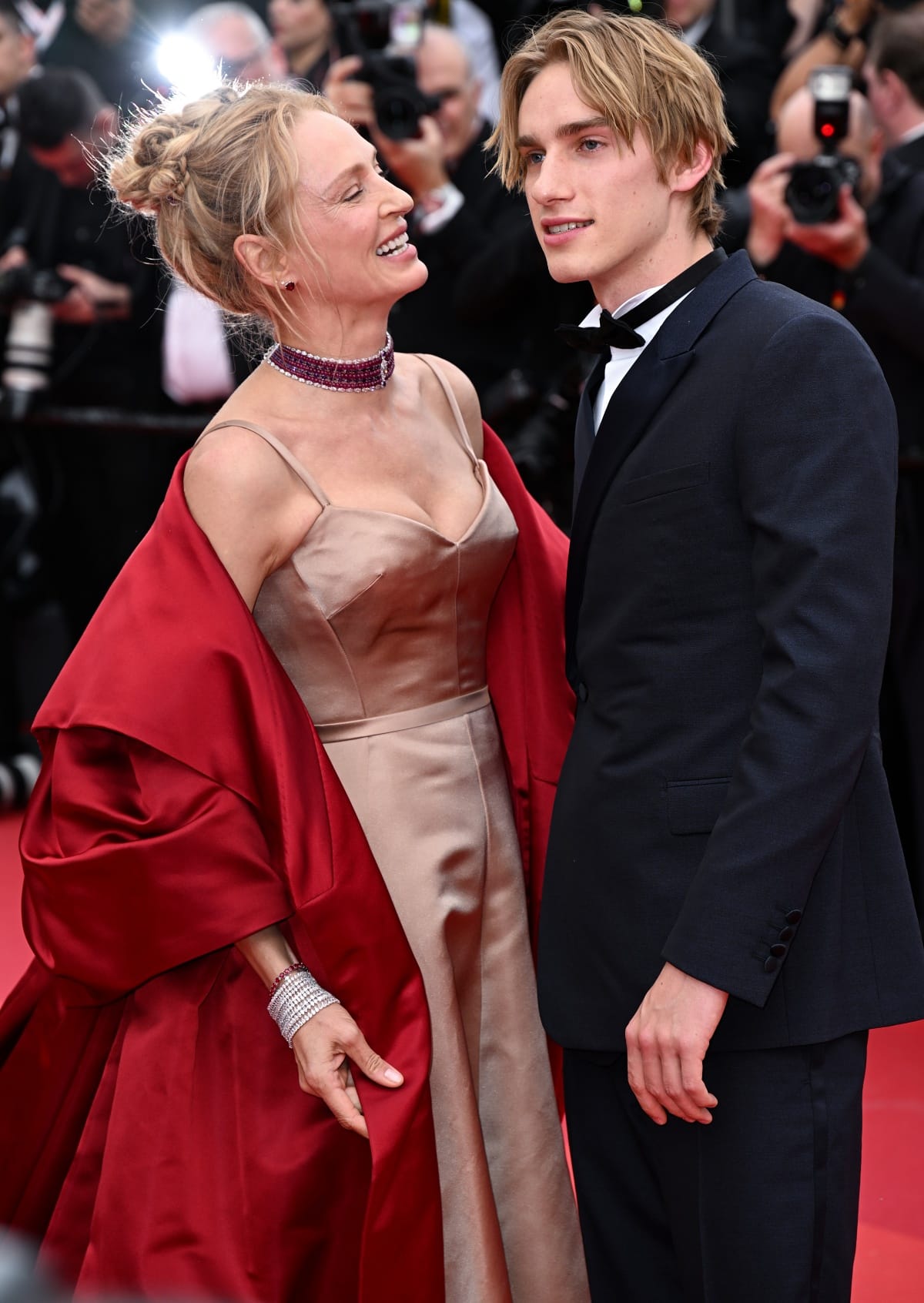 Uma Thurman looking proudly at son Levon Hawke, who looked dashing in his classic tuxedo with a sleek bowtie (Credit: PA Images / INSTARimages)
This red carpet appearance marked a special moment for Uma and Levon, as it was their first public event together in over three years since they participated in Dior's Spring/Summer 2020 runway show.
However, it wasn't their first time attending the prestigious Cannes Film Festival as a duo. In 2017, they graced the event's closing ceremony, where Uma, who served as the President of the Jury, mesmerized in a stunning gold Atelier Versace gown.
Following their red carpet appearance, Uma took to the stage to honor Michael Douglas with the honorary Palme d'Or Award in celebration of the 78-year-old actor's remarkable achievements and contributions to the film industry.
Uma Thurman presenting the Honorary Palme d'Or to Michael Douglas during the 76th Cannes Film Festival (Credit: Abaca Press / INSTARimages)
Levon, whom Uma shares with her ex-husband Ethan Hawke, is carving his path in the entertainment industry.
He will soon star alongside Tom Holland in the highly anticipated television series The Crowded Room and make his mark on the big screen with the movie Pussy Island, a directorial debut of 34-year-old actress Zoë Kravitz.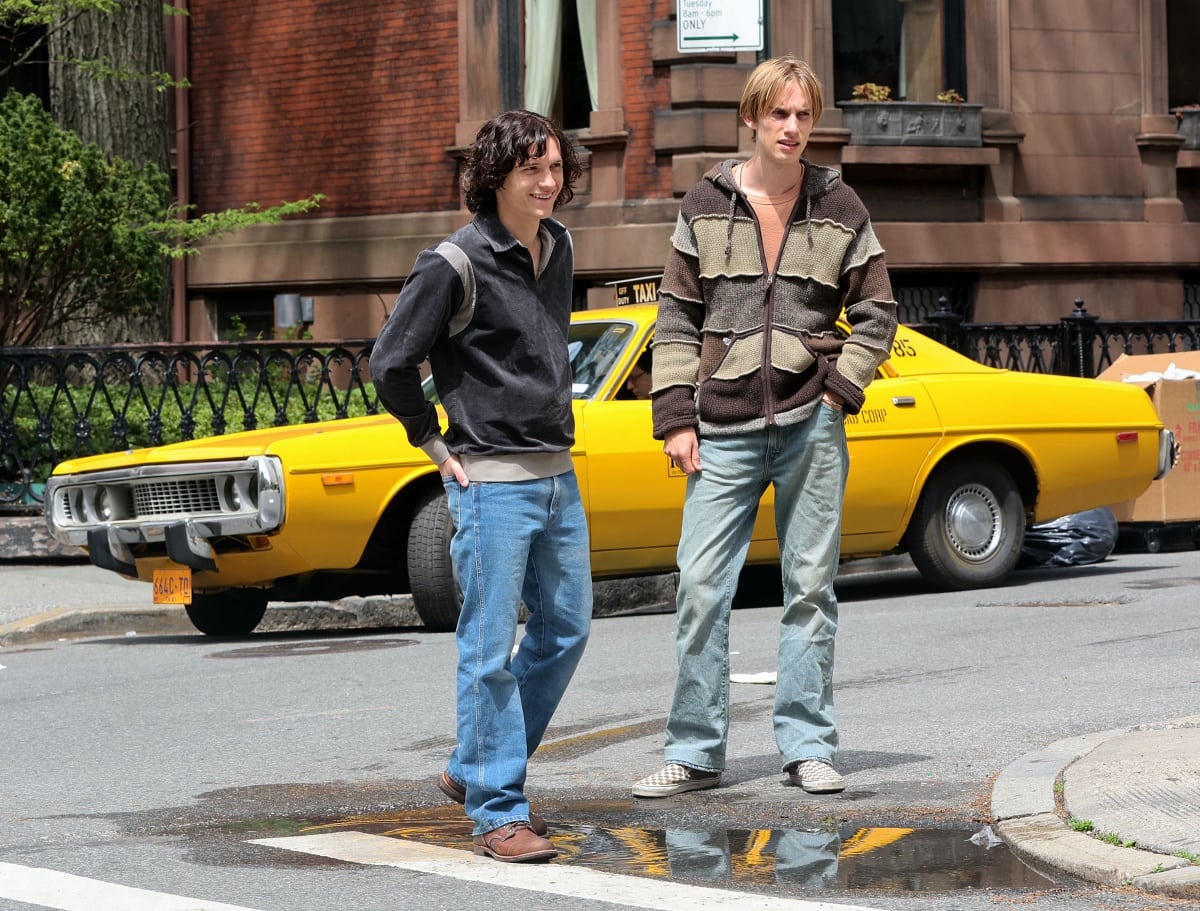 Tom Holland and Levon Hawke filming The Crowded Room in New York City on May 9, 2022 (Credit: Jose Perez / INSTARimages)
Levon is also set to appear in the upcoming cowboy movie The Thicket alongside notable talents like Juliette Lewis, who starred in Yellowjackets, and Peter Dinklage from Game of Thrones.
Meanwhile, the former couple's daughter, Maya Hawke, has been making waves with her acting career, starring as Robin Buckley in the hit television series Stranger Things and making her mark in the latest movie Do Revenge.
Maya Hawke wearing a custom bridal look from Prada at the 2023 Met Gala with the theme Karl Lagerfeld: A Line of Beauty held at the Metropolitan Museum of Art in New York City on May 1, 2023 (Credit: Jennifer Graylock / INSTARimages)
The entire Thurman-Hawke family will be at the Cannes Film Festival this year.
Ethan Hawke, whom Uma was married to from 1998 to 2005, is already there promoting his short film Strange Way of Life, directed by Pedro Almodóvar and starring Pedro Pascal.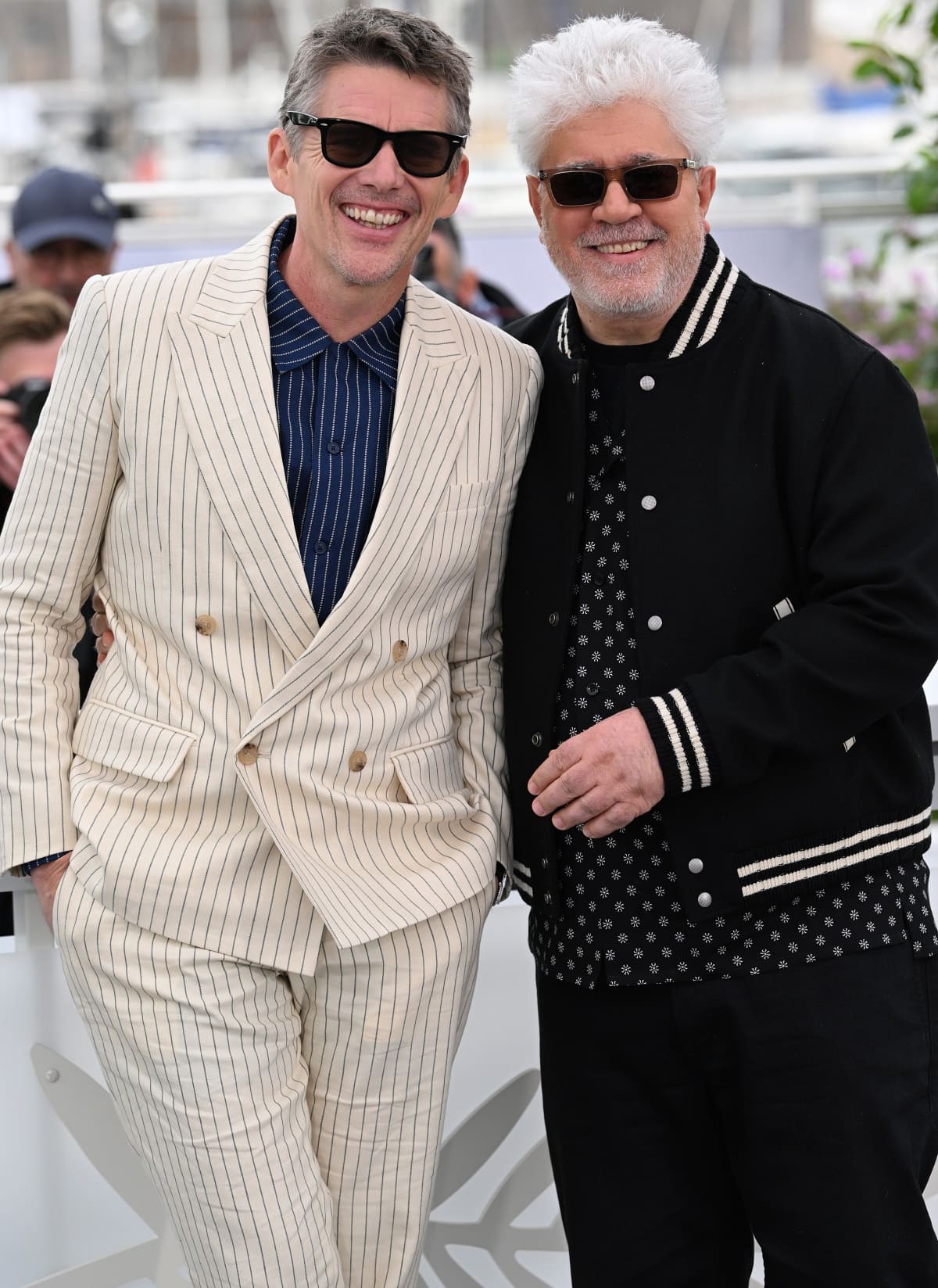 Ethan Hawke and Pedro Almodovar at the Strange Way of Life photocall during the 76th Cannes Film Festival in Cannes, France on May 17, 2023 (Credit: PA Images / INSTARimages)
Maya, who plays the lead role in Wes Anderson's Asteroid City alongside Tom Hanks, will attend the movie's screening at the festival.
Uma, together with Levon and Maya, is also a proud mother to Luna Thurman-Busson, her 10-year-old daughter from her previous engagement with Arpad Busson.
Uma Thurman is a proud mom of three and a Hollywood icon (Credit: Abaca Press / INSTARimages)
The statuesque mom-of-three shared her admiration for her children in a heartfelt interview with People in December 2020.
She expressed her deep love and pride, describing her children as dignified and respectful individuals, fulfilling every parent's dream.
Uma said, "I'm madly in love with all of my children and very proud of them. I think they conduct themselves with a lot of dignity and respect for others. It's all a parent could dream of."